I'm a sucker for beautiful bread, and Israeli-Danish baker Uri Scheft makes some of the most beautiful bread I have ever seen. I found a Google Books preview of his recent book, Breaking Breads, and his challah – OH THE CHALLAH – is so lovely I could weep. It reminds me of some rare and mysterious sea creature. Seriously, go look at it right now. Page 41. I'll wait.
[…whistles, twiddles thumbs…]
Anyway, when Israel was announced as the Around the World in 12 Plates destination for May, I knew immediately that I would be making Uri's challah. So I did! I've made challah before and gotten fancy with the braiding, but this time I got extra fancy with both the braiding AND the garnishing, because challah is a special occasion bread, after all.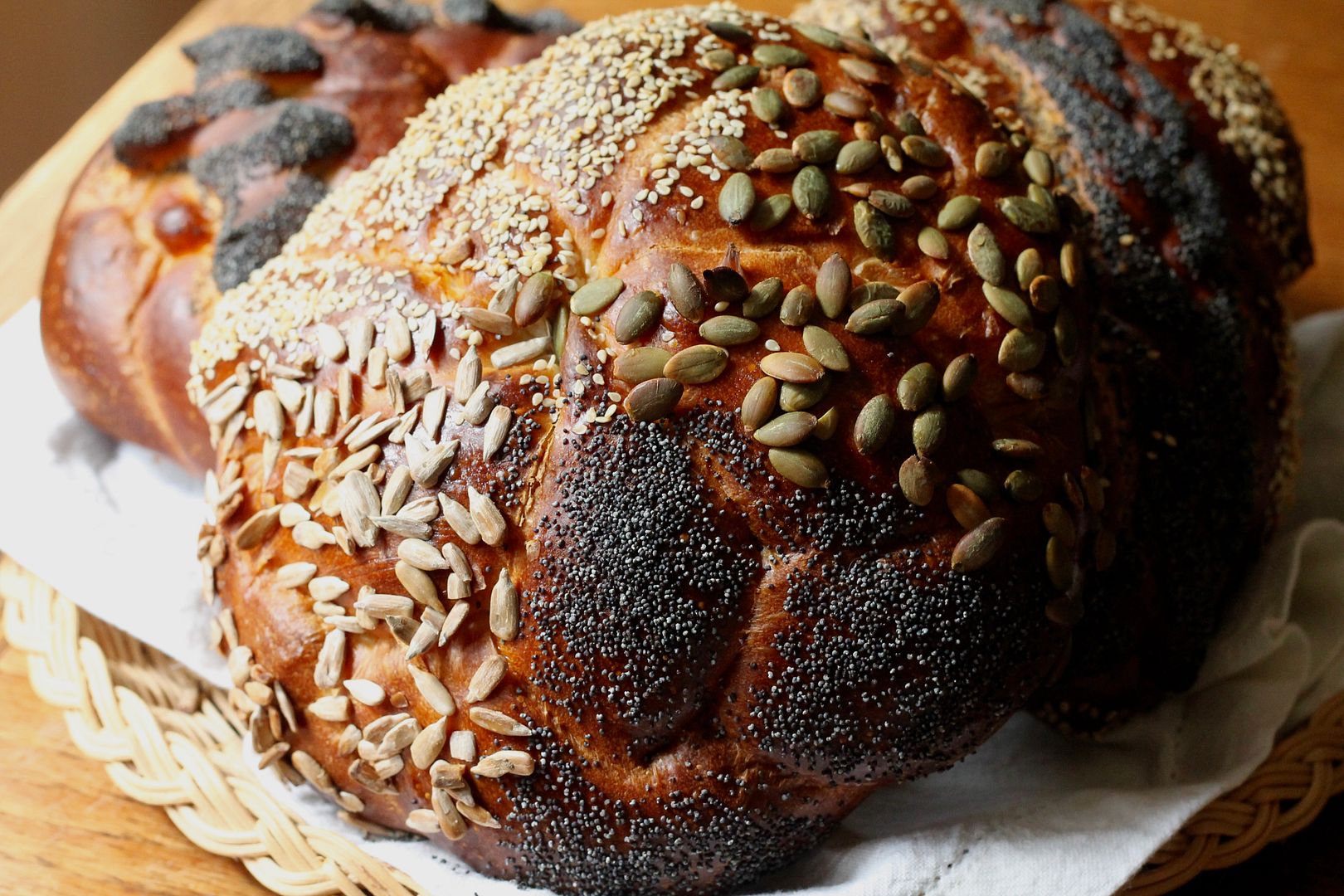 This recipe is pretty standard as far as challah recipes go – flour, water, yeast, salt, egg, oil, and a little sugar – but it ends up being very delicious and wonderful to play with and shape. The only thing I'd do differently is to proof the yeast first – I used active dry yeast and just added it straight to the flour, and it took forever to activate once it was mixed into the dough, which made for a very long rise time. Lots of flavour as a result, but I also think it didn't rise as much as it could have. But I'm still pretty pleased with how these loaves turned out – not quite the underwater-looking beauties that Uri makes, but close enough!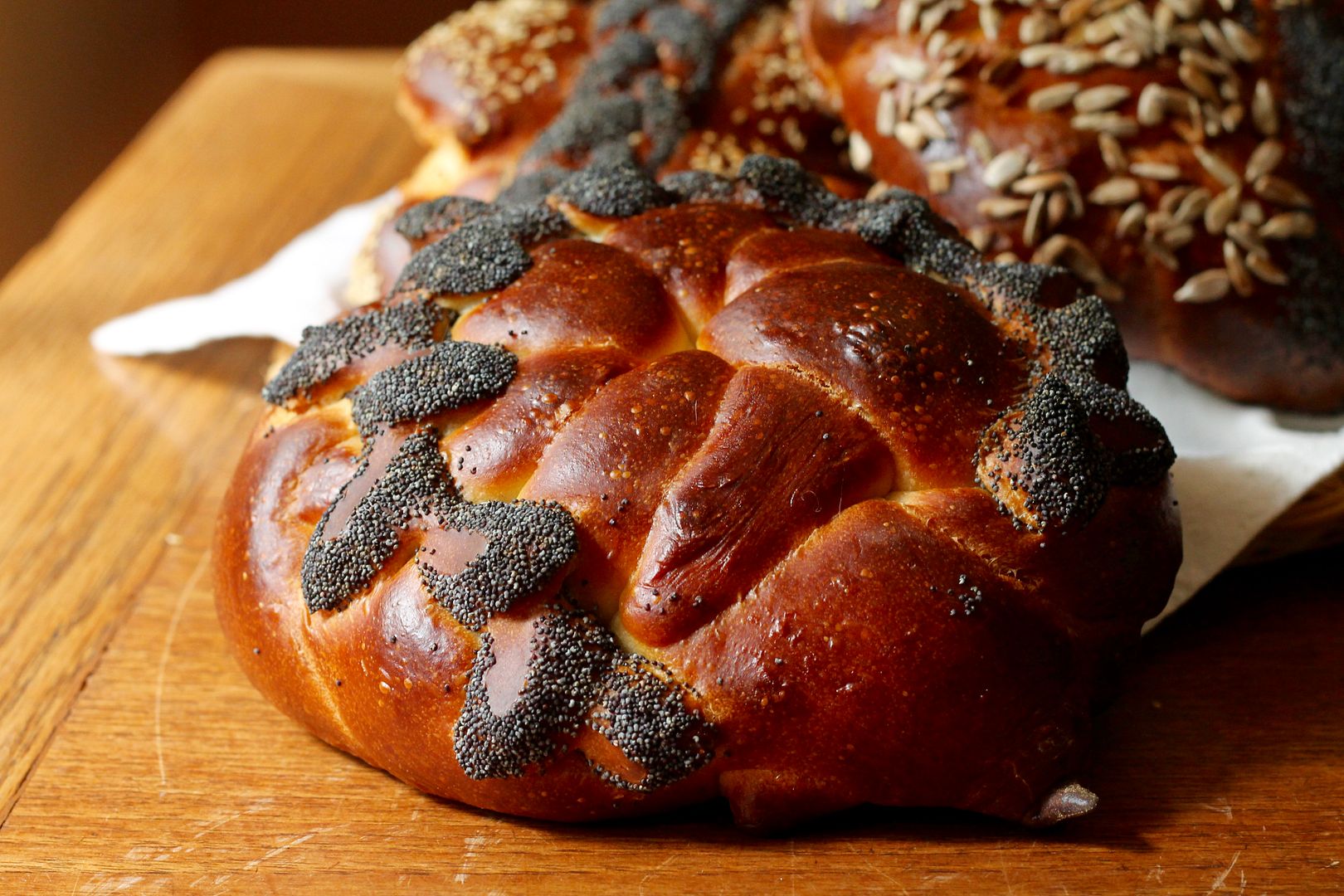 Some other things I learned about challah: the intertwined arms of the braid symbolize love, unity, justice, and peace; a round challah symbolizes the circle of life and wholeness of the universe; the seeds on top symbolize plenty and fertility; and you're not supposed to cut challah with a knife – instead you're supposed to tear with your hands (but it's harder to show the crumb that way, so, uh, oops…).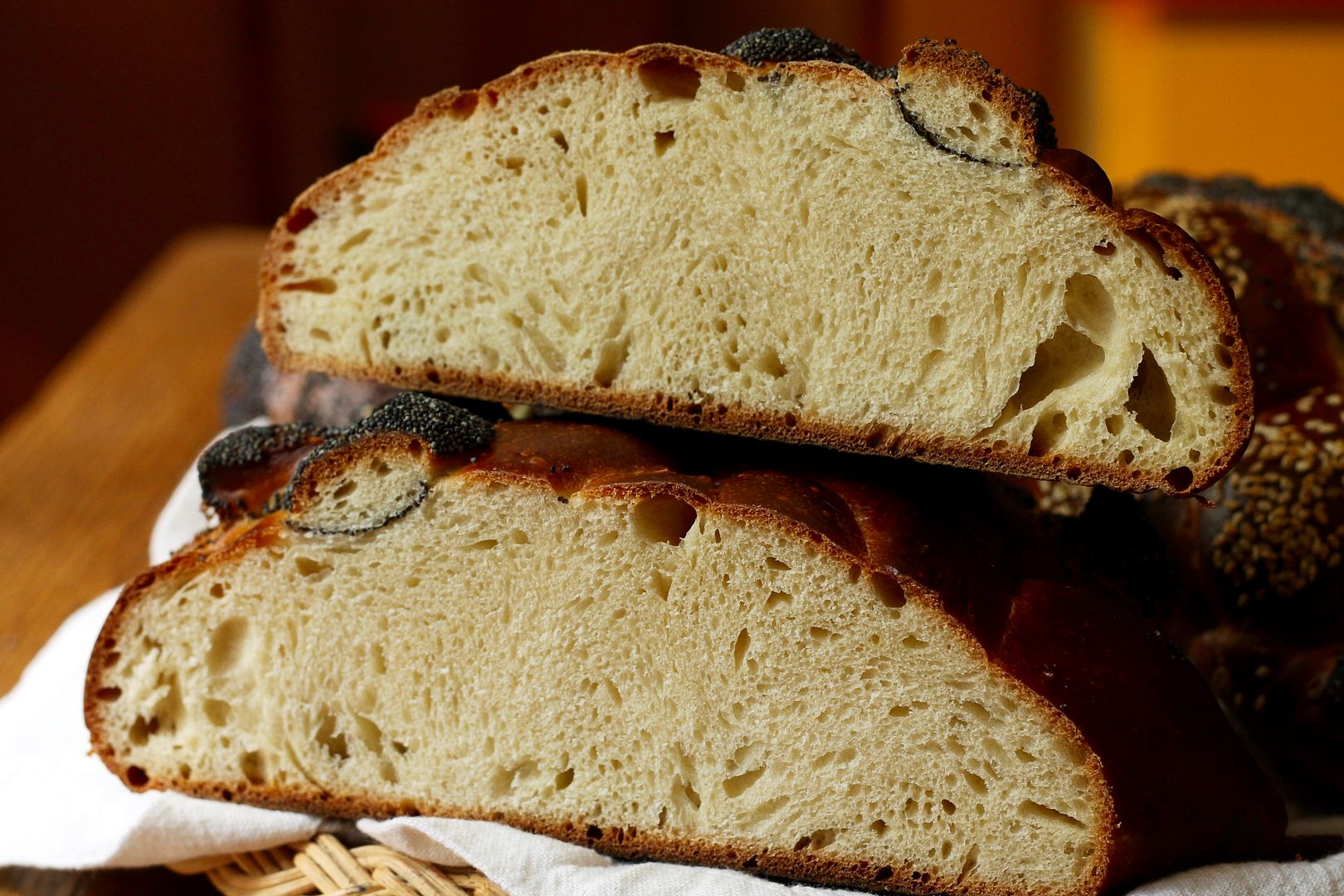 Check out the other ATW12P bloggers for more delicious Israeli cuisine!
Uri Scheft's Challah
Recipe from Breaking Breads, via Epicurious and Google Books. Makes 3 small loaves.
In the bowl of an electric mixer, combine:
400 g (1 2/3 c) room temperature water
15 g (1 tbsp + 1 3/4 tsp) active dry yeast
5 g (1 tsp) granulated sugar
Stir and let proof until the yeast starts to bubble, then add:
1 kilo (7 cups) all purpose flour
2 large eggs, lightly beaten
95 g (1/2 c less 1 tsp) granulated white sugar
15 g (1 tbsp) fine salt
75 g (5 tbsp) sunflower or canola oil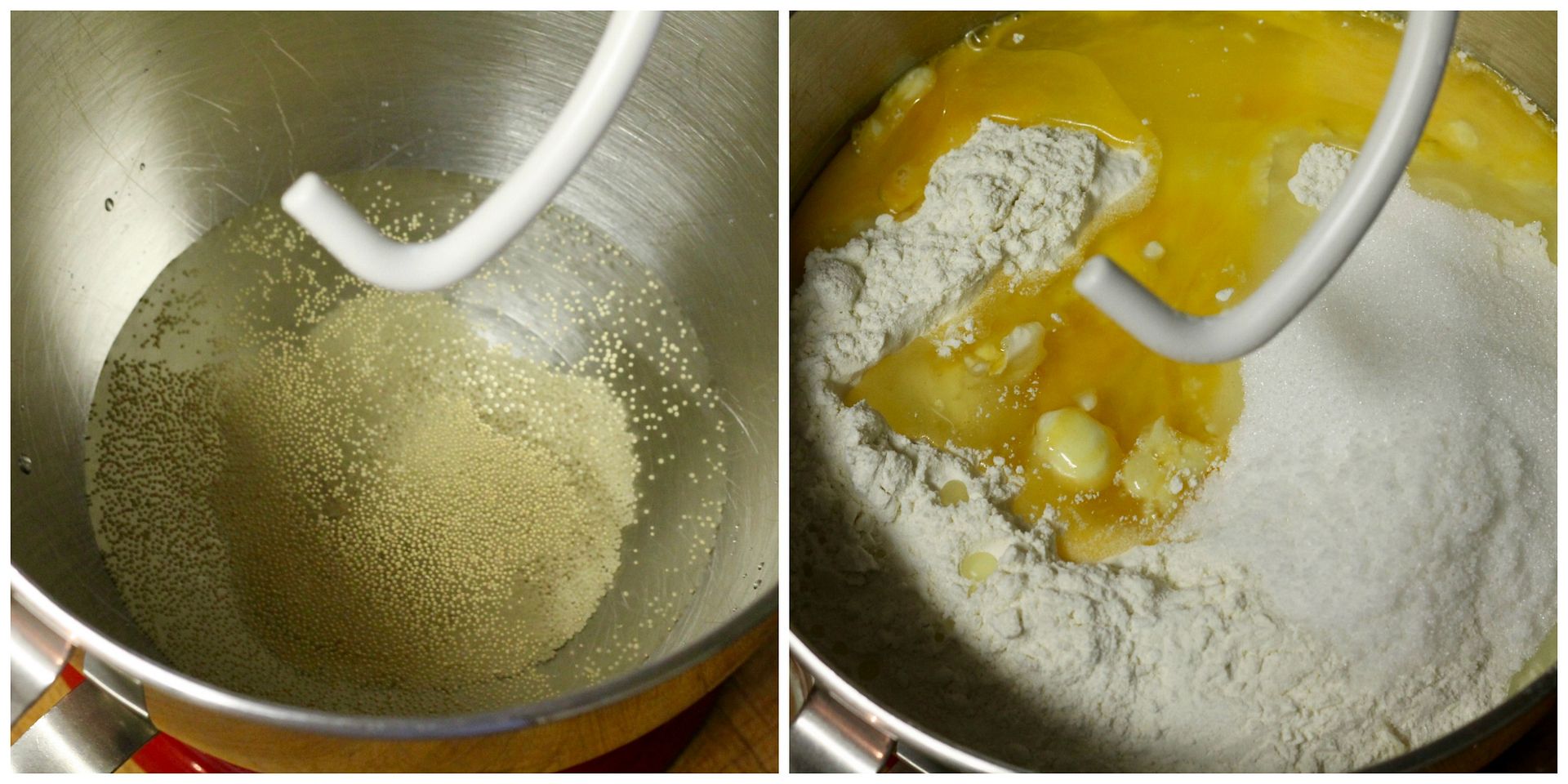 Mix on low speed with the dough hook until combined, about 2 minutes, scraping the bottom and sides of the bowl to incorporate all the flour. Add a few drops of water if there is still lots of flour in the bottom of the bowl, or a little extra flour if the dough is very sticky.
Increase the mixer to medium speed and knead for about 4 minutes, until smooth. The dough should be a bit firm.
Turn the dough out onto a lightly floured surface and use your hands to stretch and tear the top half of the dough away from you, then fold it over on itself, give it a quarter turn, and repeat. Continue for about 1 minute, then shape the dough into a smooth ball.

Lightly dust a bowl with flour and place the dough inside. Sprinkle a little flour on top and cover the bowl with plastic wrap. Let the dough rise at room temperature for about 40 minutes, until it has risen by about 70% (which might take longer, depending on how cool your house is).
Gently scrape the risen dough out of the bowl and shape it into a rectangle. With a dough scraper or large knife, divide into three equal pieces. Divide each of the three pieces into however many strands you want each loaf to have.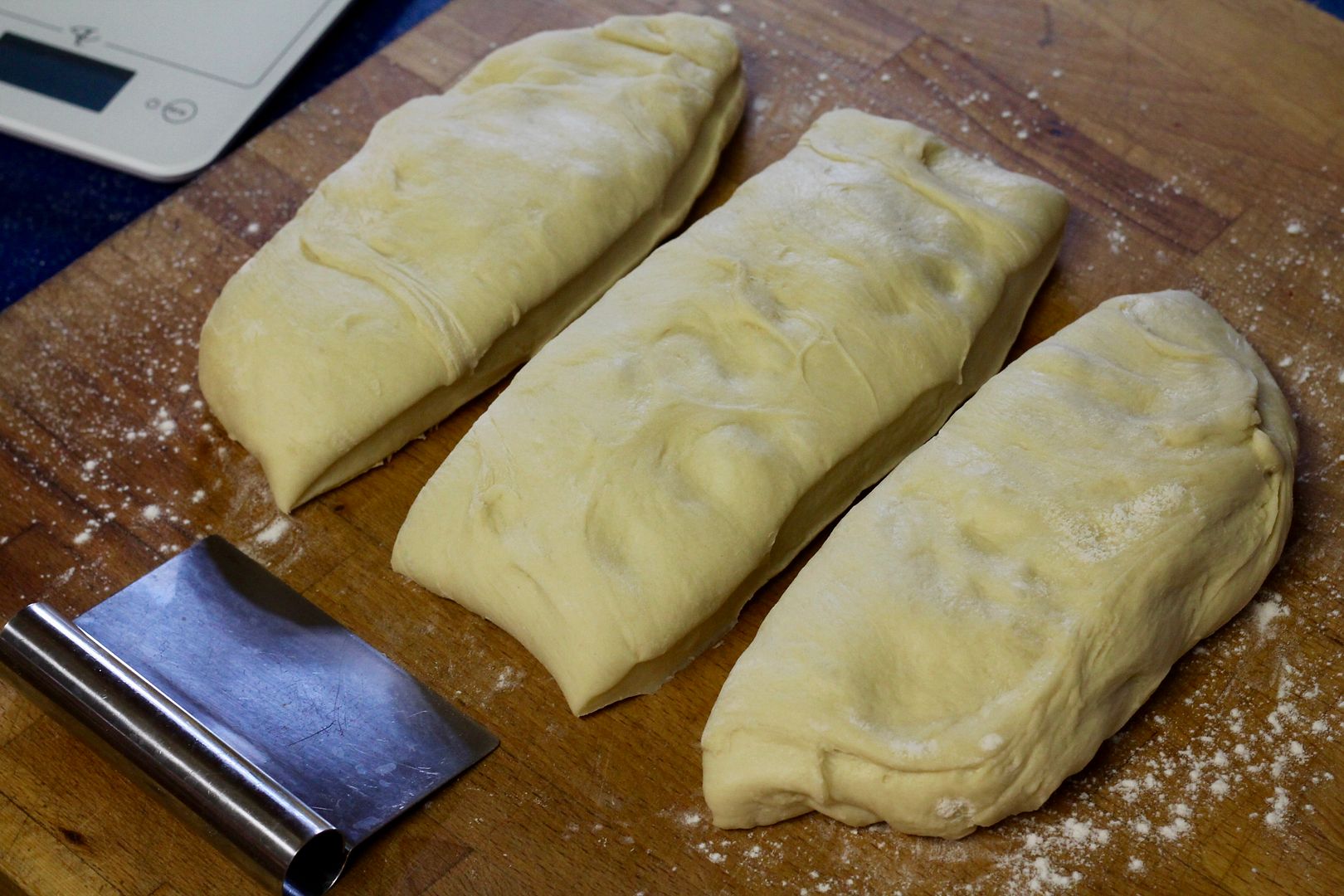 Place each small piece of dough lengthwise on your work surface, then flatten it with your palm into a rectangle. Fold the top third into the middle and press it firmly, then repeat the fold and pres three more times, essentially making a very compact cylinder of dough about 7 inches long. Repeat with all the remaining small pieces of dough.
Braid and decorate the dough as directed below, then place each shaped loaf on a parchment paper-lined baking sheet, cover with a kitchen towel, and let rise until doubled in volume, about 40 minutes depending on room temperature.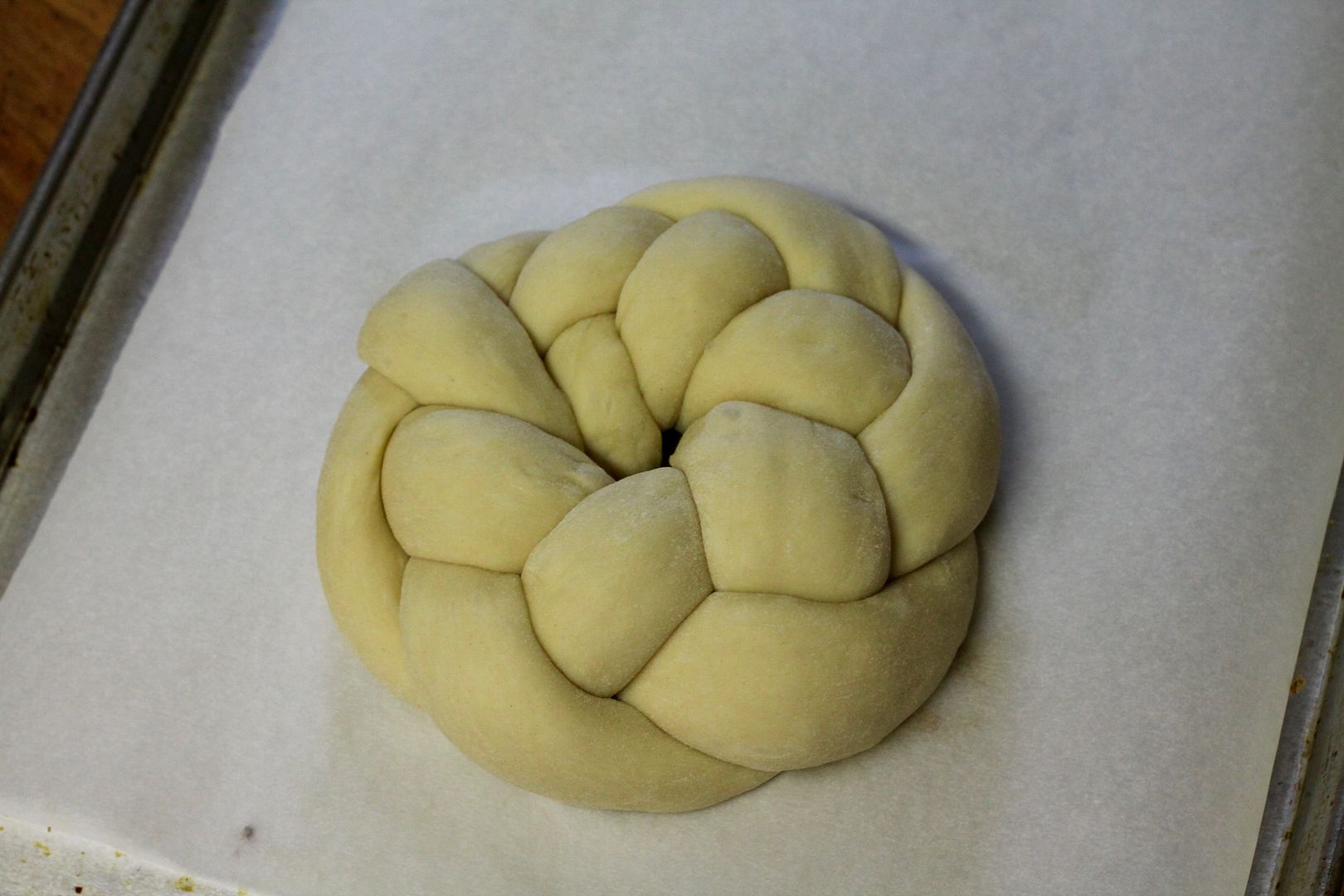 Preheat the oven to 425˚F (400˚F convection) with the oven racks in the top and bottom thirds of the oven.
Test that the loaves are ready to bake by pressing on the loaf gently with your finger – if the depression fills in half way, they are ready to bake.
Whisk together an egg wash of 1 large egg, 1 tbsp water, and a pinch of salt. Brush it evenly over the proofed loaves in a thin coating and sprinkle them generously with the seeds of your choice. For a multi-seed challah, try 4-5 different kinds – I used sesame, poppy, pumpkin, and sunflower.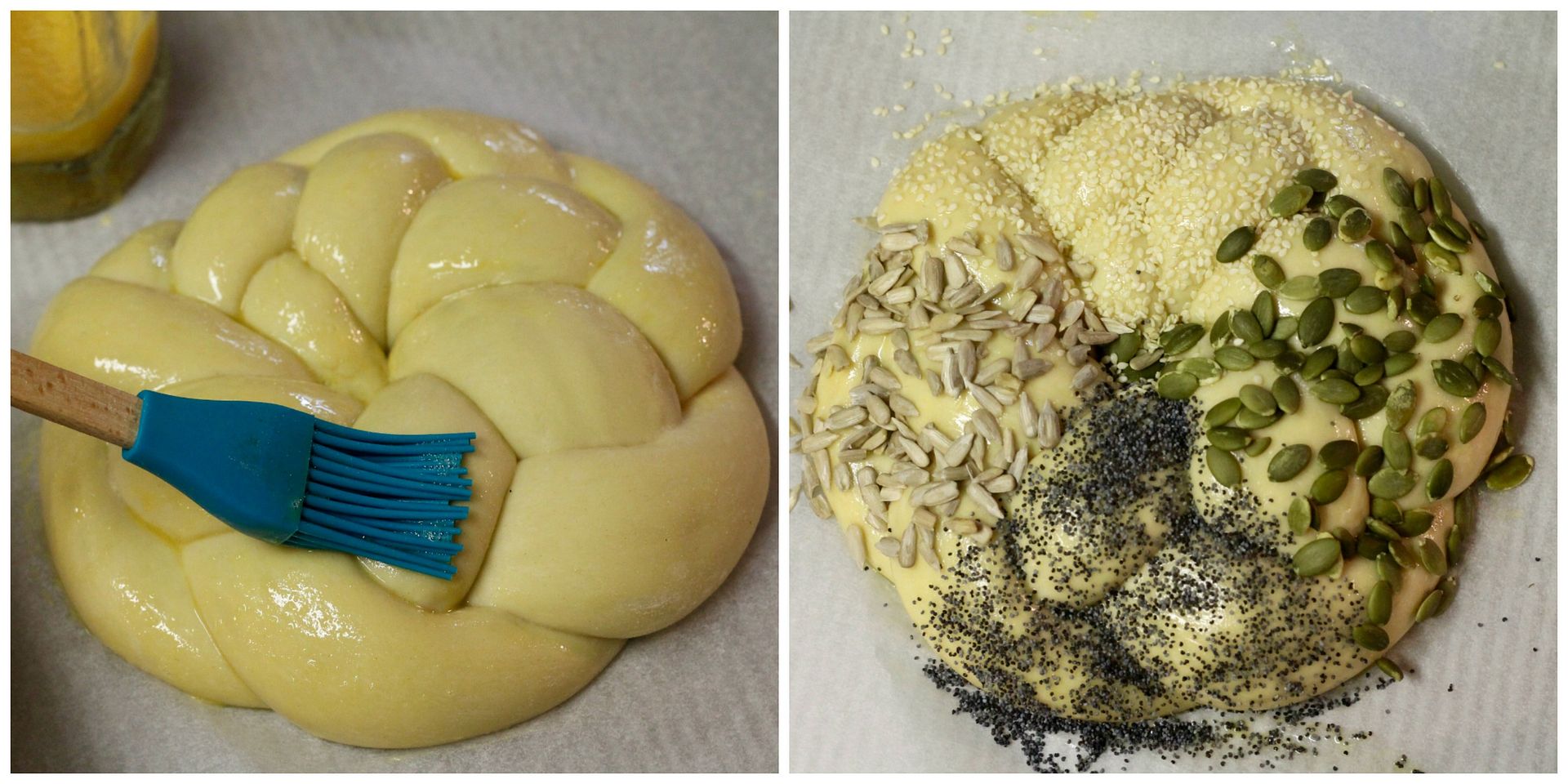 Bake in the top and bottom of the preheated oven for 15 minutes, then rotate the pans top and bottom and bake for another 10 minutes, until golden brown and the internal temperature reaches 195˚F. Remove from the oven and cool completely before serving.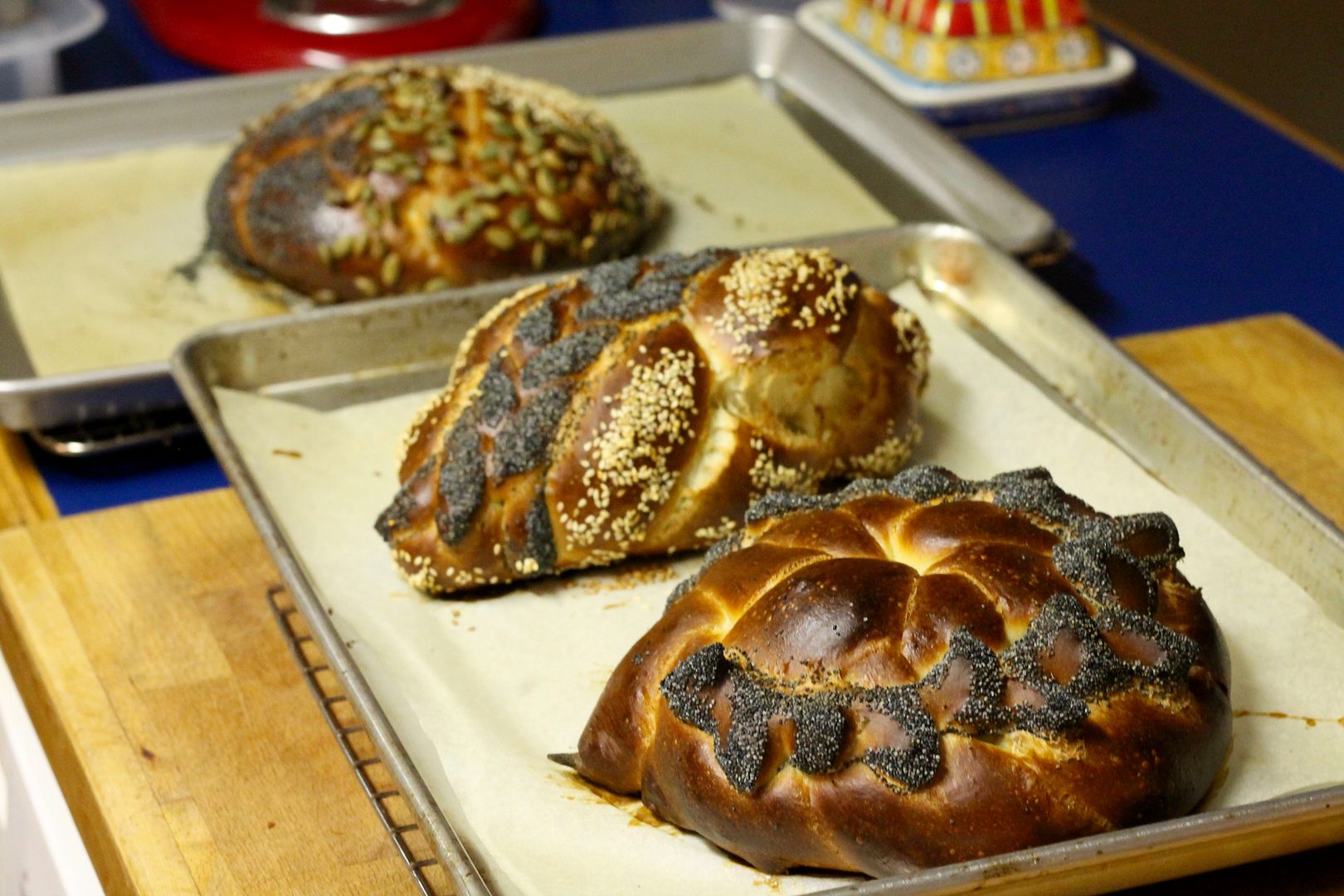 Braided Round Loaf
Take 3 shaped cylinders of dough and roll them out with your palms on an unfloured work surface into 14 inch ropes, pressing lightly on the ends of the ropes so they are tapered.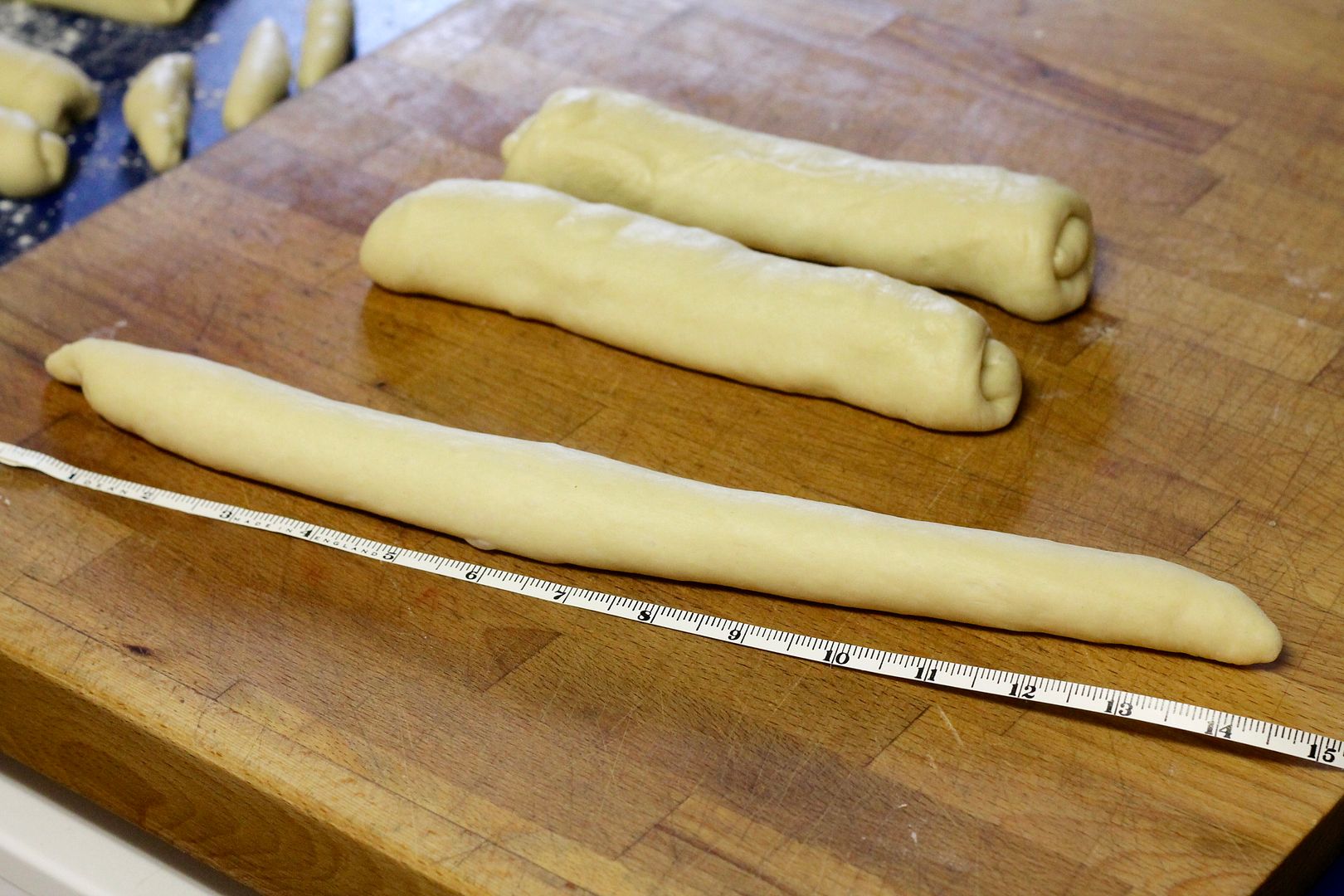 Lightly dust the ropes with flour (this will keep them distinct once braided together) then braid them together, either pressing the ends together or leaving them loose.
Form the braid into a circle, either tucking the ends of the braid underneath or sort of weaving them together loosely.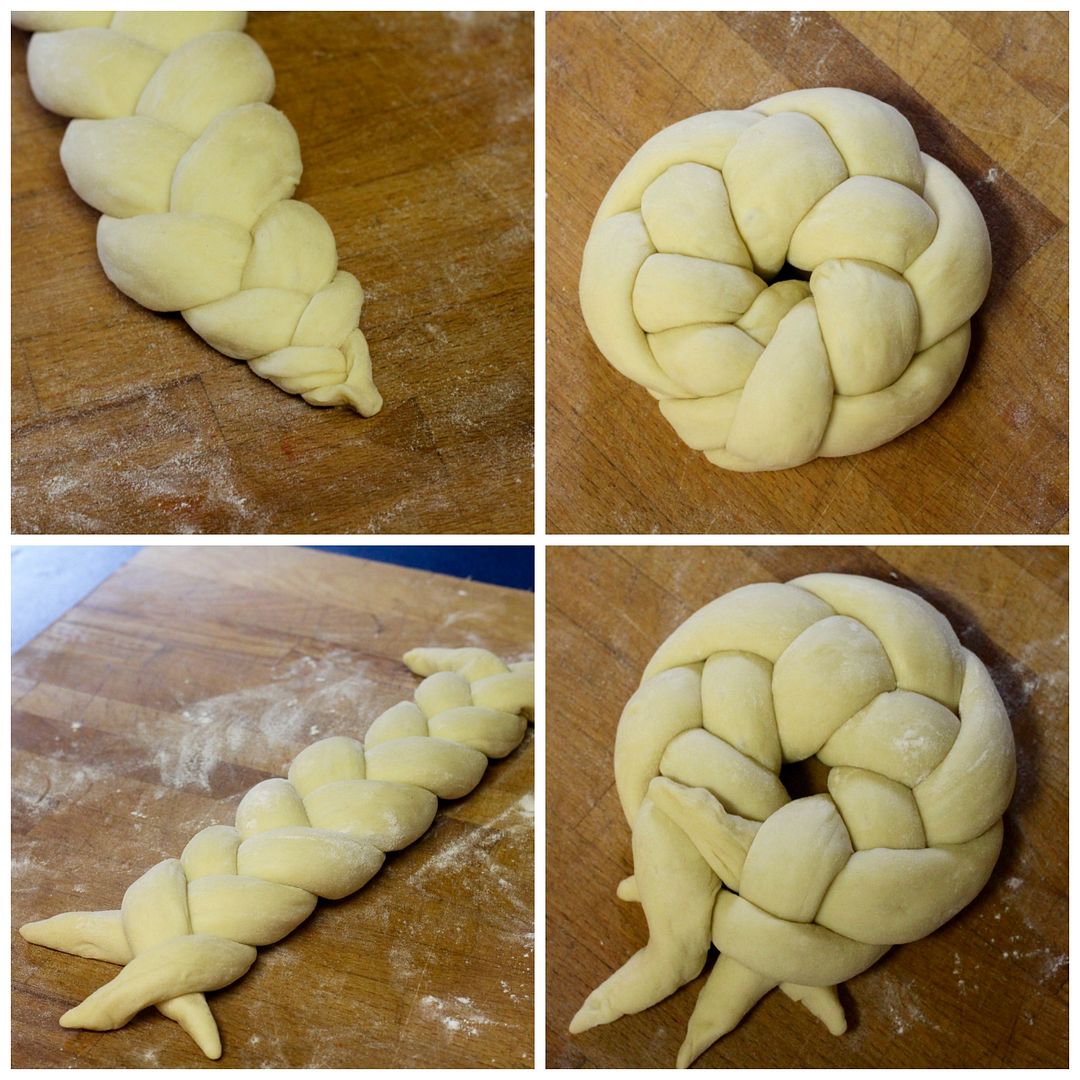 Four Strand Braid
Take 4 shaped cylinders of dough and roll them out as above to about 9 inches long and tapered. Flour each strand, place them side by side, and use something to weigh down the ends together.
Take the right-most strand and move it over one strand to the left. Take the second-to-the-left strand, and move it all the way over to the right.
Now repeat those two moves in the other direction. Take the left-most strand and move it over one strand to the right. Take the second-to-the-right strand, and move it all the way over to the left.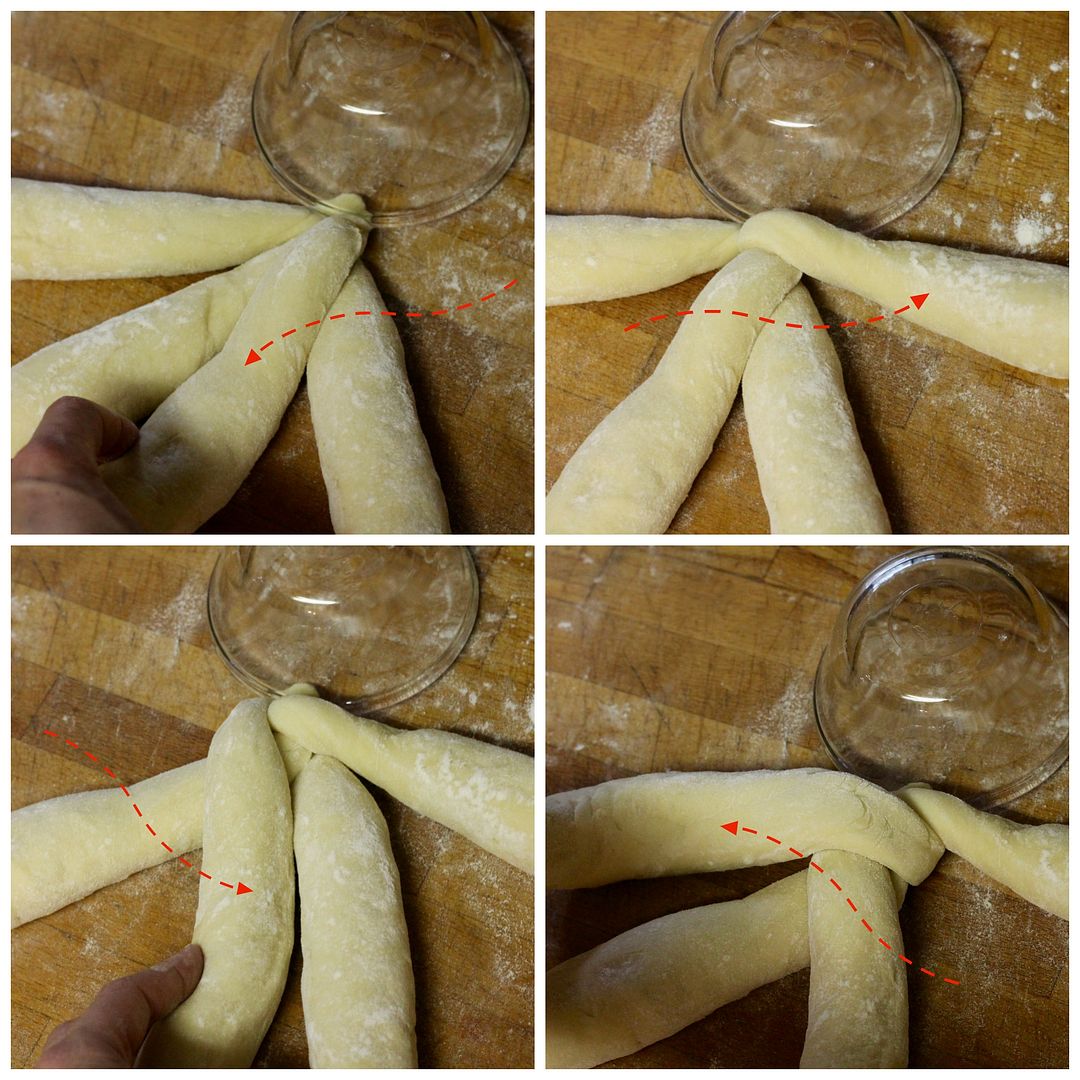 Repeat until you get to the end of the dough, then press the ends together firmly.
Final Decorations
Before dividing the three large portions of dough into smaller strands, cut off about 50 g of dough and shape it into a cylinder as directed above.
To make a braid decoration, divide the cylinder into three pieces and roll each out into a thin rope about 12 inches long. Flour the strands, then braid, leaving the ends loose. Brush the braid with egg wash on both sides and roll it in poppy seeds.

Use some egg wash to stick the braid to the shaped loaf, then proof, egg wash, sprinkle, and bake the loaf as directed.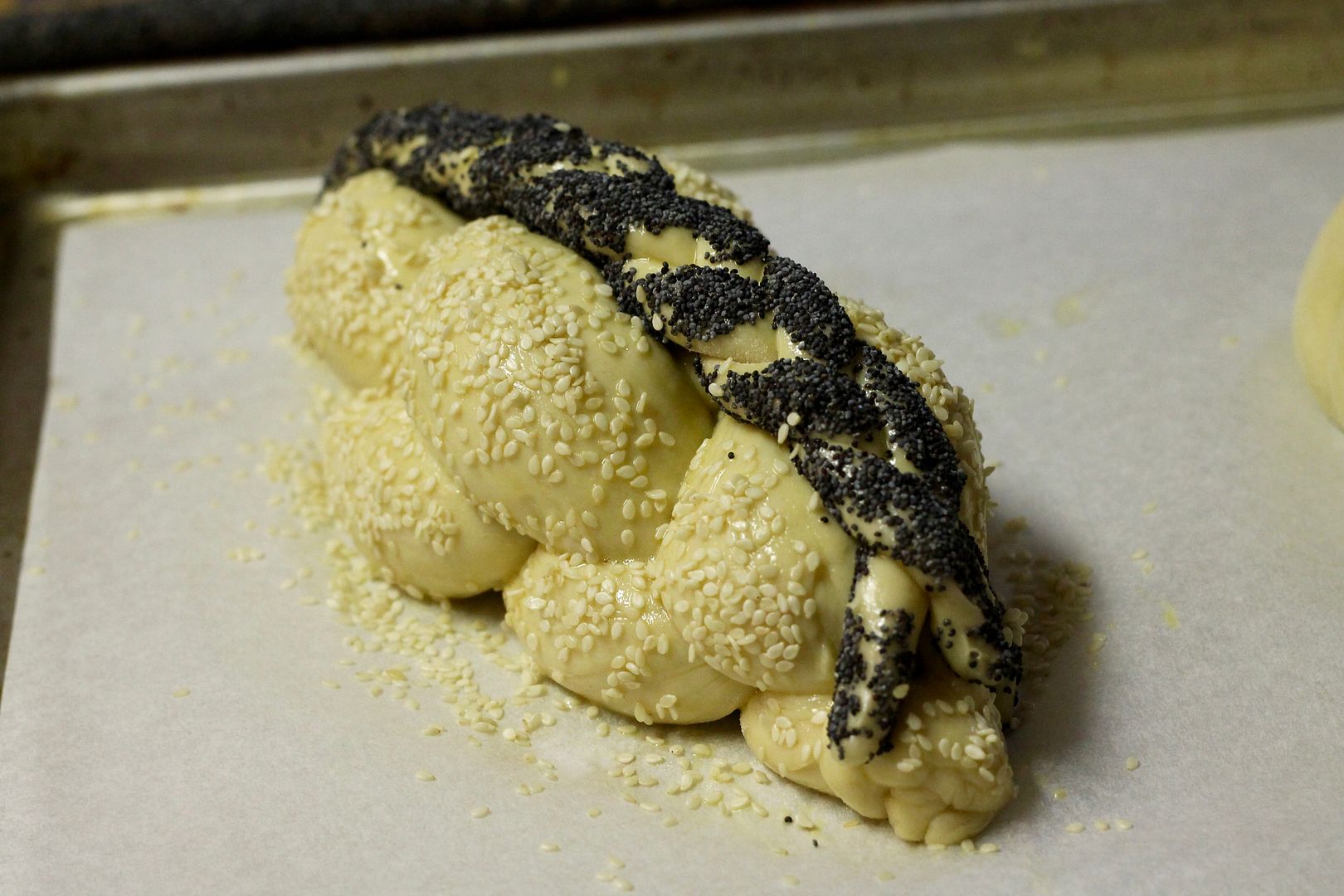 To make an epi decoration, roll out a single strand of dough into a rope about 12 inches long, brush it with egg wash, and roll it in poppy seeds. Stick it to a shaped loaf with egg wash, then use scissors held at a steep angle to cut little ears in the dough rope and turn each ear to one side, alternating left and right. Proof, egg wash, sprinkle, and bake the loaf as directed.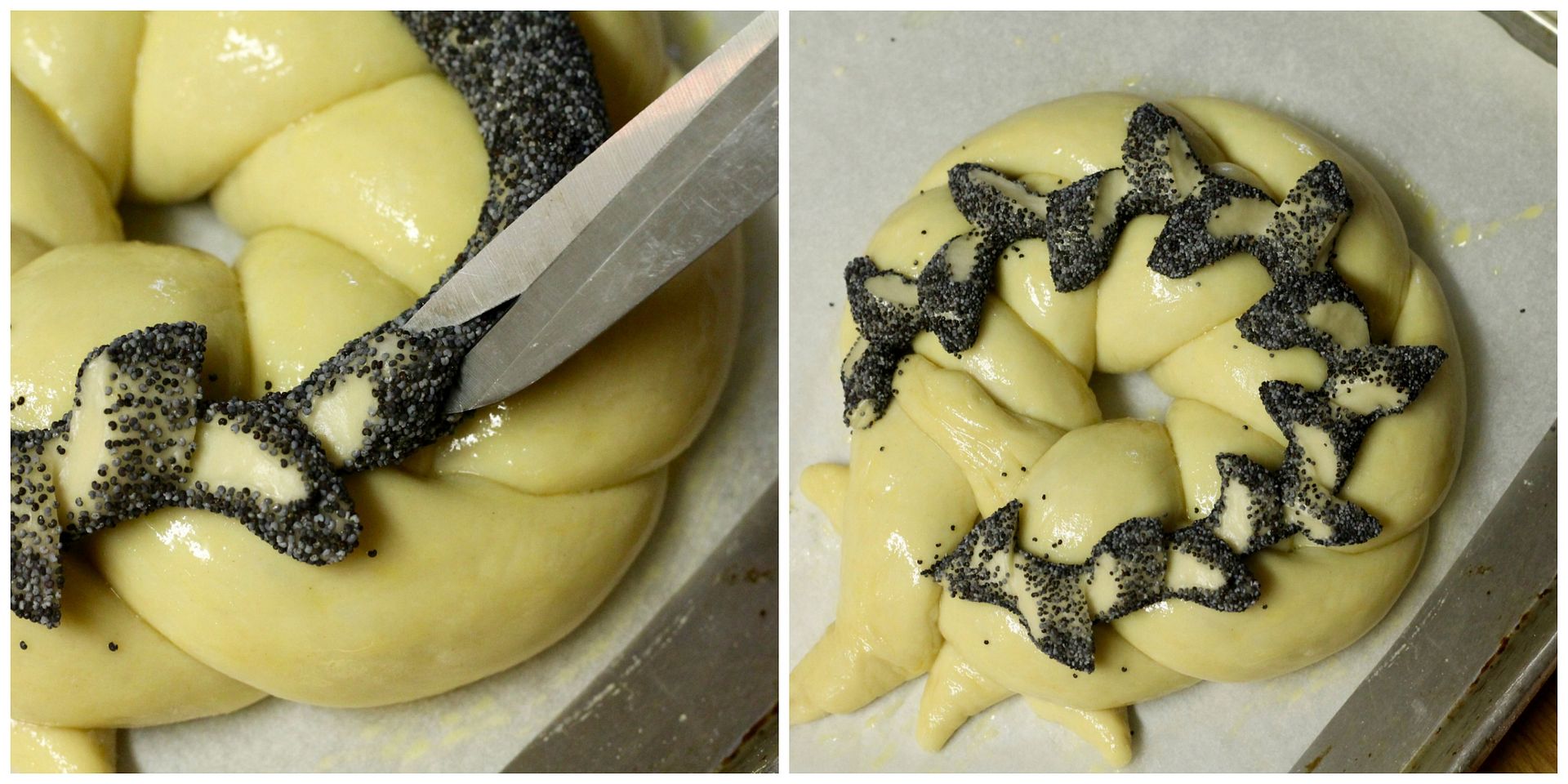 Save
Save
Save