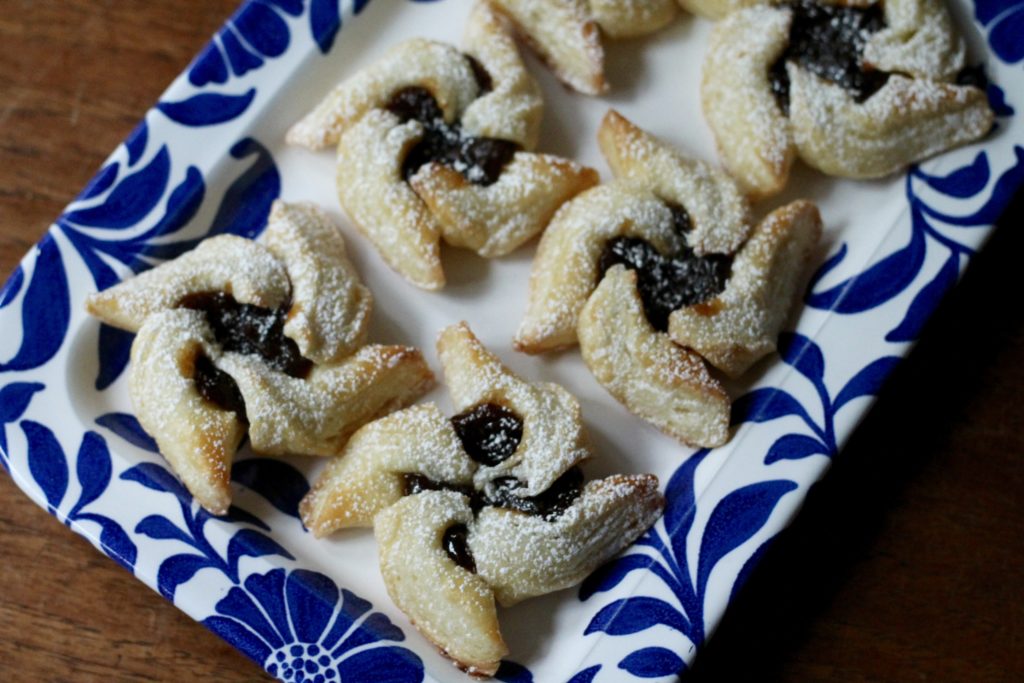 Christmas has come and gone, and I have managed to come down with a case of what might be strep throat… but in all honesty, I don't mind that much because it gives me a legitimate excuse to lie on the couch and do nothing for a few days! The lead-up to Christmas, what with all the prepping and shopping and baking and traveling to visit family while still working full time, is absolutely exhausting, and I'm ready for a break, sick or not. But I wanted to tell you about these beautiful little Finnish Christmas tarts before the holiday is too long past, because they were extremely delicious and pretty fun to make, not to mention fun to say (in your best Swedish chef accent): "YO-lou-TOR-tou".
I like to think of joulutortut as the Scandinavian version of the British mince pie, made with puff pastry and a prune filling (if you feel slightly turned off by the word "prune", remember that prunes are just dried plums and therefore delicious). I first came across them last year when Nate's aunt made a batch according to her sister-in-law's recipe. I managed to get a copy of it, but obviously having been primarily passed down through hands-on demonstration rather than in writing, it was short on descriptive instructions for its somewhat unusual technique of making the pastry with whipped cream. So I turned to Google, watched some videos, found an almost identical recipe by Beatrice Ojakangas, the "Julia Child of Finnish cuisine", and got to work.
The most common shape for joulortut is the pinwheel, but in my research I saw several other more complicated shapes as well, including a second pinwheel shape and a sort of loopy flower shape. The original pinwheel turned out to be the most successful, with the flower exploding slightly with the expansion of the puff pastry in the oven (see above), and the second pinwheel shape unfortunately and unintentionally resembling a swastika – however this could be easily remedied by changing the orientation of the slits cut in the pastry before folding.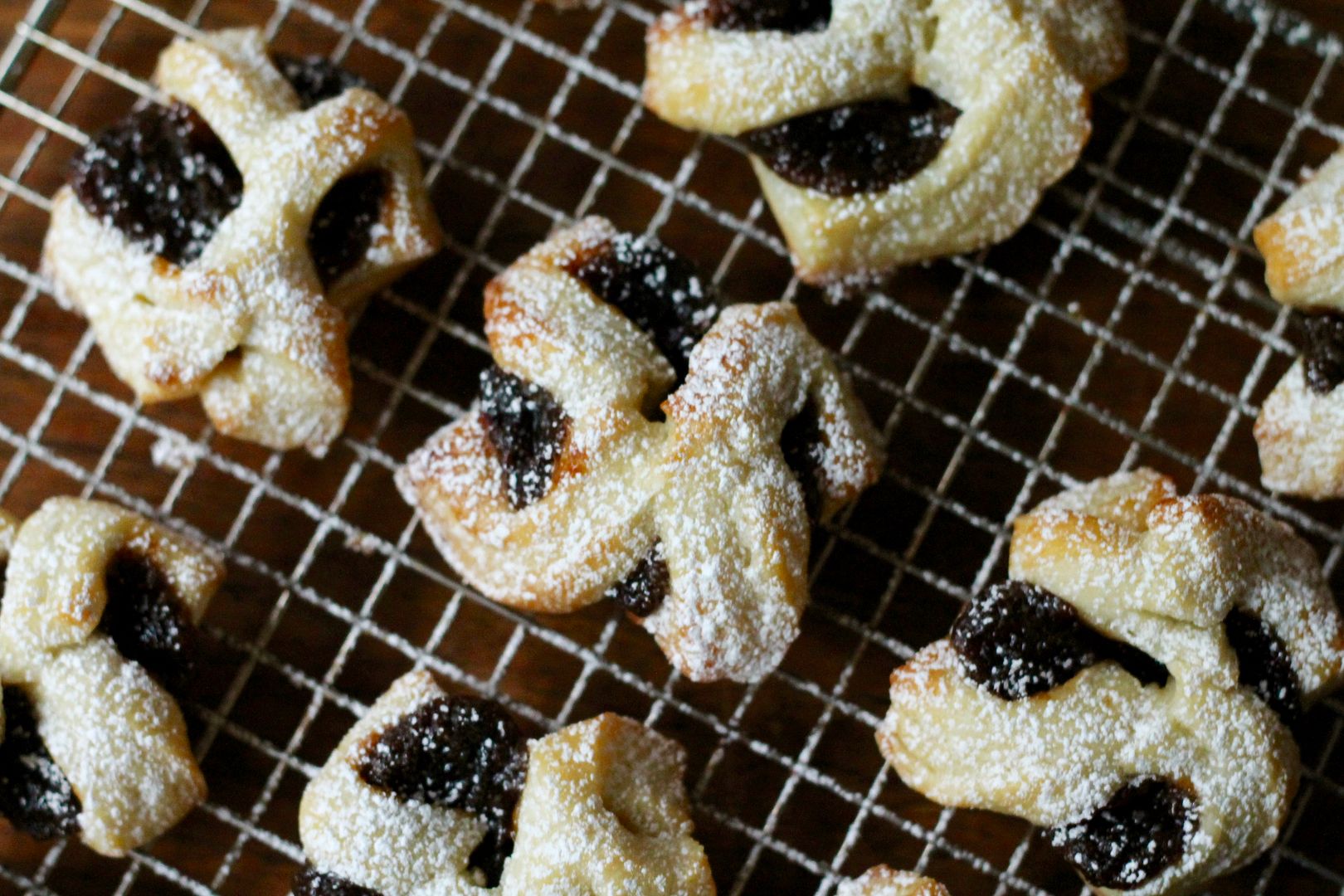 Joulutortut are extremely good the day they are baked – crispy, rich puff pastry and soft, jammy-plummy filling with a hint of lemon, showered with a dusting of powdered sugar – and I would recommend eating them as soon as possible to retain the contrast of crisp and soft textures. But they were still pretty darn good the next day(s), and they made an excellent addition to this year's cookie tins (which also included zimtsterne, chocolate-orange macarons, white chocolate cranberry almond biscotti, apricot and raspberry linzer bars, chocolate truffles, chocolate-dipped vanilla-lemon shortbread, and speculaas).
I've got a few of the above holiday cookie recipes that I will try to post before the New Year, but in the meantime, I hope you all had a wonderful Christmas / whatever holiday you do or do not celebrate. Love and light!
Joulutortut
Adapted from The Great Scandinavian Baking Book by Beatrice Ojakangas, via My Danish Kitchen. Makes 30 tarts.
Prune Filling
In a small saucepan, place 5 oz pitted prunes and enough water to just cover them. Bring to a simmer over medium heat and cook until the water evaporates/is soaked up by the prunes and the prunes are very soft.
Cool for a few minutes, then scrape into a food processor along with:
1 tbsp lemon juice (I used the juice from 1/2 a lemon)
2 oz (1/4 cup) granulated white sugar
Puree until smooth – it should be the consistency of jam, so that you can mound it on a spoon. Scrape into a bowl and set aside to cool completely.
Dough
In a bowl, soft together:
8 oz (2 cups) all purpose flour
1 tsp baking powder
pinch fine sea salt
Set aside.
In a large bowl, beat 12 oz (1 1/2 cups) heavy whipping cream until soft peaks form.
Add the flour to the whipped cream and fold it in with a spatula – it should look somewhat crumbly.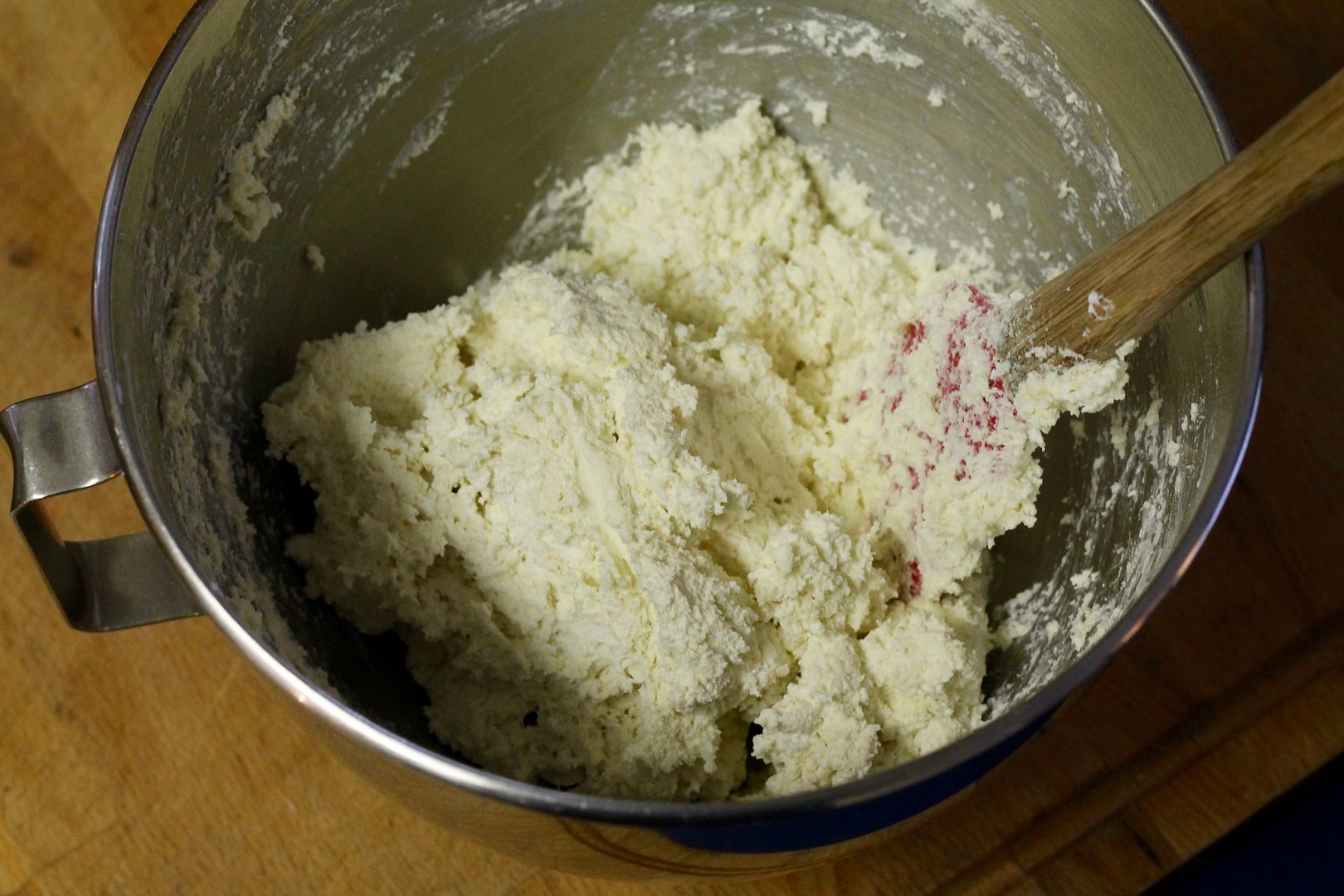 Cut 8 oz (1 cup) unsalted soft butter into cubes and add it to the dough.
Work the butter into the dough with your hands until combined and smooth. The dough will be soft and sticky – but not as sticky as you'd expect – and slightly elastic.
Wrap the dough in plastic wrap and refrigerate for 1-2 hours.
On a floured surface (add more flour as needed to keep the dough from sticking), roll the chilled dough out into a 15″ x 18″ rectangle. Fold it like a letter in thirds to make a long skinny rectangle, brushing off any excess flour with a pastry brush. Fold in thirds again to make a square. Turn the dough over and repeat the rolling and folding one more time.
At this point you can refrigerate the dough if it's getting too warm.
When you are ready to continue, preheat the oven to 400˚F (375˚F convection). Roll the dough out into a rectangle slightly larger than 15″ x 18″. Use a rotary cutter or paring knife to trim the edges to exactly 15″ x 18″, then cut the dough into 3″ squares.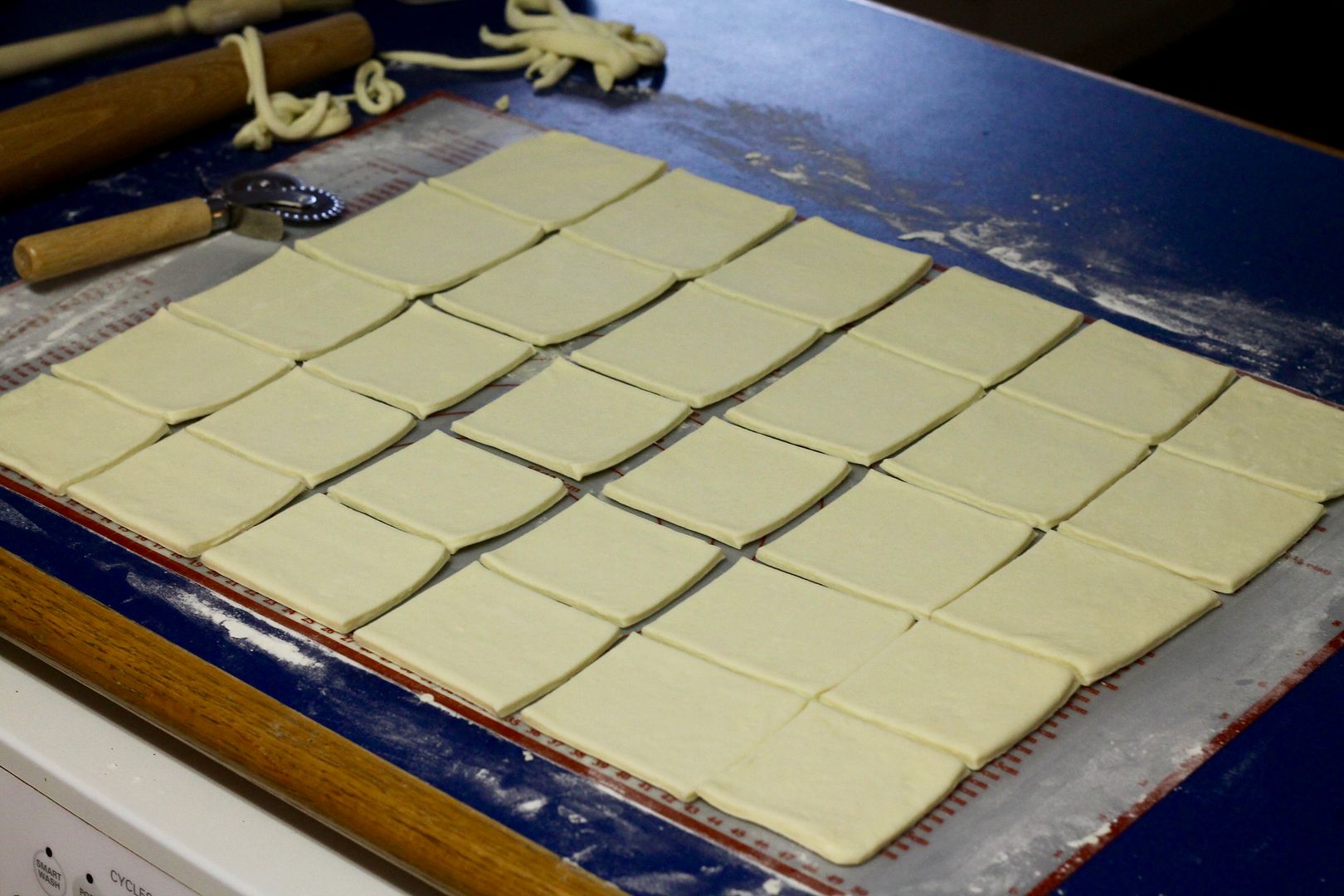 Notch the dough as shown in the following photos for your desired shapes:
Regular pinwheels:
Pinwheel variation (I suggest doing a mirror image of the cuts below):
Loopy flowers:
Place a small dollop of the prune filling – no more than 1 tsp – in the middle of each square of dough, and fold in the edges as directed below. Be sure to press the ends of the pastry together as firmly as possible to they don't explode in the oven.
Regular pinwheels (fold the top right corner in first, then every second corner after):
Pinwheel variation:
Loopy flowers:
Transfer the shaped tarts to baking sheets lined with parchment paper and brush the pastry with an egg wash (1 egg + pinch salt + 1 tbsp water).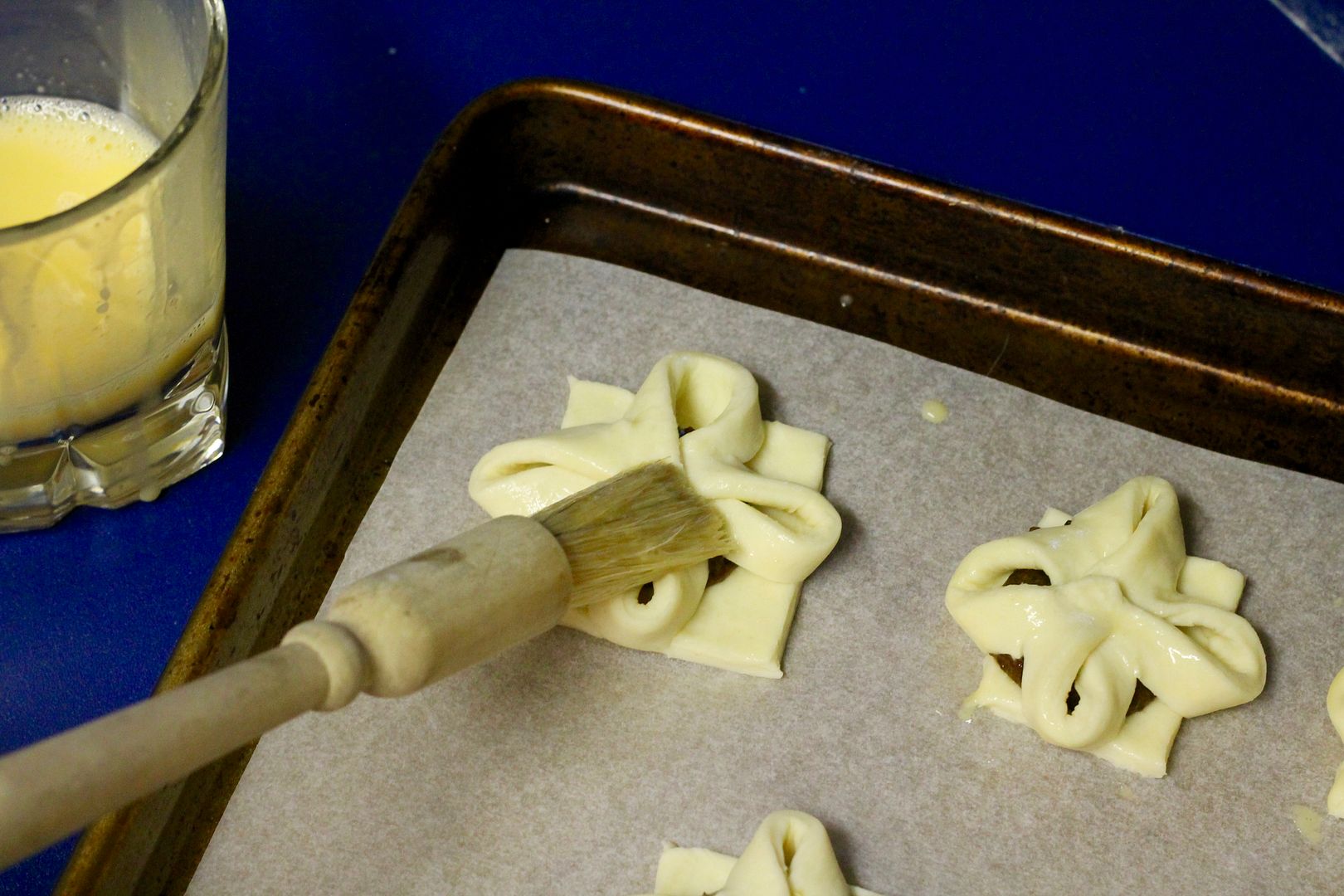 Bake in the preheated 400˚F (375˚F convection) oven for 10-15 minutes, until just golden. Remove from the oven and cool on a rack.
Before serving, dust with confectioner's sugar and enjoy!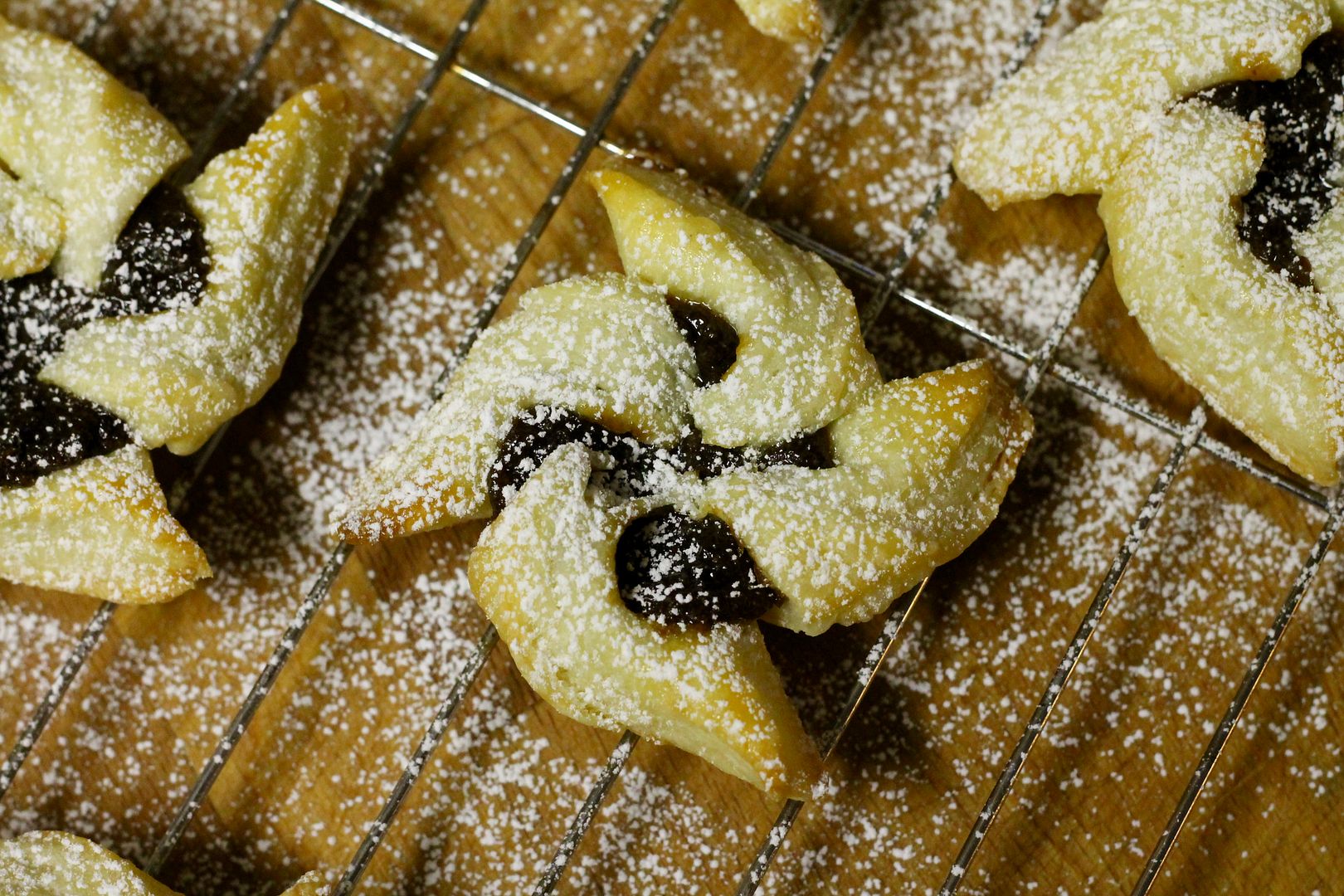 These are best the day they are baked, but they can be kept for several days in an airtight container and I suspect they would respond well to re-crisping in a moderate oven for a few minutes.
Save
Save