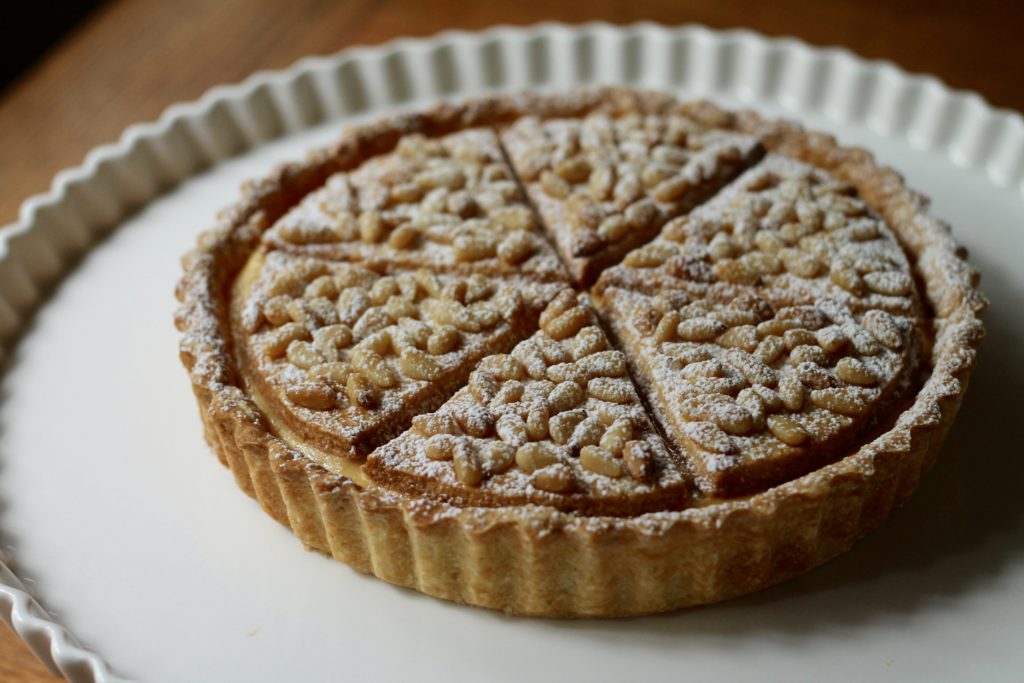 Creamy custard inside a crisp, cookie-like tart shell, the whole thing flavoured with vanilla and lemon and topped with toasted pine nuts. Is your mouth watering yet? It should be, because I've just described an Italian dessert called Torta Della Nona and it is SO GOOD. Translated as "grandmother's cake", this was the November Daring Kitchen Challenge hosted by Ginger-Z, and of course, I'm over a week behind schedule for posting about it. But once again, better late than never – this one is worth the wait!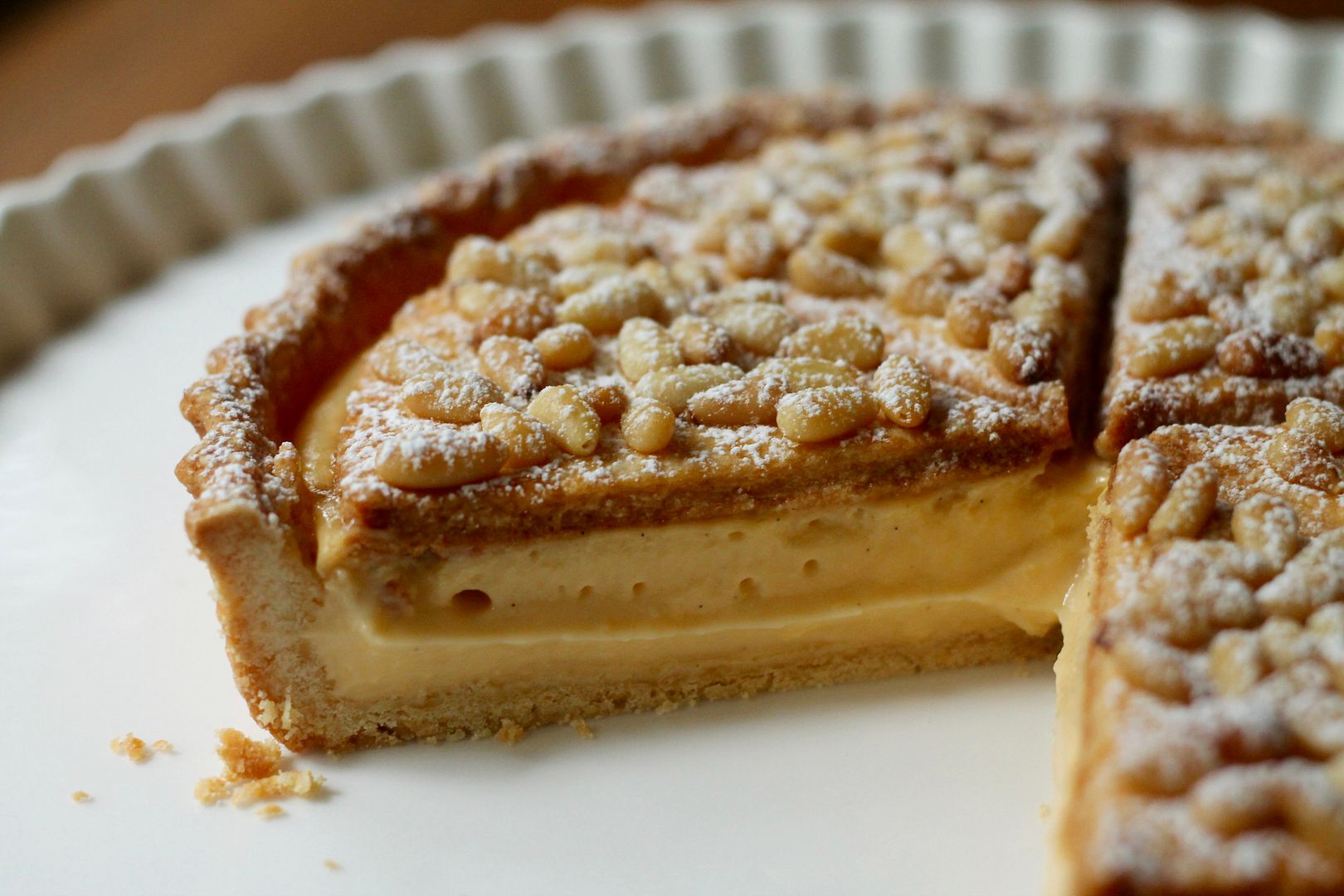 This is one of those recipes that has a fancy result from normal, everyday pantry items (except maybe for the pine nuts). If you have eggs, milk, butter, vanilla, and lemon, you can make pastry cream. If you have flour, butter, eggs, sugar, lemon zest, and vanilla, you can make pasta frolla, the Italian pie dough that closely resembles a lemon-flavoured cookie. In fact, Nate and I called this "cookie pie" because that's exactly what it tasted like – a custard-filled sandwich cookie. Torta Della Nona can either be a single crusted tart, where you fill a baked pasta frolla shell with custard, or double crusted affair, where you bake the custard in a tart pan between two layers of pasta frolla. I was inspired by Lottie + Doof's beautiful version to make a hybrid: I baked the shell first and filled it with custard, then topped it with baked wedges of pasta frolla sprinkled with pine nuts.
I love how this dessert turned out. It was a little messy to eat, because the soft pastry cream squished out between the crisp layers of pasta frolla when you tried to cut into it with a fork, but the mess and crumbs were a hundred percent worth it. If you really wanted, you could use a little more flour in the pastry cream to make it thicker or bake the pasta frolla a little less so it was softer, but I have no real complaints here: this was delicious! Thanks Ginger-Z for a great recipe!
Torta Della Nona
Adapted from Dolce Italiano: Desserts from the Babbo Kitchen by Gina Depalma, via the Daring Kitchen. I scaled down the original recipe to make a small 8″ tart, about 6-8 servings.
Pasta Frolla
In the bowl of a food processor, pulse together:
220 g all purpose flour
50 g granulated white sugar
pinch salt
scant 1/2 tsp baking powder
zest of 3/4 lemon
Once combined, add 130 g cubed, cold, unsalted butter and pulse until the mixture is sandy and no large chunks of butter remain.
In a small bowl, whisk together:
2 egg yolks
scant 1/2 tsp vanilla extract
45 ml whole milk or cream
Drizzle the egg yolk mixture over the flour-butter mixture in the food processor. Give it about 20 pulses to combine – just enough so that the pastry clumps together when squeezed.
Turn out onto an unfloured surface and frissage the dough: use the palm of your hand to press and smear it away from you. This will bring the dough together in a cohesive mass without overworking the gluten and making the pastry tough.
Gather it all up in a ball and press it into a disc. Wrap with plastic wrap and refrigerate for at least 1 hour.
Pastry Cream
In a small saucepan, combine:
360 ml whole milk
2 strips of lemon zest
the seeds scraped from 1/2 a vanilla bean, plus the bean pod
30 g sugar
Place the saucepan over medium heat and bring it just to a simmer.

While the milk is heating, whisk together until thick and pale:
3 egg yolks
20 g sugar
pinch salt
25 g flour
When the milk reaches a simmer, remove it from the heat and discard the lemon zest and vanilla bean. Very slowly drizzle the hot milk into the egg yolk mixture, whisking constantly so you don't end up with scrambled eggs. Once all the milk is added, pour the mixture back into the saucepan.

Place back over low heat and cook, whisking, until the mixture just comes to a boil and thickens – you should see a few bubbles break the surface and it will be thick enough to mound when it falls from the whisk.

Press the pastry cream through a fine mesh strainer into a shallow dish, then whisk 15 g soft unsalted butter into the pastry cream. Press a piece of plastic wrap directly onto the surface and place it in the fridge to cool.

Assembly
On a floured surface, roll out the chilled pasta frolla to a thickness of 1/8″. Be generous with the flour and move the pastry around when rolling it to prevent it from sticking.

Drape it over a 8″ tart pan with a removable bottom and sides and press it into the pan. Trim the excess dough from around the edges and reserve it. The dough is a bit fragile, but you can patch up any holes with some of the extra pastry. Prick the pastry all over with a fork, then put it in the freezer to chill for at least 20 minutes. Preheat the oven to 350˚F (325˚F convection).
Meanwhile, press the excess pastry into a ball and roll it out again to a thickness of 1/8″. Cut out a 7″ circle and cut it into 6 or 8 wedges, depending on how generous you want each serving of the torta to be. Transfer the wedges to a parchment paper-lined baking sheet and freeze for at least 20 minutes, until firm.

Once the pastry in the tart pan is chilled, line it with parchment paper (crumple it up first to make it fit easier) and fill with pie weights, such as dried beans. Bake in the preheated 350˚F (325˚F convection) oven for about 15 minutes, until the sides of the pastry are set.

Remove the pie weights and parchment paper and re-prick the bottom of the pastry. Bake for an additional 10-15 minutes, until light golden brown. Let cool for about 10 minutes, then fill the warm pastry with the chilled pastry cream, spreading it out evenly.

As soon as the pastry shell comes out of the oven, brush the chilled pastry wedges with a little beaten egg white and sprinkle with 50 g pine nuts. Bake in the preheated 350˚F (325˚F convection) oven for 15-20 minutes, until light golden brown.

Let cool until you can handle the wedges, then arrange them on top of the pastry cream in the tart shell.
Let the tart cool to room temperature, then cover lightly in plastic wrap and chill until completely cold, at least a few hours and preferably overnight. Dust with icing sugar, then remove the sides and bottom of the tart pan and place on a serving plate before cutting into wedges.

Leftovers can be kept in the fridge, wrapped in plastic, for a few days.
Save
Save