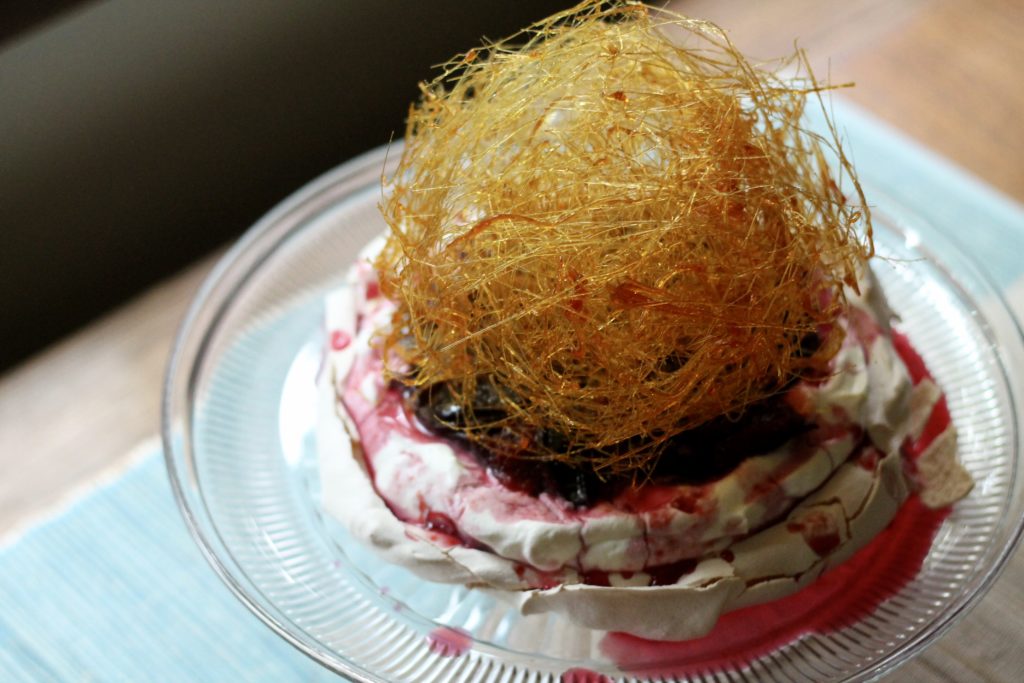 I have majorly fallen off the Daring Kitchen challenge bandwagon (the last challenge I did was in May!), and even now, my attempt to jump back on is a week late. But better late than never, right? August's challenge, set by Marcellina, was the pavlova: a crisp meringue base filled with whipped cream and fruit. While both New Zealand and Australia claim to be the originator of this dessert, it is named after the Russian ballerina Anna Pavlova, because the billows of meringue and cream are supposed to resemble her tutu. That might be a bit of a stretch, but I completely understand why Australia and New Zealand are fighting over it, because DANG, pavlova is delicious! I've made several in the past, and for a while the header image on my blog was a pavlova, but somehow I've never actually posted a recipe. So finally, here it is.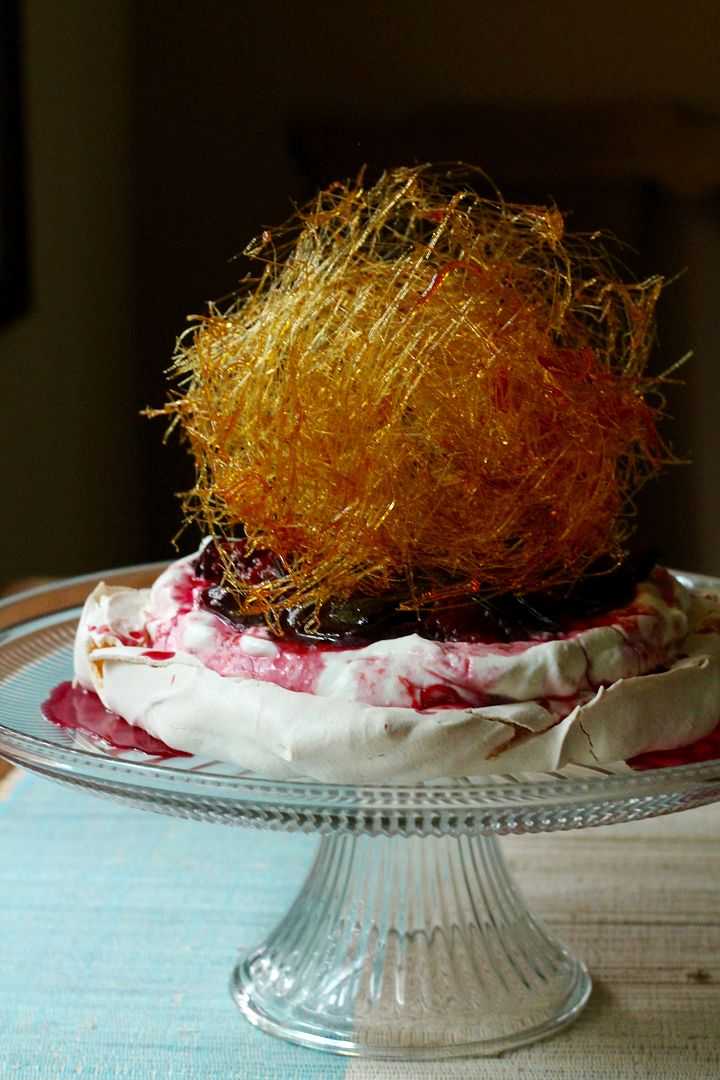 While fresh fruit is the norm for topping a pavlova, it's plum season, and I cannot resist poached plums spiked with a little cinnamon. They give this light and summery dessert a hint of fall, a season I am pretty excited for. I decided to add some drama to my pavlova with a tangle of spun caramel threads, which is a fun little trick to add visual interest to any dessert. This was a delicious combination of tastes and textures: crispy-chewy-marshmallowy meringue, whipped cream mixed with a little Greek yogurt for some tang, sweet-tart plums with the warmth of cinnamon, and the added crunch of the spun caramel. The one downside to this dessert is that it doesn't keep well AT ALL (the meringue will get soggy and the spun caramel will melt into nothing) so you need to assemble it just before serving (luckily all the individual components can be made in advance) and then eat it all in one sitting. But it's so tasty that this shouldn't be hard!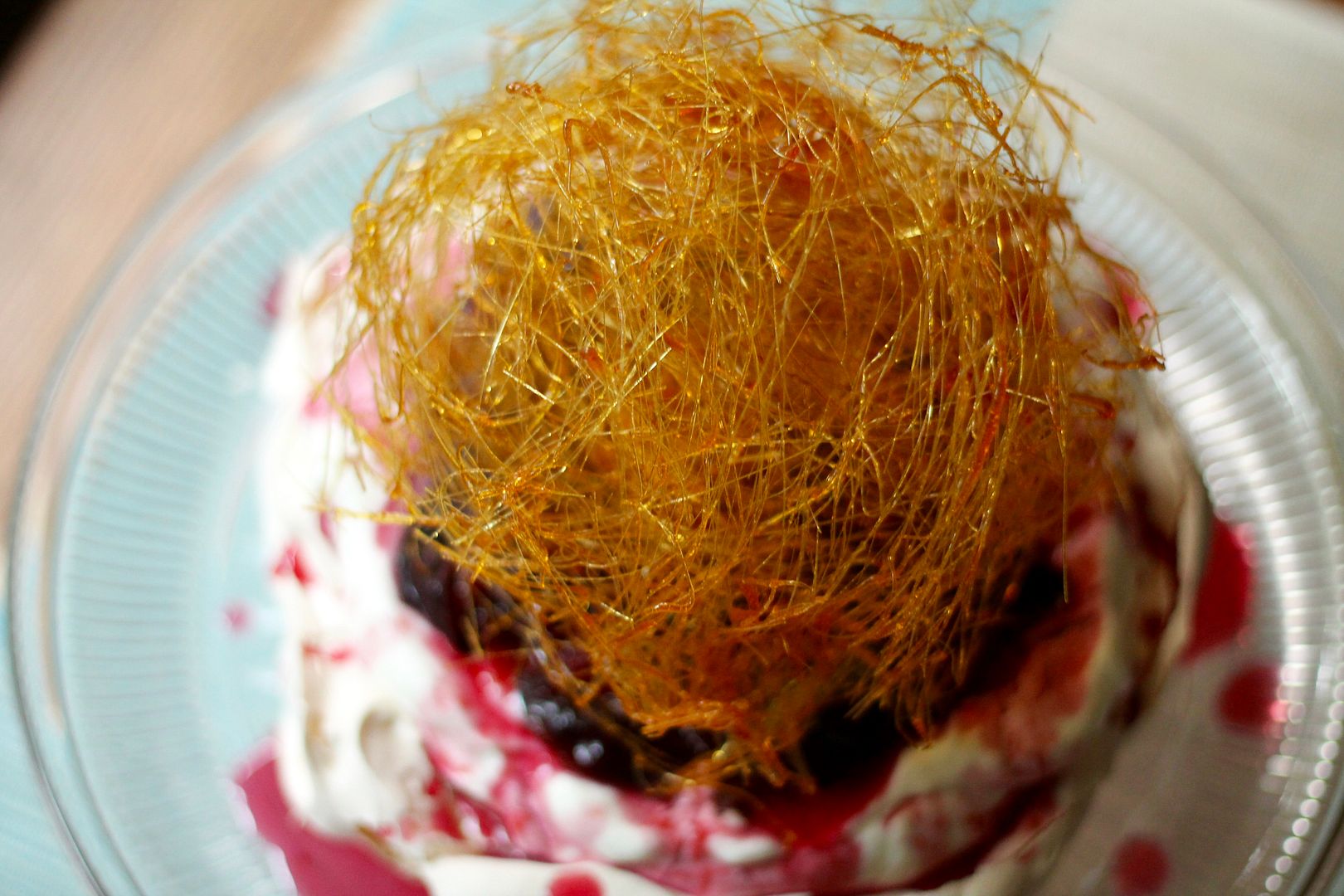 Poached Plum Pavlova with Spun Caramel
Serves 4-6
Meringue Base
Adapted from Marcellina in Cucina's challenge recipe
Preheat the oven to 275˚F (250˚F convection) and line a baking sheet with parchment paper.
Wipe your mixer bowl and whisk attachment with a vinegar-moistened paper towel to remove any traces of grease. In the bowl, place 2 egg whites and beat on medium-high speed until foamy. Add 1/8 tsp cream of tartar and continue beating until soft peaks form. Gradually add 1/2 cup granulated sugar, beating until stiff glossy peaks form and the sugar has dissolved (rub a little meringue between your fingers to see if it's still gritty – if so, beat on low speed until silky smooth).
Sift 1 1/2 tsp cornstarch over the meringue and fold in with a spatula. Then fold in:
1/2 tsp vanilla
1/2 tsp vinegar (I used red wine vinegar because it was the easiest to reach in the cupboard)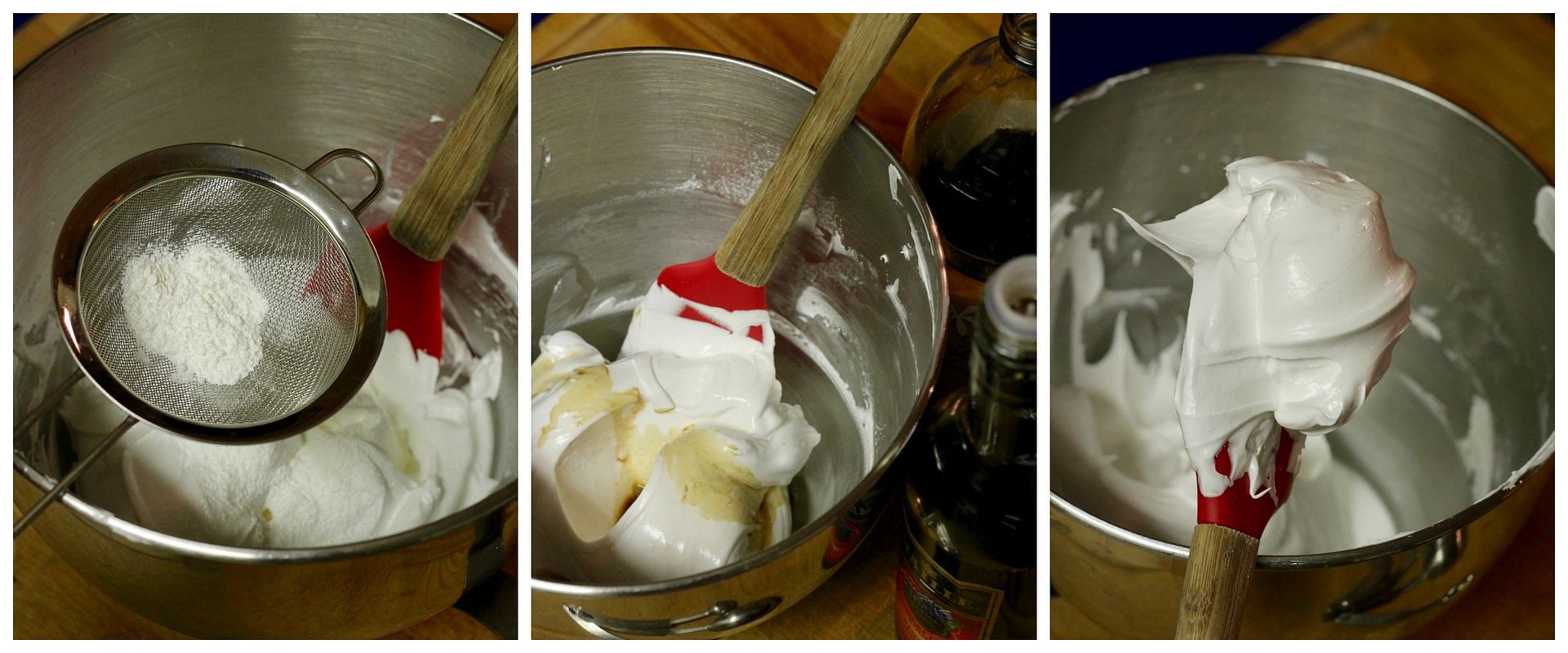 Scoop the meringue onto the parchment-lined baking sheet and gently shape it into an 8″ circle, making sure the sides are higher than the middle. You can make the meringue as swoopy or smooth as you wish – you can even pipe it with a piping bag.
Bake in the preheated 275˚F (250˚F convection) oven and bake for 1 hour and 15 minutes. If the meringue browns during this time, reduce the oven heat by 5-10 degrees. Let the meringue cool completely in the oven with the door ajar (I left it overnight).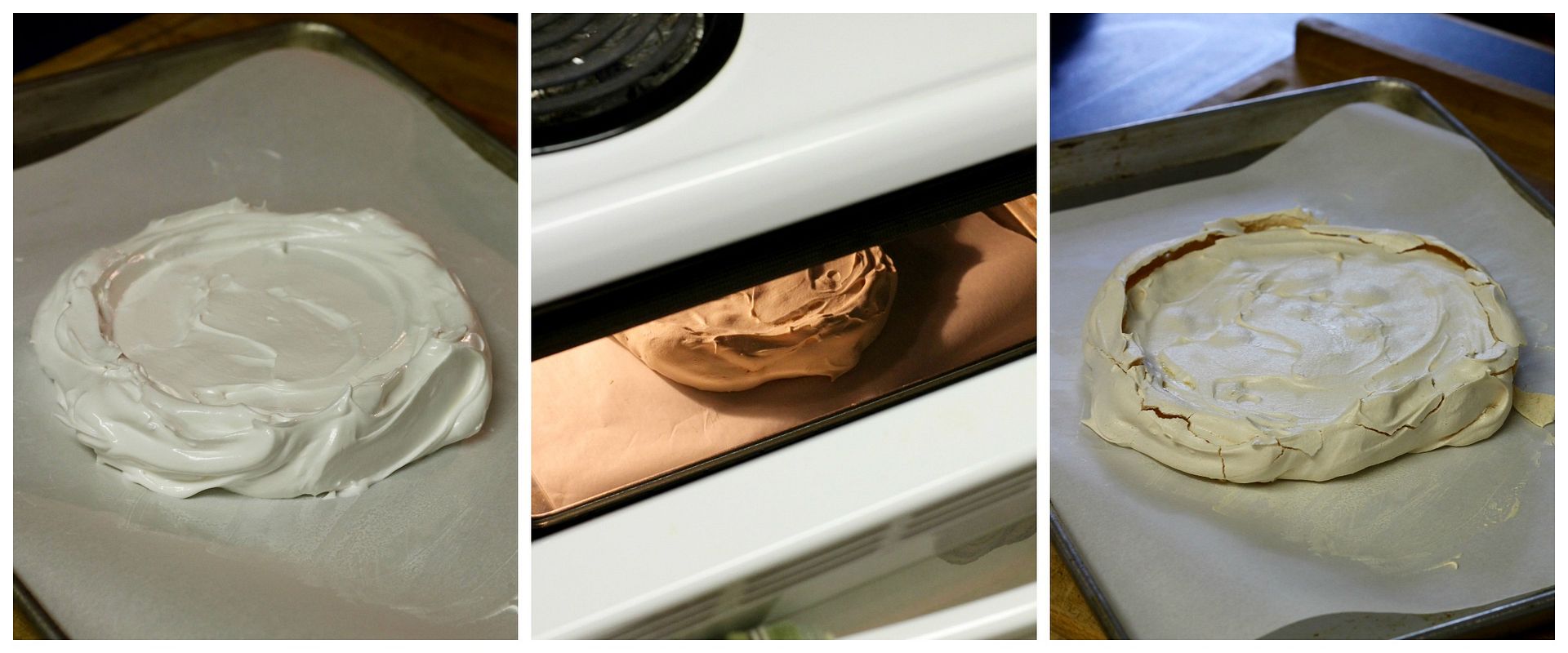 Gently peel the baked, cooled meringue off the parchment paper. The meringue can be stored in an airtight container at room temperature for a day or two before assembling the pavlova.
Poached Plums
In a small saucepan, combine and bring to a simmer:
3/4 cup water
1/4 cup granulated sugar
1 cinnamon stick
While that happens, remove the pit from 350 g Italian prune plums and cut them into quarters. Add them to the simmering sugar syrup and allow too poach gently over medium-low heat for 10-15 minutes, until the plums and syrup turn a gorgeous purply-red.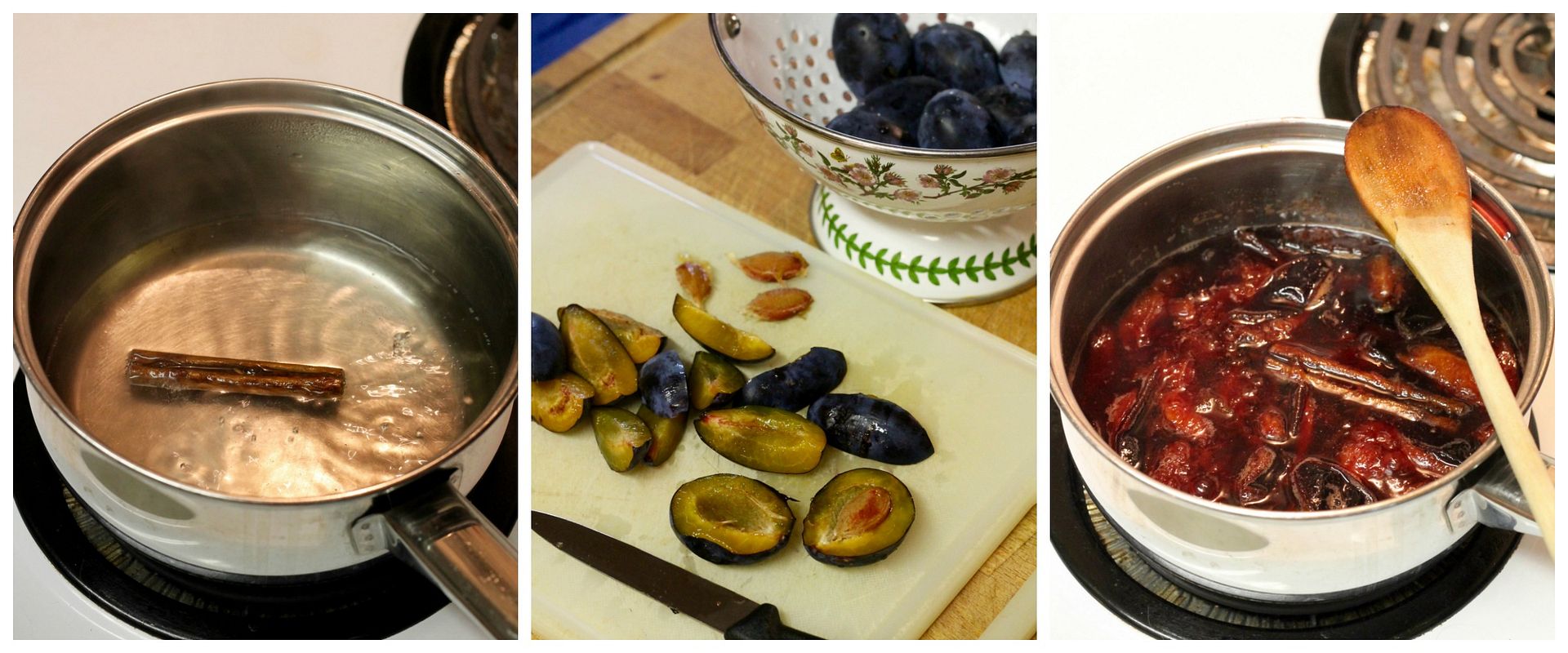 Pour the plums and syrup into a bowl to cool. If desired, scoop the plums out of the syrup, return the syrup to the pot, and simmer until it thickens slightly. Pour back over the plums and allow to cool.
Spun Caramel
In a small, heavy-bottomed saucepan, combine:
1/2 cup granulated sugar
1-2 tbsp water, enough to moisten the sugar
Place the saucepan over medium heat and let the sugar melt, stirring occasionally until the sugar is dissolved, but do not stir once it starts to boil or the mixture will seize up. Continue cooking the sugar, swirling the pan occasionally,  until it starts to turn golden brown – you will be able to smell it caramelizing. When the mixture is uniformly golden, plunge the base of the saucepan in cold water to stop the cooking process. Let the caramel thicken up just enough so that it forms threads when you dip a fork in it.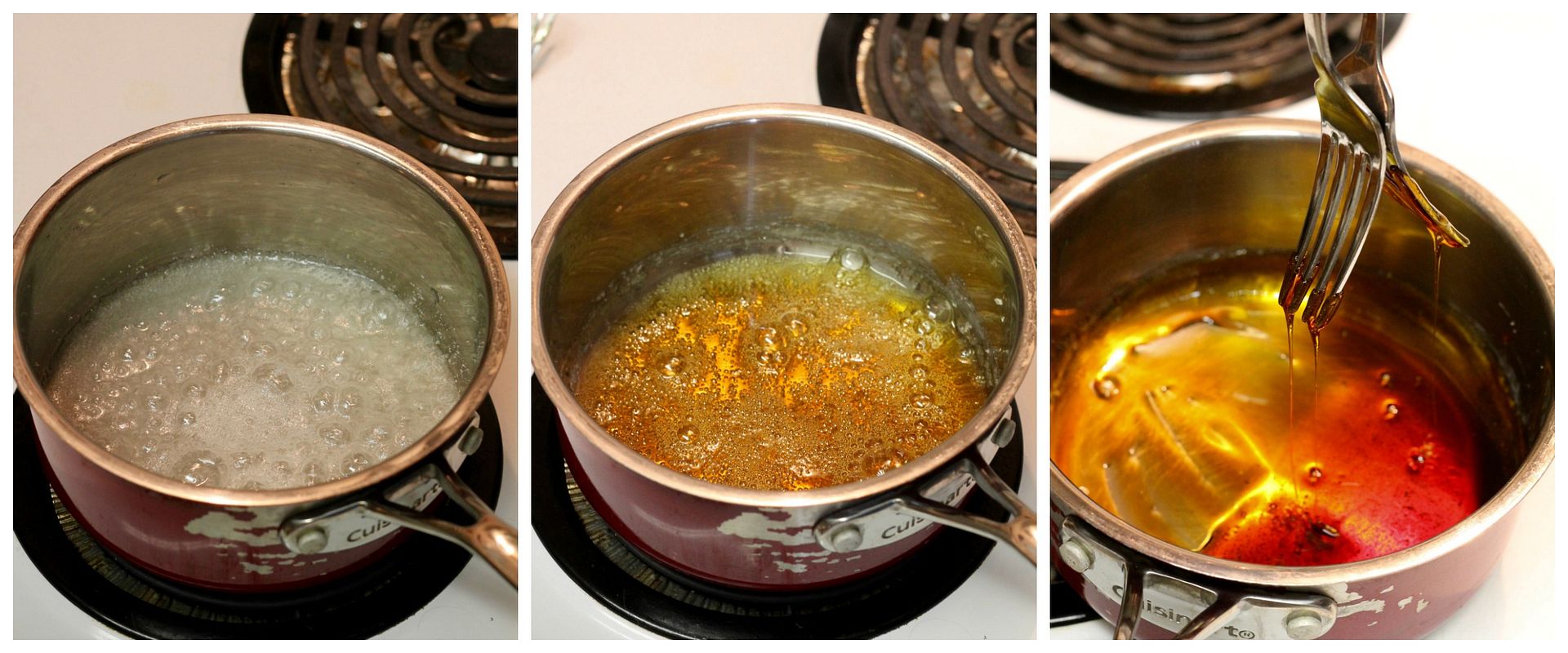 Protect your work surface with wax paper and place a large bowl in the middle. Holding two forks back-to-back, dip the tines in the caramel and then wave the forks back and forth over the large bowl, letting the threads of caramel fall and be suspended over the bowl. Continue until the caramel thickens too much to continue, then re-warm it over low heat. While it warms, gather up the caramel threads into a ball (or whatever shape you choose) and place on a plate. Continue making threads and adding them to the ball until it is the size you want.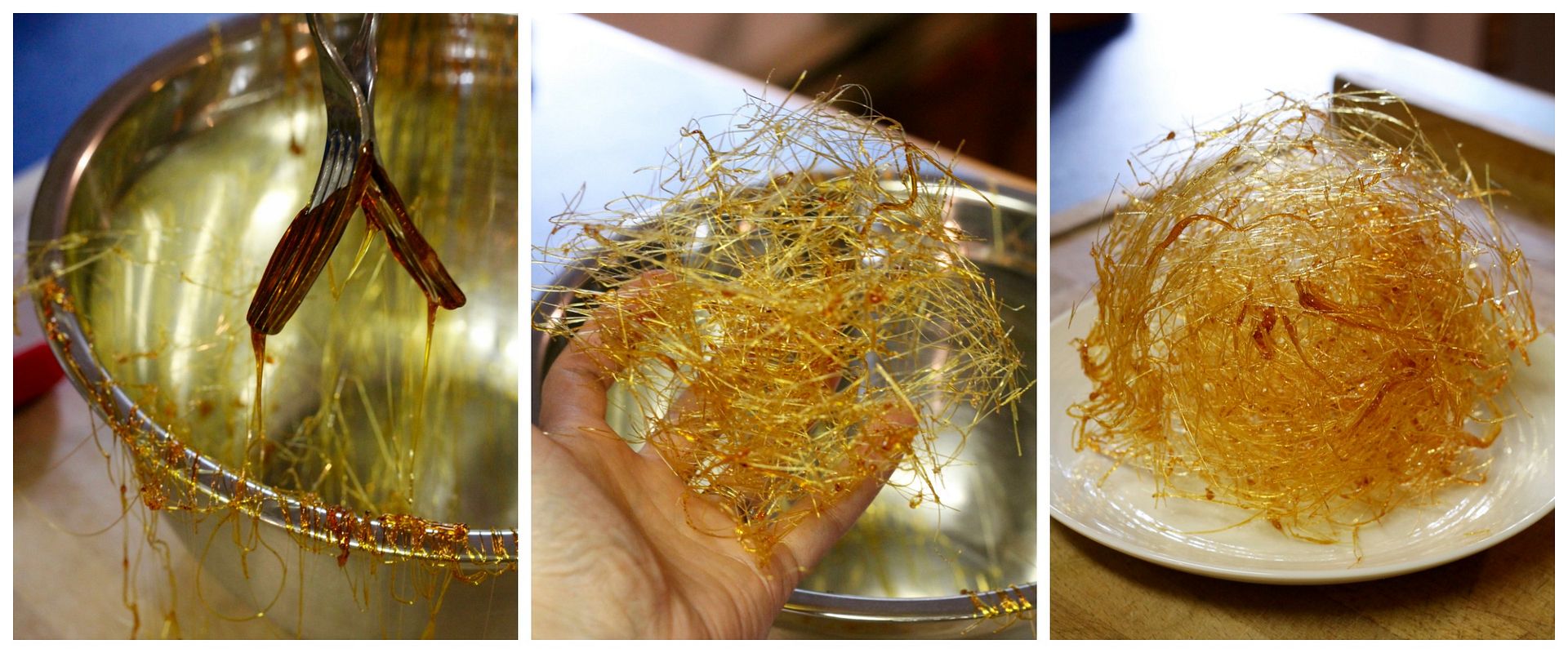 Keep the spun caramel sculpture in a cool, dry place in an airtight container until you are ready to use it – any moisture in the air will cause it to melt.
Greek Yogurt Whipped Cream
In a large bowl, combine:
3/4 cup cold whipping cream
1/3 cup thick Greek yogurt (I used 11% fat)
Beat with a whisk until soft peaks form, then add confectioner's sugar to taste. Continue beating until medium-firm peaks form (the yogurt will prevent it from getting to fully firm peaks). Keep in the fridge until you are ready to use it.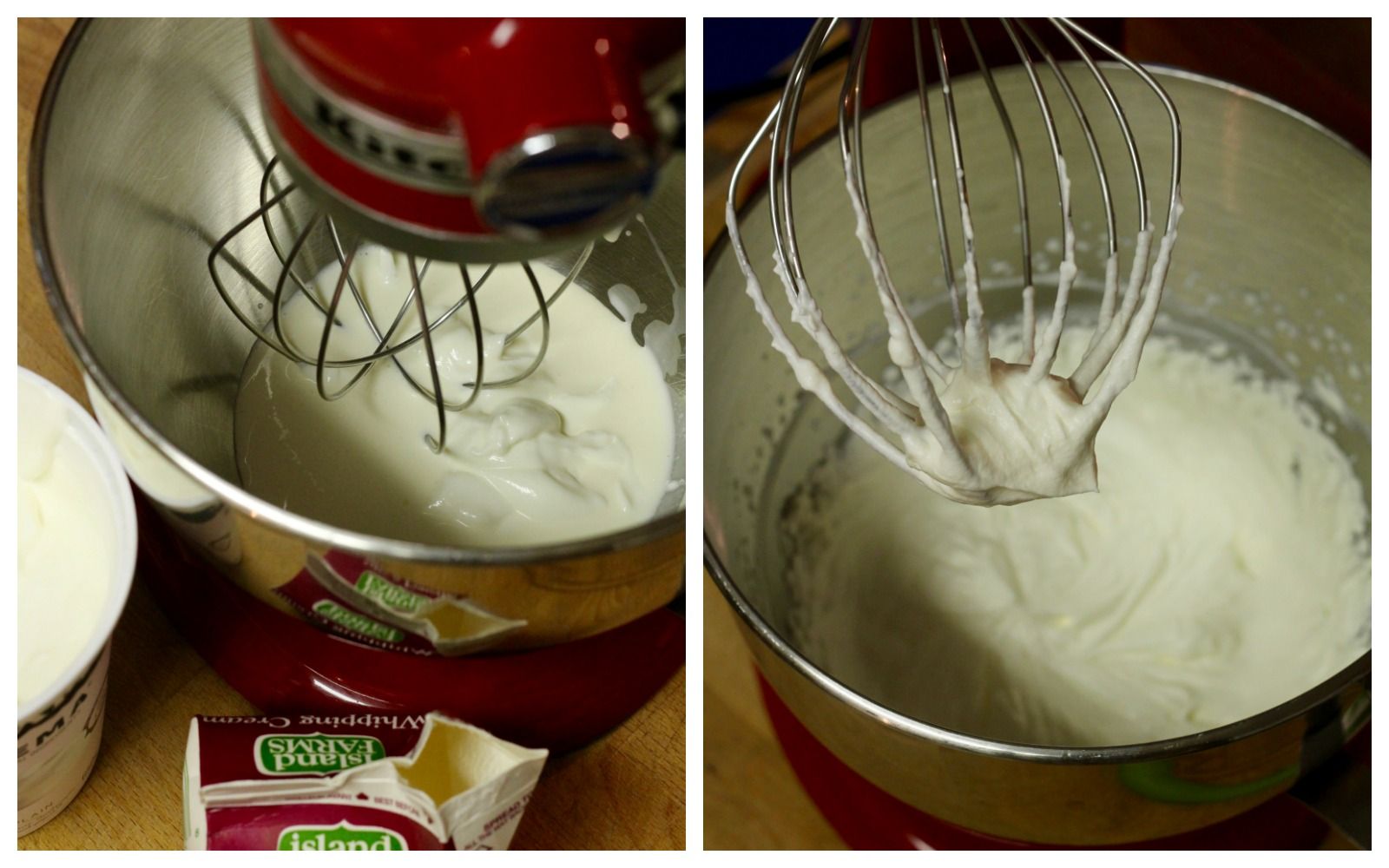 Assembly
Place the meringue base on a serving platter and top with the Greek yogurt whipped cream. Strain the poached plums from their liquid and spoon them over top of the cream, then drizzle a little of the syrup over the pavlova. Top with the spun caramel. Serve immediately!