Previously, we talked vanilla butter cake… and now we're talking fillings, frosting, and et cetera (and assembly and decoration talk can be found here). The fillings here are blackberry compote and chocolate ganache, the frosting is vanilla Swiss meringue buttercream, and the et cetera is a vanilla bean-bourbon simple syrup for brushing on the cake layers.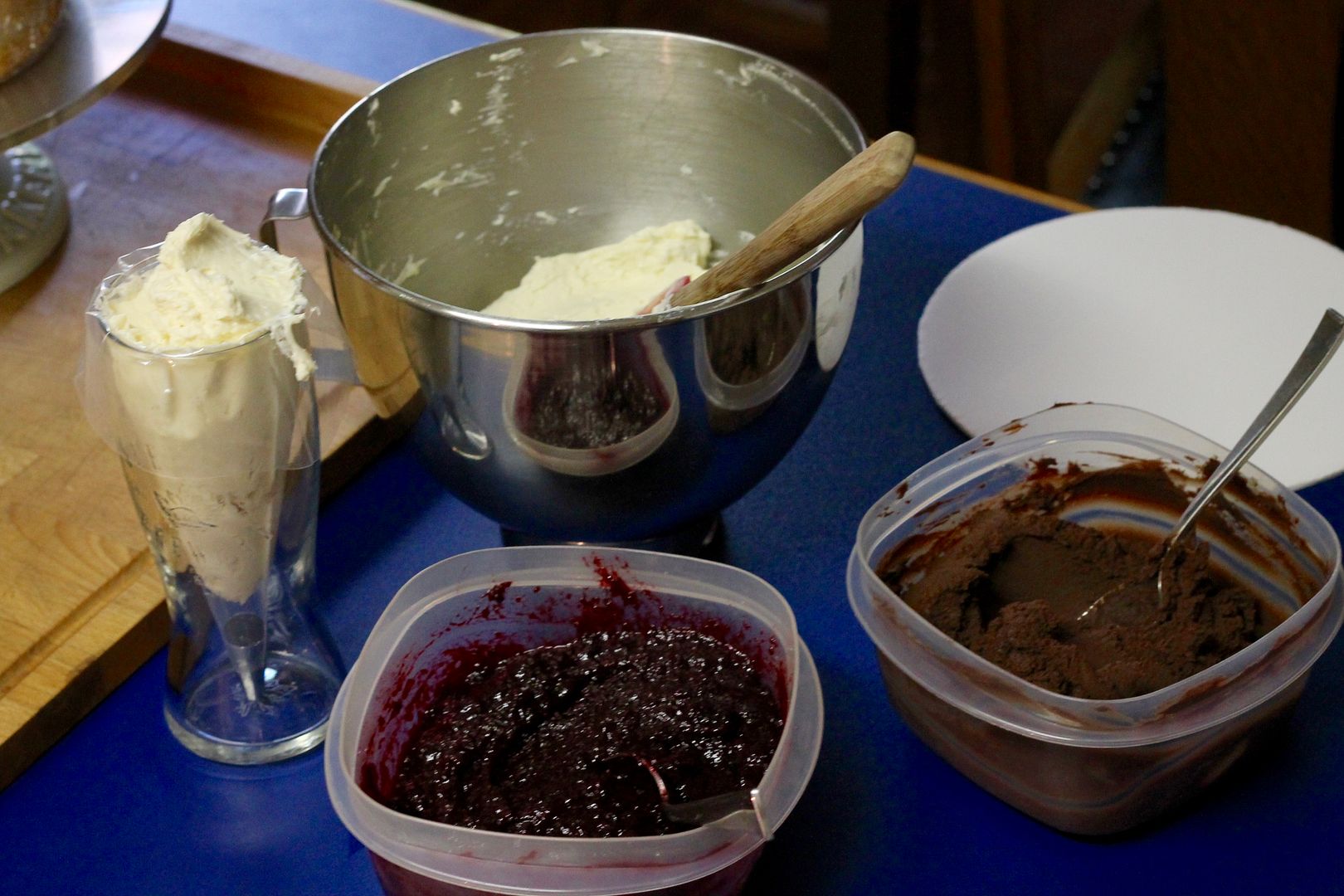 A wedding cake is traditionally "torted", which is a fancy word for thin layers of cake and filling stacked together to give you a moist, flavourful dessert. This also serves to give you a good balance between all the components, which in this case offer vanilla-y sweetness (cake, simple syrup, frosting), fruity tang (blackberry compote) and creamy bittersweetness (chocolate ganache).
I chose to use Swiss meringue buttercream because it has a beautiful texture and is not to sweet. It can be a little bit intimidating to make because sometimes it turns into a curdled, soupy mess while mixing, but once it comes together it is pretty much the best frosting ever. One thing to be aware of is that Swiss meringue buttercream is made with raw egg whites. The recipe calls for heating them to 140˚F, however food safety guidelines for eggs state that they should be cooked to 165˚F in order to make them "safe". In general, I am not fussed about using raw egg whites myself, but because I was feeding a lot of people (including my 97 year old grandpa), I used pasteurized egg whites from a carton, just to be safe. Plus it meant I didn't have to deal with ten extra egg yolks!
Vanilla Swiss Meringue Buttercream
Adapted from Sweetapolita. Makes about 10 cups of buttercream. I would recommend making one-and-a-half batches to fill, frost, and decorate one 9″ round and one 6″ round cake, with some extra frosting leftover (which is always better than not enough!).
Cut 680 g / 3 cups unsalted butter into 1″ cubes and set aside to soften to room temperature.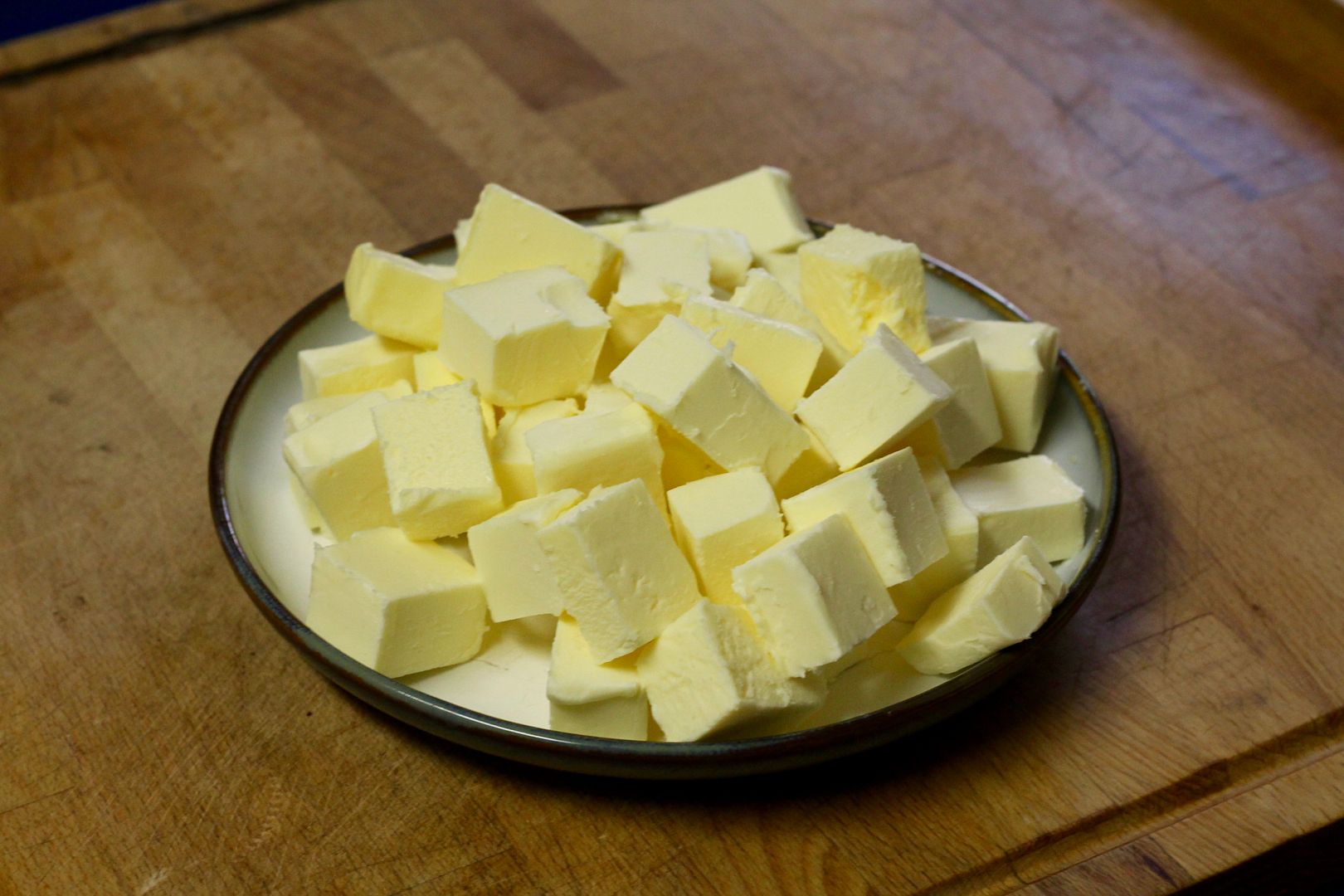 Splash a little bit of vinegar into the bowl of an electric mixer and wipe it around with a paper towel – this will help remove any oily residue that could interfere with your meringue. In the bowl combine:
300 g / 10 large egg whites

500 g / 2 1/2 cups granulated white sugar
Place the bowl over a simmering pot of water to make a bain marie, and gently heat the egg whites, stirring constantly with a whisk, until they reach 140˚F on an instant read thermometer. The sugar should be completely dissolved and the egg whites will feel hot to the touch.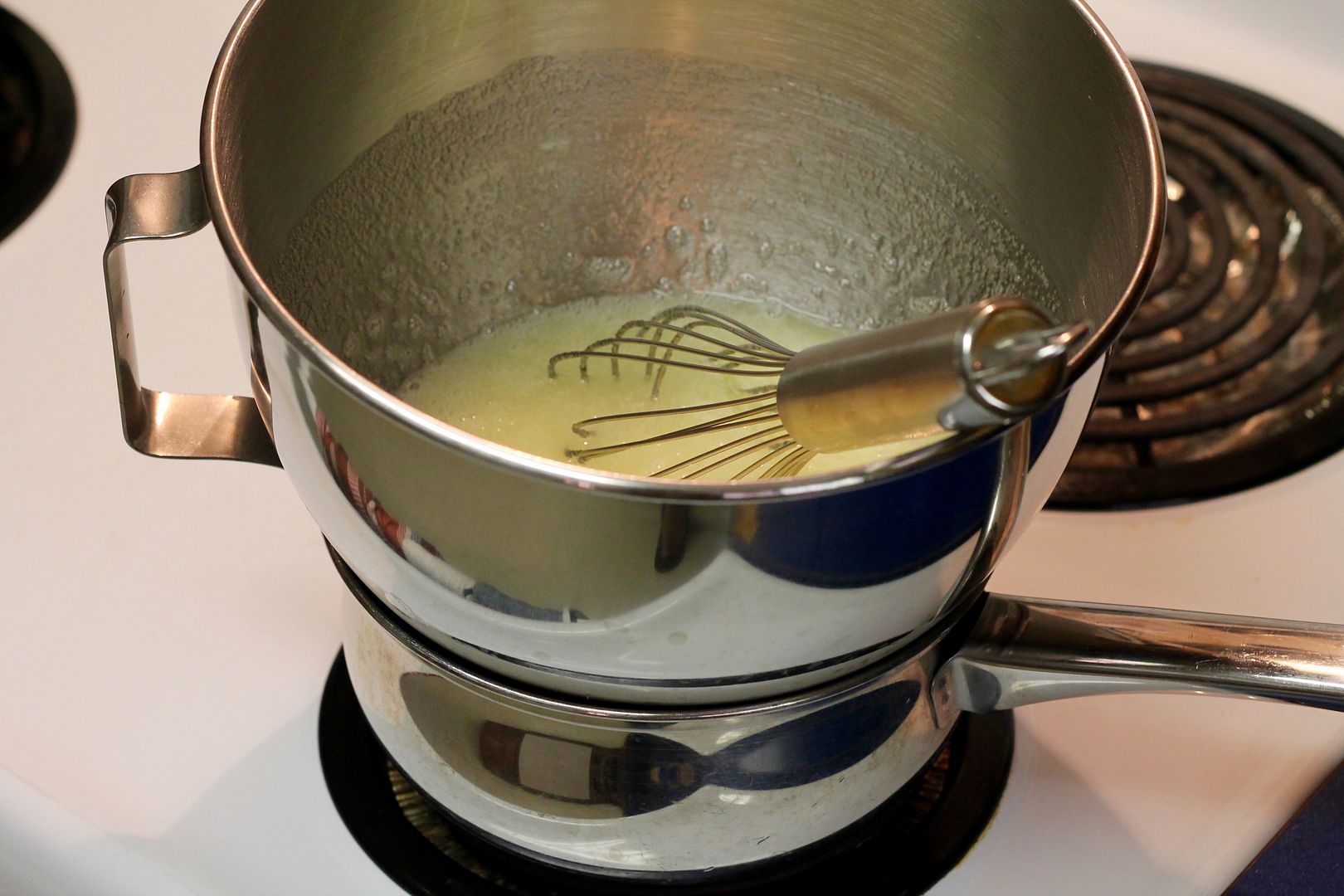 Place the bowl on the base of your mixer and with the whisk attachment, begin beating the egg whites on ow speed until they are frothy. Increase the speed to medium and continue to beat until the egg whites form a stiff, glossy-peaked meringue – they should not move at all if you turn the bowl upside-down.
At this point, check the temperature of the meringue with your finger – you want it to be completely cool, because the next step involves adding butter and if the meringue is at all warm, the butter will melt and you'll have butter-meringue soup. If the meringue is anything warmer than room temperature, turn the mixer to low speed and let it stir gently until completely cool.
In the meantime, check your butter: it should be soft enough to spread on fresh bread without tearing it.
Once the meringue is cool and the butter soft, turn the mixer to medium-low speed and begin adding the butter to the meringue one cube at a time, waiting until each cube is incorporated before adding the next.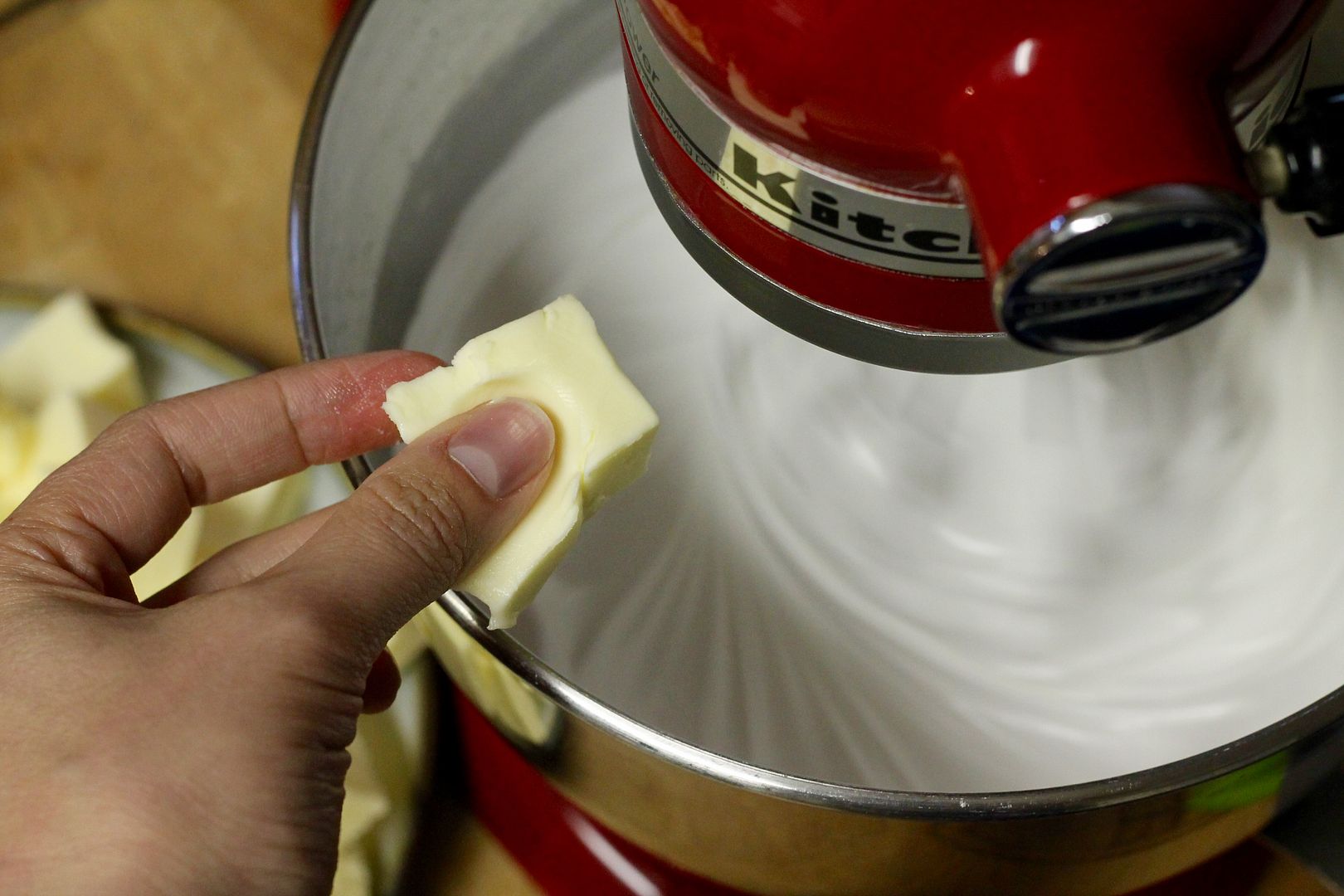 Your meringue may collapse and look kind of curdled and shiny: this is normal. Just keep slowly adding the butter, one cube at a time, and continue mixing. It will start looking thicker and chunky, and then suddenly it will be buttercream.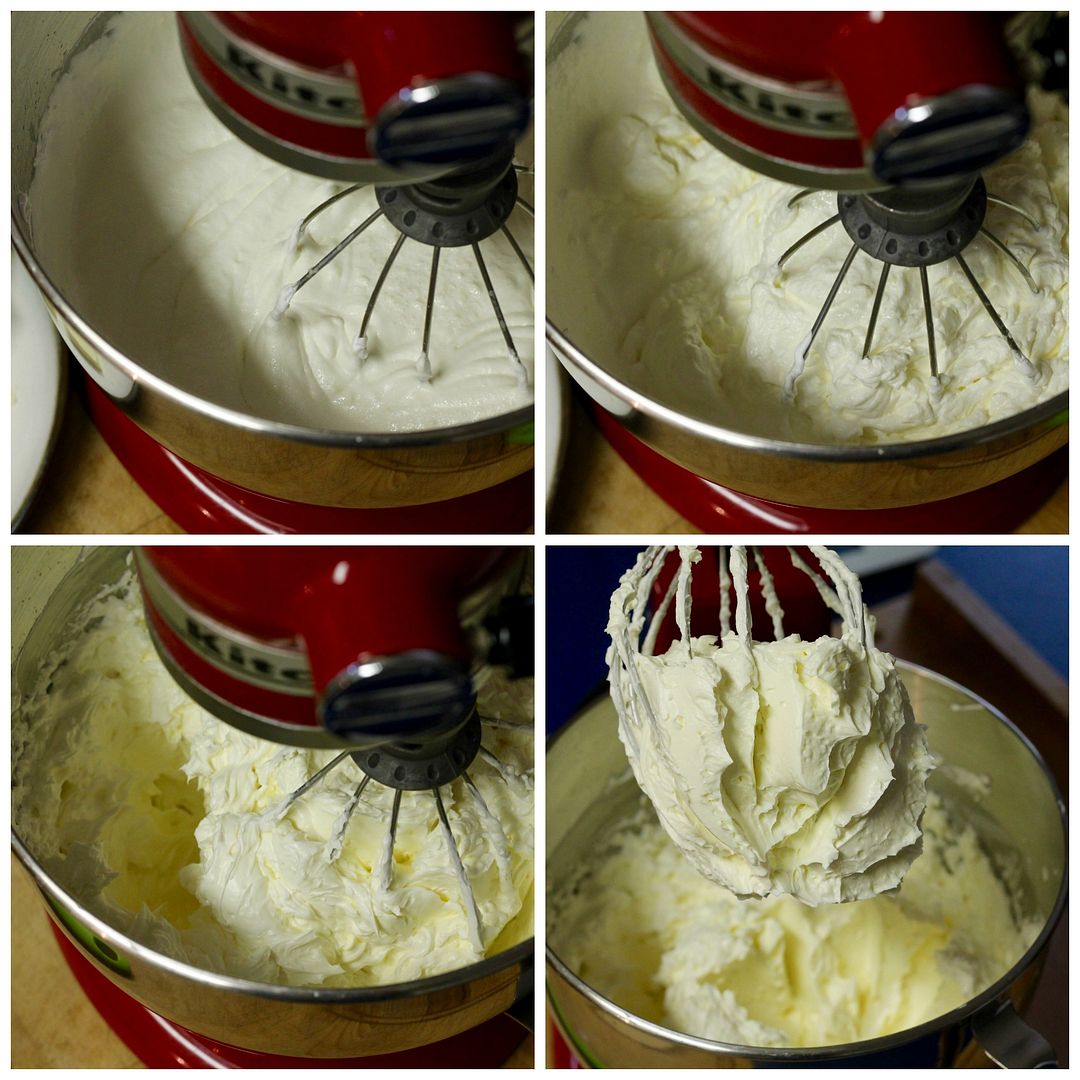 Once all the butter is added, increase the speed to medium and mix until it is smooth, thick, and fluffy. Make sure you scrape down the inside of the bowl a few times.
IF IT DOESN'T TURN INTO BUTTERCREAM:
When in doubt, just keep mixing on medium-low speed. Have faith and patience, and check it after 5-10 minutes of mixing – sometimes it just takes a while to emulsify.
If the butter is still in chunks, it may have been too cold when you added it. You can continue mixing at room temperature until the butter gradually softens, or you can wrap a towel dampened with warm water around the bowl to help it soften faster. Do this conservatively – you don't want to melt the butter, just to soften it. Mix until it thickens into a buttercream.
If the mixture is very soupy, the meringue may have been too warm and melted the butter. Put the bowl in the fridge and stir it with a whisk every few minutes until it starts to thicken up a bit, then continue mixing with the electric mixer until it thickens into a buttercream.
Beat in:
1 tbsp vanilla extract
seeds scraped from 1 vanilla bean
good pinch salt
Beat until smooth and creamy.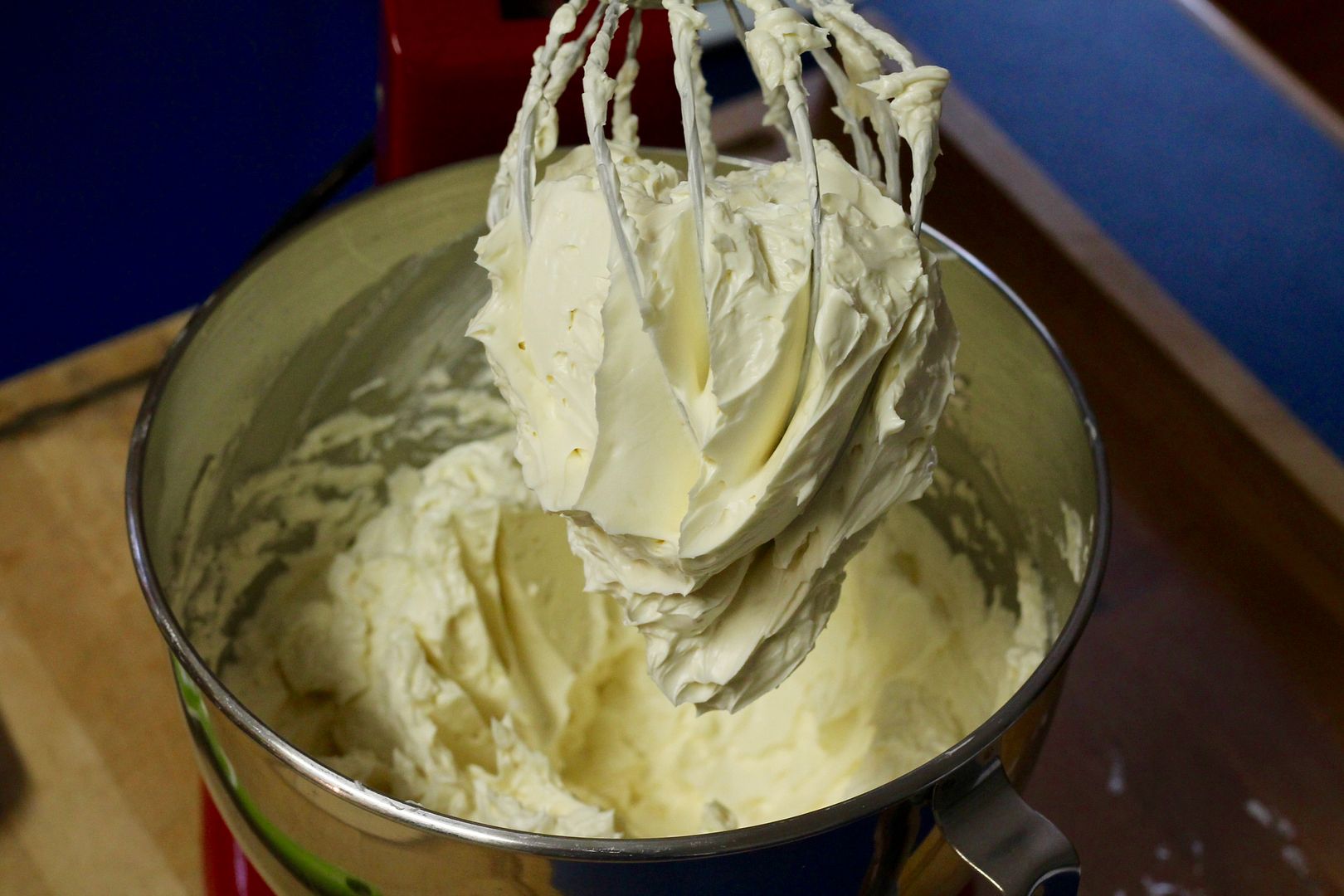 The buttercream can be used immediately, or it can be refrigerated (up to 1 week) or frozen (up to 6-8 weeks) in an airtight container. To use after it has been refrigerated or frozen, bring it back to room temperature and then beat it in the mixer until it is smooth and fluffy. It will likely look very curdled and chunky at first until the butter softens up and re-emulsifies with the egg whites – just keep mixing, and follow the "if it doesn't turn into buttercream" tips above to help it come back together.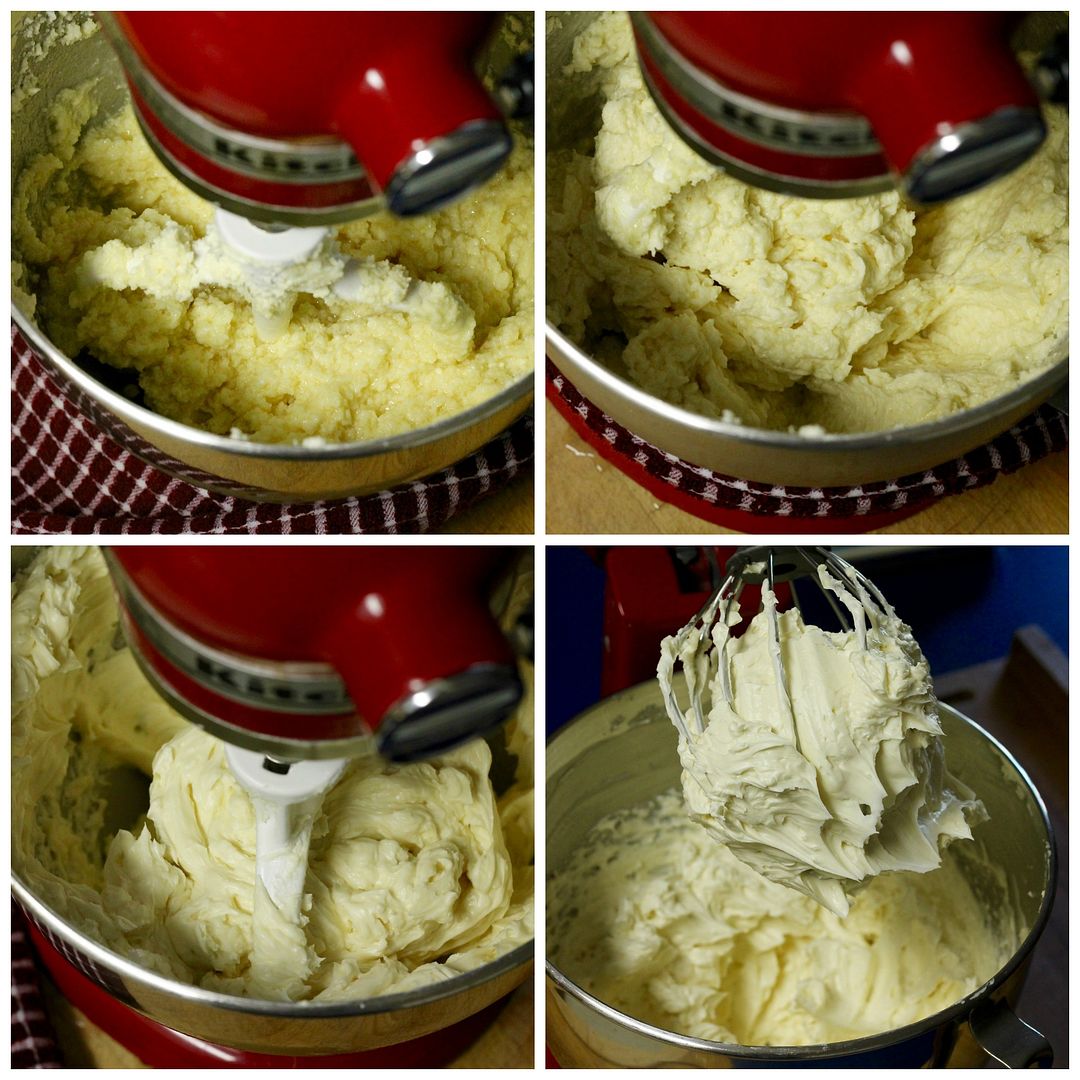 Blackberry Compote
Blackberries can be very seedy, so I chose to purée most of them and then strain to remove the seeds; however I added a few whole berries for texture (and it's not blackberry if there aren't at least a few seeds!). This makes plenty but extras can be refrigerated and eaten on toast.
In a blender, purée 5 1/2 cups whole blackberries. Press the purée through a fine sieve to remove the seeds.

Place the seedless purée in a medium-sized pot along with:
2 cups granulated white sugar
1 1/2 cups whole blackberries
Bring the mixture to a boil over medium-high heat, and cook, stirring, until the foam subsides and the mixture is thickened and jammy.
Allow to cool, then pour into an airtight container and refrigerate for up to a week, or freeze for up to 6-8 weeks. Thaw before using.
Chocolate Ganache
For best results, use a high quality bittersweet or semisweet chocolate (not chocolate chips).
Finely chop 225 g /9 oz bittersweet or semisweet chocolate and place in a medium bowl.
In a small saucepan, bring 240 g / 1 cup heavy cream to a simmer, then immediately pour it over the chopped chocolate. Cover the bowl with a lid for a minute to let the cream fully melt the chocolate, then whisk until perfectly smooth.

Add a pinch of salt. Allow to cool and thicken to a speadable consistency at room temperature before using.
Can be stored in an airtight container in the fridge for up to a week – allow it to come to room temperature before using. You may have to heat up a small portion of the ganache until it is liquid then mix it back into the solid ganache to get a soft, spreadable consistency.
Vanilla Bean-Bourbon Simple Syrup
In a small saucepan, combine:
1 cup water
1 cup granulated white sugar
1 vanilla bean, split and scraped
Bring to a boil to dissolve the sugar, then remove from the heat and allow to cool. Stir in 1 tbsp bourbon (optional but delicious), then pour into a jar, leaving the vanilla bean in there to steep. Keeps almost indefinitely in the fridge.

Save