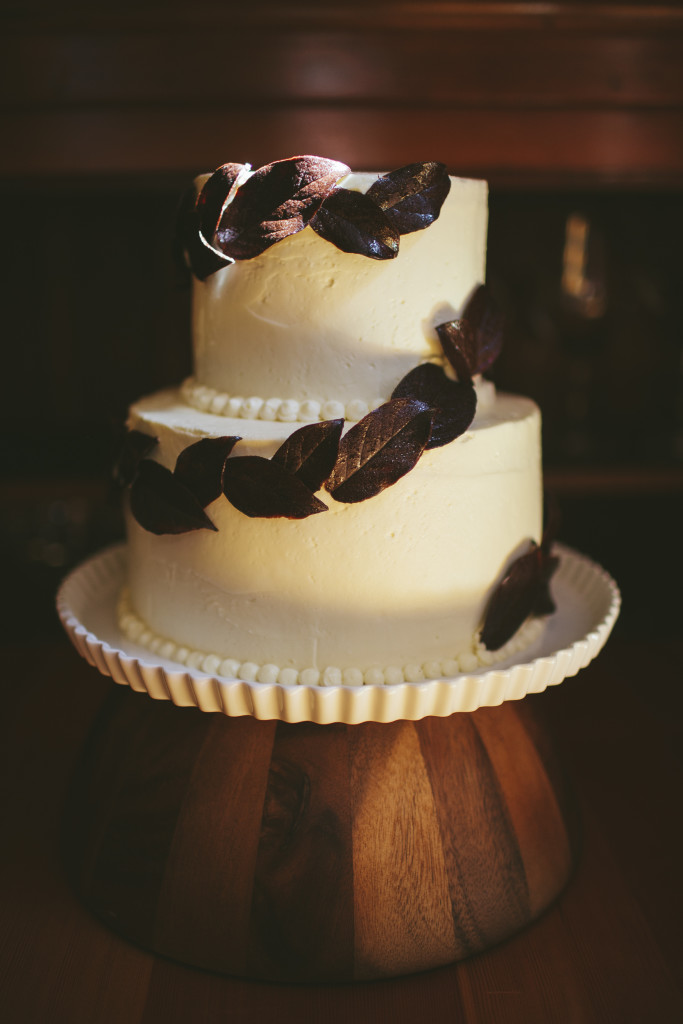 If you've been reading for a while, you may remember when this happened: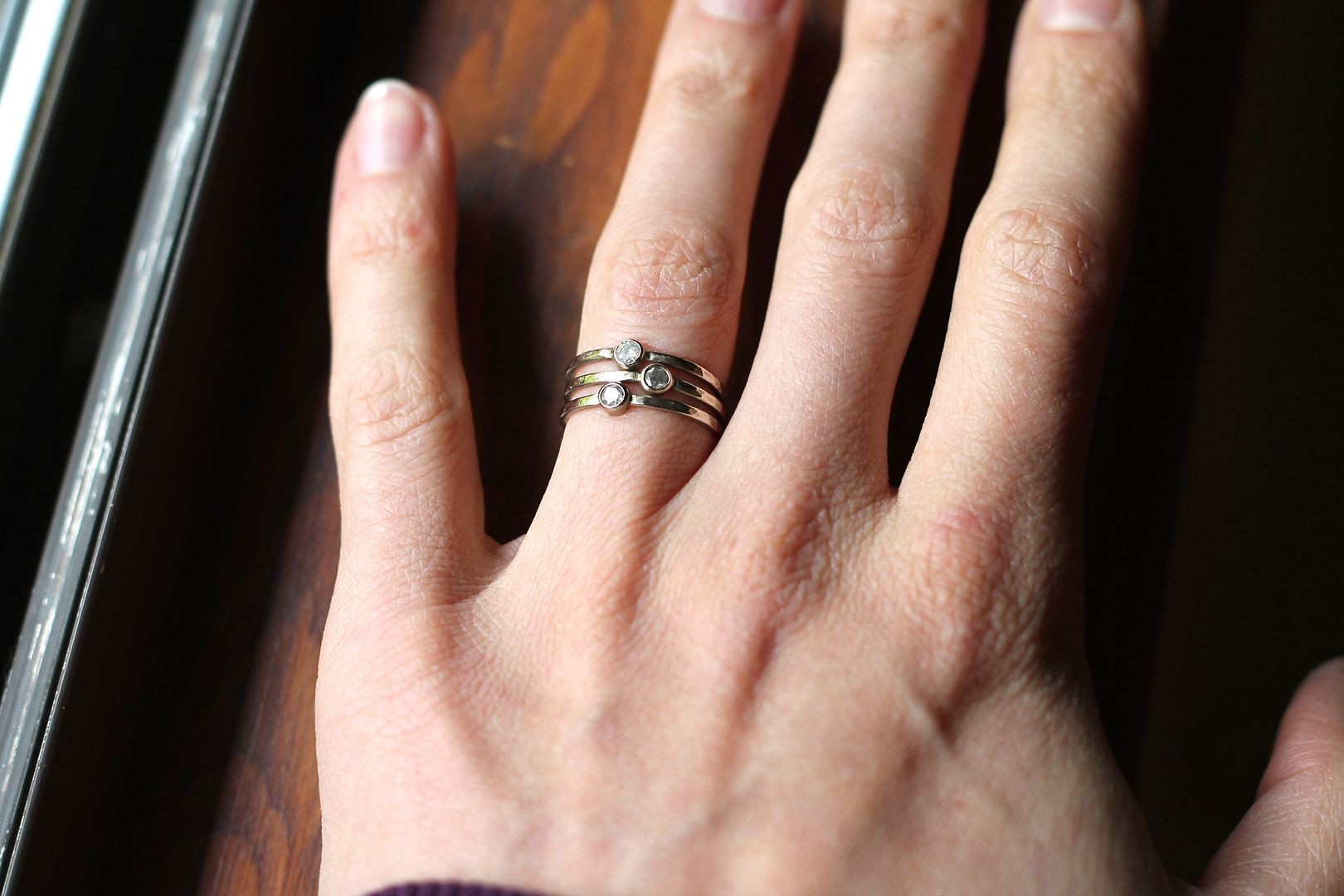 Well, in September, this happened: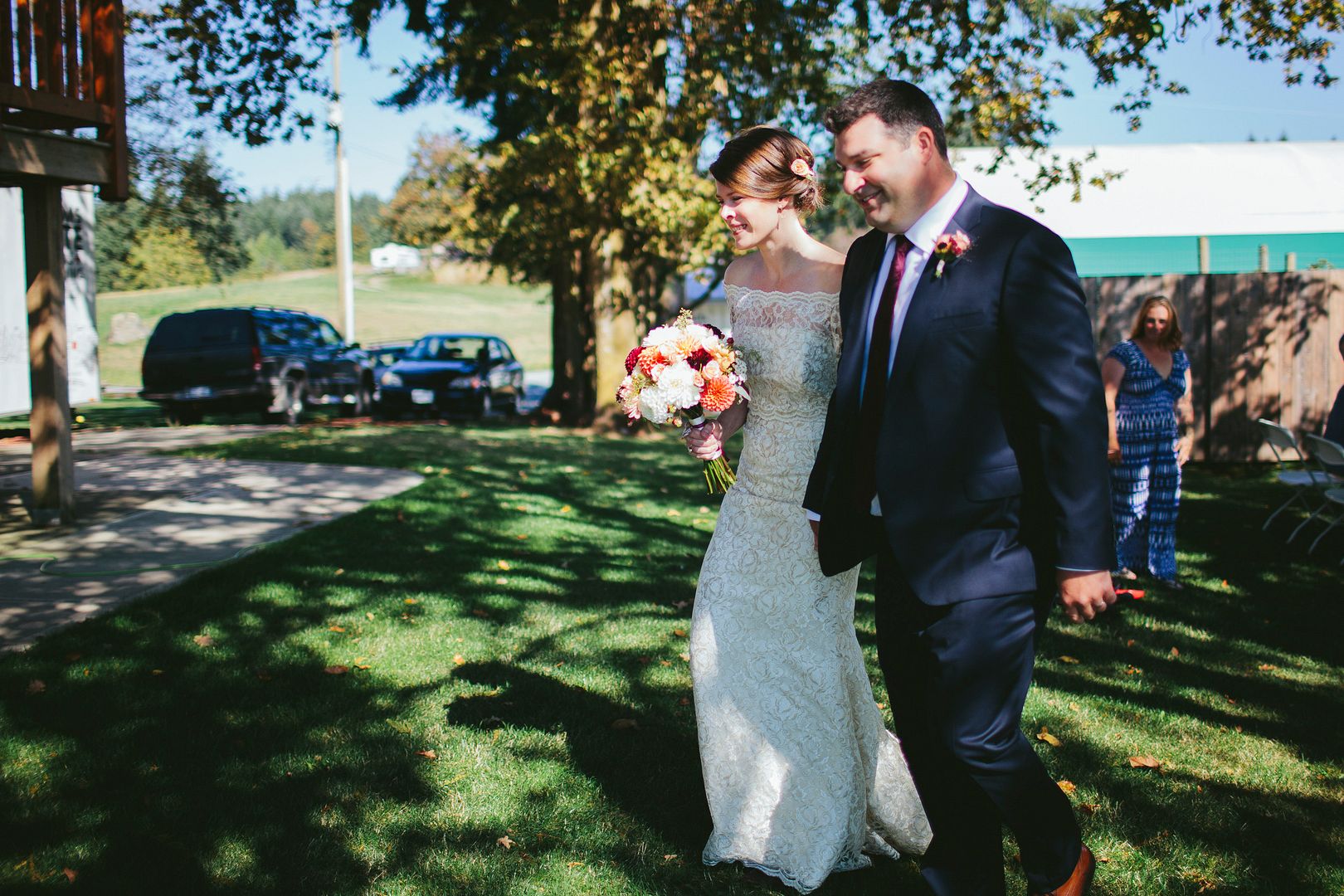 We had a completely fantastic day with close friends and family, a gorgeous setting, and delicious food – including a homemade wedding cake by yours truly.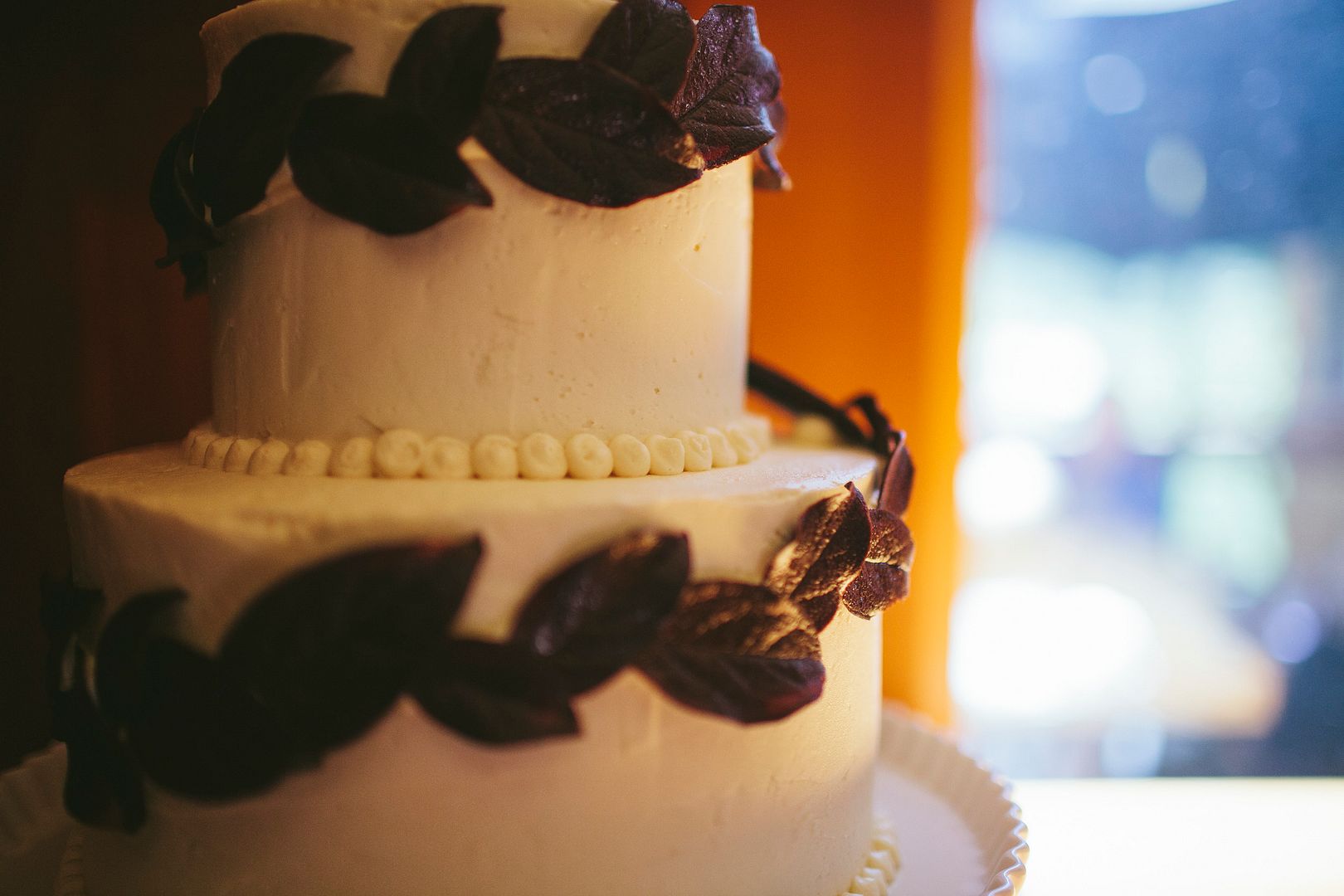 Nate left the decision of what kind of cake up to me (such a good husband), and in typical fashion, I agonized over it for some time. I wanted to include blackberries, as September is prime blackberry season, and most likely chocolate, because, well, chocolate. I did a trial run of chocolate cake, blackberry filling, and caramelized white chocolate buttercream, all of which were awesome separately, but together it was just too much. So I went back to the drawing board and came up with a vanilla cake with blackberry compote and chocolate ganache fillings, vanilla buttercream, and dark chocolate leaves as decoration. It ended up being pretty much perfect and completely delicious.
With a few previous wedding cakes under my belt, I knew what to expect in terms of time and effort, so the week before the wedding, I intentionally kept the other wedding-related tasks to a minimum because this was the one DIY project that I really cared about. I ran into a few little snafus – I had to stop to whip up another batch of buttercream in the middle of assembling the cake the morning before the wedding; it took me about three times longer than it should have to pick the berries I needed for the filling because it rained the week before the wedding and ruined most of the berries still on the vines – but because I had planned for extra time (my biggest piece of advice if you are making your own wedding cake), it was all good, and by around noon the day before the wedding, it was out of my hands and I could focus on getting married instead of on buttercream.
Because a wedding cake has a lot of components, I'm going to break it down into three posts: the cake, the fillings and frosting, and the assembly and decoration. For the cake itself, I made a vanilla version of this extremely popular lemon butter cake, which is a fantastic recipe and great for a wedding cake. Many people have asked about a vanilla version and also for the recipe in weights, so I'm happy to finally be able to share both of these. 🙂
All photos above (except my ring and me decorating the cake) by Meaghan Konopaki.

Vanilla Butter Cake
Adapted from Cakewalk by Margaret Braun. Original yield is for two 10″ layers – I used this same amount of batter to make two x 6″ layers and two x 9″ layers, for a cake to feed about 40 people. This makes a very large amount of batter, so I made it in two half-batches to better fit my Kitchenaid mixer.

Preheat the oven to 325˚F (300˚F convection). Line the bottom of your cake tins (2 x 10″ round, or 2 x 6″ round and 2 x 9″ round) with parchment paper, then butter and flour the insides for extra insurance. Set aside.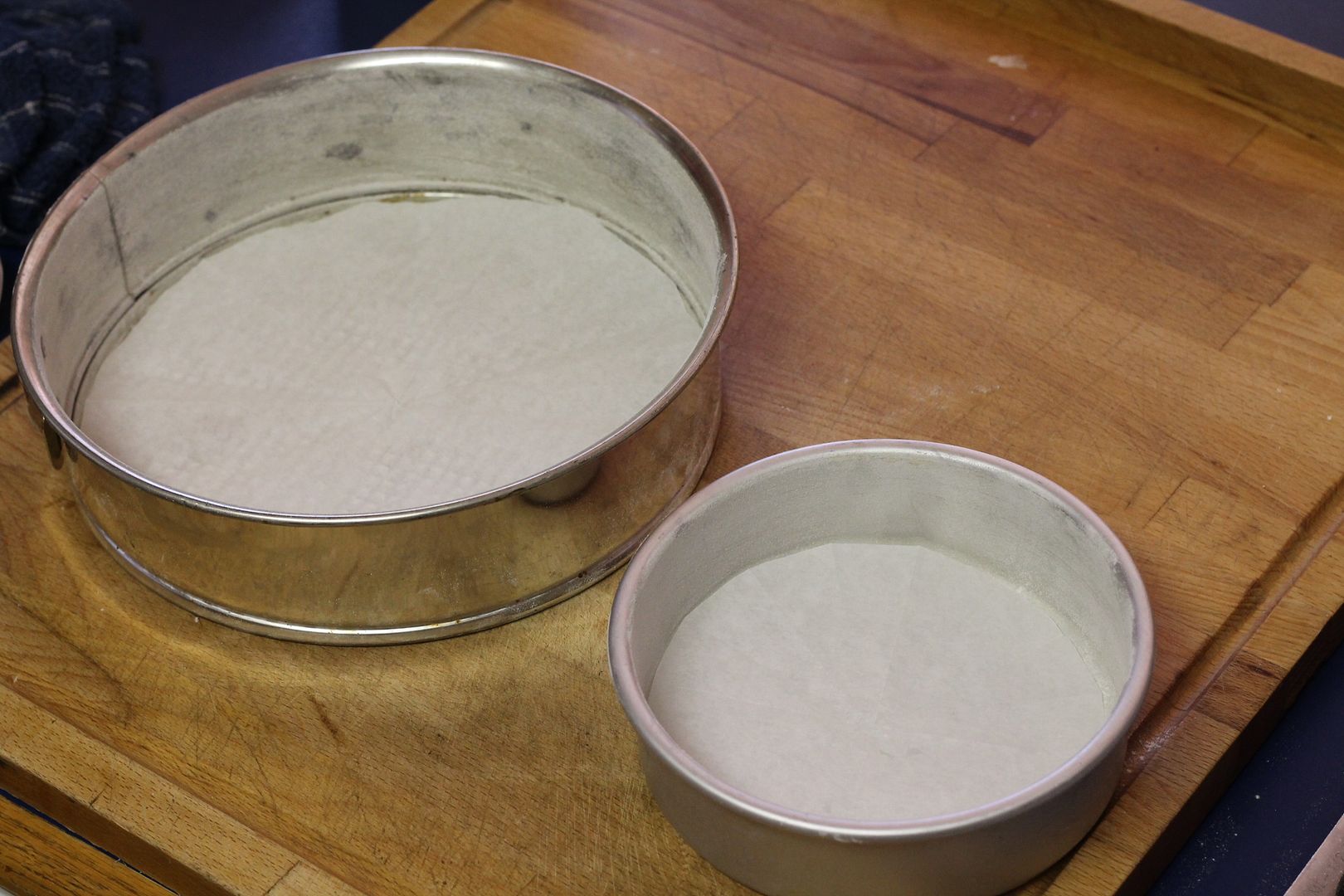 In the bowl of an electric mixer fitted with the paddle attachment, cream together until very light and fluffy:
2 cups / 454 g unsalted butter, soft
4 cups / 800 g granulated white sugar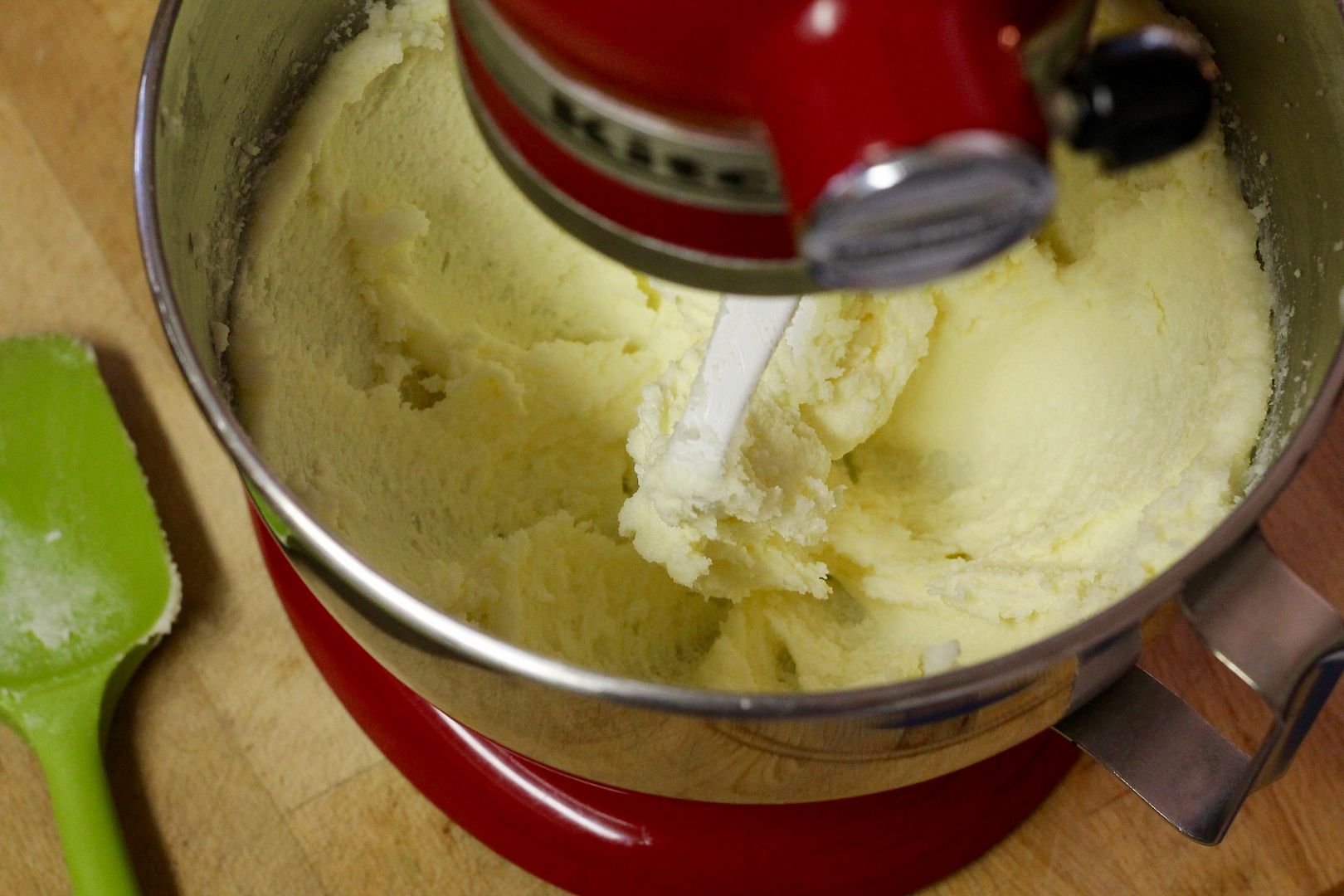 One by one, beat in 6 large eggs, beating well after each addition and scraping down the sides of the bowl.
Finally, beat in:
2 tsp / 8 g vanilla extract
seeds scraped from 1 vanilla bean
Set aside.
In a large bowl, sift or whisk together:
5 cups / 600 g all purpose flour
2 tsp / 8 g baking powder
1 tsp / 6 g baking soda
1 tsp / 6 g salt
Have ready 2 cups / 454 g sour cream.
Mix the dry ingredients into the butter mixture in 4 additions, alternating with the sour cream in 3 additions.
Scrape the bottom and sides of the bowl a few times while mixing and stir just until combined.
Dive the batter between the prepared pans (about 400 g for each 6″ pan, 950 g for each 9″ pan). Wrap the outside of each pan with a strip of damp towel to insulate it (this will help the cake bake nice and flat and even).
Bake in the preheated 325˚F (300˚F convection) oven for 40-50 minutes, until golden brown on top and a skewer inserted in the middle comes out clean.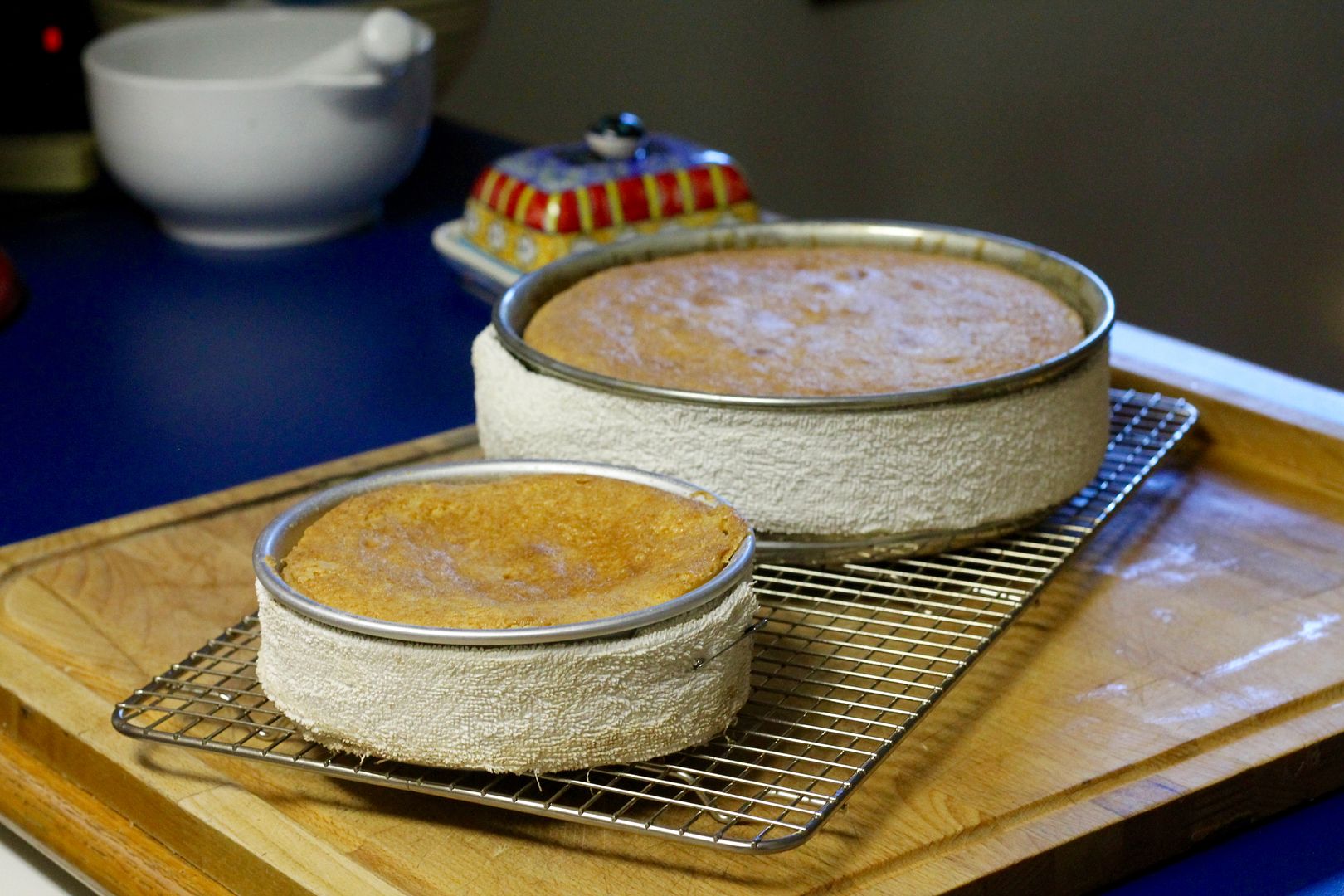 Allow to cool in the pans for about 15 minutes, then run a knife around the sides of each cake and invert out of the pans onto a rack. Peel off the parchment paper and allow to cool completely.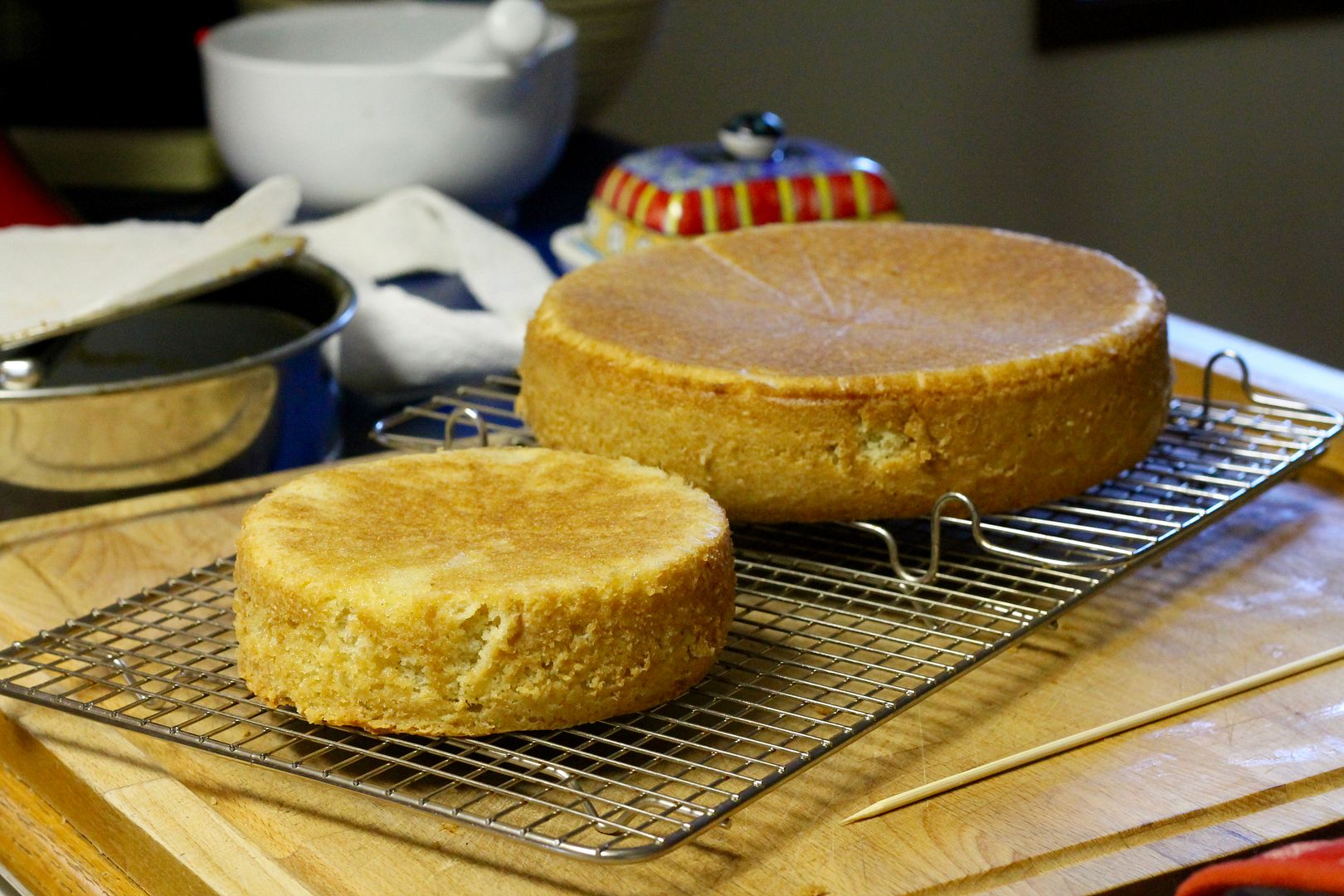 The cakes can be made up to 1 month a head of time and frozen until you are ready to assemble the cake. To do this, wrap each cake tightly in plastic wrap, then in aluminum foil to completely seal out any air. Allow to thaw, wrapped, before decorating.
Save
Save
Save