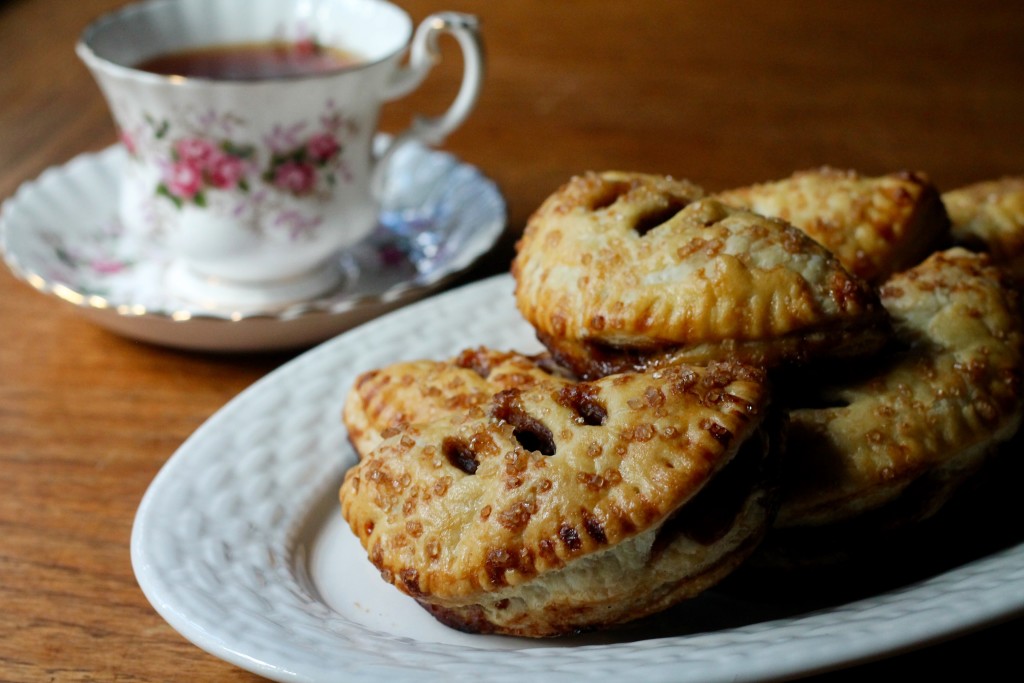 We recently upgraded our cable TV situation and we now get a channel that plays a lot of Jamie Oliver shows, which is just fine by me. A little while ago we watched the Jamie's Great Britain episode where he visits Yorkshire and makes eccles cakes: little puff pastry rounds traditionally filled with currants. Normally this kind of thing doesn't appeal to me – too mincemeat-y – but I remembered back to the tiny delicious eccles cake I had at Abkhazi Garden and how it tasted exactly like Christmas, and suddenly I was consumed by the desire make Jamie's eccles cakes, which include apples and a good dose of spice and citrus zest.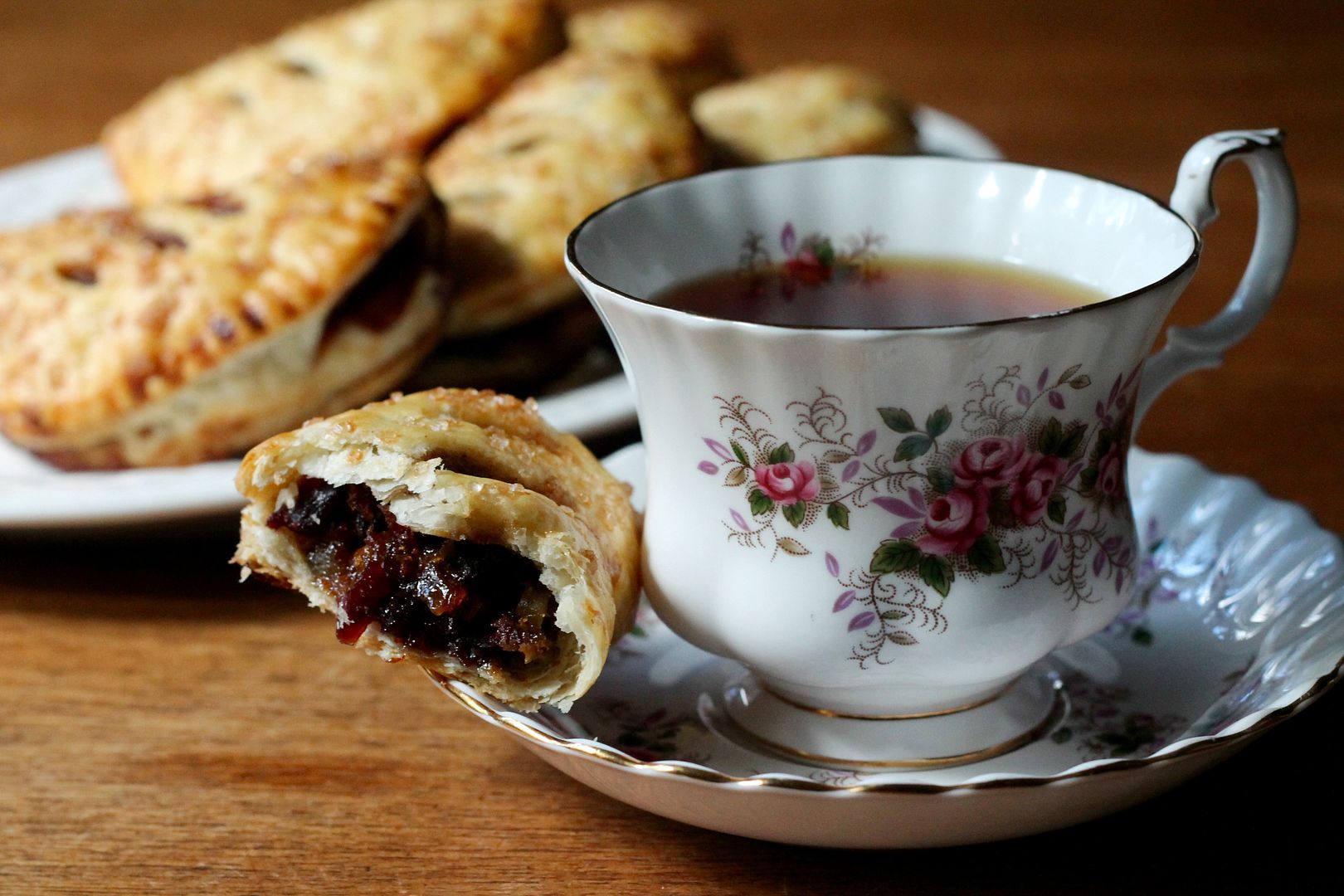 I found the recipe for Jamie's eccles cakes on a food blog called Anger Burger (hilarious but no longer updated, it seems), and after reading her review of the recipe I was even more keen to make them. The recipe calls for a fresh bay leaf, which is hard to come by so I tried to work around it using dried, as well as stem ginger in syrup, which I suspect is a British ingredient because I've never seen it in Canada so I used candied ginger and golden syrup instead. I also made a batch of rough puff pastry for these, and the resulting pastries are every bit as delicious as I'd hoped. The pastry is crisp and shattery, the filling is spicy and sweet, and they will make your house smell like Christmas as they bake – which is totally appropriate, as I went to the first Christmas craft fair of the season on the same day that I made these. They are exactly the kind of thing you want to nibble on with a cup of coffee or tea and a good book (or a Christmas cookie magazine!).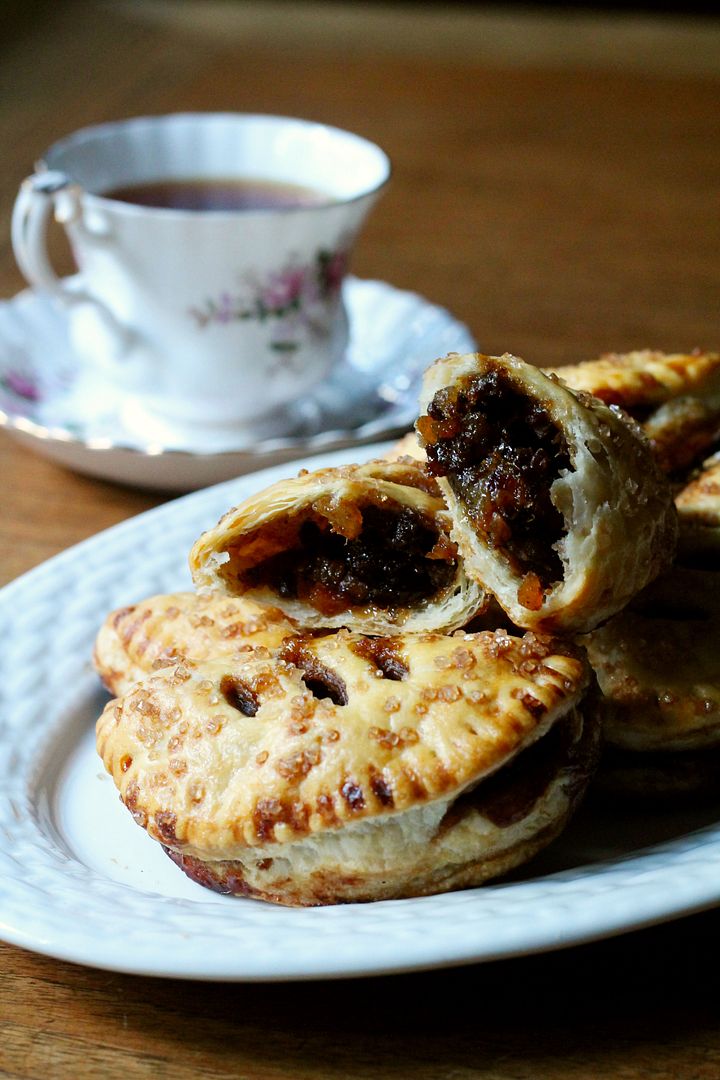 Jamie Oliver's Charming Eccles Cakes
Adapted from Jamie Oliver, via Anger Burger. Makes 12 cakes.
Filling
With a large mortar and pestle, combine:
1/2 cup dark brown (demerara) sugar
zest of 1 orange
zest of 1 lemon
half a nutmeg, grated
1/2 tsp cinnamon
1/4 tsp allspice
1/8 tsp cloves
pinch salt
(if you happen to have access to fresh bay leaves, you can add one here and omit the dried bay leaves later on)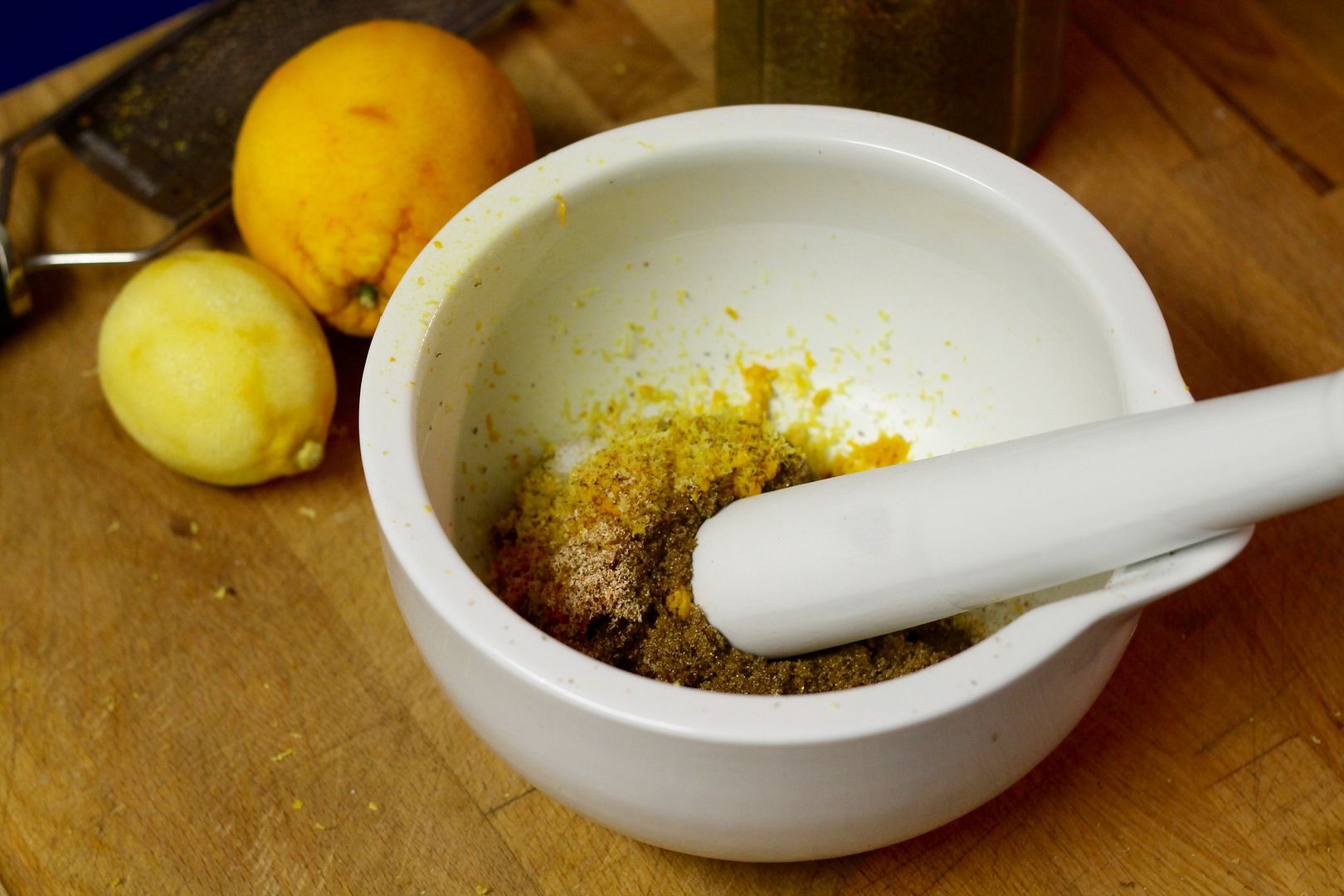 Give it all a good vigorous stir/bash to get all the flavours infused into the sugar. Add:
5 oz mixed dried fruit, finely chopped (I used a mix of golden raisins, currants, dried cranberries, and dried apricots)
2 chunks of candied ginger, finely diced
1 tsp golden syrup or honey
(or replace the candied ginger and golden syrup with 2 balls of stem ginger + 1 tsp of its syrup)
2 dried bay leaves
Stir it all together and let it sit and macerate at room temperature while you make the pastry.
Rough Puff Pastry
Adapted from Chocolate & Zucchini
In a medium bowl, mix together:
6.6 oz all purpose flour
pinch salt
Add 7.5 oz cold unsalted butter, cubed, and cut it into the flour with a pastry cutter until it is in chunky pieces no larger than an almond.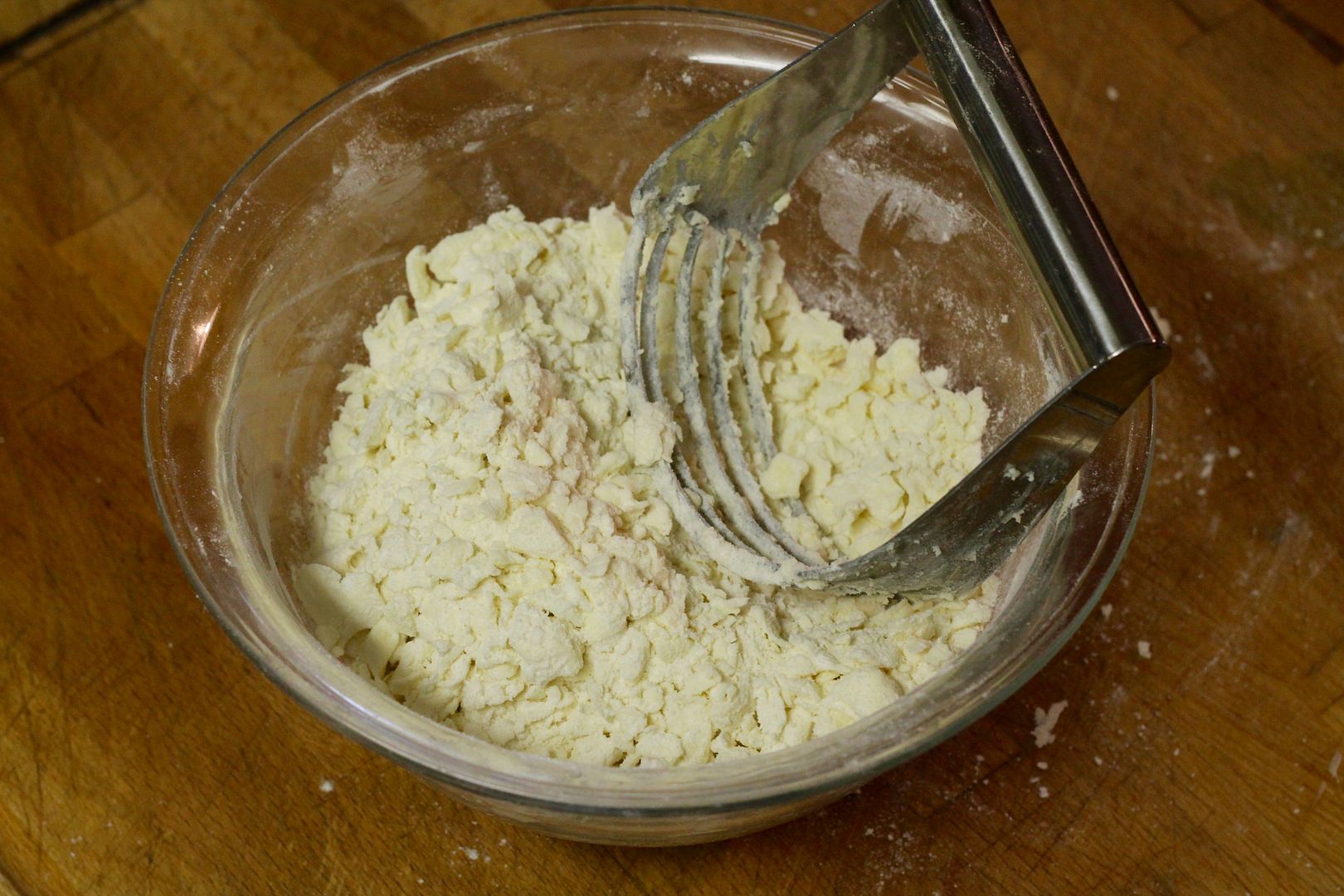 Drizzle over about 90 ml ice water a little at a time, tossing with a fork, until the dough just starts to clump together.
Turn out onto a lightly floured surface and press it into a square using a dough scraper. Dust lightly with flour and roll out into a rectangle about 12 inches long. Fold the bottom third up and the top third down to make a letter fold.
Turn the folded dough 90 degrees so that one of the open edges is facing you. Repeat the rolling, folding, and turning 3 more times for a total of 4 turns. The dough will be fairly smooth and cohesive at this point. Press into a square, wrap in plastic, and chill for at least 1 hour.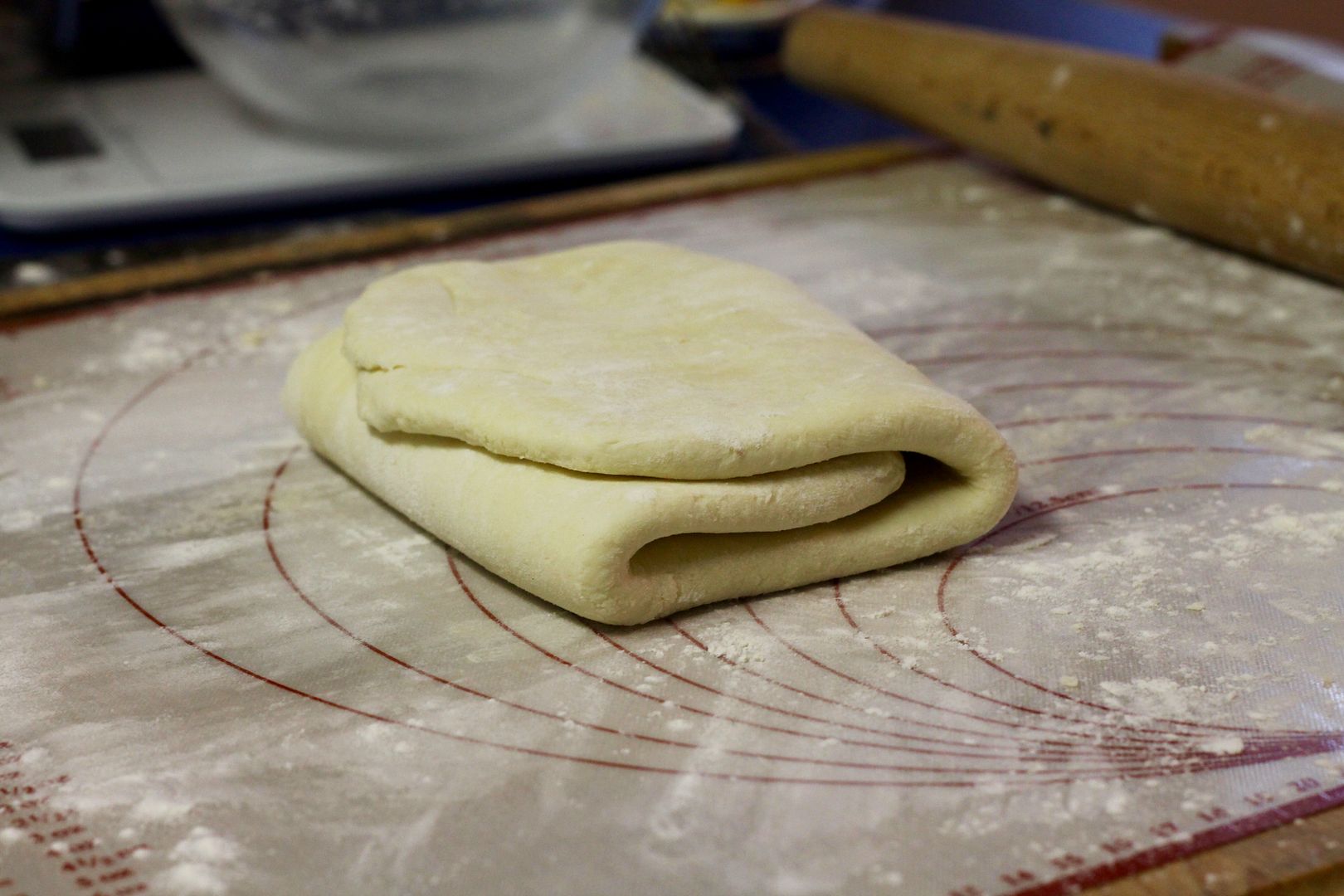 Assembly
Preheat the oven to 400˚F (375˚F convection).
On a lightly floured surface, roll the pastry out into a rectangle slightly larger than 12 x 16 inches. With a 4 inch round cookie cutter, cut out 12 rounds.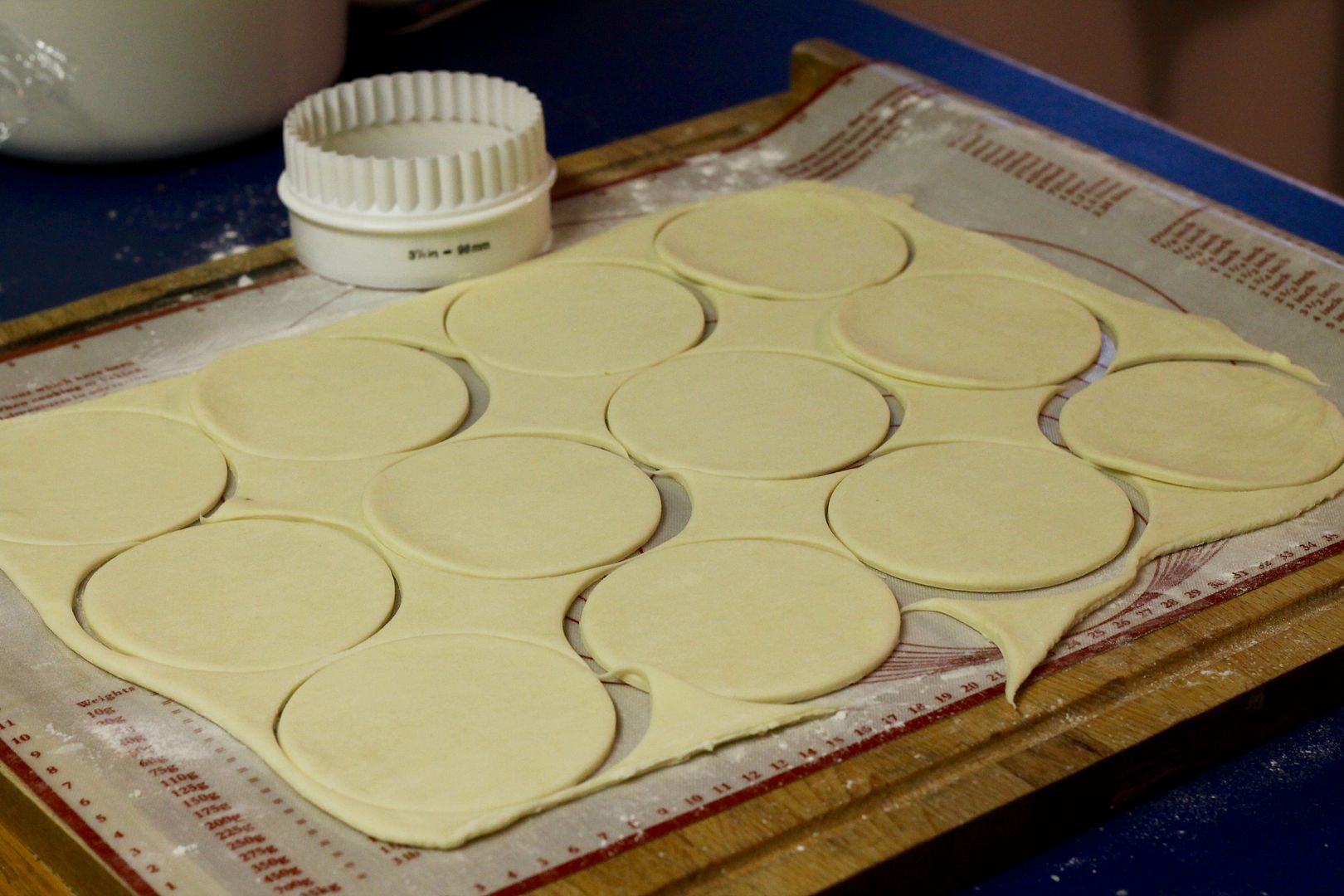 Top each round with a heaped spoonful of the fruit filling (discard the bay leaves). With your finger, lightly moisten around the edges of each pastry round with water, then fold up the sides to meet in the middle, and continue sealing the edges together to form a little semi-circular package. Tip it over on its side and flatten slightly.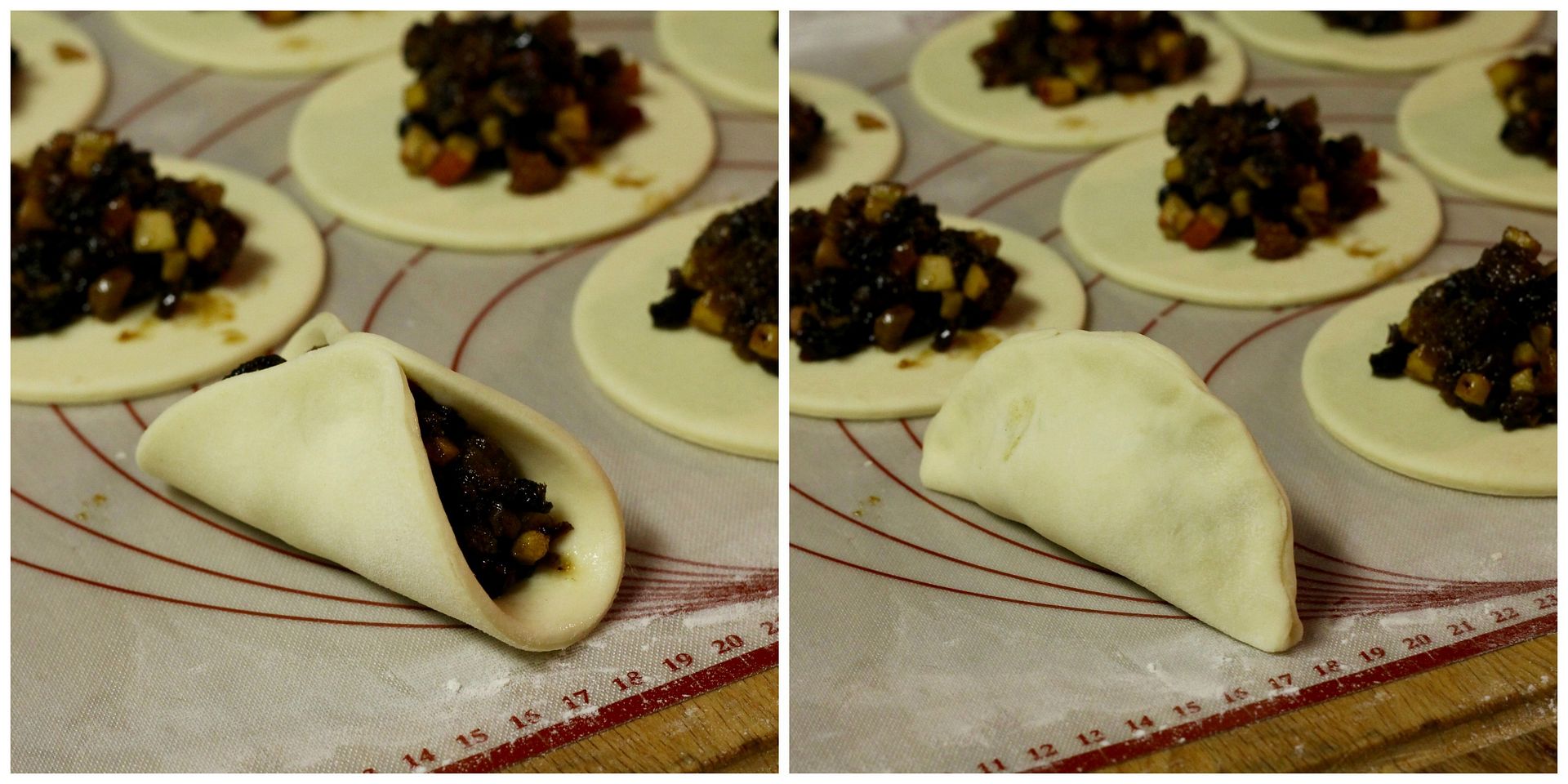 Place the folded pastries on two baking sheets lined with parchment paper. Crimp the edge of each pastry with the tines of a fork, and cut three little slits with a paring knife. Whisk together an egg wash of 1 egg plus 1 tbsp water. Brush it over the pastries and sprinkle them with a little coarse turbinado sugar.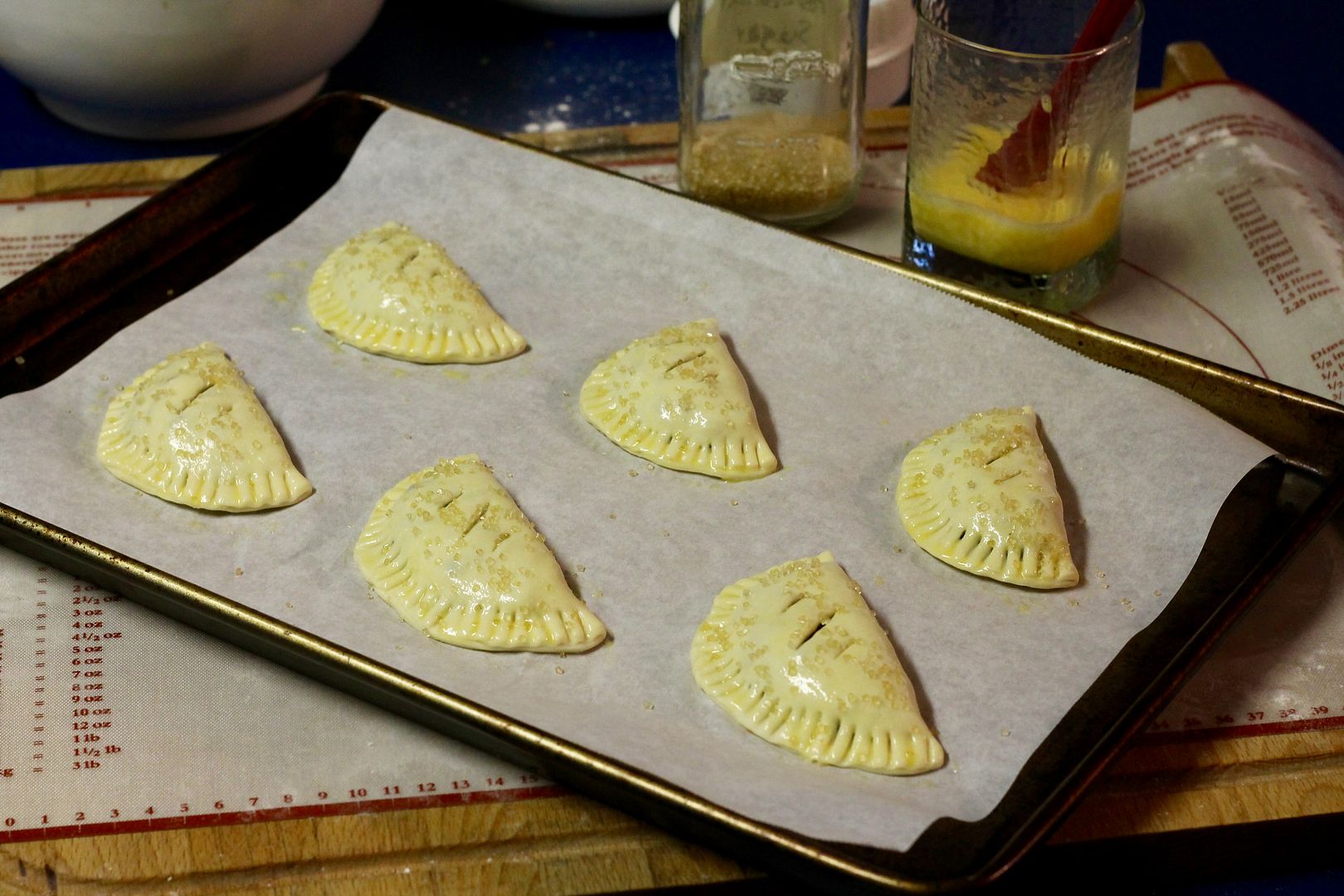 Bake in the preheated 400˚F (375˚F convection) oven for 15-20 minutes, until puffed and golden. Cool on a rack and serve slightly warm or at room temperature. These are best the day they are made, but will keep for a day or so in an airtight container.