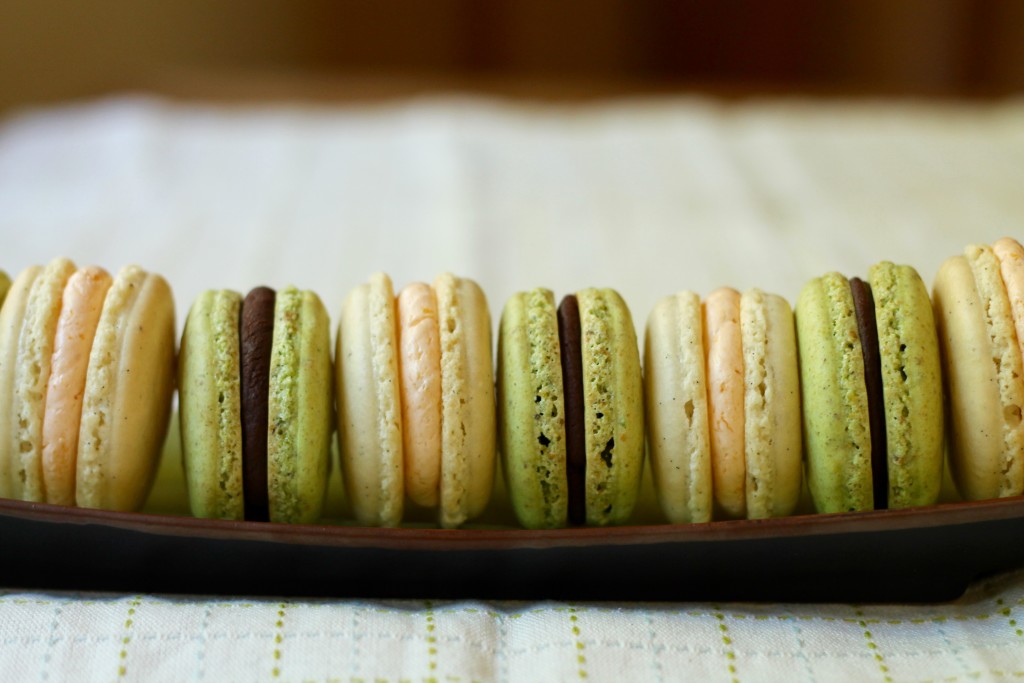 For the month of October we got to take on one of many bakers' deepest, darkest kitchen nightmares: macarons. Our talented bakers Korena from Korena in the Kitchen and Rachael from pizzarossa made the intimidating task of mastering these French beauties a breeze.
I've fallen off the wagon with the Daring Bakers challenges over the past few months, but I jumped right back on this month to co-host a macaron challenge with my blog-pal Rachael. It was really fun to come up with this challenge together, capturing all our collective macaron wisdom into a Word document that we passed back and forth (I think we ended up on version eleven!), and deciding to create videos showing our macaron-making techniques (mine is here – recorded on my iPhone because my DSLR ran out of batteries, d'oh! –  and Rachael's is here).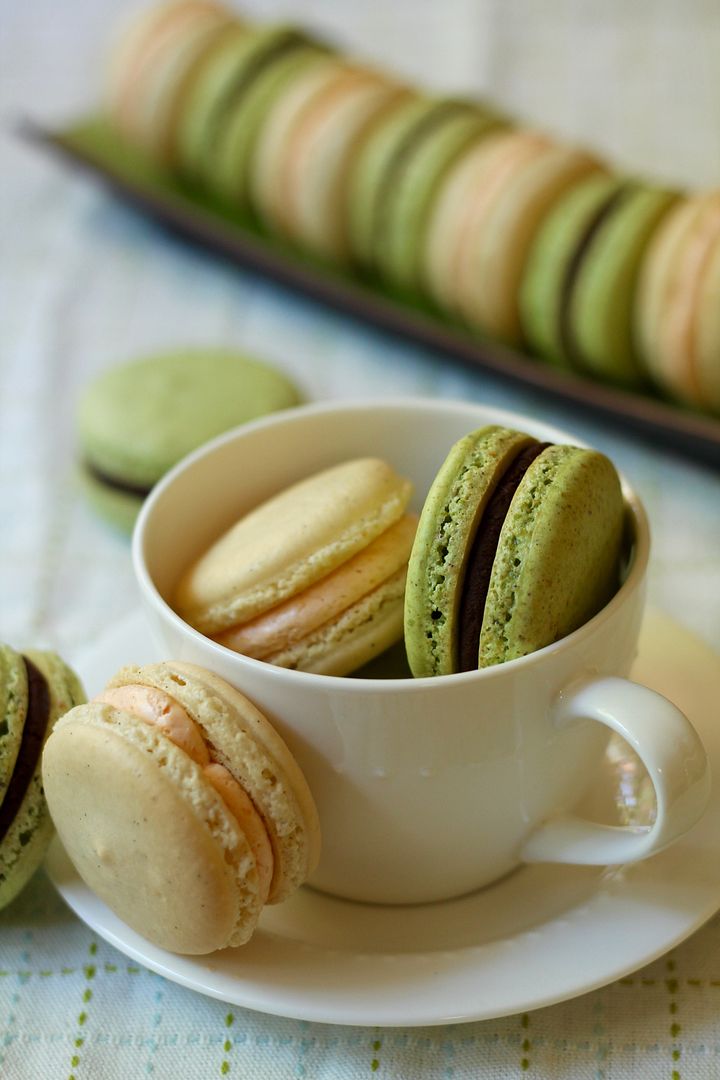 For the challenge, I covered macarons made with the French meringue method, in which sugar is gradually beaten into egg whites until stiff, and Rachael presented the Italian meringue method, which involves beating a hot sugar syrup into the egg whites. I've always had good results with the French method, whereas Rachael and many other bakers swear by the Italian method (which does make a more stable meringue), so we let the Daring Bakers choose whichever method worked best for them. I meant to try the Italian method myself but didn't find the time this month, so for a complete run down on that variety, head over to Rachael's blog pizzarossa (where she has an incredible array of macaron recipes!). However, when putting together the challenge, I did try making French-method macarons with pistachios rather than almonds for the first time, and they came out really well.
Thanks to my great co-host Rachael and to all the Daring Bakers who overcame their macaron fears to take part in the challenge this month! You can see their creations and the entire challenge as Rachael and I wrote it here.
Some notes before we get to the recipe:
Because macarons rely on specific ratios of almonds to powdered sugar to meringue, it is best to use weight rather than volume measurements, which are much less accurate. (About those oddly specific amounts in the recipe below – I tried rounding them to more regular numbers, and the macarons failed. An extra gram or two does make a difference!)
Many sources recommend aging your egg whites when making macarons, but neither of Rachael nor I have ever found it necessary for either method. The only stipulation is that the egg whites should be at room temperature (this helps them whip to maximum volume).
Regarding almonds – you can use ground almonds with or without the skins on, but we both prefer using clear ground almonds (no skins) for the look. If you can't buy ground almonds locally, you can grind them yourself. Just don't use an almond flour which is very fine and powdery – ground almonds are gritty when rubbed between your fingers. You will grind them further with the powdered sugar. Almonds can be substituted for other nuts or seeds, however their oil content can change the way the batter behaves, so it's probably best to use almonds on your first try, and then play around once you're confident in your macaron skills.
Some thoughts on food colouring… Whether you use it or not is entirely up to you, but if you do use it, what you use will determine how much you use and when you add it. You should only use gel or powder – avoid liquid food colouring, as it can add too much moisture to the mix. For the French meringue method explained below, gel colour can be added to the meringue OR when folding in the almond mixture, whereas powdered colour can be added to the ground almond mixture. Flavourings such as vanilla bean seeds can also be added at these same stages.
Baking the macaron shells: we both prefer lining the baking sheets with parchment paper, but many people prefer or have better results using a silicon mat. Try both and see what works best for you. And speaking of baking sheets, some bakers use a double or triple stack of baking sheets to help insulate the macaron shells as they bake. This might be a useful technique if your oven runs hot or heats unevenly.
According to a "perfect macaron" article that Rachael read, the ideal ratio of shell to filling is 2:1. That is, the filling should be about the same thickness as one shell. That's pretty much the ratio we go with, and the easiest way to achieve that is to go by how much is in the piping bag. Fill the bag twice for piping the shells, so fill it once for piping the filling.
Egg whites and meringues can be temperamental – if there is even a trace of oil, fat, or egg yolk in the bowl or on the beater, it can prevent the egg whites from whipping to a stiff peaks. For this reason, when separating your eggs, be very careful not to get any yolks in with the whites. One trick I always use to ensure meringue success is to wipe my already-clean bowl and beater or whisk with a vinegar-moistened paper towel: this eliminates any grease, and the little bit of acid helps the egg whites turn into a meringue more readily.
We also provided links to recipes using nuts other than almonds, piping guides, a troubleshooting guide, and links to making eggless vegan macaron shells using aquafaba (aka, the liquid from a can of chickpeas)! You can find all this info and more in the original challenge.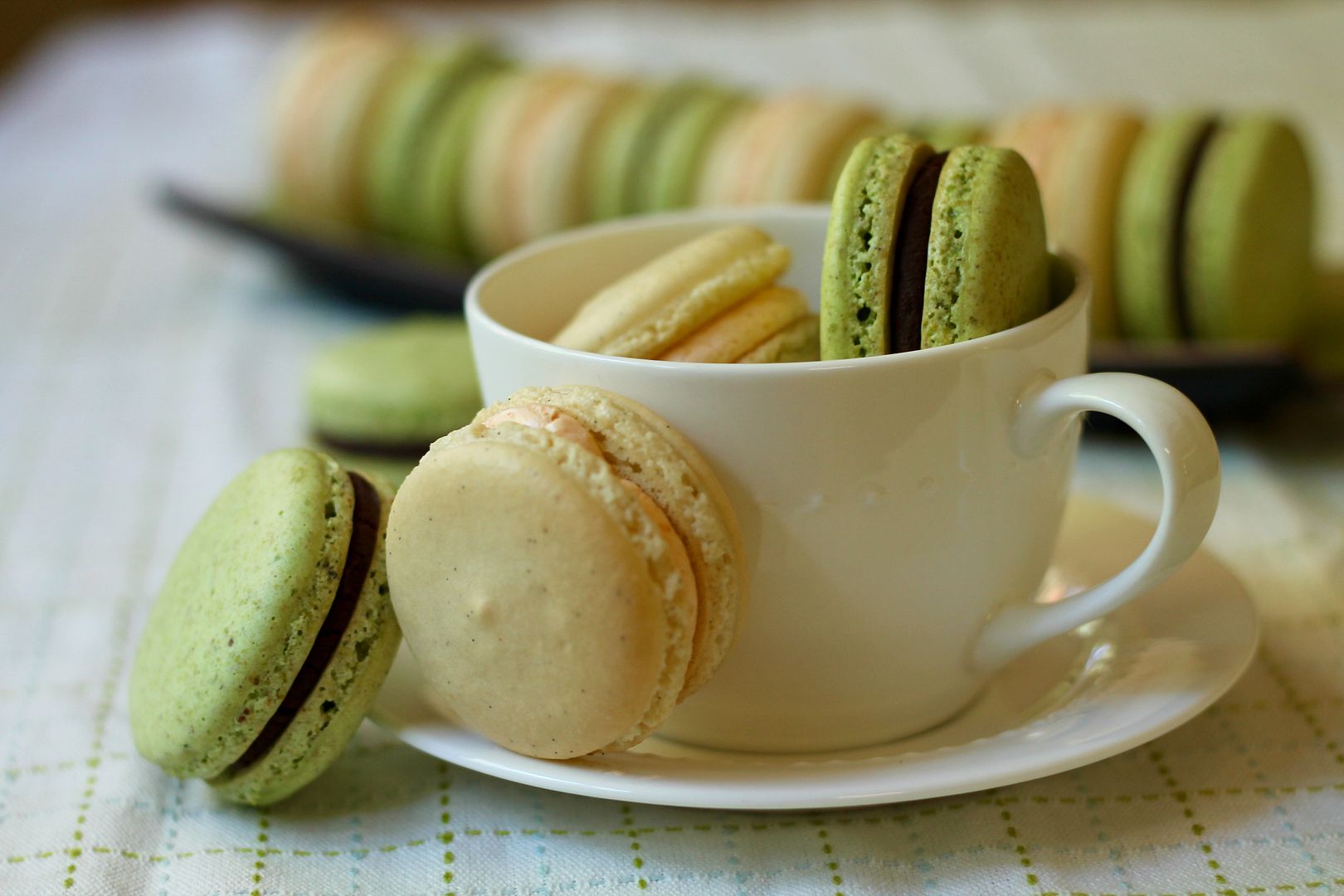 French Meringue Macarons
Adapted from Food52. Makes about 25-30 filled macarons.
Line 2 large baking sheets with parchment paper on top of a piping guide, and set aside.
In the bowl of a food processor, combine:
112 g / 4 oz ground almonds (for pistachio shells, use half ground almonds, half ground pistachios)

204 g / 7 oz powdered sugar
powdered food colouring, if desired
(for chocolate shells, replace 20 g / 0.7 oz of the powdered sugar with unsweetened cocoa powder)
Pulse until completely combined and homogeneous.
Sift the mixture onto a bowl, then return any large bits left in the sifter to the food processor and pulse again until very fine. Set aside.
Place 102 g / 3.5 oz egg whites (from about 3 eggs) in a scrupulously clean (free of any oil or egg yolks) large bowl or the bowl of an electric mixer. Whisk on medium speed until frothy, then very gradually add in 51 g / 1.75 oz granulated sugar. Once all the sugar is added, increase the speed to medium-high and continue beating the egg whites until they form a stiff-peaked meringue (the peaks should not flop over). Don't over mix or allow the meringue to become dry or chunky. Before the meringue reaches stiff peaks, you can mix in a few drops of paste food colouring, some vanilla bean seeds, or a few drops of non-oil based flavour essence if desired.
Add half the almond mixture to the meringue and fold vigorously with a spatula, using about 15 strokes to combine and break down the meringue so it is not so puffy (you can also add paste food colouring/vanilla seeds/flavour essence here if you haven't already added it to the meringue. At this stage, I added the seeds scraped from 1 vanilla bean). Make sure you scrape the bottom and sides of the bowl as you fold so that the dry ingredients are all incorporated.
Add half the remaining almond mixture and fold again with about 10-15 strokes, until just combined. Add the remaining almond mixture and fold again, 10-15 strokes, until just combined. The mixture should fall from the spatula in long, thick ribbons, like slow-flowing lava, and the surface of the mixture should smooth out within 30 seconds.
Scoop the mixture into a large piping bag (only use half the mixture at a time) fitted with a large round tip or plain coupler, and pipe into the prepared baking sheets, using the piping template as a guide. Pipe straight down so that mixture comes out in a round blob – it will smooth and spread out on its own. I usually get one full pan of 28 circles and a second with about 20.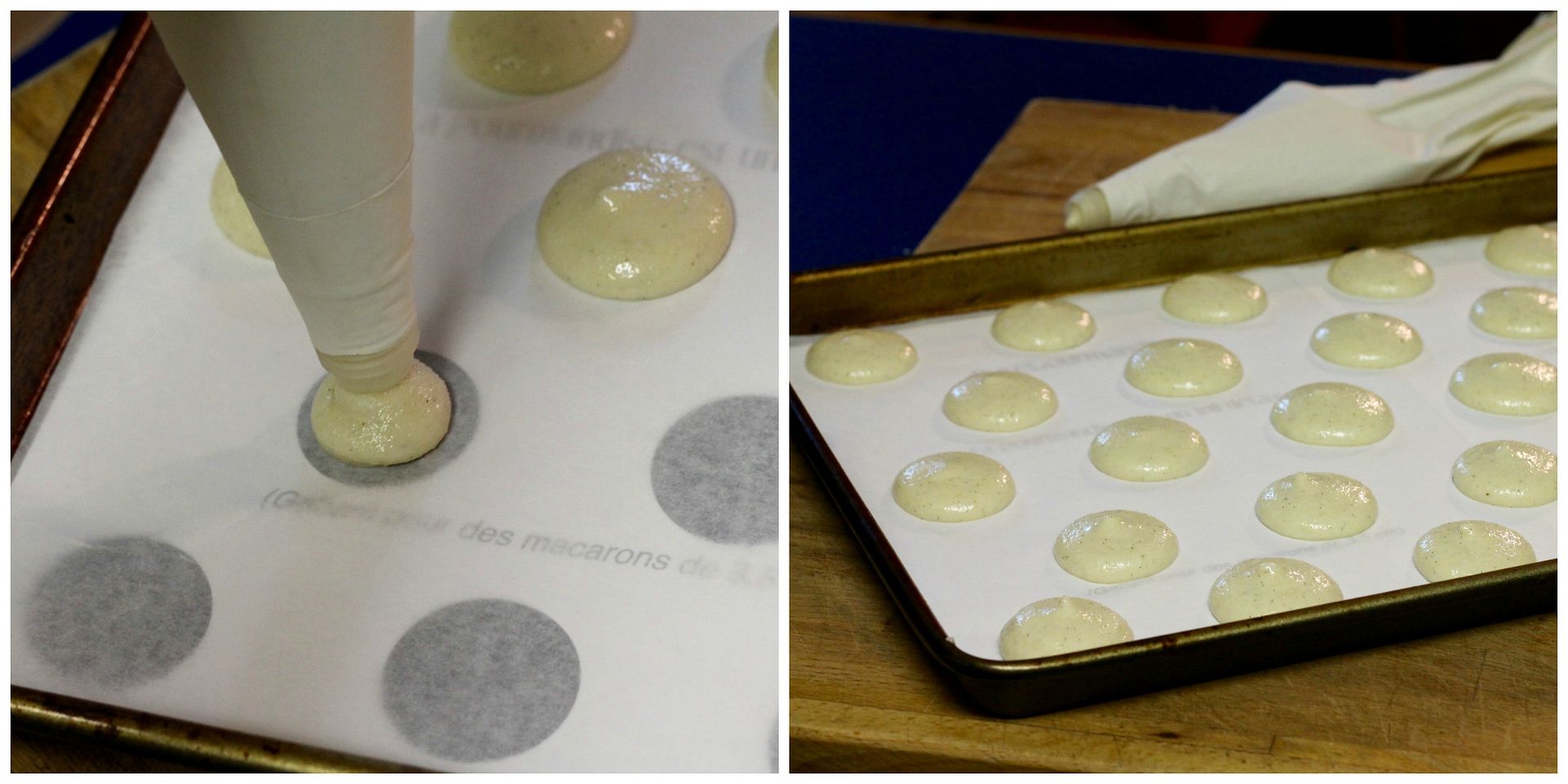 Lift the baking sheet up about 5cm / 2 inches and keeping it perfectly level, firmly bang it down on your work surface to dislodge any large air bubbles. Set the piped shells aside to dry for 30-60 minutes, until a skin has formed on the surface and they are no longer sticky to the touch.
Preheat the oven to 300˚F (275˚F convection). Bake the shells, one baking sheet at a time, in the top third of the oven for 12-16 minutes, during which time they should sprout feet (if you used cocoa in the shells, they may need an additional 2 minutes of baking time). To test the shells, gently tug on the top – if they jiggle at all, bake for another 1-2 minutes. Once baked, they should peel cleanly off the parchment paper. I get best results when I bake them for 10 minutes, then rotate the sheet and bake for another 2-6 minutes, checking for doneness every 2 minutes. I also find that my first batch always takes a few minutes longer than the second, for whatever reason!
Allow the shells to cool completely on the parchment paper, then peel off and store in an airtight container, layered between wax paper, at room temperature or in the freezer (NOT the fridge) until you are ready to fill them. Once filled, they should still be kept in an airtight container and can be refrigerated or kept somewhere cool. It's best to let the filled macarons mature for at least 1 day before eating.
Swiss Meringue Buttercream Filling
Cut 180 g / 6 oz / 3/4 cup unsalted butter into 1/2 inch / 1 1/2cm cubes and set out to soften to room temperature.
In a large, scrupulously clean heatproof bowl over a saucepan of simmering water, combine:
100 g / 3.5 oz / 1/2 cup granulated sugar
2 large egg whites
pinch salt
Whisk the mixture constantly (this is to prevent it from turning into scrambled eggs, not to beat it into a meringue) and heat it until the mixture is hot to the touch and the sugar has dissolved completely (about 130˚F / 54°C).
With an electric mixer, beat the egg white mixture on medium-high speed until it turns into a thick, fluffy, stiff-peaked meringue (mine never quite reaches stiff peaks and still turns out fine). Test the temperature of the meringue with your finger – it should be completely cooled to room temperature and not warm AT ALL. If it is still warm, keep stirring on low speed until the mixture is completely cool to the touch. (This is very important because the next step is to add butter, and if the meringue is warm it will just melt rather than emulsify into a buttercream.)
While the meringue cools, check on your softening butter cubes: you should be able to squish the butter with your finger. You want it soft enough to spread but not at all melted. The key to successful Swiss meringue buttercream is to have the meringue at room temperature and the butter just soft enough to mix in.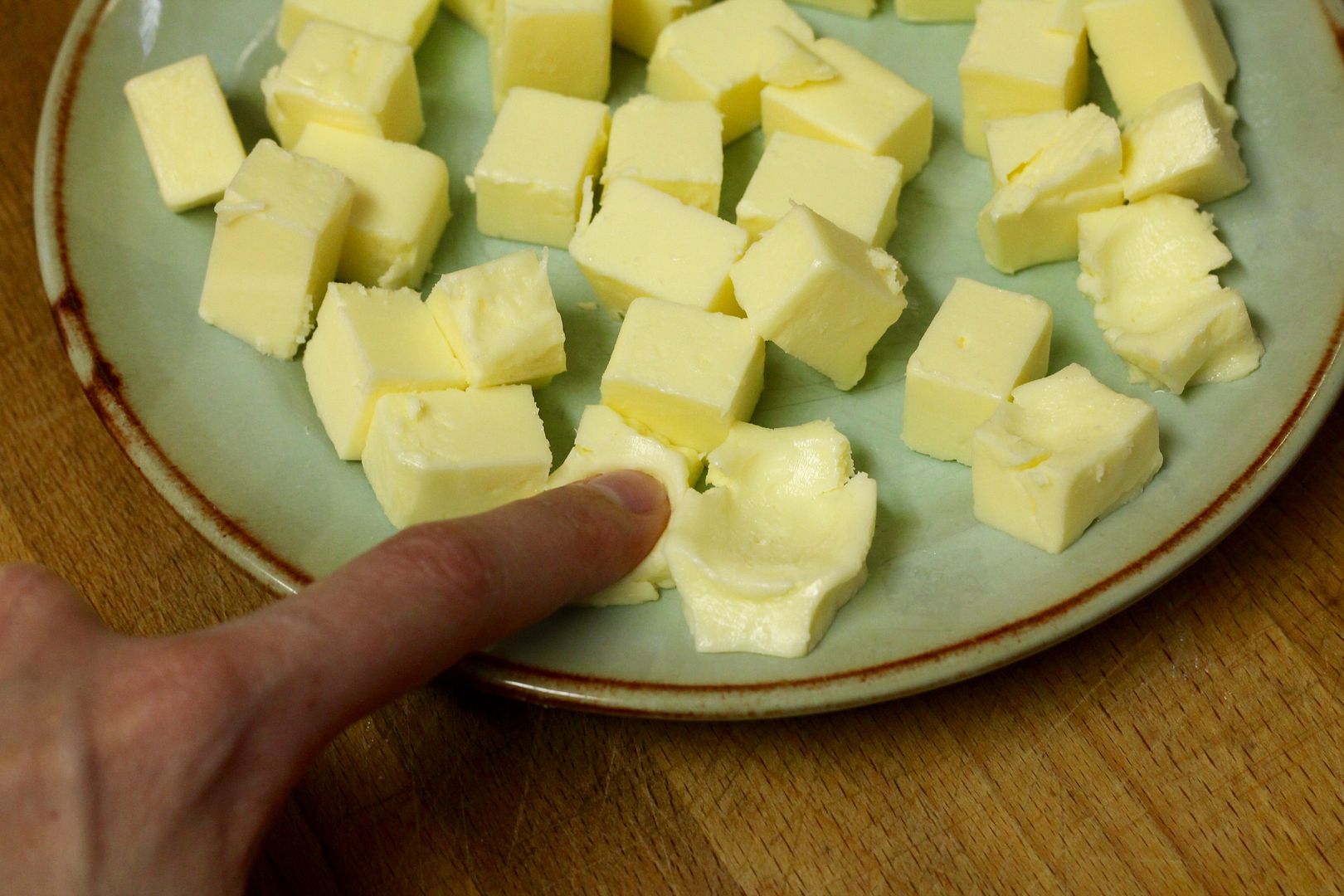 Once the meringue is cool and the butter soft, turn the mixer to medium-low speed and begin adding the butter to the meringue one cube at a time, waiting until each cube is incorporated before adding the next. Your meringue may collapse and look kind of curdled and shiny: this is normal. Just keep slowly adding the butter, one cube at a time, and continue mixing. It will start looking thicker and chunky, and then suddenly it will be buttercream. Once all the butter is added, increase the speed to medium and mix until it is smooth, thick, and fluffy.
IF IT DOESN'T TURN INTO BUTTERCREAM:
When in doubt, just keep mixing on medium-low speed. Have faith and patience, and check it after 5-10 minutes of mixing – sometimes it just takes a while to emulsify.
If the butter is still in chunks, it may have been too cold when you added it. You can continue mixing at room temperature until the butter gradually softens, or you can wrap a towel dampened with warm water around the bowl to help it soften faster. Do this conservatively – you don't want to melt the butter, just to soften it. Mix until it thickens into a buttercream.
If the mixture is very soupy, the meringue may have been too warm and melted the butter. Put the bowl in the fridge and stir it with a whisk every few minutes until it starts to thicken up a bit, then continue mixing with the electric mixer until it thickens into a buttercream.
Beat in any desired food colouring or flavourings to the frosting (I added about ½ cup peach jam and a few dabs of orange and pink food colouring for a peach buttercream. You could add any flavoured essence or melted, cooled chocolate as well). Pipe or spoon a generous amount of frosting onto the flat side of half the macaron shells, then sandwich with a second shell of similar size.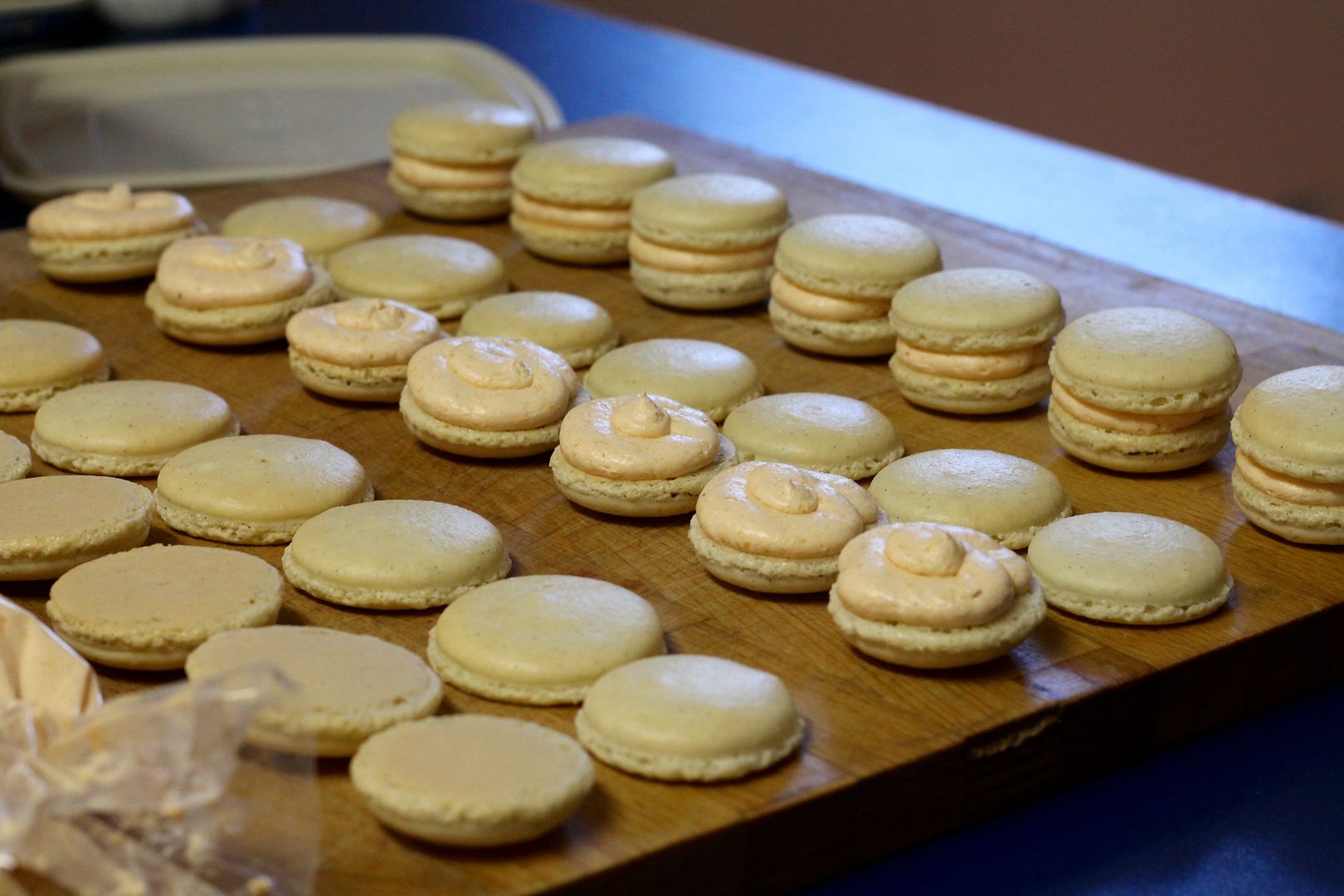 Chocolate Ganache Filling
Place 4 oz / 113 g bittersweet chocolate, chopped, in a medium heatproof bowl.
In a small saucepan, heat 120 ml / 1/2 cup heavy whipping cream and a small pinch salt until just simmering, then pour over the chopped chocolate. Cover the bowl and let sit for 2-3 minutes to melt the chocolate.
Stir with a whisk until smooth, then stir in 28 g / 1 oz / 2 tbsp unsalted butter and any additional flavourings (optional but could include 1/2 tsp vanilla extract, 1 tbsp liqueur,  instant coffee granultes, etc…) until completely incorporated and smooth.
Let the ganache cool in the fridge, whisking every few minutes, until thick enough to pipe (about 30 minutes). Pipe or spoon the ganache onto the flat side of half the macaron shells, then sandwich with a second shell of similar size.