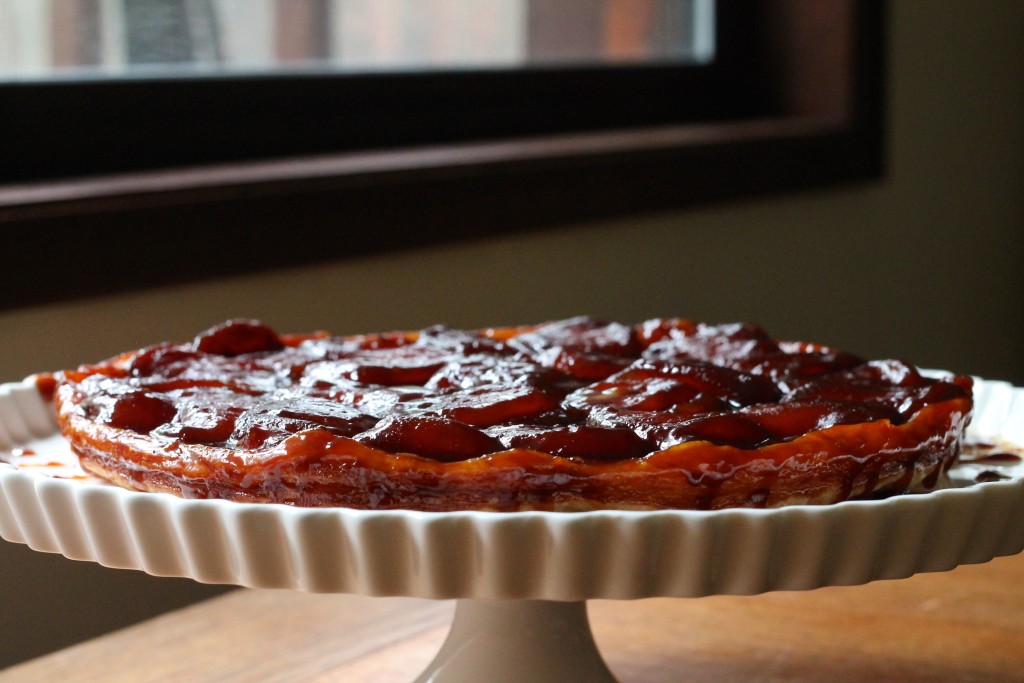 For the March Daring Bakers' Challenge, Korena from Korena in the Kitchen taught us that some treats are best enjoyed upside down. She challenged us to make a tarte Tatin from scratch.
This month I was excited to host another Daring Bakers' challenge, for which I chose the tarte Tatin. This classic French dessert is basically the apple pie version of an upside-down cake: apples are caramelized in sugar in a saucepan, covered with pastry and baked, and then inverted on a plate to serve. It's a great example of the magic of caramelized sugar: the apples take on a deep, rich mahogany colour and become infused with the complex flavours of a well-cooked caramel, and the crisp puff pastry base also becomes practically candied with caramel at the edges, resulting in a fantastic mix of soft, crunchy, and chewy textures.
The tart is named after the Tatin sisters, who ran a hotel near Paris in the 1880s. Apparently, one day one of the sisters forgot to put a bottom crust on her apple pie, but instead of the disaster she was expecting to pull out of the oven, she ended up with a dessert so loved by the hotel guests that it became the hotel's signature dish. However, this sweet story conflicts with the fact that a similar upside-down apple tart called tarte Solognotte (named after the Sologne region in France) existed long before the tarte Tatin, suggesting that the Tatin sisters' creation was actually just an updated and improved version of the tarte Solognotte. Either way, it is a stunningly delicious yet simple and rustic dessert.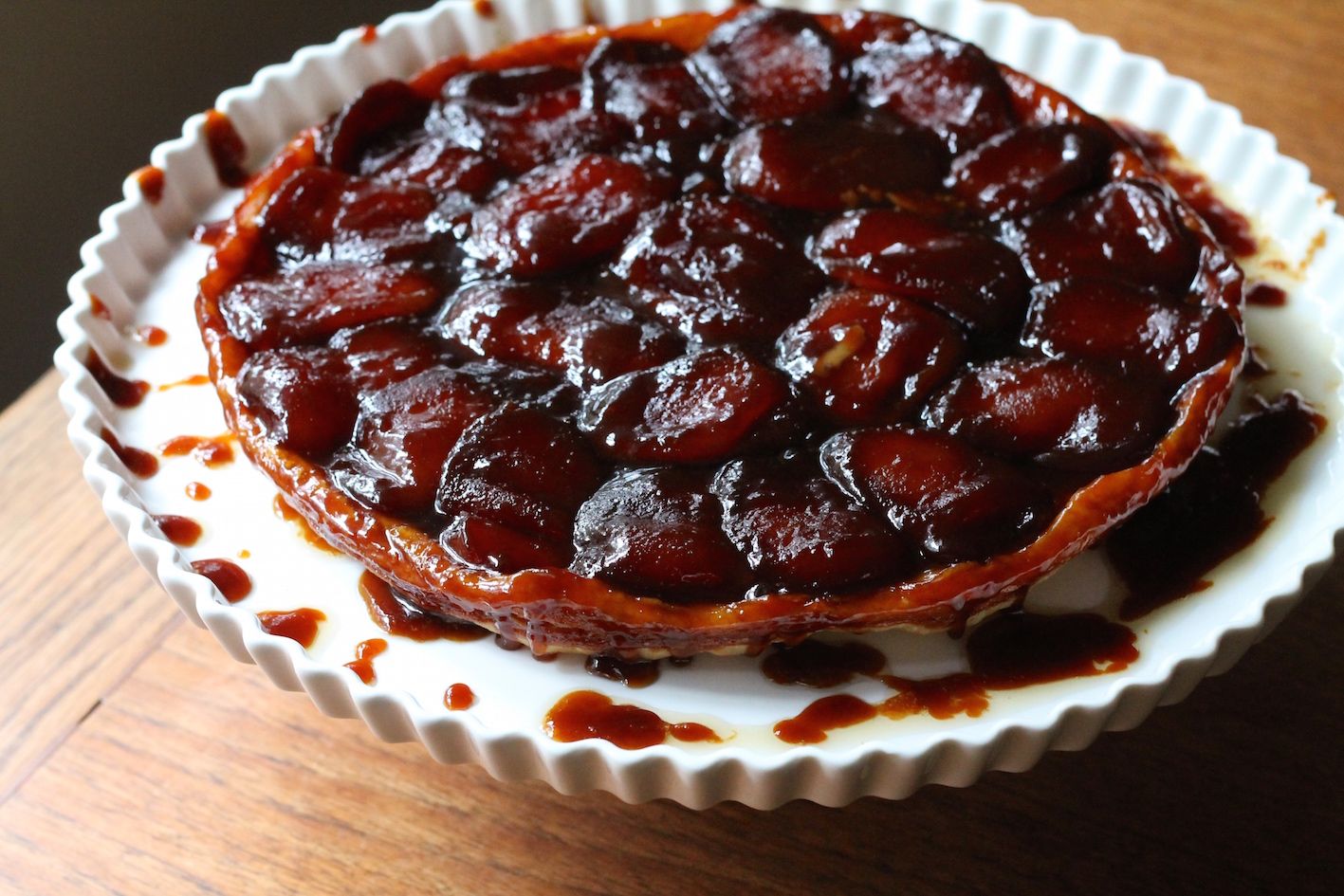 Generally, a tarte Tatin is baked in a large, heavy-bottomed, oven-proof saucepan, however if you don't have one, the filling can first be cooked on the stove in whatever saucepan you have and then transferred to a cake tin, covered with pastry, and baked. The best apples for a tarte Tatin can be either tart or sweet, but they should be firm apples that hold their shape during cooking – otherwise you'll end up with a pan full of applesauce. Good varieties available in North America include Granny Smith, Cortland, Fuji, Gala, Golden Delicious, Braeburn, Honeycrisp, and Jonagold. I used Golden Delicious and they held up nicely.
While apples are the classic and most common filling for a tarte Tatin, you can make one with almost any fruit or vegetable, sweet or savoury – and this month, the Daring Bakers didn't disappoint in their creativity. In addition to lots of delicious apple tarte Tatins, the variations included pear, strawberry-rhubarb, sweet potato, plum and oregano (wow!), mango, banana-apricot-mandarin, tomato, beets, tri-colour bell pepper, and potato. I think this just proves the versatility and adaptability of the tarte Tatin technique: once you understand the basics you can do pretty much anything with it. Big thanks to all the Daring Bakers who took on the challenge and baked along with me this month!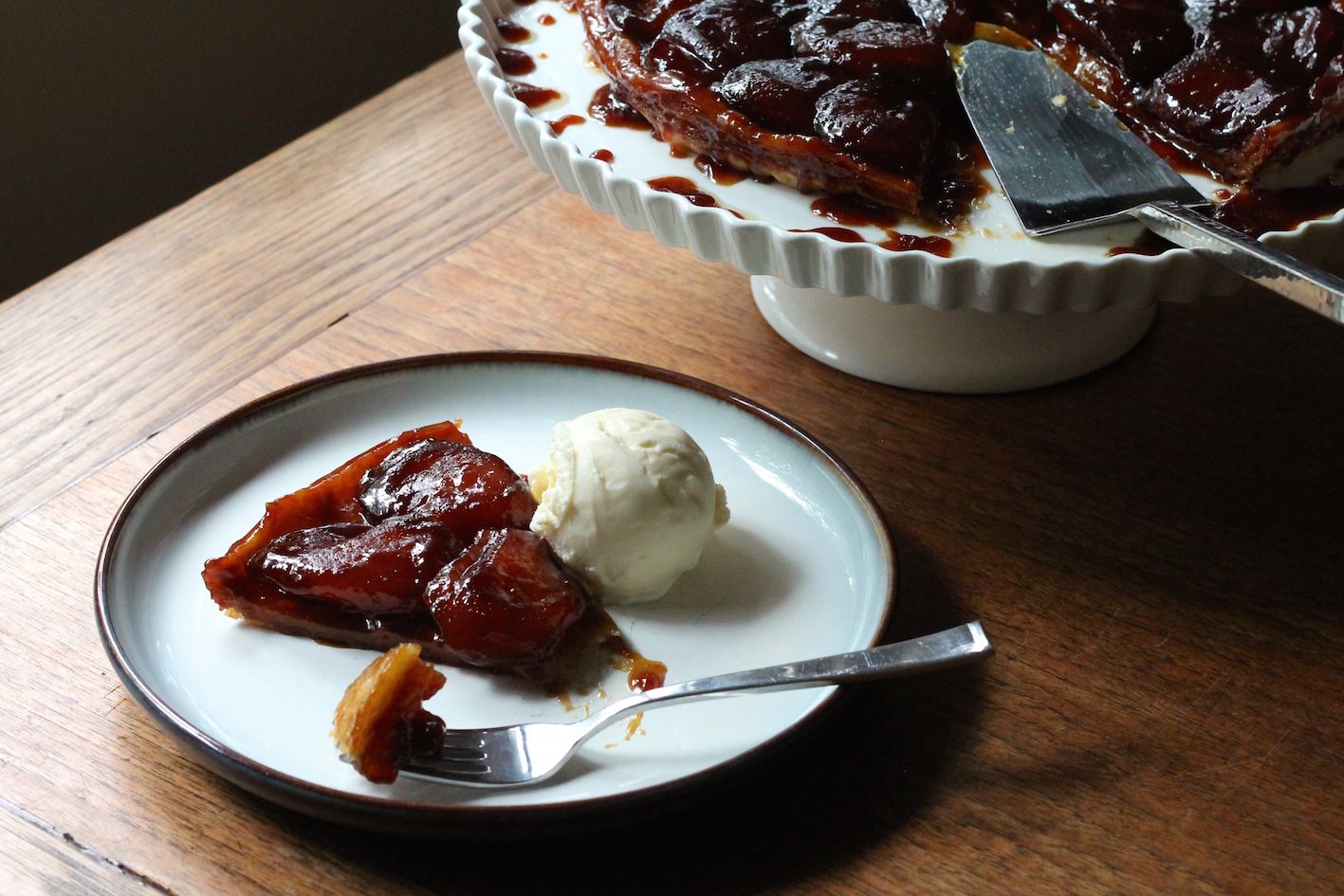 Below is the recipe for apple tarte Tatin, which can be adapted to use other fruit or even savoury vegetable fillings. For more information, check out the challenge as I presented it.
(Oh – and a word about this pastry: this is rough puff pastry, which gives you a ton of flaky layers without the high maintenance of true puff pastry. This recipe has you cut butter into flour as you normally would for pie dough, except you leave it a little chunkier and then you simply start rolling and folding the resulting shaggy dough, creating those amazing layers with much less hassle. It's great for tarte Tatin (or anything else you'd use puff pastry for), but you could also use whatever pastry (homemade or storebought!) that you like best.)
Apple Tarte Tatin
Makes one 9″ tarte, serves 8-10.
Rough Puff Pastry
Adapted from Chocolate & Zucchini. Makes one single pastry crust.
In a medium bowl, combine:
1 cup (250 ml) (4½ oz) (125 gm) all-purpose (plain) flour
¼ tsp fine salt
Cut 2/3 cup (160 ml) (5 oz) (140 gm) unsalted butter, cold, into small cubes and add it to the flour. With a pastry blender (or two table knives) cut in the butter until the mixture in crumbly but even, with pea-sized pieces of butter. Make a well in the middle and pour in ¼ cup (60 ml) ice cold water. Toss the flour/butter and water together with a fork until the dough starts to clump together.
Turn the dough out onto your work surface – don't worry if there are still pockets of dry flour. Gently knead and squeeze the mixture a few times just enough to bring it together into a square (a bench scraper is helpful for this). Be careful not to overwork the dough: there should be visible bits of butter and it should still look very rough.

Lightly flour your work surface and rolling pin, and roll the dough out into a rectangle about 10" (25 cm) long. Fold the bottom third of the dough up into the middle, and fold the top third down, like you are folding a letter. This is one fold. Turn the dough a one quarter turn so that one of the open edges is facing you, and roll out again into a 10" (25 cm) rectangle. Fold again – this is the second fold. Repeat the rolling and folding 3 more times, for 5 folds total. Your dough will get smoother and neater looking with each fold (the pictures show the first and fifth folds).
If your kitchen is very warm and the dough gets too soft/sticky to do all the folds at once, chill it in the fridge for 20-30 minutes between folds. After the fifth fold, use your rolling pin to tap the dough into a neat square. Wrap the dough in plastic and chill for a least 1 hour, or overnight.
Tarte Tatin
Adapted from Smitten Kitchen and Orangette.
Peel 6 large or 7-8 medium-sized apples and cut them into quarters. Remove the cores in such a way that each apple quarter has a flat inner side: when placed rounded-side-up, it should sit on a flat base. Place the apples in a large bowl and toss with:
the juice of half a lemon
1/3 cup (80 ml) (2-1/2 oz) (65 gm) granulated sugar
This will help draw out some of the moisture from the apples and prevent an overly runny caramel. Set aside for 15 minutes.

Preheat the oven to moderately hot 375˚F/190°C/gas mark 5. Melt 6 tablespoons (90 ml) (3 oz) (85 gm) unsalted butter in a very heavy, 9" or 10" (23 cm or 24 cm) oven-proof saucepan over medium heat, then sprinkle with 1 cup (240 ml) (7 oz) (200 gm) granulated sugar. Stir with a whisk until the sugar melts and becomes a pale, smooth caramel. The sugar will seem dry and chunky at first, then will start to melt and smooth out. If the butter appears to separate out from the caramel, just keep whisking until it is a cohesive sauce. Whisk in a pinch of salt and remove from the heat.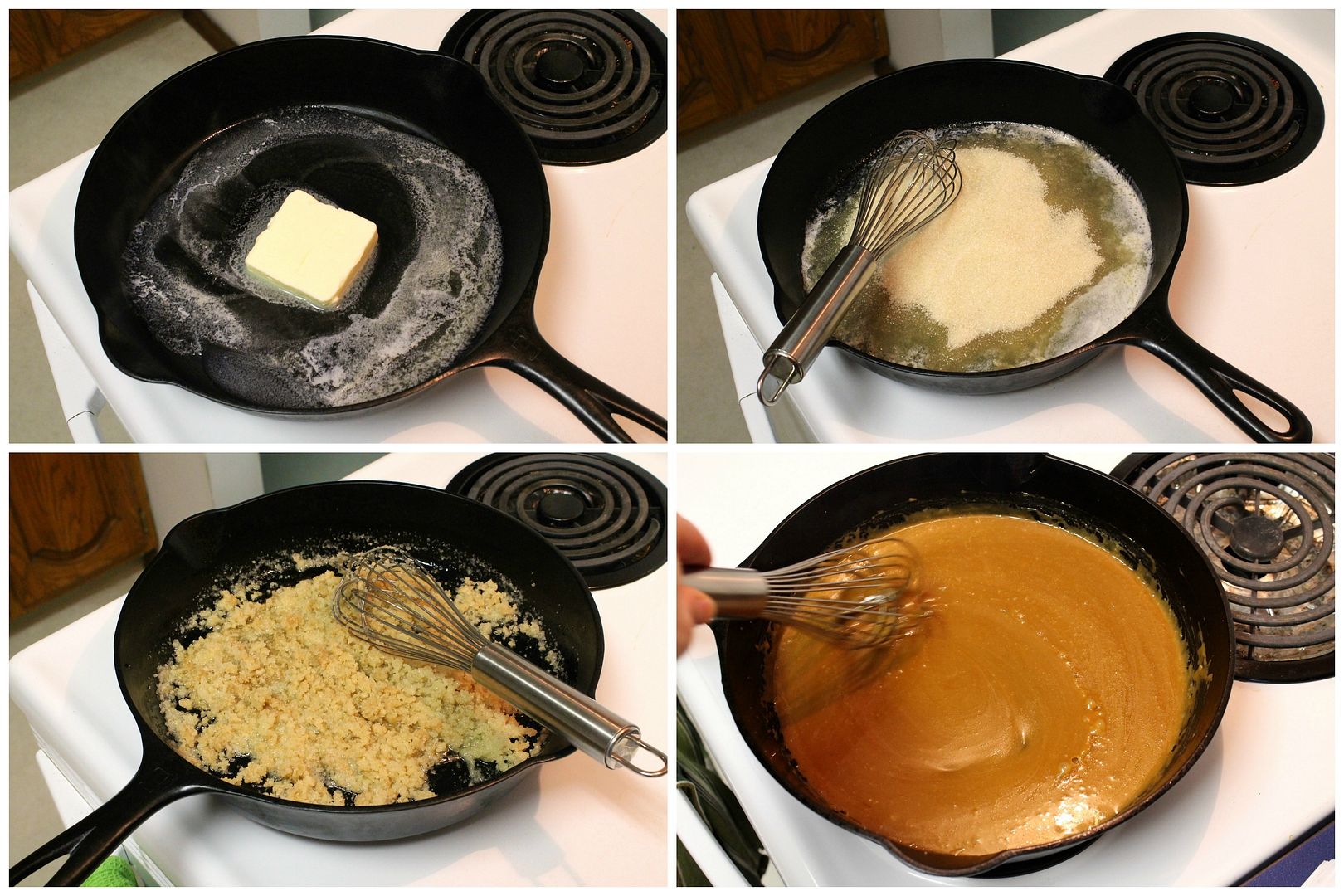 Discard the liquid that has come out of the apples, then add the apple quarters to the caramel, round side down. They won't all fit in a single layer at first, but as they cook they will shrink a bit. Cook over medium heat for 15-20 minutes, pressing down gently on the apples with a spoon to cover them in the caramel liquid. Move the apples around the pan gently so that they all cook evenly, trying to keep them round side down. When the apples have shrunk enough to mostly fit in a single layer and are starting to soften but still keep their shape, remove the pan from the heat.
With a wooden spoon, arrange the apples, round side down, in a single layer of concentric circles covering the bottom of the pan. Set aside until the filling stops steaming before covering with pastry.
Remove the pastry from the fridge, roll it out on a lightly floured surface, and trim it into a circle about 1" (25 mm) in diameter larger than your saucepan. Lay it over the filling, tucking in the edges between the apples and the sides of the pan, and cut a few steam vents in the pastry. Place the saucepan on a rimmed baking sheet (just in case the filling decides to bubble over the sides) and place in the preheated moderately hot 375˚F/190°C/gas mark 5 oven. Bake for 30-35 minutes, until the pastry is puffed and golden brown, increasing the oven temperature to moderately hot 400˚F/200°C/gas mark 6 during the last 5 – 10 minutes of baking if the pastry isn't browning properly.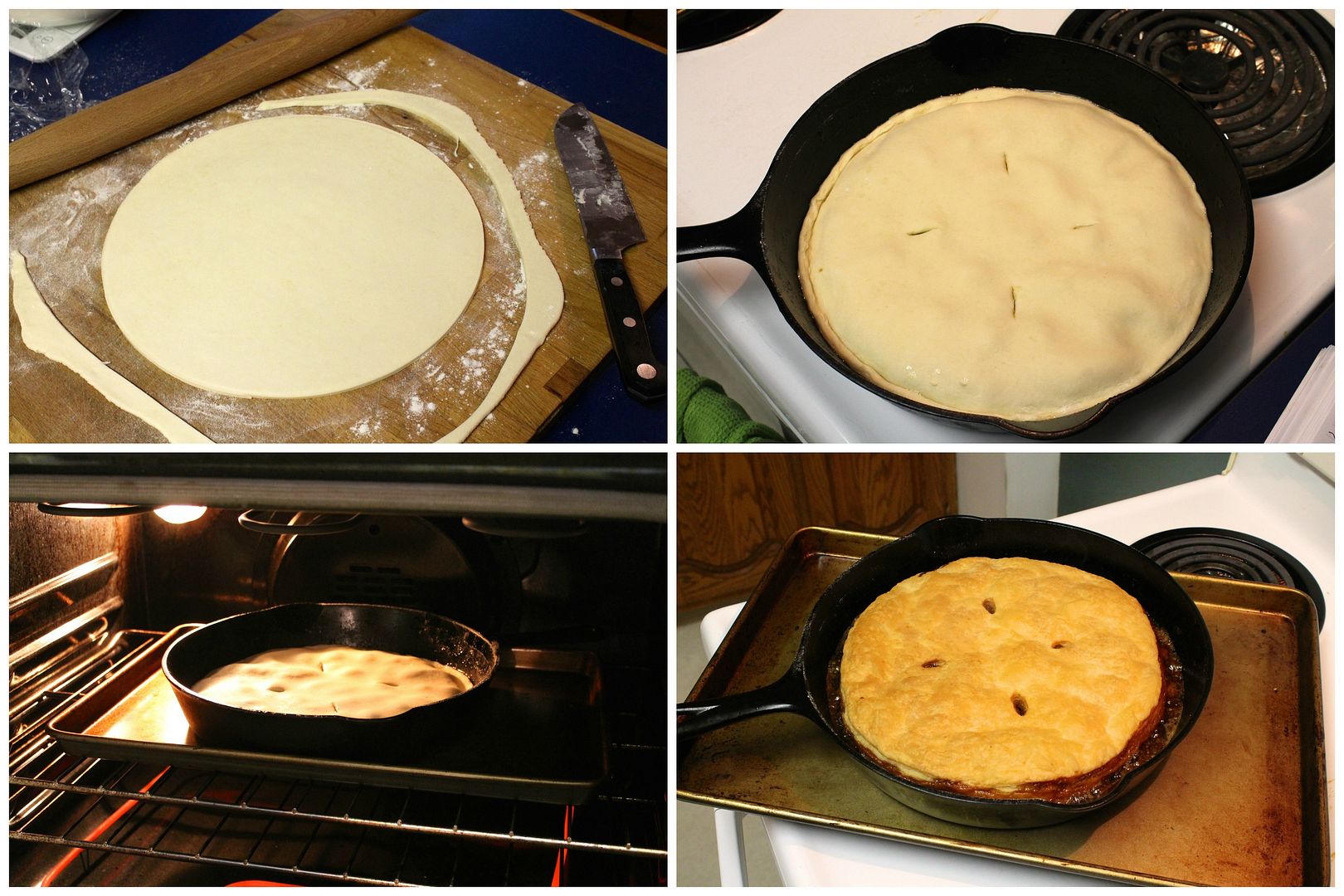 Remove from the oven and let sit just until the caramel stops bubbling. Immediately place a serving platter (slightly larger in diameter than the saucepan) over the pastry. Wearing oven mitts, grab hold of the saucepan and platter and quickly invert everything to unmold the Tatin onto the platter. If any of the apples stick to the pan or come out of place, rearrange them with a spatula.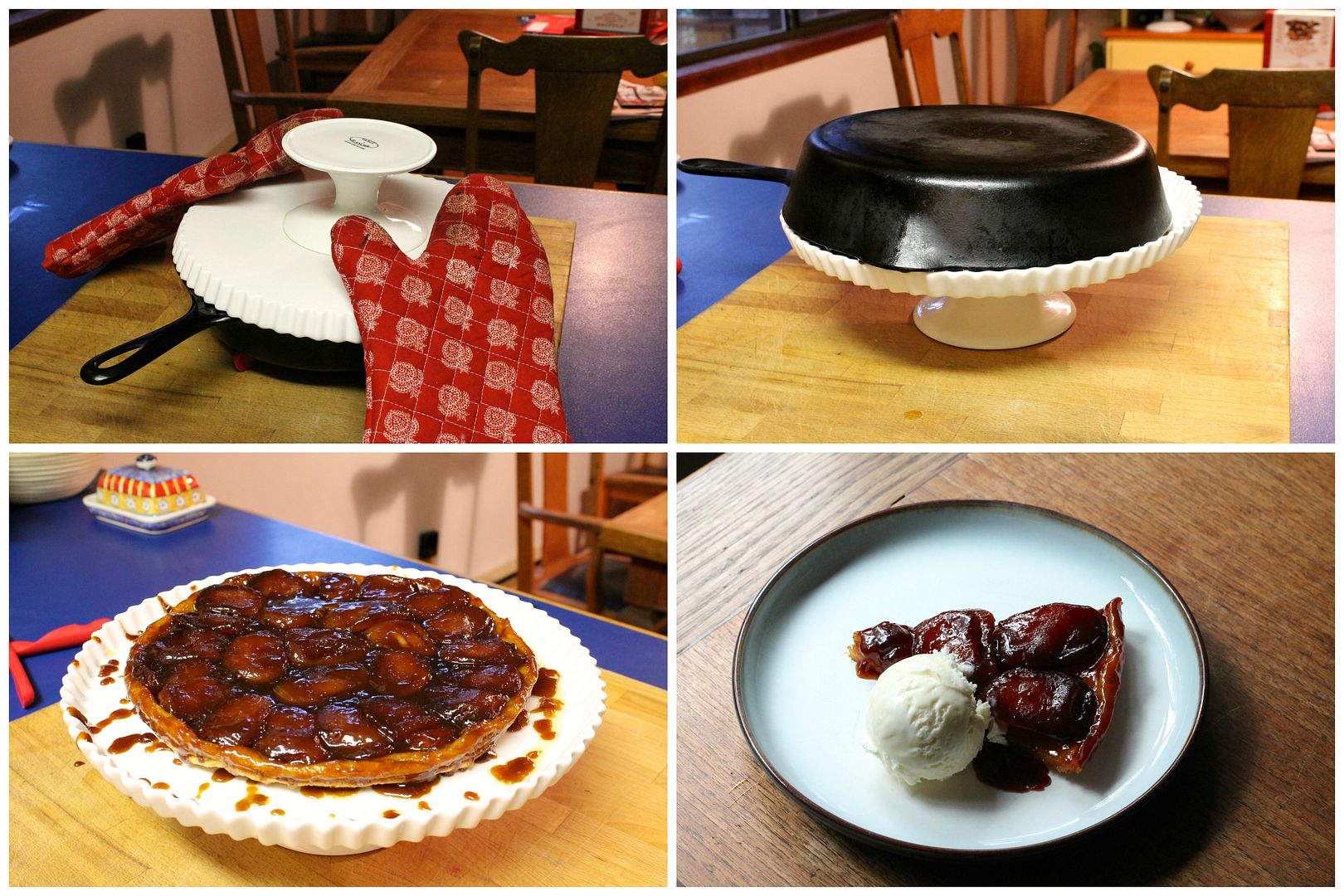 The tarte Tatin can be served warm from the oven or at room temperature. Suggested accompaniments include vanilla ice cream, whipped cream, or crème fraîche.