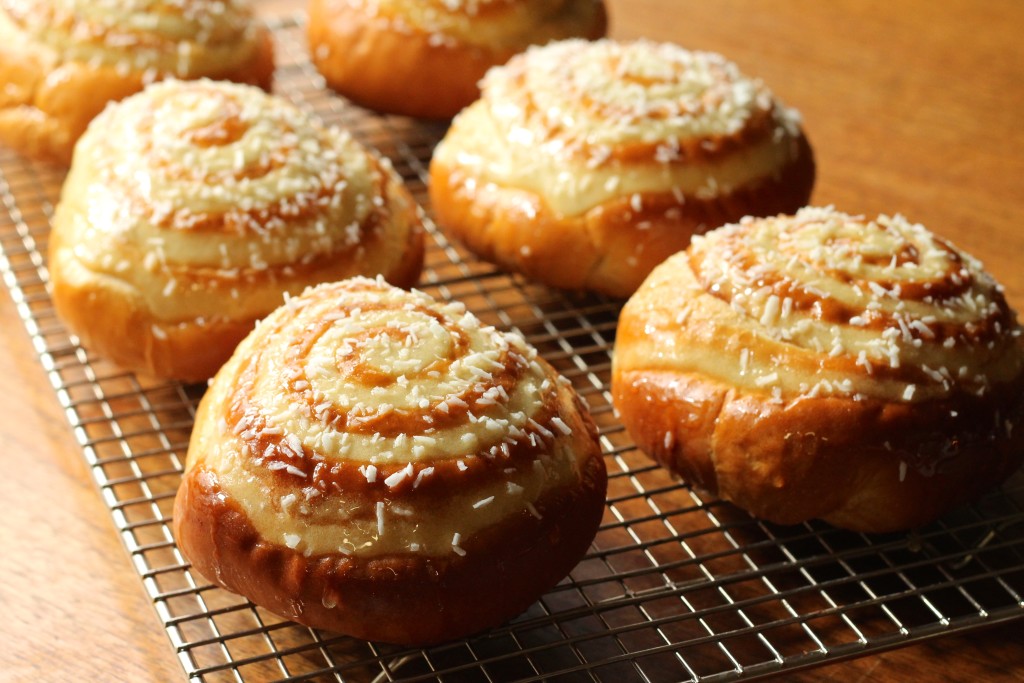 The February Daring Bakers' challenge is hosted by Julie of One-Wall Kitchen. She challenged us to an easy, simple filled bun using no-knead dough.
This month's Daring Bakers' Challenge recipe is known by many names – bao, mantou, nikuman, siopao and others – but the common denominator is that is it an Asian-style bun, stuffed with a filling (often Chinese bbq pork) and baked. At first I wasn't too excited because I had so recently made the steamed version of this recipe with the Sourdough Surprises group, but then I remembered Suz's custard-filled steamed buns, and suddenly I knew that I wanted to make a baked version.
When I first envisioned these, I was thinking of a filling of vanilla custard and blueberries, but then I ran out of regular milk and had to use coconut milk in the custard instead. It tasted so good that I changed tacks and went full-on coconut. They ended up being sort of like a honey bun, which is a delicious Asian sweet bun filled with a mixture of coconut, butter, and honey or sugar.
There are countless dough recipes for Asian buns like this, but I chose one that uses tang zhong, aka water roux. This is a technique for making super soft bread where you cook a portion of the dough's flour and water into a thick paste or roux. For whatever reason (science!) it not only makes the resulting bread pillowy and light, it also stays fresher longer.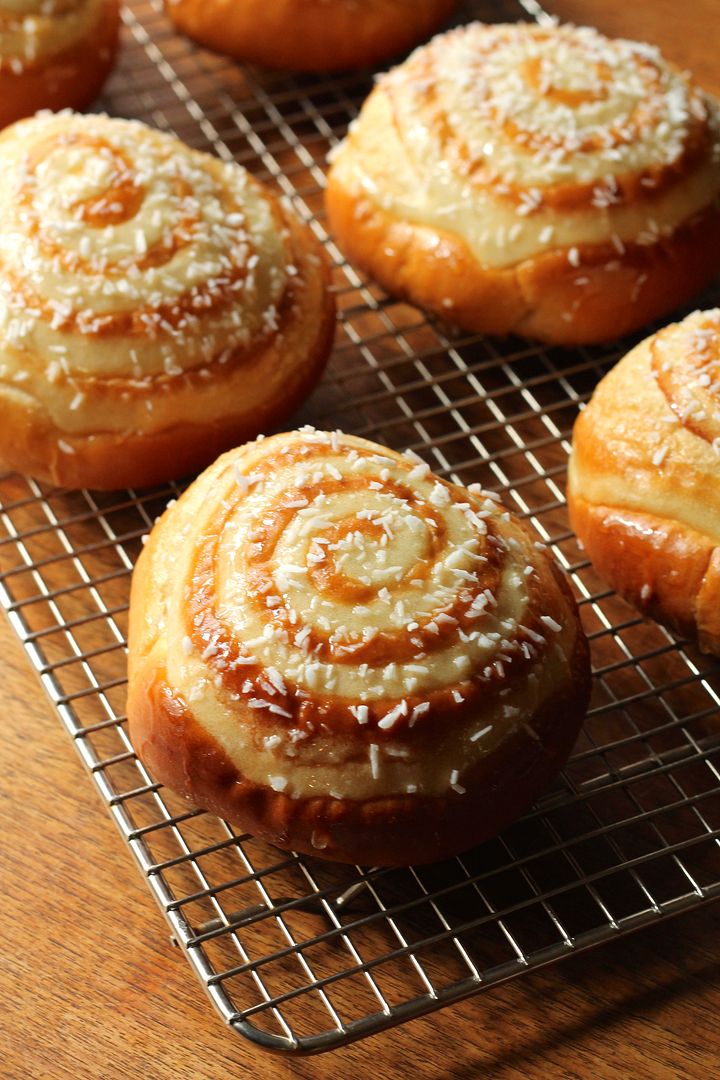 The recipe below makes six quite large buns. If I were to make it again, I'd divide the dough into eight buns and make one-and-a-half times the custard, because it was my favourite part. Or maybe it was the sticky honey brushed on top of the baked buns, or the toasted coconut folded into the custard. I guess what I'm saying is: they were tasty.
Thanks for the challenge Julie! Check out the Daring Kitchen for more siopao/bao/etc.
Asian Coconut Custard Buns
Makes 6 large buns, but I would recommend making 8 smaller buns and using 1 1/2 times the filling.
Coconut Custard
In a small pot combine 128 g full fat coconut milk plus the seeds and pod from 1/2 a vanilla bean. Place over medium heat until it just boils.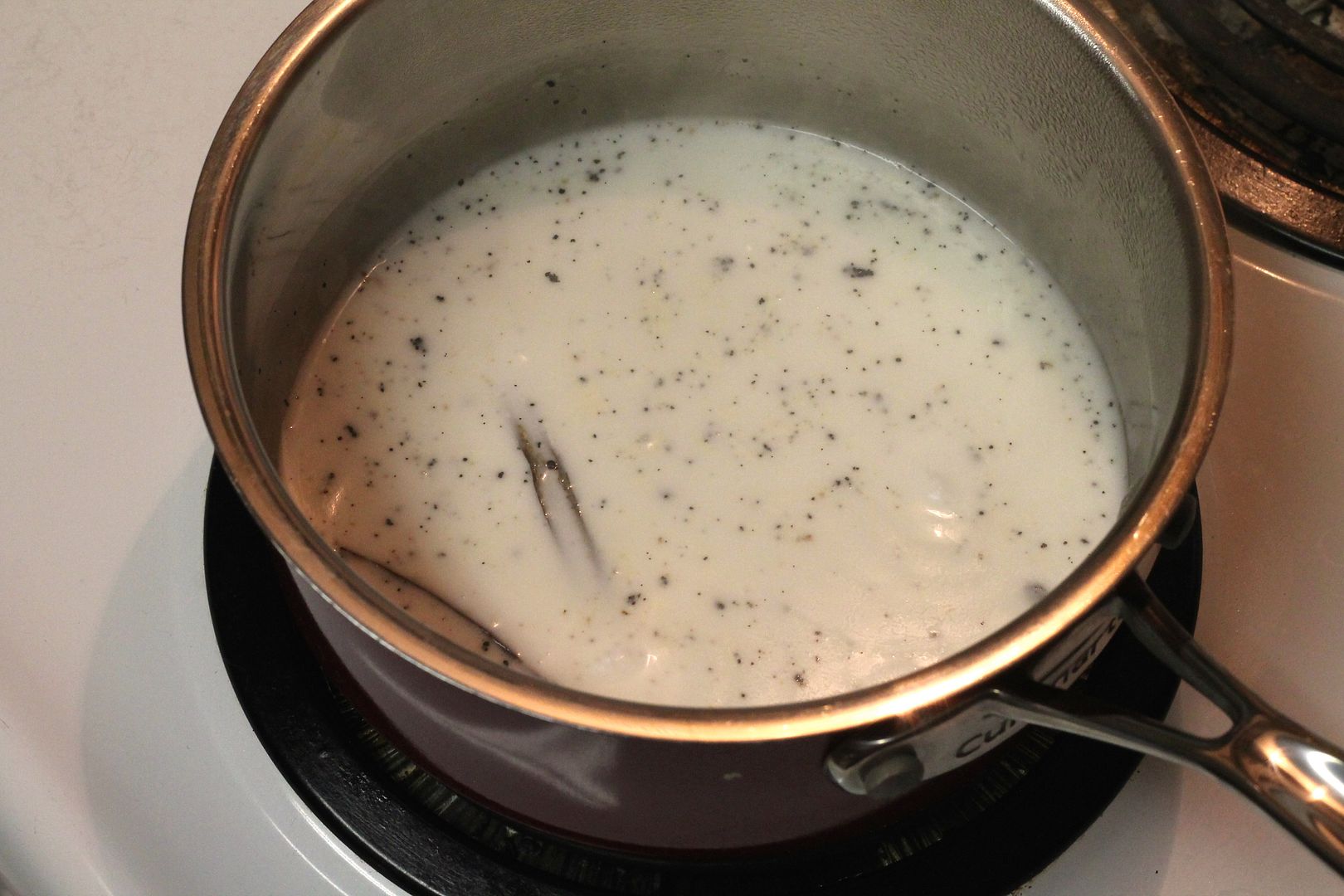 Meanwhile, in a medium bowl, whisk together until pale yellow:
2 egg yolks
28 g granulated sugar
1 1/2 tbsp corn starch
pinch salt
Remove the vanilla bean pod from the just-boiled coconut milk, then pour the coconut milk in a steady stream into the egg mixture, whisking constantly.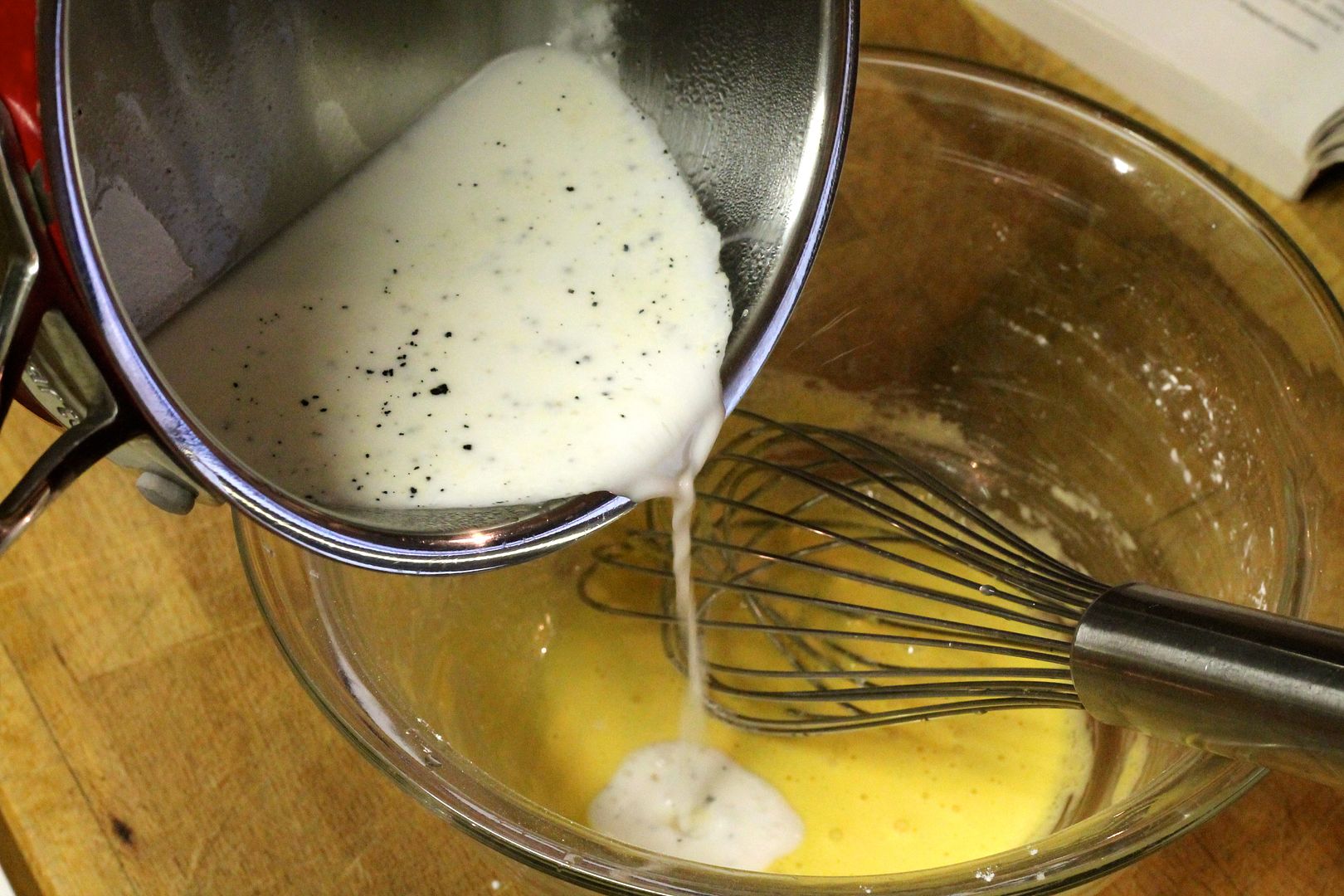 Pour the whole thing back into the pot and place over medium heat again. Cook, whisking constantly, until the mixture boils and just comes to a boil – this ensures that the cornstarch is fully cooked and won't taste starchy.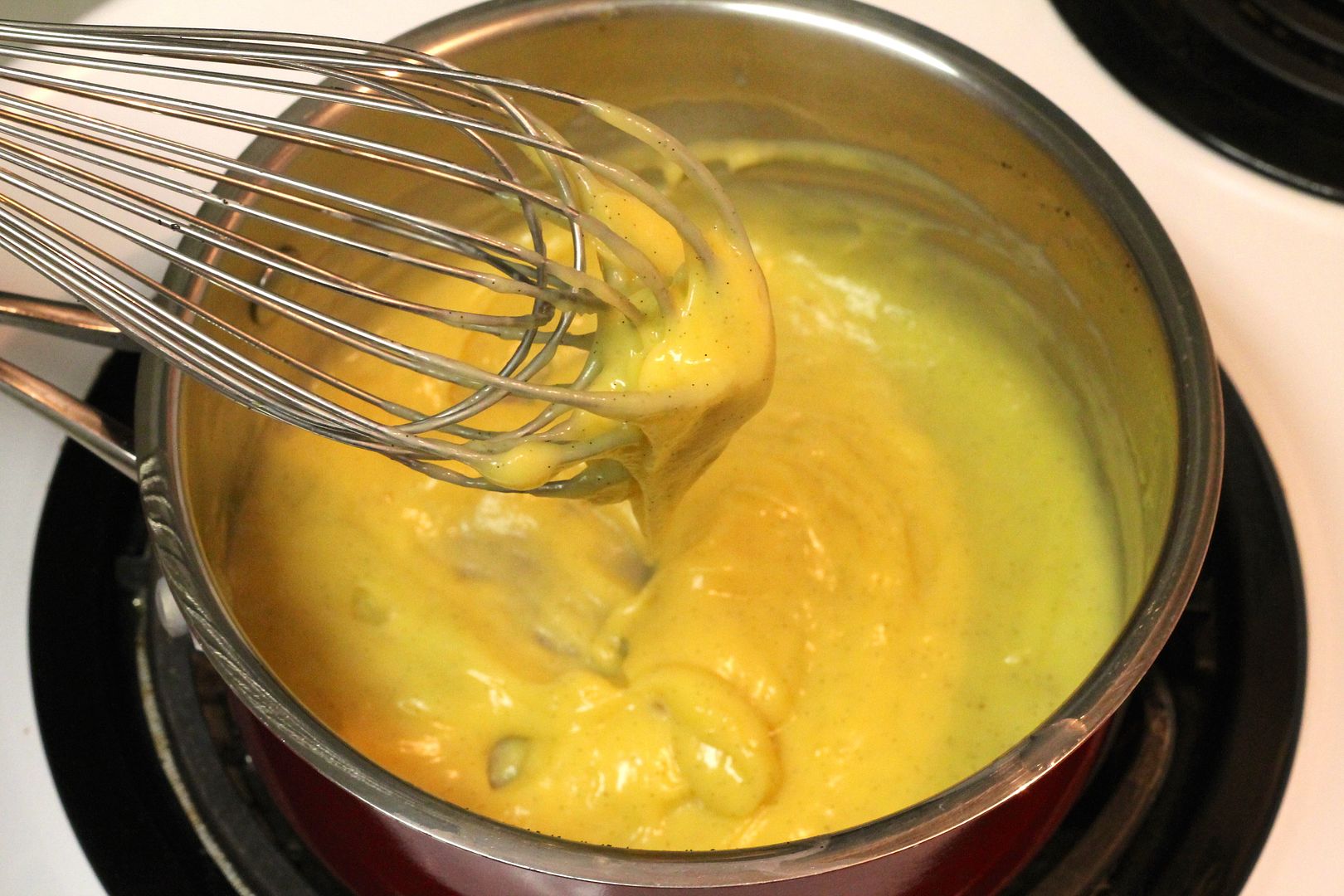 Remove from the heat and whisk in 14 g unsalted butter, cubed, until smooth and creamy. Scrape into a bowl and press plastic wrap to the surface of the custard to prevent a skin from forming. Refrigerate until completely cool (I left it overnight).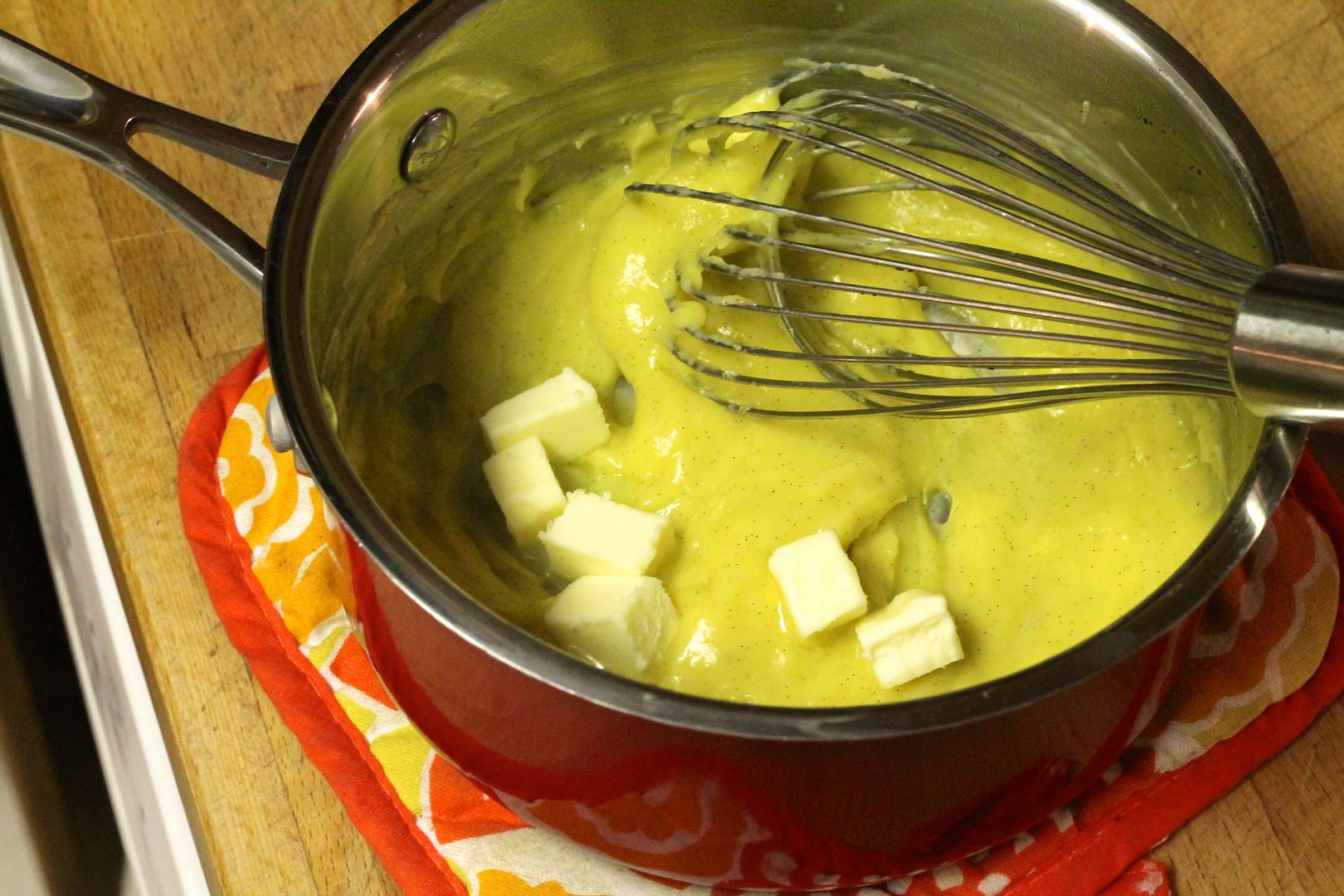 In a small skillet over low heat, toast 25 g unsweetened flaked coconut, stirring occasionally, until golden brown and fragrant. Let cool, then stir into custard.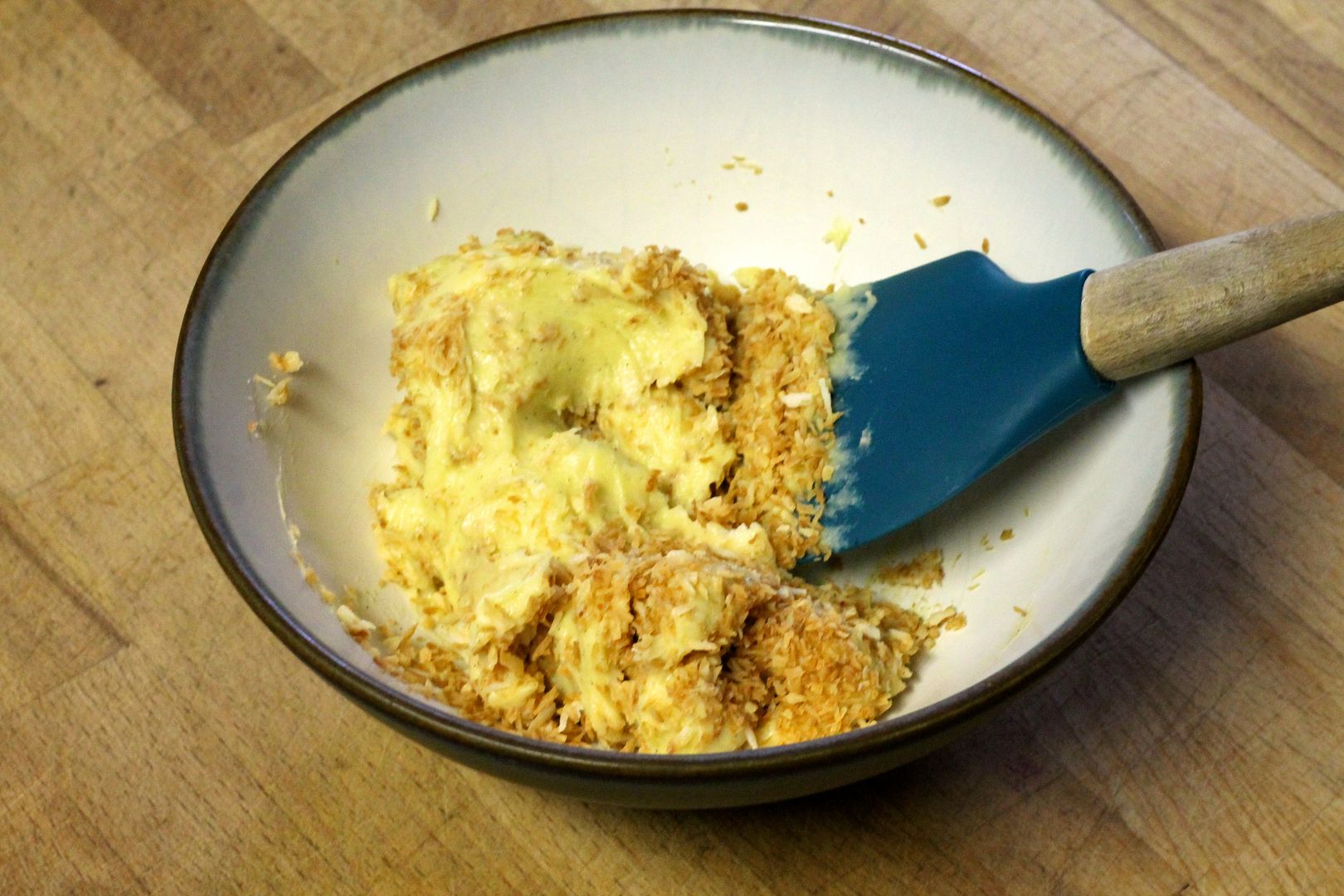 Dough
Adapted from The Girl Named Kay.
To make the tang zong, whisk together in a small pot:
25 g bread flour
1/4 cup water
1/4 cup full fat coconut milk
Whisk until no lumps remain, then place over medium-low heat and cook, stirring constantly, until the mixture thickens and just starts to bubble. Remove from the heat and scrape into a bowl. Press plastic wrap to the surface and let cool to room temperature (or can be kept up to 3 days in the fridge. Do not use if it starts to turn grey.)
For the dough, in the bowl of an electric mixer with the dough hook attachment, combine:
350 g bread flour
55 g granulated sugar
2 tsp instant yeast
1 tsp salt
Make a well in the middle and add:
1/2 cup warm full fat coconut milk
1 egg
the cooled tang zhong
Mix into a sticky dough, then knead with the dough hook until it becomes cohesive. Add 30 g unsalted butter, room temperature, and continue to knead the dough for about 10-15 minutes until it is smooth, and comes away from the side of the bowl. It will still be quite sticky but very elastic – you should be able to stretch a "window pane" in it (ie: thin enough to be transparent without tearing). Cover the bowl with plastic wrap and let rise until doubled in size, 1-2 hour depending on the room temperature, or you can let it rise overnight in the fridge, which is what I did (allow it to warm up to room temperature for a few hours before continuing).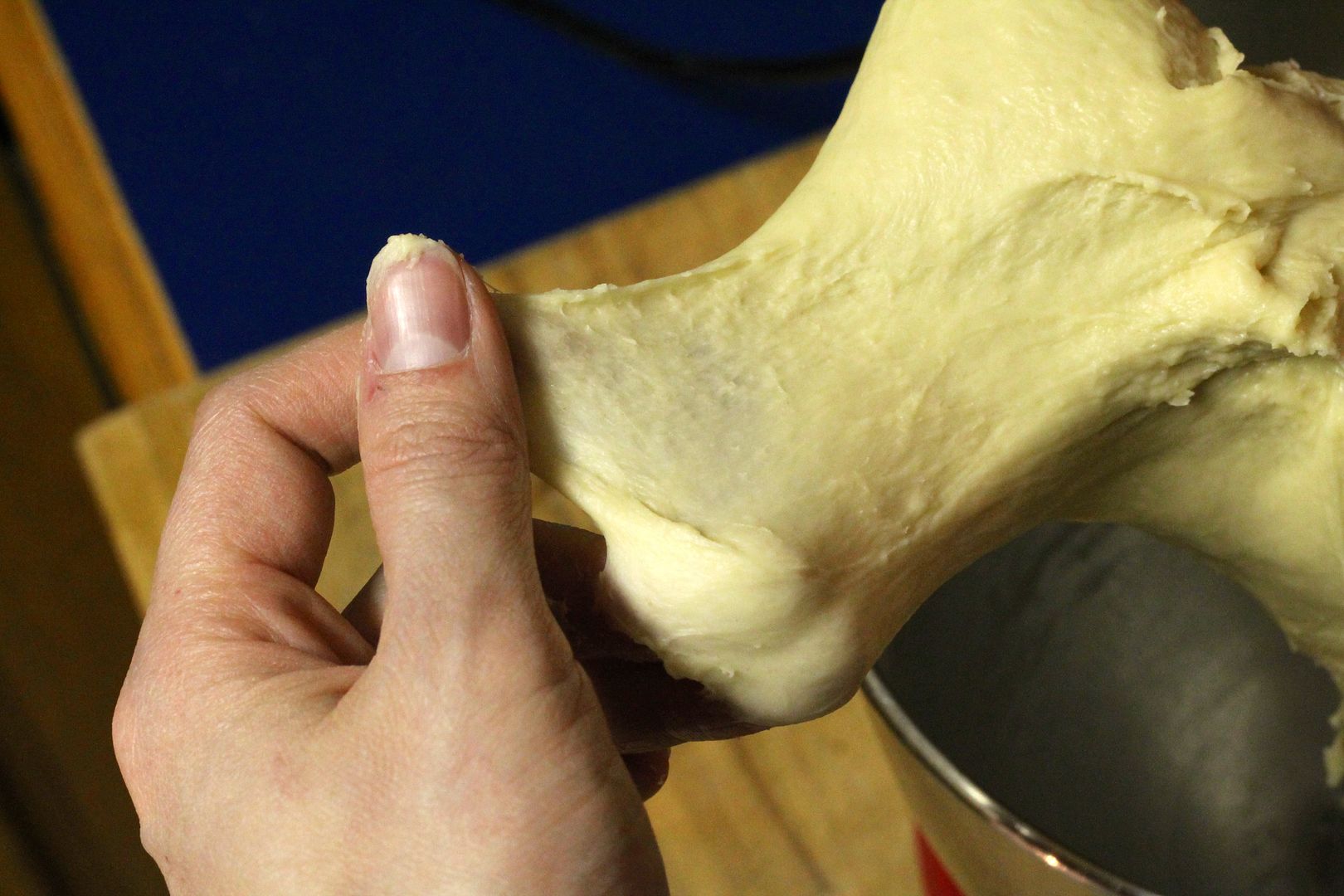 Turn the dough out onto a lightly floured surface and divide into 6 equal pieces. Shape each into a ball and let rest for a few minutes.
Roll each ball into a 5-6″ circle, making the edges slightly thinner than the center. Scoop one-sixth of the chilled coconut custard (about 1 healed tbsp) into the middle of the dough, the bring the edges in and twist to seal. Place seam-side down on a baking lined with a silicon mat or parchment paper. Cover with a cloth and let rise somewhere warm for 1-2 hours, until large and puffy – if you poke the dough, it should spring back slowly. While the dough rises, preheat the oven to 350˚F (325˚F convection).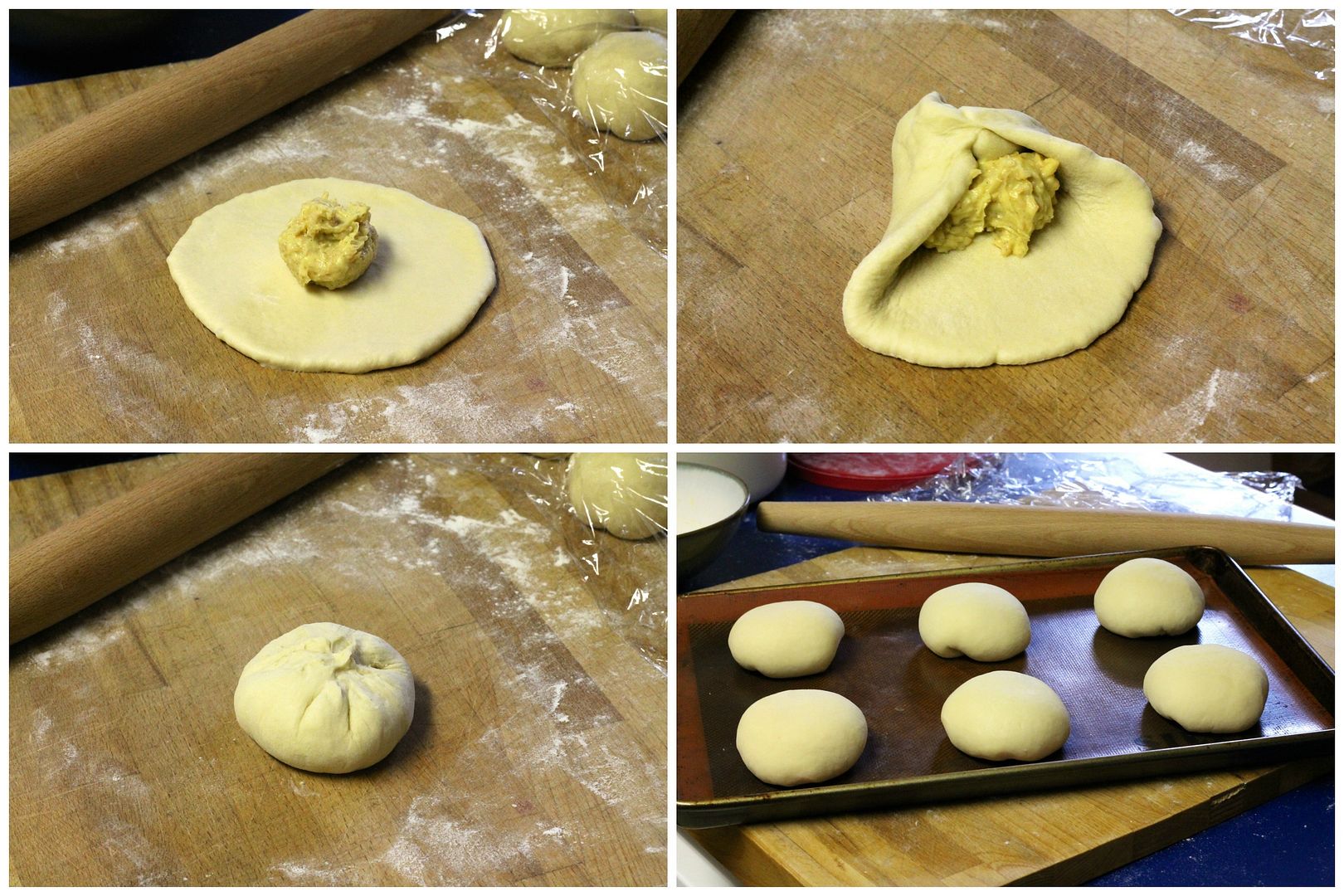 Mix together an egg wash of 1 egg + 1 tbsp water and brush over the tops of the dough. In a small bowl, whisk together 3 tbsp flour with enough water to make a thick yet pipable paste. Place the paste in a piping bag or Ziplock bag, snip off the tip, and pipe a spiral on each egg washed bun, starting from the center and working out.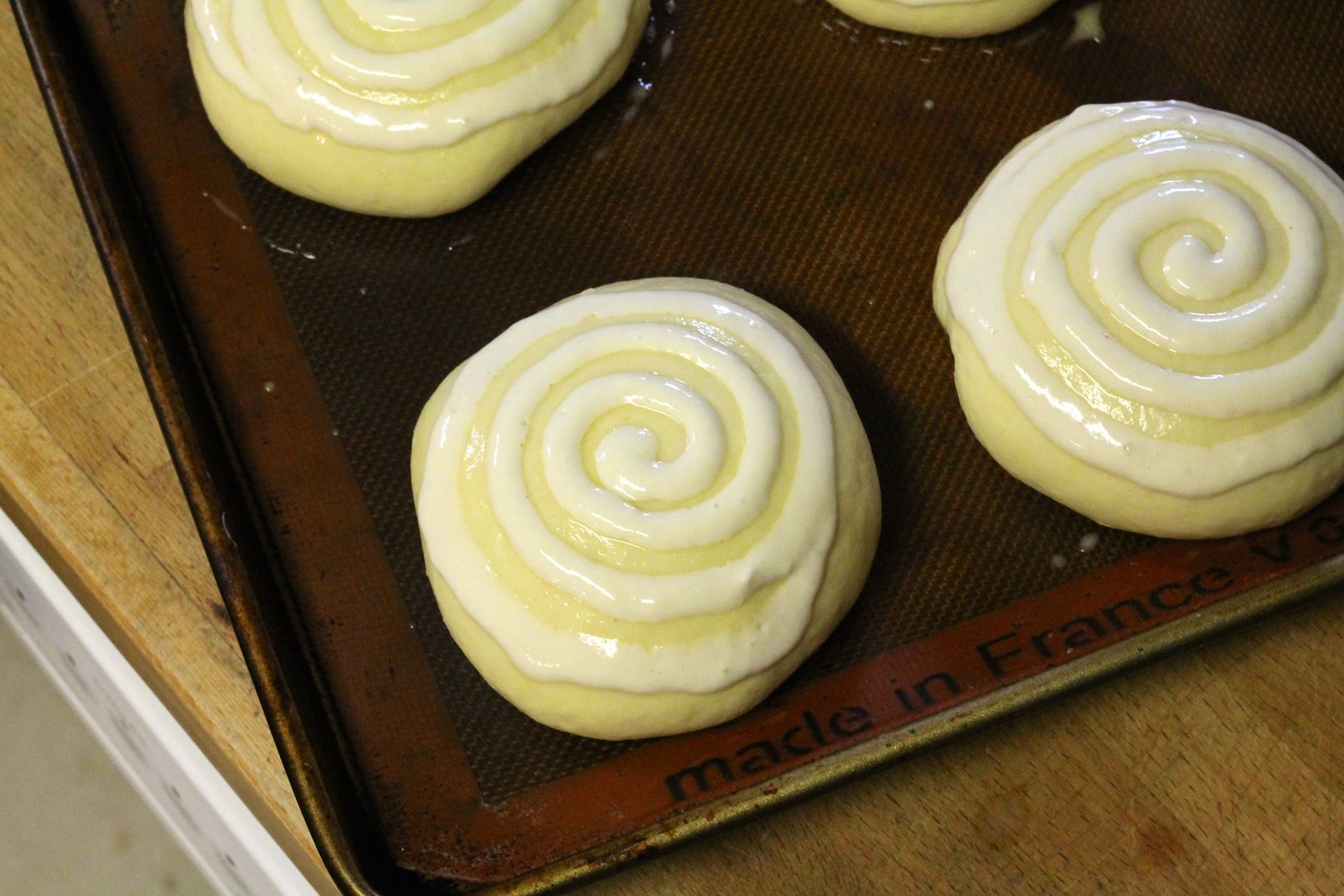 Bake in the preheated 350˚F (325˚F convection) oven for 20-25 minutes, until the tops are a deep golden brown and the bottoms sound hollow when tapped. While the buns are still warm, brush them with 1 tbsp honey, heated until runny, then sprinkle with unsweetened flaked coconut. Cool on a rack.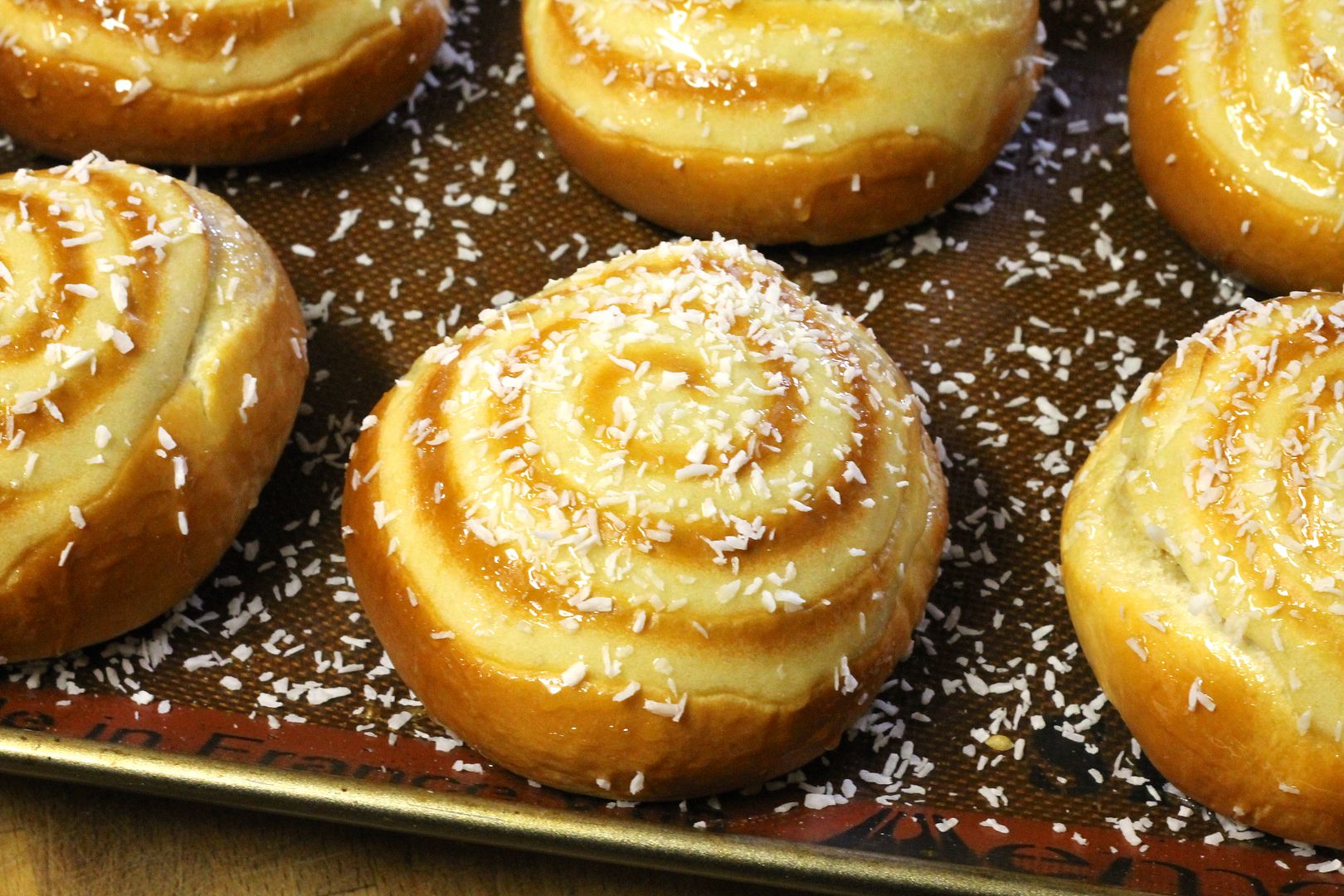 These buns will keep up to 3 days at room temperature in a sealed container.