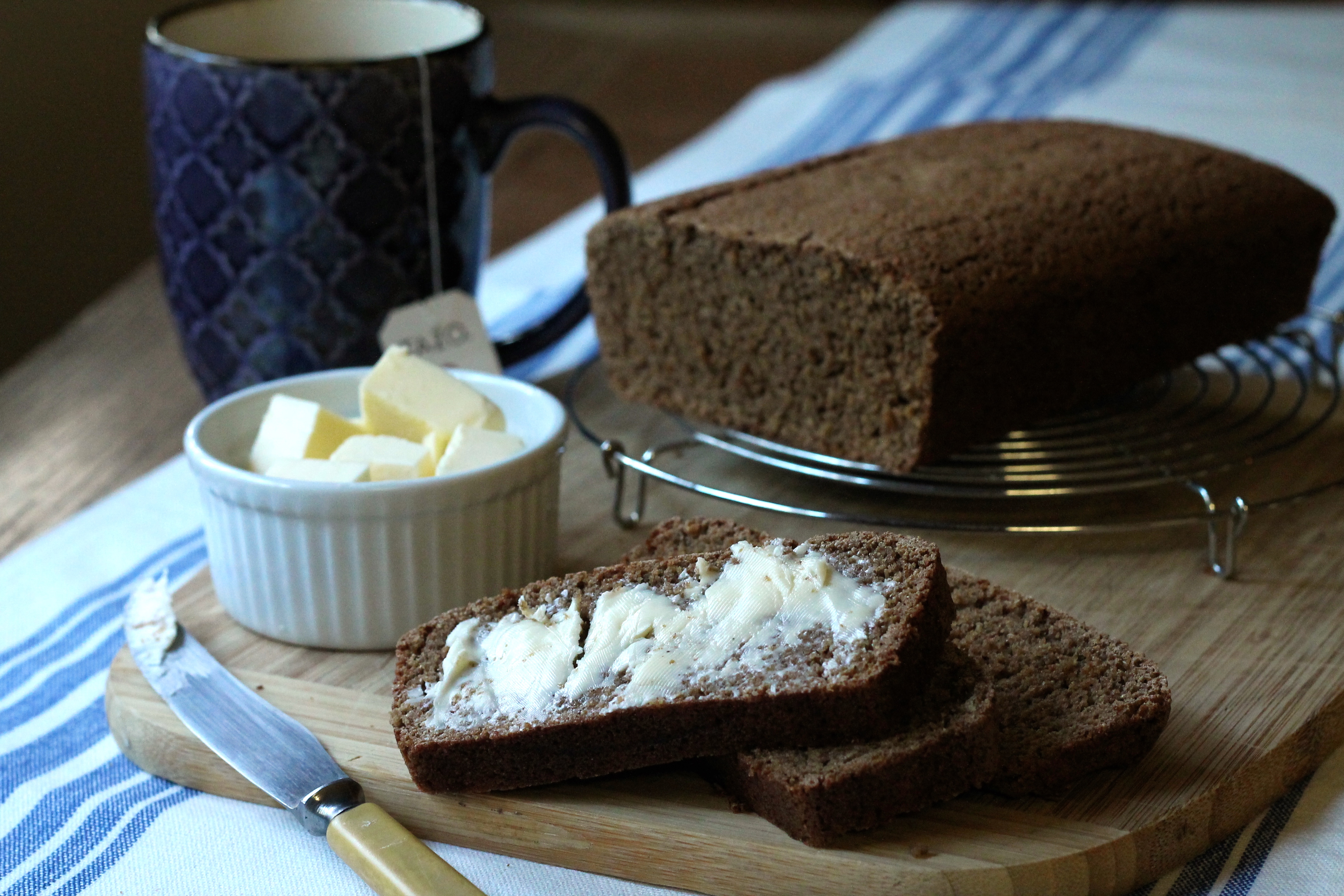 For the month of December, Andrea from 4pure took us on a trip to the Netherlands. She challenged us to take our taste buds on a joyride through the land of sugar and spice by baking three different types of Dutch sweet bread.
I very nearly didn't do this challenge, but last night I re-read the recipe and realized that it was incredibly simple and also that I've really liked every other Dutch baked good I've ever made, so I baked it first thing this morning and now here I am juuuuuust squeaking in under the deadline. Turns out that ontbijtkoek, or Dutch breakfast bread, is the perfect thing to nibble on while you sip tea, contemplate your Christmas holidays, and forget what day it is.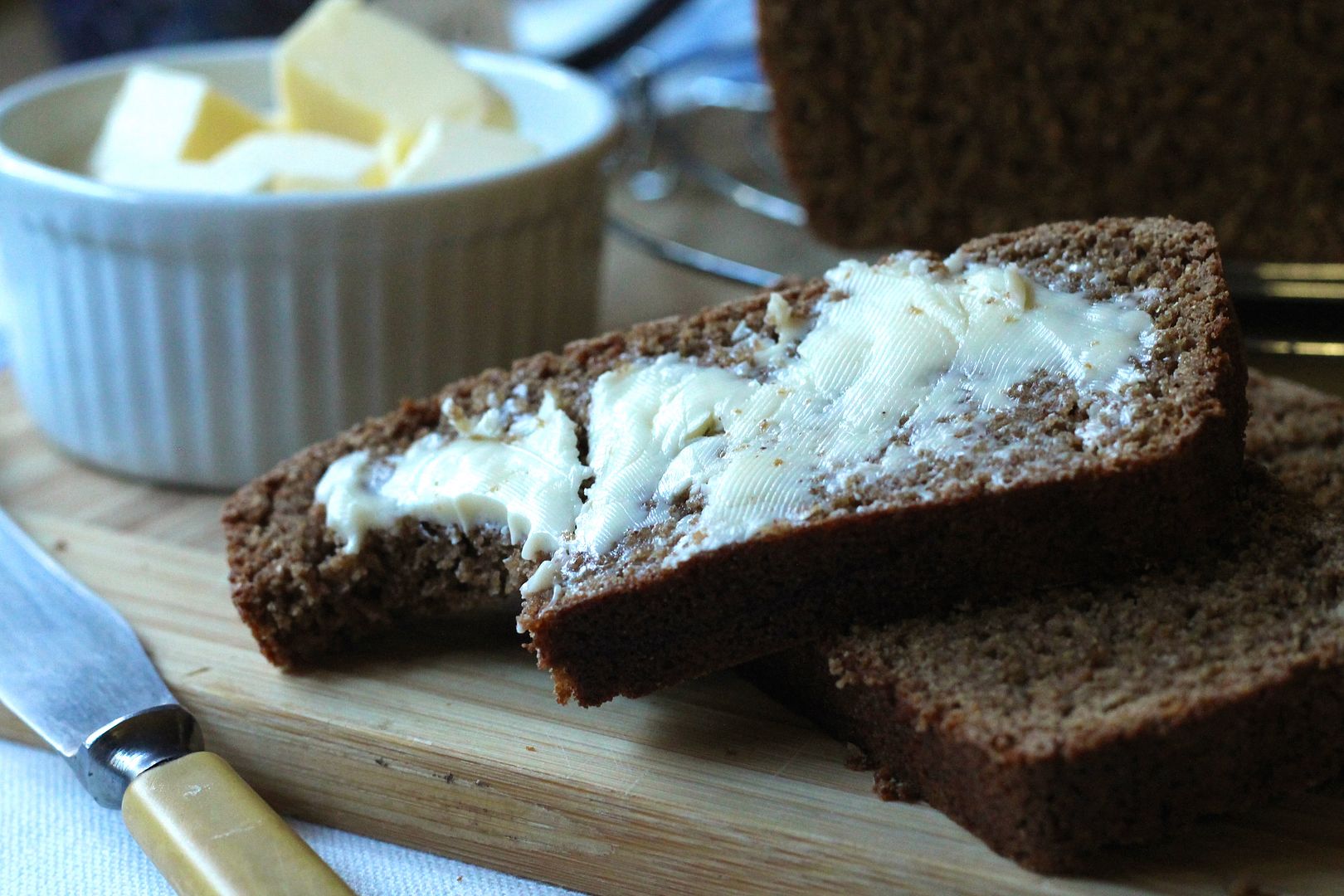 This particular type of ontbijtkoek is called peperkoek and is flavoured with a blend of spices similar to speculaas, the Dutch gingerbread cookie. Most of the time ontbijtkoek is store bought, but it is actually just a simple quick bread that can be easily baked at home – if you can make banana bread, you can make ontbijtkoek. The homemade version is somewhat more rustic, but the smell as it bakes is fantastic and it is pretty wonderful served with the mandatory smear of butter (and yes, the butter is totally mandatory). The inside is slightly chewy and comfortingly spiced and the crust is crunchy and caramelized, and like I said, it's dead easy to make, which is a relief after some pretty intense Christmas baking. Plus, it's made with whole grains, so I feel much better about eating it for breakfast than, say, leftover Christmas cookies… 😉 Thanks for another great Dutch recipe, Andrea!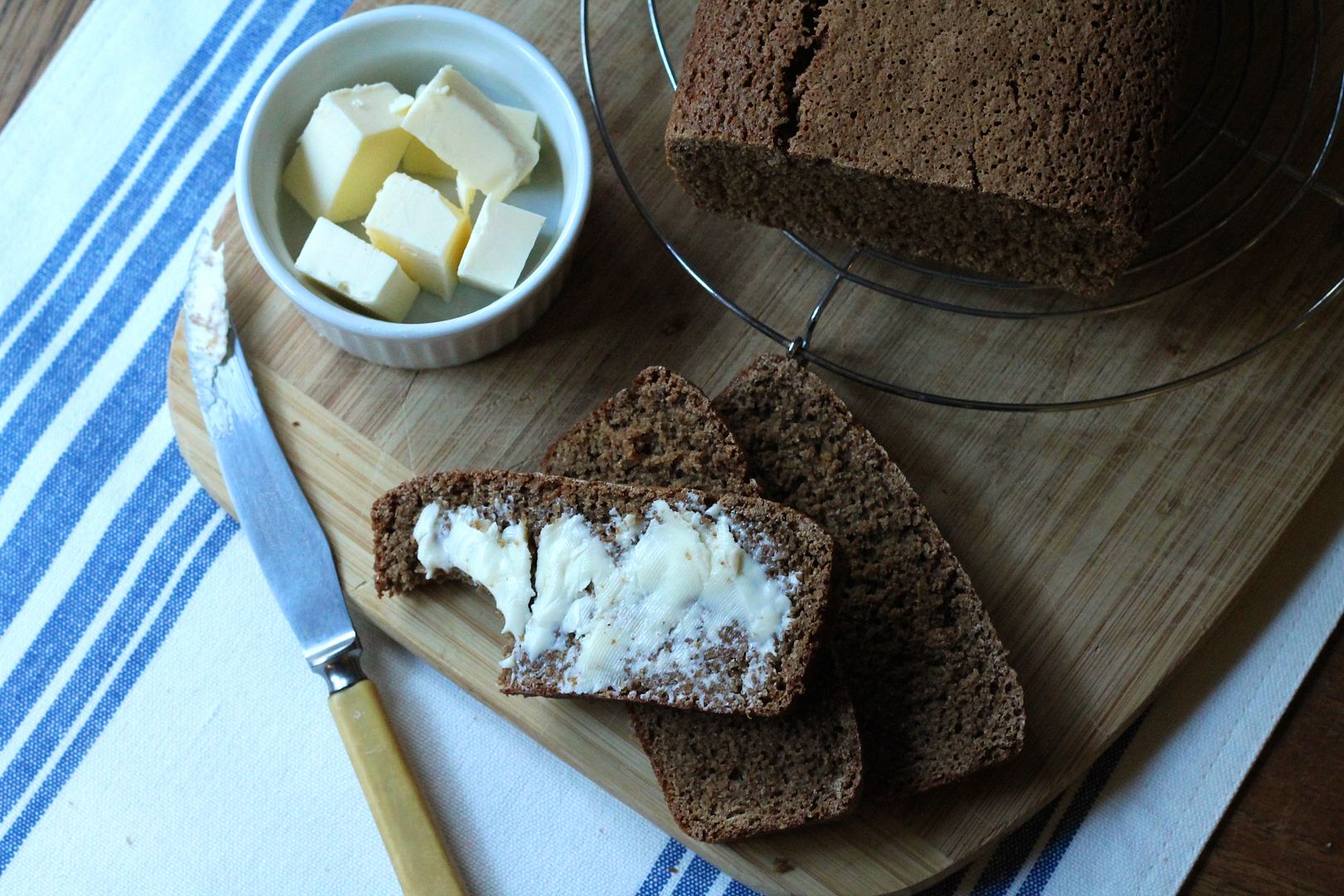 Dutch Peperkoek
Recipe by Andrea of 4pure. Makes 1 loaf.
In a glass jar with a lid, shake together:
3 tbsp ground cinnamon
1 tsp nutmeg
1/2 tsp each ground cloves, cardamom, white pepper, coriander, ginger, anise, mace
You will only need 1 tbsp of this spice mixture for the peperkoek recipe below, but it can be kept, sealed, for next time.
Preheat the oven to 350˚F (325˚F convection) and line a 9″ x 5″ loaf pan with parchment paper. In a medium bowl, whisk together:
1 1/4 cups packed brown sugar
1 cup less 2 tbsp lukewarm water
1 large egg
1 tbsp spice mixture
1 tbsp cane sugar syrup (or corn syrup, golden syrup, or treacle)
Add:
2 cups whole wheat flour (or 1 cup whole wheat flour + 1 cup rye flour, which is the traditional ingredient)
1 3/4 tsp baking powder
pinch Kosher salt
Stir with a wooden spoon until combined – the batter should be sort of lumpy, like pancake batter – and pour into the prepared loaf pan.
Bake in the preheated 350˚F (325˚F convection) oven for about 70 minutes, until a tester inserted in the middle comes out clean.
Cool in the pan for 5 minutes before turning out onto a rack to cool to room temperature. Cut into slices and serve spread with butter. Can be stored up to 4 days, well-wrapped or in an airtight container.