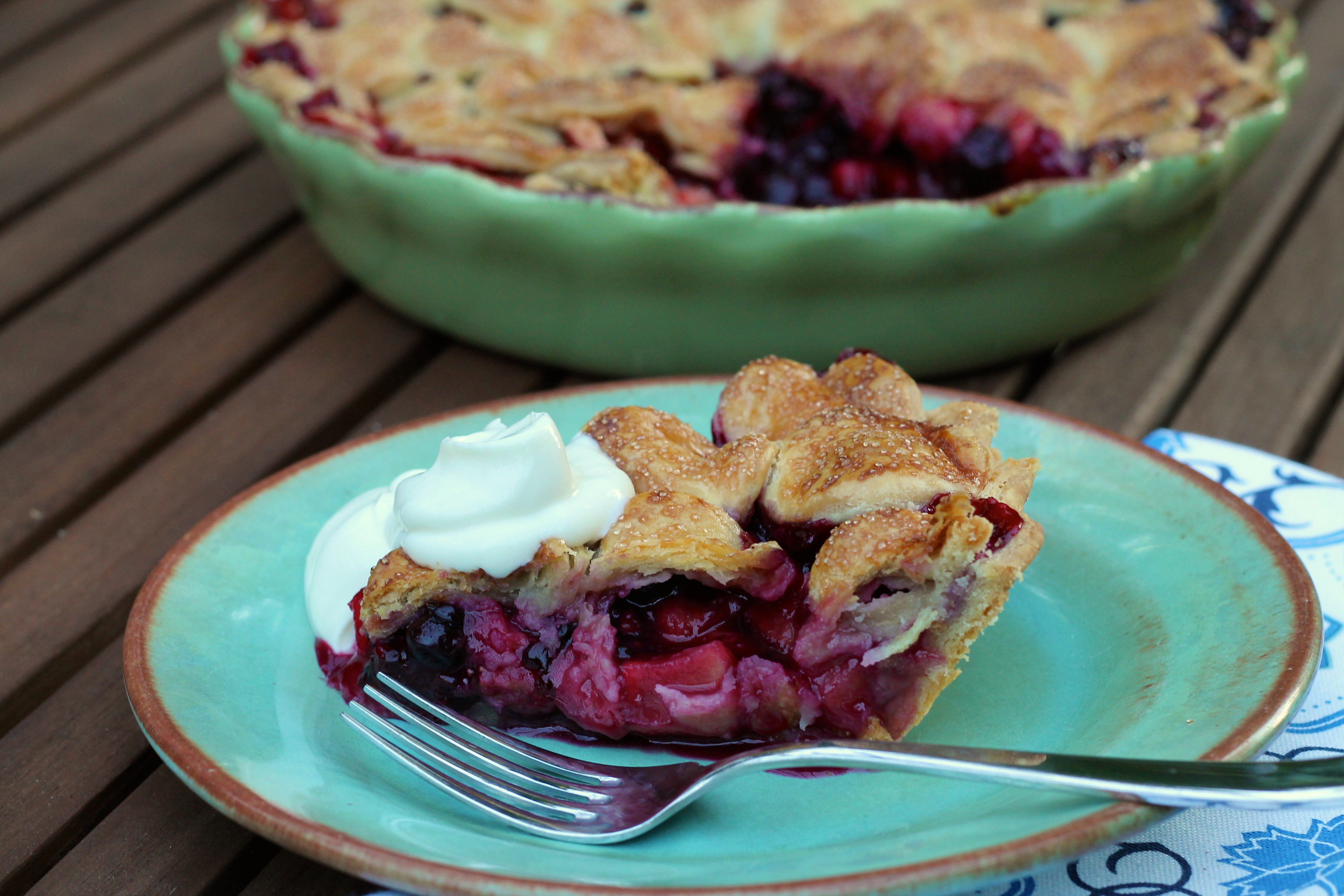 Blackberry season – my very favourite season – is here, and with it comes the urge to bake pies. This one in particular came about as the result of a very successful trip to the local blackberry patch – aka, a ditch just up the road from us – plus the discovery of a few apples in the fruit bowl that were getting soft and some local strawberries and blueberries in the fridge.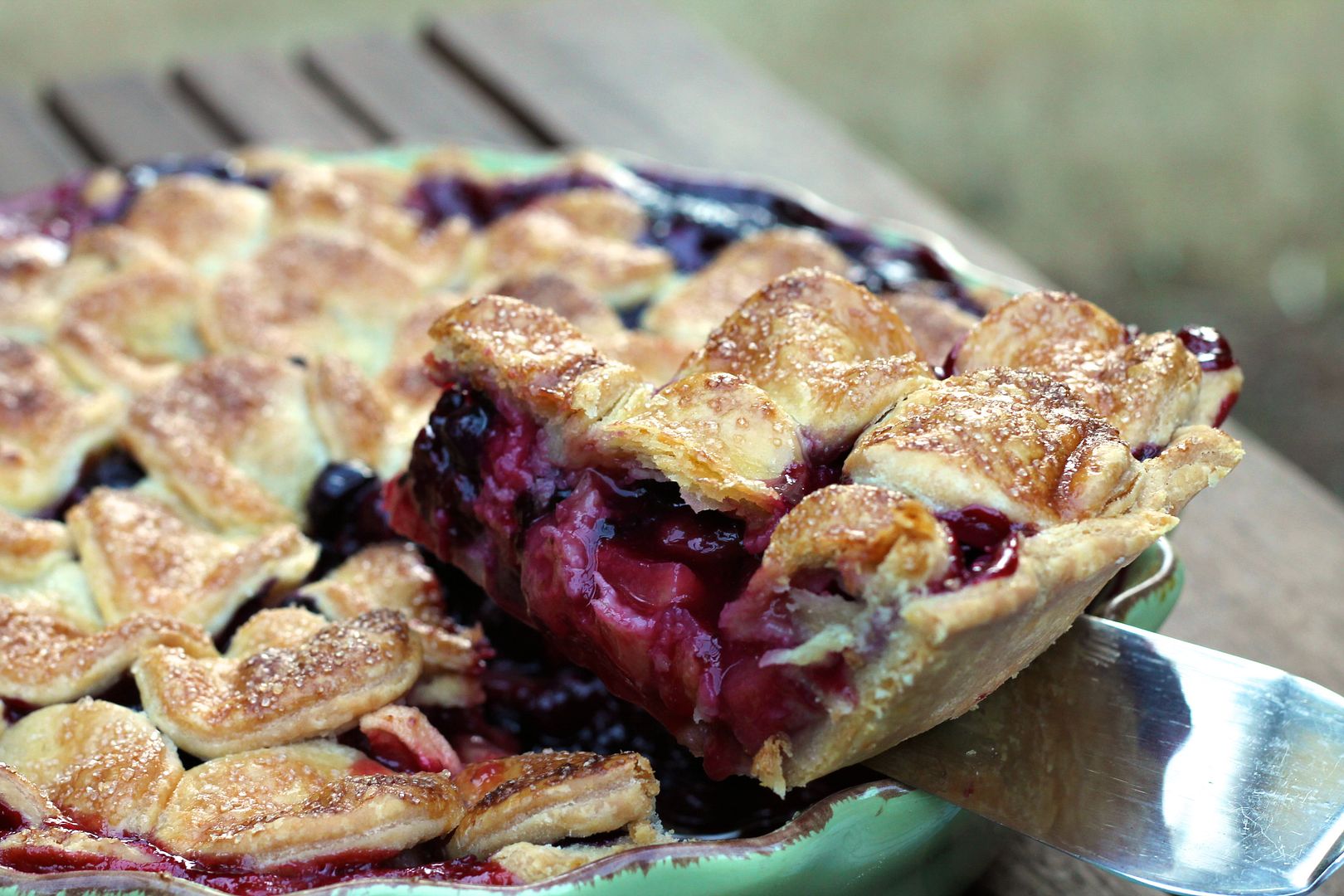 I pulsed together a quick pie crust in the food processor – fast and easy, especially in the summer when a warm kitchen plus warm hands can mean bad things for the cold butter necessary for flaky pastry – and got down to prepping the fruit while the pastry chilled in the fridge. The most onerous part of this pie (and by that I mean not very onerous at all) is peeling and chopping the apples, but I actually find it to be kind of meditative, seeing if I can get the peel off in one strip and methodically slicing the apples into pieces using the same number of cuts for each one. That sounds a little OCD maybe, but it's not, I promise.
I tried a new way to make the top crust, cutting circles out of the pastry and arranging them in concentric, overlapping rings. It turned out really well – I like the way the dark berry juices peek out from between the pastry circles, and you could use any simple shape for the cut-outs: hearts or stars or even free-form leaves cut out of the pastry with a paring knife.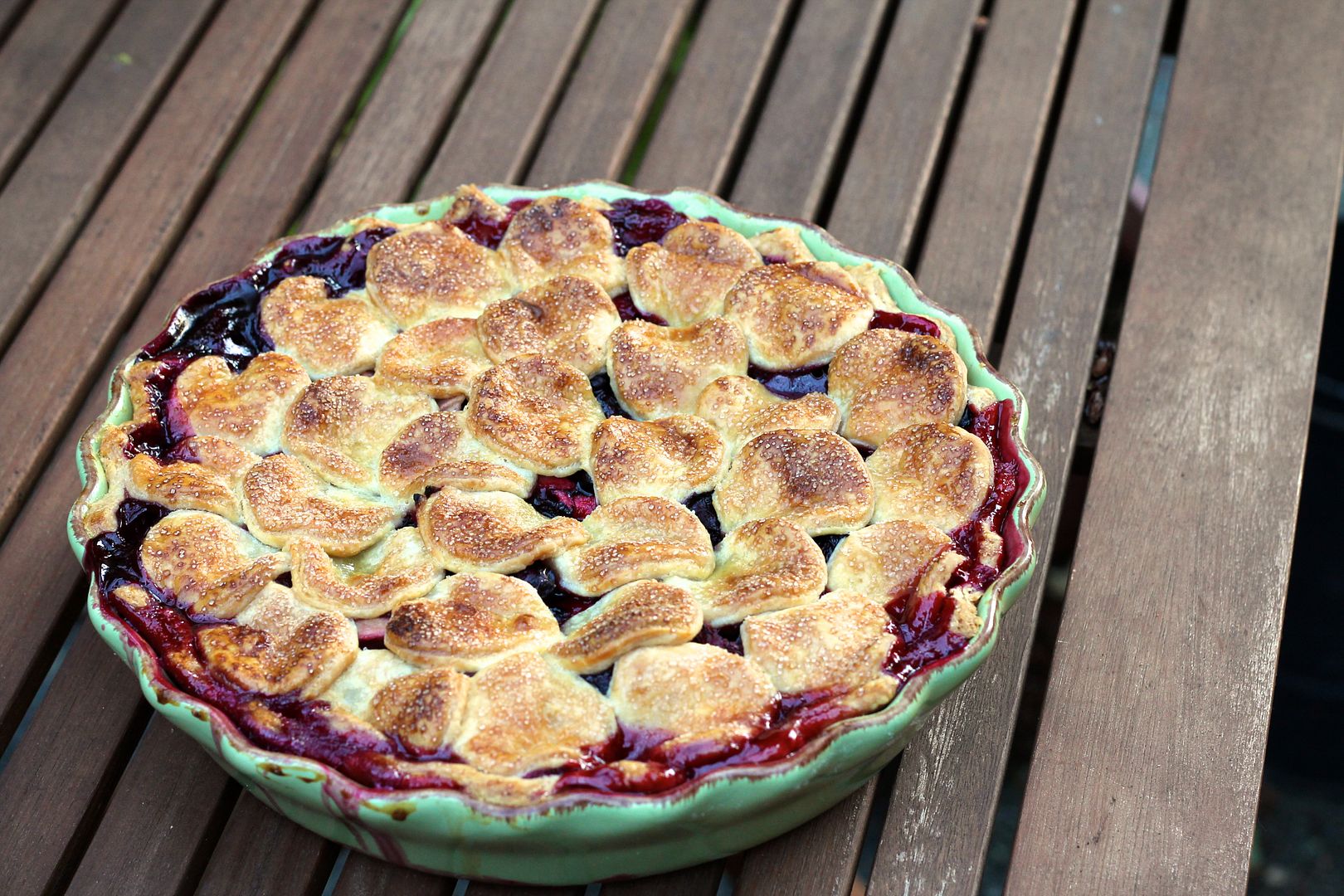 The best part, of course, was eating it: the pastry was perfectly flaky-crumbly, the filling a little bit tart from the blackberries and tasting just like summer. Because we didn't have any vanilla ice cream or whipped cream – classic pie accompaniments – I dolloped our still-warm slices with some white chocolate Greek yogurt (!) and let me tell you, I think we have a winner! White chocolate and berries are a great combo, and they work exceptionally well together in yogurt and pie forms.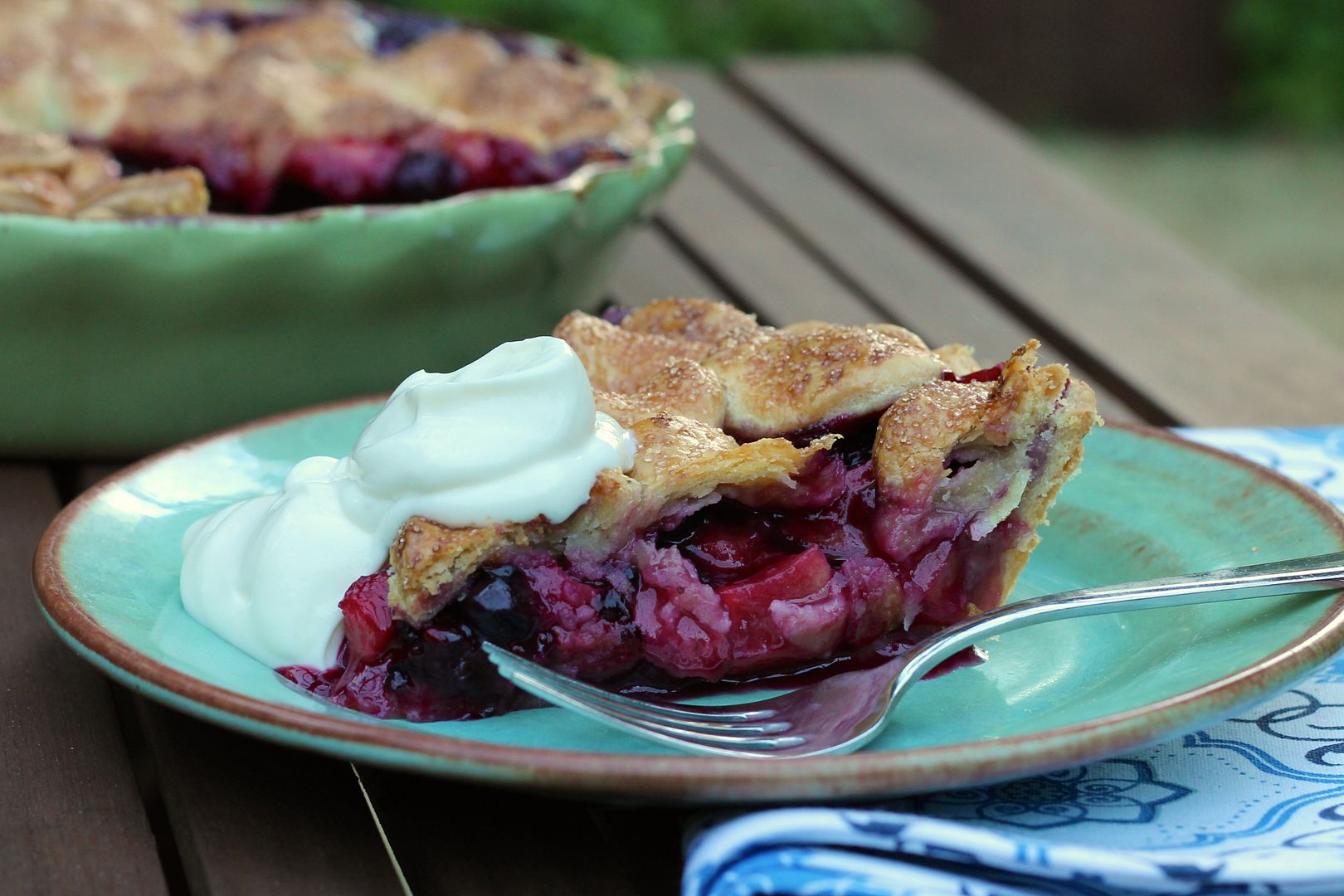 My pie was a tad too juicy, so I've upped the thickener a bit in the recipe below. Other than that, this is basically my ideal pie. I hope you try it!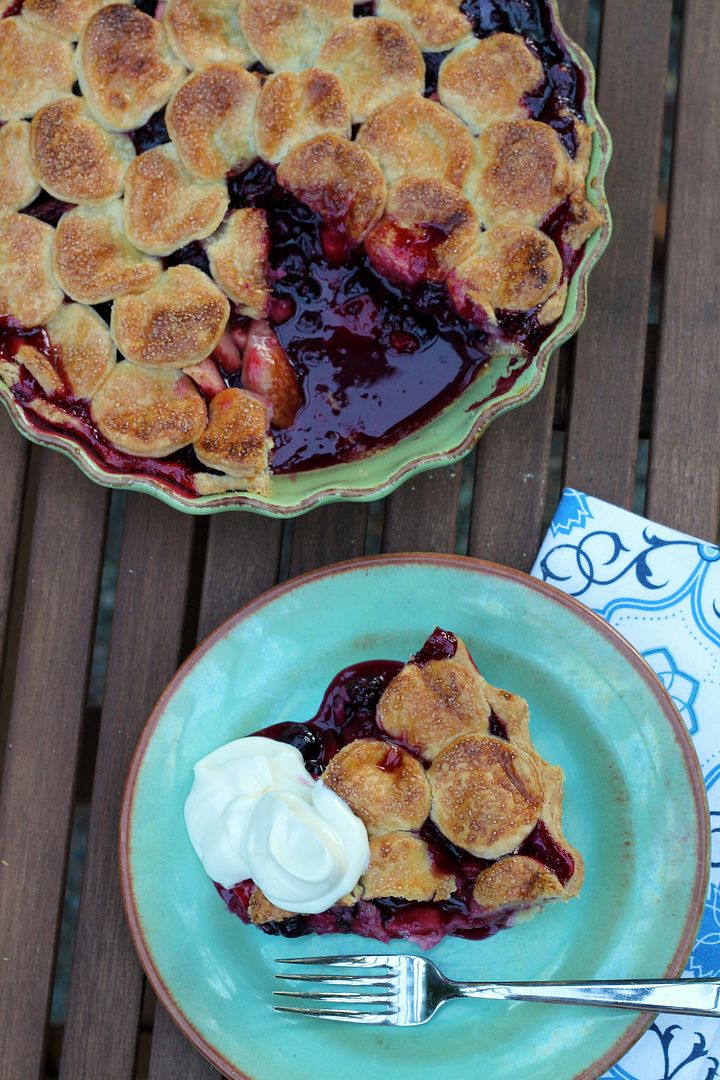 Triple Berry Apple Pie
Makes one 9″ pie, 8-10 servings.
All-Butter Flaky Pastry
From Canadian Living. Makes 2 x 9″ pie crusts, enough for one double-crust pie.
In the bowl of a food processor, pulse together:
3 cups all purpose flour
1 tsp salt
Add 1 cup cold, unsalted butter, cubed, and pulse into the flour until the mixture resembled coarse bread crumbs.
In a liquid measuring cup, whisk together:
1 egg
2 tsp vinegar or lemon juice
enough ice cold water to make 2/3 cup
Pour over the flour mixture and pulse again until the pastry starts to clump together in a ball.

Turn out onto a floured surface and knead it 2-3 times to gather everything together. Divide the pastry in half, press each half into a flat disc, wrap it plastic, and chill for at least 30 minutes or until firm.

Triple Berry Apple Filling
In a large bowl combine:
3 cups peeled, chopped apples
1 1/3 cups each blueberries, hulled and sliced strawberries, and blackberries
2/3 cup granulated sugar
2 tbsp all purpose flour
2 tbsp corn starch

Assembly
Preheat the oven to 425˚F (400˚F convection) with the rack in the lower third of the oven.
Roll out one of the chilled discs of pastry on a lightly floured surface into a circle large enough to fit a 9″ pie plate (about 13″ diameter is good). Line the pie plate, then trim off the excess pastry and flute the edge with your fingers.
Evenly spoon in the berry-apple filling, and sprinkle with the juice of 1/2 a lemon. Dot the fruit with 1 tbsp unsalted butter in tiny pieces.

Roll out the remaining pastry disc on a lightly floured surface and cut out 2″ circles using a cookie cutter. Arrange them in overlapping concentric rings on top of the fruit, starting at the edge and making sure the first ring touches the fluted edge.

Brush the pastry with an egg wash of 1 egg + 1 tbsp milk or water and sprinkle it with some coarse sugar.

Place the pie on a cookie sheet to catch any drips and bake in the lower third of the preheated 425˚F (400˚F convection) oven for 15 minutes, then reduce the heat to 350˚F (325˚F convection) and bake for 35-50 minutes, until the crust is golden brown and the filling is bubbling in the middle (this means the flour and cornstarch have fully cooked and thickened the juices). Cool on a rack for as long as you can stand it to let the juices thicken fully. Serve with whipped cream, vanilla ice cream or white chocolate Greek yogurt. 😉