I'm going to be perfectly honest here: I don't really get what all the fuss is about with red velvet cake. In fact, most of the time, I tend to agree with the guy who said, "it's chocolate and red food dye, f*ck that, it's dumb" (read that entire post – it's hilarious!). I think that most people who say they like red velvet cake really mean that they like cream cheese frosting, and for that I can't blame them – but the "red velvet" part just seems like a gimmick. I know it is seen as a classic in the southern USA, but the recipe for the brightly-coloured, dye-laden cake was actually developed as a crafty way for a food dye company to boost sales post-World War II. Plus, I find that the flavour of red velvet cake, which is basically a buttermilk cake made with a tiny amount of cocoa powder, doesn't taste all that unique or special in the first place and is easily overwhelmed by cream cheese frosting. So when Whittney and Sam requested it for their wedding, I knew I'd have to do my homework to find a red velvet cake with flavour.
Luckily, with red velvet cake being the "flavour du jour", I had lots of recipes to choose from. In particular, I came across a comparison of the four most popular recipes, so I tested the best two of that bunch: a recipe from Elissa Strauss' "The Confetti Cakes Cookbook" as seen on Smitten Kitchen, and a recipe from Divas Can Cook. Strauss' recipe had more cocoa powder than the usual one to two tablespoons, and the Divas recipe contained an unusual ingredient: coffee. Knowing that coffee does very good things for a normal chocolate cake, I hoped it would do the same for red velvet – and boy, did it ever! I made both recipes for a taste test with the bride and groom, and the Divas cake won hands down: it had a finer texture and actually tasted like something other than plain cake – ie, it was delicious. The only issue I had with it was with the warning not to over-bake it: I therefore erred on the side of under-baking and ended up with a sunken top and slightly oily cake. In subsequent batches I baked it for longer and it was fine (didn't sink, stayed moist, and wasn't oily), so I would instead warn you to bake this cake juuuuuuuust right. 😉
For Sam and Whittney's wedding, I used this recipe to make a hundred or so mini cupcakes for the dessert trays, plus a six-inch round cake for their cutting cake (more on the wedding cake in a later post!). The cupcakes and cake were all baked a few weeks ahead, then wrapped in plastic wrap/Ziplock bags and frozen until the wedding. This is a great do-ahead time saving trick, and I actually think that the texture of a cake benefits from being frozen.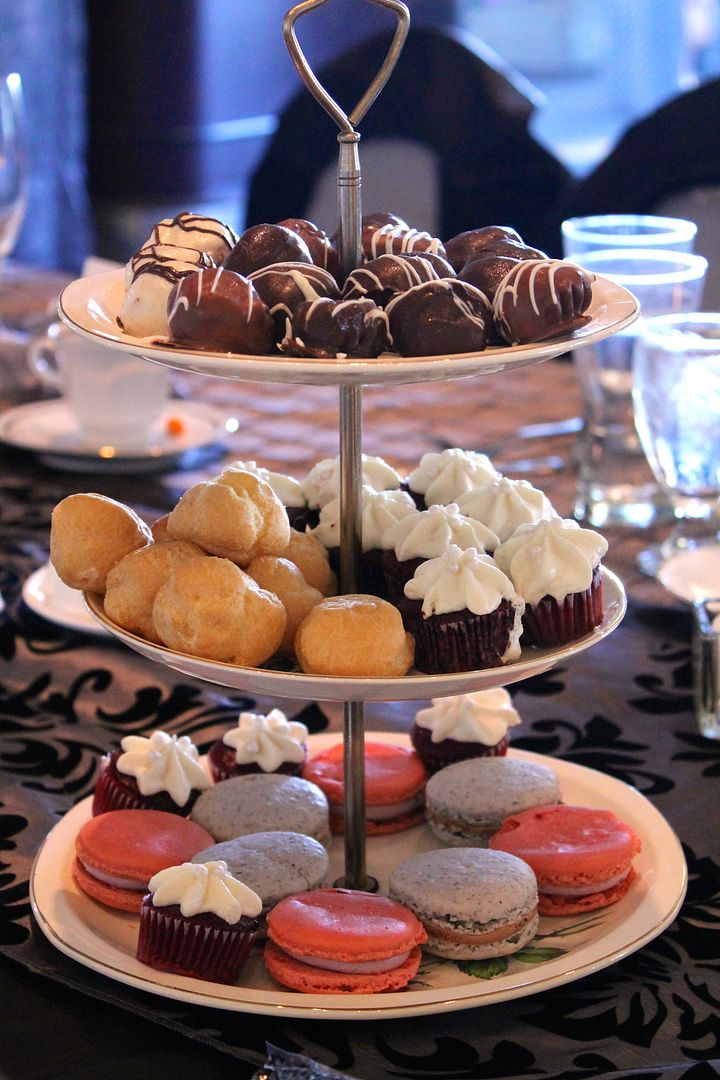 Next up was the frosting. Given my history with cream cheese Swiss meringue buttercream and wedding cakes, I didn't want to risk it again (even though I've since discovered the secret to making it successfully). I'd heard about an ermine frosting (aka roux-based frosting) made with cream cheese that was supposed to be "magical", and after finding out that ermine frosting was used traditionally on red velvet cakes long before cream cheese frosting hit the scene, I gave it a try. Turns out that it really is magical: light, creamy, pipeable, and pleasantly sweet, but not as sweet as confectioner's sugar frosting.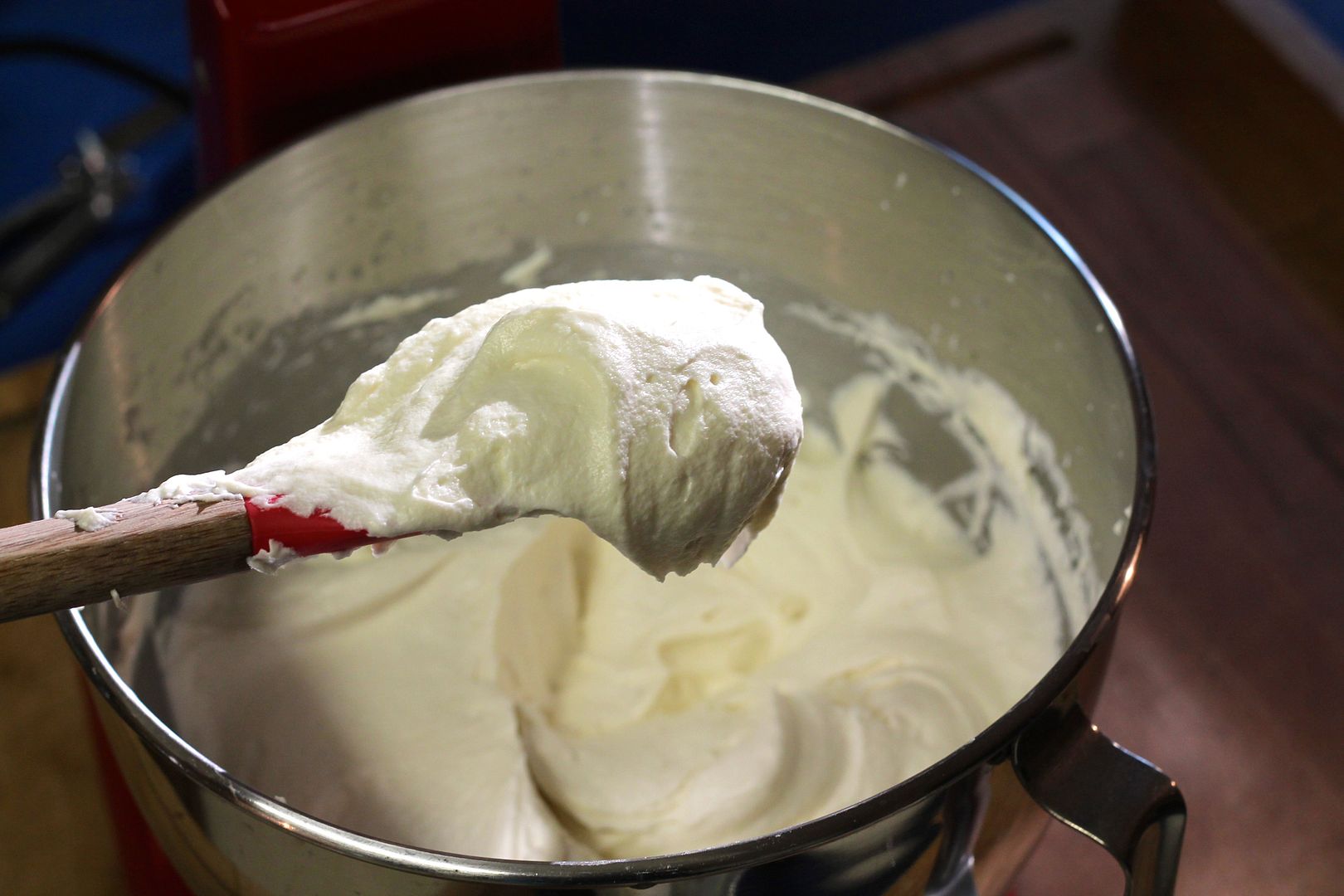 I learned the hard way, however, that this frosting is best made and used fresh. It relies on having both room temperature roux and butter combined with chilled cream cheese to get the right texture – something you can't replicate after the whole thing has been chilled. I made a big batch a few days before the wedding and kept it in the fridge, intending to re-whip it and frost everything the morning of the wedding. Unfortunately, it wasn't as easy as all that, and combined with the 30+˚C weather and limited amount of time I had to monkey around with temperamental frosting, I almost had another soupy, drippy cream cheese frosting nightmare on my hands. Suffice to say, don't try to make this frosting ahead of time – it's a pain in the butt to deal with. Freshly made, however, it is dreamy and incredibly delicious, and, if necessary, a cake could be frosted with this icing a day ahead and kept in the fridge and be just fine.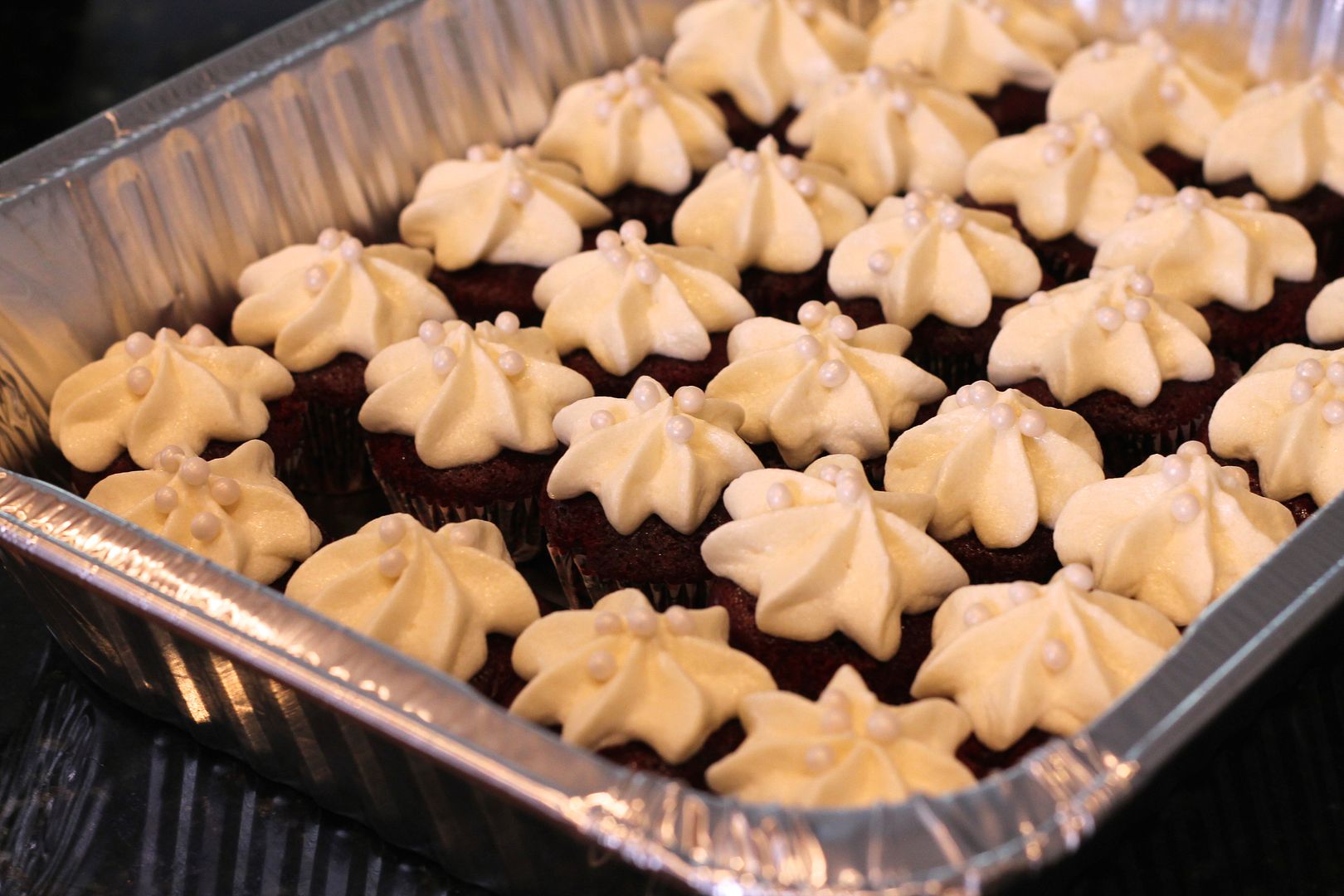 Whittney and I also made four batches of macarons for the dessert trays. Half were pink shells filled with blackcurrant buttercream (Swiss meringue buttercream plus blackcurrant jelly), and the other half were Earl Grey shells filled with chocolate buttercream. To make the Earl Grey shells, we blended a spoonful of loose Earl Grey tea with some of the ground almonds and confectioner's sugar in the shell recipe, and tinted the meringue with a little bit of purple gel food colouring. Both kinds were delicious, but the Earl Grey ones were much prettier – even though we used the same formula and method, many of the pink shells were hollow, misshapen, and cracked, whereas the Earl Grey ones were some of the most perfect macarons I've ever made. I think it mostly comes down to knowing your oven. No one at the wedding seemed to notice, however – they were too busy eating them. Many guests had never had a macaron before, and it was pretty fun to see the look of surprised delight cross their face when they took their first crispy-chewy-creamy-heavenly bite. Gotta love spreading the macaron gospel!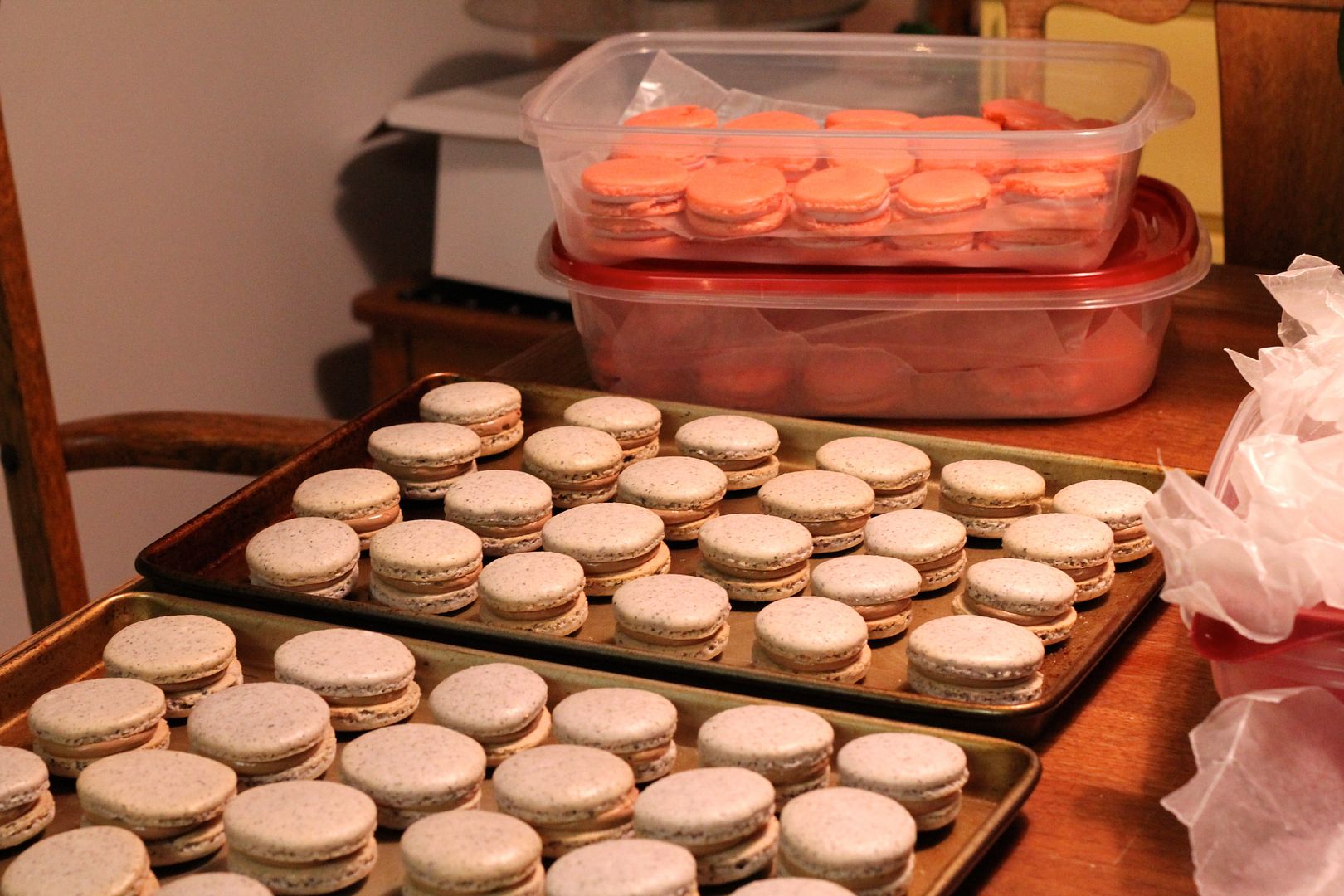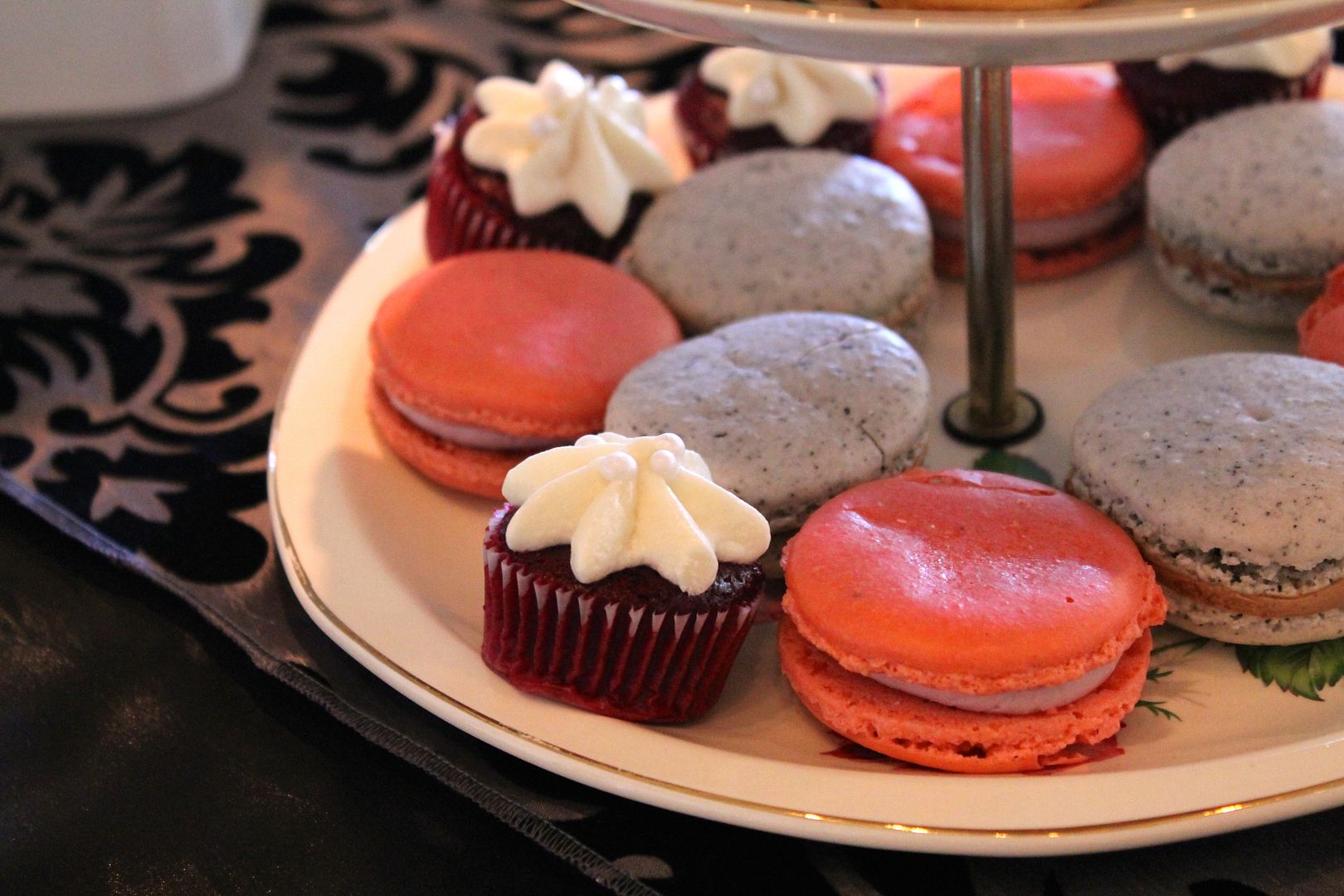 The Best Red Velvet Cake with Magical Cream Cheese Frosting
Red Velvet Cake
Adapted from Divas Can Cook. Makes two 9″ round cake layers (enough for one regular layer cake), about 24 regular cupcakes, or about 70 mini cupcakes.
Preheat the oven to 350˚F (325˚F convection). Grease two round 9″ cake pans, line the bottoms with parchment, and grease the paper OR line your muffin tins with muffin cups.
In a medium bowl, whisk together:
2 cups all purpose flour
1 tsp baking soda
1 tsp salt
2 tbsp natural cocoa powder, sifted to remove lumps (not Dutched cocoa powder – the natural cocoa and vinegar helps make the cake red)
Set aside.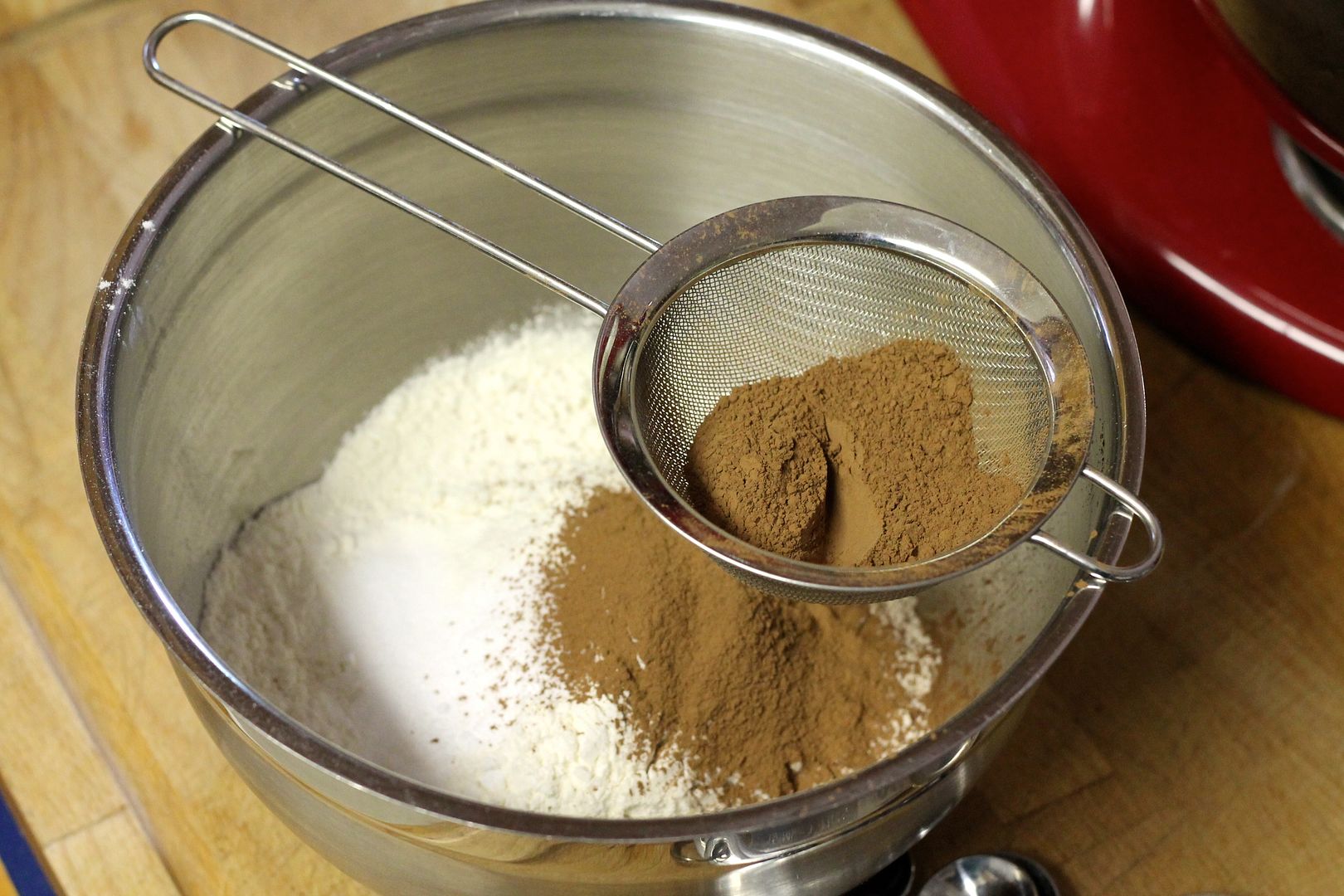 In the bowl of an electric mixer fitted with the paddle attachment, mix together:
1 1/2 cups granulated white sugar
1 cup vegetable oil
Add 2 eggs, one at a time, and mix on medium speed until the mixture is pale and creamy.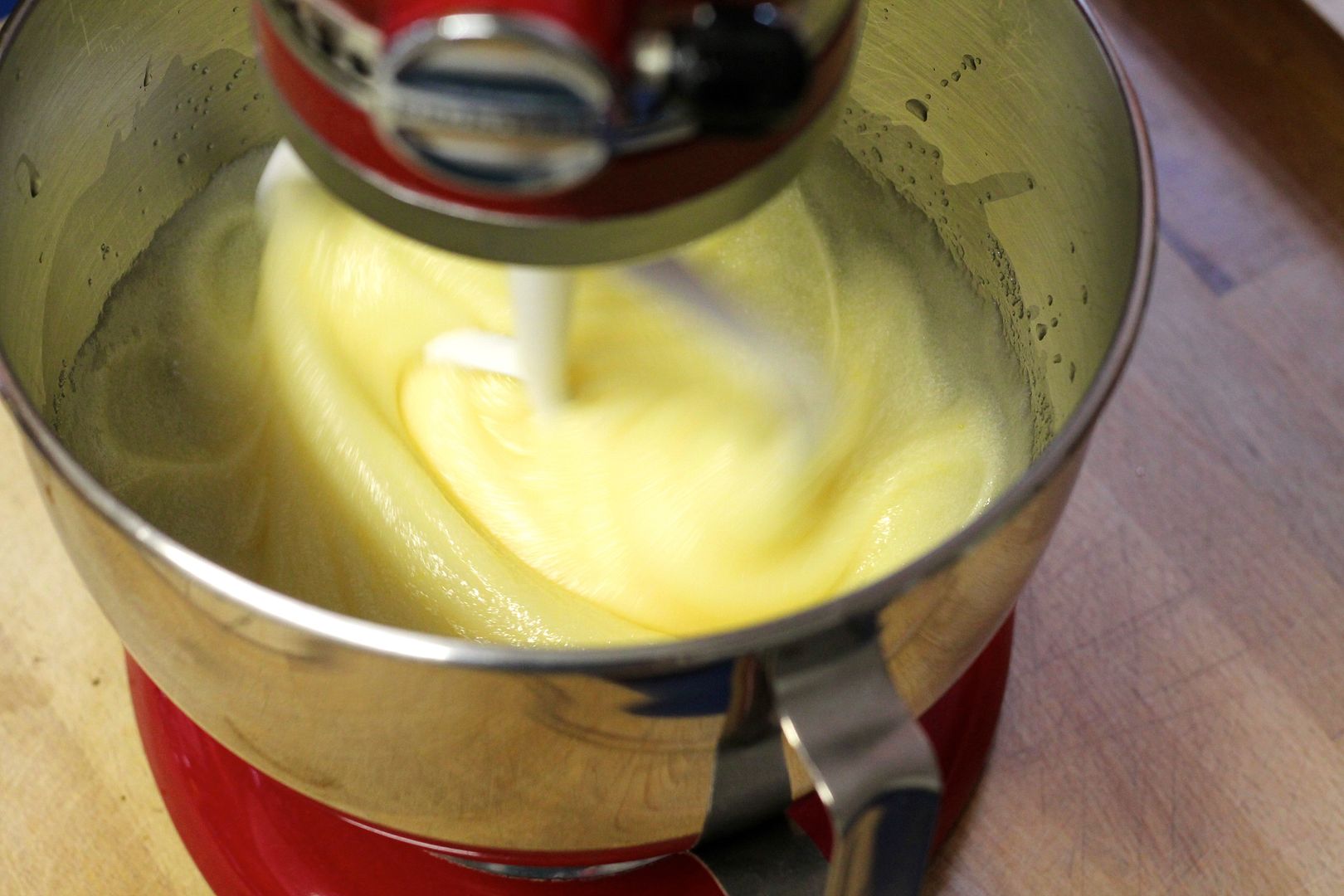 Stop the mixer and add:
1 – 2 tbsp red food colouring (depends on how red you want the cake – I used 2 tbsp and it was very red)
2 tsp vanilla extract
Stir slowly to avoid splashing red batter all over yourself and your kitchen. Scrape down the bowl with a spatula to make sure everything is evenly mixed.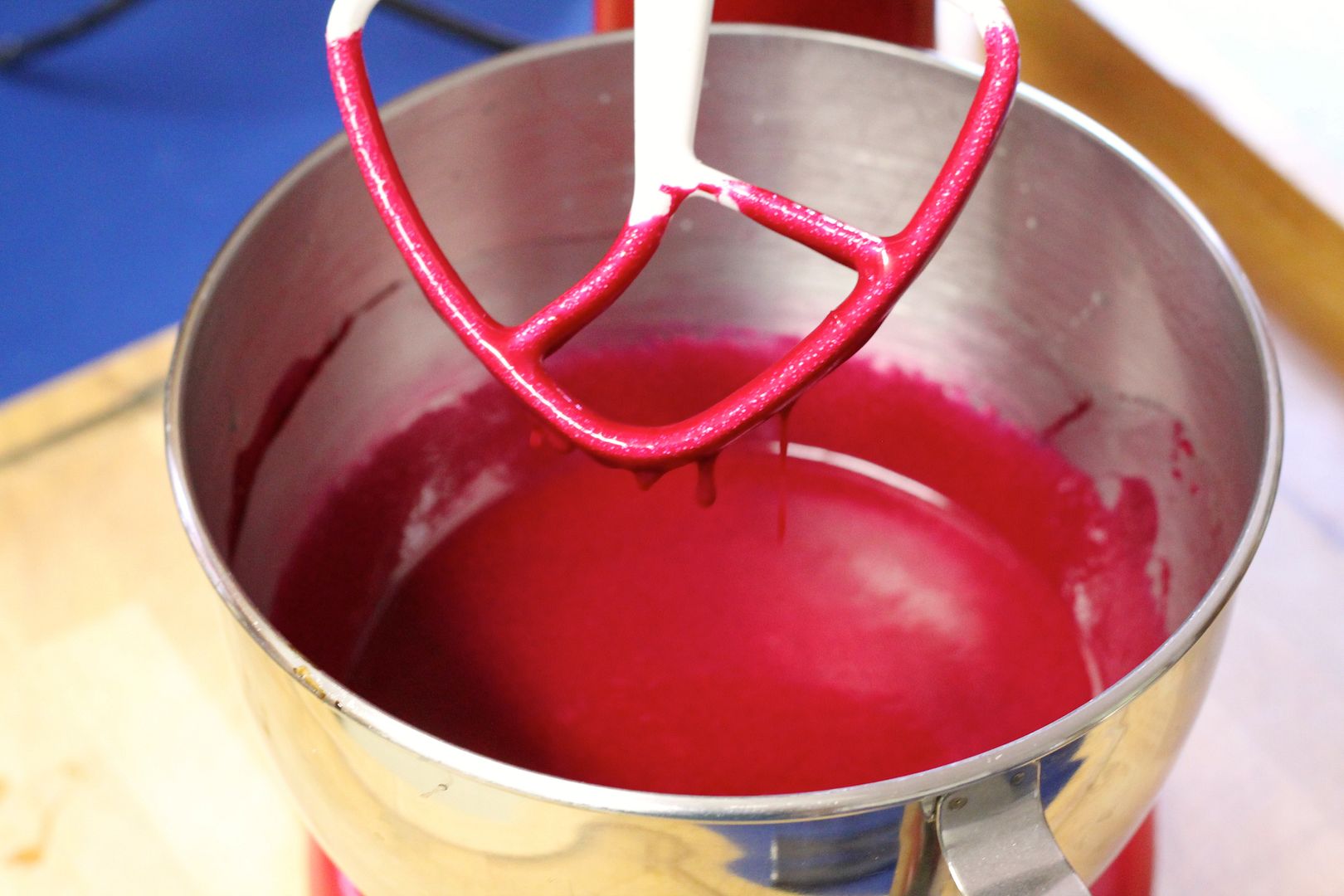 In a liquid measuring cup, combine:
1/2 cup brewed coffee
1 cup buttermilk
1 tsp white vinegar
(Don't be alarmed if it looks curdled.)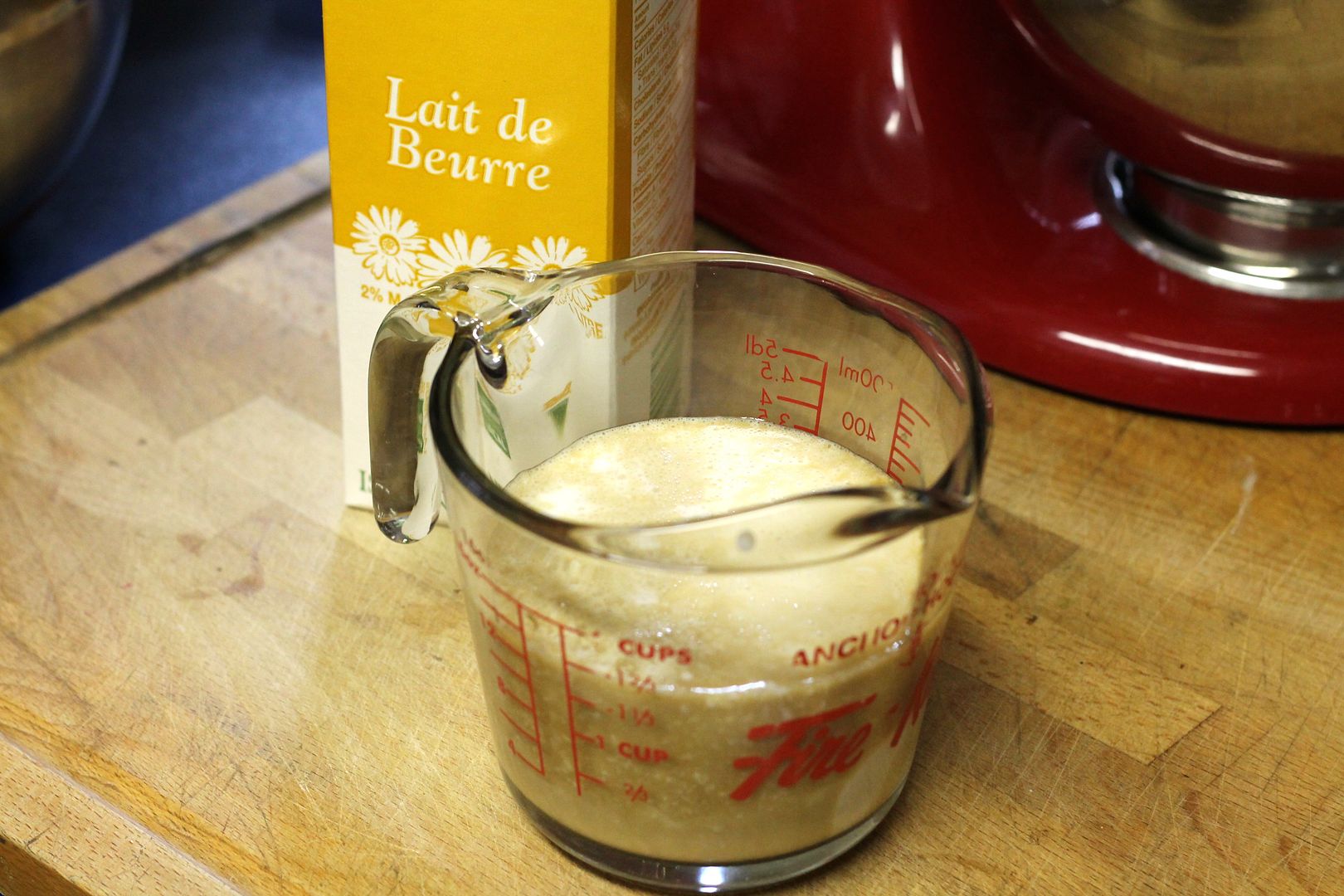 With the mixer on low speed, add the flour/cocoa mixture to the red mixture alternately with the coffee/buttermilk mixture, in 3 additions of flour/cocoa and 2 of coffee/buttermilk. Scrape down the bowl with a spatula and mix just until combined.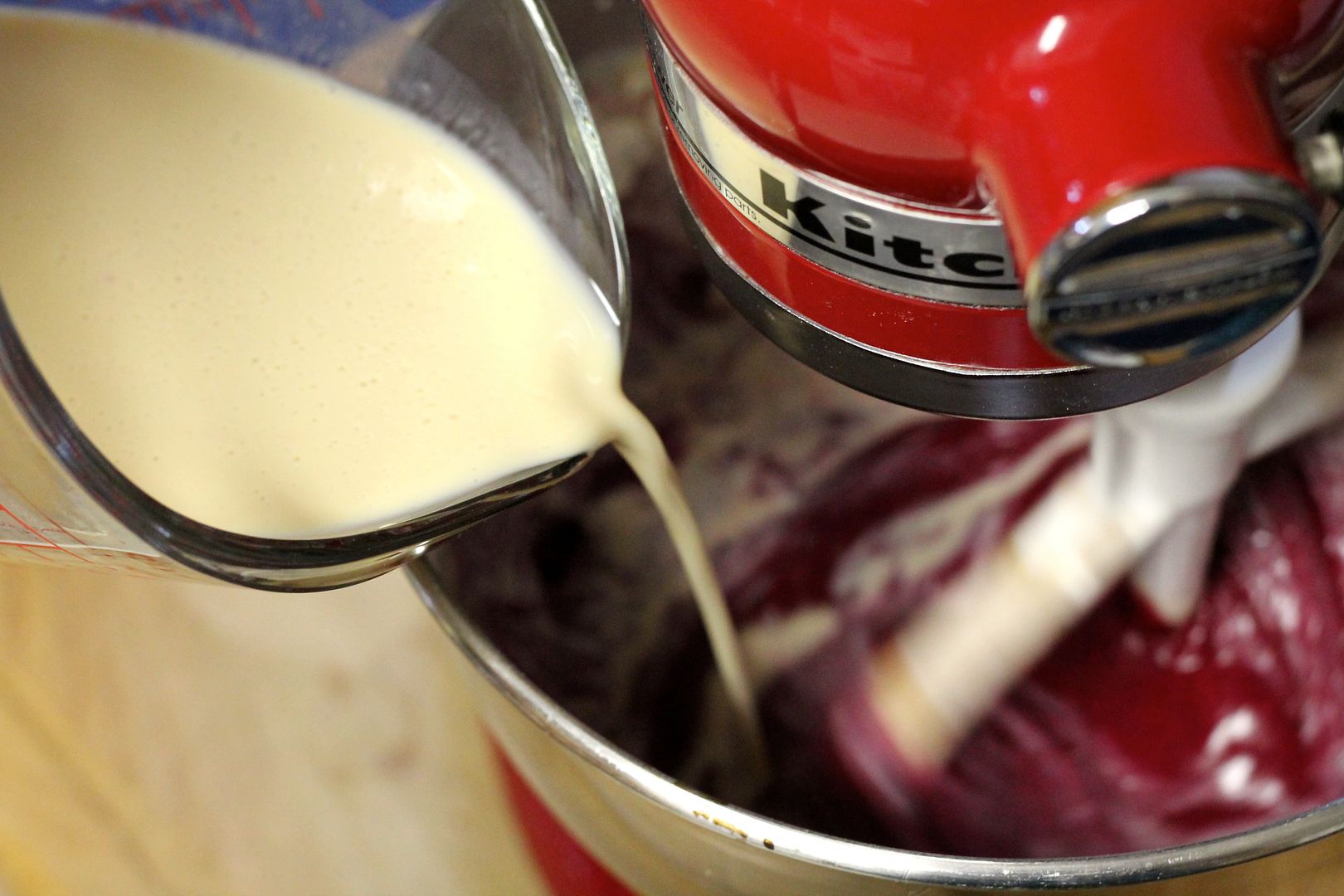 Scoop the batter evenly into your prepared pans/muffin tins (fill muffin tins 2/3 full, about 1 heaped tbsp for minis).
Bake in the preheated 350˚F (325˚F) oven for about 30 minutes for 9″ round layers / 18-20 minutes for regular cupcakes / 10-15 minutes for mini cupcakes, until the cakes spring back when touched and a toothpick inserted in the middle comes out clean.
Allow to cool in the pan for a few minutes before removing to a rack to cool completely.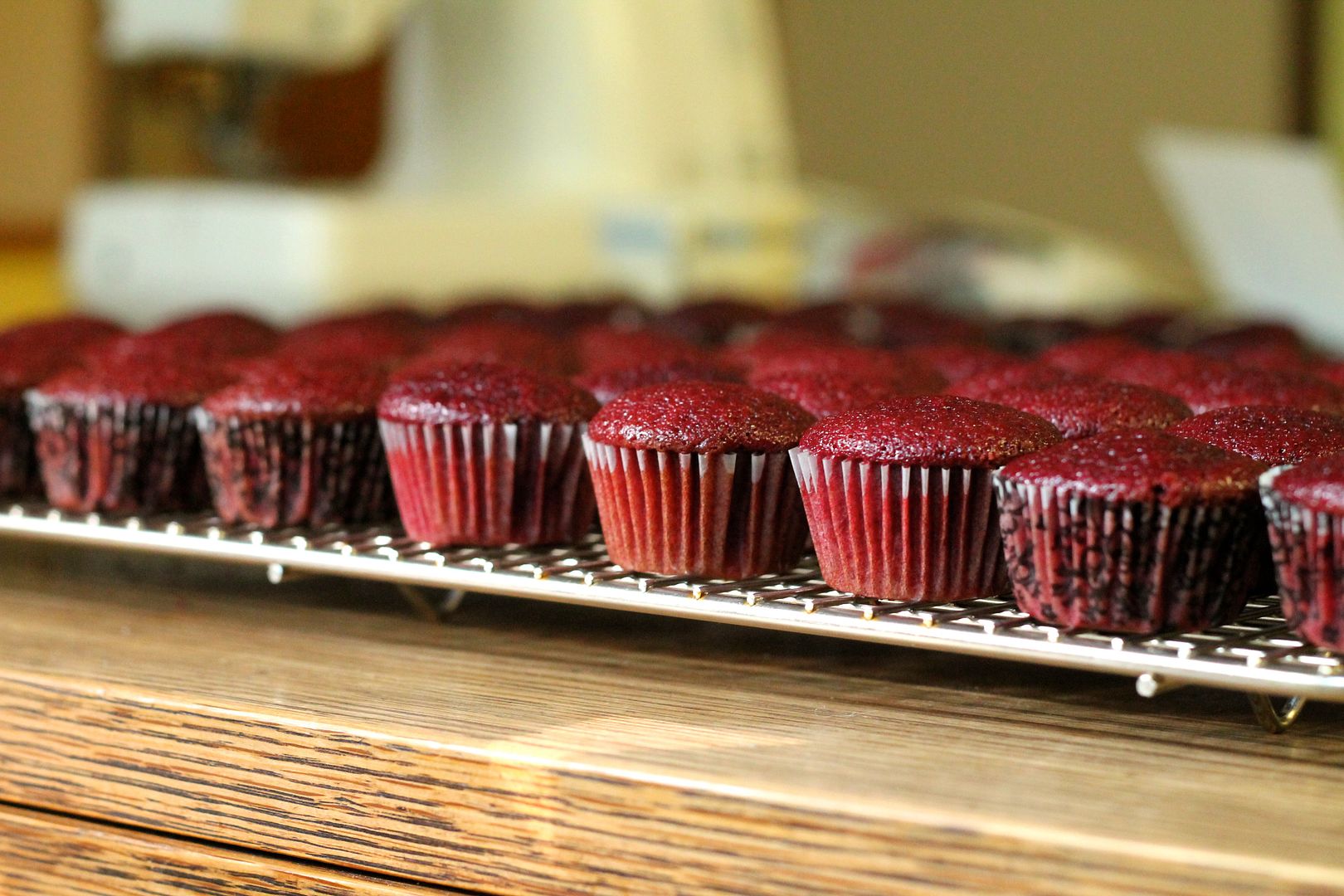 The cakes should be thoroughly chilled before decorating, and can be frozen for a few weeks if well-wrapped in plastic and foil (for cake layers)/Ziplock bagged (for cupcakes).
Magical Cream Cheese Frosting
Adapted from Baking A Moment. Makes 5 cups, enough to fill and frost one 2-layer 9″ cake or a batch of 24 regular or 70 mini cupcakes. I would recommend using Philadephia brick cream cheese here if possible – the moisture content is less variable than the cheaper store brand cream cheese, which is important in this frosting.
In a medium saucepan, whisk together:
1 cup granulated white sugar
1/4 cup all purpose flour
3 tbsp corn starch
1/4 tsp salt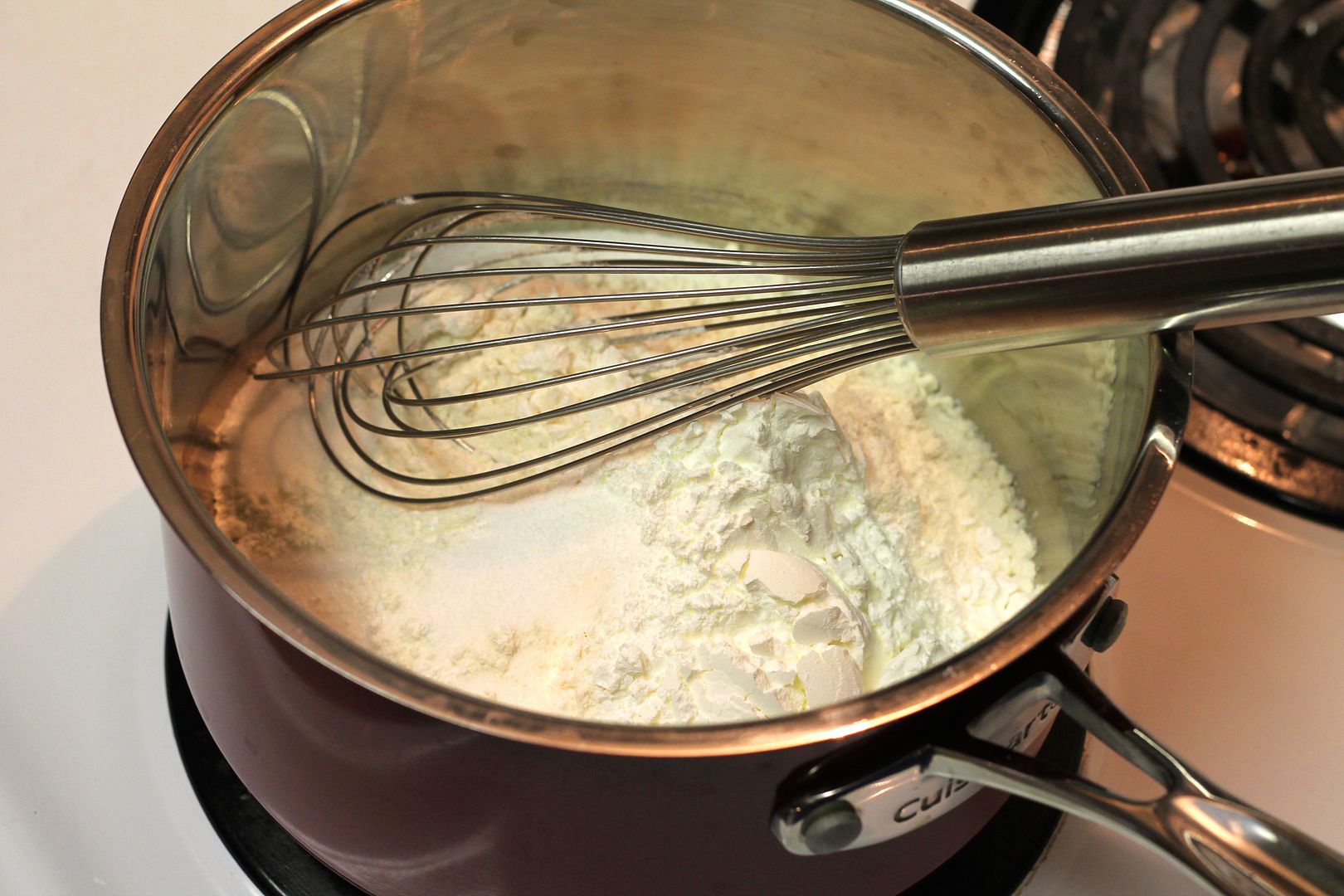 Whisk in 1 1/4 cups milk until smooth.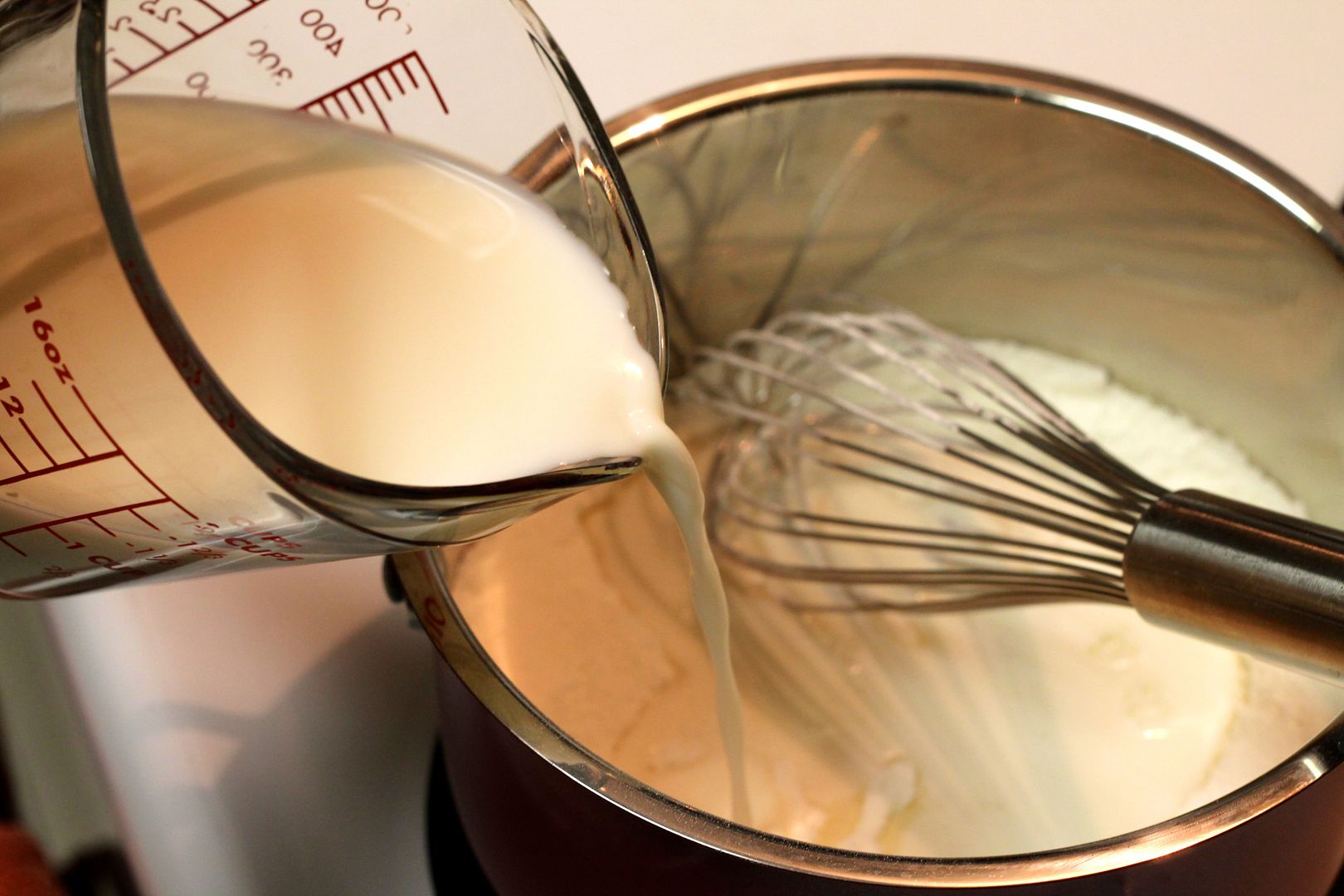 Bring the mixture to a boil over medium heat, whisking constantly, until it becomes a very thick roux.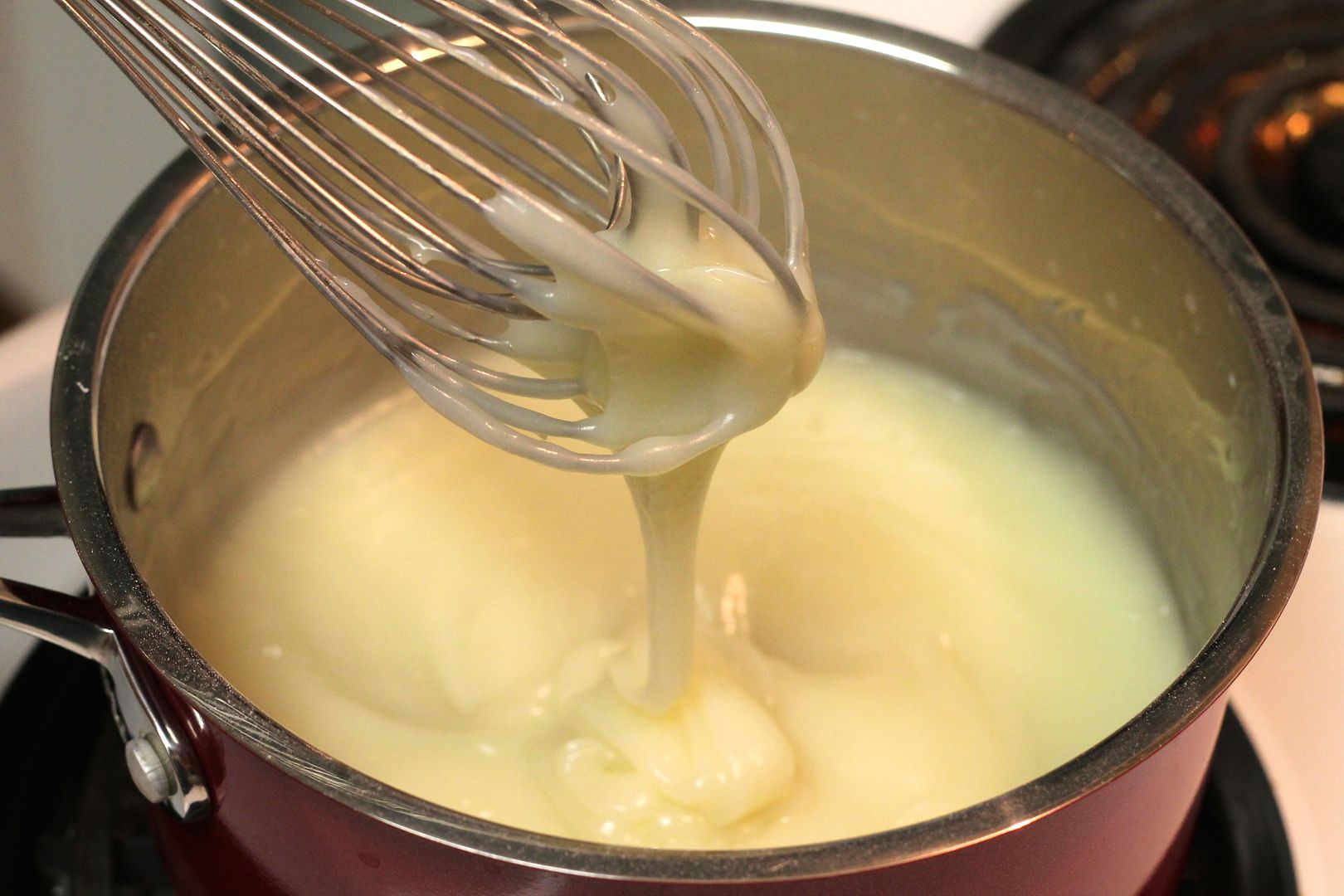 Press the roux through a fine strainer to remove any lumps.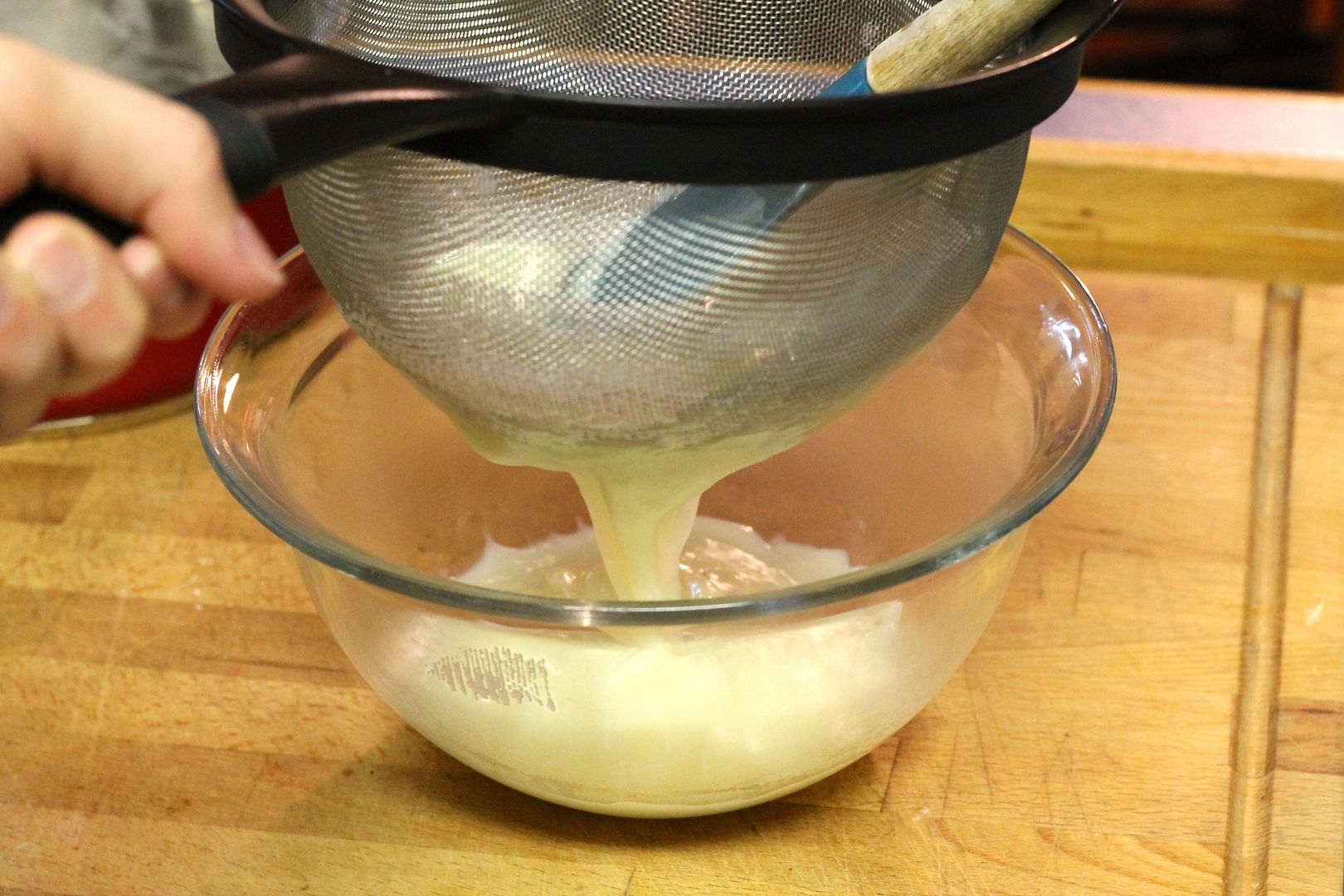 Press a sheet of plastic wrap to the surface of the mixture to prevent a skin from forming, and let to cool completely to room temperature. You can chill it in the fridge (overnight or for a day or two, if necessary), but let it come to room temperature before proceeding.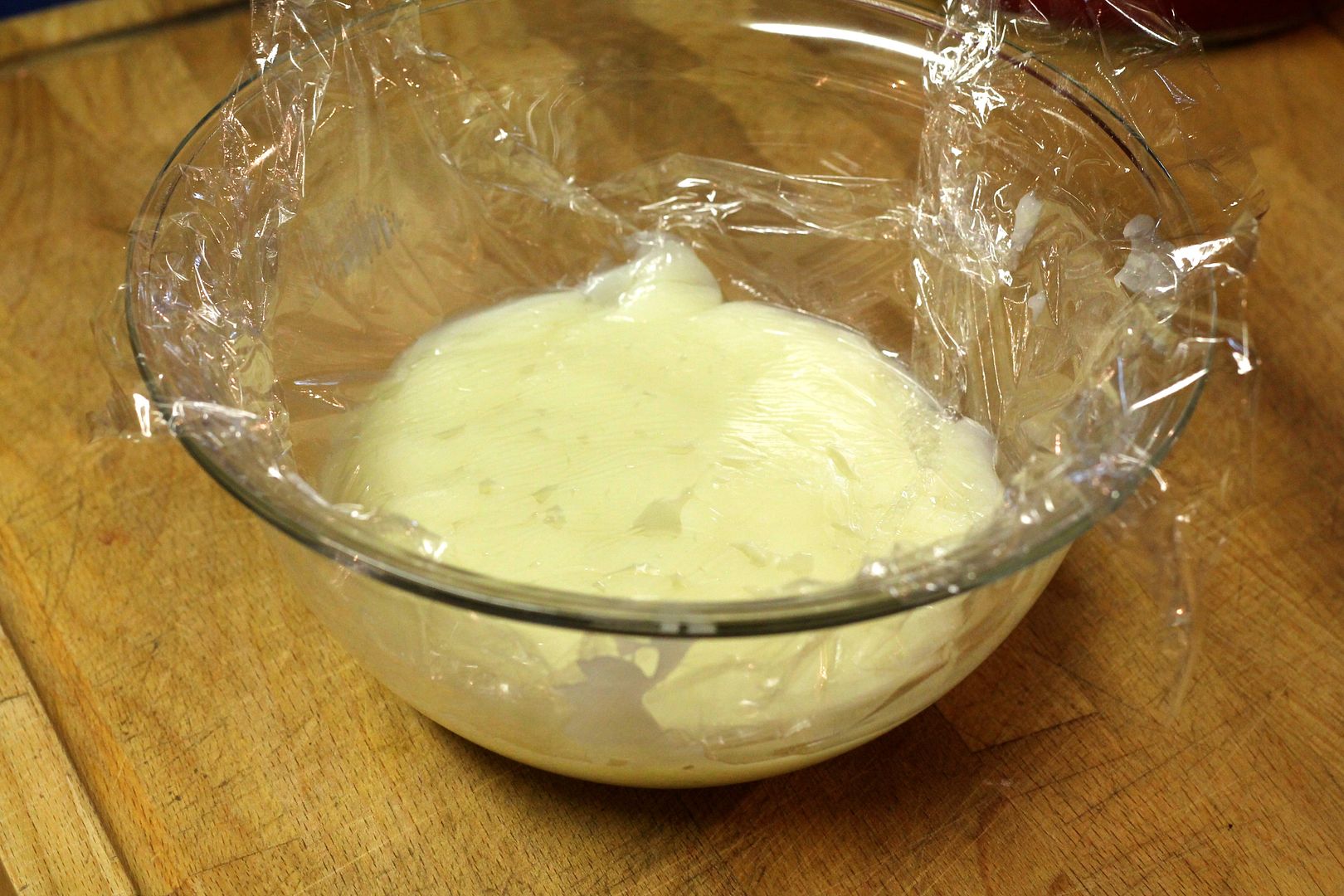 While the mixture cools, cut 1 cup (1/2 lb) unsalted butter into cubes and let soften to room temperature.
Place the room temperature roux plus 1 tsp vanilla extract in the bowl of an electric mixer fitted with the whisk attachment and beat on medium-high speed until creamy.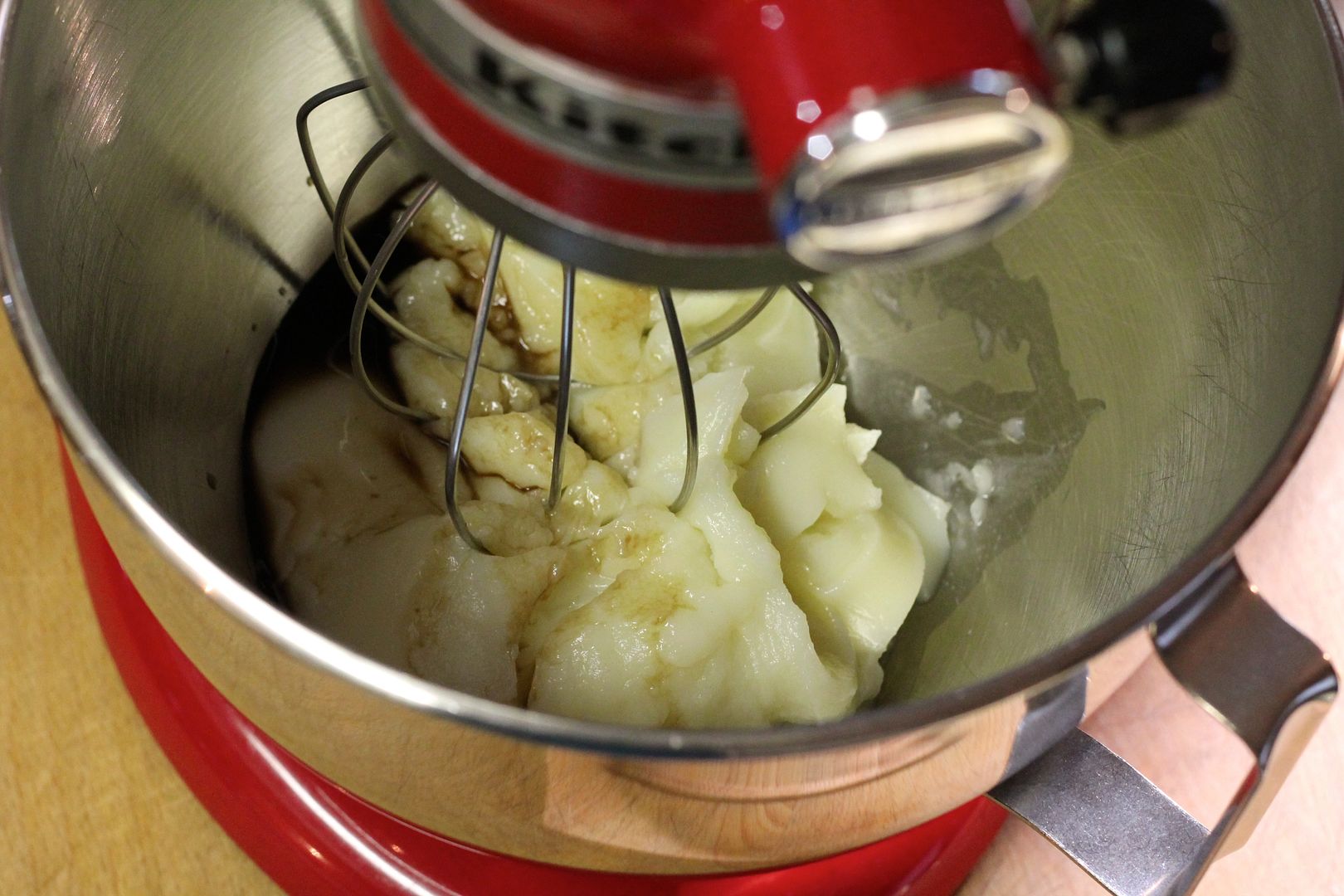 Beat in the softened butter, one cube at a time, until light and fluffy. (If your butter is too cold, it won't incorporate properly and will look grainy rather than silky-smooth. There is an easy fix though: wet a dish towel with hot water, wring it out, and wrap it around the outside of the bowl while the frosting mixes – this will warm things up juuuuust enough to become smooth.)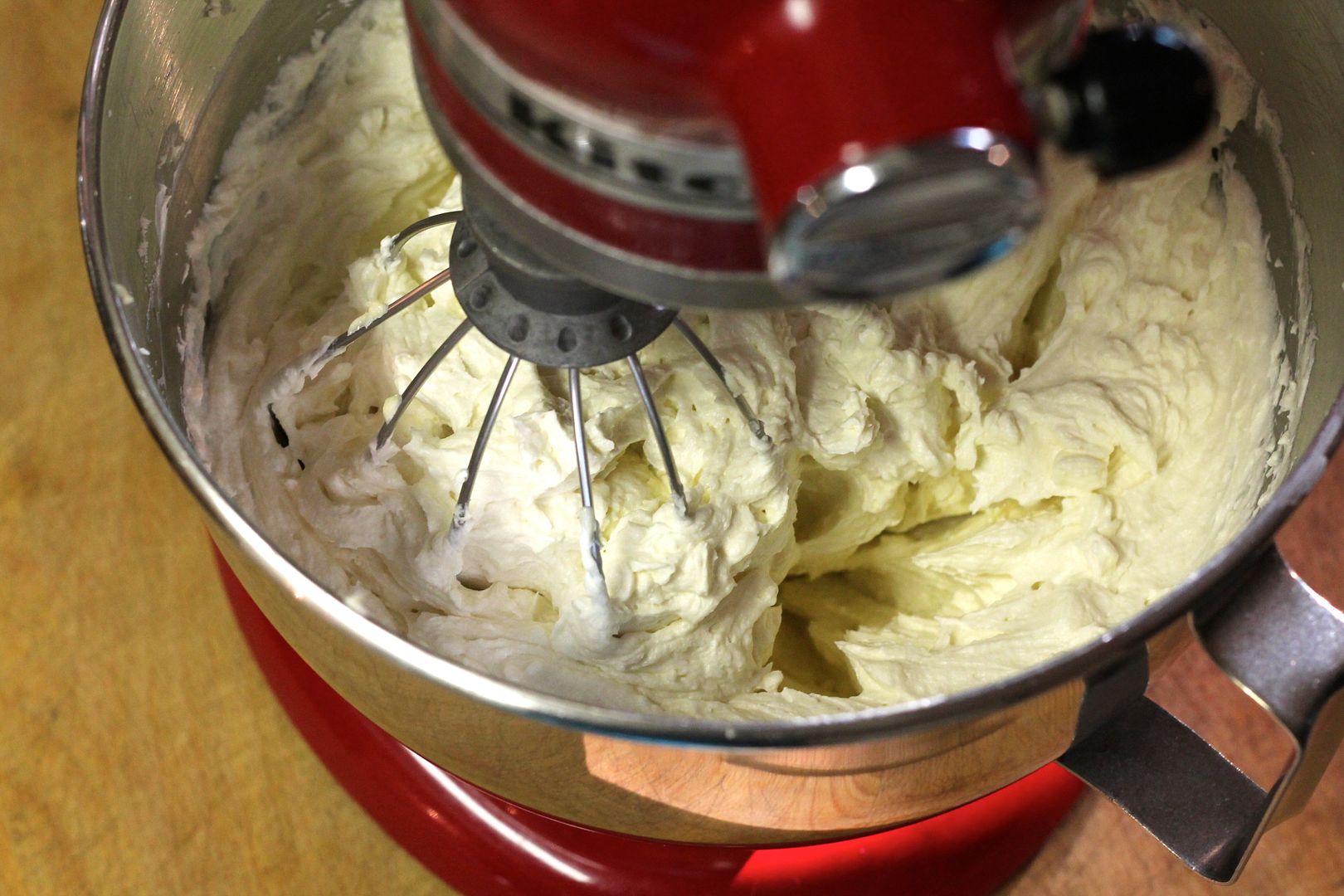 Cut 9 oz chilled cream cheese into cubes (about 1 tbsp each) and add it to the mixture, one cube at a time, beating well after each addition.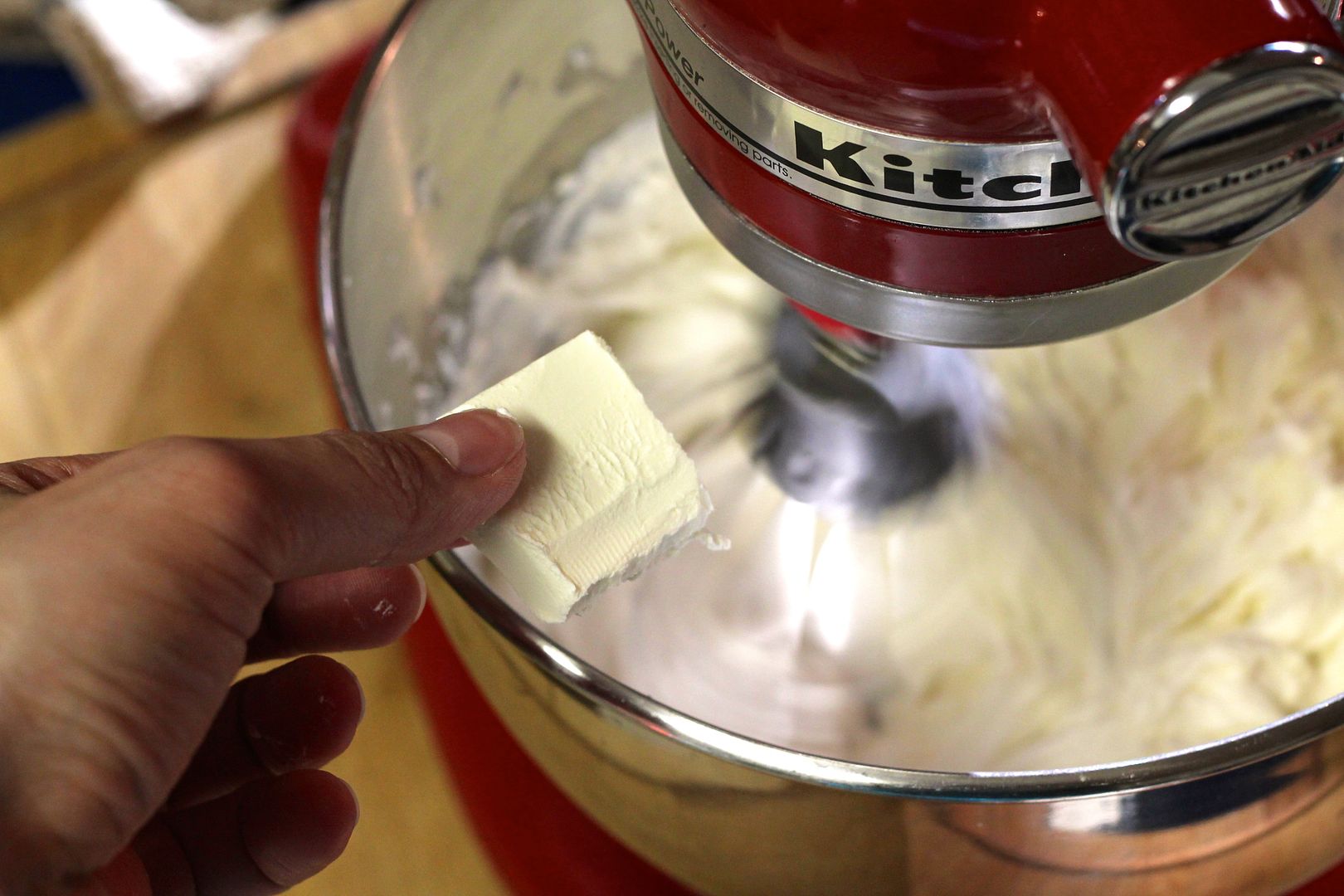 Add 1 tbsp lemon juice and beat on high speed until very light and fluffy. It should look like stiffly whipped cream.
Use immediately to fill and frost a cake or pipe on top of cupcakes.
I used a very large star tip to pipe rosettes of frosting on these mini cupcakes and topped each with a few candy pearls.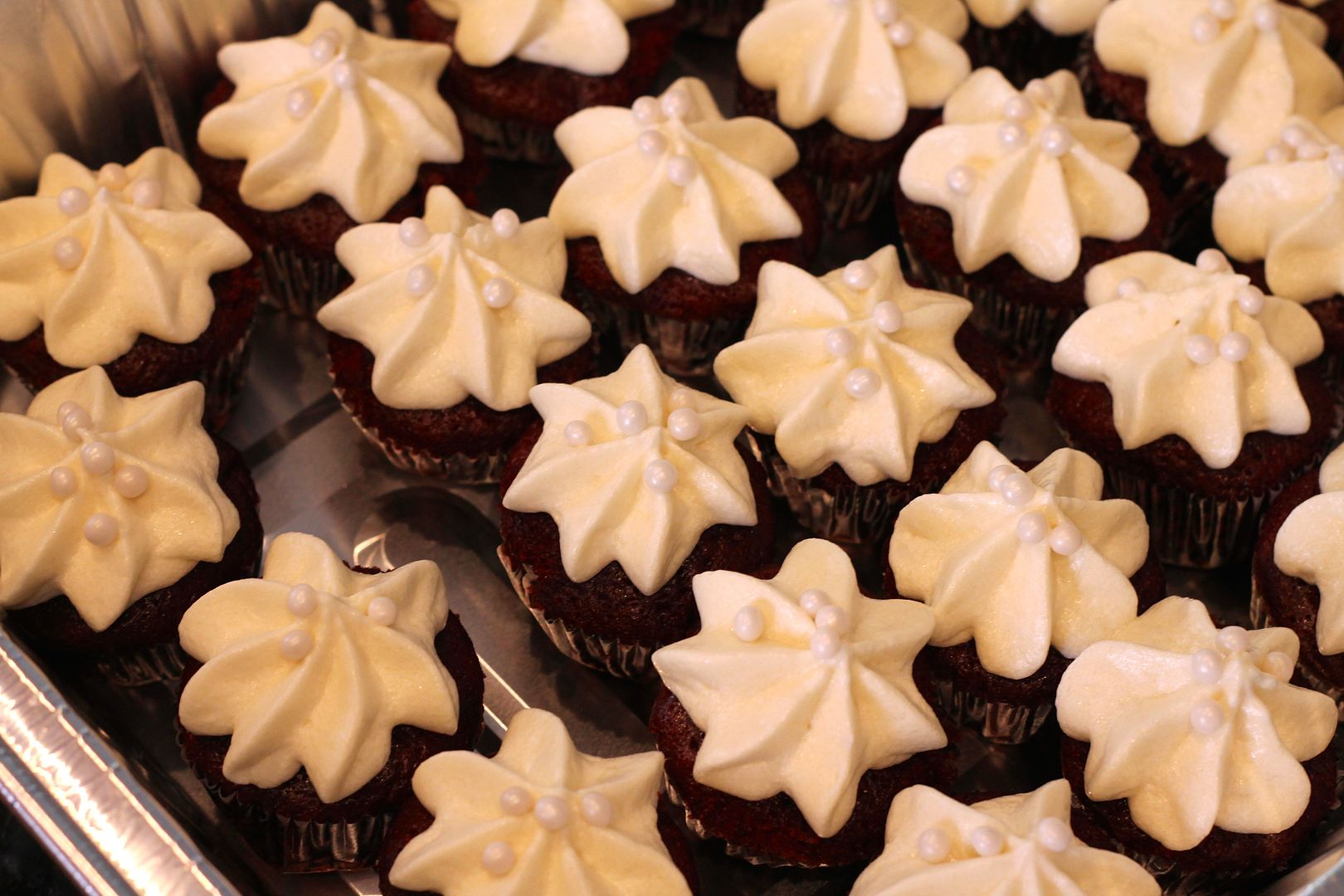 Save
Save