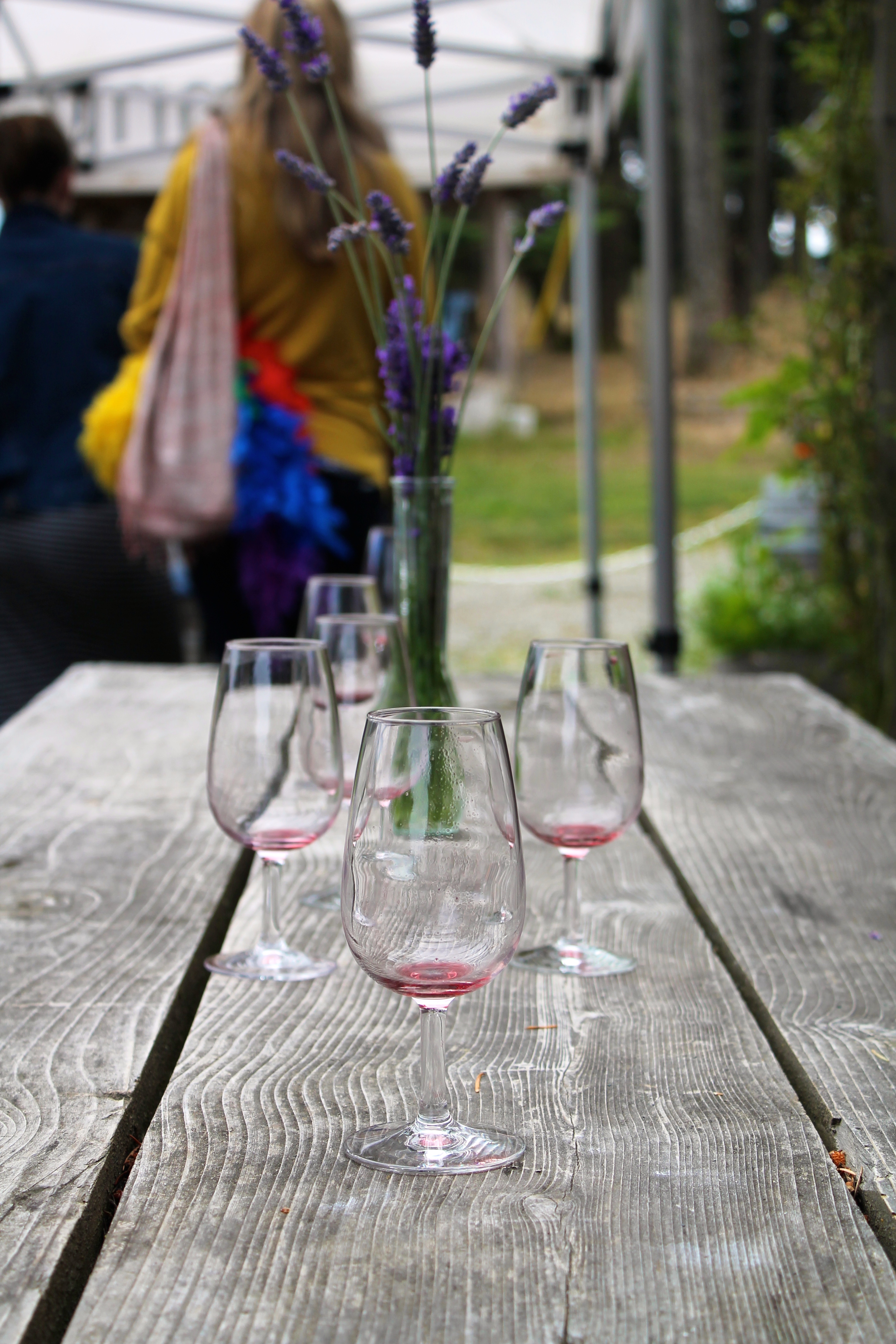 Last weekend our friends Sam and Whittney tied the knot (for those who are trying to follow along here, Sam is my friend Lynette's brother. He is also Nate's good friend, which is how Nate and I met). We were fairly involved in the wedding – Nate was the best man and I made the wedding cake (more to come on that, I promise!) – which for me included Whittney's stagette weekend. Whittney and Sam live just up the road from us in Shawnigan Lake in a house with lots of extra bedrooms, so the stagette was basically a big girls' sleep-over at their house with lots of drinking and eating (Sam spent the weekend at my house with Nate).
The drinking consisted of wine tastings at three Cowichan Valley wineries, and it was a ton of fun. We rented a tour van and driver so that no one had to be the designated driver, and gave Whittney a scavenger-hunt type list of things to do on the tour, which included getting love advice from the old and the young and finding a cute guy to practice walking down the aisle with.
Our first stop was Enrico Winery, where we started our tasting with their sparkling wine – appropriate called "Celebration" – and ended it (five wines later) with merlot in chocolate shot glasses. For me, their Ortega wine was the stand-out.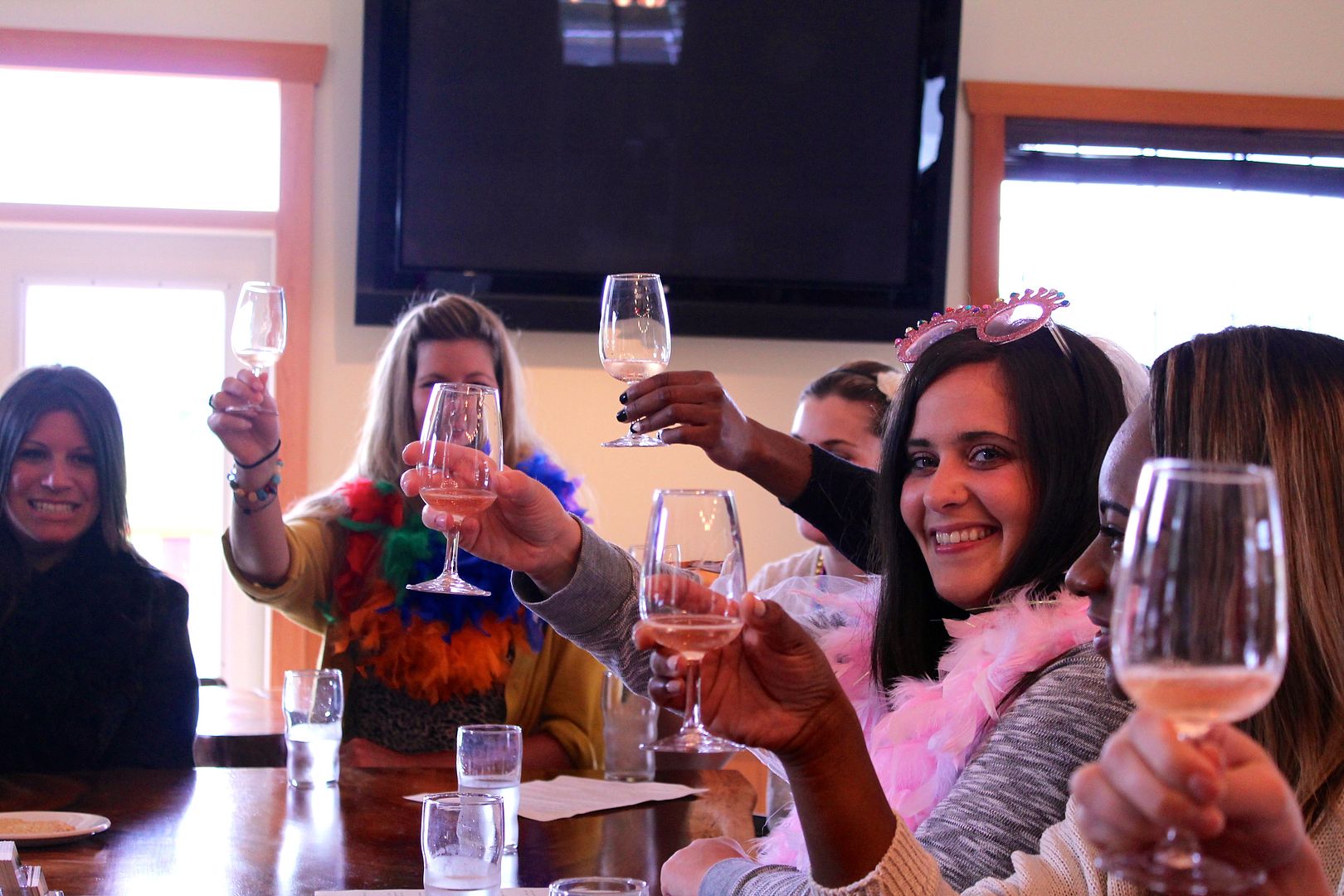 Next up was Rocky Creek Winery. They are the most award-winning winery in the Cowichan Valley, and their wines are truly delicious. I loved it there. We had owner Linda take us through a very thorough tasting, starting again with bubbles but ending this time with their incredibly delicious Wild Blackberry dessert wine paired with salt and pepper chocolate. It was AMAZING and several of us left with a bottle. Also noteworthy was their lovely backyard garden – exactly the type of place you'd want to spend a few hours with a bottle of wine.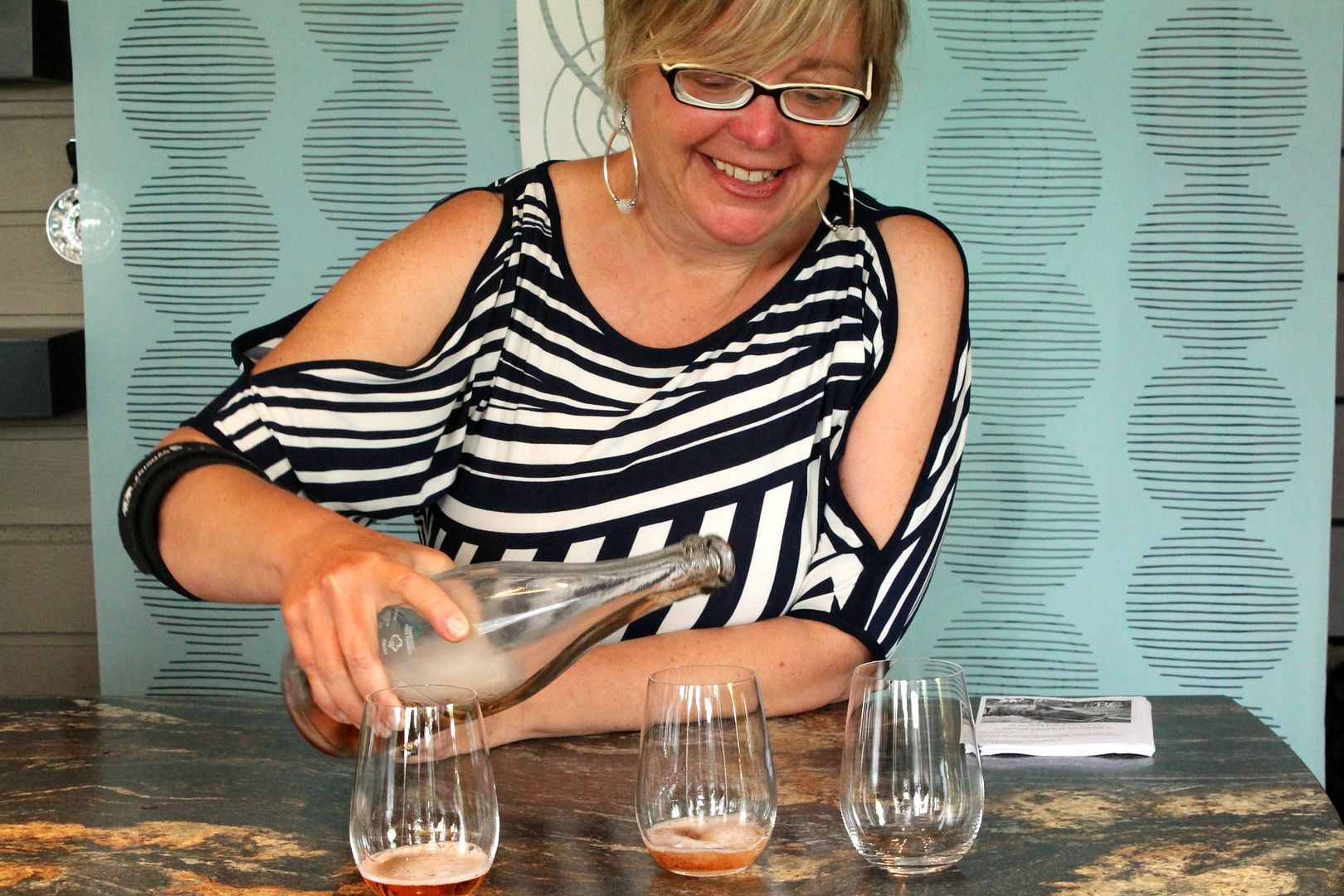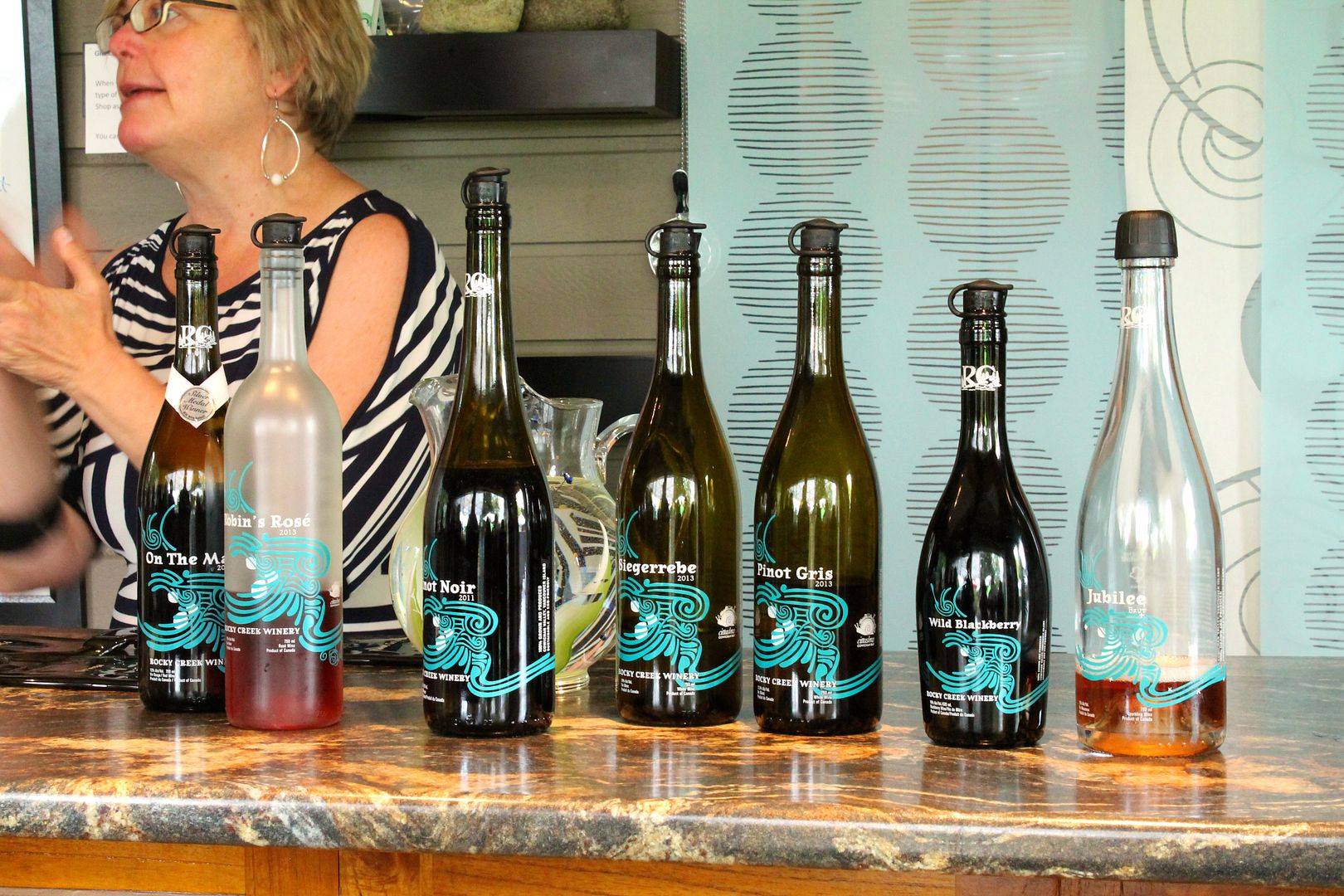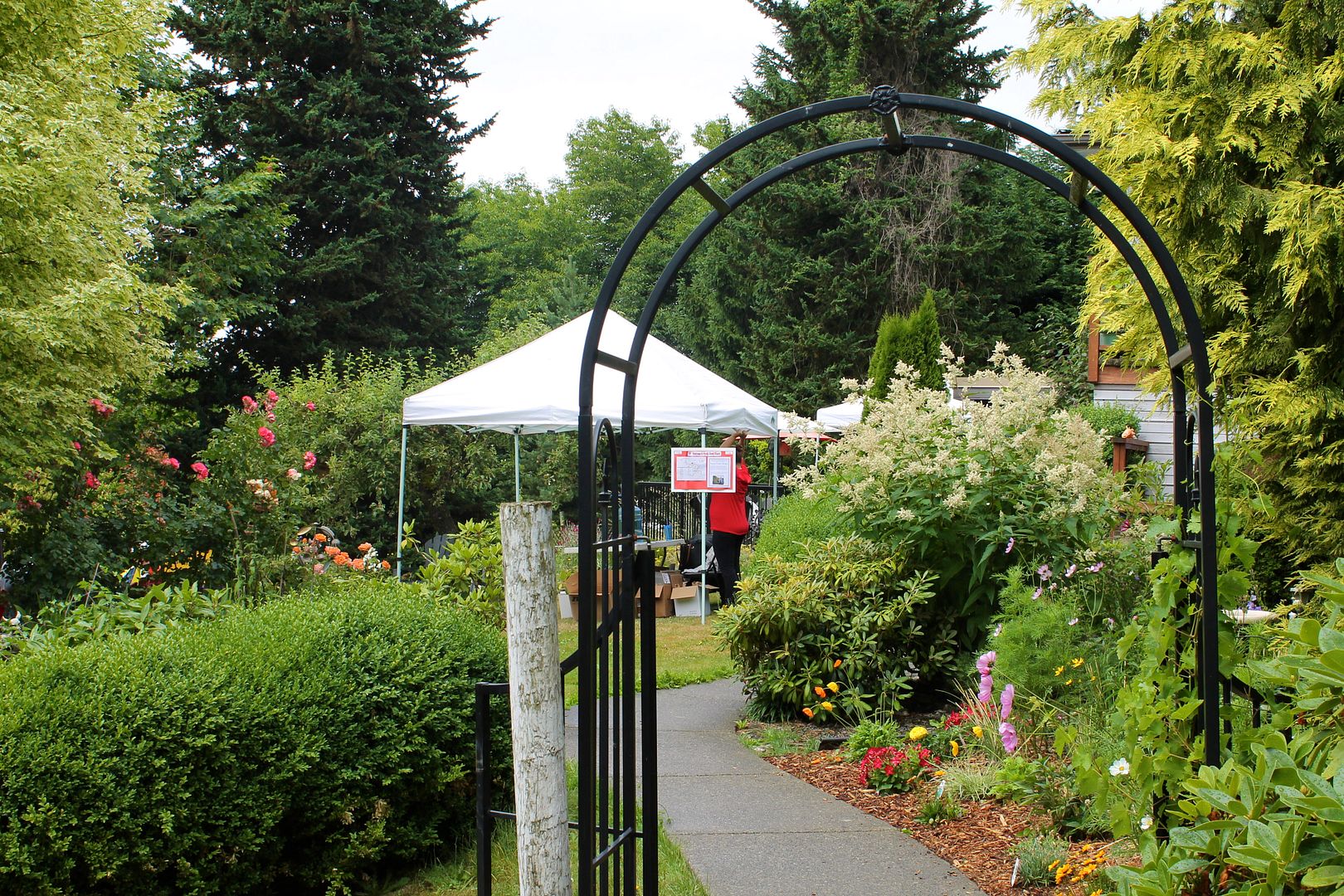 We ended the tour at Damali Lavender & Winery – probably one of the most beautiful places in the Cowichan Valley, which is really saying something! It is primarily a lavender farm, and the pictures below don't do the glory that is several acres of lavender justice. Unlike the other two wineries that grow their own grapes, Damali uses grapes from another Cowichan Valley vineyard to make wines with lavender, rhubarb, and blackberries. Different but completely delicious, and again, a perfectly gorgeous place to spend an afternoon.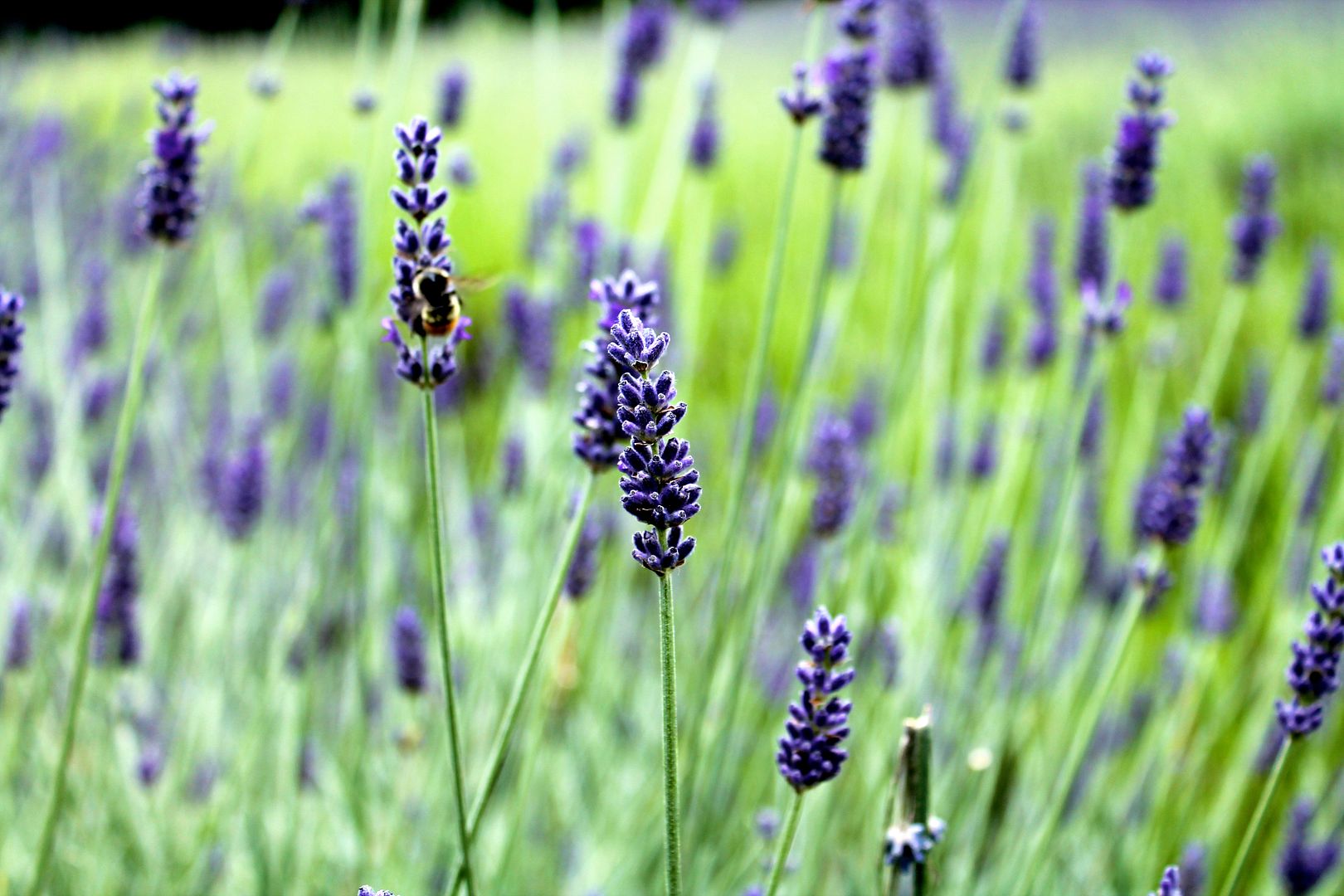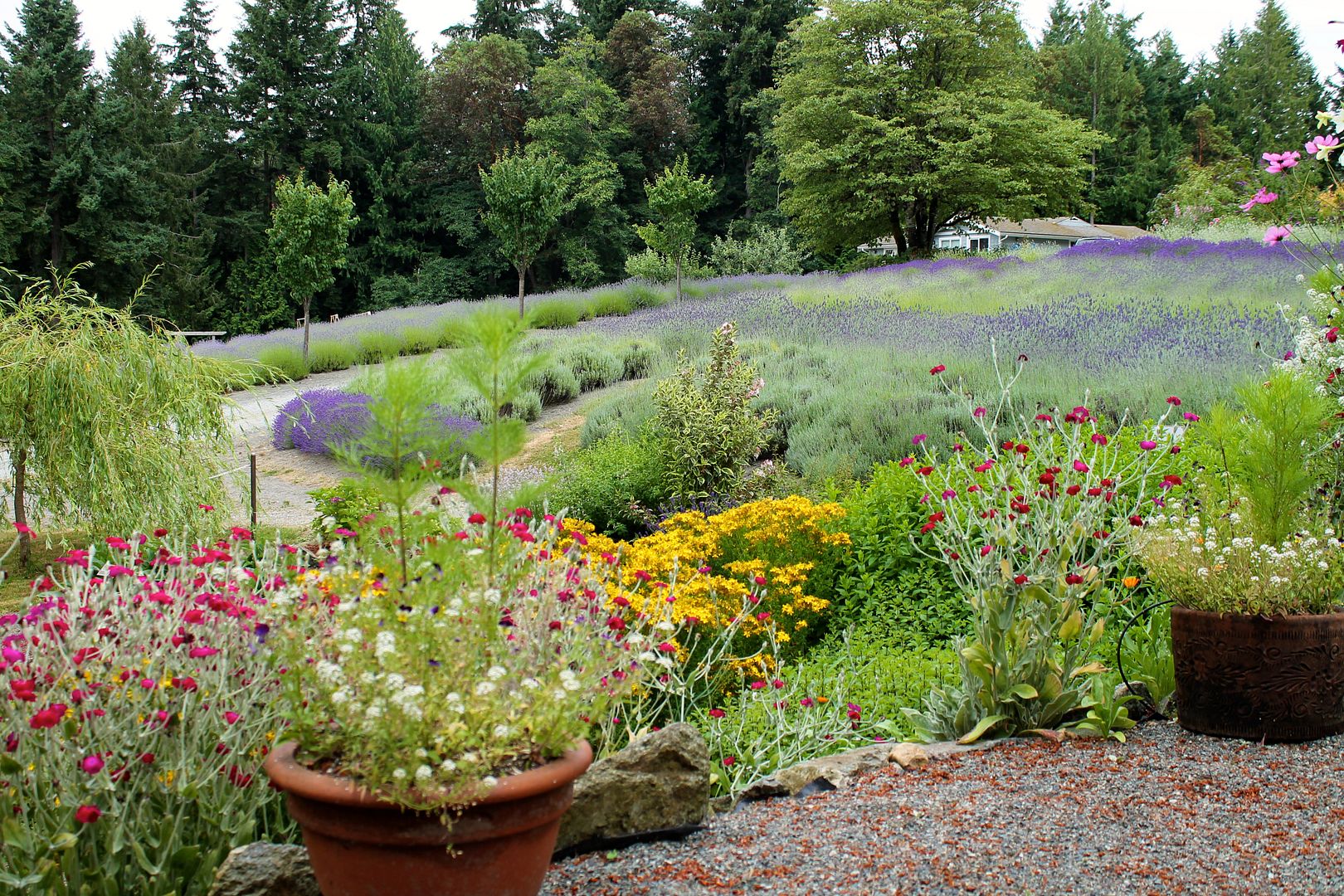 So that was the drinking. For the eating, I contributed both cake balls (aka cake pops) and a cake with balls (maybe now would be a good time to warn you that this post is about to get a little NSFW). In the past, I have unintentionally made a cake that looked like a penis. This time, it was entirely intentional. Because, you know, stagettes are classy like that.
The cake balls were red velvet cake mixed with cream cheese frosting and dipped in white chocolate candy coating. There are a million tutorials for cake pops out there, most notably by Bakerella, so I suggest heading there for tips. The basic gist is that you crumble up a bunch of cake, add frosting until it sticks together, roll it in to balls, and poke them with a stick. It's a good idea to dip the end of the stick in the melted candy coating first, which acts like glue.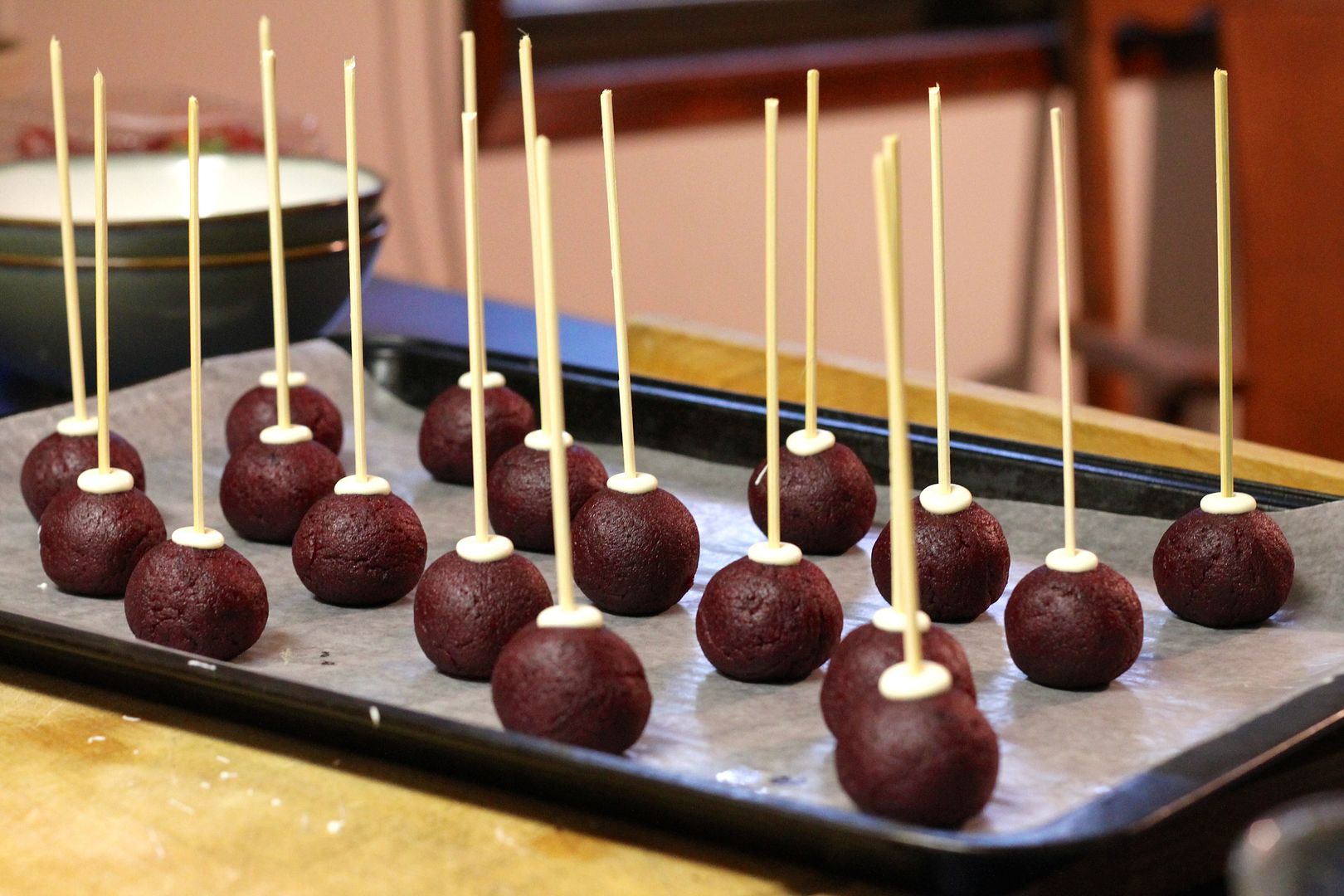 Chill the cake balls until they are firm, then start dipping and decorating. One tip I can pass along is to make sure your candy coating isn't too warm/runny – wait until it cools and thickens a little bit so that it doesn't all just drip off the cake ball and run down the stick, and use a spoon to help scoop the candy coating to cover the cake ball.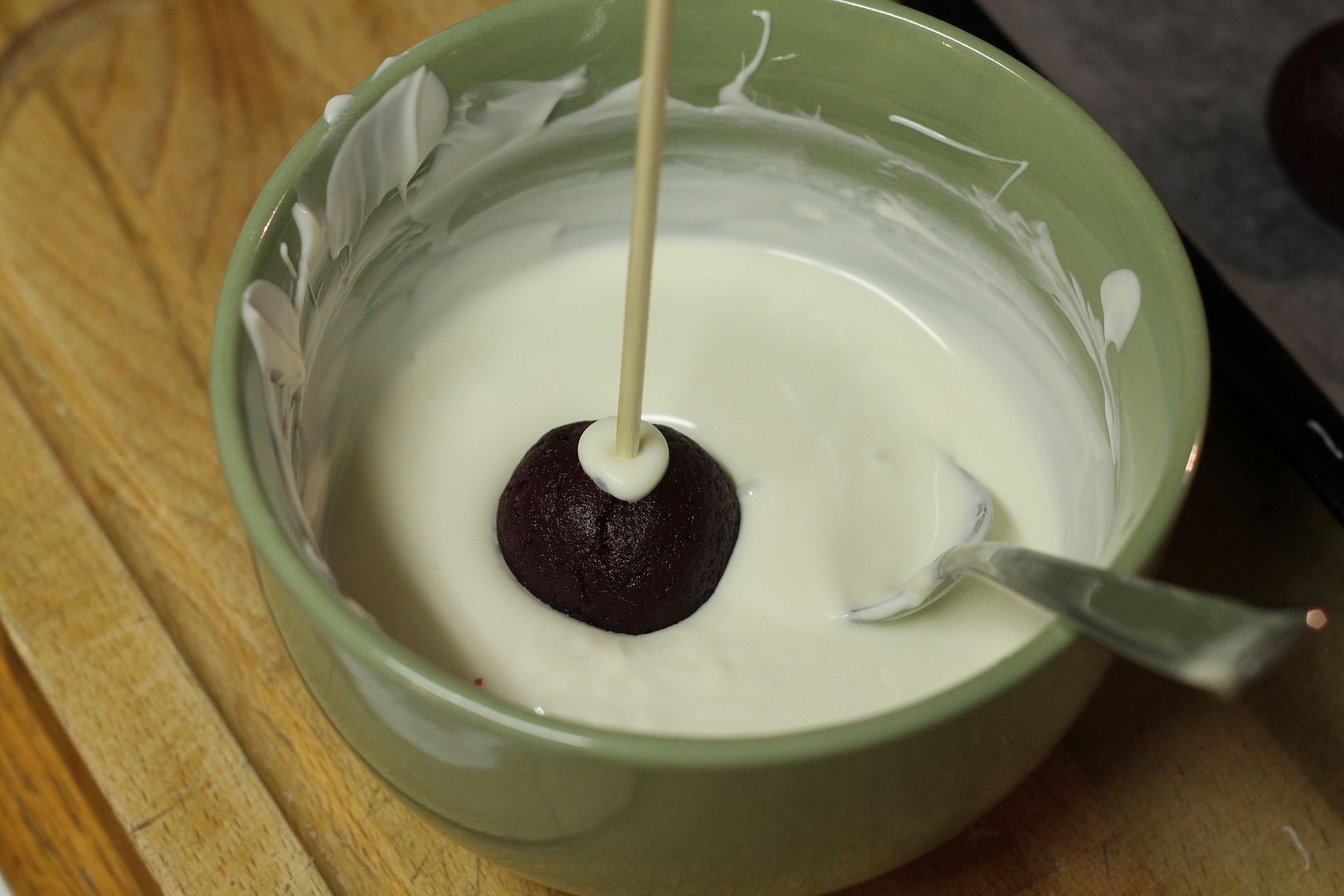 One more tip: make sure you have somewhere to poke the cake pop sticks so they can dry. I used styrofoam cake dummies that I just happened to have on hand for the base of Sam and Whittney's wedding cake.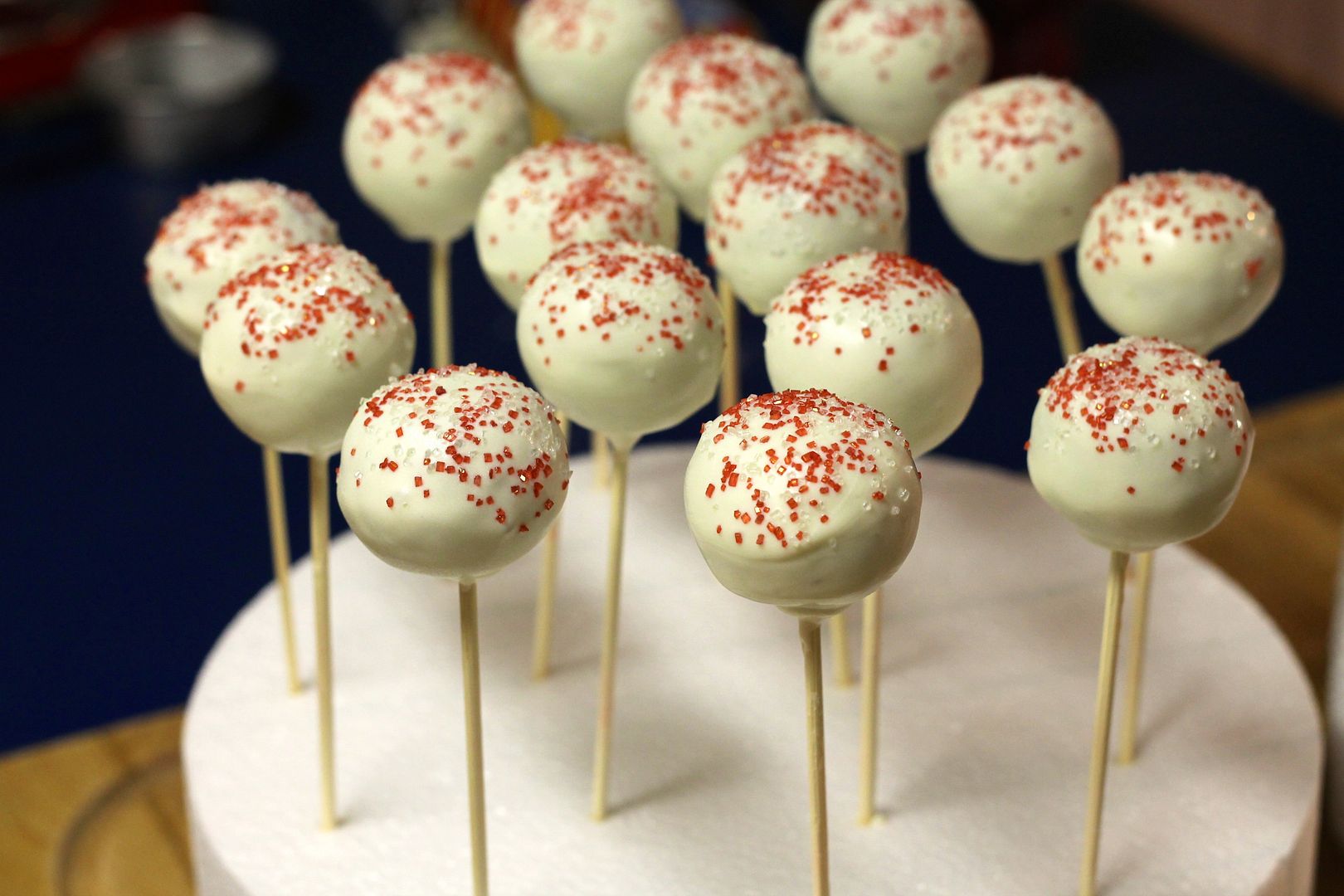 The cake with balls was a yellow butter cake with funfetti. Not wanting to buy a penis cake pan just for this one cake (although apparently you can get pretty creative with re-purposing such a pan), I made half of this recipe and baked it in a 9″ x 5″ loaf pan and two cupcakes (guess what those were!).
I cut the loaf cake into an appropriate (or inappropriate?) shape, filled with with Nutella-flavoured Swiss meringue buttercream, and then frosted it with flesh-tone SMBC.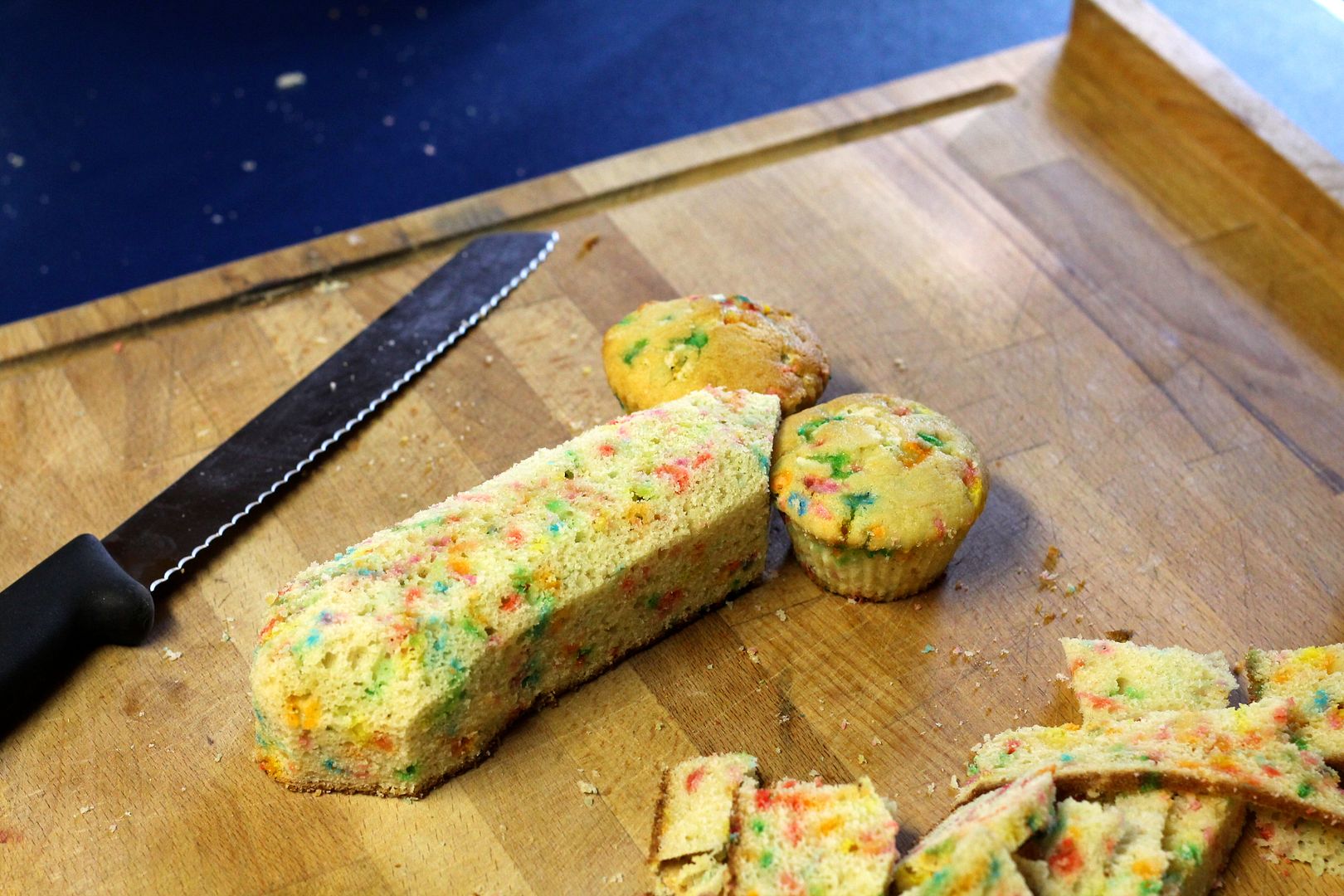 You can, obviously, get a detailed as you want with a cake like this.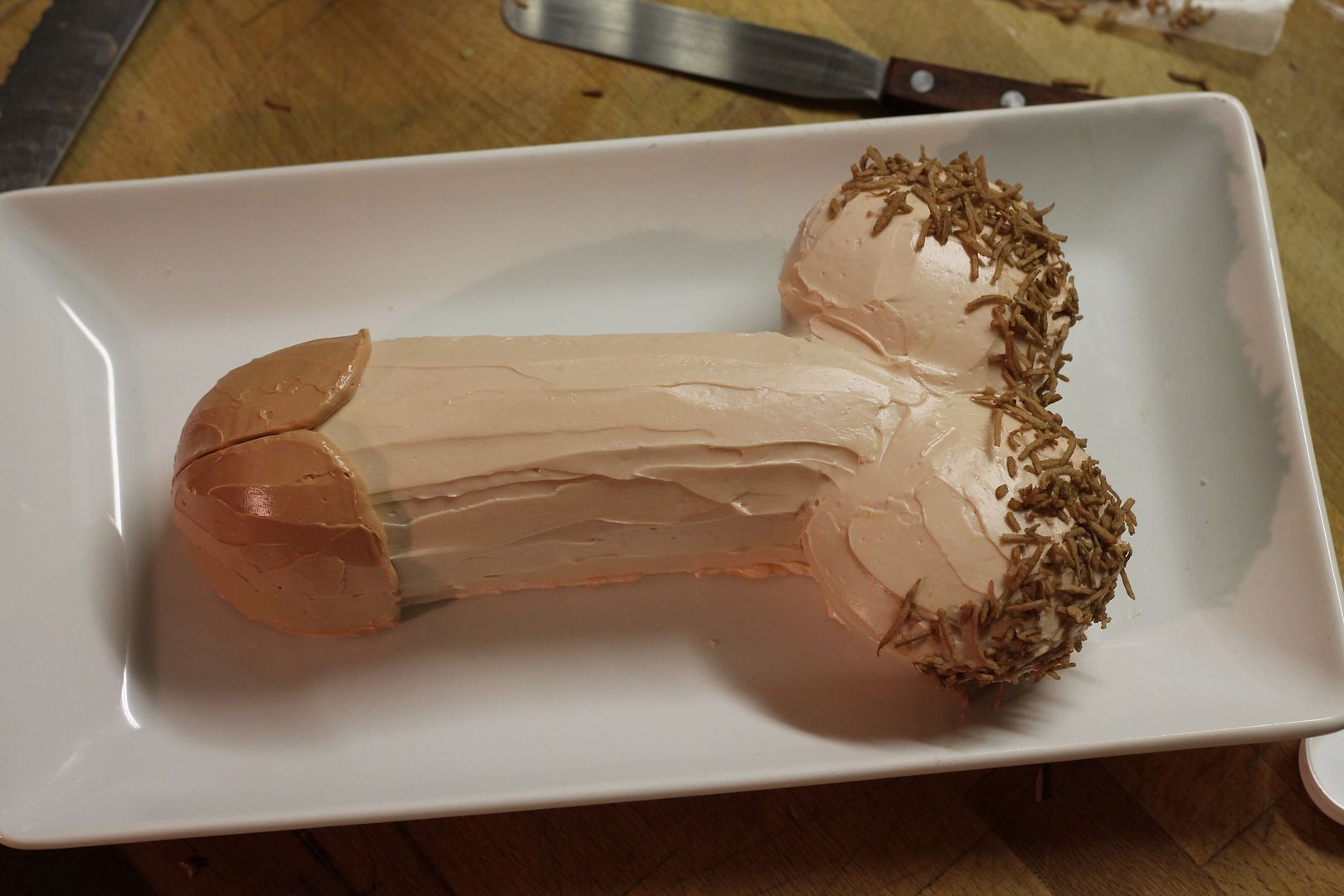 I went as far as making pubic hair (DID I JUST SAY THAT ON MY FOOD BLOG?!) out of fancy shredded coconut tinted brown with a little cocoa powder. Then I added some flowers, because, you know, a cake's gotta be pretty, right?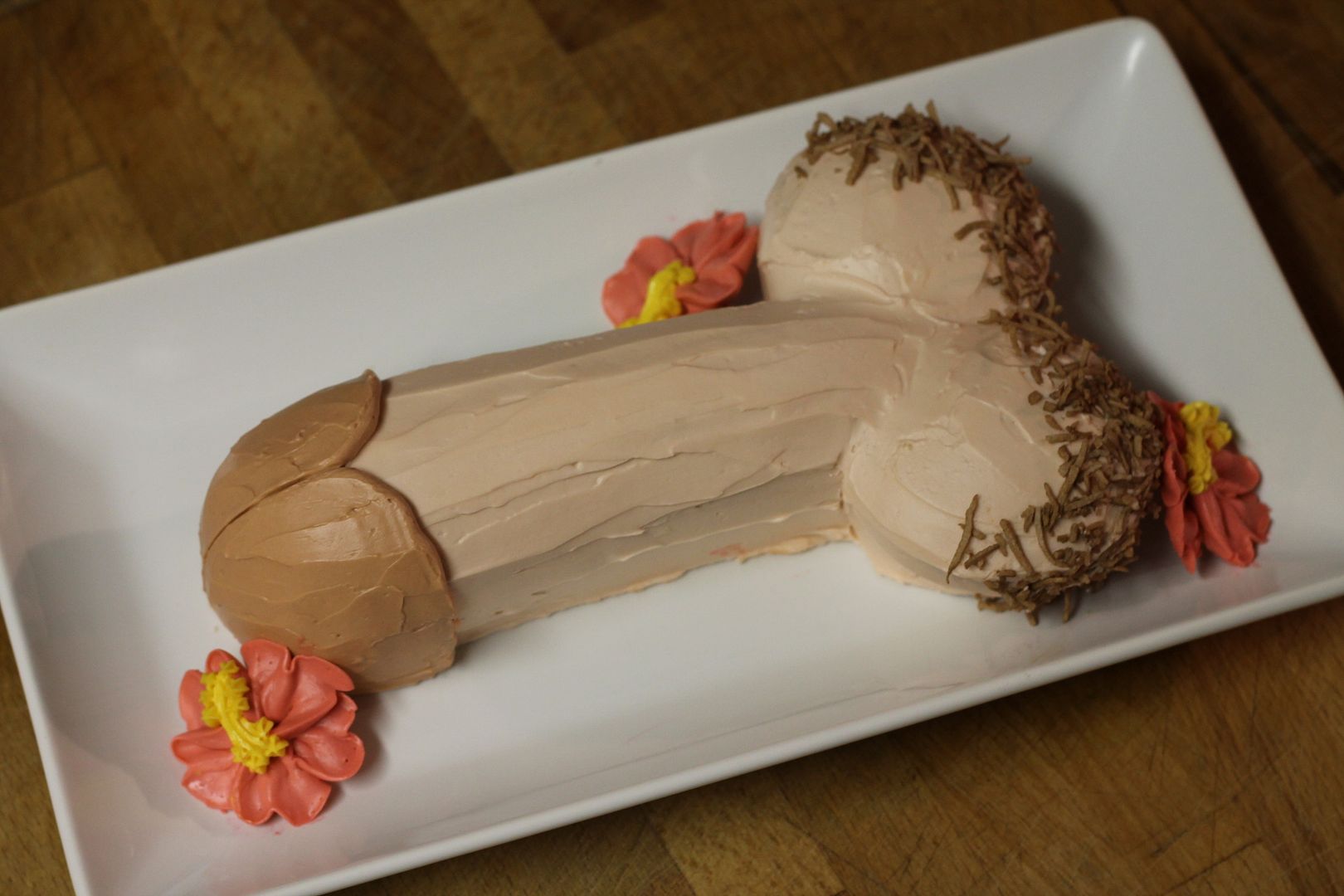 Then all that was left was for the bachelorette to cut it up and serve it to her guests. 😉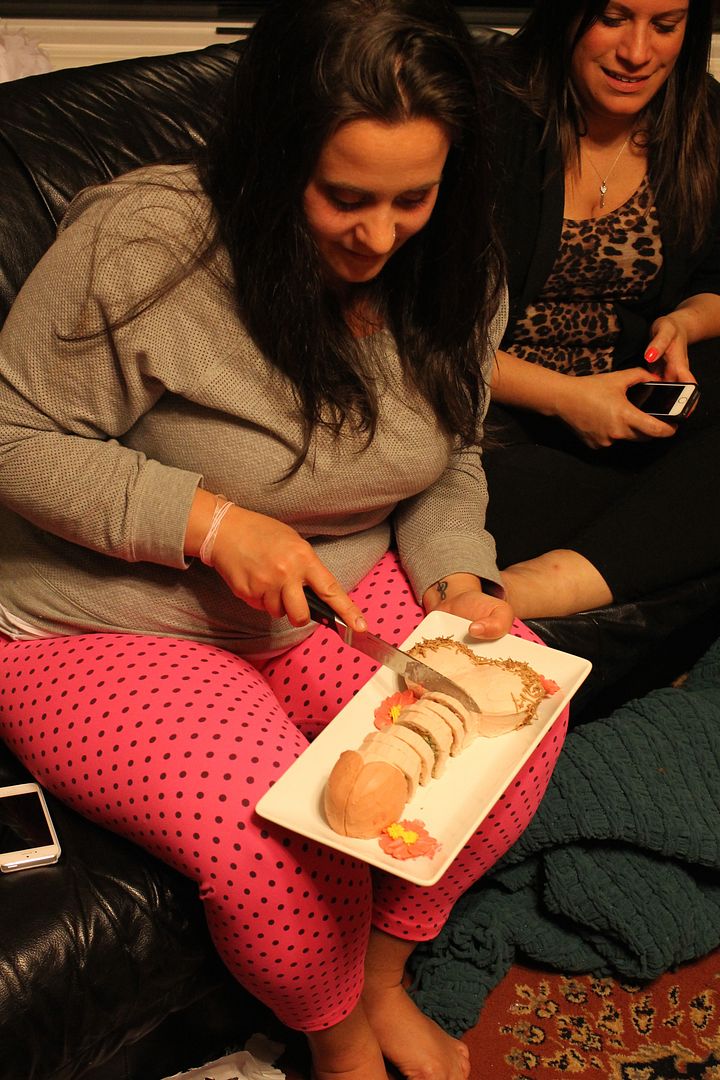 Um, yeah. So we started off this post with a lovely wine tour and ended up with a cake shaped like a penis. Talk about juxtaposition. If you're still with me, I think we should be friends. 😉