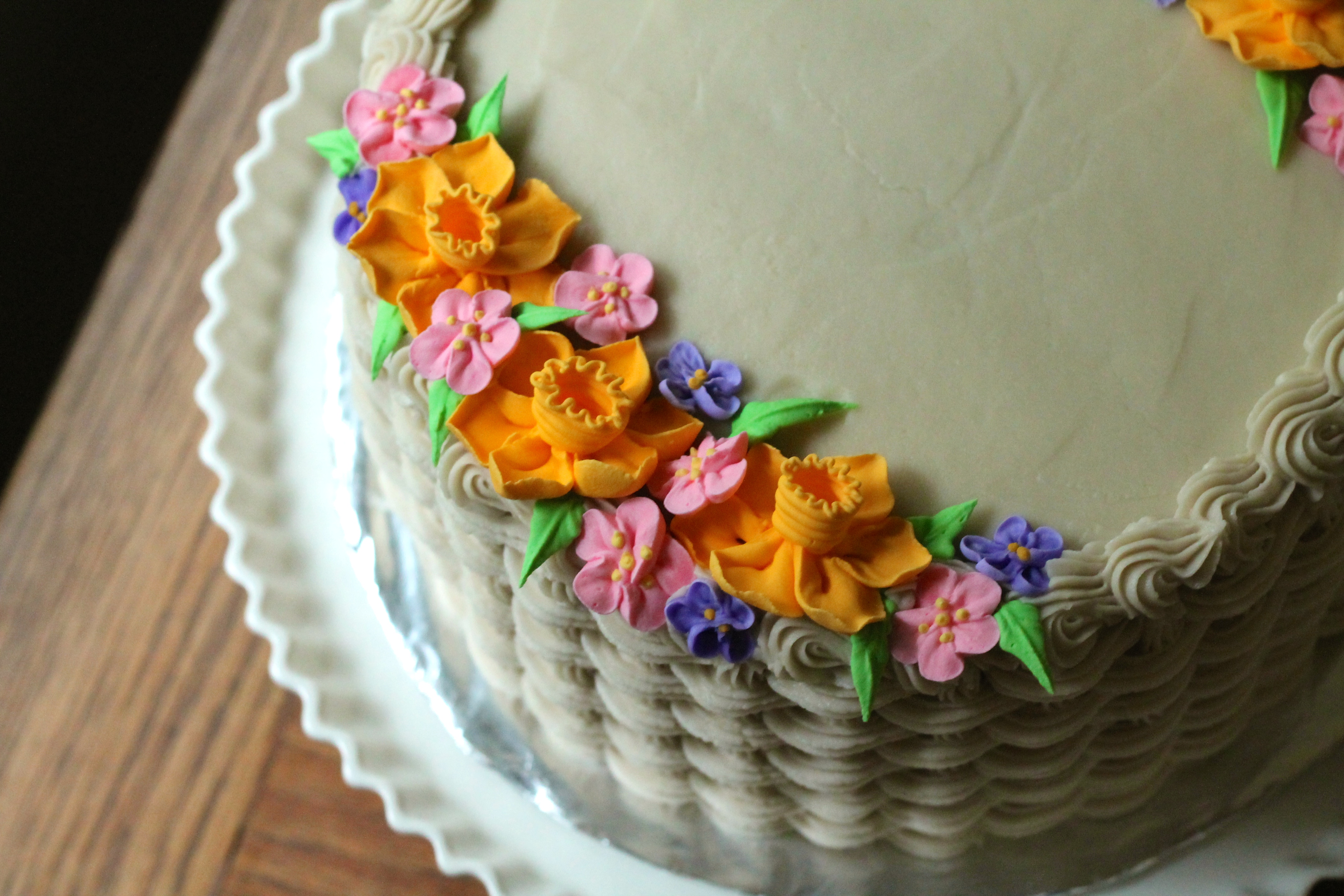 I don't have a step-by-step recipe post for you today, but I wanted to share this anyway. I just finished taking Wilton's Flowers and Cake Design cake decorating course, and this was my final cake. I am pretty darn pleased with how it came out!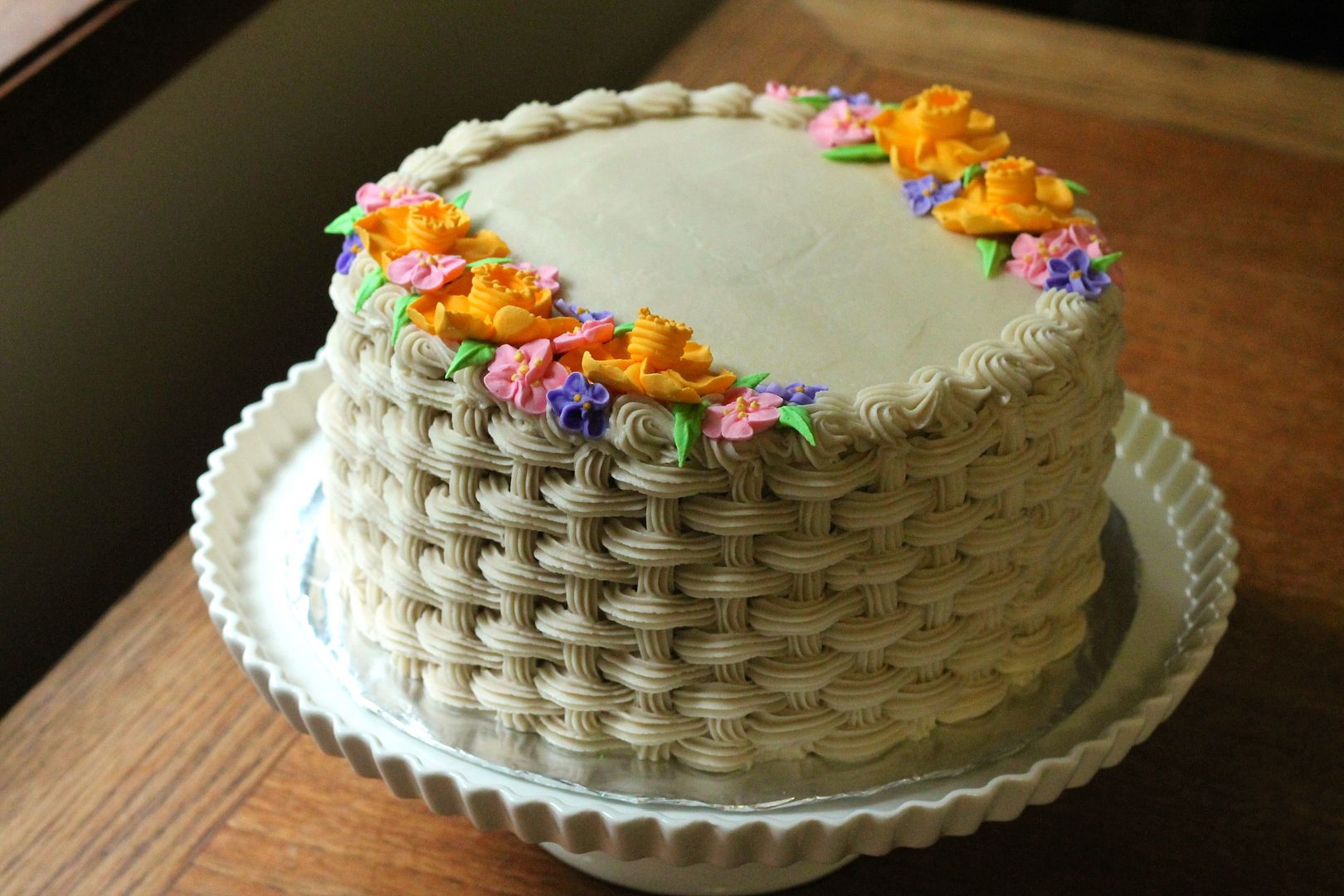 In the course, we learned how to make apple blossoms, primroses, violets, daffodils, roses, rosebuds, and (really ugly) lilies out of royal icing (we also made really basic gum paste flowers, which were not my favorite). The royal icing makes the flowers dry out as hard as rock – which is great because they are pretty durable, but not-so-great because while they are technically edible, they're not really meant to be eaten. If I'm going to go to this much trouble to decorate a cake, I want the entire thing to be delicious and edible, so I'm looking forward to trying these flowers in Swiss meringue buttercream rather than royal icing. I did have a lot of fun piping the flowers though, and made about a million extras with all the leftover icing.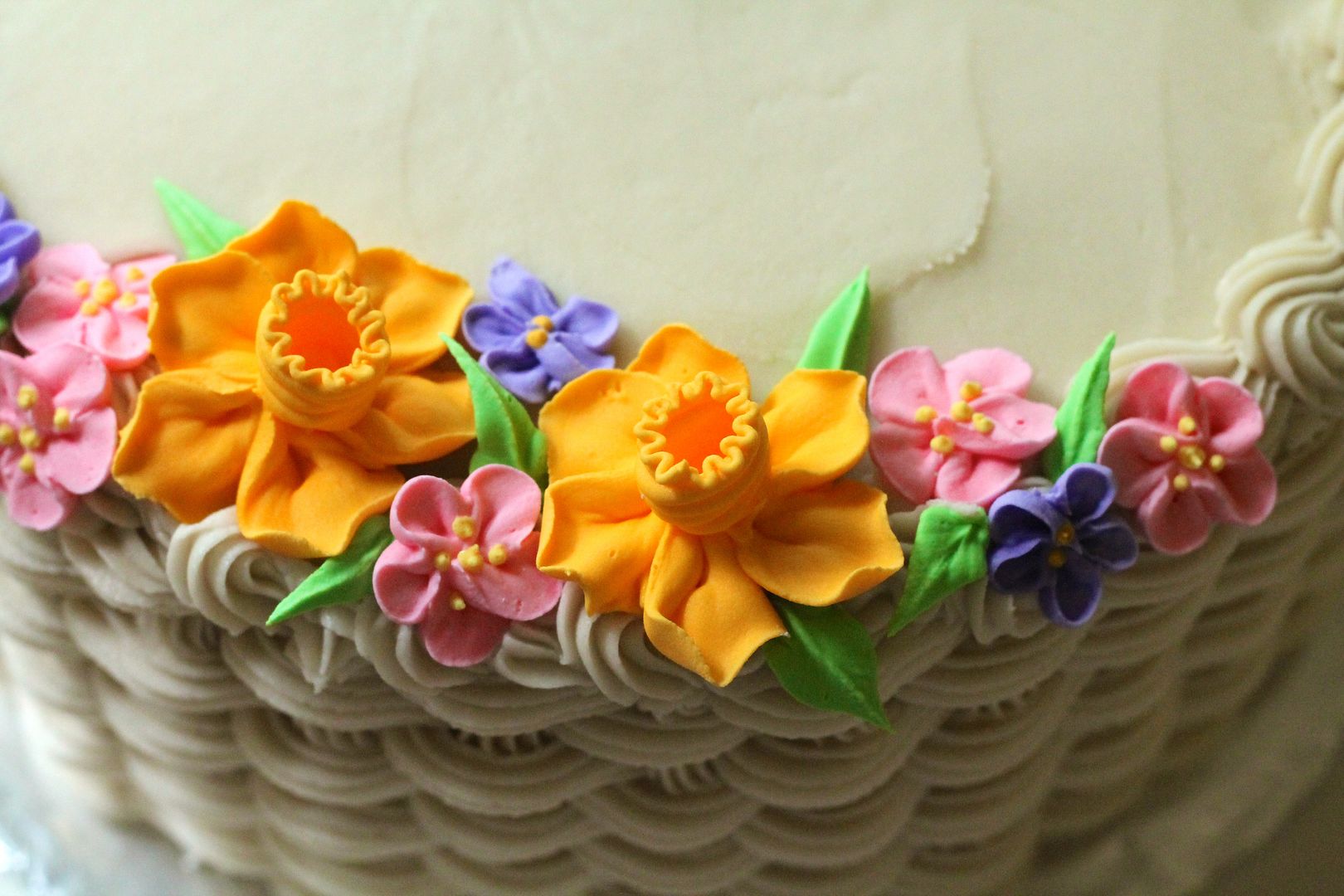 Both daffodils and basketweave are things I've wanted to try for a while now, so I'm glad I took the course for those. I'm not sure I'd take another Wilton course though – in all honesty, I could have easily learned all of these things on my own from watching a YouTube video or just reading the course booklet, which you can buy for five dollars.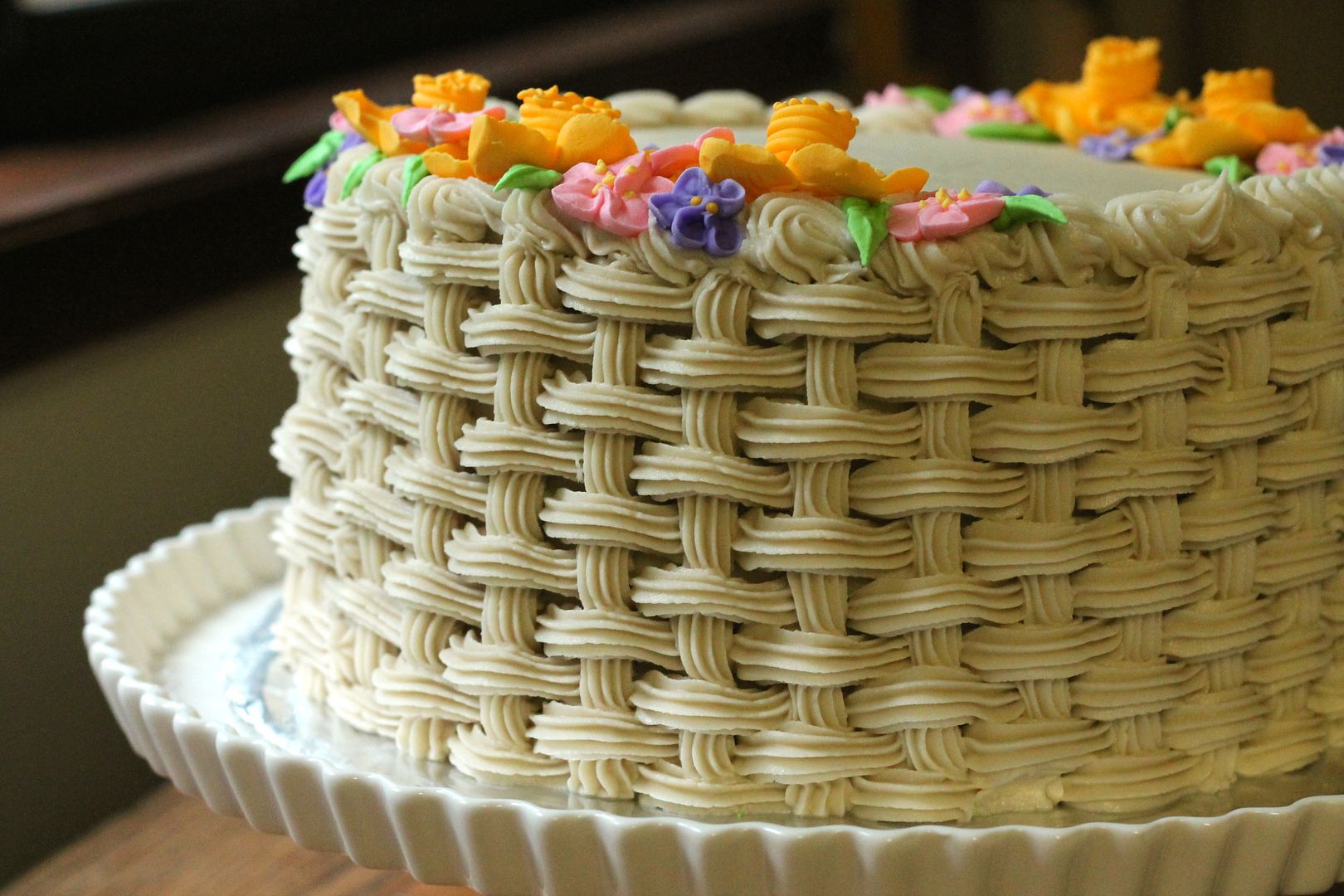 However, actually taking the course forced me to not only buy all the tools I'd need, but also to actually try the techniques. If you learn best by having someone teach you face to face, then the course is probably the way to go – but I tend to be able to teach myself stuff like this fairly effectively. If I get the urge to take another course, I might look at what Craftsy has to offer instead.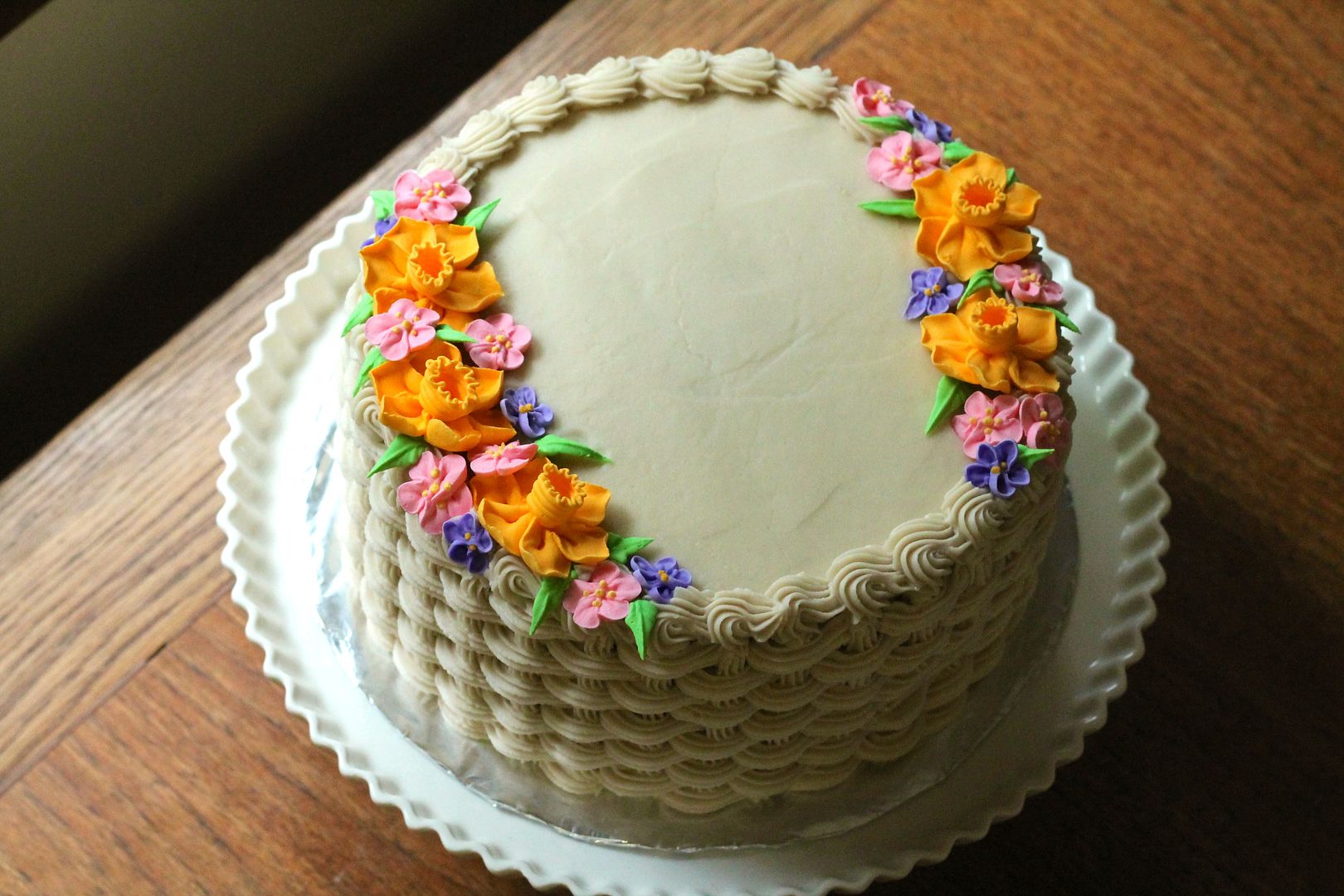 Underneath all the decoration, there was an eight-inch vanilla layer cake covered with cream cheese frosting and filled with lightly sweetened strawberry-applesauce (which is my new favorite thing). It was a really delicious combination – I took the cake to work and everyone loved it. Just a hint: the way to your co-workers hearts is definitely through their stomachs!