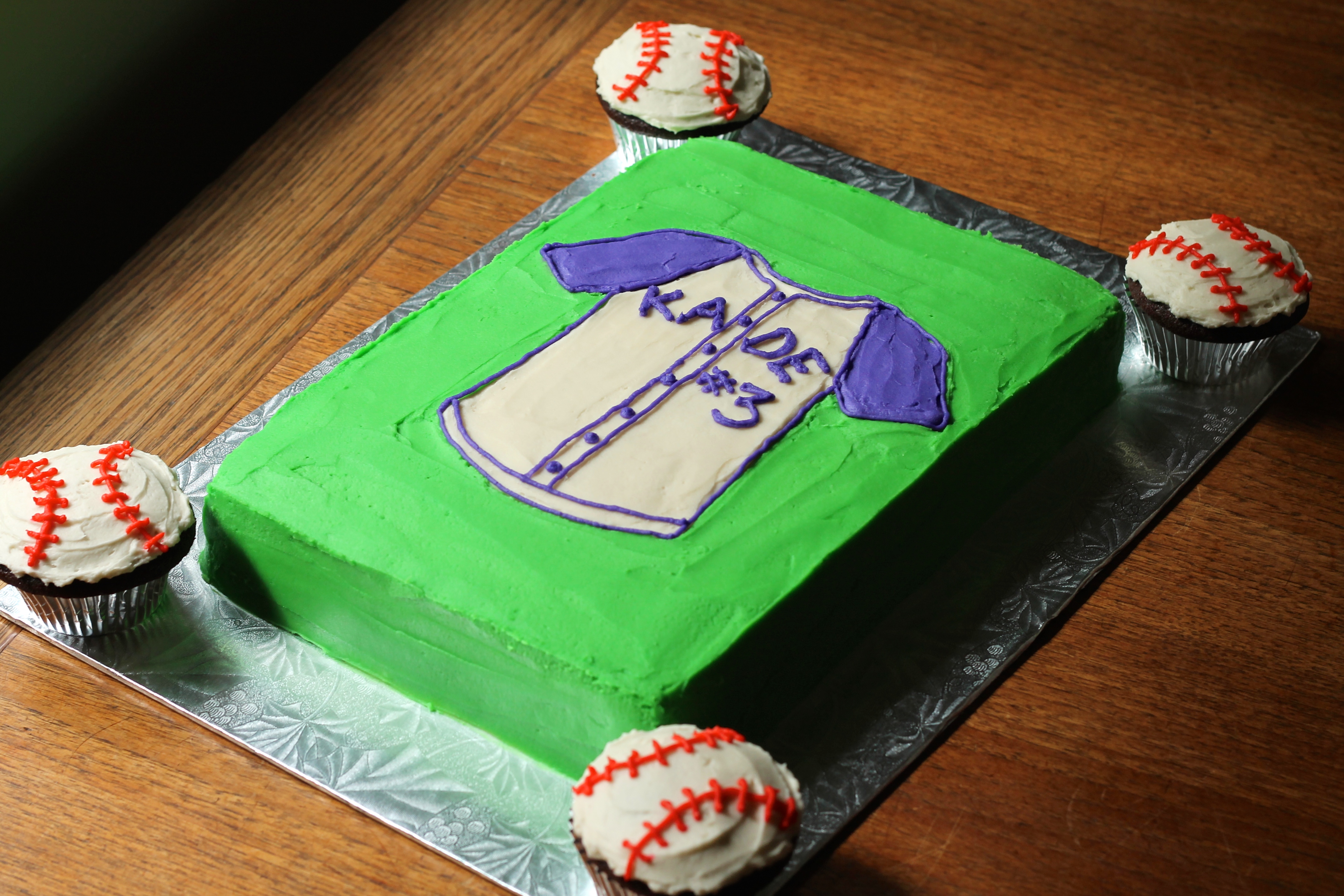 At the end of April our friends' son, Kade, turned three. He had a birthday party in the park after his baseball game (seriously, can you imagine anything cuter than a bunch of three-year olds trying to play baseball?!), with hotdogs on the camping stove, lots of cut up fresh fruit and veggies, and a cake made by yours truly – I offered/begged his mom, and thankfully she took me up on it! She suggested a baseball-themed cake, and because Kade is super proud and excited to be on "Team Purple" (his team wears purple t-shirts), I decided to put his jersey (or a version of it) right on the cake.
Because Kade's mom left the cake flavour up to me, it was a chocolate cake. I used Smitten Kitchen's fudgy chocolate layer cake recipe, which is right up there with the best chocolate cake ever. This one is a little more kid-friendly than previous chocolate cakes I've made, in that it doesn't contain any coffee and is not quite as deep, dark, and bittersweet. It relies on lots of brown sugar and cocoa powder for flavour, and the result is somewhere between the fudginess of a brownie and the lightness of a really good layer cake. Basically, it's perfect. It's the same cake I used to make Zach's first birthday cake, and as I knew that the full recipe would make a monster of a cake, I scaled it down to three-quarters and ended up with a cake that cut neatly into about twenty squares, plus a few cupcakes decorated like baseballs.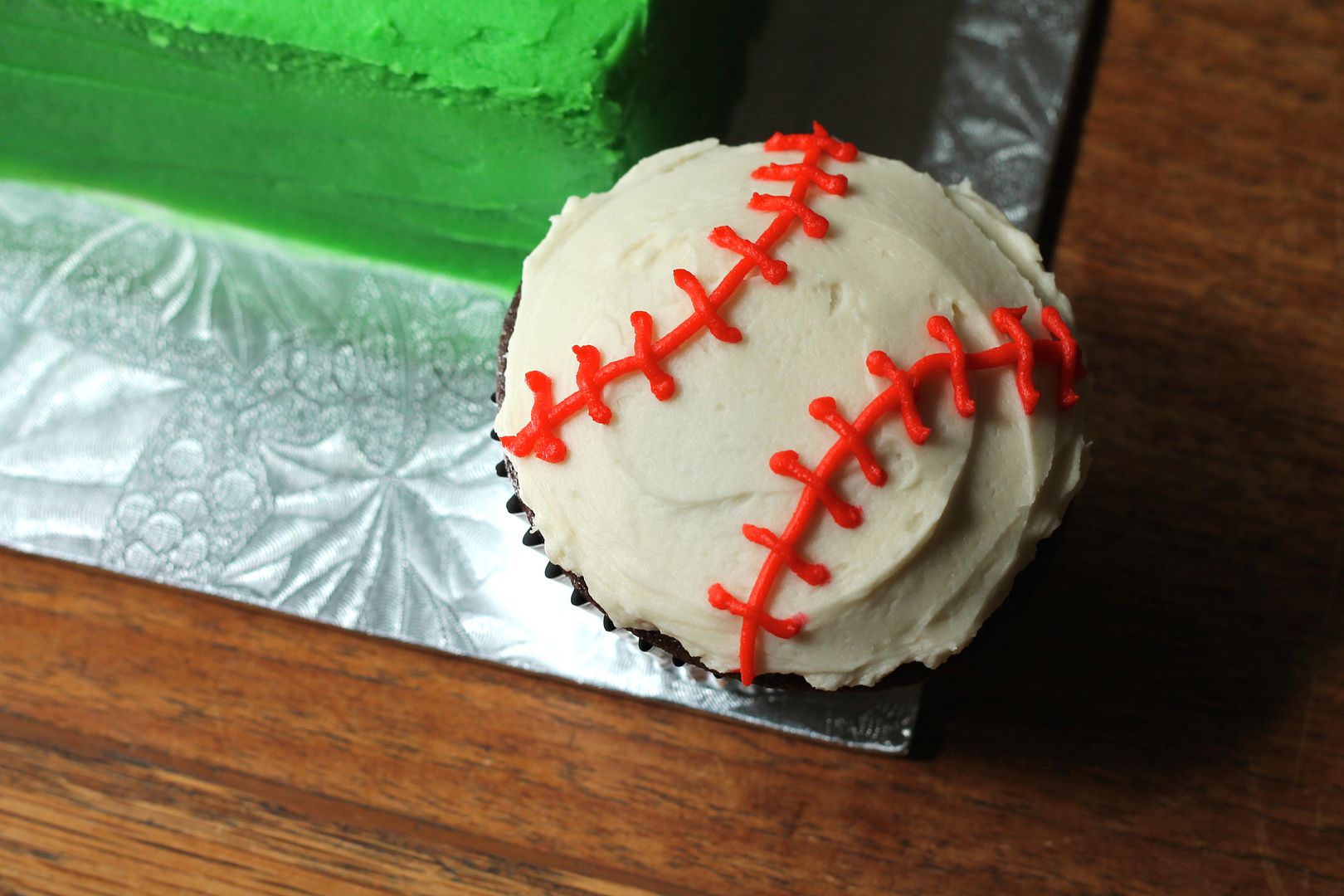 In the past, I've complained about how much I dislike frostings made with icing sugar, but now I might have to eat my words. This frosting was pretty delicious and not too sweet – the trick is to beat the butter REALLY well, until it actually turns white, and then add the icing sugar in small increments (you can get away with using less). I was also impressed with using gel food colouring – the frosting turned out really vivid and not pastel as I was expecting (always a possibility when starting with white frosting).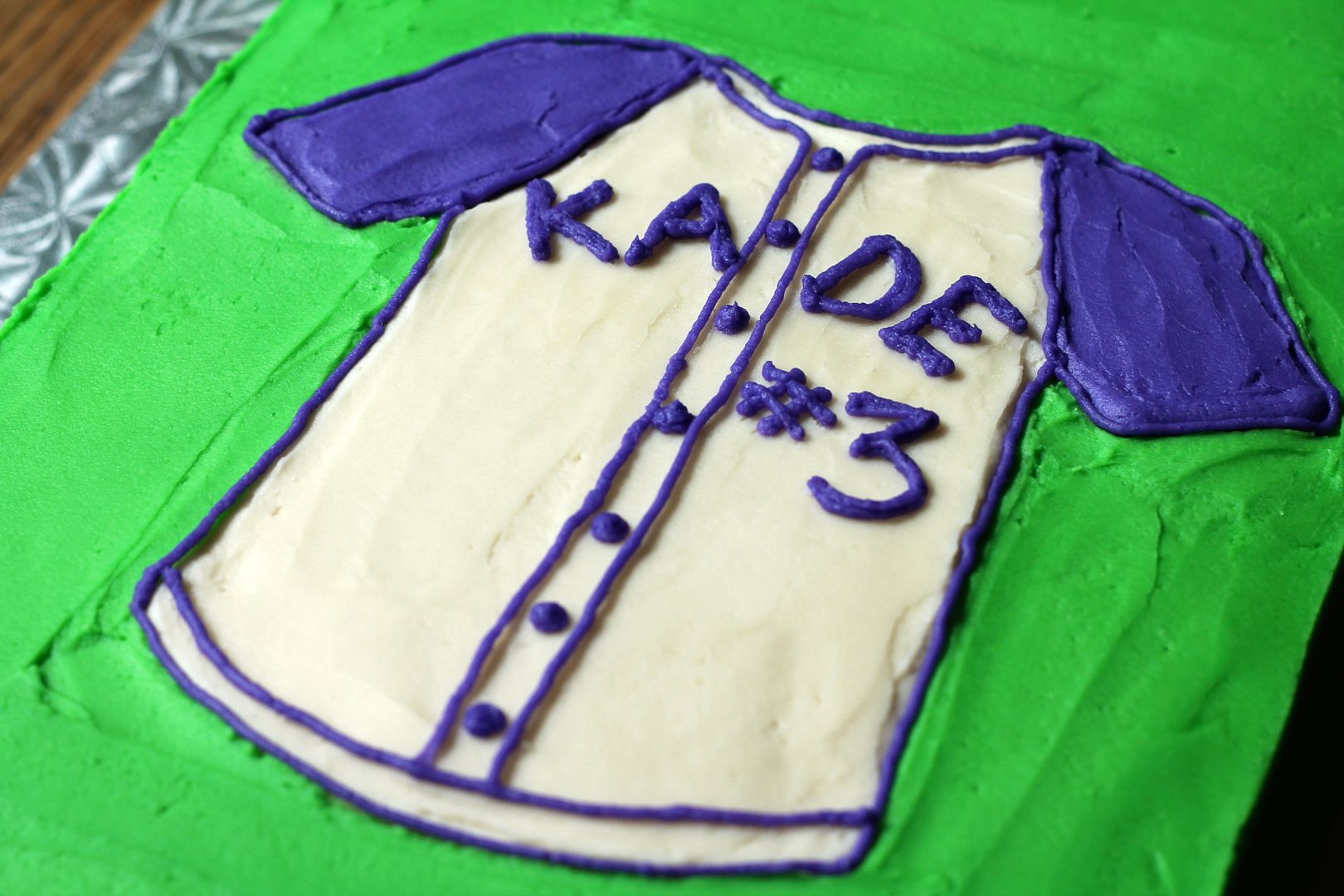 If you're not too confident in your frosting piping skills, I found this tutorial video to have some helpful tricks even though she's piping with royal icing rather than buttercream. The main thing to remember when you are doing fine detail work (writing or drawing lines) is that you don't want to drag the piping tip like you're writing with a pen – instead you want to hold the piping tip just above the cake, squeeze the frosting out with even pressure, and let the frosting fall on the cake as you gently pull it where you want it to go with the tip. The video makes more sense than my description but that's the basic idea.
Baseball Birthday Cake
Makes one 9″ x 13″ cake plus 4 cupcakes, serving 20-24. All recipe components adapted from Smitten Kitchen (recipes are in grams because it was easier to scale the cake down by weight rather than by volume. If you're more comfortable with cup measurements, check out the original).
Fudgy Chocolate Sheet Cake
Preheat the oven to 325˚F (300˚F convection). Line a 9″ x 13″ pan with parchment paper and grease or spray with baking spray. Line 4 standard muffin tins with cupcake liners. Set aside.
In the bowl of  a mixer with the paddle attachment, combine:
175 g unsalted butter, soft
285 g brown sugar
100 g granulated white sugar
Cream together until very light and fluffy.
One at a time, beat in 3 eggs, then stir in:
350 ml buttermilk
1 1/2 tsp vanilla
It will look curdled and weird but that's OK.
In a bowl, sift together:
260 g all purpose flour
85 g cocoa powder (I used half natural and half Dutch cocoa)
3/8 tsp baking soda
3/4 tsp baking powder
1/2 tsp salt
Add the flour mixture to the milk mixture and stir until just combined.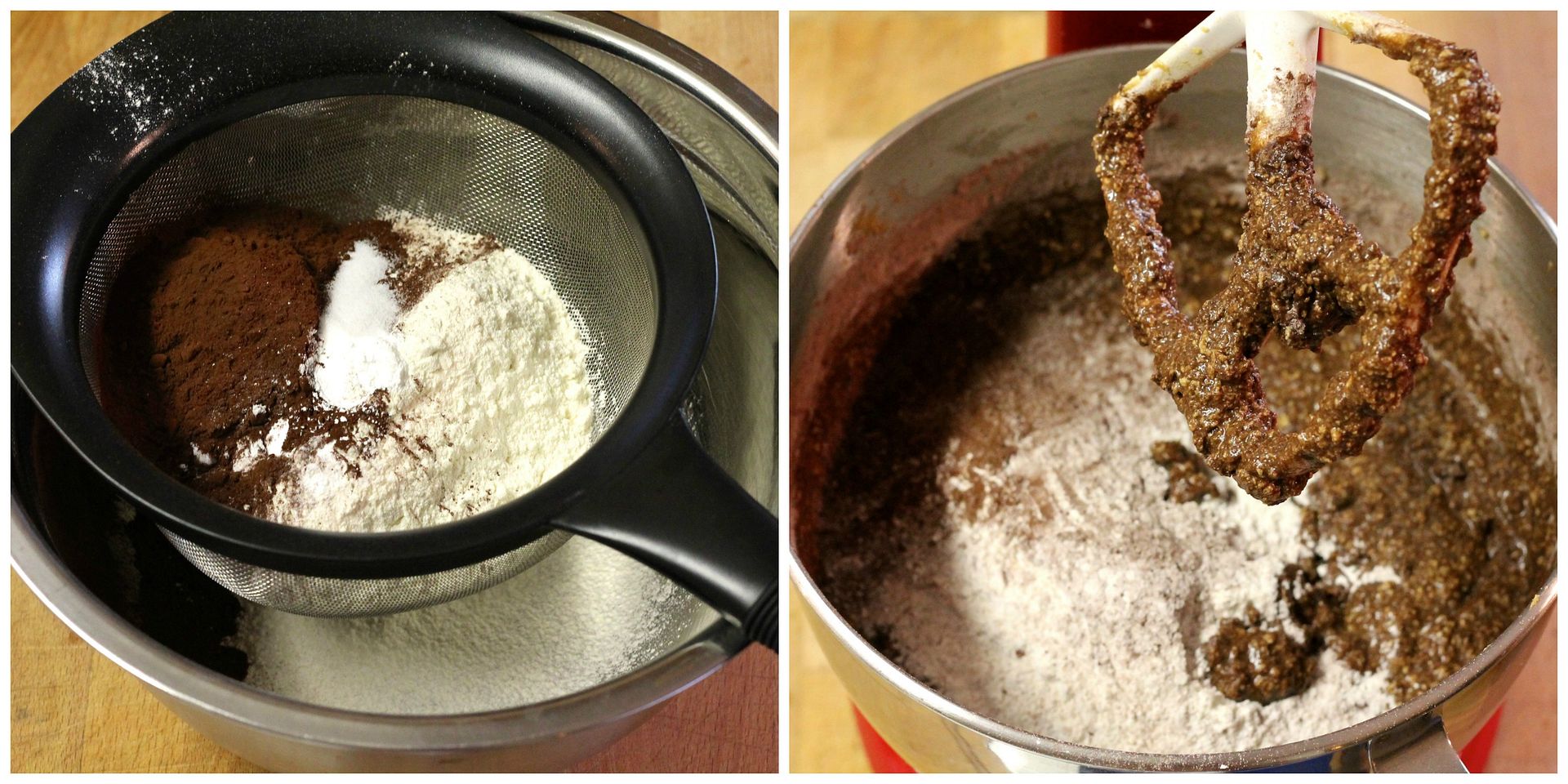 Scrape the bottom and sides of the bowl with a spatula to make sure the batter is evenly mixed.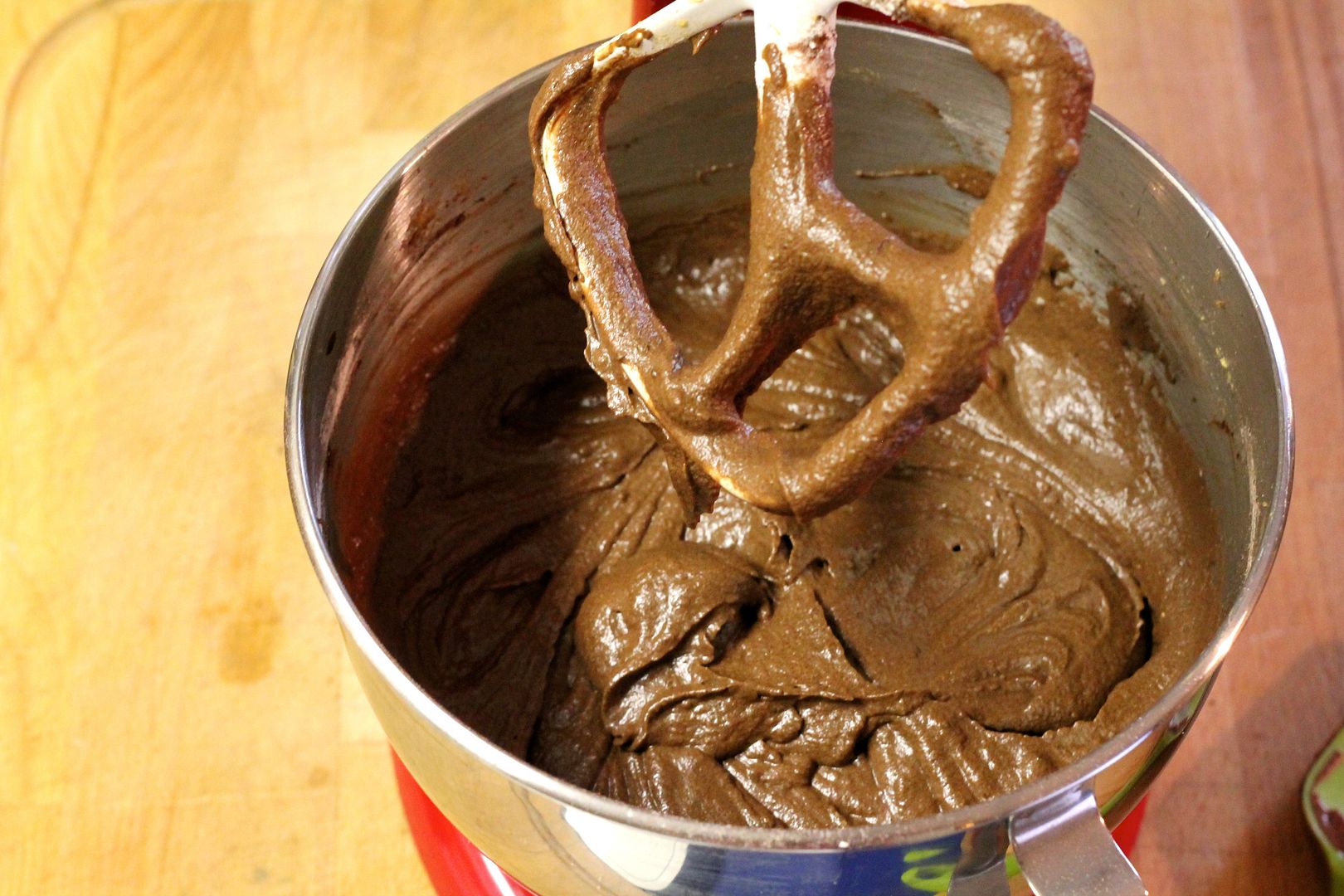 Scoop about 3-4 tbsp of batter into each of the 4 cupcake liners, then spread the rest of the batter evenly in the prepared 9″ x 13″ pan.
Bake in the preheated 325˚F (300˚F convection) oven for 30-35 minutes (only 20-25 for the cupcakes), or until a toothpick inserted in the middle comes out with a few moist crumbs. Turn the cake out onto a rack, peel off the parchment paper, and cool completely. Remove the cupcakes from the pan and let them cool as well.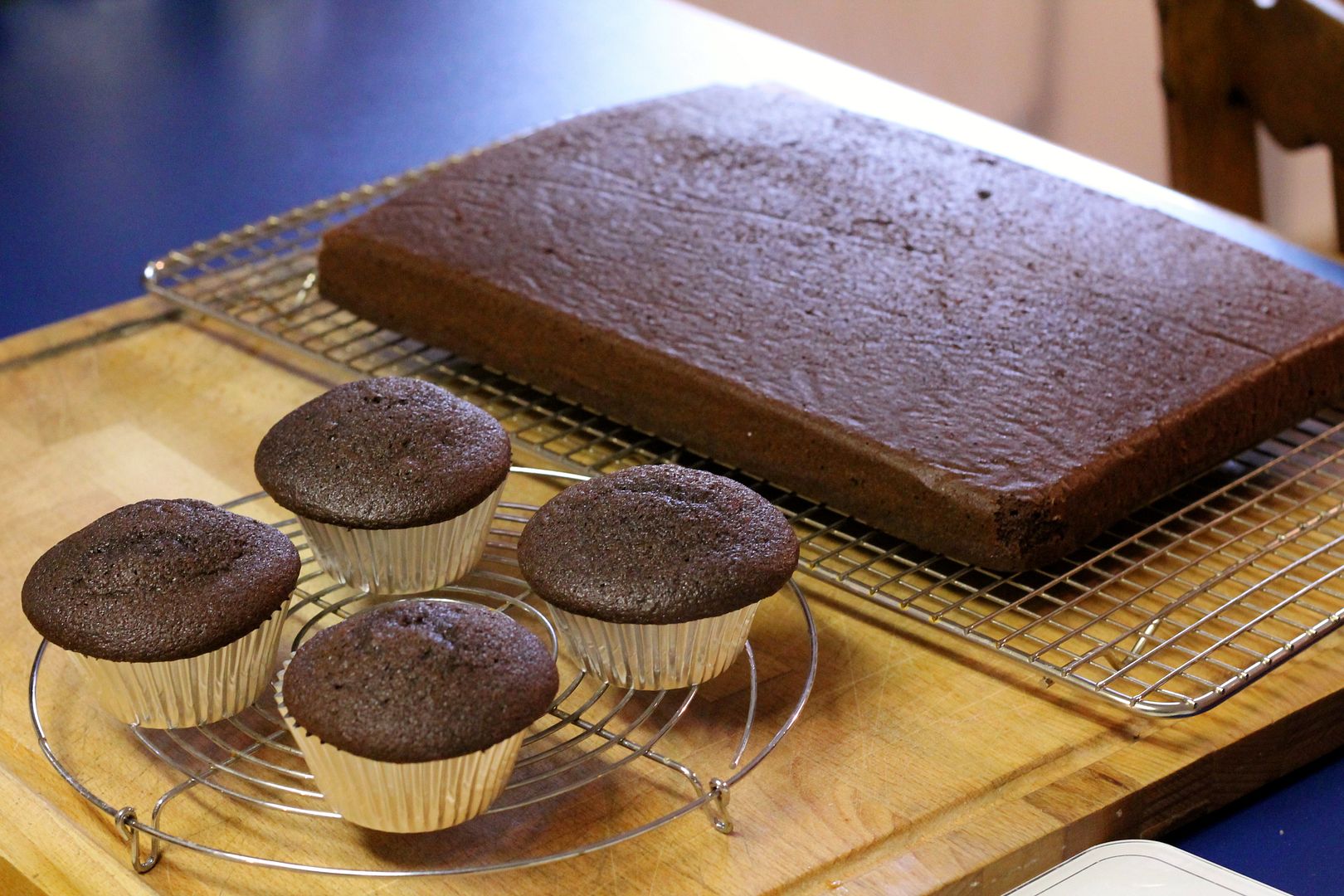 I recommend chilling the cake for at least an hour once it is cool – it will firm up and become much easier to slice and frost.
Fudge Filling
In a food processor bowl, combine:
225 g icing sugar
115 g unsalted butter, soft
60 g unsweetened chocolate, melted and cooled
2 tbsp cream or whole milk
1 tsp vanilla
Pulse to incorporate, then process the frosting until smooth, adding a little more cream or milk if necessary to get a spreadable, slightly soft consistency. Scrape down the bottom and sides of the bowl a few times to incorporate everything properly.
Slice the rectangular cake horizontally into two even layers.
Place the bottom layer on a cake board or plate (protect the board/plate with some strips of wax paper) and spread it evenly with the filling, right to the edges. Place the second layer on top. Run a spatula around the edge to catch any escaped filling. Place the cake in the fridge or freezer to chill while you prepare the buttercream frosting.
Buttercream Frosting
In the bowl of an electric mixer with the whisk attachment, whip 250 g softened unsalted butter until very very pale (almost white). Sift 500 g icing sugar and beat it into the whipped butter about 1/2 cup at a time, scraping the bowl down several times during the process.
Gradually beat in:
4 tbsp cream or milk
1 tsp vanilla
Whip until the frosting is nice and fluffy (add a little more cream or milk if necessary to get a spreadable consistency).
Spread a thin layer of the plain white frosting in a crumb-coat over the chilled cake to seal in any crumbs, then return it to the fridge/freezer to solidify.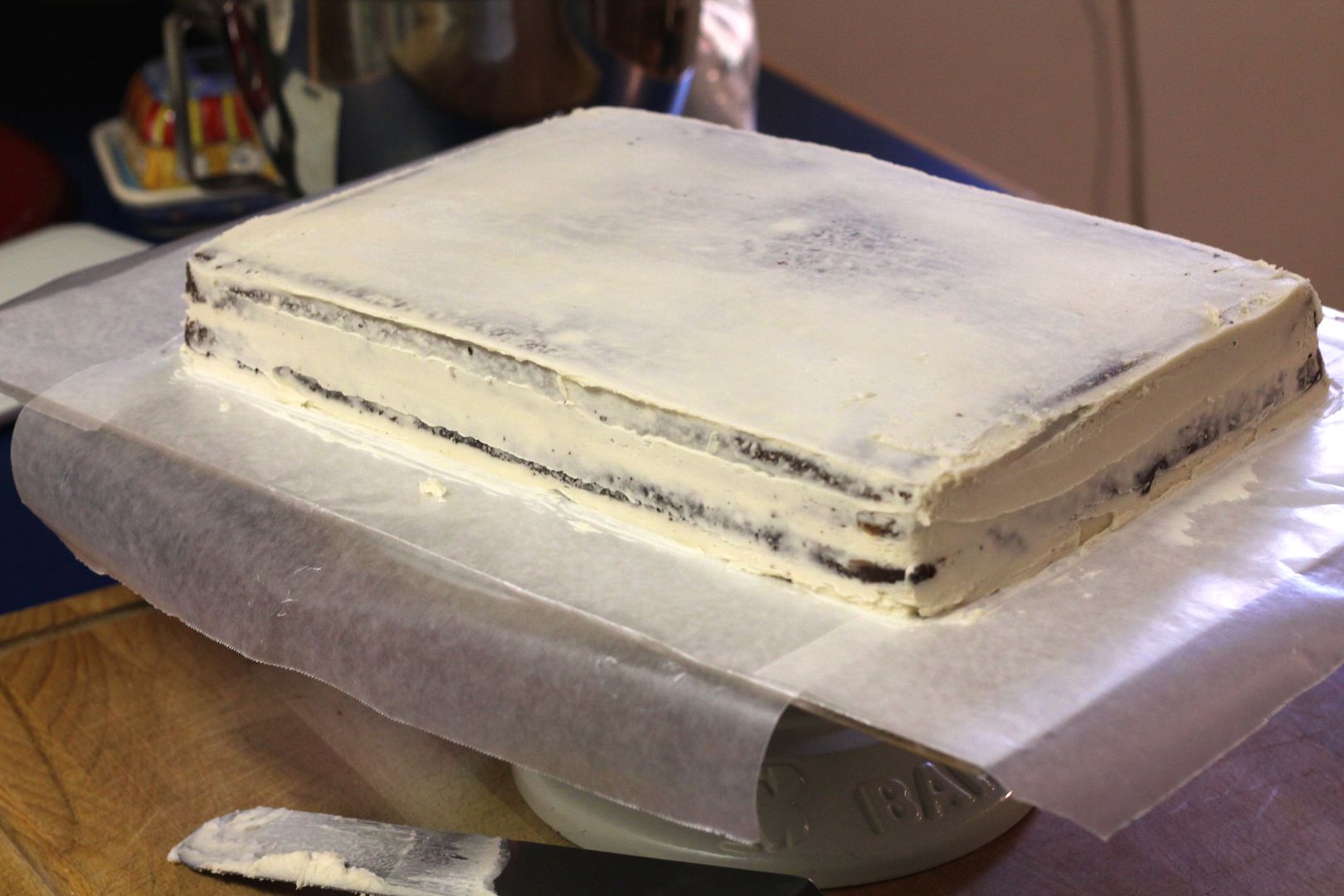 While the cake chills again, frost the 4 cupcakes with the white frosting, then tint about 1 tbsp white frosting with red gel food colouring. Place the red frosting in a piping bag with a small round tip (#2) and use it to pipe on the red baseball stitching.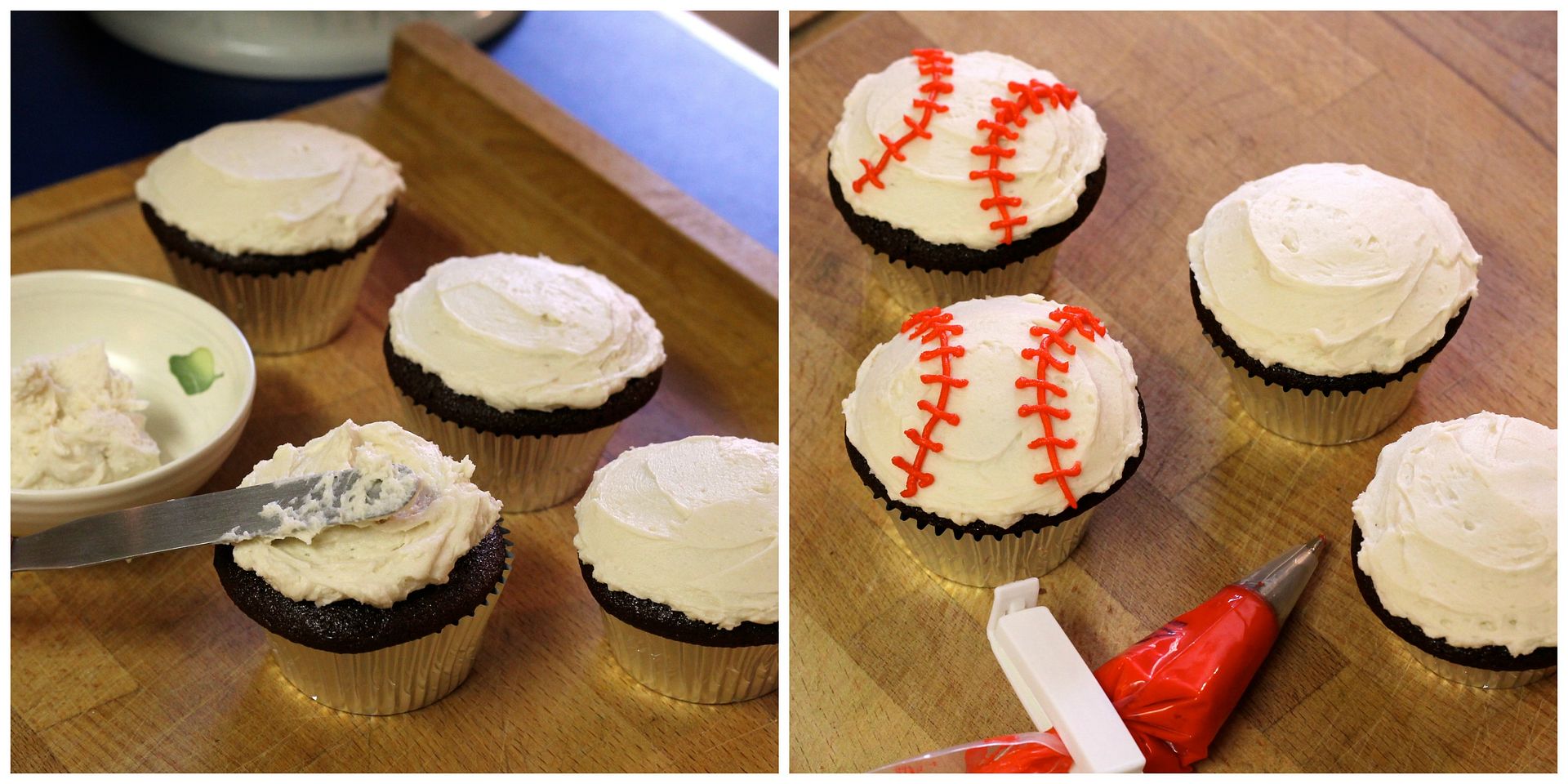 Remove the cake from the fridge/freezer and use a toothpick or skewer to sketch the outline of your design. I did a short-sleeved baseball jersey with raglan sleeves. Place about 1/4 cup white frosting in a piping bag with a medium round tip (#12) and pipe the inside border of the body of the t-shirt, then fill it in. Spread the frosting smooth with a small offset spatula.
Tint about 1/3 cup white frosting with purple gel food colouring. Place it in a piping bag with a coupler (you'll need to switch piping tips later) and medium round tip (#12) and pipe the inside border of the t-shirt's sleeves. Fill them in, then spread the frosting smooth as before. Set the purple frosting aside.
Tint the remaining white frosting with green gel food colouring. Place some of the green frosting in a piping bag with a medium round tip (#12) and pipe an outline (or two!) around the outside of the t-shirt. Use a spatula to cover the rest of the cake (top and sides)  in an even layer of green frosting, then smooth it all out.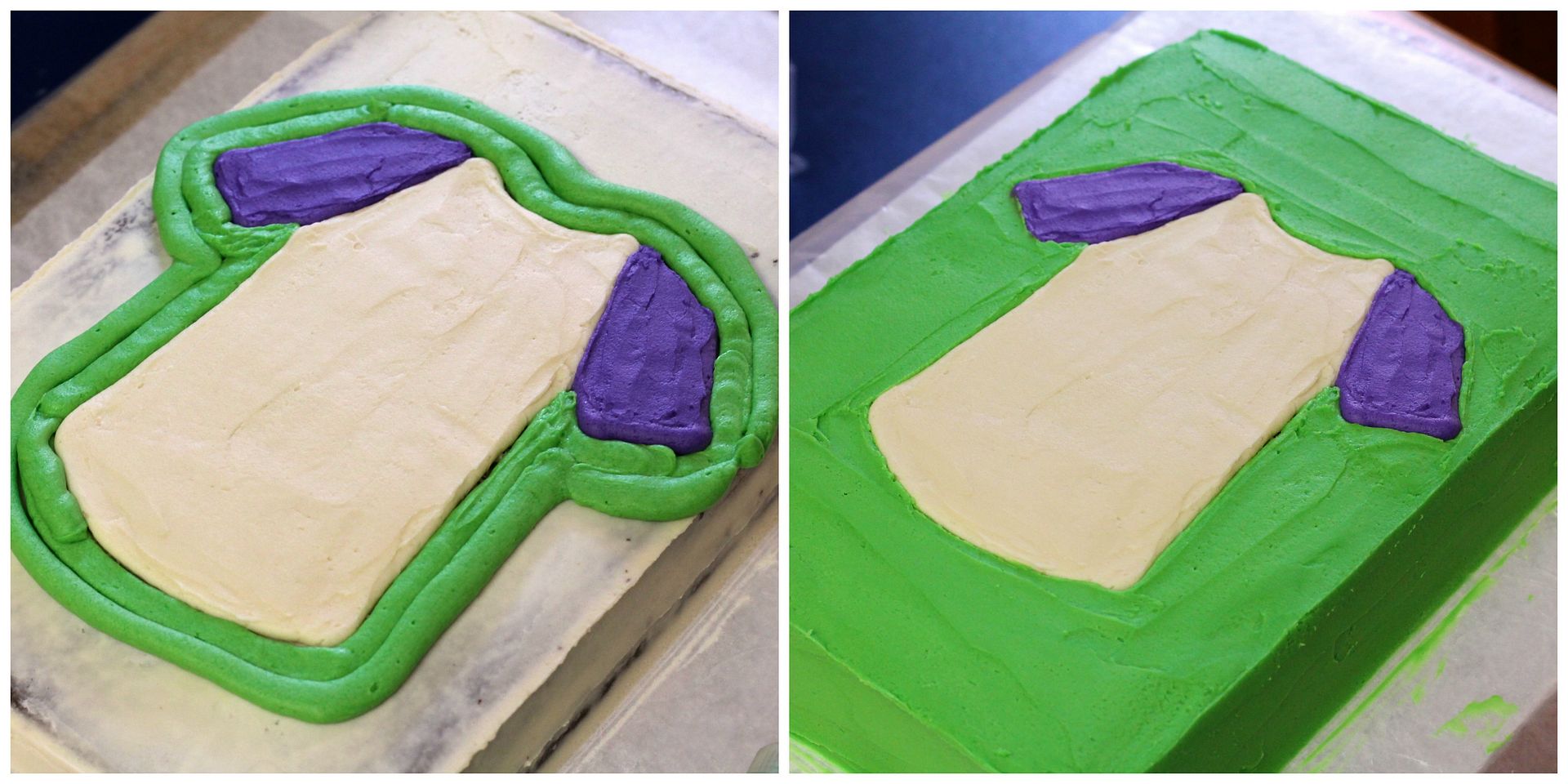 With a toothpick or skewer, sketch out the details you want on the body of the t-shirt (writing/buttons/stitching). Use the remaining purple frosting and a small round tip (#2) to draw the details and also to outline the whole t-shirt to finish all the edges.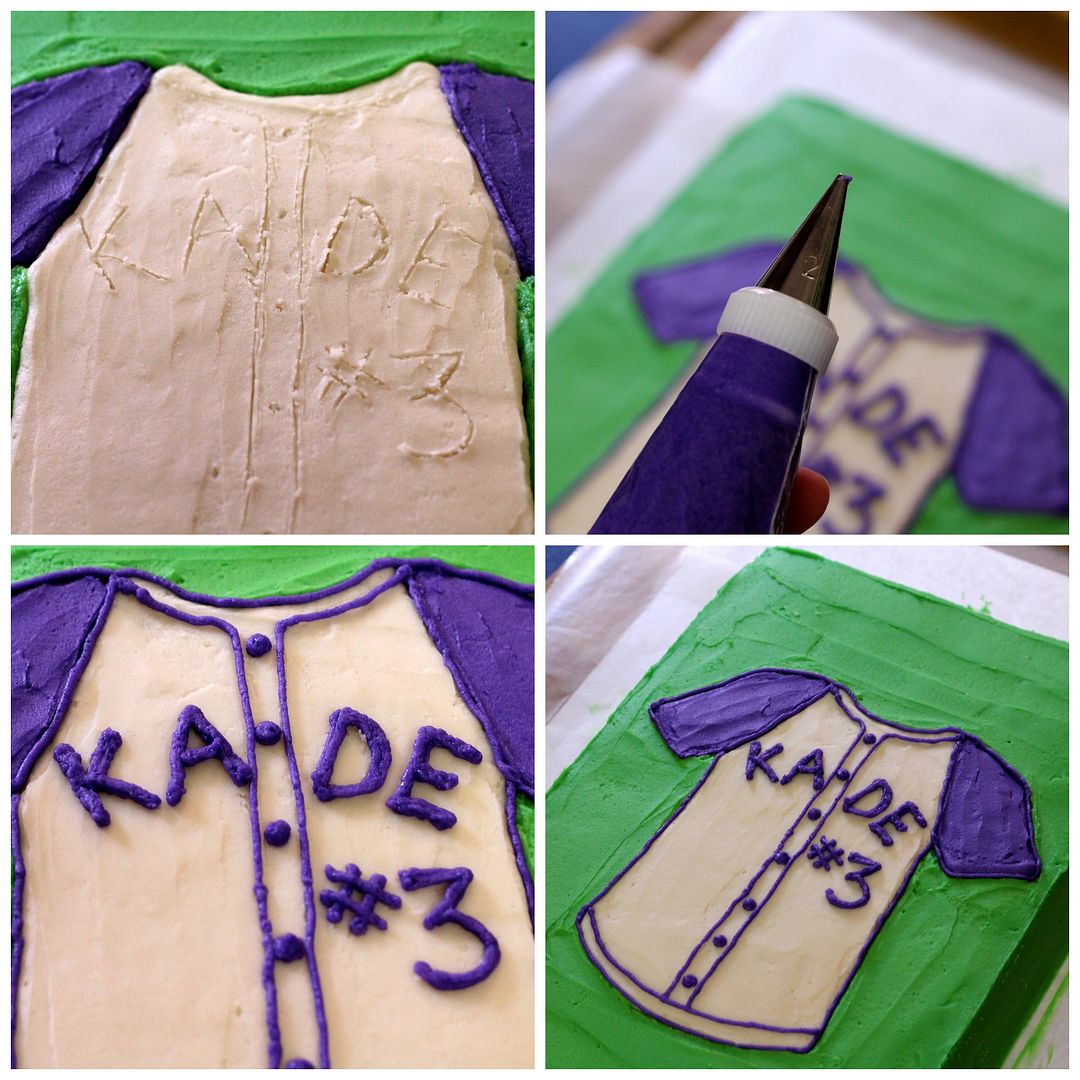 Chill the cake to set the frosting, then let it come to room temperature before serving. Arrange the baseball cupcakes around the cake to present for serving.