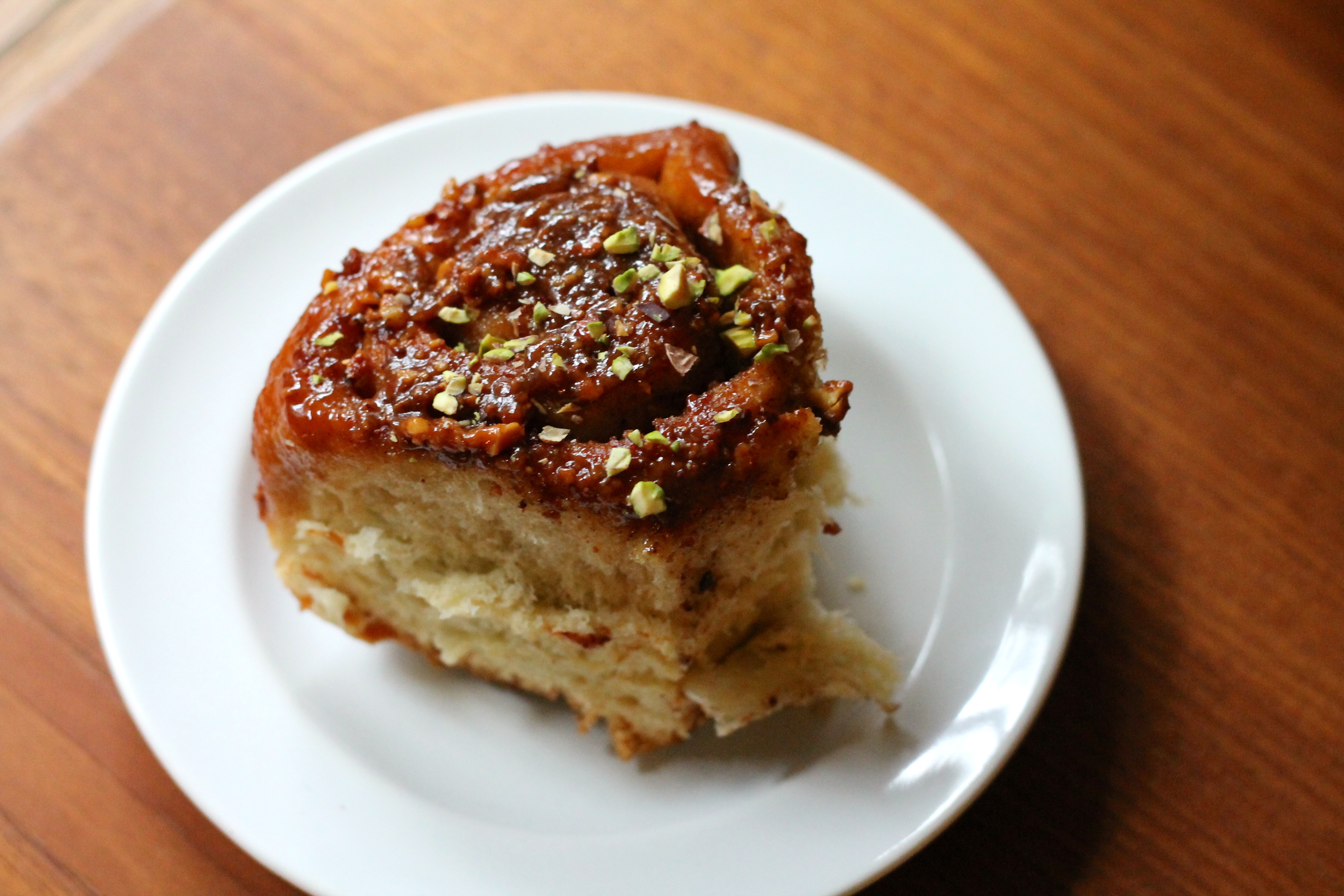 I often get a craving for baklava, but very rarely does it actually get satisfied. Unless you are in the vicinity of a decent Greek restaurant or willing to make it yourself, good baklava is hard to come by. Honestly, I think the last time I had some was when I made it with homemade phyllo (which was a project-and-a-half, let me tell you!) so it is long overdue. I made these sticky buns to serve along with the Montreal bagels I made for brunch last month, and as I couldn't get baklava out of my head, I made them according to that flavour profile: a finely chopped nut filling of almonds, walnuts, and pistachios, and a sticky honey goo flavoured with cinnamon, cloves, and orange zest. These sticky buns might be missing the crunchy phyllo element, but they really do taste like baklava!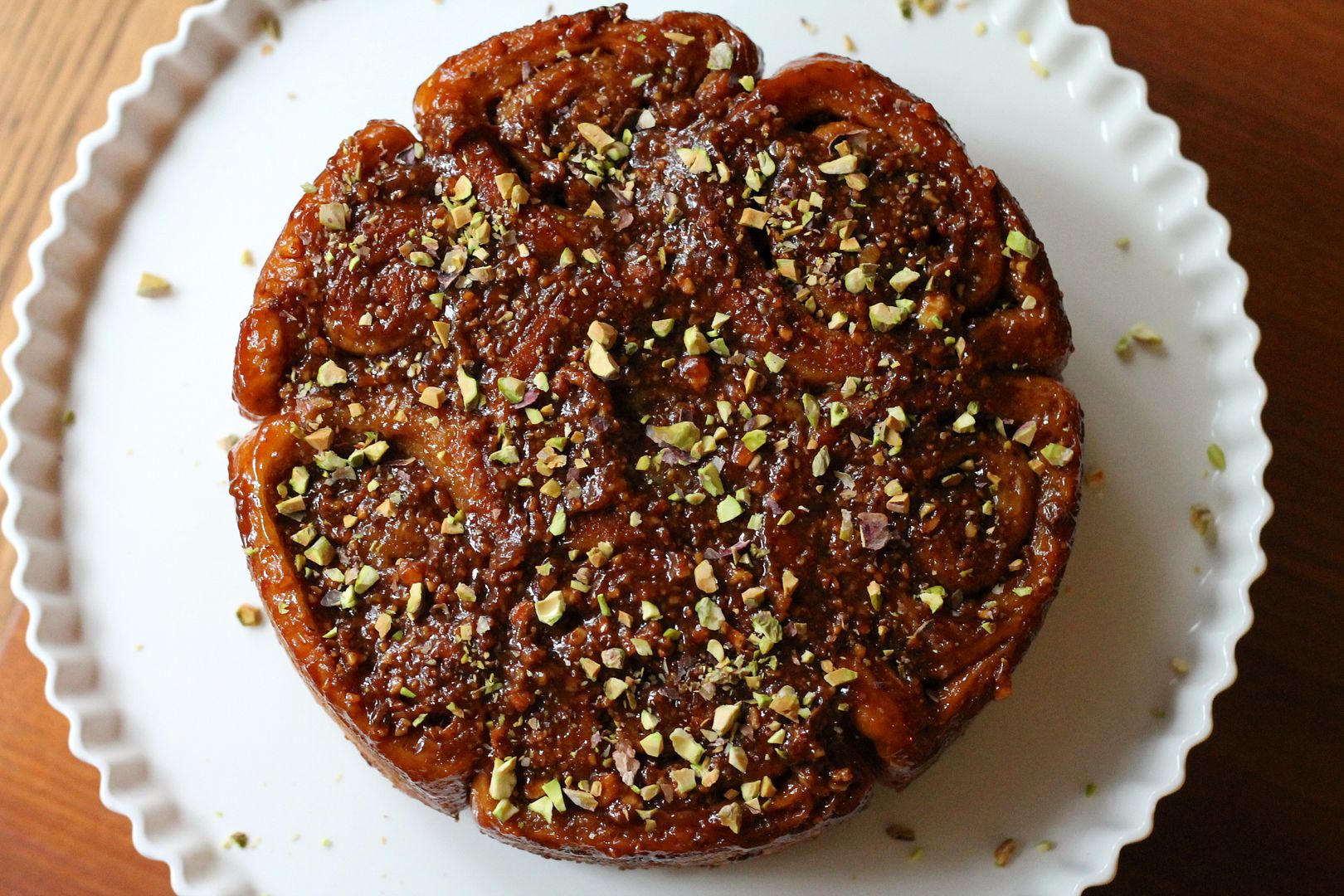 The thing with sticky buns is that you need to invert them out of the pan immediately after baking so that they don't cement themselves to the pan, which means you need a serving plate to accommodate the pan you're using. The yield for the recipe I based these on is a nine-by-thirteen-inch pan, but I don't have an appropriate serving plate for that, so I baked them in two eight-inch round tins. I would recommend using two nine-inch pans instead, because the buns didn't have much room to rise and with a little more space between them, the sticky honey goo would have more chance to soak up into each bun, rather than just concentrating on the top.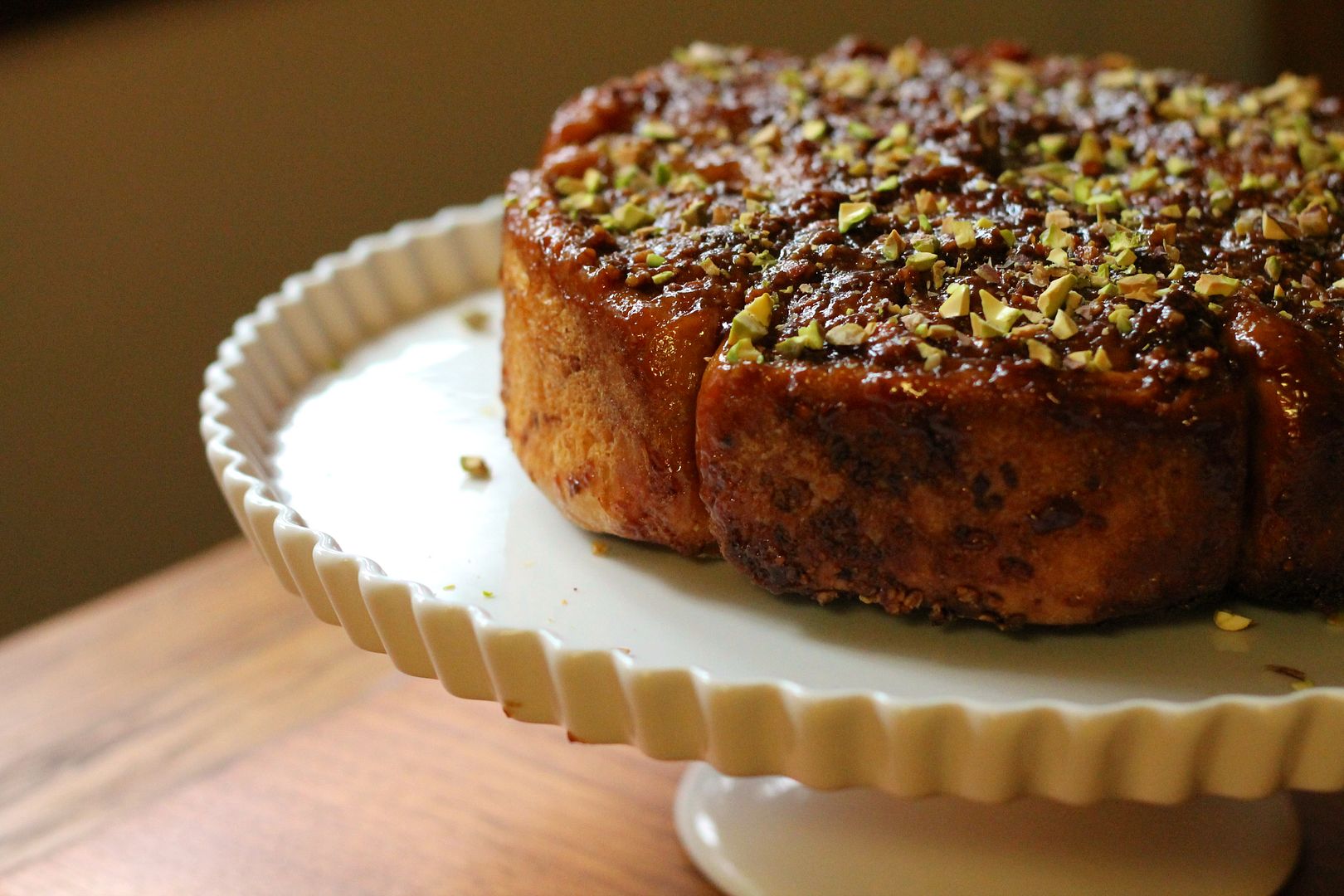 I made these with a little spelt flour in the dough to make them more "wholesome" (who am I kidding – they're full of butter and sugar!), but whole wheat pastry flour would be a good substitute if you can't find spelt. The filling and syrup are tailored to my particular taste for baklava, but could be easily altered to fit any flavour combination – I think a lavender-infused syrup would be a delicious adaptation.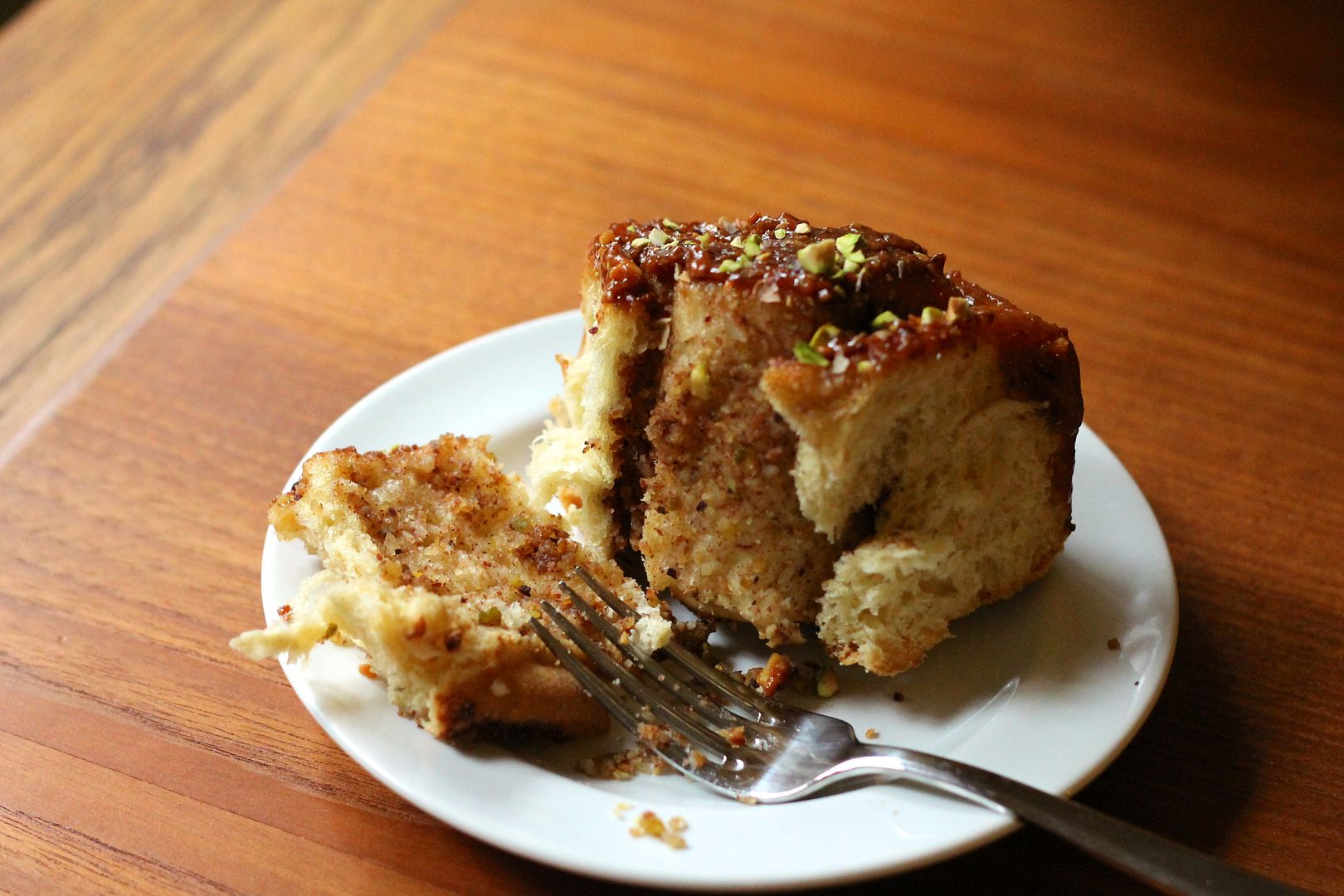 Baklava Sticky Buns
Dough and syrup adapted from Barbara Bakes. Makes 14 – 16 sticky buns.
Dough
In a mixer bowl fitted with the dough hook attachment, combine:
1 1/2 cups whole spelt flour
2 cups all purpose flour
2 1/4 tsp instant yeast
3/4 tsp salt
In a saucepan over low heat or in the microwave, heat 1 cup milk and 1/2 cup unsalted butter, cubed, until the butter melts and the mixture reaches 120˚-130˚F. Pour into the flour along with:
3 eggs, lightly beaten
1 tbsp liquid honey
Mix on low speed to combine, scraping down the sides as necessary, then gradually mix in an additional 1/2 – 1 cup all purpose flour to make a soft, smooth dough. Knead on medium speed for about 5 minutes, until the dough is soft yet elastic and pulls away from the sides of the bowl.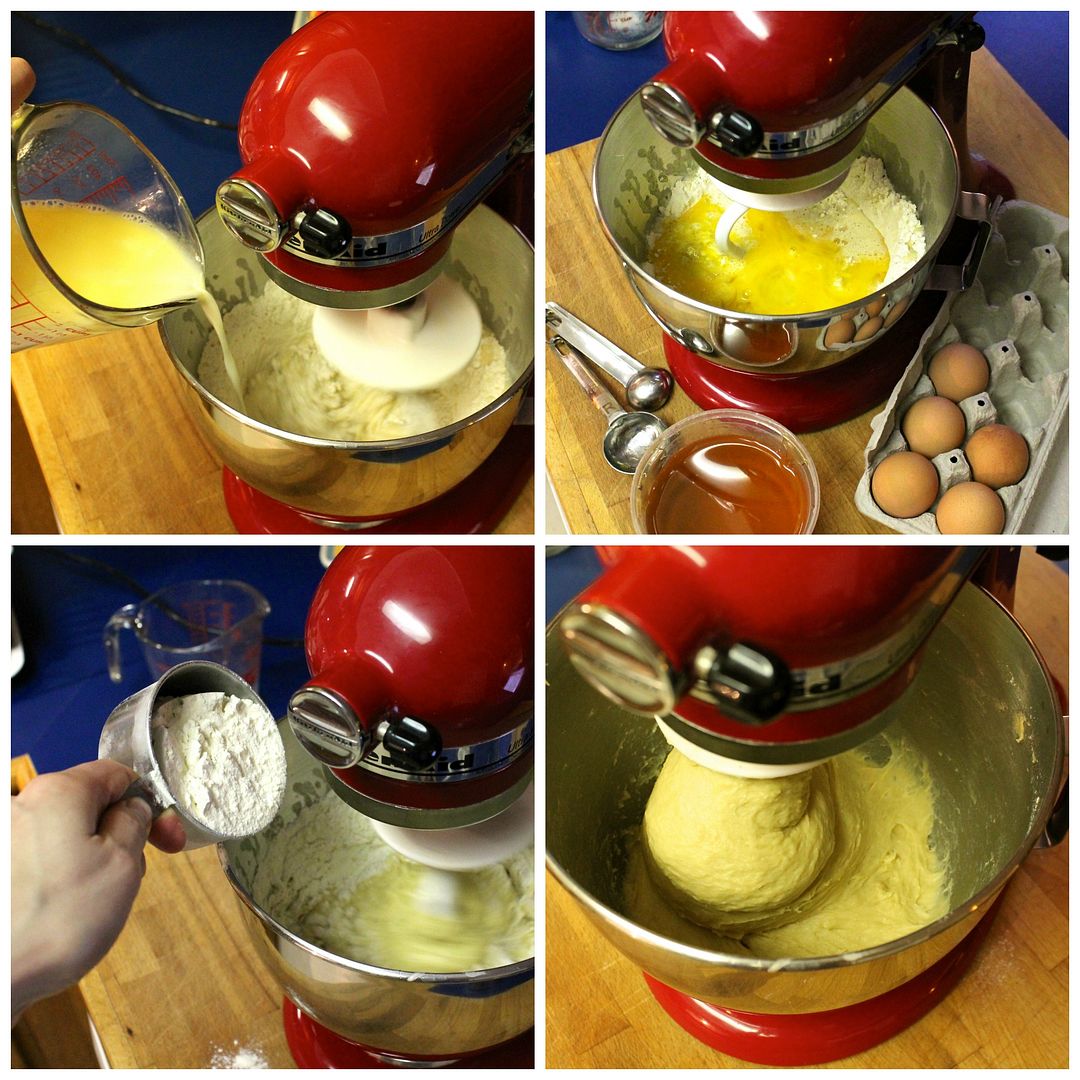 Place the dough in a lightly buttered bowl, cover with plastic wrap, and let rise in a warm place for about an hour, until doubled in size.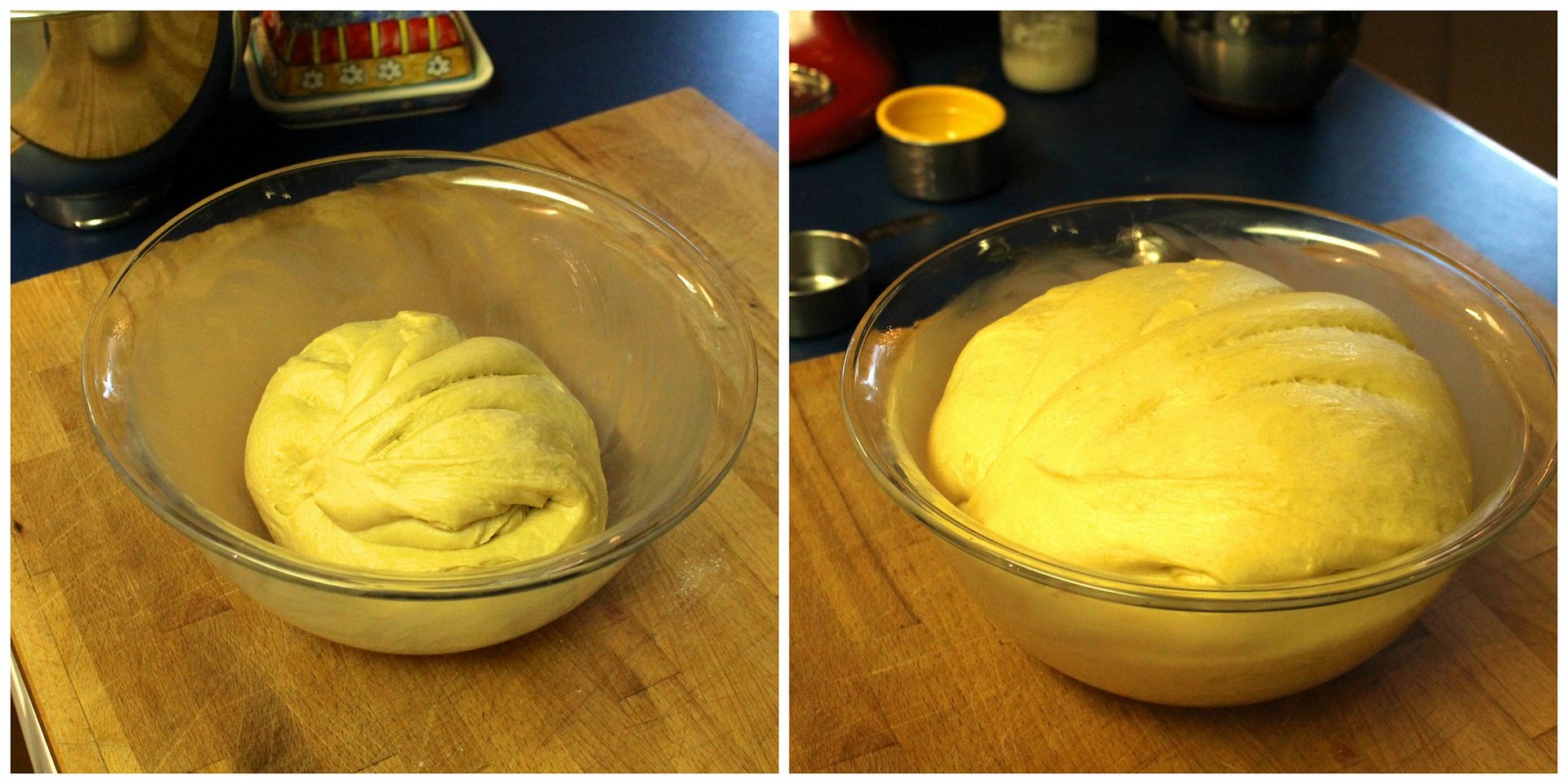 While the dough rises, make the sticky baklava syrup and filling.
Sticky Baklava Syrup
In a medium saucepan, combine:
1/2 cup unsalted butter, cubed
1/2 cup liquid honey
1/4 packed brown sugar
1 tsp ground cinnamon
1 pinch ground cloves
zest of half an orange (or lemon)
Bring the mixture to a boil over medium heat and cook for a minute, then pour it evenly between two buttered 9″ round cake tins (if desired, sprinkle each with a spoonful of the finely chopped nuts from the filling). Set aside.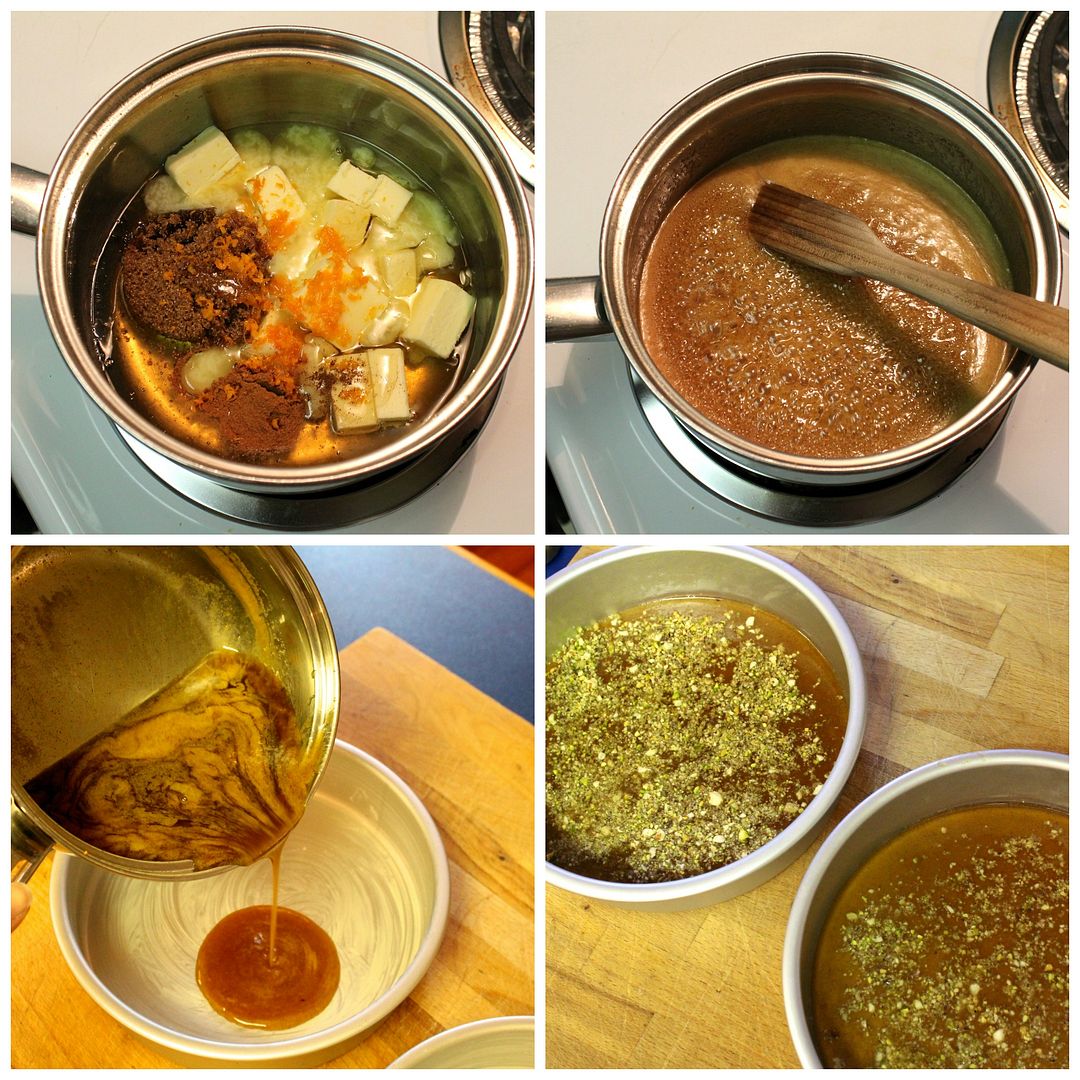 Baklava Filling
Process in a food processor until finely chopped but not powdered:
1/2 cup walnuts
1/2 cup shelled pistachios
1/2 cup almonds
Process each kind of nut separately to keep the walnuts from being pulverized before the almonds and pistachios are chopped. Stir in:
1/4 cup sugar
1 tsp cinnamon
pinch of allspice
Set the filling aside.
Assembly
On a floured surface, gently roll/stretch the risen dough into a 12″ x 16″ rectangle. Brush the dough with 3 tbsp melted butter, then evenly sprinkle it with the nut mixture. Roll up into a cylinder from one long edge, pinching the roll closed to seal. Use a piece of thread (or dental floss!) to cut the cylinder into 14 – 16 pieces – it might be too soft to cut with a knife. Arrange the pieces on top of the syrup in the prepared pans. Cover each lightly with plastic wrap and let rise somewhere warm for about 30 minutes, until puffed (or let rise overnight in the refrigerator).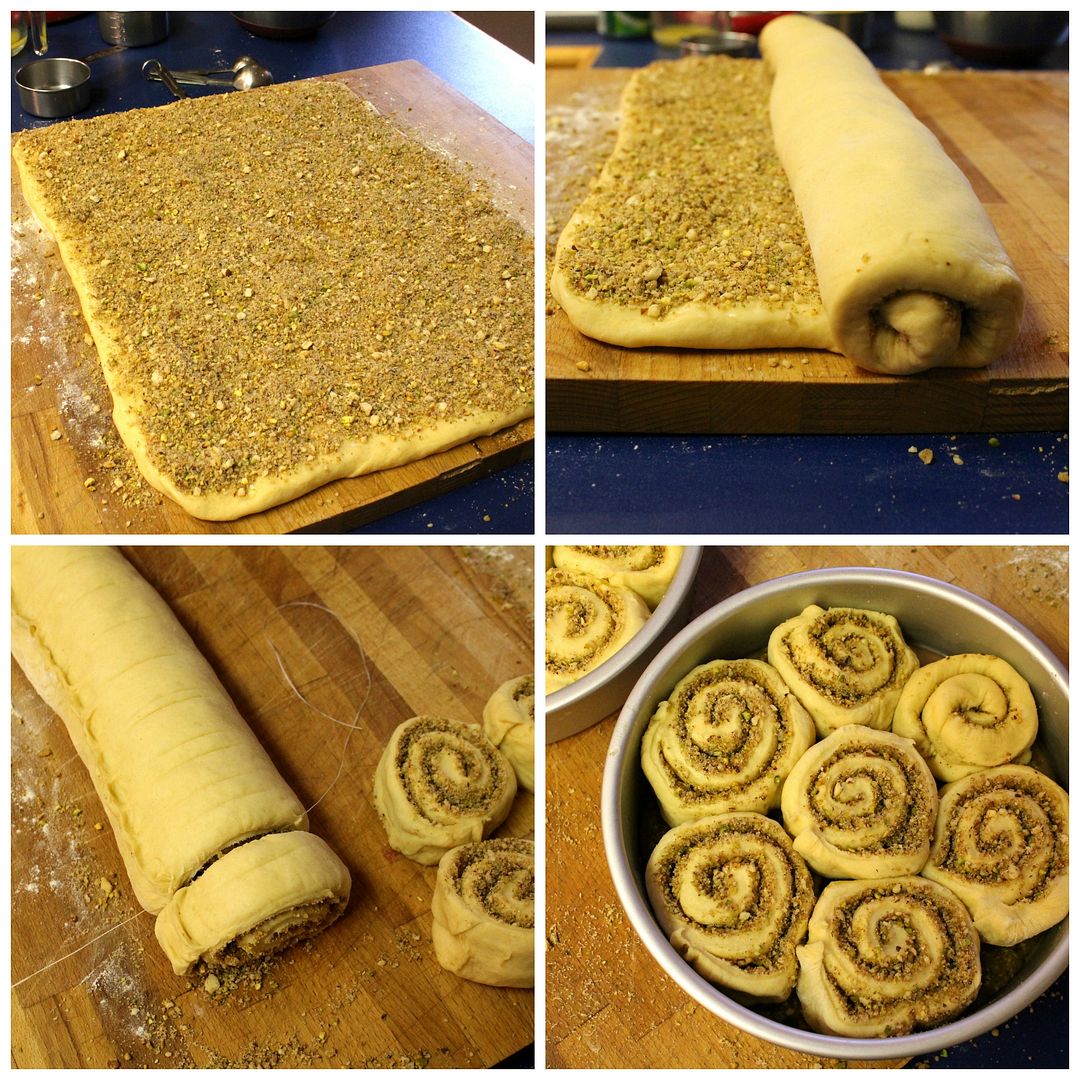 Preheat the oven to 375˚F. Place the pans on a baking sheet to catch any overflowing syrup and bake for 40 – 45 minutes, until the buns are golden brown on top and the one in the middle sounds hollow when tapped. Immediately invert the buns onto a serving platter, scraping out any stuck-on syrup with a spatula and spreading it over top of the buns. Sprinkle with some chopped pistachios for colour, and serve warm or at room temperature.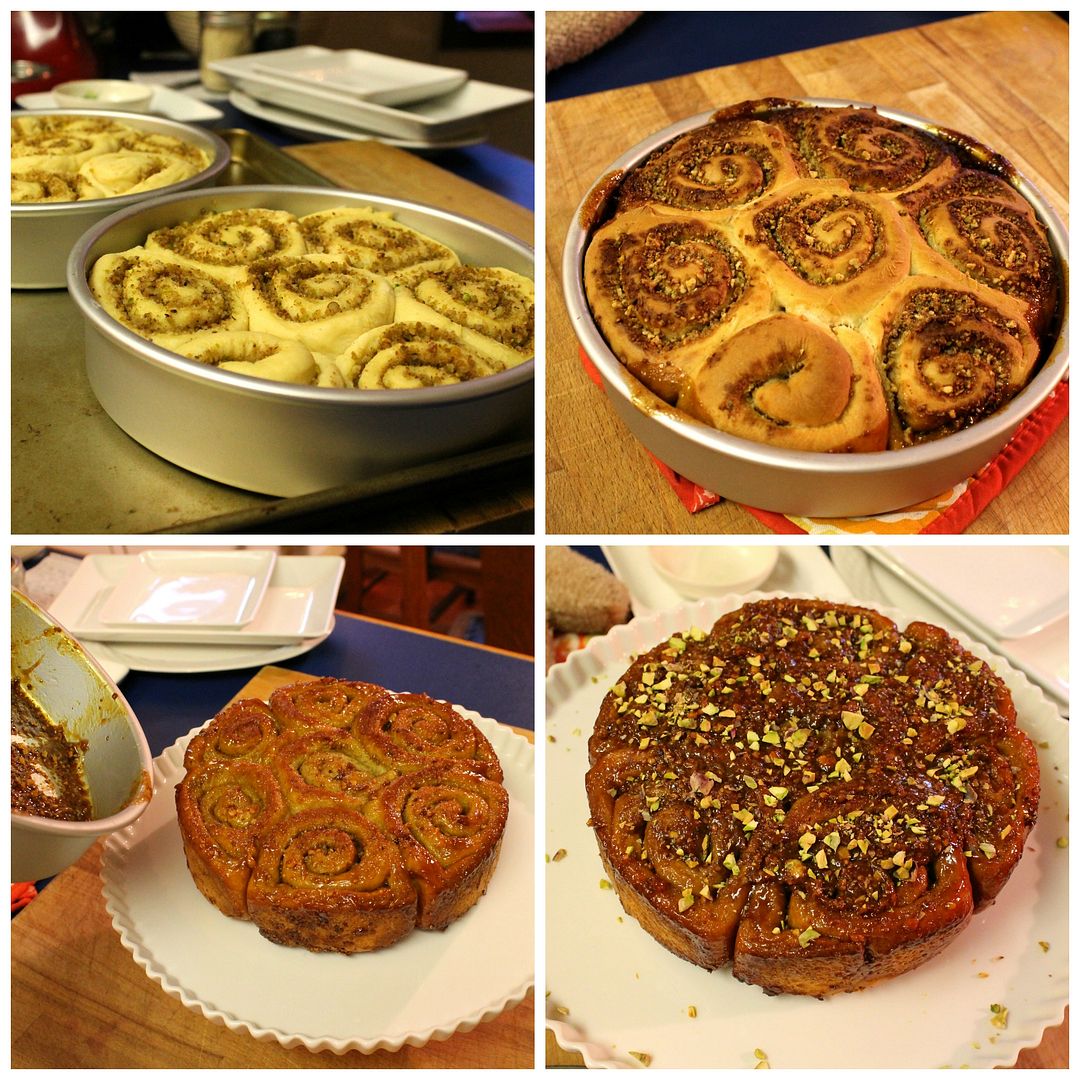 This post has been YeastSpotted and submitted to Barbara and Sandra's Panissimo, hosted in February by Sandra at Dolce Forno.