Last Saturday was the Bigleaf Maple Syrup Festival held at the BC Forest Discovery Centre in Duncan. I was pretty excited to go last year, but I got my dates mixed up and missed it by a day. I was so sad. So when I saw this year's festival advertised, I made sure I had the right date. Nate and I arrived just as the festival opened, and I'm glad we did because by the time we left a few hours later, there were line-ups to get in. Seems like everyone is as excited about maple syrup as I am!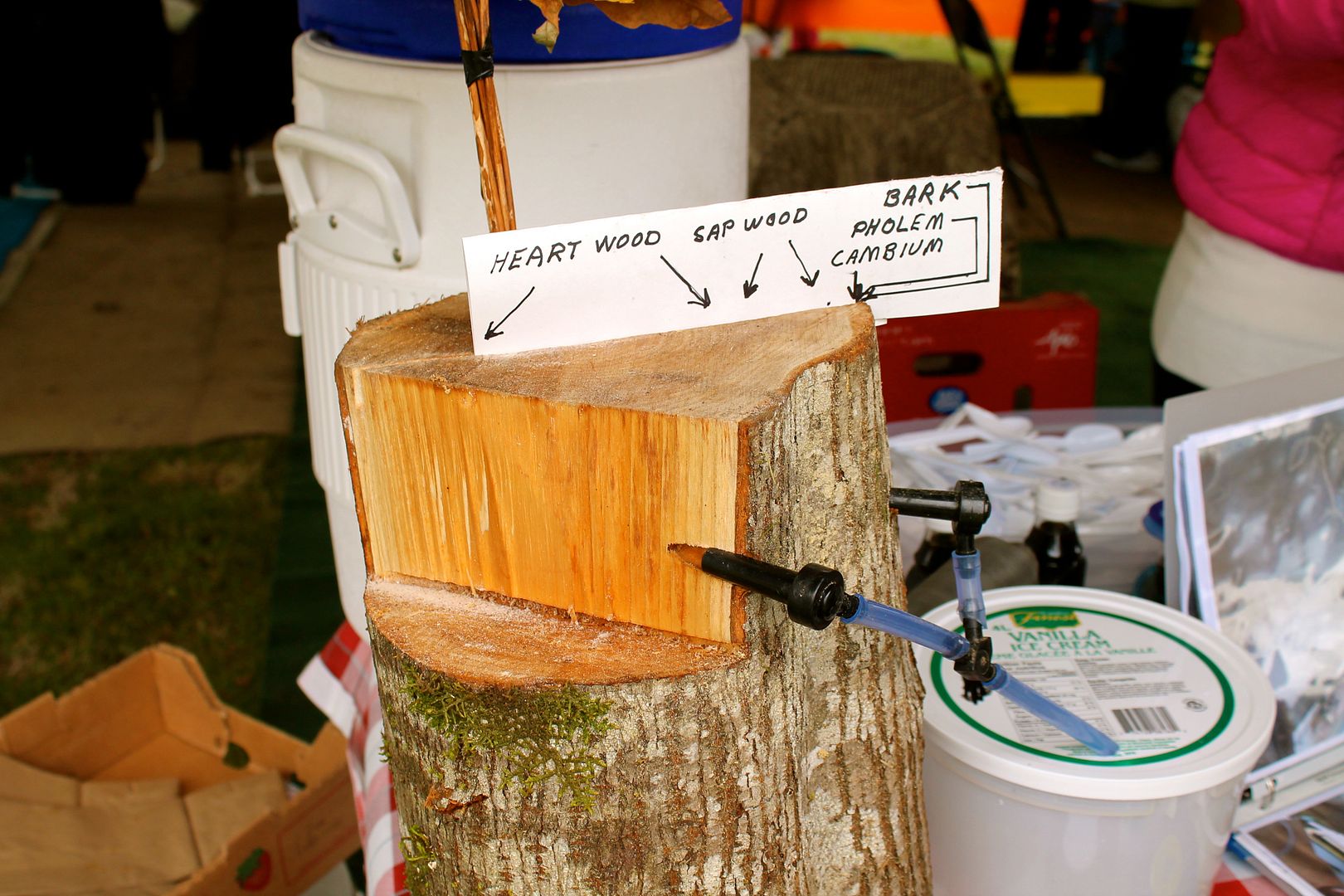 The majority of Canadian maple syrup comes from Québec, which produces almost three-quarters of the world's maple syrup, and as such I always thought that maple syrup only came from sugar maple trees, which definitely don't grow in BC. I never imagined that you can make maple syrup from the bigleaf maples that are common on the Pacific Coast and grow in my backyard – but that's exactly what you can do! Bigleaf maple syrup production is taking off as a niche market in BC, with about a dozen or so producers on Vancouver Island. Bigleaf maples are not as prolific in sap production as their eastern counterparts, and as it takes forty to fifty litres of sap to make one litre of syrup, it's not as if BC is going to start competing with Québec's maple syrup monopoly – but it's still pretty cool.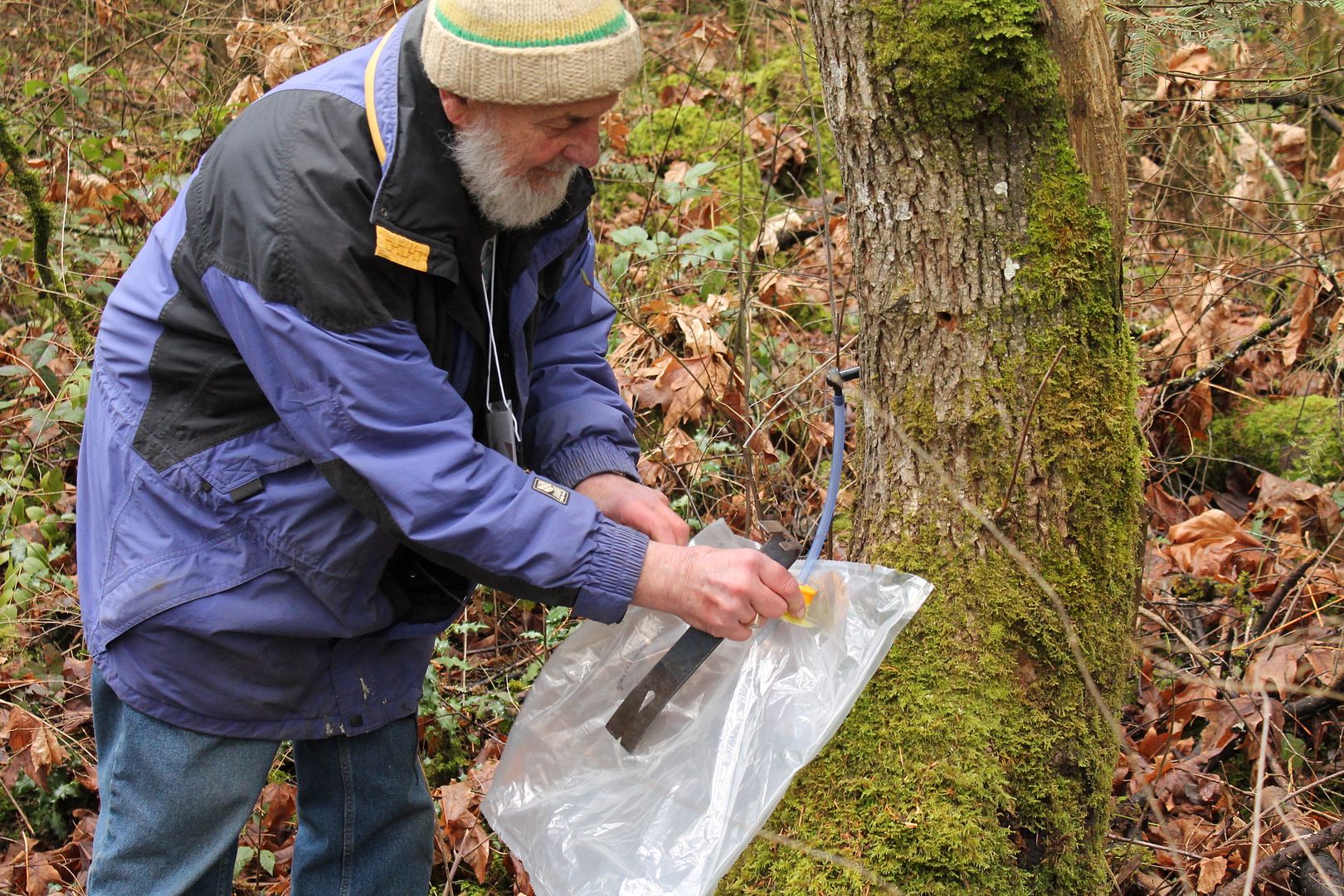 We took in a tree tapping demo, where our guide showed us how to drill a hole in the tree (not too deep), insert a spile with tubing, and attach it to a collection container. It was a much simpler process than I expected, for whatever reason. I tasted some of the sap, which at 98% water and only 2% sugar tasted like water (surprise!) and made some of the people in our group wonder aloud about who would have ever thought to boil it down into syrup (they were a genius, obviously, but definitely a out-of-the-box thinker).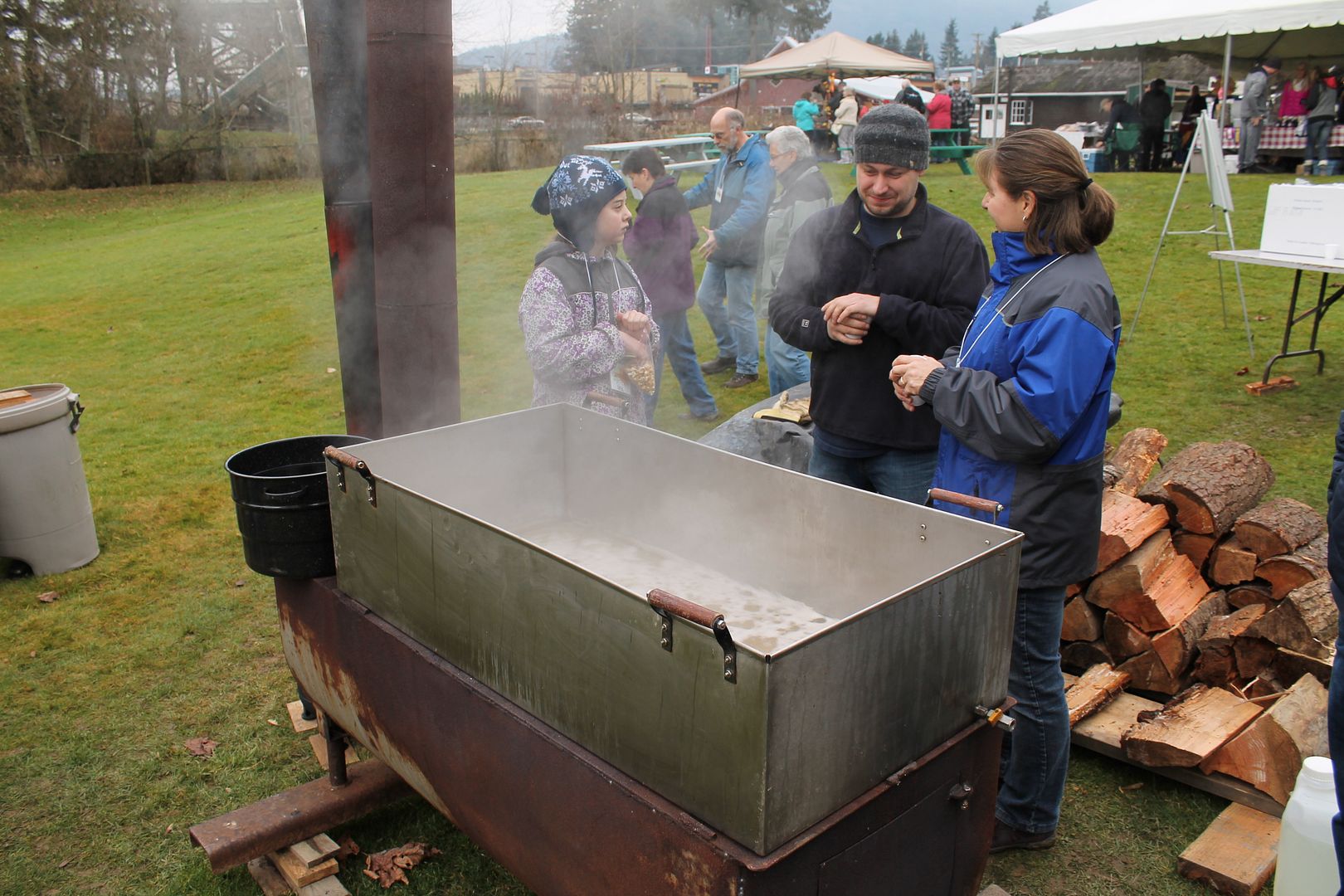 There was a giant vat of maple sap being boiled and evaporated down to maple syrup, and as it was freezing cold, lots of people were huddled around it drinking hot maple tea – peppermint tea made with maple sap.
And best of all, there were lots of maple syrup products to be sampled. I was really impressed by the variety – maple syrup honey, maple salad dressing, freshly made doughnuts, maple-banana bread and other baked goods, maple butter tarts, sourdough bread made with maple sap, cookies, maple toffee, and my personal favorite, apple maple cinnamon syrup made by boiling maple sap with apple juice and cinnamon – it was so good that I bought a tiny bottle to take home.
In addition to all the syrup, the BC Forest Discovery Centre is a pretty neat place. It is a collection of coastal forestry artifacts, ranging from gigantic tree stumps to forestry vehicles to trains, which meant that Nate was in heaven. This large cedar planked warehouse houses two restored locomotives, and we got an up-close-and-personal tour with one of the curators.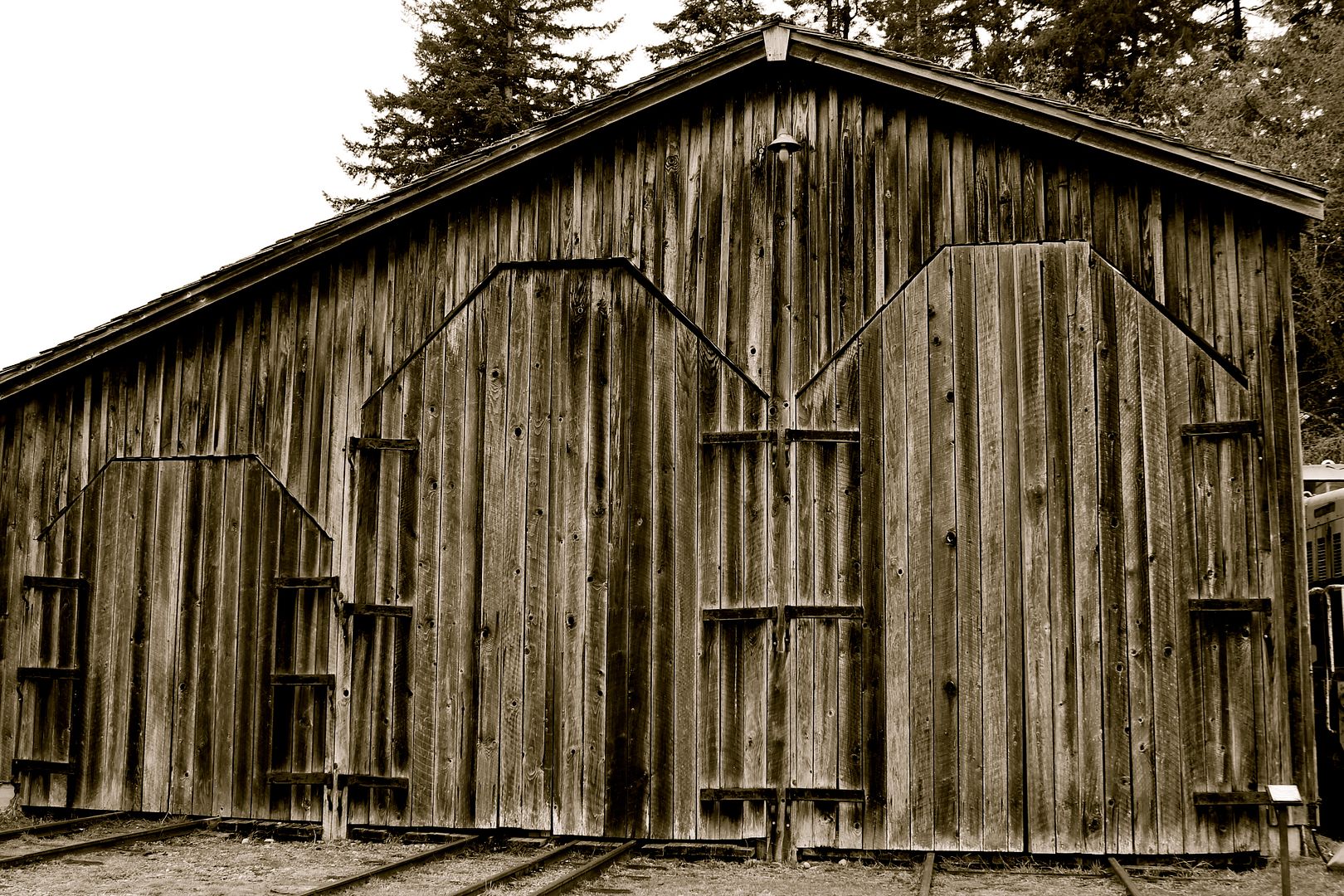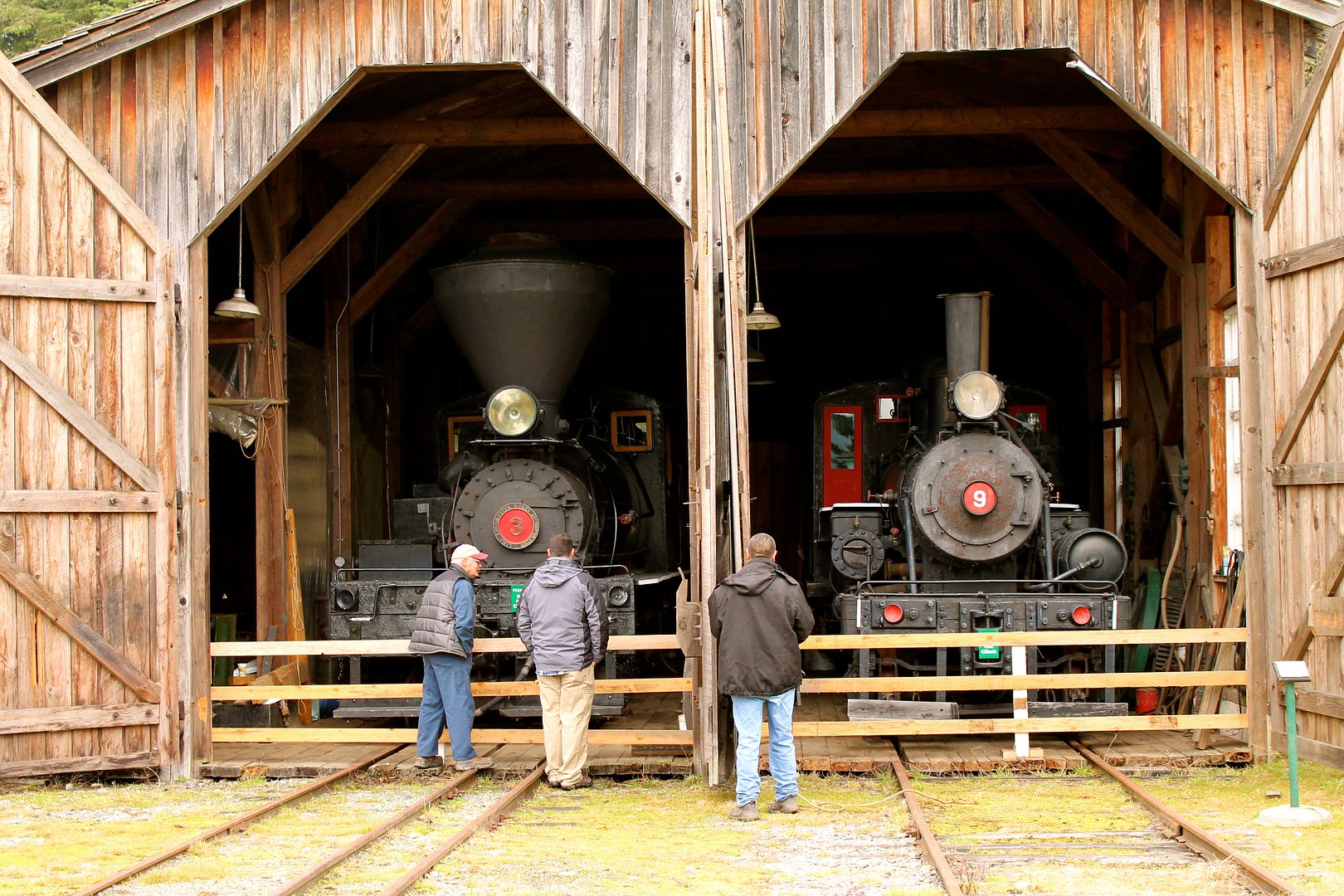 So, am I going to start tapping trees to make my own maple syrup? Probably not. I'd need many more than the two maple trees in the backyard. But I'm pretty stoked to have made yet another cool local food discovery. 🙂
This post is part of The Canadian Food Experience Project, which began June 7, 2013. As we share our collective stories through our regional food experiences, we hope to bring global clarity to our Canadian culinary identity. The theme for February is "My Canadian Love Affair", and what is more Canadian or lovely than maple syrup? Visit Valerie's blog, A Canadian Foodie, on the 15th for a round-up of this month's posts.