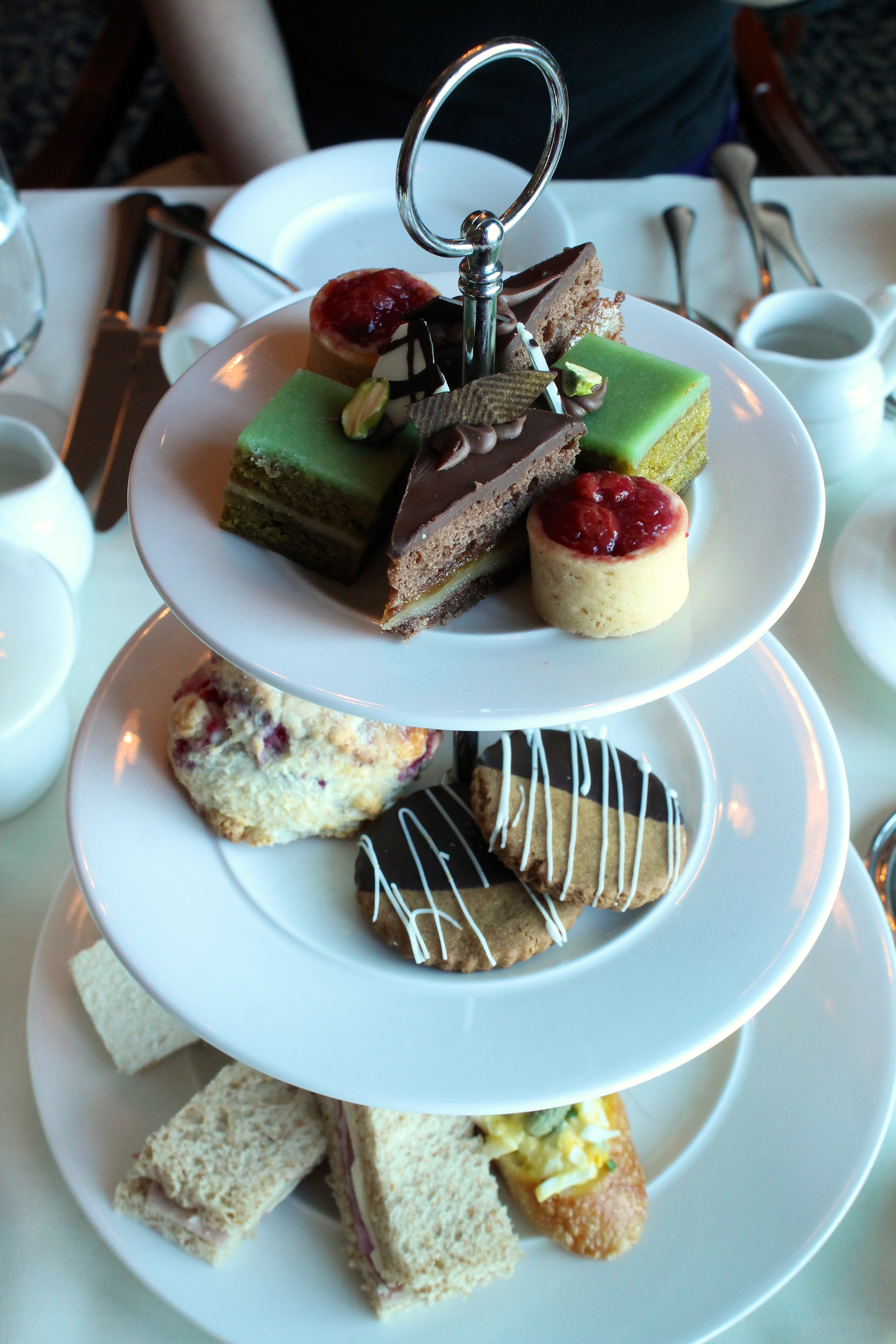 My friend Lynette and I are self-styled afternoon tea aficionados, and we like to keep tabs on the establishments that serve afternoon tea in Victoria – you know, for quality control. So when I discovered that the newly re-constructed Oak Bay Beach Hotel had such an offering… well, it was high time for a tea party with our friends Whittney and Katheryn. Pinkies up, ladies!
First, a little background on the location: the new Oak Bay Beach Hotel is actually the third incarnation of the hotel. The first hotel was built in 1927 and unfortunately destroyed by fire in 1930, when an exact replica of the hotel was rebuilt on the site. The hotel became immensely popular, and in the 1950's Victoria's first neighbourhood pub, The Snug, was opened on the premises, soon becoming a local landmark. Passing from owner to owner, the hotel and its popularity stood in it all its 1930s glory until 2006, when it became clear that the building needed such extensive renovations and updates that it would be necessary to re-build from scratch. So they did. They dismantled the old hotel, saving much of its architectural elements and furniture to be re-used in the new hotel, which opened in 2012. While I am unable to draw a comparison because I never visited the old hotel, the new one certainly is grand, and judging by how bustling it was with locals just hanging out in the lobby, pub, and coffee shop, I think it's still got its old charm.
Afternoon tea is served in The Dining Room, located off the lobby and looking out onto a spectacular ocean view towards Mt Baker in Washington State. The restaurant is elegantly decorated and exactly the kind of place you'd want to spend a few hours sipping tea and nibbling on dainty treats. Our server brought us our tea pot and cups, which we all agreed were more like coffee cups than proper tea cups, but they did the job of conveying the liquid to our mouths so we weren't complaining too much.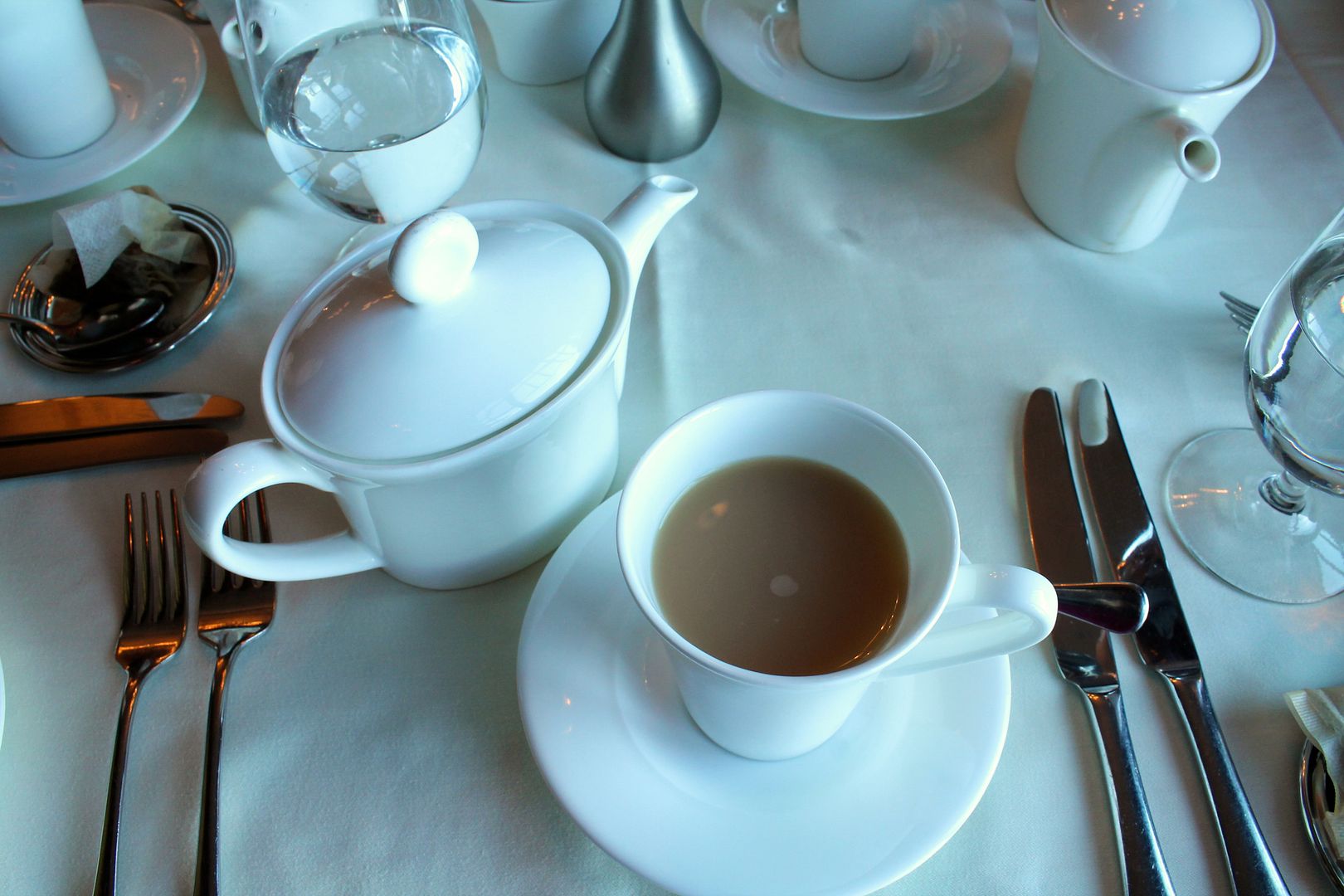 Our first course was minted strawberries and cream, topped with a little splash of prosecco – totally indulgent and delicious (and totally out of season for January, but never mind).
After a little bit of a wait, we were served toasted crumpets with clotted cream, jam, and the most delicious honey-butter spread.
After a little more waiting, out came the three-tiered tea stands with dainty sandwiches, scones, and pétits fours.
The sandwiches were really very good: carrot and cream cheese with pea shoots (surprisingly flavourful and tasty, actually), a lox and cream cheese pinwheel (always good), ham with cheese and pickled onions (delicious!) and a decadent truffled egg salad on a slice of baguette, topped with a tiny gherkin and sliver of tomato.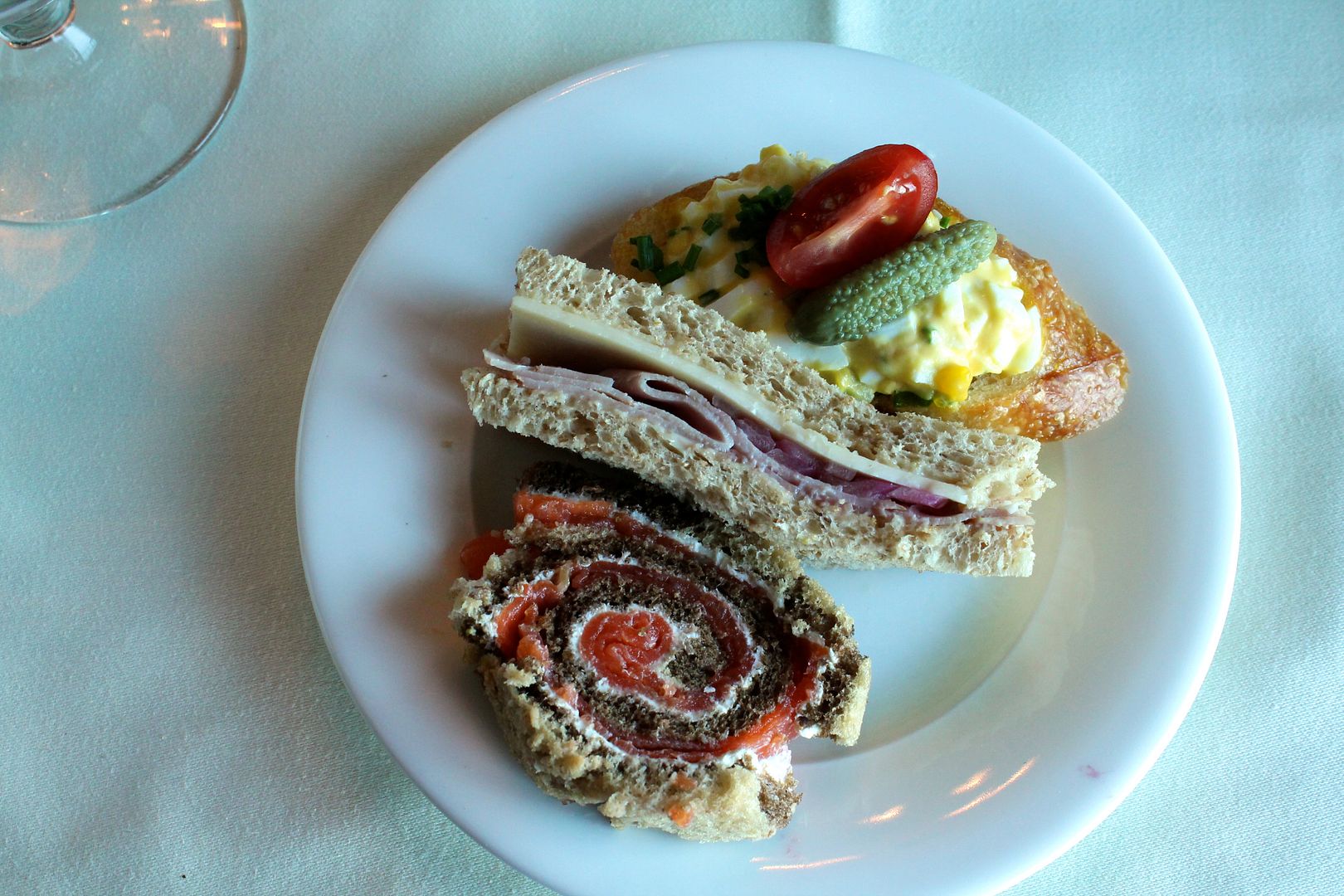 Next up was a delectable raspberry white chocolate scone that I assume was intended to be eaten unadorned because it contained both white chocolate chunks and raspberries, but half the fun of afternoon tea is loading up your scone with as much clotted cream and jam as you can fit on it, so we requested more jam and cream and went to town. Because we're classy like that, especially at tea parties.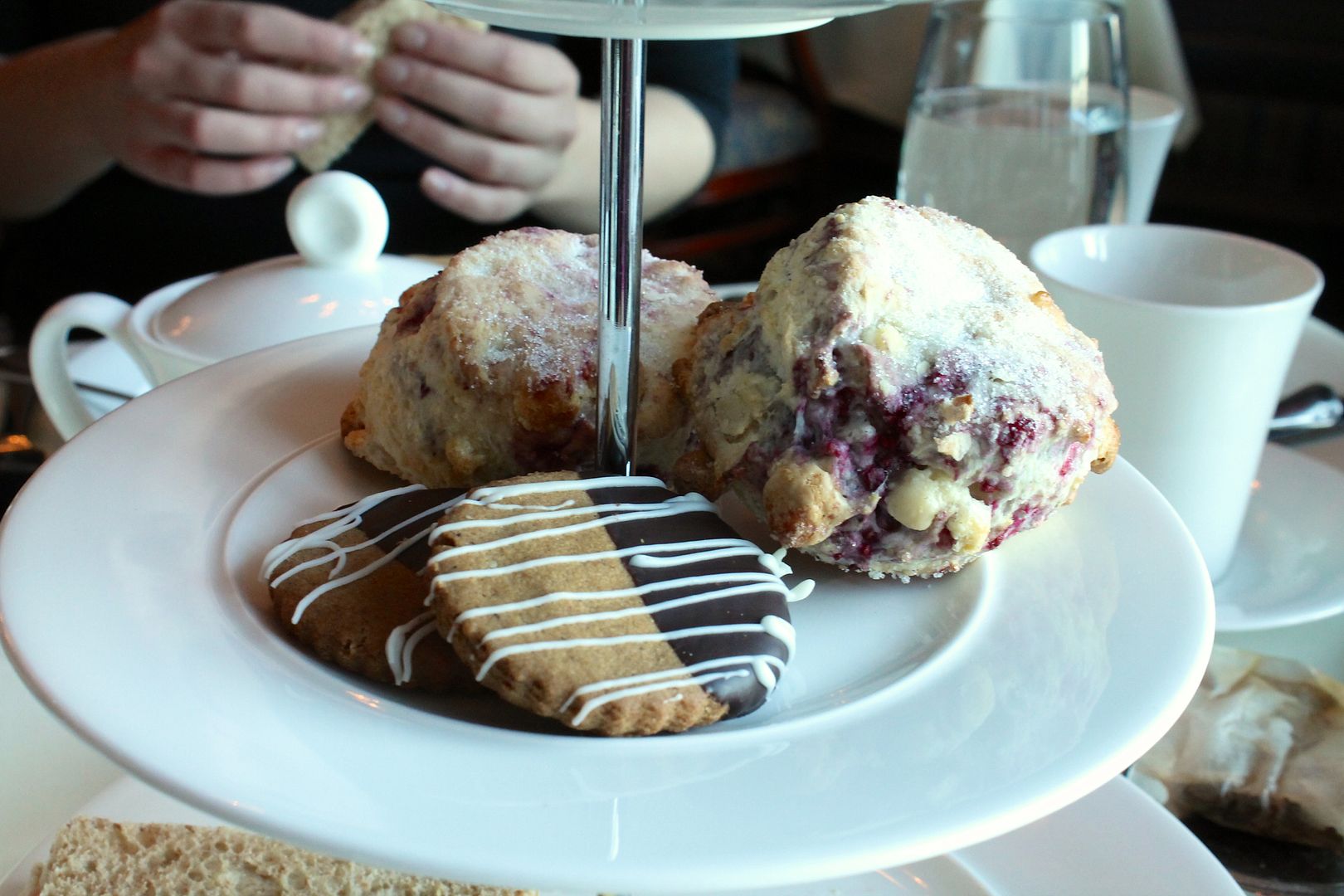 And lastly, the pétits fours. I think Katheryn and I were the only ones who even made it to the top tier before tapping out. I quite enjoyed the chocolate-dipped gingerbread cookie, which was nicely crisp and not too sweet, and the tiny brandied cherry tart with vanilla cream. I wasn't a huge fan of the chocolate cake with marzipan and pineapple jam – it was a bit dry and somehow tasted too much like fruitcake and not enough like chocolate – but the pistachio cake was nice and moist and flavourful.
Going by my five teaspoon rating system based on food, experience, and price, I'd give the Oak Bay Beach Hotel four teaspoons out of five. The food and location are beautiful but the price is on the high side at $39 per person. Though, it was worth it for the experience and a lovely afternoon in the company of three of my favorite people before one of them (Lynette) jetted off to China for six months… 😉
PS: This was my first outing with my new camera and the white balance got away from me a bit. Strong daylight + lots of white + reflection of my pink sweater + how do I use this thing? = slightly flat photos with strange lighting. Oh well!