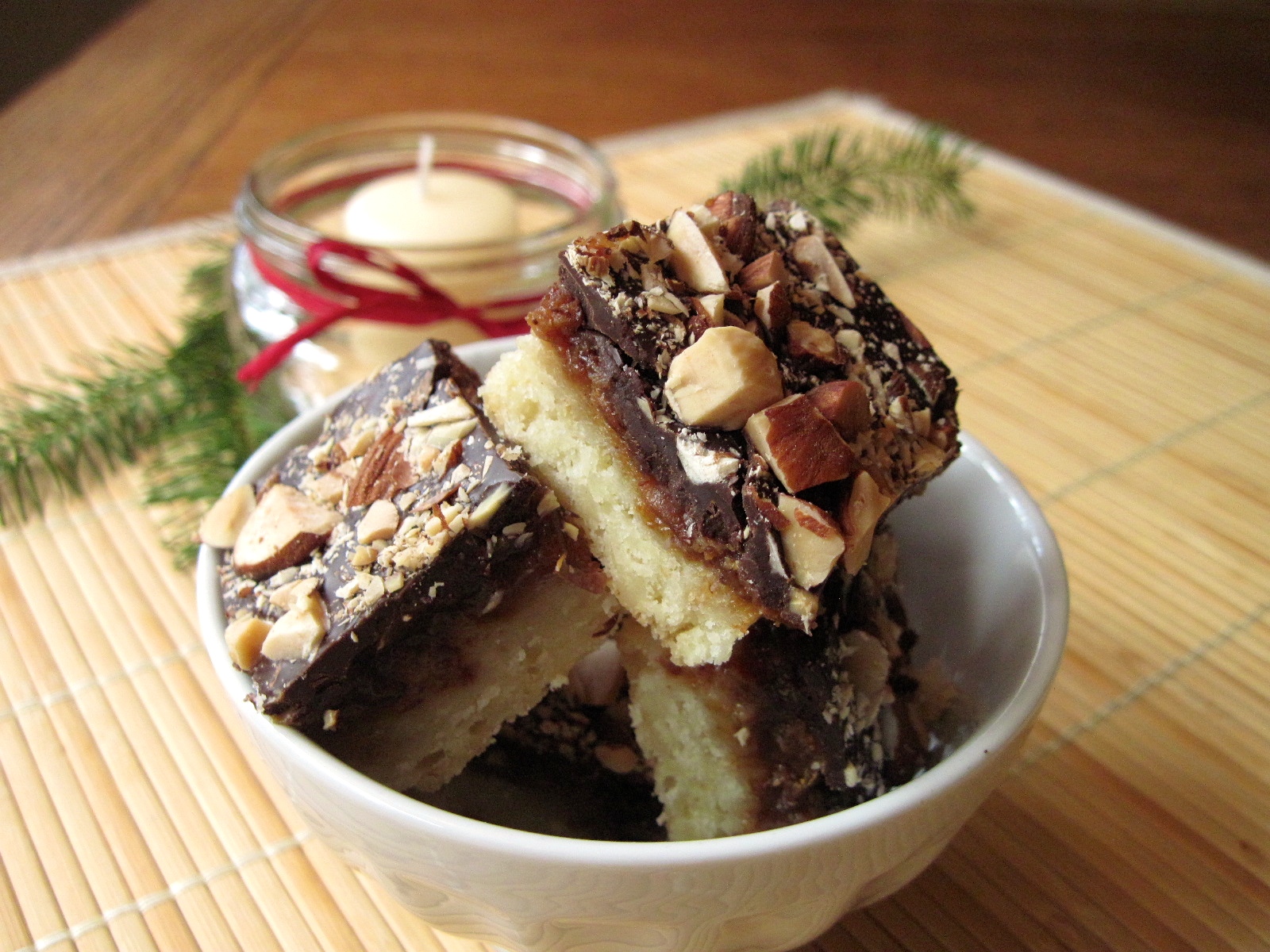 At my staff Christmas party on Friday, three of my gentlemen co-workers made it clear that they were extremely disappointed in the amount of Christmas baking that I had brought in to work this holiday season, ie: zero. Sensing that my reputation as "the girl who bakes" was in jeopardy, I got down to it in earnest this weekend.
When these gentlemen made their complaint, they suggested some kind of bar with caramel and chocolate and maybe marshmallows and rice crispies. It got me thinking of almond roca – a candy made of buttery, crunchy English toffee covered in chocolate and almonds – and how I could transform it into a bar cookie. Simply pouring a layer of toffee on top of a crumbly cookie base wouldn't work very well – the hard toffee would make it impossible to cut it into squares, and it would be extremely difficult (and messy!) to eat – but I came across a recipe for almond toffee bars that solved this problem by combining toffee bits with condensed milk and an egg, baking into a chewy toffee layer that cuts easily. Melted chocolate chips and toasted almonds on top result in a bar that resembles millionaire's shortbread but tastes remarkably like almond roca candy. And just like the candy, small pieces are plenty!
At the time of publishing, the gentlemen in question had not yet sampled these, but based on the number of quality control tests Nate and I did, I think my baking reputation is safe. 😉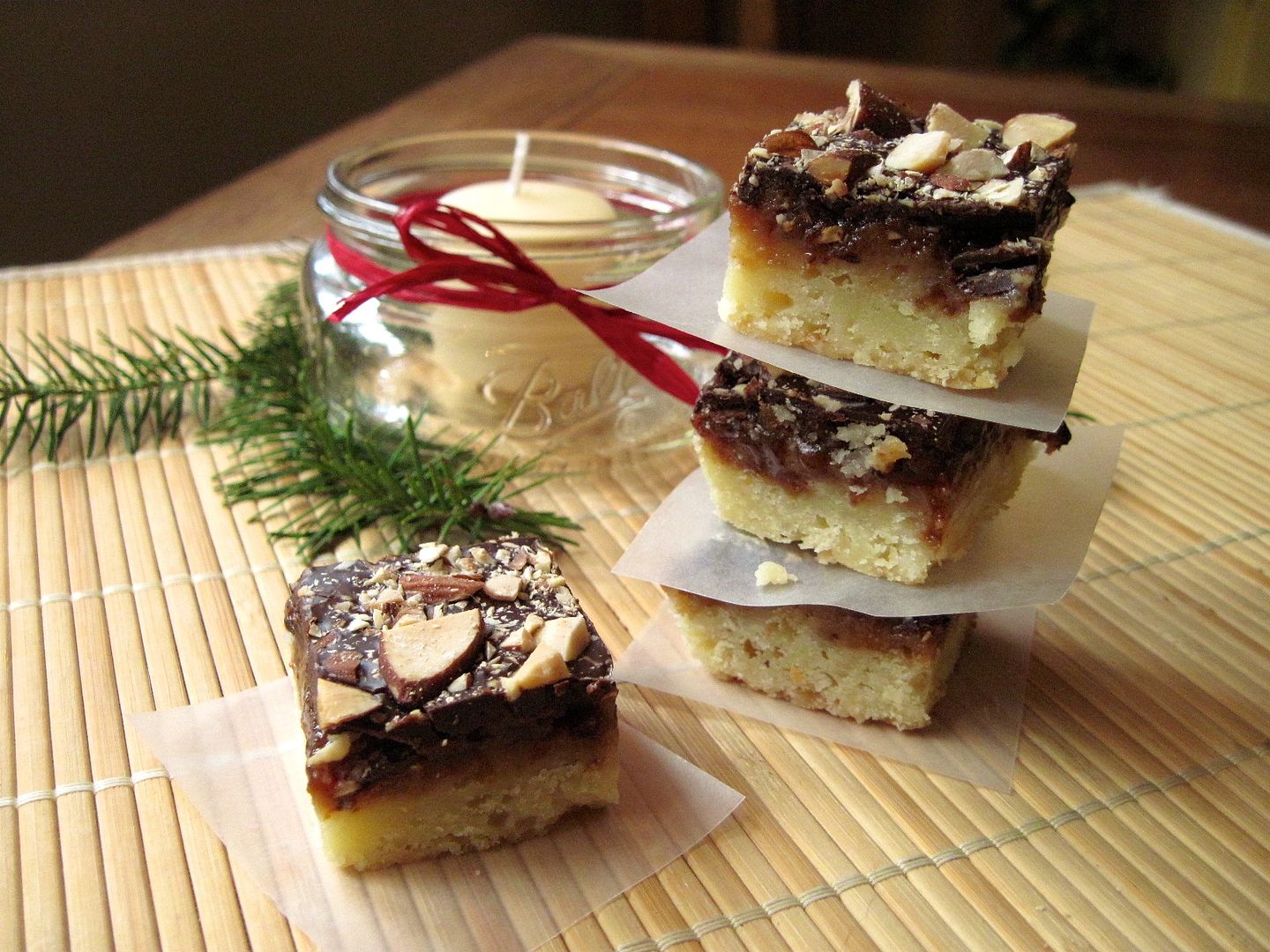 Almond Roca Shortbread Bars
Makes 48 small squares. If you don't want to make your own toffee, substitute 8 oz / 1 1/3 cups toffee bits.
Toffee Layer
In a heavy-bottomed saucepan, cook over medium-high heat:
3/4 cup granulated white sugar
3/4 cup unsalted butter
3 tbsp water
pinch salt
Bring to a boil and cook without stirring until it reaches about 300˚F on a candy thermometer (it should be dark brown and smell like toffee). Pour it onto a silicon mat (careful, it is extremely hot), spread it out with a spatula, and let it cool and harden. Once cool, break into pieces and chop finely.
In a medium bowl, combine the chopped toffee with:
1 can sweetened condensed milk
1 egg
1 tsp vanilla
pinch salt
Mix together well and set aside.
Shortbread Base
Preheat the oven to 350˚F.
In the bowl of a food processor, pulse together:
2 cups all purpose flour
1/2 cup icing sugar
1 cup cold butter, diced
pinch salt
Process until the mixture resembles fine bread crumbs, then press into a 9″ x 13″ pan lined with parchment paper. The base will seem very powdery and dry. Bake in the preheated 350˚F oven for 15 minutes.
Pour the toffee-condensed milk mixture evenly over the par-baked base and return to the oven for another 23 – 27 minutes, until the topping is dark brown and bubbly all over. Allow it to cool slightly, until the toffee stops bubbling and sets up a little. Sprinkle with 1 1/4 cups chocolate chips and let sit until they melt (you can pop it back into the cooling oven for a minute to speed this up if you want). Gently spread the melted chocolate chips into an even layer. Sprinkle with 3/4 cups chopped toasted almonds and allow to cool completely.
Remove from the pan using the parchment paper overhang as handles and cut into 8 x 6 squares. Store in an airtight container between waxed paper.