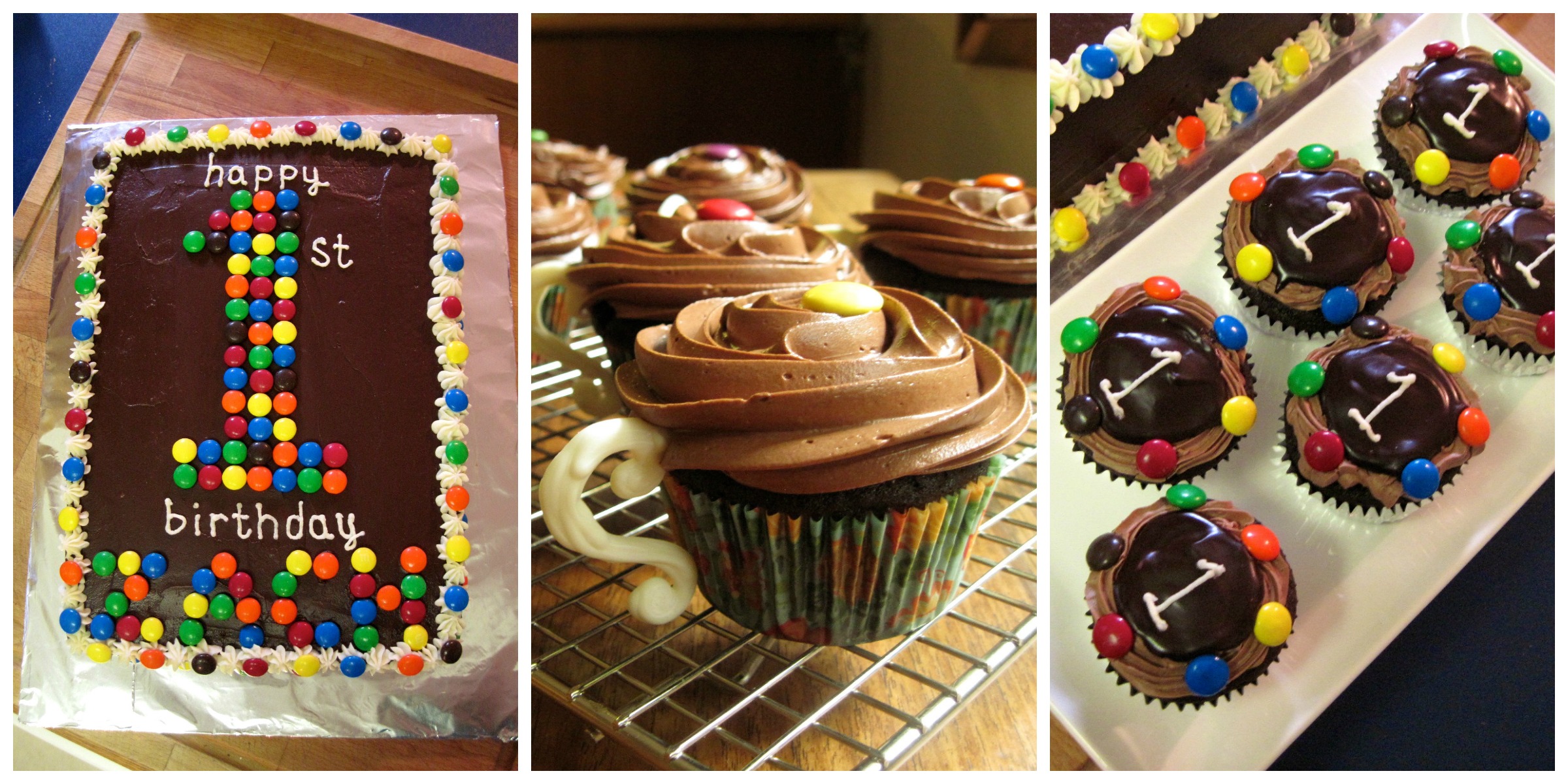 The past few months have contained a lot of cakes – chocolate cakes, to be specific. And not for me, but for other people, which is almost more fun because I get to bake my heart out without worrying about who will eat it all. 😉
Back in August, my lovely friend Tanya asked me to make some chocolate cupcakes for a baby shower, the theme for which was the Mad Hatter's Tea Party, so I did what I could to turn the cupcakes into teacups without resorting to fiddly fondant or store-bought teacup paper liners.
I baked the Cook's Illustrated Ultimate Chocolate Cupcakes in some pretty floral cupcake papers to simulate china cups, filled the cakes with chocolate ganache, and frosted them with the rebar chocolate cream cheese frosting.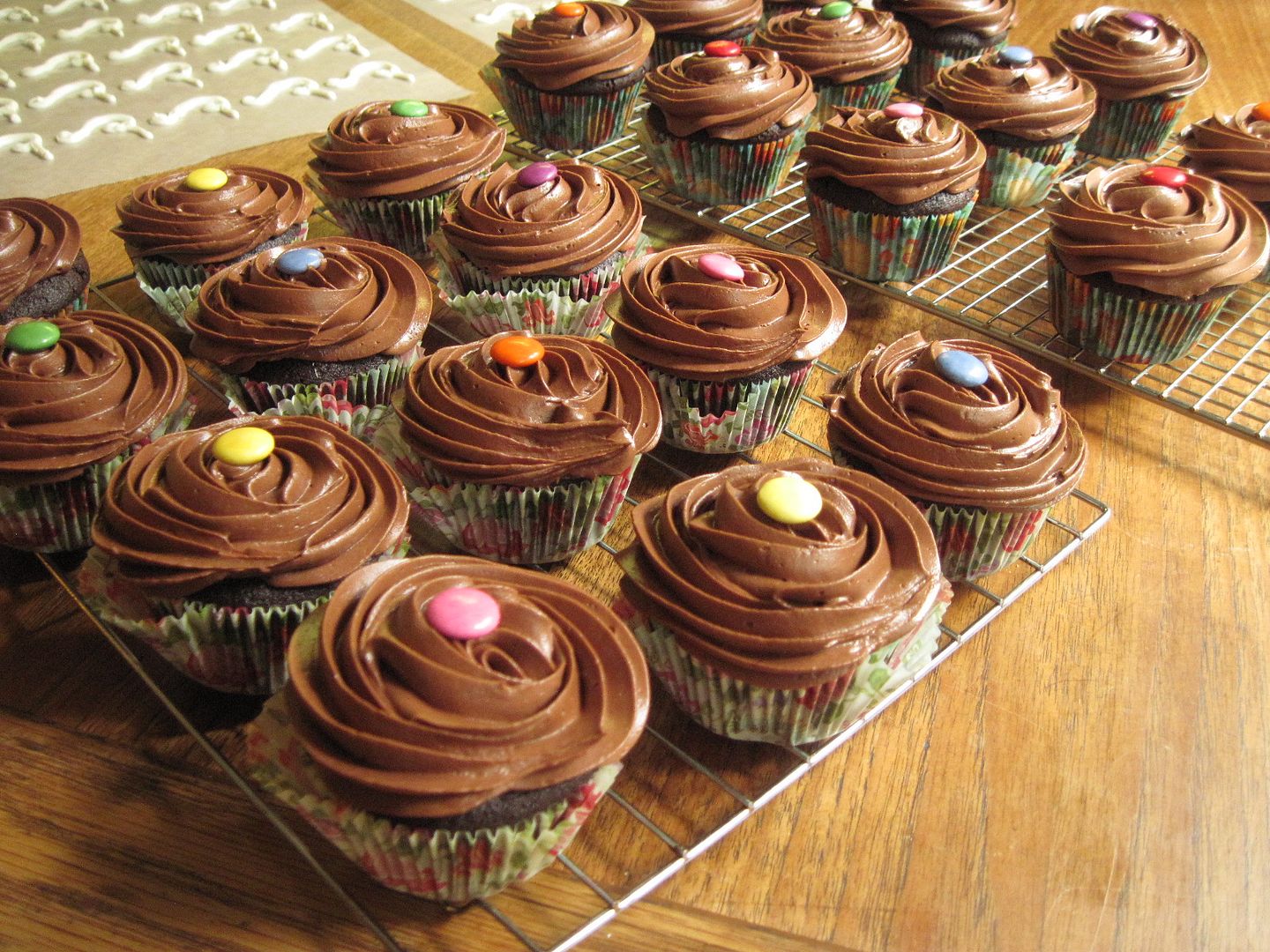 I piped some swirly teacup handles onto waxed paper using white chocolate dipping wafers (I don't have a great track record working with melted real white chocolate), the shape of which is kind of like an "S" with a big swirl on top and a little swirl on the bottom. Importantly, the handles where the same height as the cupcake liners. I added a little spike to anchor the handles to the cupcakes (which made them look sort of like seahorses).
Assembly was pretty straight forward. I piped a big rosette of frosting on each cupcake, making sure to get right to the edges of the cupcake, then poked the spike of the handle into the frosting, right above the cupcake liner. Looks kind of like a teacup, right? Make sure you eat it with your pinkies in the air. 😉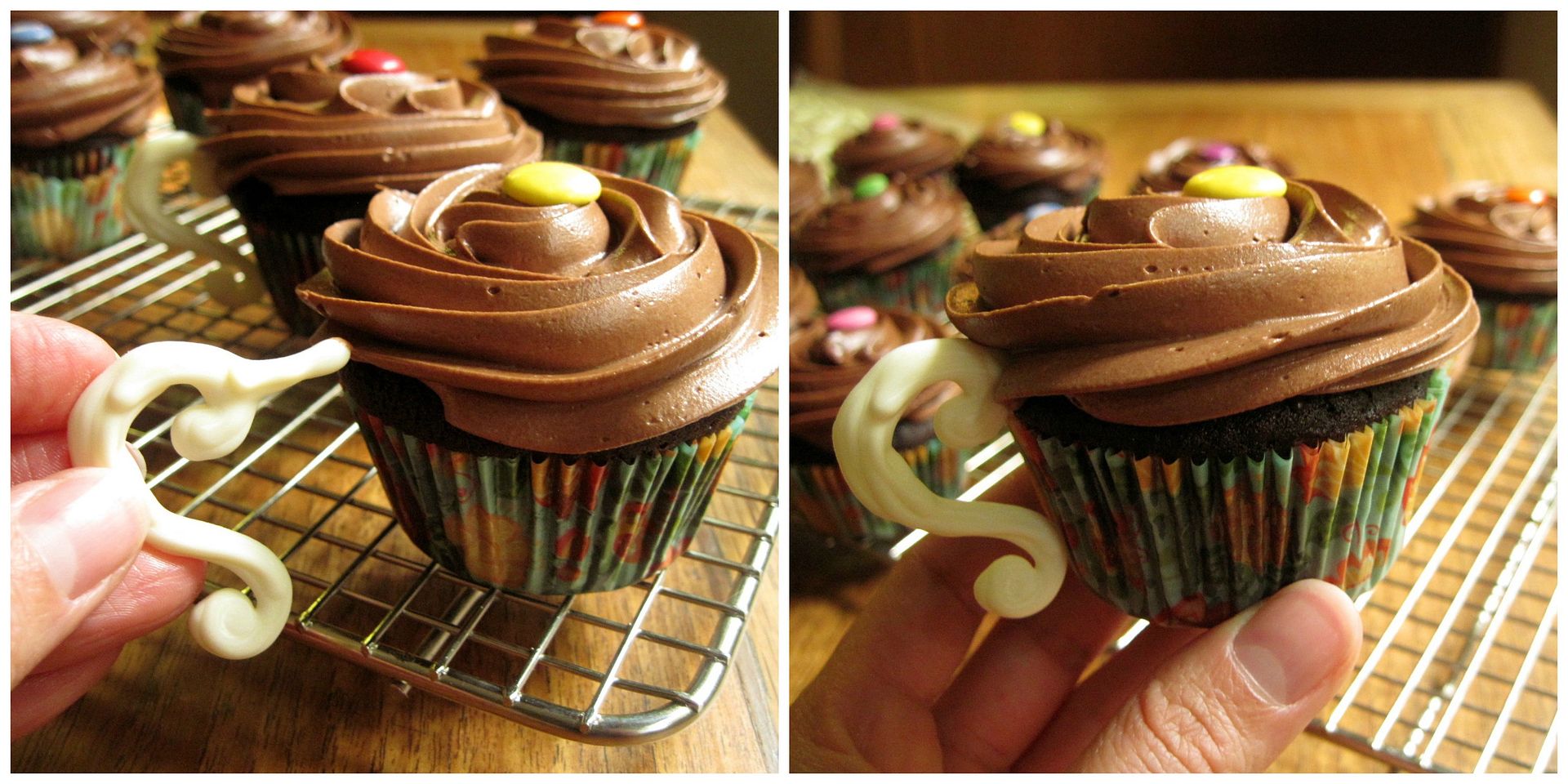 A few months later, Tanya also asked me to make a birthday cake for her son's first birthday party. It had to feed about thirty people, so this was a monster of a cake. I was going to make my trusted rebar chocolate cake, but it contains a fair amount of coffee and there would be lots of tiny children eating this cake. Luckily, Deb at Smitten Kitchen had the solution: her own son's fourth birthday cake, which she promised was moist and fudgy and exceedingly chocolatey without a drop of coffee. And it was already scaled to feed thirty people! So I made two 9″ x 13″ layers, stacked them up with the rebar chocolate cream cheese frosting on top, smothered the whole thing in ganache, and then set about getting all geometric with M&Ms to make a number one and spell out the birthday boy's name. I would have used Smarties (for my American readers, Smarties in Canada are rainbow-coloured candy-coated chocolate, not the powdery little candies in a roll, which are called Rockets here) but I was also asked to make some gluten-free cupcakes, and Smarties contain gluten but M&Ms do not. See? You learned something!
The piping icing was just a confectioner's sugar buttercream – I made half a batch of this recipe.
This cake was awesome! So tasty – dense and moist and almost brownie-like in texture and flavour, thanks to the brown sugar in the batter. Definitely a cake I will make again and again! (Also, it comes in a red wine version. UM, YES PLEASE?!)
For the gluten-free cupcakes, I made half a batch of the chocolate quinoa cake, which resulted in ten cupcakes. This time around, I made it with butter (instead of coconut oil), buttermilk (instead of soy milk), and added a little bit of instant coffee powder. Seriously, I can't get enough of this cake: it is DEADLY good. So deeply chocolatey and amazing. Once of those wonderful recipes that just has the happy side affect of being celiac-friendly!
What's your favorite chocolate cake recipe?