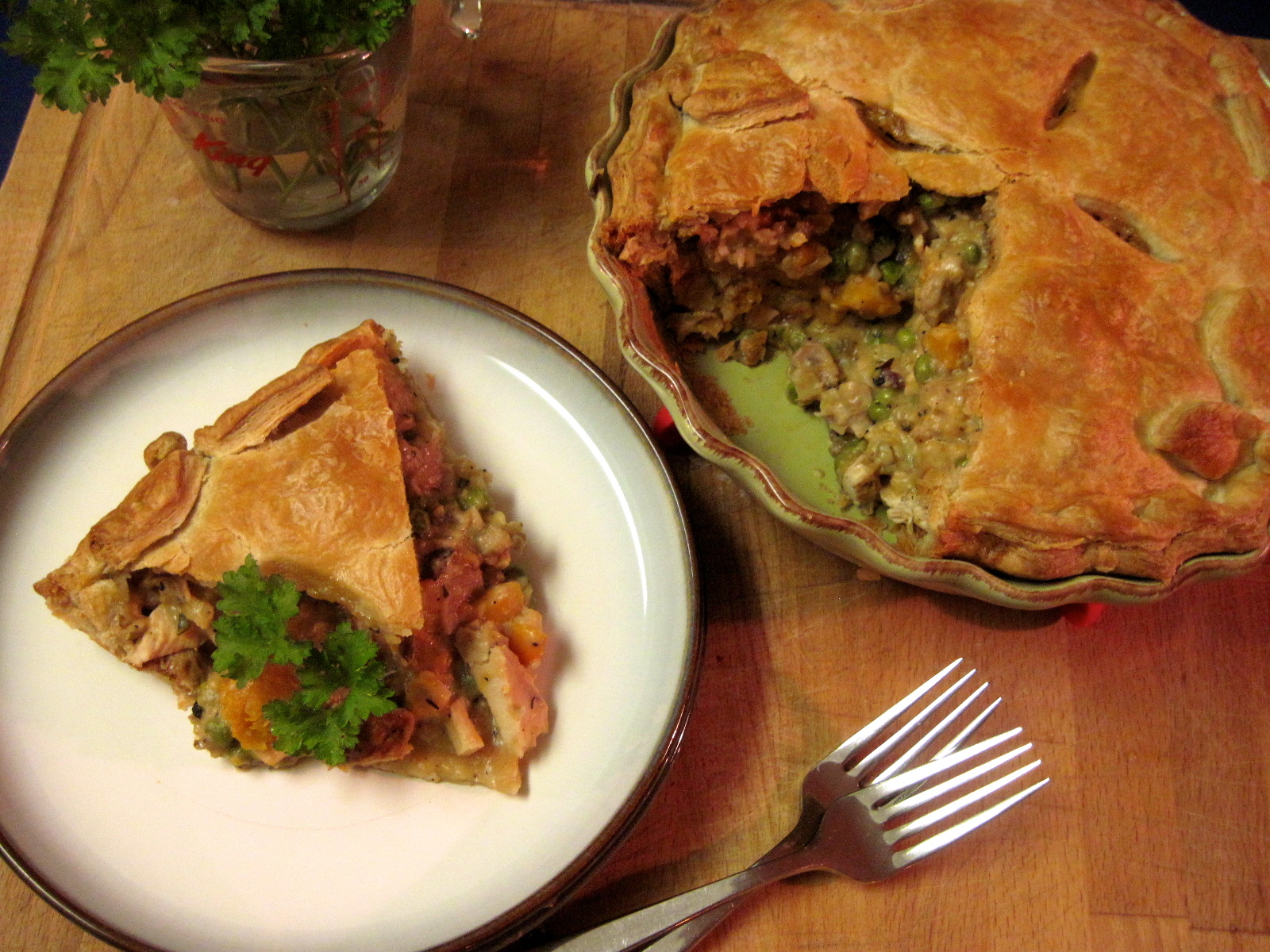 Hannah of Rise and Shine was our October 2013 Daring Bakers' hostess and she challenged us to bake our own double crusted savory pot pies. Using any from-scratch crust and filling we choose, we were allowed to get completely creative with our recipe, showing off the savory flavors and fillings from our own home or region.
A few days after Thanksgiving, I found myself with an abundance of two things in the kitchen: leftover turkey and green tomatoes, salvaged from my weather-beaten-and-dying tomato plants. I kicked off Operation Leftover Turkey with a batch of turkey enchiladas with green tomato salsa (I used this recipe, doubling the salsa and subbing the tomatillos for green tomatoes – it was extremely delicious), but I still had more turkey to use up. Thanksgiving: the meal that keeps on giving.
Making pie ranks up there as one of my favorite activities, so I was fully on board with the challenge Hannah set out for us this month, plus it was a great way to use up the remaining turkey! I don't really have much in the way of a recipe, because this was cobbled together out of leftovers and you could make it with anything, but amounts might be helpful so you can judge how much stuff you need to fill a pie shell. I mixed up a batch of my favorite pie crust but kept the butter bits on the large side and gave it some extra folds to turn it into a pseudo rough puff pastry (instructions below). I filled the pie with about 3 cups of diced turkey with stuffing, 2 cups of diced roasted butternut squash, and 1 cup of frozen peas. For the gravy/sauce, I made a roux of 1 1/2 tbsp butter + 1 1/2 tbsp flour, stirred in 1 cup of milk to make a white sauce, and then combined it with the remaining 1 cup or so of leftover turkey gravy to make about 2 cups of creamy gravy total.
A pot pie such as this is a great way to use up leftovers (especially of the large roast dinner variety) and I love any excuse to practice my pastry-making skills. I'm not sure how authentic the following is as a rough puff pastry recipe/technique, but it certainly gave my pastry some nice, flaky layers. One note of caution: give your pastry time to rest and chill between folds and before you use it. I didn't do this and the pastry was a bit tough because the gluten was all tensed up. Gotta give it time to relax!
For pseudo rough puff pastry, you can use any pie crust recipe, just leave the butter in larger chunks when you cut it in. Stir in the liquid, then turn the dough out on to a lightly floured counter. Press it into a rough mound, then frissage the dough by smearing it away from you with the heel of your hand – this will create long smears of butter within the dough. Fold the frissaged dough in thirds and repeat.
Fold the dough in thirds again, then roll it out into a rectangle about twice as long as it is wide. Fold both ends of the dough into the middle, then fold the dough in half – this is called a book fold – and chill for about 30 minutes. Repeat this rolling and folding twice more, chilling as necessary if the dough starts to resist rolling, for a total of 3 folds. Divide the dough in half and chill again for 30 minutes before rolling it out for the pie crust.
Brush the top of the pie crust with an egg wash (1 egg + 1 tbsp water) and cut some steam holes. I baked this particular pie in the bottom third of a hot 425˚F oven for about 20 minutes, then reduced the temperature to 350˚F and baked it for another 50-60 minutes, until well browned.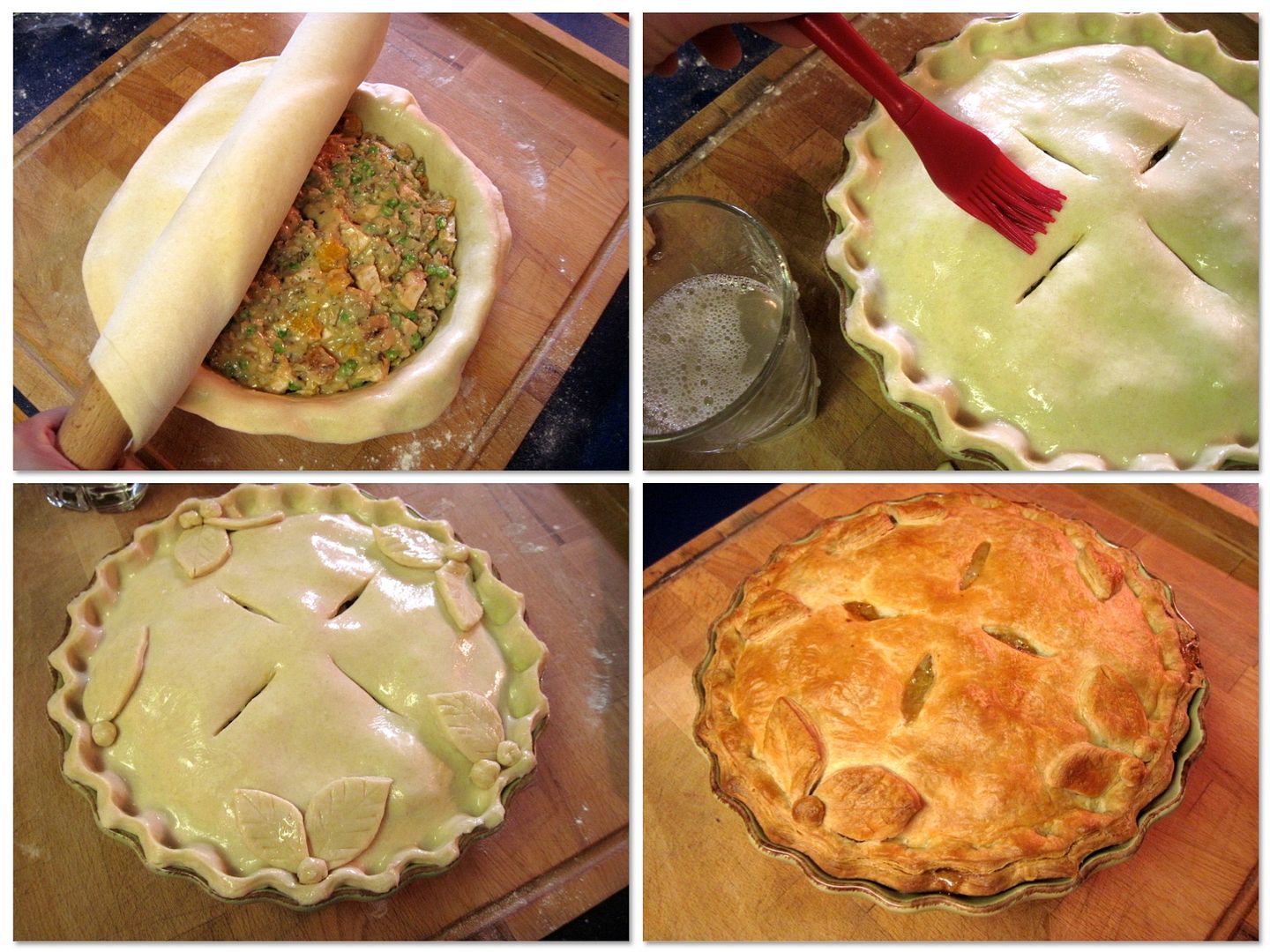 Thanks for a delicious challenge this month Hannah! Check out the Daring Kitchen for some more delicious pot pies. 🙂