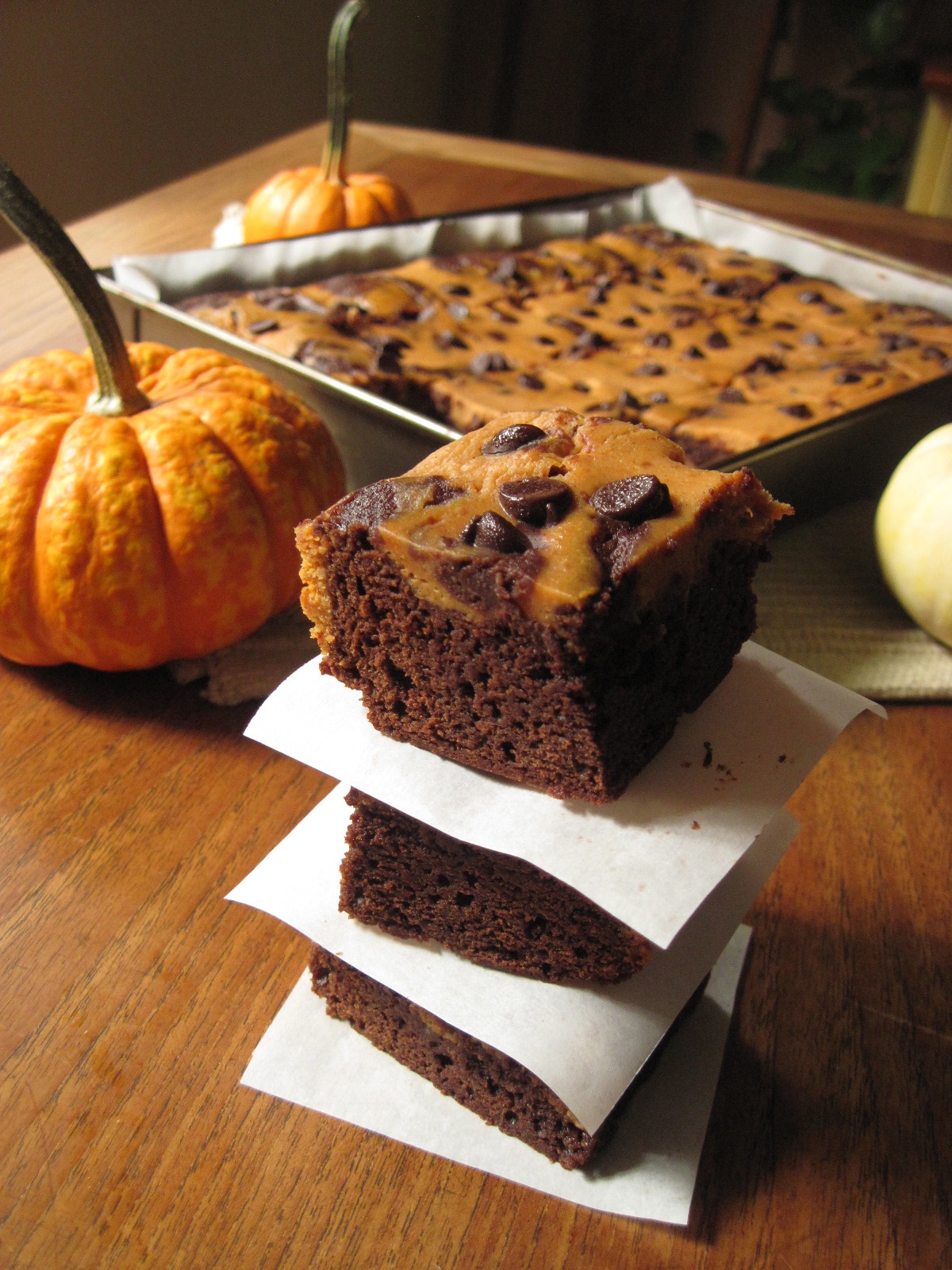 The first weekend of October was another epic Girls' Weekend on Salt Spring Island with my best ladies. This time, along with talking, stuffing our faces, and drinking a lot of sangria, we also visited Salt Spring Vineyards for a winery tour and wine tasting.
We made friends with Syrah, the vineyard cat, and met Hughie and Louie, the vineyard ducks, who came running when their mistress called their names – cutest thing ever!
We tasted four of their wines, including a white wine made from black grapes (the Blanc de Noir) and their super fantastic Blackberry Port (which isn't technically port at all, but is still delicious). Each wine was paired with a specific food, and it was really cool to experience how different the wine tasted after a bite of truffle goat cheese or olive tapenade or chocolate.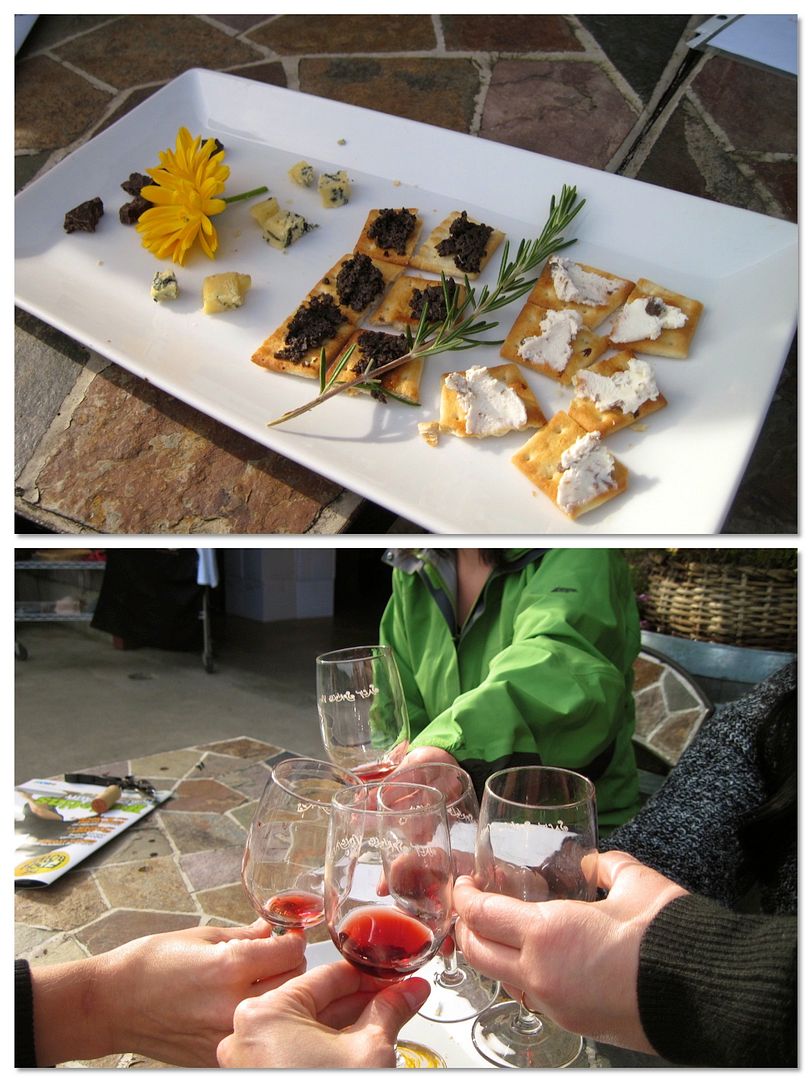 After the wine tasting, we returned home to an epic spread of goat's milk cheese from Salt Spring Island Cheese and cow's milk cheese from Moonstruck Organic Cheese, both wonderful Island cheesemakers.
True to form, I contributed baking to the weekend. Last time it was some ridiculous double reverse chocolate chip cookies, this time it was some ridiculous pumpkin cheesecake brownies. Cheesecake brownies are my favorite, and I figured the pumpkin and spice were seasonally appropriate.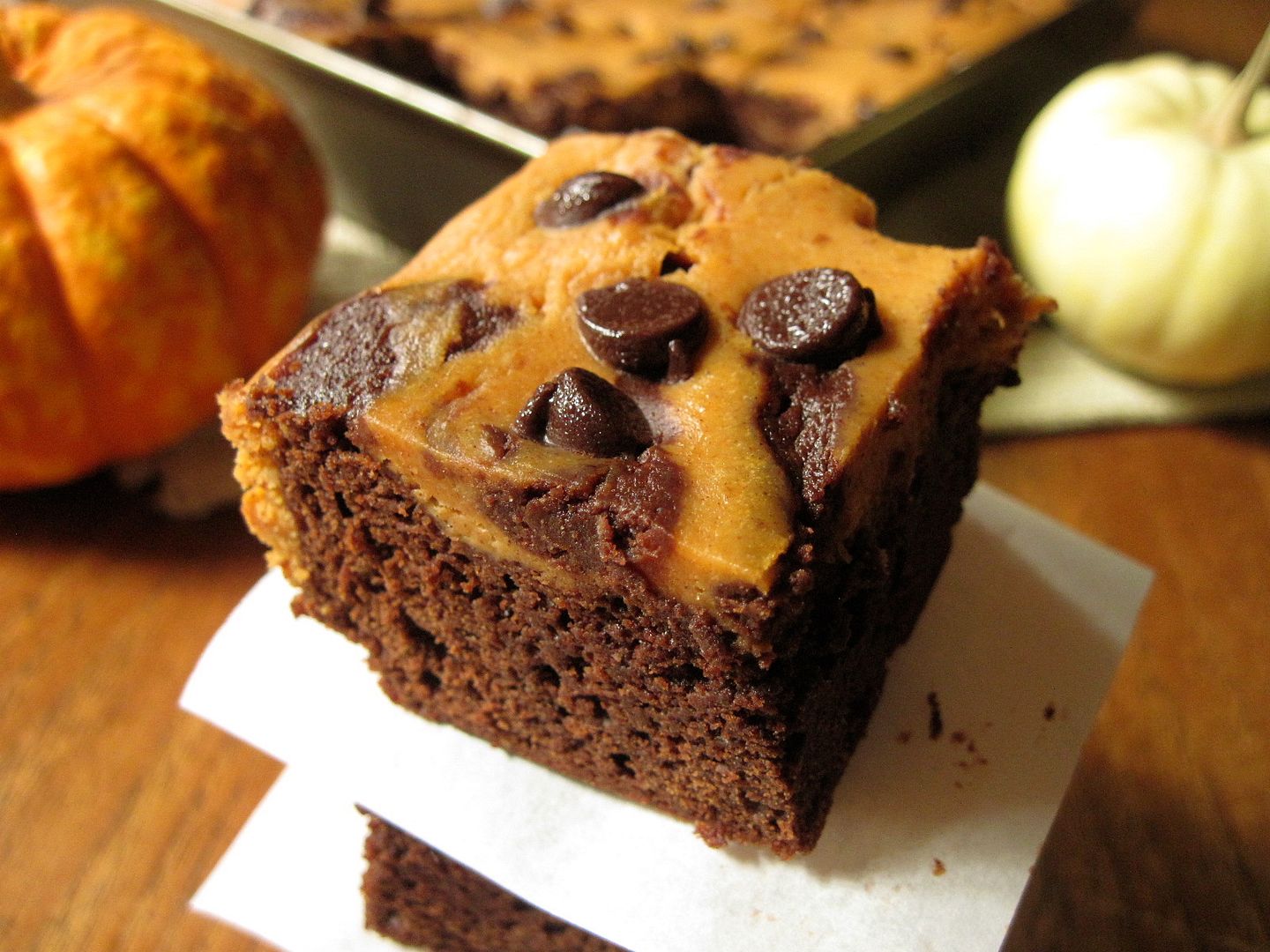 I used the fabulous Fry's Cocoa brownie recipe as the base, which is plenty chocolatey and fudgy but not quite as dense as Mark Bittman's brownies, because I figured it would stand up well to the cheesecake layer. They turned out exactly as I was hoping – half brownie, half pumpkin spice cheesecake – and went over incredibly well with everyone who tasted them. They are rich and decadent while being cozy and comforting, making this recipe a definite keeper!
And on that pumpkin-y note, HAPPY THANKSGIVING! I hope you are eating turkey this weekend with people you love. 🙂
Pumpkin Cheesecake Brownies
Brownie base adapted from the Fry's Cocoa label. Makes one 9″ x 13″ pan of brownies, about 24 squares. Feel free to cut the recipe in half and bake in an 8″ square pan.
Preheat the oven to 350˚F. Line the bottom and sides of a 9″ x 13″ inch baking pan with parchment paper and grease it lightly. Set aside.
Brownie Layer
In a small bowl, mix together:
1 1/3 cups all purpose flour
1 tsp baking powder
1/2 tsp salt
Set aside.
In a large saucepan, heat until just melted:
1 cup unsalted butter
Remove from the heat and stir in:
1 cup cocoa powder
1 1/2 cups granulated white sugar
One at a time, stir in:
4 eggs
The mixture may look curdled after the first egg, but will become glossy and smooth after the rest are added.
Add 1 1/2 tsp vanilla, then stir in the flour mixture until completely smooth. Set aside while you prepare the pumpkin cheesecake batter.
Pumpkin Cheesecake Layer
In a medium bowl, cream together:
8 oz cream cheese, softened
1/2 cup granulated white sugar
Beat in 1 egg until smooth, then add:
1 cup pumpkin purée
1 tsp cinnamon
1/4 tsp ground ginger
1/8 tsp grated nutmeg
pinch ground cloves
pinch salt
Assembly
Pour all but about 1 cup of the brownie batter into the prepared pan and spread it out into the corners. Pour the cheesecake batter over the brownie batter in the pan, then dollop the reserved brownie batter over top of the cheesecake layer. Swirl the brownie and cheesecake batters together (I found it easiest to do this with my fingers!). Sprinkle the swirled batter with a handful of chocolate chips.
Bake in the preheated 350˚F oven for 30 – 35 minutes, until the brownie is set by still a bit wiggly in the middle. Cool completely to room temperature, then use the overhanging parchment paper to lift the brownie out of the pan and cut into 24 squares.