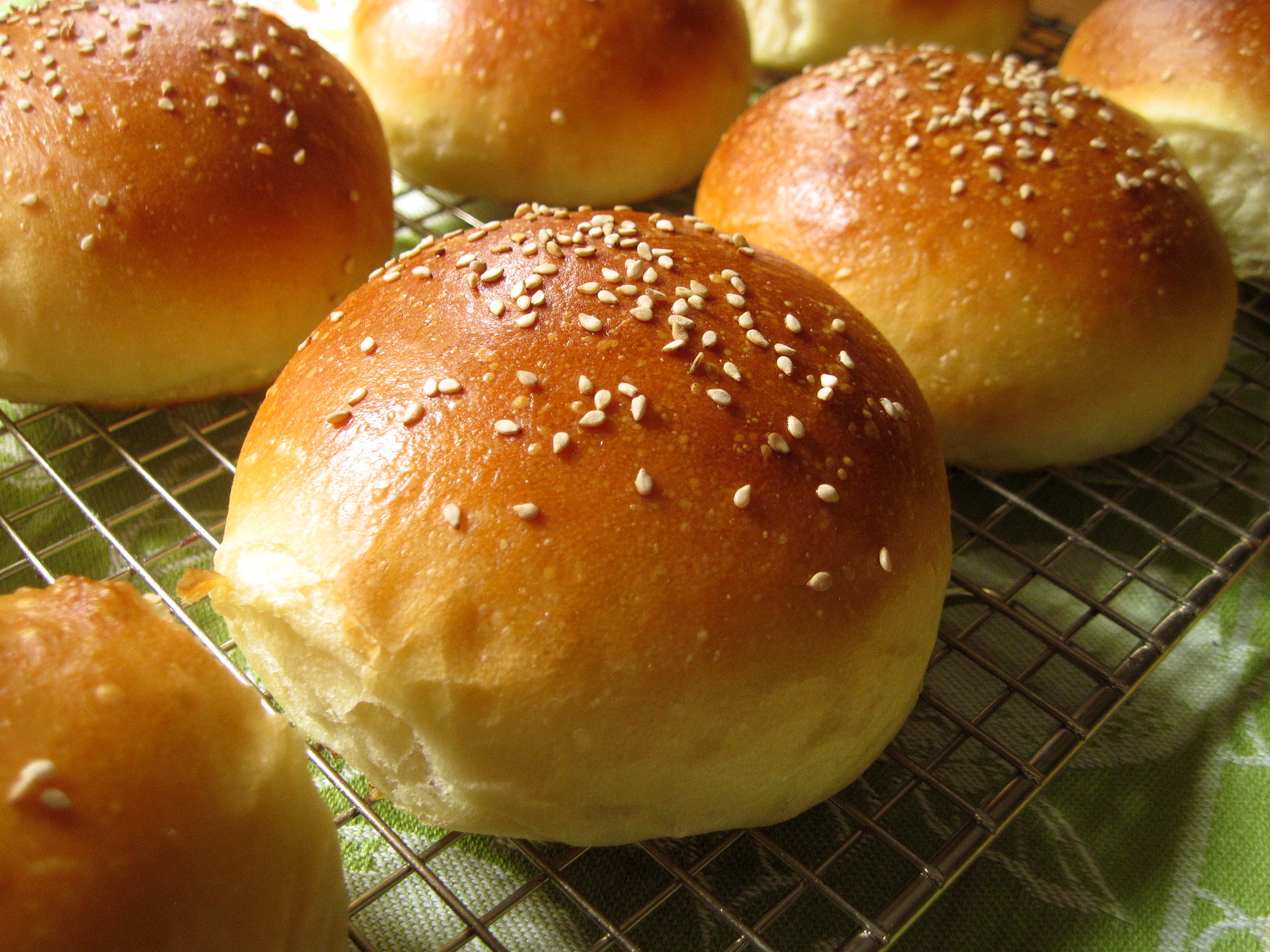 Summer is almost here, I can feel it. The first half of May was a big tease, followed by nothing but cold and rainy disappointment, but I have high hopes for June. So far it's been pretty nice and we're been doing a lot of barbecuing to take advantage of the warm evenings. Which brings me to probably the most well-known item of the summer barbeque: the hamburger. Many people go to great lengths to doctor up the beef patty, but in this case, I decided to focus my energy on the bun instead. It was a good idea!
This is the light brioche bun from The New York Times' feature on the perfect burger. I used honey in place of the sugar, reduced the amount of yeast, gave the dough a long, cool ferment overnight in the fridge, and was rewarded with flavourful, fluffy, slightly chewy buns that soaked up all those good burger juices without falling apart. They also made an excellent vehicle for pulled pork the next day.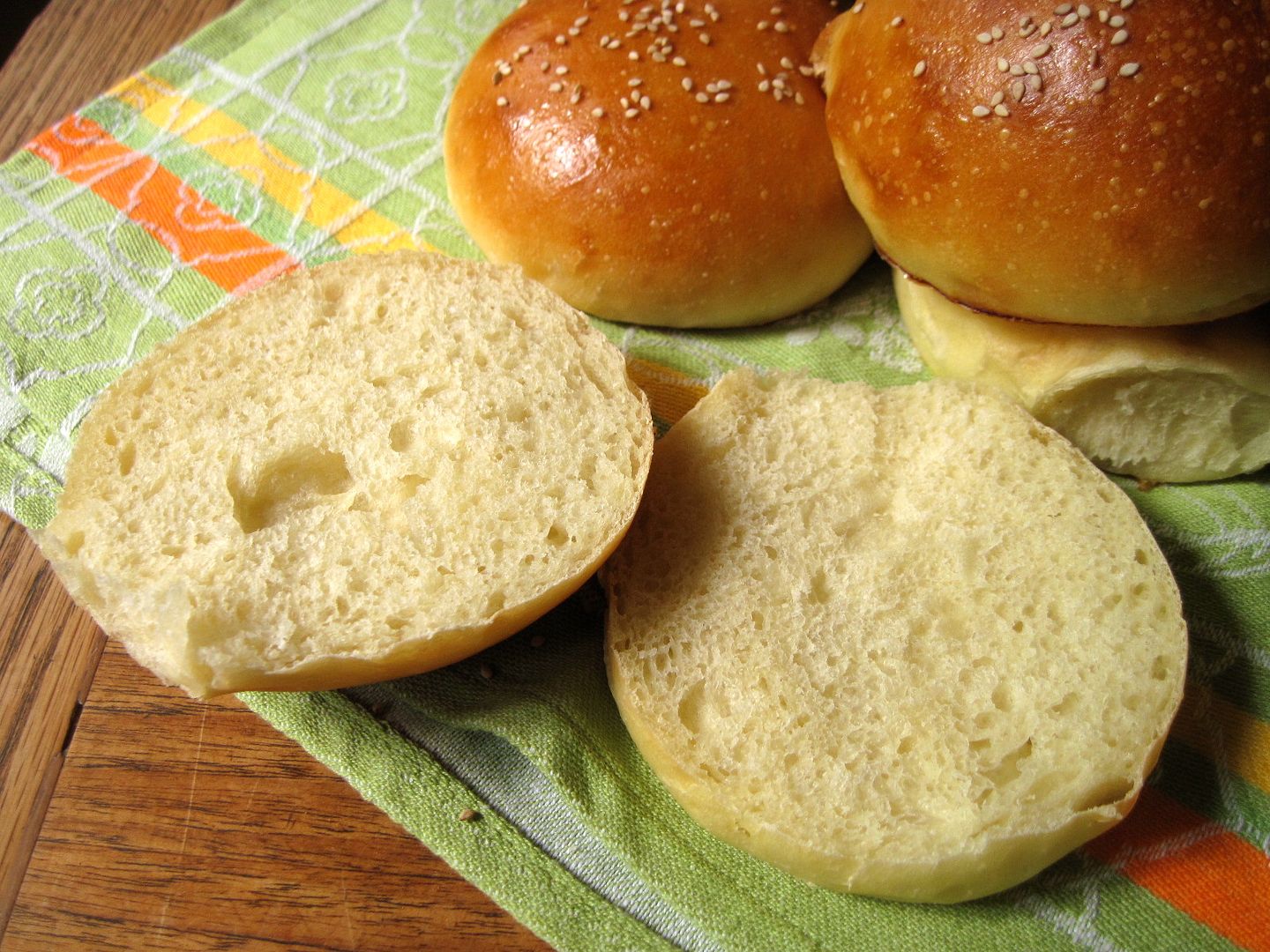 Giving a recipe for a burger is kind of like giving a recipe for a pizza: everyone already knows how it goes together, pretty much. Instead, here are some tips I followed for making and cooking the burger patties, which can basically be translated as KISS (keep it simple, stupid).
First, for a tender burger, handle the ground beef as little as possible, because the more you mix and squeeze the beef, the tougher the cooked burger will be. Just gently pat the ground beef into patties (these ones were about 1/3 lb each, which was a lot of burger – 1/4 lb each would be plenty) and season the outside of each with a generous amount of salt and pepper just before cooking. If you're using good quality beef, you shouldn't need any more seasoning than that in the patty. When you shape the patties, use your thumb to make a little indent in the middle of each – this will prevent the burgers from puffing up in the middle and will reduce the temptation to smash them down flat with your spatula as they cook, which just squishes out all the juices.
Second, you want to cook the patties at a high enough heat to get a nice crust on the outside, and then finish them either over indirect heat or in the oven. This allows you to achieve that delicious caramelization on the outside of the patty without overcooking the rest of the burger – no amount of toppings can fix a disappointing, dry, overcooked burger.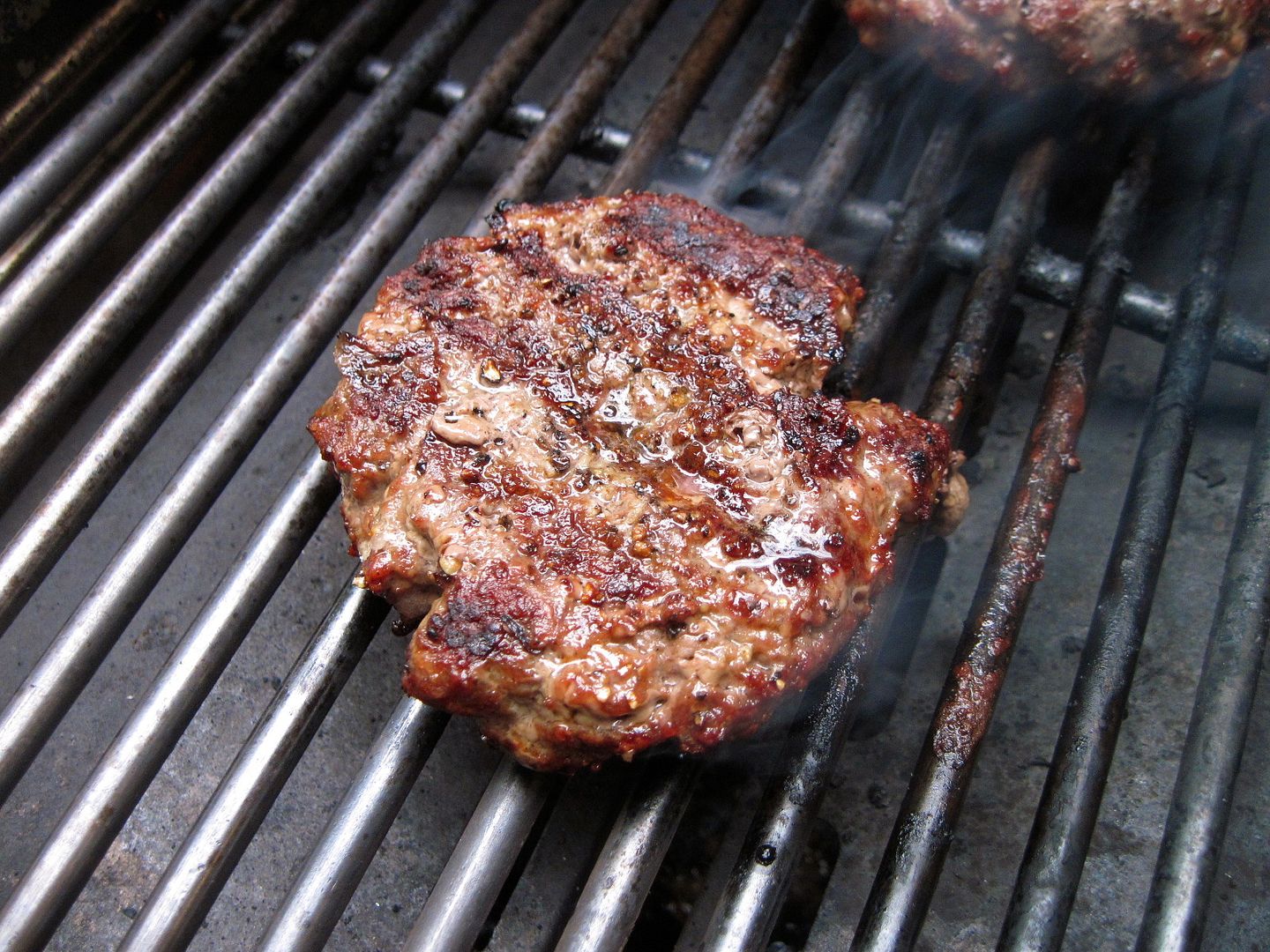 I cooked my burgers on the barbeque over medium-high heat on both sides, then moved them onto the upper warming rack to finish cooking, topped with a disc of grated cheddar cheese that melted into a gooey puddle.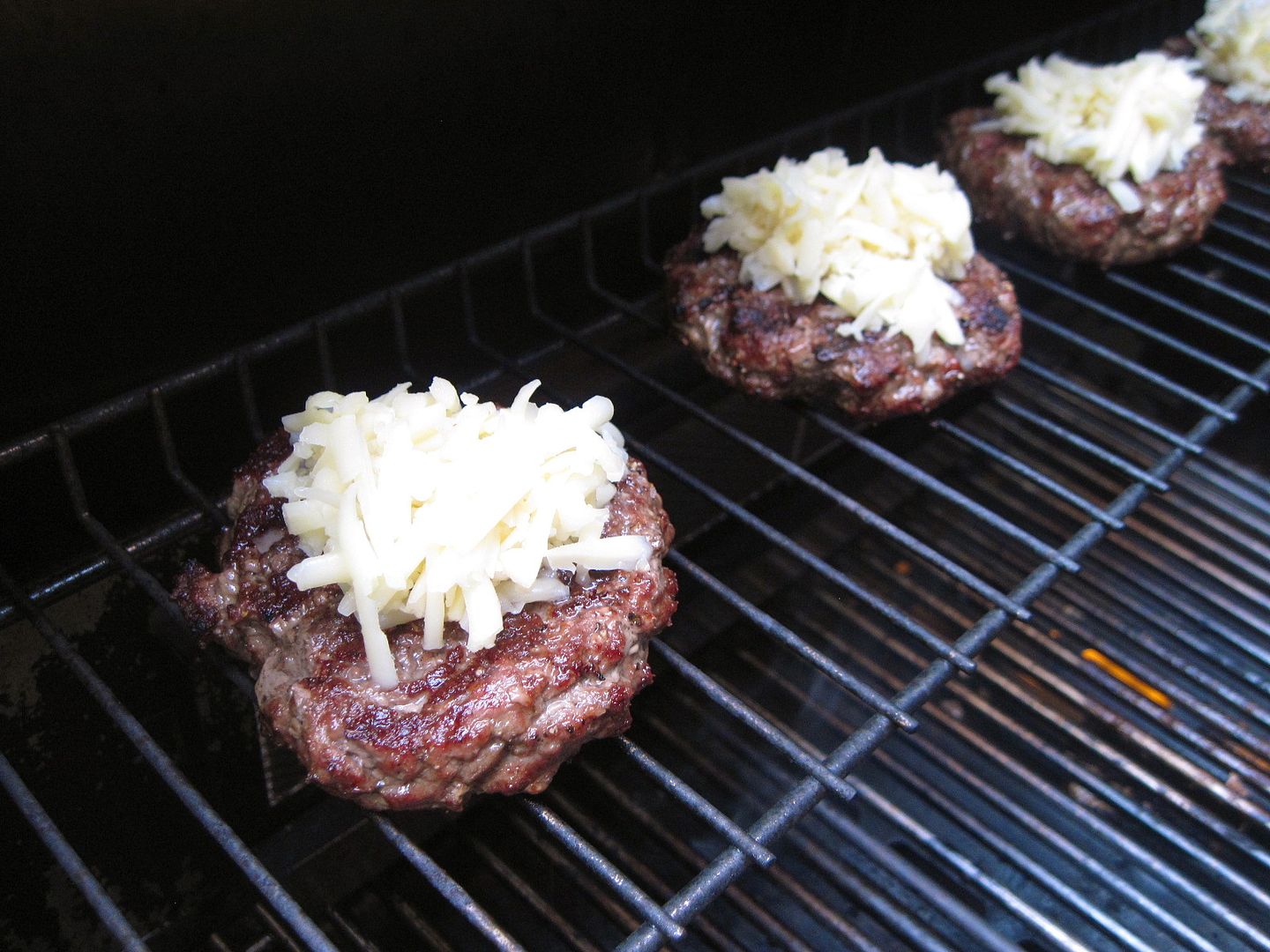 Third, if you've gone to the trouble of making your own hamburger buns, you've got to toast them. Cut them in half and pop them on the grill, cut-side down, until they have grill marks.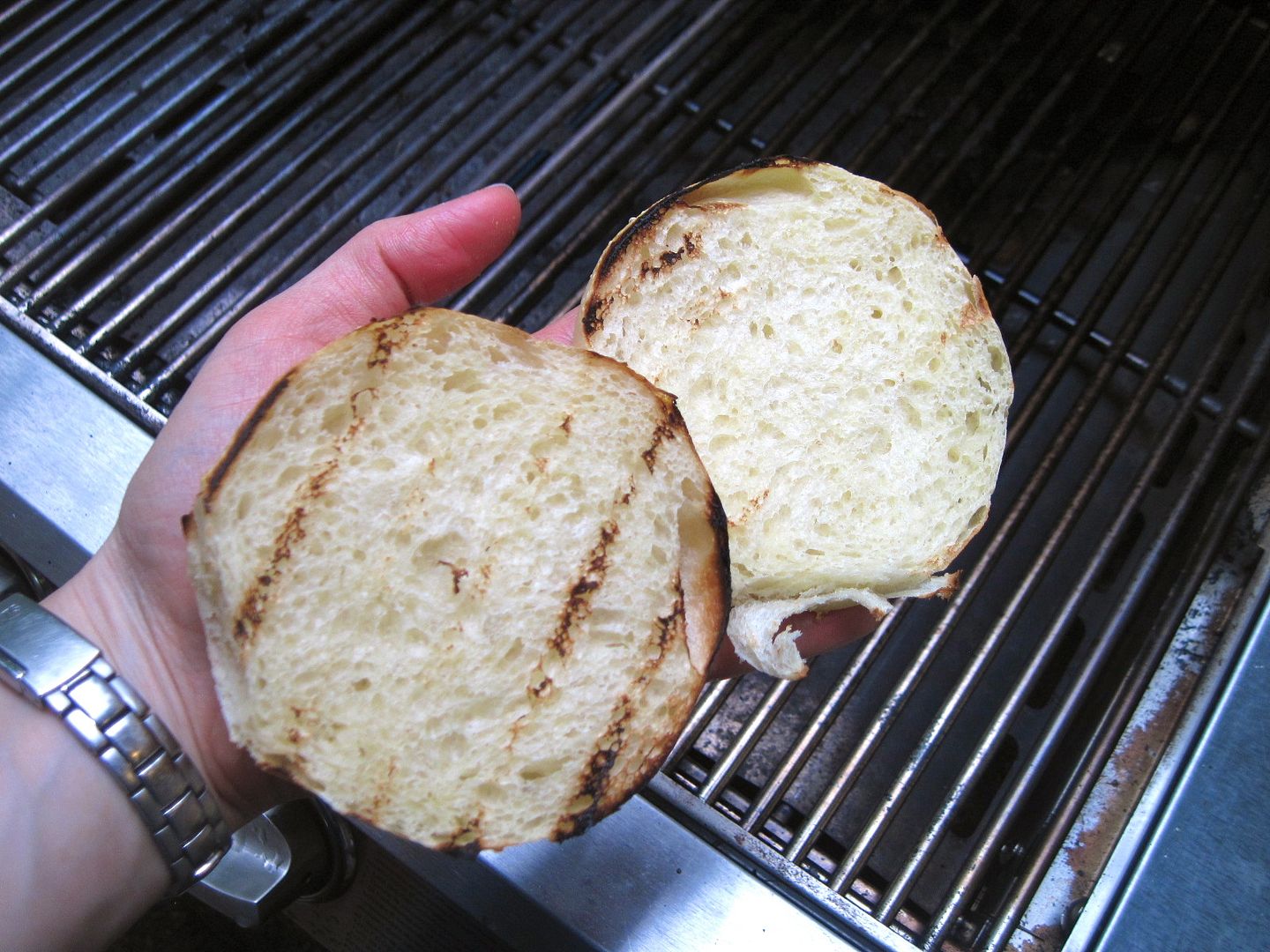 Then it's up to you to layer them with all the toppings you desire (in this case, bacon, avocado, lettuce, tomato, pickle, mayo, mustard, and ketchup).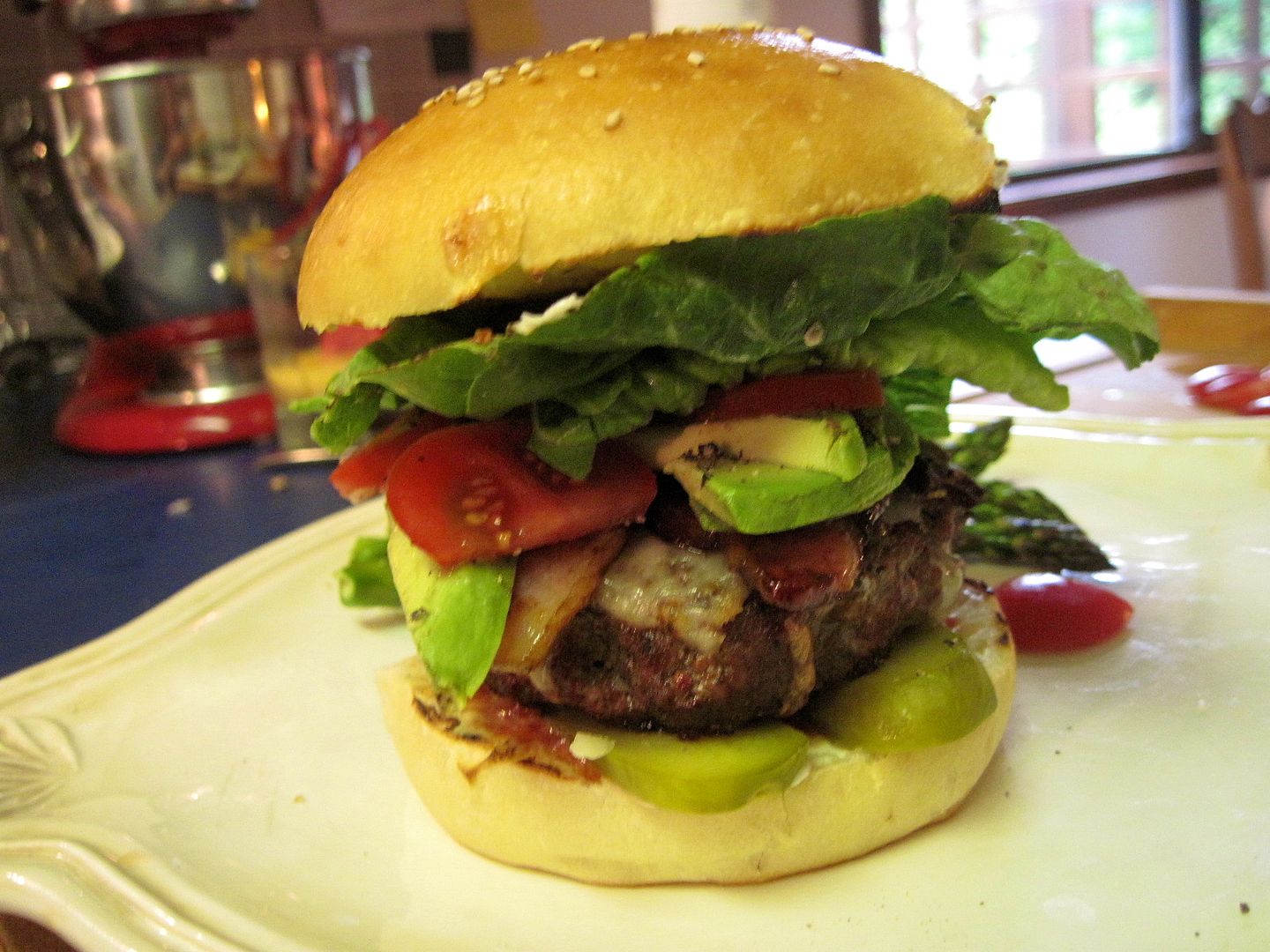 Light Brioche Hamburger Buns
Adapted from The New York Times. Makes 8 buns.
In a glass measuring cup, combine:
1 cup warm water
3 tbsp milk
3/4 tsp active dry yeast
1 1/2 tbsp honey
Mix and let sit until the yeast is frothy, about 5 minutes.
In a large bowl, combine:
3 cups bread flour
1/3 cup all purpose flour
1 1/2 tsp salt
Add 2 1/2 tbsp softened unsalted butter and rub it into the flour with your fingertips until it makes small crumbs.
Add:
the frothy yeast mixture
1 beaten egg
Stir with a wooden spoon until a shaggy dough forms.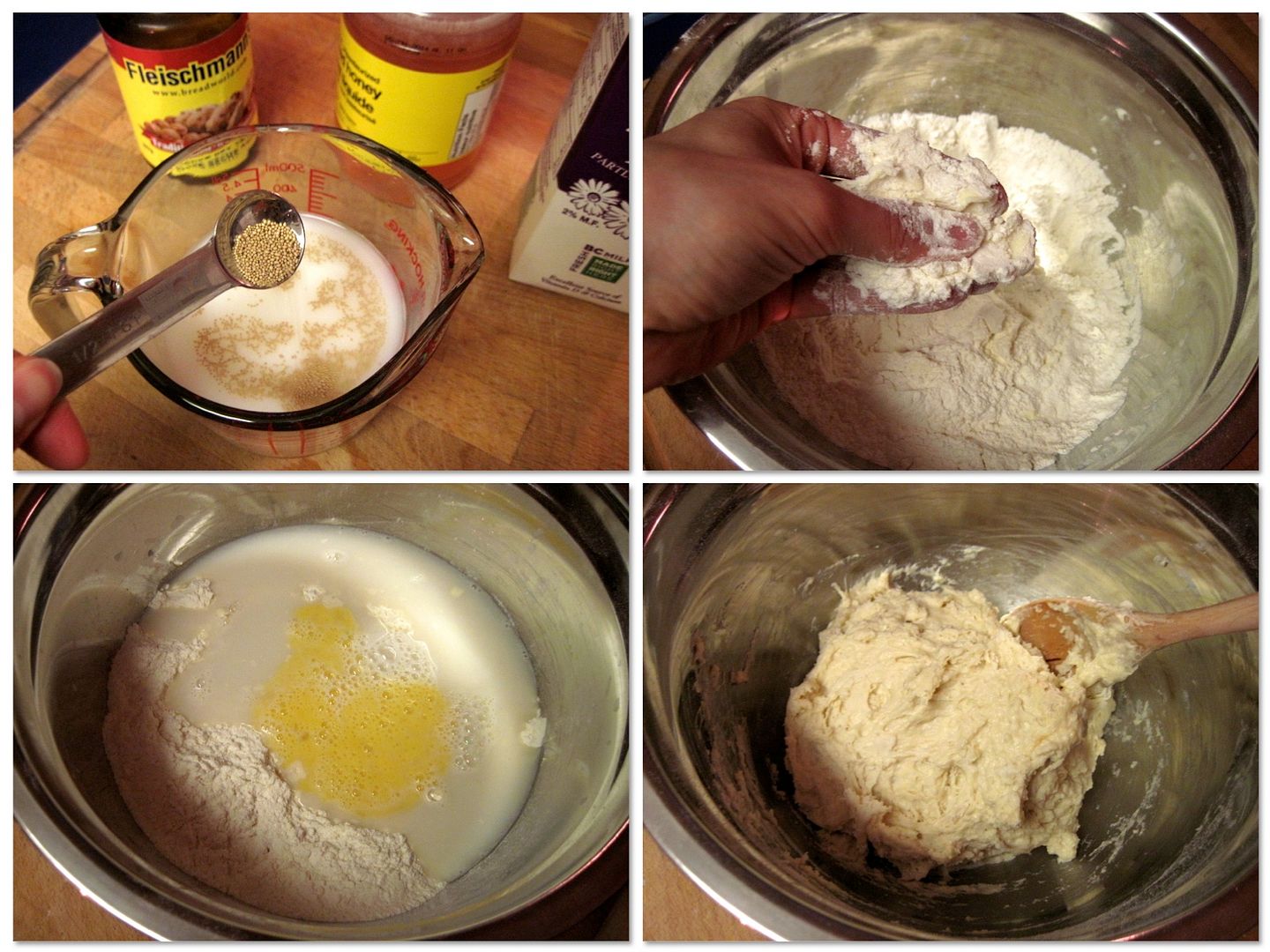 Scrape the dough out onto an unfloured surface and perform the slap and fold kneading technique until you get a smooth, elastic dough that cleans the surface you are kneading it on, about 8 to 10 minutes. (This is a good stress reliever, and will probably cause your significant other to wonder what the heck you are doing to make so much noise.) Shape the dough into a ball, place it in a bowl, and cover it tightly with plastic. Place in the fridge to rise overnight, until doubled in size.
The next morning, let the dough sit at room temperature for 30 – 40 minutes. Turn it out onto a lightly floured surface, divide it into 8 pieces, and shape each into a tight ball. I found it easiest to roll each piece in a very light dusting of flour and then pinch the edges into the middle to form a ball.
Place the buns on a silicone mat or parchment paper-lined baking tray and cover with a kitchen towel. Let the buns rise in a warm place for 1 – 2 hours, until large and puffy. You should be able to poke them gently and have the indent remain.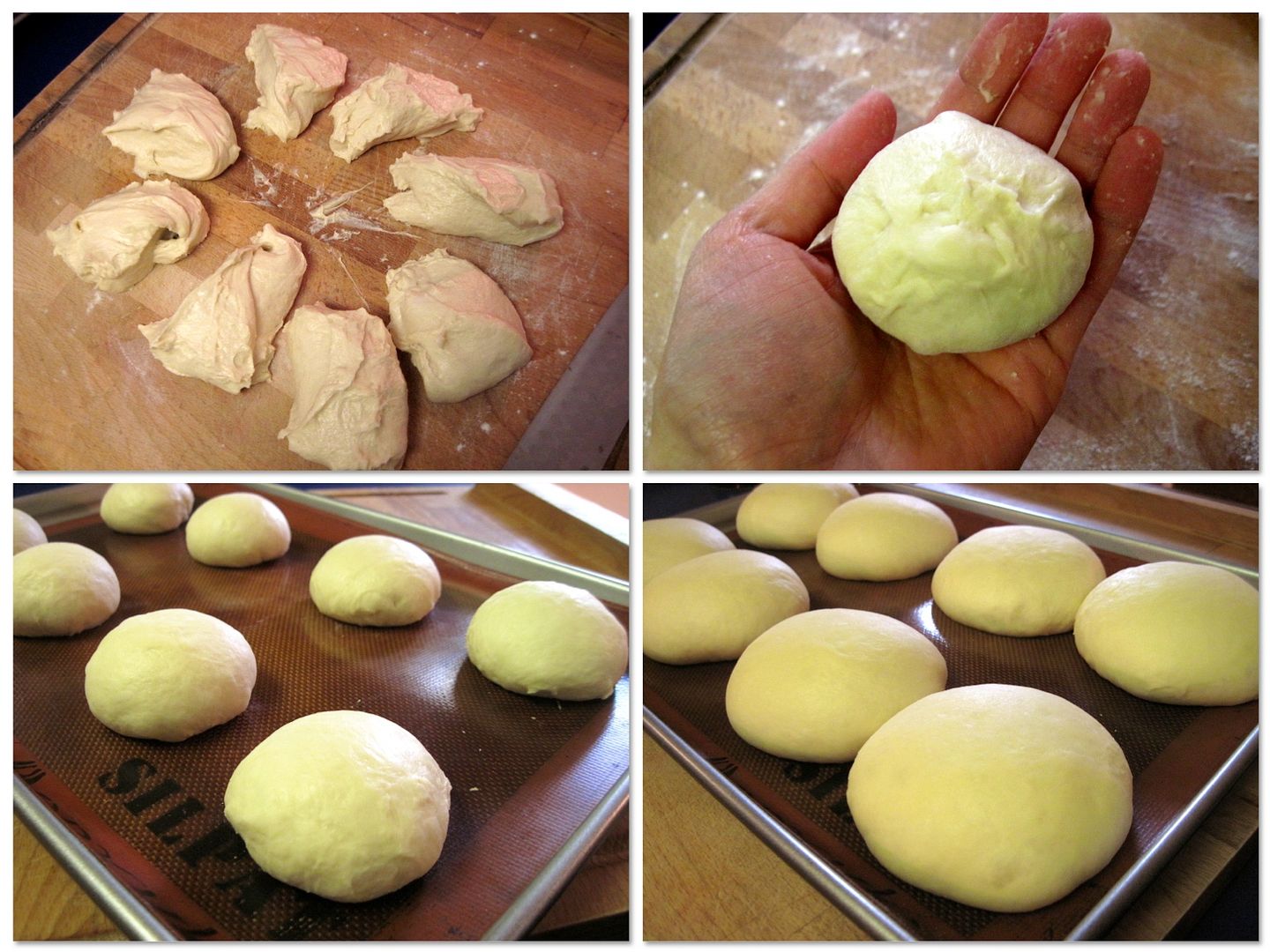 Preheat the oven to 400˚F with a rack in the middle of the oven and a roasting tray on a lower rack. Make an egg wash by whisking together 1 egg and 1 tbsp water and brush it over the risen buns. Sprinkle them with sesame seeds, if desired. Place them in the oven on the middle rack, and pour a mug of hot tap water into the roasting pan. Bake for about 15 minutes, turning the baking tray halfway through the baking time, until the buns are golden brown and shiny. Remove to a rack to cool completely before splitting, toasting, topping, and devouring.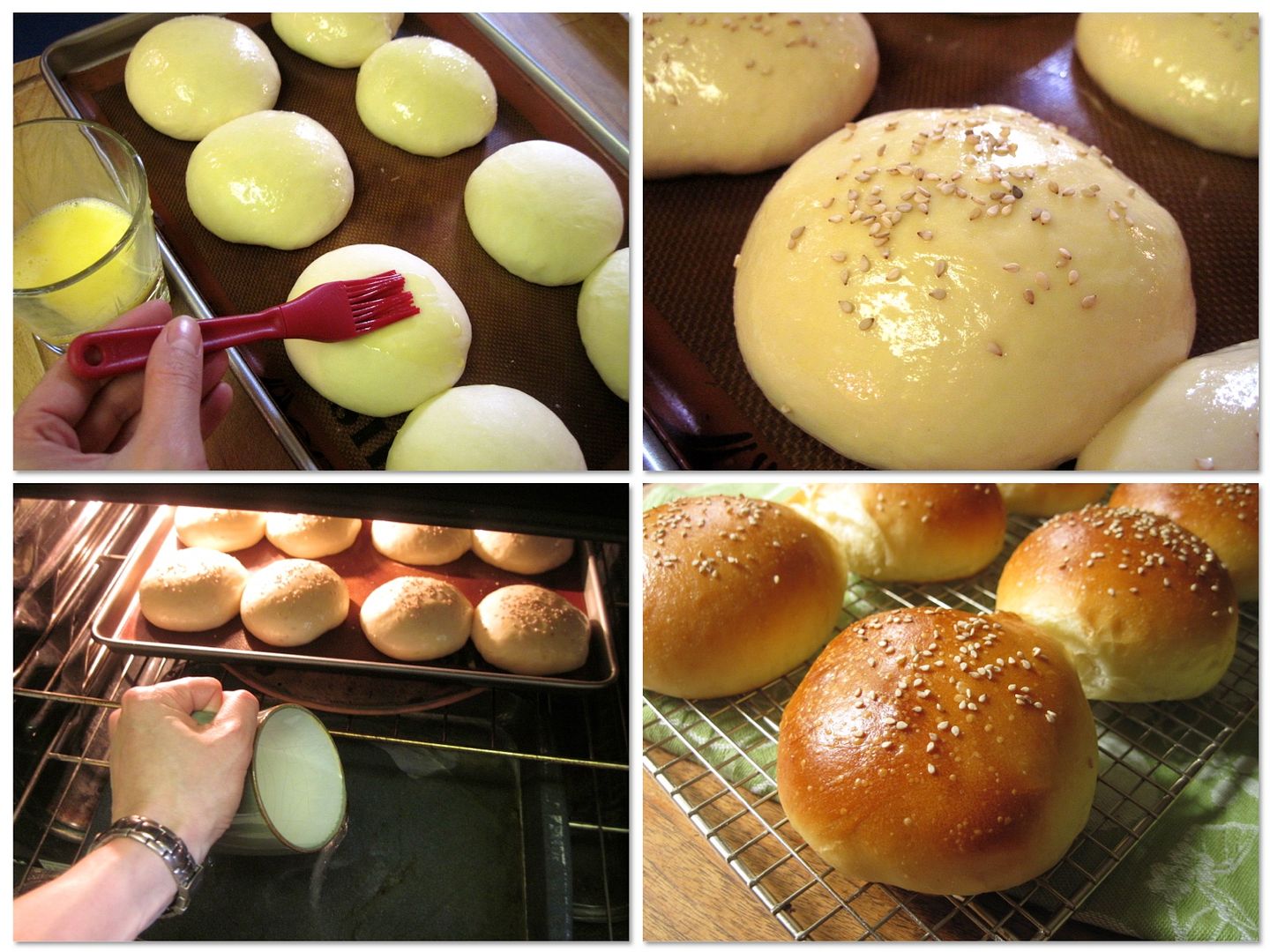 This post submitted to YeastSpotting and to Barbara and Sandra at Panissimo.