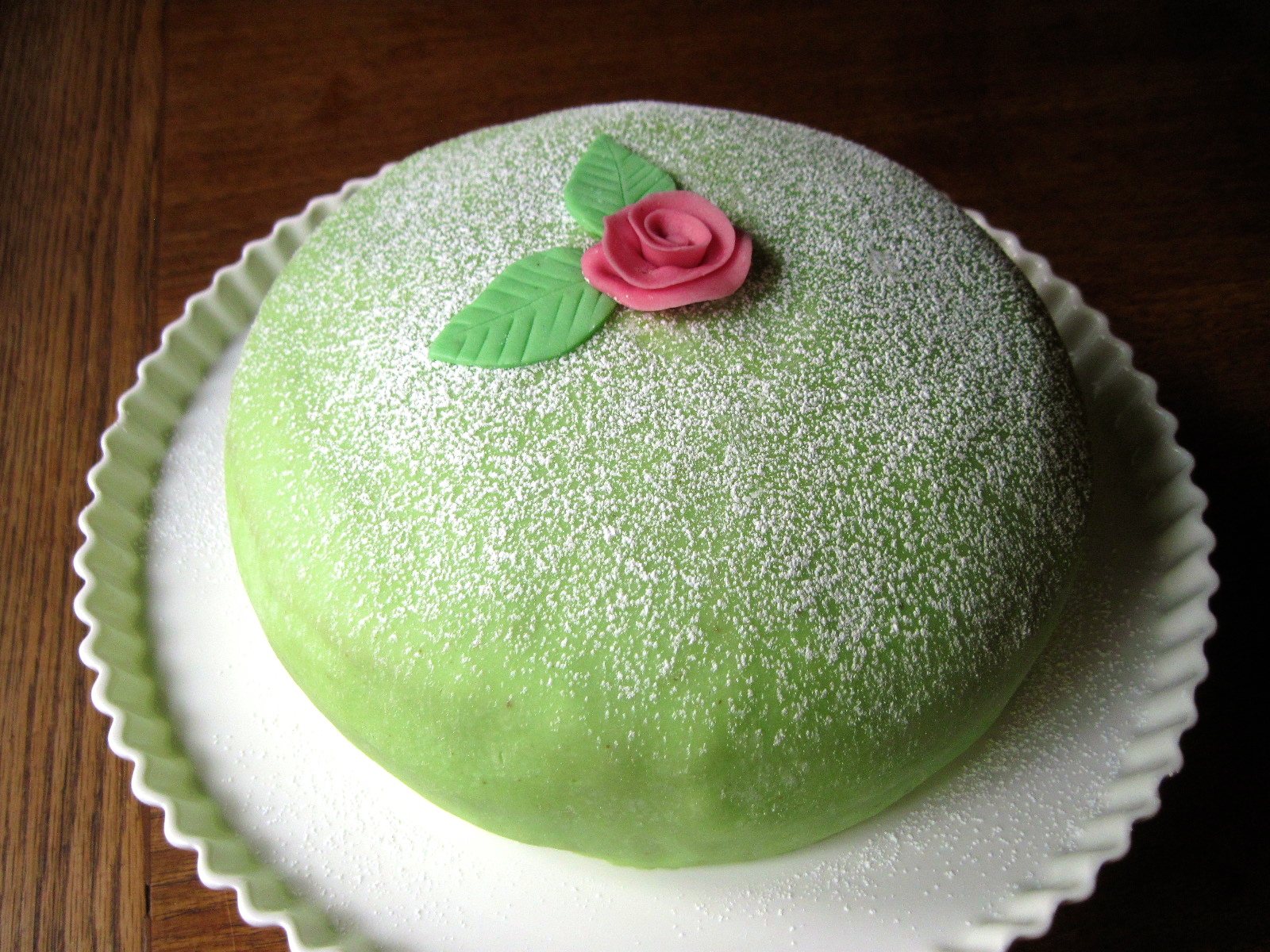 Korena of Korena in the Kitchen was our May Daring Bakers' host and she delighted us with this beautiful Swedish Prinsesstårta!
Yup, I was the Daring Bakers host this month, and I can't tell you how much fun I had! I was pretty nervous putting a recipe out there for hundreds of people to bake – what if it didn't work? what if they thought it tasted awful? – but the feedback was pretty positive and the recipe was a success, save the pastry cream, which curdled for some people (I'm so sorry, those people!). A big humungous THANK YOU to all the Daring Bakers who baked along with me this month, and please PLEASE check out the Daring Bakers blogroll to see this month's seriously amazing results – so many delicious variations and flavour combinations and beautifully decorated cakes! 🙂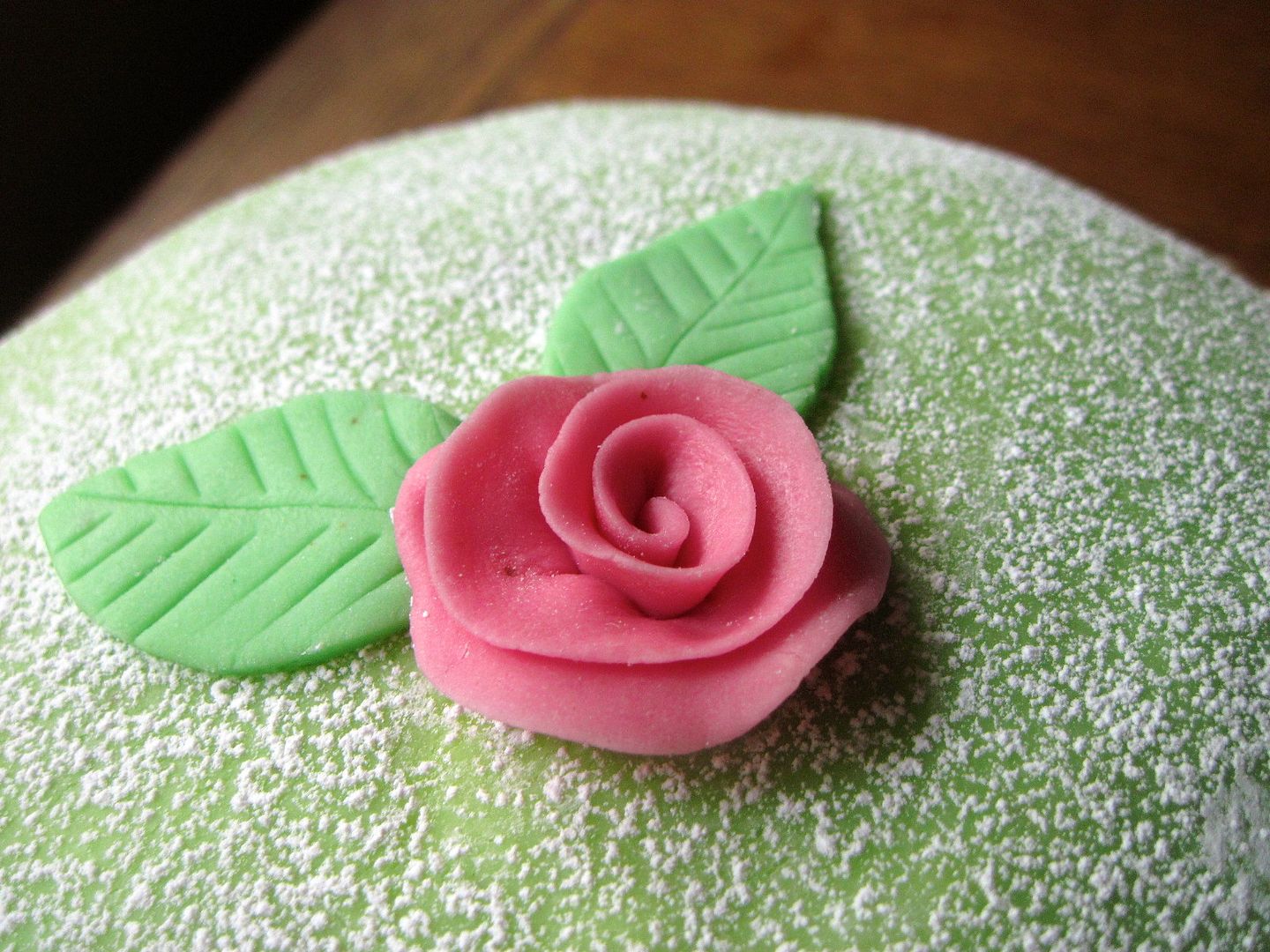 One of the reasons I started writing a food blog was so I could join the Daring Bakers, so needless to say I was pretty excited to be hosting a challenge. The recipe I shared this month was the Swedish Prinsesstårta, or princess cake. I first discovered this cake when I saw a picture of it posted on Facebook. I can never pass up a pretty cake, and the domed shape and green marzipan covering had me intrigued. And what's not to like? Layers of light sponge cake, raspberry jam, and vanilla custard/pastry cream, topped with a mound of fluffy whipped cream, covered in green marzipan, and garnished with a marzipan rose. But what I really wanted to know was what did it have to do with princesses and why was it green?
A little research revealed that the original recipe was created in the 1930s by a Swedish home economics teacher named Jenny Åkerström, who taught the three Swedish princesses of the time. She published a series of four cookbooks called "The Princess Cookbooks" and in one of the editions, there was a recipe for "Grön Tårta" (green cake). One story is that this later became known as "princess cake" (prinsesstårta) because the three princesses are said to have loved it so much. Another story is that Ms. Åkerström actually created three very elaborate "princess cake" recipes – a different one for each princess – and that the current version is a simplified combination of all three. That explains the princess connection, but the reason for the cake being green still seems to be a mystery. Today, prinsesstårta is popular in Finland as well as Sweden – so much so that the third week in September is officially Prinsesstårta Week!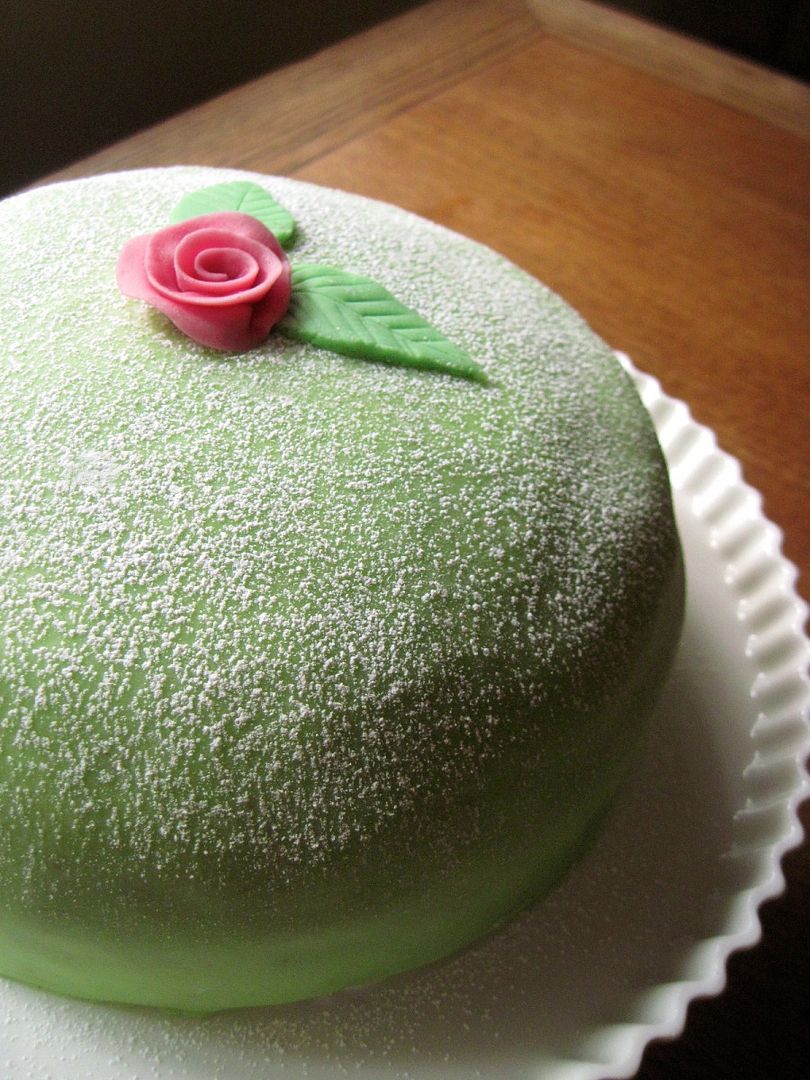 And with good reason – this is a delicious cake! The sponge cake is as soft as a feather and despite all the whipped cream and custard, the whole thing is very light and not too sweet. While it may look daunting with the easily-squished whipped cream dome and delicate-looking marzipan coat, it is not at all as difficult and fiddly to assemble as I first imagined. I promise that the results will be well worth the effort!
This cross-section diagram  shows the layered components of a prinsesstårta:

Marzipan
Sponge cake
Whipped cream
Custard/pastry cream
Sponge cake
Custard/pastry cream
Raspberry jam
Sponge cake
Some recipes vary in the number and order of the layers, but this is the basic idea. Here's a great video of how a prinsesstårta is assembled (it's in Swedish but the visual is very informative, especially for making the whipped cream dome and covering the cake with marzipan).

The specific challenge I set for the Daring Bakers this month was to create a dome-shaped cake in the spirit of a traditional prinsesstårta: layers of sponge cake, jam, custard, a mound of whipped cream, and a final layer of sponge cake, covered with marzipan or any other rolled covering. I provided a marzipan recipe for those who wanted to make their own but ready-made/store-bought marzipan was fine to use.
There are also certain variations allowed within each challenge, so I let the group to get creative with the flavour profile of their prinsesstårta by adding flavour to the sponge cake or custard or whipped cream, using any kind of jam/sauce/spread/purée, replacing the marzipan with chocolate plastique or fondant or any other rolled covering (and it didn't have to be green!), and decorating the cake however they wanted. As long as it was still "in the spirit" of a prinsesstårta, the door was wide open!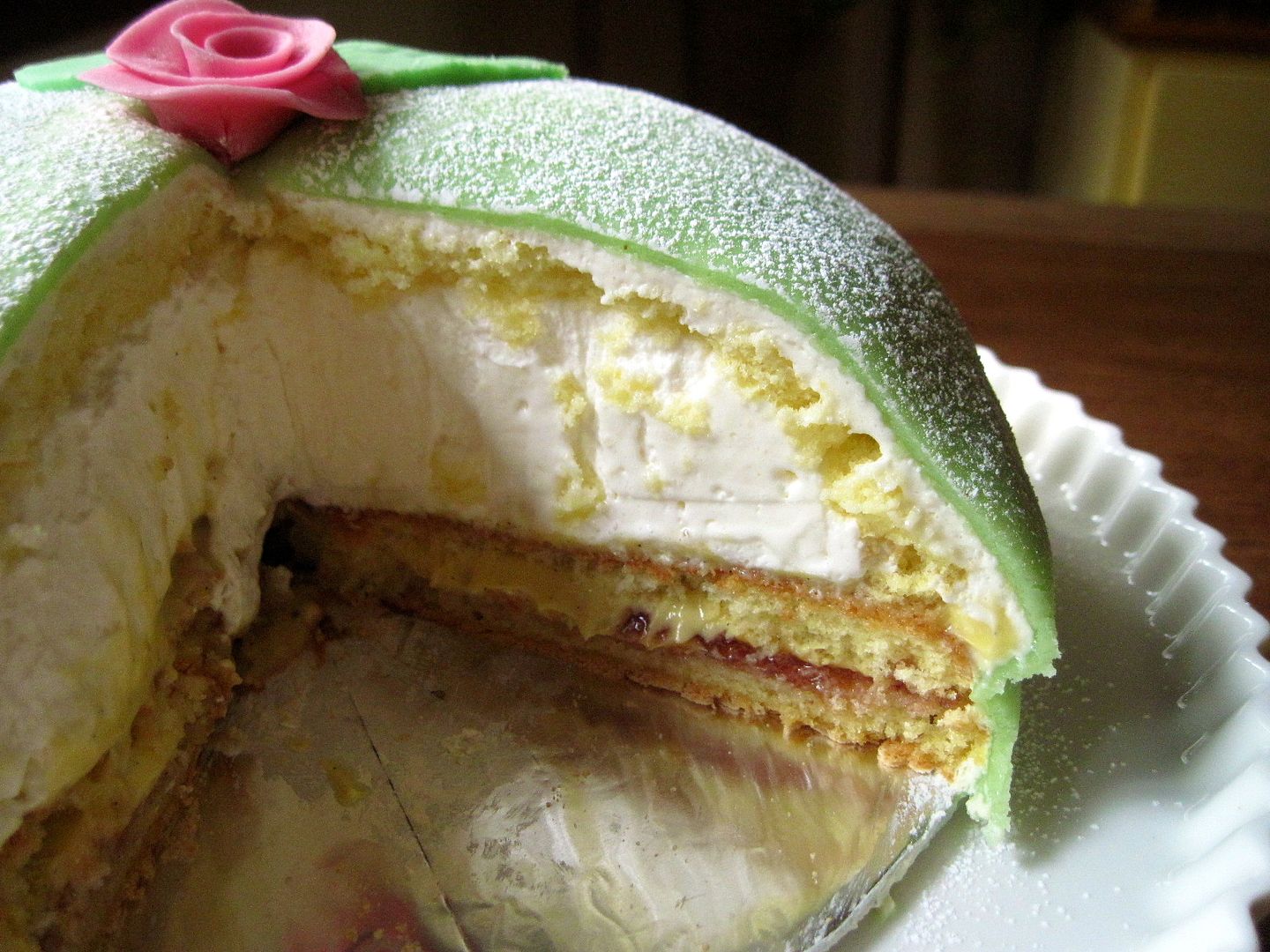 I provided a prinsesstårta recipe using the traditional flavours of plain sponge cake, raspberry jam, vanilla custard, plain whipped cream, and marzipan, decorated with a marzipan rose. These recipes were to be used as a base for flavour variations as desired, but if anyone wanted to use a different recipe than those provided for one or more components of the cake, that was fine too.
These videos show some prinsesstårta variations (videos are in Swedish but again, the visual is very informative):
Hallonprinsesstårta, or raspberry prinsesstårta, made with custard, whipped cream flavoured with raspberry jam, whole raspberries, and topped with pink marzipan
Karl-Gustav tårta, made with custard, sliced banana, a chocolate-covered meringue disc replacing the middle layer of cake, and covered with yellow marzipan
Williamtårta, made with custard, poached pear, whipped cream, topped with marzipan, covered with a shiny chocolate glaze, and garnished with toasted sliced almonds
(For more details on variations (including gluten/dairy/egg-free suggestions and marzipan replacements), please see the original challenge recipe.)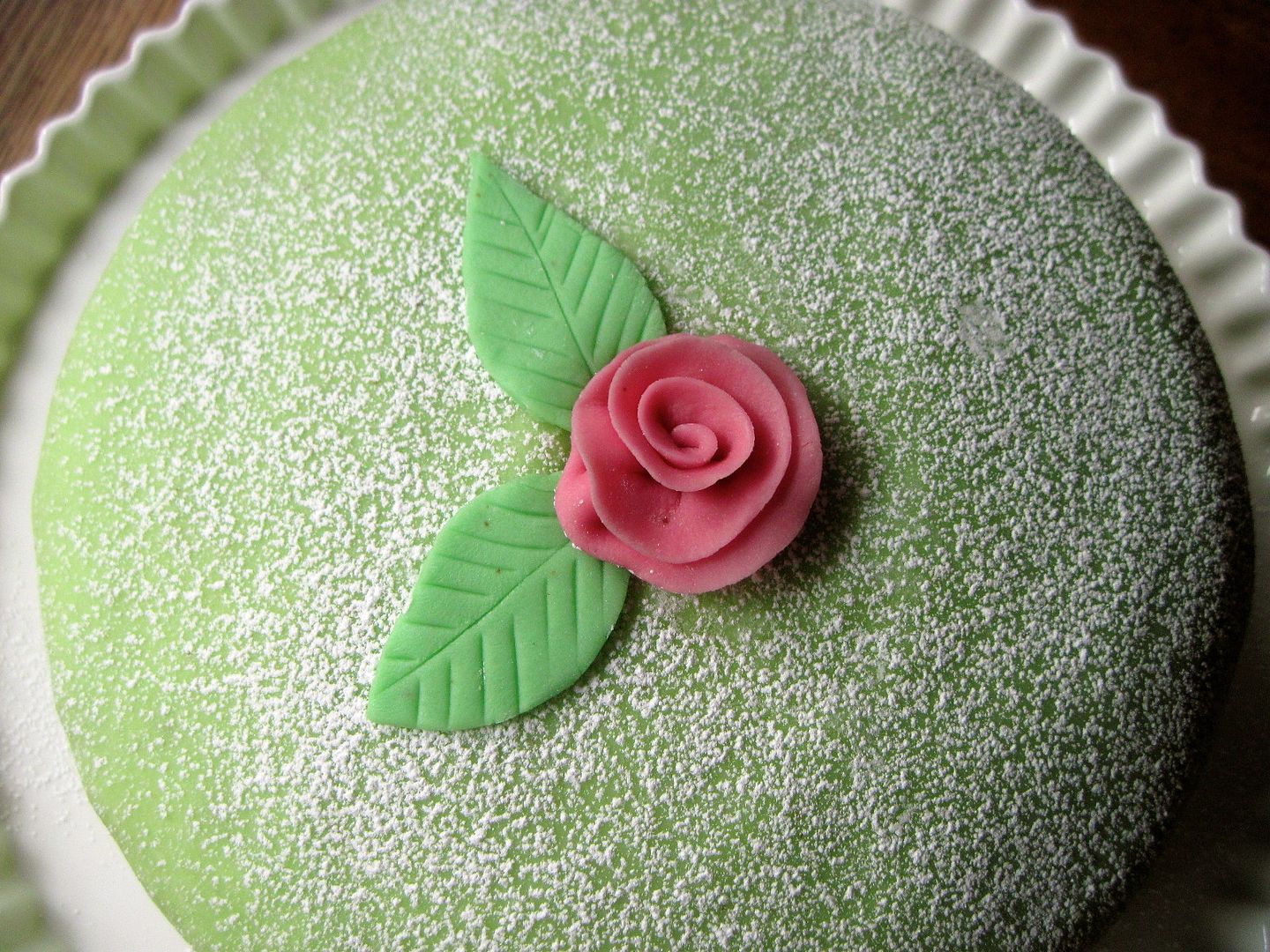 When I was creating this challenge back in March (it was the fifth cake I made that month – yikes!!), I wanted to include a recipe variation containing chocolate, mocha, and hazelnut, but because that would have been cake number six, I didn't end up doing it. Someday I will though, because this recipe lends itself so wonderfully to variations. I currently have a lemon version in my head that I also need to make at the first possible opportunity.
Anyway, this has been fairly long-winded, so if you made it this far, congratulations! Now on to the good stuff – here's the recipe 🙂
Traditional Swedish Prinsesstårta
Servings: 8 – 10. Makes one 9" round cake. Cake components and assembly adapted from Semiswede, custard method adapted from Tartelette.
Vanilla Custard
A few people reported that their custard curdled. In my experience, if this starts to happen while you are cooking it, remove it from the heat and whisk it like crazy until it becomes smooth, then return it to the heat and continue cooking it. Here are some more tips that might help, too:
Pour the hot cream mixture into the egg mixture nice and slowly, which helps temper the eggs and stop them from becoming scrambled eggs.
Cook the custard over gentle heat so that the eggs don't cook too fast and become scrambled eggs.
Whisk, whisk, whisk like crazy while you are cooking the custard, especially if it starts to look curdled!
Have a bowl of ice water nearby that you can plunge the bottom of the pot into as soon as the custard is finished cooking.
You want the custard to *just* come to a boil – it should emit a few slow bubbles, but don't let it boil vigorously, or it will curdle. As soon as you get a few bubbles, it is done.
If your custard does curdle, you can still save it! Let it cool to room temperature and whip it in the blender for a few seconds until nice and creamy again. (Thanks Rebecca for this tip!)
In a medium bowl, whisk together:
4 egg yolks from large eggs
2 tablespoons (30 ml) (15 gm) (½ oz) cornstarch
2 tablespoons (30 ml) (30 gm) (1 oz) granulated white sugar
Gradually whisk in ½ cup (120 ml) heavy cream until smooth, and set aside.
Meanwhile, in a medium saucepan over medium heat, combine ½ cup (120 ml) of heavy cream and one scraped vanilla bean (or you can add vanilla extract later) and bring just to the boiling point. Remove the vanilla bean pod, leaving behind the seeds. Slowly whisk the hot cream into the bowl with the egg mixture to temper the eggs.

 Pour the mixture back into the saucepan and cook over medium-low heat, whisking constantly, until it becomes thick like pudding and just comes to a boil. The mixture must hit a boil for the cornstarch to properly thicken the custard, and also to cook out any starchy taste. If it starts to look curdled or lumpy, remove it from the heat and whisk vigorously until smooth, then return to the heat. As soon as it comes to a boil, remove it from the heat. If you did not use the vanilla bean, add 2 tsp vanilla extract now. (If desired, pass the custard through a fine mesh sieve before continuing.)

Pour the custard into a clean bowl and press a piece of plastic wrap directly onto the surface to prevent a skin from forming. Refrigerate until completely cold. Can be prepared a day ahead and kept in the refrigerator.

Sponge Cake
This recipe uses potato starch, which is gluten-free and NOT the same as potato flour. If potato starch is unavailable, cornstarch can be used instead. This article has more information about potato starch, if you are unfamiliar with it. I couldn't find potato starch so I used cornstarch and it worked very well.
Preheat the oven to moderate 350°F/180°C/gas mark 4 with a rack in the lower third of the oven. Thoroughly butter a 9" (23 cm) round springform pan, line the bottom with a circle of parchment paper, then butter the paper. Dust the buttered pan with enough breadcrumbs (I used crushed panko) to coat the bottom and sides, just like flouring a cake pan. Set aside.

In a mixing bowl, place:
4 large eggs, at room temperature
1 cup (240 ml) (225 gm) (8 oz)  granulated white sugar
Beat on medium-high speed with an electric mixer or stand mixer with whisk attachment until the eggs are tripled in volume and very light coloured and fluffy, about 5 minutes. The mixture should fall from the beaters in thick ribbons. Don't overbeat the eggs – once they form thick ribbons and stop growing in volume, stop beating.

Sift together into a bowl:
½ cup (120 ml) (70 gm) (2½ oz) all-purpose (plain) flour
½ cup (120 ml) (65 gm) (2¼ oz) potato starch (or cornstarch)
1 teaspoon (5 ml) (5 gm) baking powder
1/8 teaspoon salt
Sift the flour mixture over the whipped eggs. With a balloon whisk, fold the flour into the eggs until blended, keeping as much air in the batter as possible. Use large, gentle yet confident strokes, bringing batter from the bottom of the bowl to the top. Once mixed, the batter should be quite thick and smooth.

Pour the batter into the prepared pan, spread it out evenly, and bake in the lower third of the preheated moderate moderate 350°F/180°C/gas mark 4 oven for about 40 minutes or until golden brown on top, springy to the touch, and a toothpick inserted in the center comes out with a few moist crumbs sticking to it.
Let the cake cool in the pan for a few minutes then run a knife around the edge and remove the sides of the springform pan. Don't worry if it sinks a bit in the middle.
Invert the cake onto a cooling rack and peel off the parchment paper. If the cake is lopsided, press gently to make it level, then allow it to cool completely before continuing. The cake can be made a day ahead and stored, well-wrapped in plastic, at a cool room temperature.

Marzipan Covering and Rose
I have provided a homemade marzipan recipe at the end of this post, but feel free to use store-bought. Gel or paste food colouring is best for tinting the marzipan covering because it doesn't contain enough excess moisture to make the marzipan sticky. Liquid food colouring will work, but you may have to knead some extra icing sugar into the marzipan to make it less sticky (this is what I did).

Take 10 oz of plain marzipan and set aside a chunk about the size of a walnut to make a rose for decoration. Knead the remaining marzipan on a surface dusted with icing sugar until it becomes softer and smooth (the warmth from your hands will help this).
Add a small amount of green food colouring (I used 3 or 4 drops of liquid food colouring) and knead it into the marzipan to get the desired shade of green. You might need to add a little more green or yellow food colouring to get the right colour – anything from pastel green to bright spring green (just not neon green!) Wrap tightly in plastic and refrigerate until you are ready to cover the cake (or store as directed on the marzipan package).

To make the rose, tint the reserved plain marzipan with a tiny bit of red food colouring to make it pink. Dust your work surface with icing sugar and roll the marzipan into a log. With a rolling pin, roll it out into a long ribbon, about 1" (2 ½ cm) wide and 1/8" (3 mm) thick. Use plenty of icing sugar so that the marzipan doesn't stick.

Press one long edge of the ribbon with your fingertip to thin it out slightly. Begin rolling up the ribbon, leaving the thin edge loose to form the petals of the rose. Start the roll off tightly, then loosen up as you go, pinching and gathering the marzipan to create creases and ruffles. Gently flare out the petals of the rose with your fingertip.
When the rose is large enough, cut off any remaining marzipan ribbon. Pinch off the excess marzipan from the bottom of the rose and set aside to dry slightly.

Other methods for making a marzipan rose (no special equipment needed):
Prinsesstårta Assembly
In a large bowl, whip 2 cups heavy cream until soft peaks form. Add sugar to taste (keep in mind that the rest of the cake components are sweet, so the whipped cream should be very lightly sweetened at most) and continue whipping the cream until stiff. You want it to be sturdy enough to provide structure to the cake, but not over-whipped enough to make butter. Set the whipped cream aside.

With a long serrated knife, slice the sponge cake into three even layers. This cake is very delicate, so do this as carefully as possible. Use a gentle sawing motion to move the knife through the cake instead of trying to pull it through the cake. Use a spatula to help you lift off each layer after you cut it. Set aside the middle layer – this will become the top layer of the assembled cake as it is the most flexible and therefore easiest to bend into a dome over the whipped cream.

Place one of remaining layers on a cake board or serving platter and spread it evenly with 1/3 cup seedless raspberry jam (or regular jam pressed through a sieve to remove the seeds). Spread or pipe half the chilled custard over the jam in an even layer, leaving enough room around the edges so that it doesn't spill over the sides of the cake.

Top the custard with another layer of cake. Spread or pipe the remaining custard evenly over it, again leaving some room around the edges.

Reserve ½ cup (120 ml) of the stiffly whipped cream. Pile the remaining whipped cream into a mound on top of the custard. Spread it into a thick layer with a thin, flexible spatula or off-set spatula, then hold the spatula at an angle to shape the whipped cream into a dome, piling it up in the middle of the cake as much as possible.
Place the final layer of sponge cake (the one cut from the middle of the cake) on top of the whipped cream. Do not press on the top of the cake – instead, gently tuck the edges of the cake layer into the whipped cream, so that they are flush with the cream. This will create a smooth, seamless dome on top of the cake.

Gently spread the reserved ½ cup (120 ml) of whipped cream over the entire cake to fill in any cracks and even out the surface. If necessary, refrigerate the cake to firm it up before continuing.

Dust your work surface with icing sugar and press the green marzipan into a 6-inch (15 cm) disc (knead it a bit to warm it up first). Coat both sides with icing sugar and roll it out into a 14" (35½ cm) diameter circle less than 1/8" (3 mm) thick. Use plenty of icing sugar to prevent it from sticking. Alternatively, you can roll the marzipan out between two wide sheets of parchment paper (still use plenty of icing sugar). Use the rolling pin to drape the rolled-out marzipan sheet over the cake and smooth it around the cake gently with your hands.

If it seems like it wants to fold or buckle around the cake, gently lift and stretch it away from the cake with one hand while smoothing it down with the other. Trim the excess marzipan from the bottom of the cake with a paring knife or spatula blade.
If desired, cut leaves out of the scraps of green marzipan (you can knead in another drop of green food colouring to make the leaves a slightly darker green). Use a paring knife to score vein-like lines, then pinch one end of the leaf to give it some shape.

Dust the cake with icing sugar, then place the marzipan rose and leaves in the middle of the cake. (You can also use melted chocolate, royal icing, or piping gel to pipe a design on top of the cake, if you wish.)

To serve, cut the cake into wedges with a large, sharp knife (run the blade under hot water and wipe it clean after every cut for neater slices). The cake can be served immediately but will be easier to slice after chilling in the refrigerator for at least an hour.
The finished Prinsesstårta should be refrigerated until serving, and any leftovers refrigerated as well. Ideally the cake is eaten the day it is made, but will keep in the refrigerator for a day or so, after which it may lose its structural integrity and aesthetic appeal (but it will still taste good!)
Egg-Free Marzipan
Adapted from Cake Central
In the bowl of a food processor, place:
4 oz (115 gm) ground almonds
8 oz (225 gm)  icing sugar
Pulse to combine and break up any lumps, then add:
¼ cup (60 ml) corn syrup
½ teaspoon (5 ml) almond extract
Pulse again to combine. The mixture should be quite dry and crumbly still.

With the food processor running, slowly drizzle in 1 tablespoon (15 ml) lemon juice or water, stopping as soon as the mixture starts to clump together.

Scrape the marzipan out onto a work surface and knead it into a ball. Wrap in plastic and chill overnight in the refrigerator to let the flavours ripen. Makes just over 1 lb.
*          *          *
Again, thanks to all the Daring Bakers who participated in this month's challenge, and big props to Lis for making it all happen month after month!