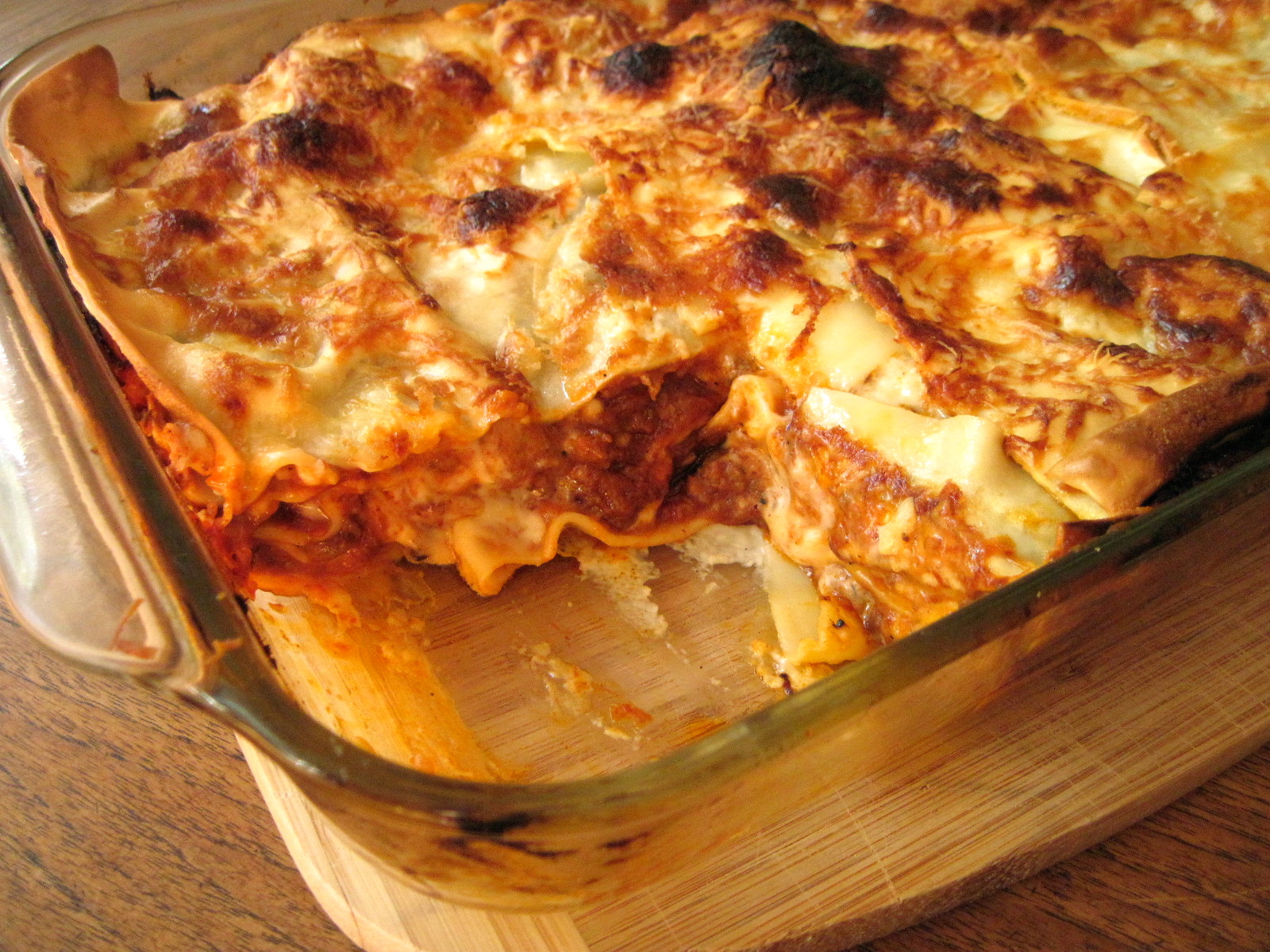 Did you know that a true lasagne bolognese contains neither ricotta nor mozzarella? Just bolognese sauce, béchamel sauce and parmesan cheese (and pasta sheets, of course), and it is delicious.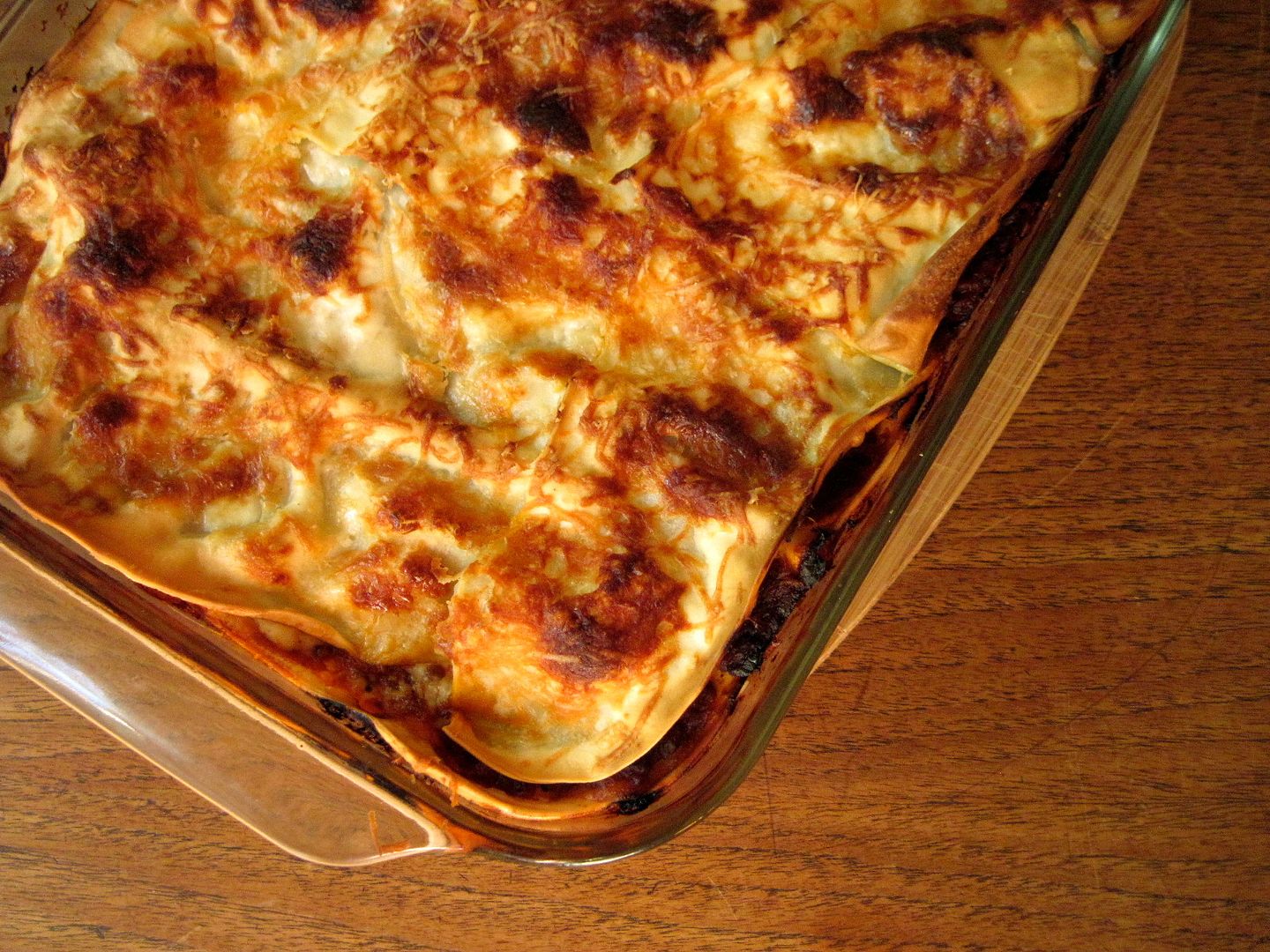 I based this on Smitten Kitchen's recipe, which she calls her culinary Mount Everest – and with good reason. This is an epic dish. I modified the bolognese recipe to accommodate what I had in my pantry, used my own pasta recipe for the lasagne sheets, and stupidly only made half as much béchamel as I needed, but it was still awesome. I guess I can't call it "true" lasagne bolognese because I did sneak some mozzarella in there along with the parmesan, but whatever. It's definitely the most authentic lasagne I've ever made, and it sets the bar high. Homemade pasta sheets for the win!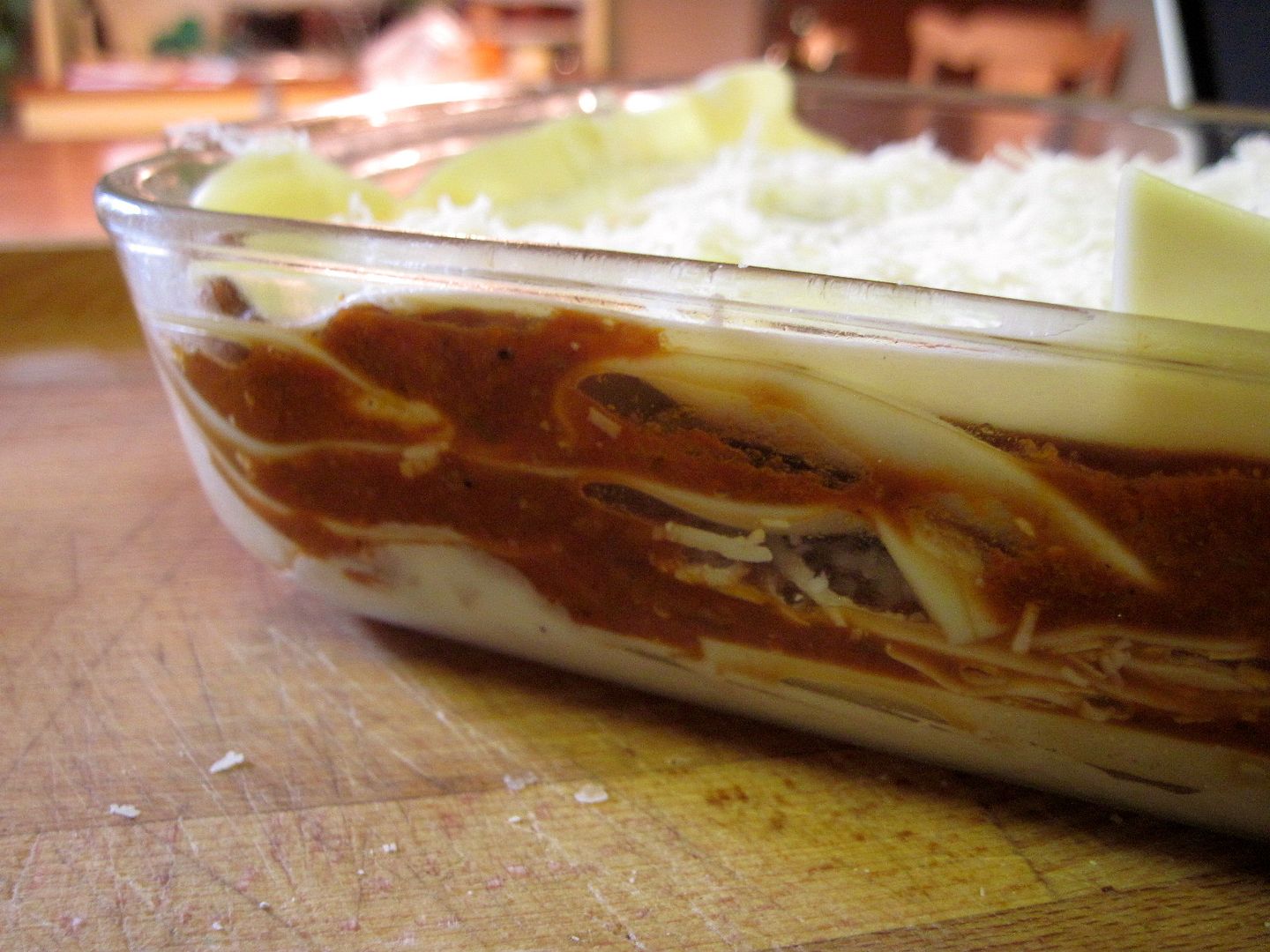 Because you're making literally everything from scratch, the whole thing takes a while to put together. You could make it easy on yourself by simmering the sauce on day one and making the rest of the thing on day two, but I like taking the hard road, so I made it all in one day, starting with the bolognese first thing in the morning, making the pasta later in the afternoon, and assembling the lasagne for dinner. But I like I said: hard road. My feet were killing me by the time we had dinner (did I mention I was also making this cake at the same time?), but it was totally worth it.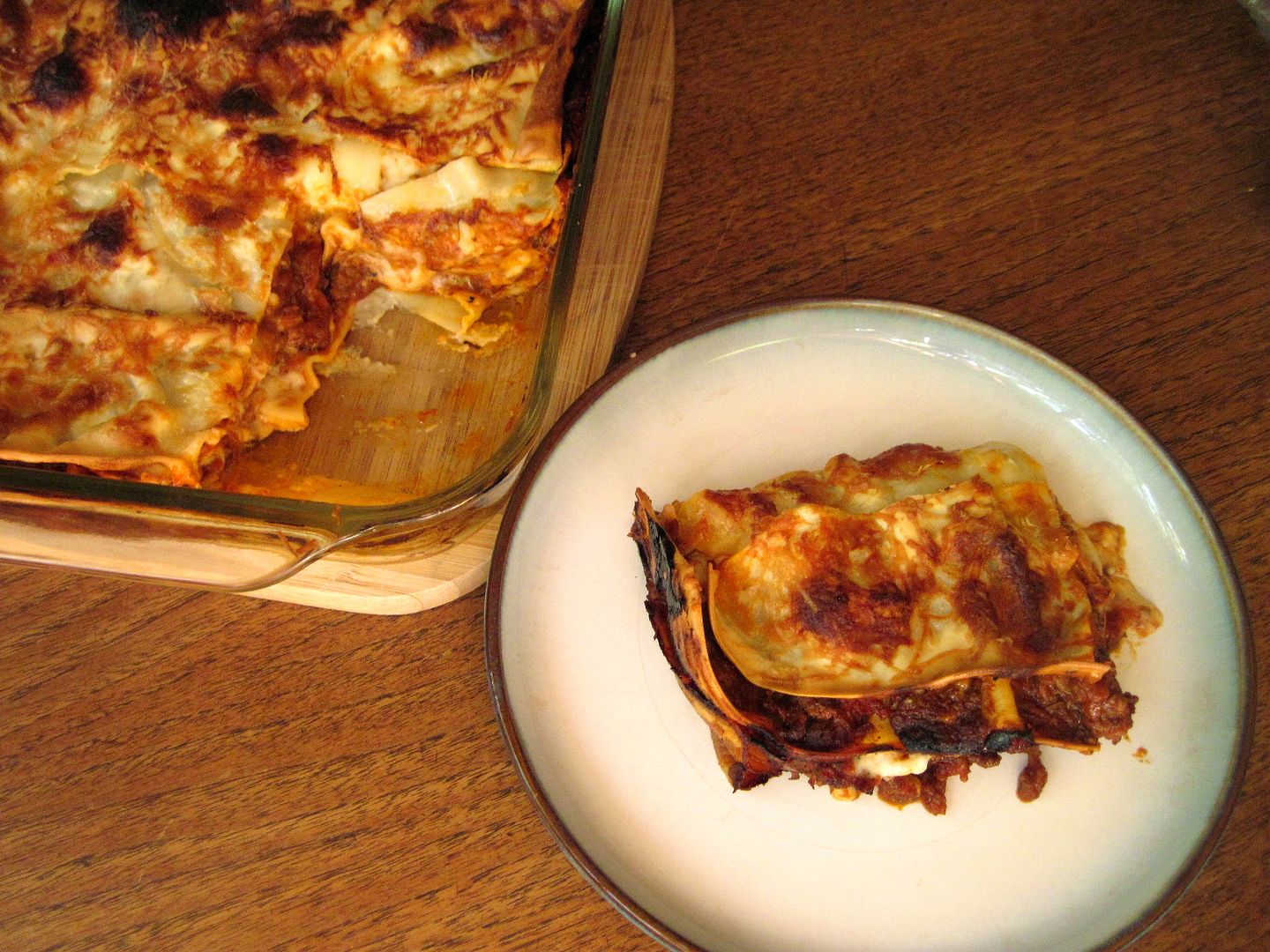 Lasagne Bolognese
Inspired by Smitten Kitchen. Makes a 9″ x 13″ pan of lasagne (9-12 servings).
Bolognese Sauce
Makes about 4 cups. This requires 3 – 4 hours simmering, so feel free to make it the day before.
In the bowl of a food processor, pulse until finely chopped (but not puréed):
1/2 a large onion, roughly chopped
1 medium carrot, roughly chopped
1 rib of celery, roughly chopped
2 cloves garlic, roughly chopped
Pour a few tablespoons of olive oil into a Dutch oven and heat over over medium-high heat. Add the chopped vegetables and sauté until they start to brown. Season generously with salt and pepper.
Add:
1 lb of ground beef
Break it up with your spoon and cook until well browned. Season with more salt and pepper.

Add:
1 14 (oops) 28 oz can crushed tomatoes
1 cup water
1 generous tbsp of fruity balsamic vinegar (I used a blackberry balsamic vinegar – or you could omit the water and balsamic vinegar and instead deglaze the pan with 1 cup of red wine)
a big pinch each dried rosemary, oregano, and thyme
2 bay leaves
Bring to a boil, then cover, reduce the heat, and simmer gently for 3 – 4 hours until thick, rich, and succulent. Cool slightly before using to assemble the lasagne. Can be refrigerated overnight.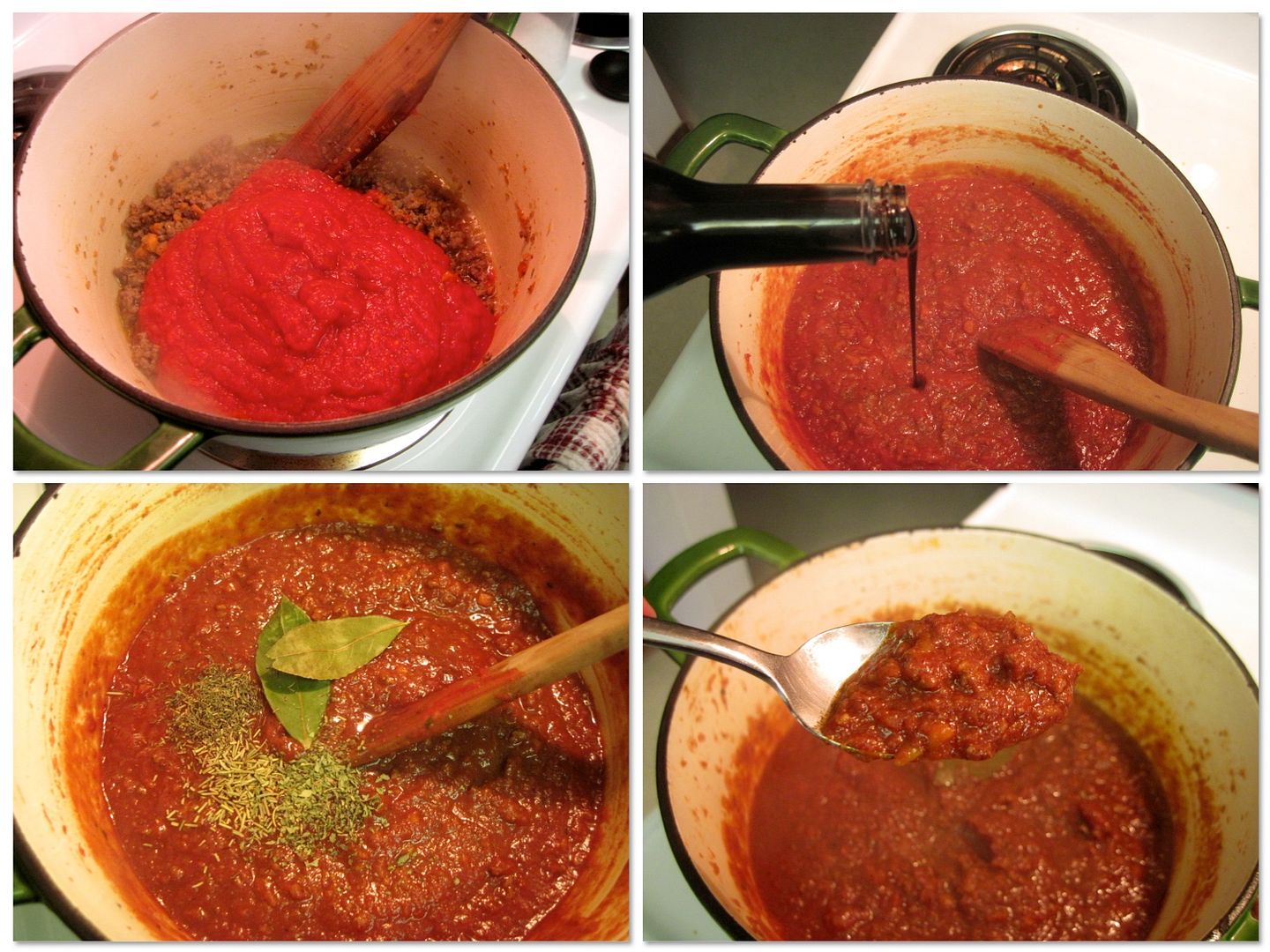 Pasta Sheets
With a fork, mix together:
2 large eggs
1 tbsp olive oil
Combine the egg mixture n a food processor bowl fitted with a dough blade (if you have one, otherwise the chopping blade is fine) with 2 cups of all purpose flour. Process until the dough starts to clump together, adding a few drops of water if necessary. Wrap the dough in plastic and let it rest for at least 30 minutes.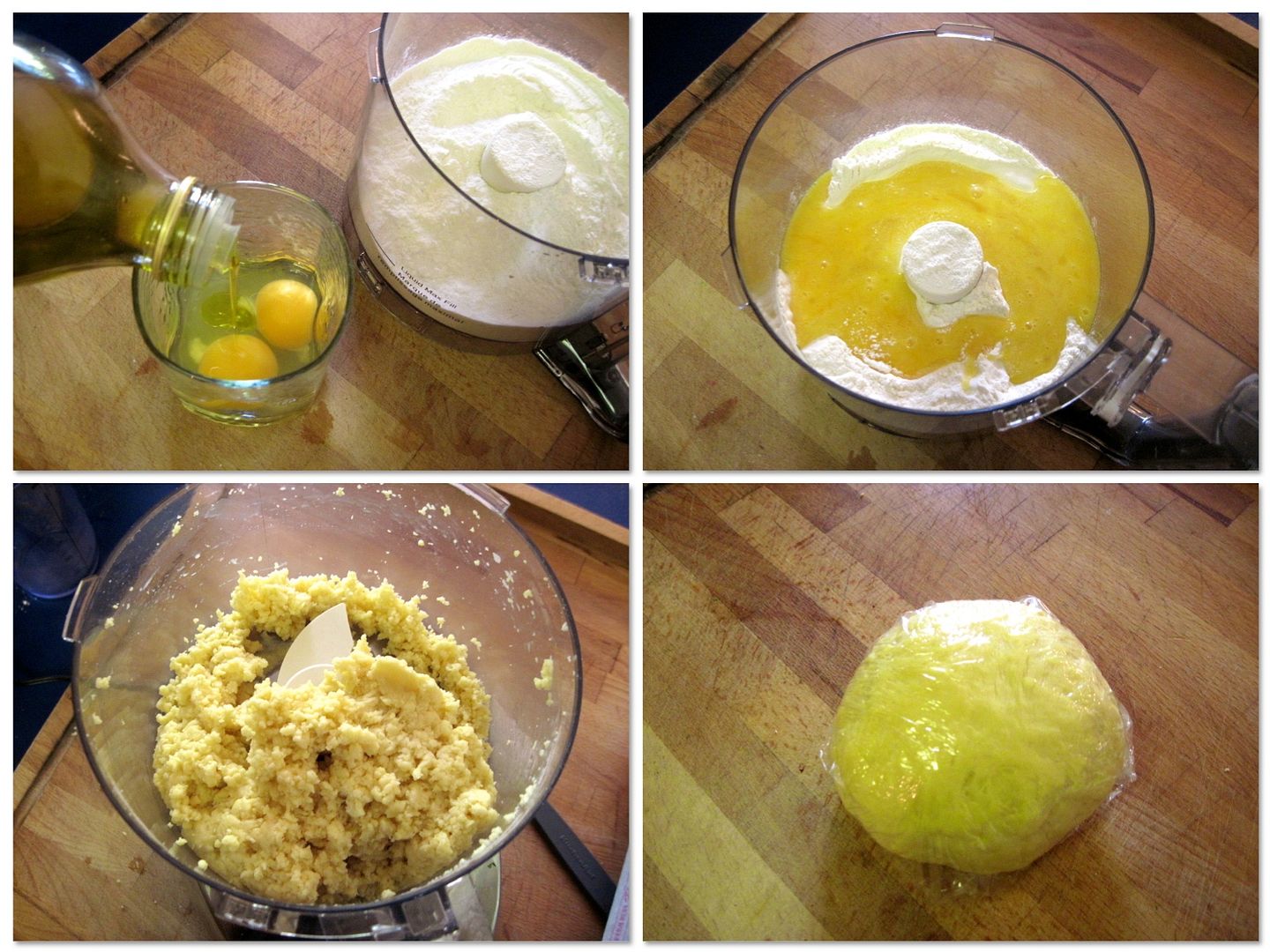 On a floured surface, divide the dough into 6 pieces. Working one piece at a time (keep the rest covered to prevent them from drying out), roll the dough through a pasta machine, stopping at the next-to-thinnest setting (see this post for detailed pasta rolling instructions). Place the rolled-out sheets in a single layer on a tea towel, cut them into square-ish pieces, and cover them with plastic wrap to prevent them from drying out too much.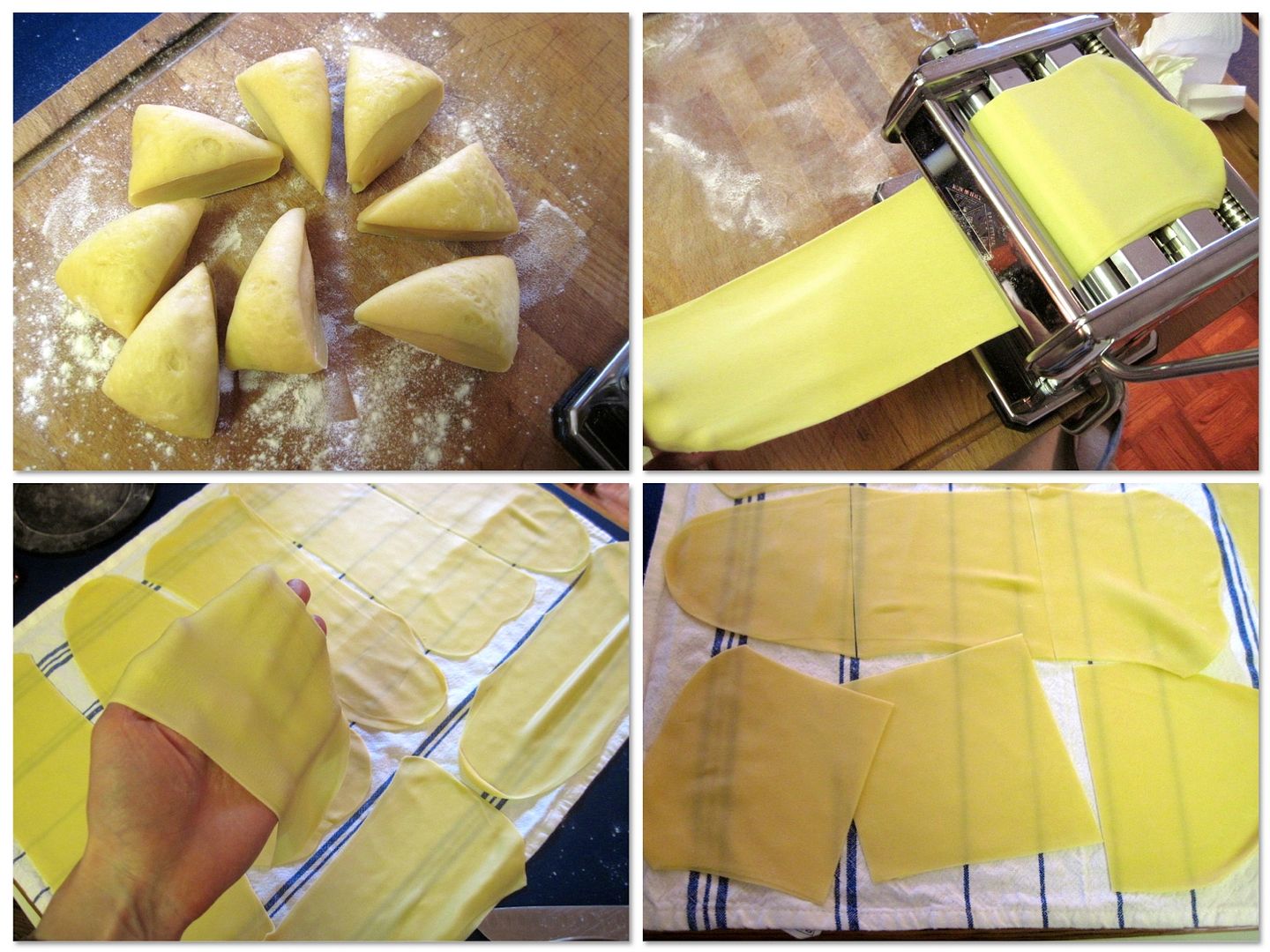 To cook, drop a few squares at a time in rapidly boiling, salted water for 2 – 3 minutes. Plunge the boiled pasta into ice water to stop it from over-cooking, then shake off the excess water and place the pasta sheets on a baking sheet sprayed with oil. Stack the noodles, spraying them lightly with oil if you are worried about them sticking together.
Béchamel Sauce
Recipe from Smitten Kitchen. I only made half the amount listed below (it was a long day!) and definitely wished there had been more béchamel. Don't be like me – make the full amount!
In a large saucepan over medium heat, melt 1/2 cup unsalted butter. Whisk in 1/2 cup all purpose flour and cook, stirring, until it starts to smell nutty. Little by little, stir in 4 cups milk, whisking vigorously until smooth (it will get clumpy after each addition of milk but whisking will smooth it out).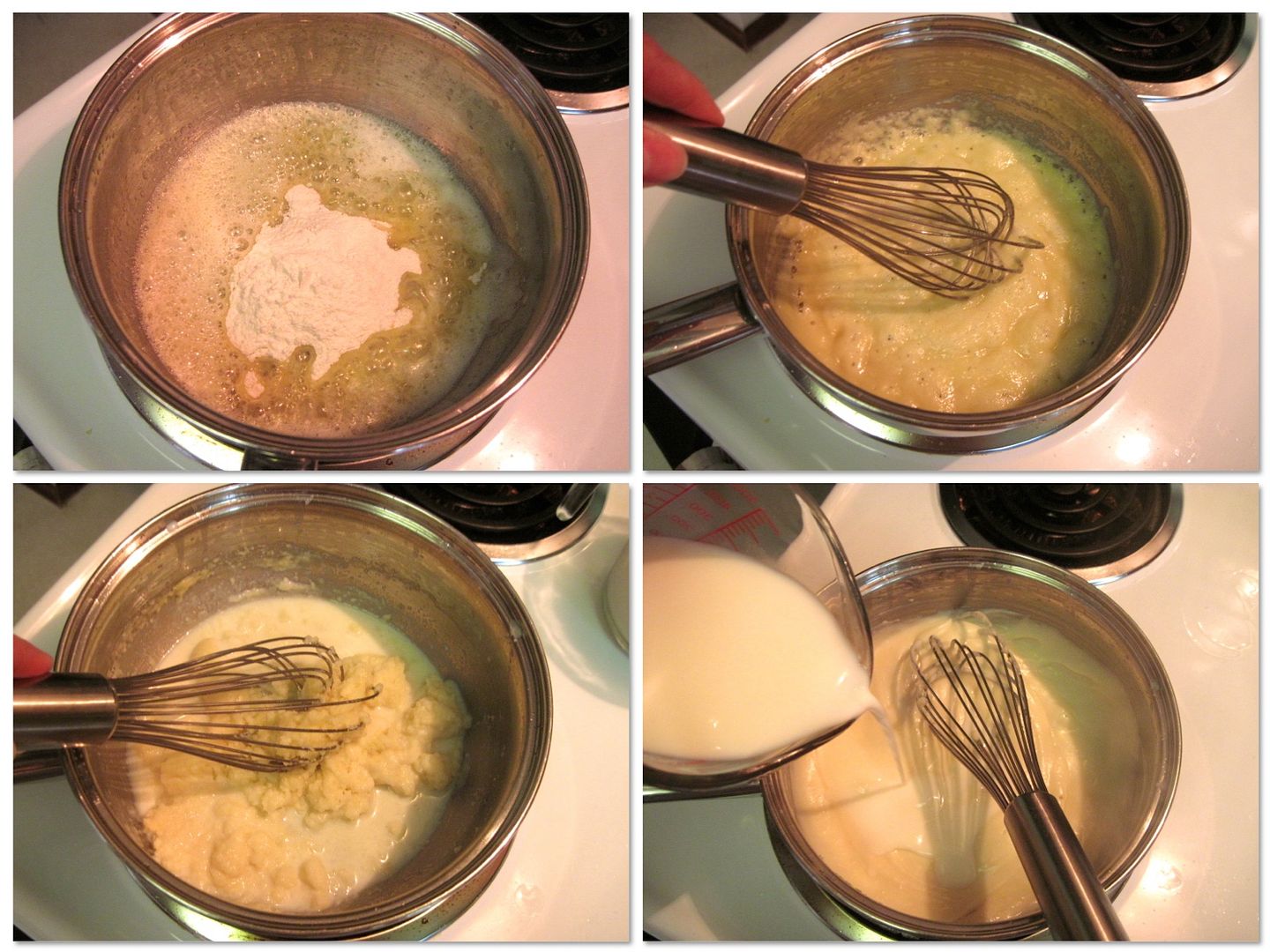 Add:
1 clove of garlic, very finely minced (I used a microplane grater)
1 tsp salt
freshly grated nutmeg, to taste
freshly ground pepper
Cook over low heat, stirring occasionally, for about 10 minutes, until thickened.

Lasagne Assembly
Preheat the oven to 400˚F. Finely grate 1 cup mozzarella and 2/3 cup parmesan, then mix them together and set aside.
Spread 1/4 cup béchamel in the bottom of a 9″ x 13″ pan. Top it with the pasta squares in one layer (they can overlap a bit) and then spread with 1 cup of bolognese sauce. Drizzle with 1/2 cup béchamel and top with 1/3 cup of cheese. Repeat the layers of pasta, bolognese, béchamel, and cheese three more times until you have four layers, then top with a fifth layer of pasta. Spread it with the remaining béchamel and sprinkle with the remaining cheese.
Bake in a 400˚F oven for 30 – 40 minutes, until bubbly and browned on top. Let it sit for about 10 minutes before cutting and serving.