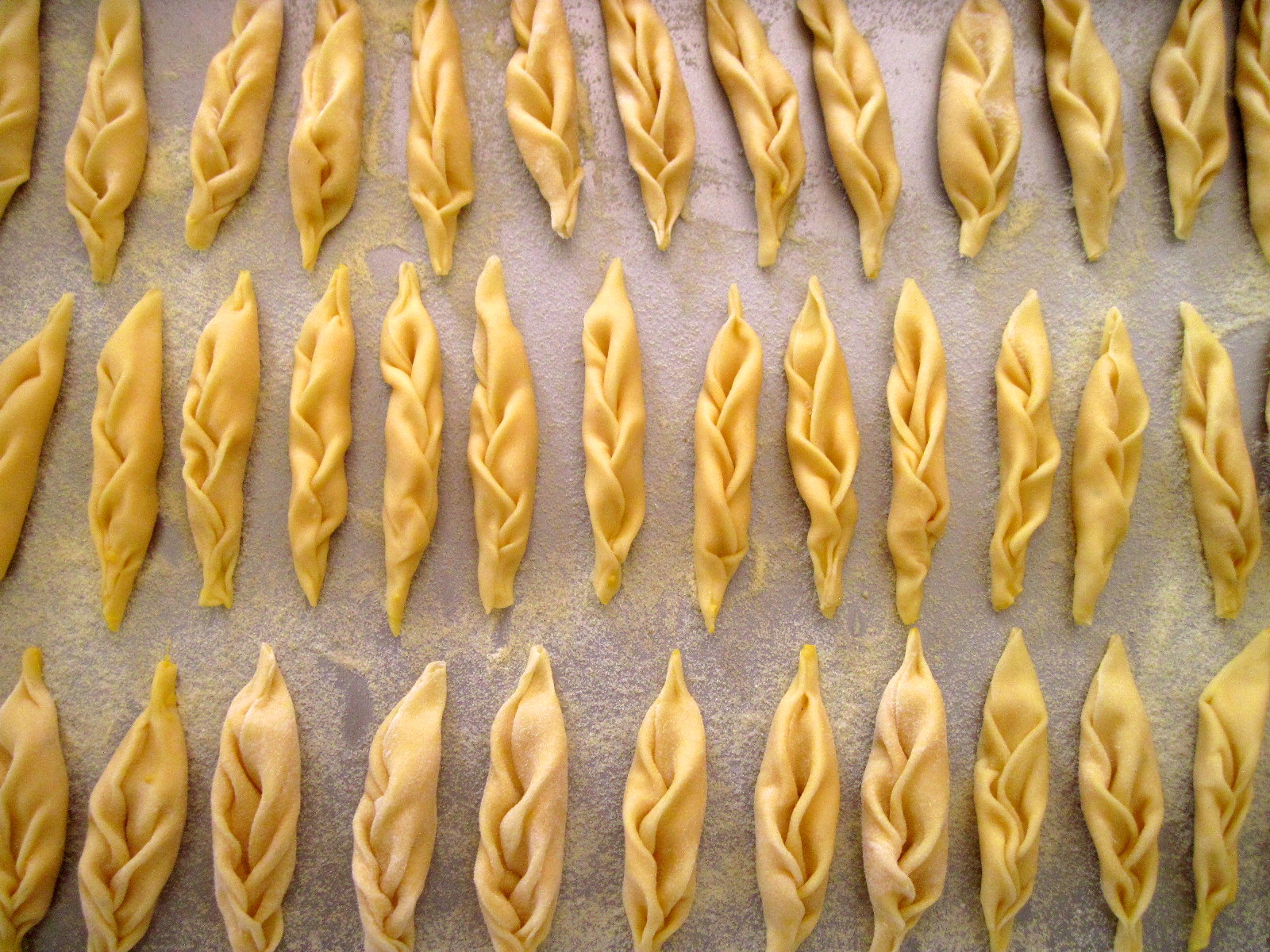 Several months ago, Jamie Oliver posted a photo on Facebook showing the most beautiful pasta I had ever seen, which immediately prompted me to start a frantic search to find out what it was called and how it was made.
The picture came from a British food TV show called Simply Italian, which of course I couldn't watch in Canada, but I did manage to find the recipe for "wedding tortelli". Unfortunately it didn't give very clear instructions for how to shape the tortelli, so I turned to the Google machine and found a related pasta shape called culurgiones:
Culurgiones are also known as Sardinian ravioli and usually have a potato filling, sort of like a cross between a ravioli and a pierogi. They are formed in a manner similar to the tortelli in question, however they are more round and plump like dumplings versus the tapered, almost leaf-like shape of tortelli, which is what I was after.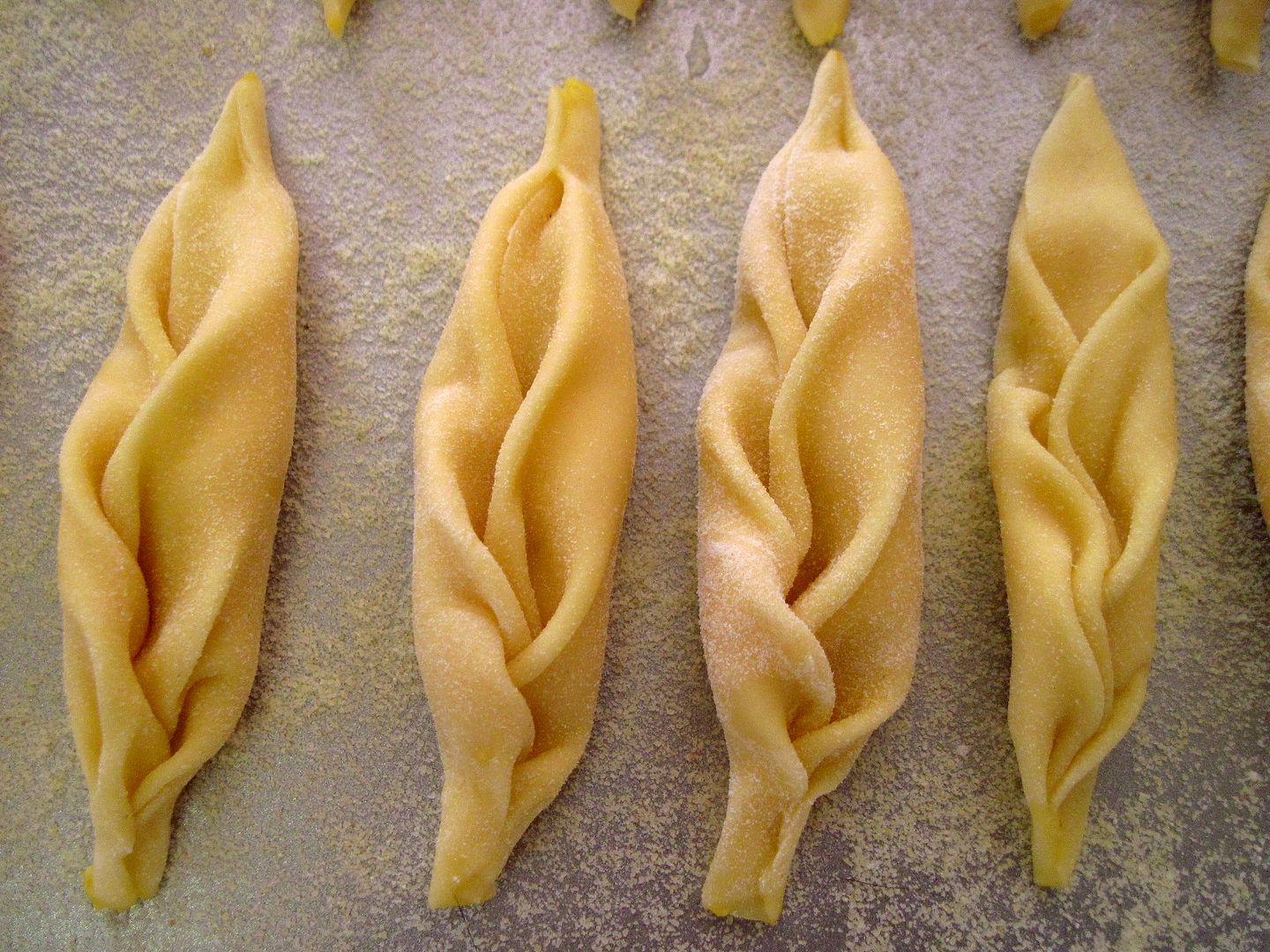 Finally, months later when Sourdough Surprises announced that April's project would be sourdough pasta, I revived the search and managed to find the YouTube'd episode of Simply Italian where the tortelli is made. Turns out that it's actually called tortelli piacentini, not just tortelli, which explains why I had so much trouble finding any tutorials for shaping it. But luckily, here's a good one:
The traditional filling is spinach and ricotta, but I went with a butternut squash and ricotta filling instead, which I could happily eat with a spoon. (Apparently there is another traditional filling that contains squash along with mostarda – fruit candied with mustard! – and amaretti biscuits, but I'm not quite ready to go there yet…) Topped with browned butter, fried sage leaves, toasty hazelnuts, a drizzle of crema di balsamico, and of course grated parmesan, this is indeed a very special pasta. So delicious, and pretty frickin' beautiful, if I do say so myself.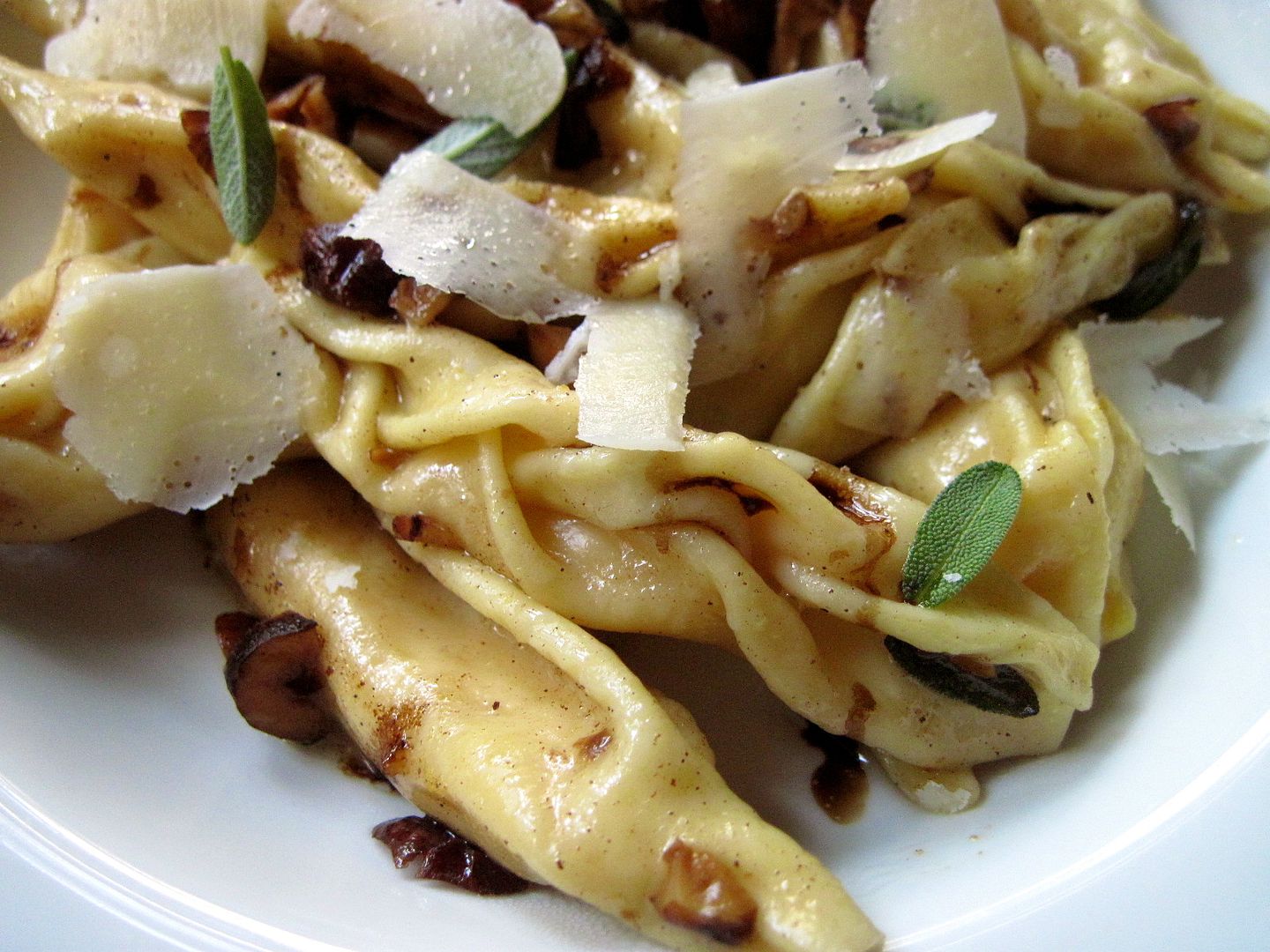 In honour of the first anniversary of Sourdough Surprises this month, the recipe for the sourdough pasta dough (from Jenni at The Gingered Whisk) is the one that started it all. It's a little bit stickier than regular pasta dough so be sure to flour it liberally when rolling it out, but it's a fun way to use up excess starter and it cooks up with a really great, tender yet firm texture.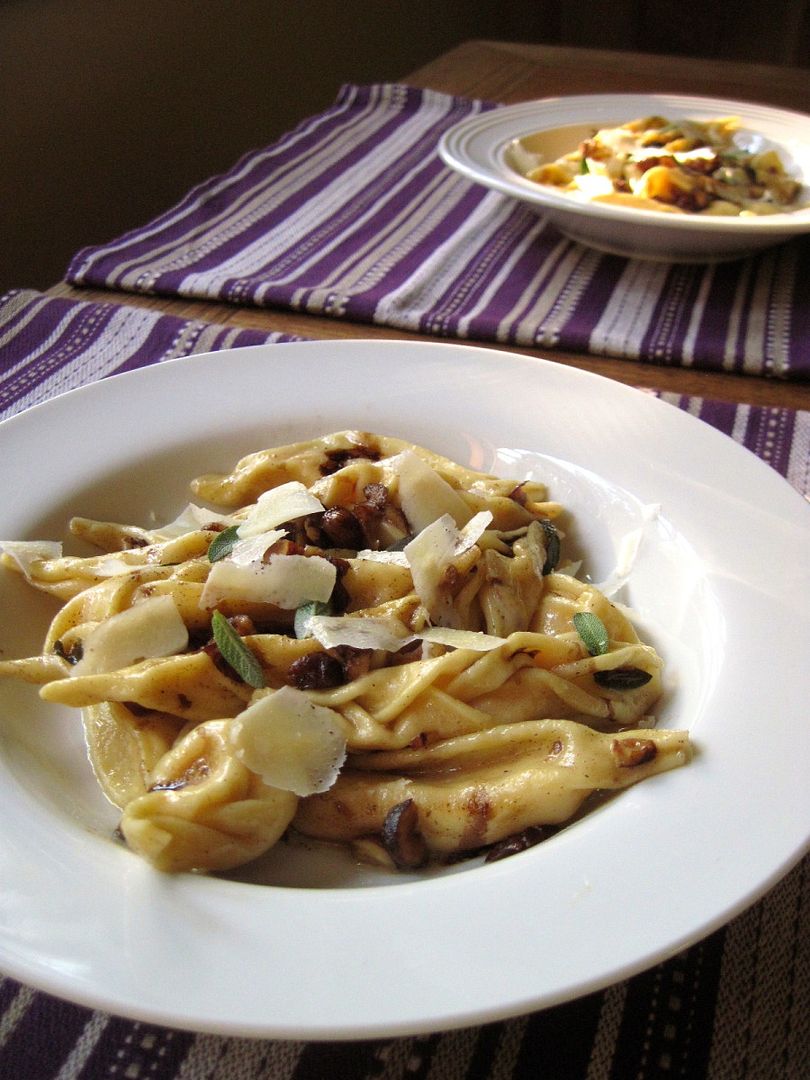 Check out the other Sourdough Surprisers' pasta:
Sourdough Tortelli Piacentini
Makes about 6 dozen pieces (6 servings).
Sourdough Pasta Dough
From The Gingered Whisk.
In a mixer bowl, with the dough hook attachment, combine:
1 1/2 cups all purpose flour
1/2 cup 100% hydration sourdough starter (does not have to be super active)
2 eggs, lightly beaten
Mix on low speed to bring it all together, then increase the speed to medium-low and mix until it comes together in a smooth, cohesive dough (you may need to scrape it off the dough hook a few times). You could easily mix and knead the dough by hand, but I am still nursing tendonitis in my elbow (seriously lame!) and kneading anything is not cool at the moment. Wrap the dough in plastic and let it sit for a few hours (up to overnight) to relax the gluten.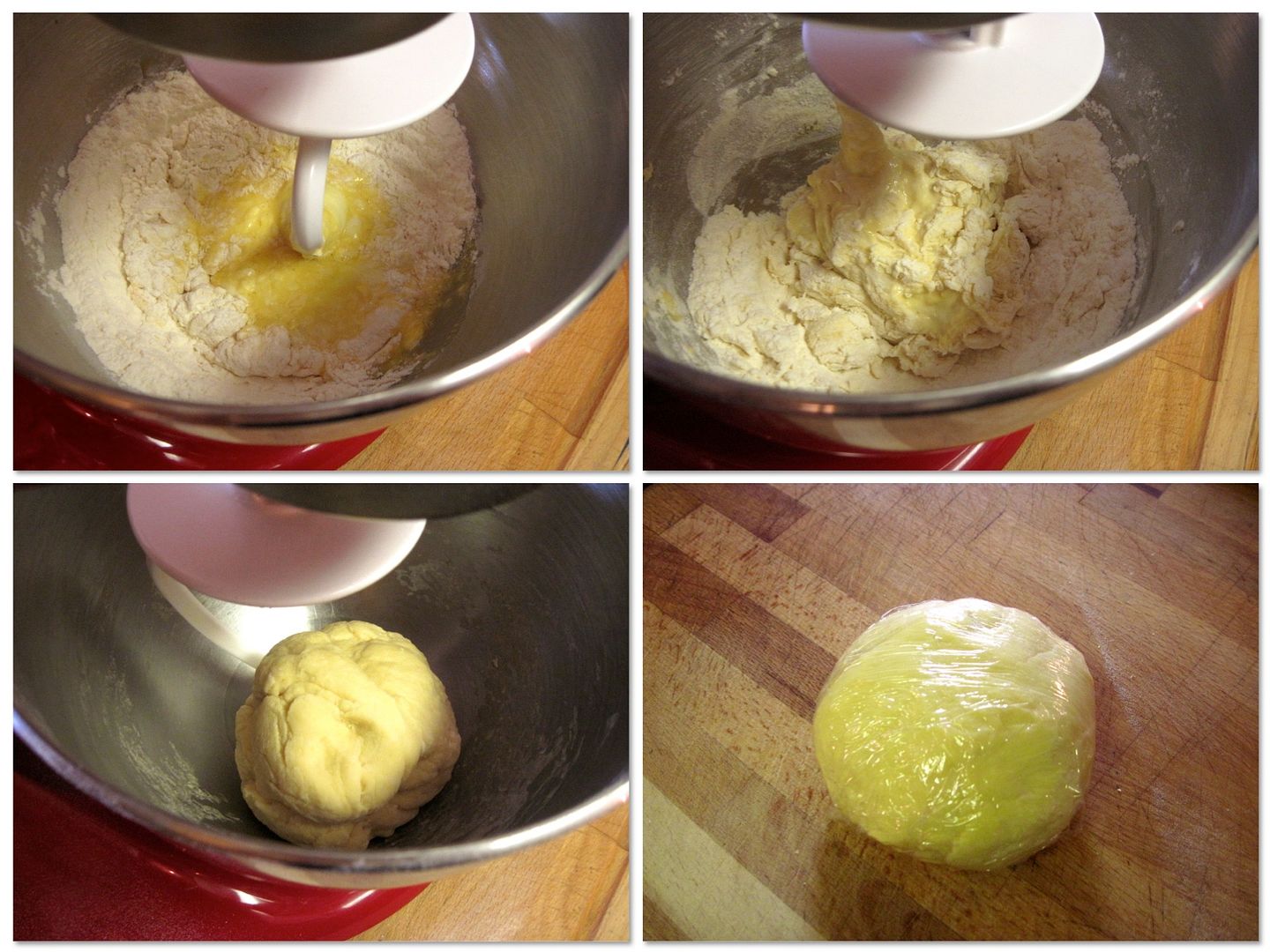 During its rest it might puff up a little from the starter, but a rise is not necessary. Prepare the squash and ricotta filling while the dough rests.
Squash and Ricotta Filling
From Canadian Living. Makes a little bit more than you'll need but it freezes well for next time.
Preheat the oven to 425˚F. Cut one small-ish butternut squash in half lengthwise, scoop out the seeds, and place it cut-side down in a parchment paper-lined baking pan. Bake for 30 – 45 minutes, until the squash is very tender. Let it cool for a few minutes them remove the skin – it should peel right off. Set aside to cool completely, then measure out 1 1/2 cups of mashed squash.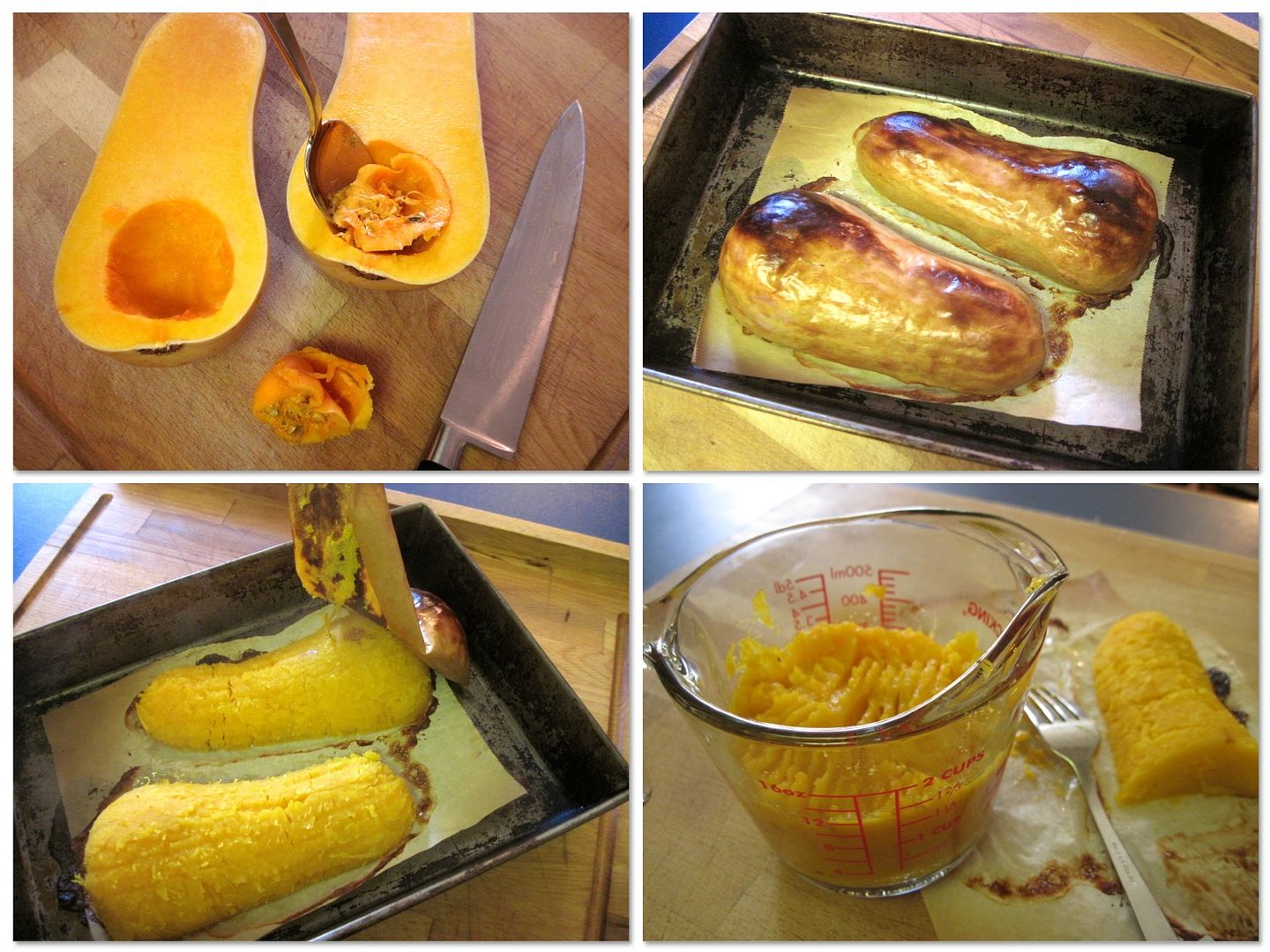 Combine the mashed squash with:
1/2 cup ricotta
1/4 cup grated parmesan
a good sprinkle of freshly gated nutmeg
salt and pepper to taste

Place the filling in a piping bag or large Ziplock, snip off the tip, and set aside while you roll out the pasta dough.
Shaping the Tortelli Piacentini
From Simply Italian and this video.
Tip: Roll out and shape the tortelli one sheet of dough at a time, rather than rolling out all the dough first and then shaping them all at once afterwards. It is much much easier to fold the dough when it is fresh and soft – it tends to dry out and get too stiff if it sits.
On a well-floured surface, divide your rested pasta dough into 6 pieces. If you have a pasta machine, roll one piece at a time through the rollers, starting at the widest setting all the way down to the thinnest. Do 3 passes through on each setting, folding the pasta in half after each pass and keeping it well floured to prevent sticking. The finished pasta sheet should be about the thickness of one playing card. If you are rolling the dough out by hand, good luck!!
Cut out circles of dough, 7 or 8 cm in diameter, and pipe a tear drop of filling from the middle to half a centimeter from the bottom edge of the circle (about 1 tsp of filling).

I'm right-handed, so shaping the tortelli went like this: hold the circle in your left hand and fold the bottom edges into a wide V (wider is better). Using the index finger of your right hand, delicately fold the right outside edge in to the middle to make a pleat. Use your right thumb to bring the left outside edge in to the middle to make a second pleat. Repeat, going back and forth from either side, making pleats with your index finger and thumb, until you run out of dough. Pinch off any filling that escapes and squeeze both ends closed. Here's that video tutorial again -make sure you watch it before trying this.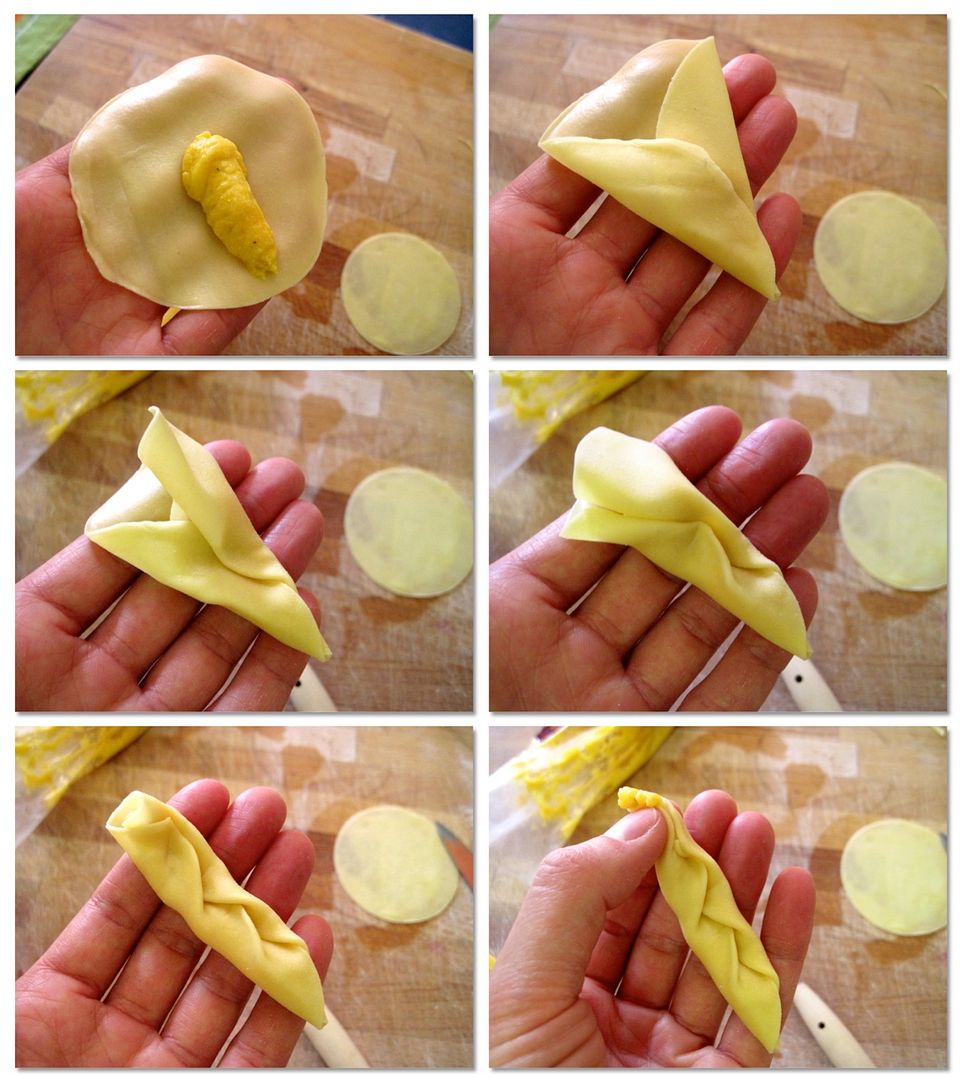 Place the completed tortelli on a baking sheet sprinkled with semolina flour to prevent them from sticking (avoid using regular flour for this – it will just get clumpy and soggy). Repeat the rolling out and shaping with the remaining pasta dough, one sheet at a time.
The tortelli can be cooked immediately in rapidly boiling, salted water for about 3 minutes until al dente, or they can sit uncovered for a few hours, but you might need to flip them over if their bottoms start to get a bit soggy. Alternatively, you can freeze them in a single layer on the baking sheet and then transfer them into a Ziplock bag once frozen (they can be cooked right from frozen).
Tortelli Piacentini with Browned Butter, Sage and Hazelnuts
Adapted from Simply Italian. This comes together very quickly, so make sure you have all your ingredients for the sauce ready to go before you put the pasta in the boiling water. Serves 2.
In plenty of boiling, salted water, cook 2 dozen tortelli piacentini for about 3 minutes, until the pasta is al dente.
Meanwhile, melt in a 9 or 10-inch saucepan over medium heat:
3 tbsp unsalted butter
Add:
a small tbsp of chopped hazelnuts
a few fresh sage leaves
Cook until the butter just starts to brown – remove it from the heat to prevent it from getting too brown and burning, if necessary.

When the butter is brown, add a few spoonfuls of the pasta water to create an emulsion. Spoon the cooked tortelli directly into the pan and toss gently to coat in the browned butter sauce.
Divide between two bowls, drizzle with a little bit of crema di balsamico* or balsamic vinegar, and top with shards of parmesan cheese and some fresh sage leaves.
*Make your own balsamic syrup by reducing balsamic vinegar with a bit of honey until thick and syrupy.
This post has been YeastSpotted!