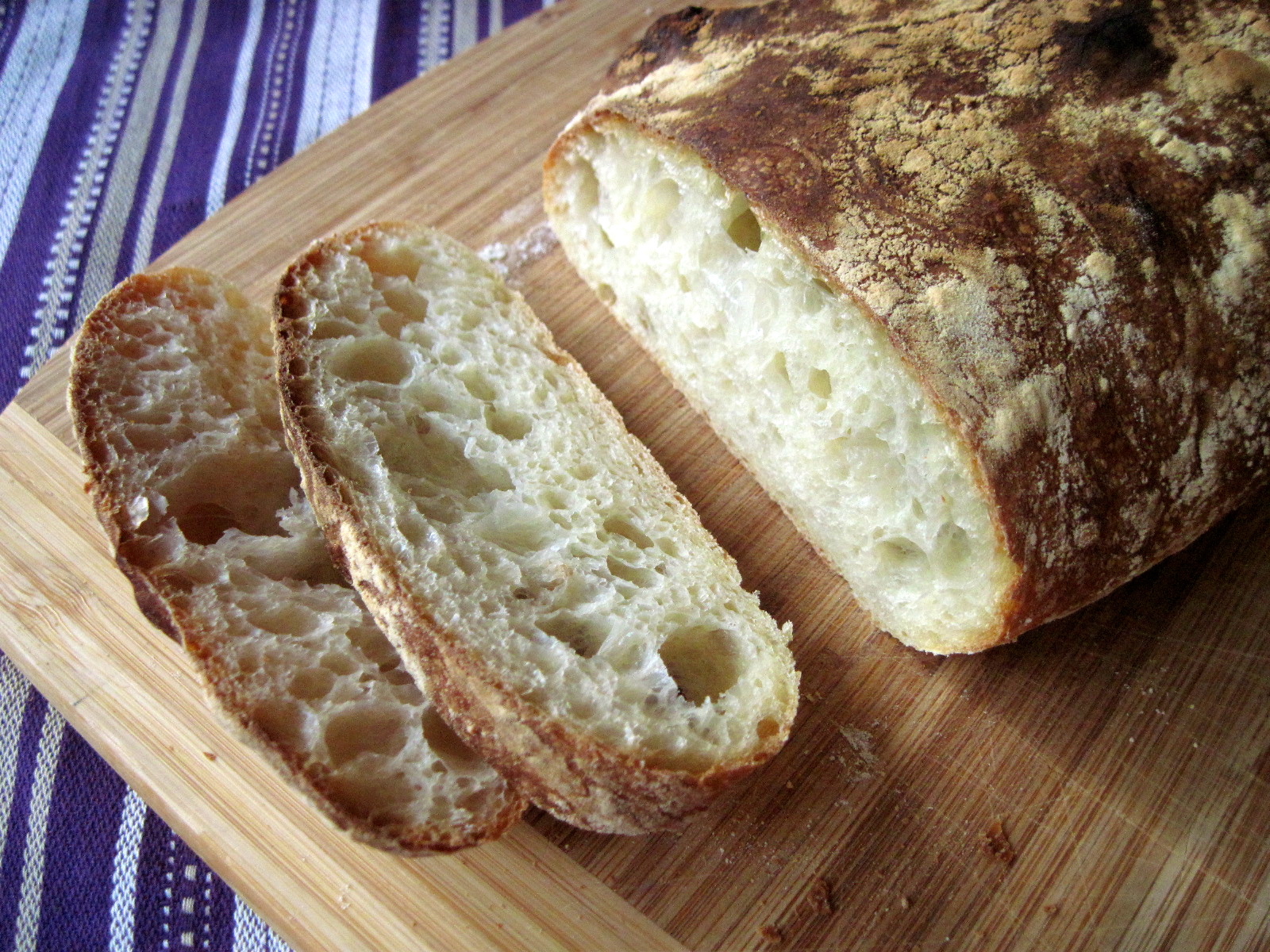 Oh how I've missed baking bread every week!
This beautiful, holey, airy, chewy bread is exactly what homemade bread should be: rustic and delicious and better than anything you can buy in the store, partly because it only contains five ingredients (flour, water, yeast, salt, and olive oil) but mostly because you made it yourself. That's the part about baking bread that I love the best.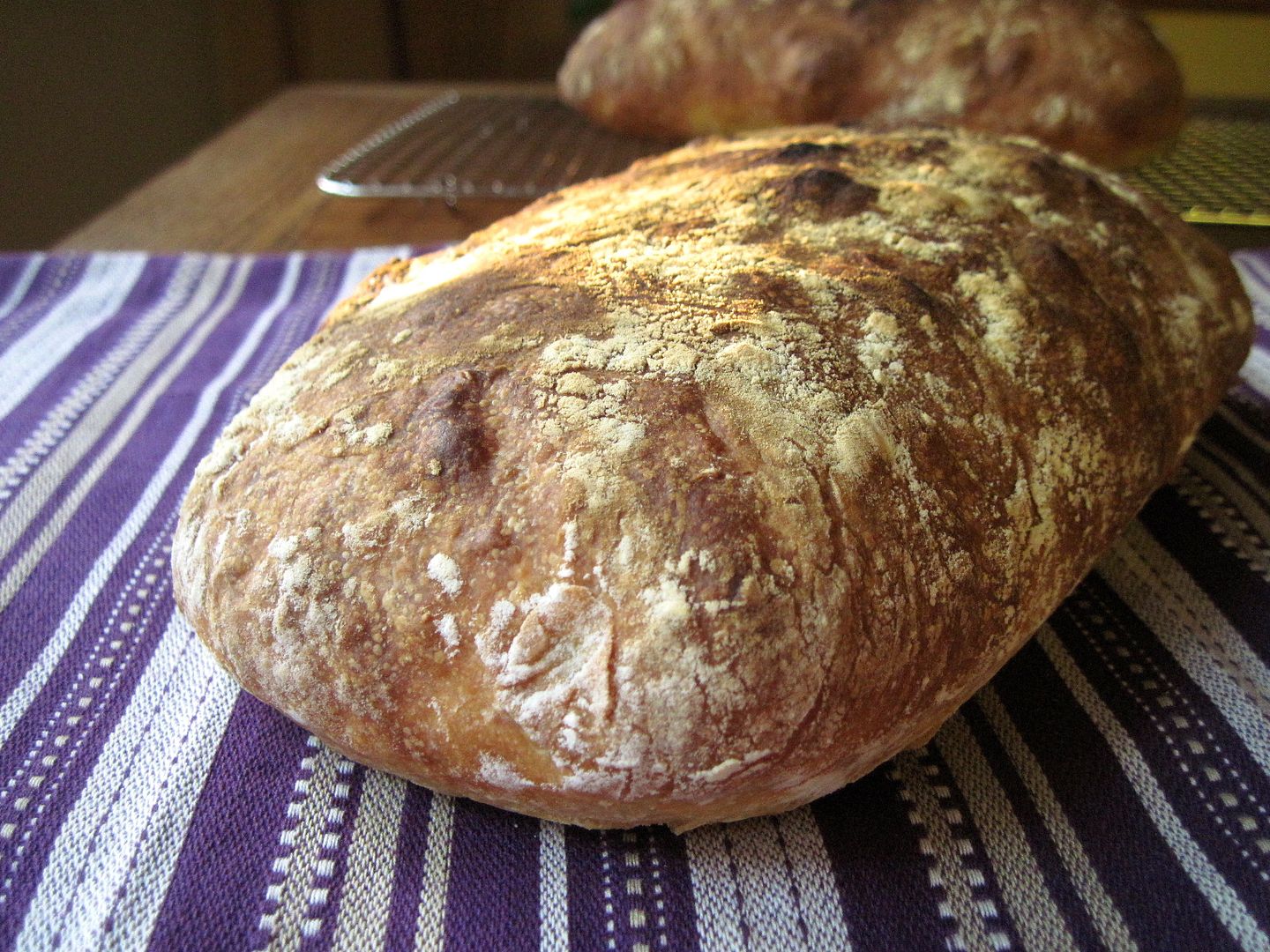 Ciabatta means "slipper" in Italian, and this bread is called that because apparently it looks like a worn-out old house slipper – ie: flat and kind of shapeless. It is made from a super high hydration dough, which gives it all those characteristic lovely bubbles and holes in the interior, but which also makes it hard to shape into anything other than a blob. But no worries – what it lacks in conventional good looks it more than makes up for in deliciousness, and when you cut into the wrinkled brown crust to reveal the creamy white, almost lacy interior, well… that, my friends, is beauty.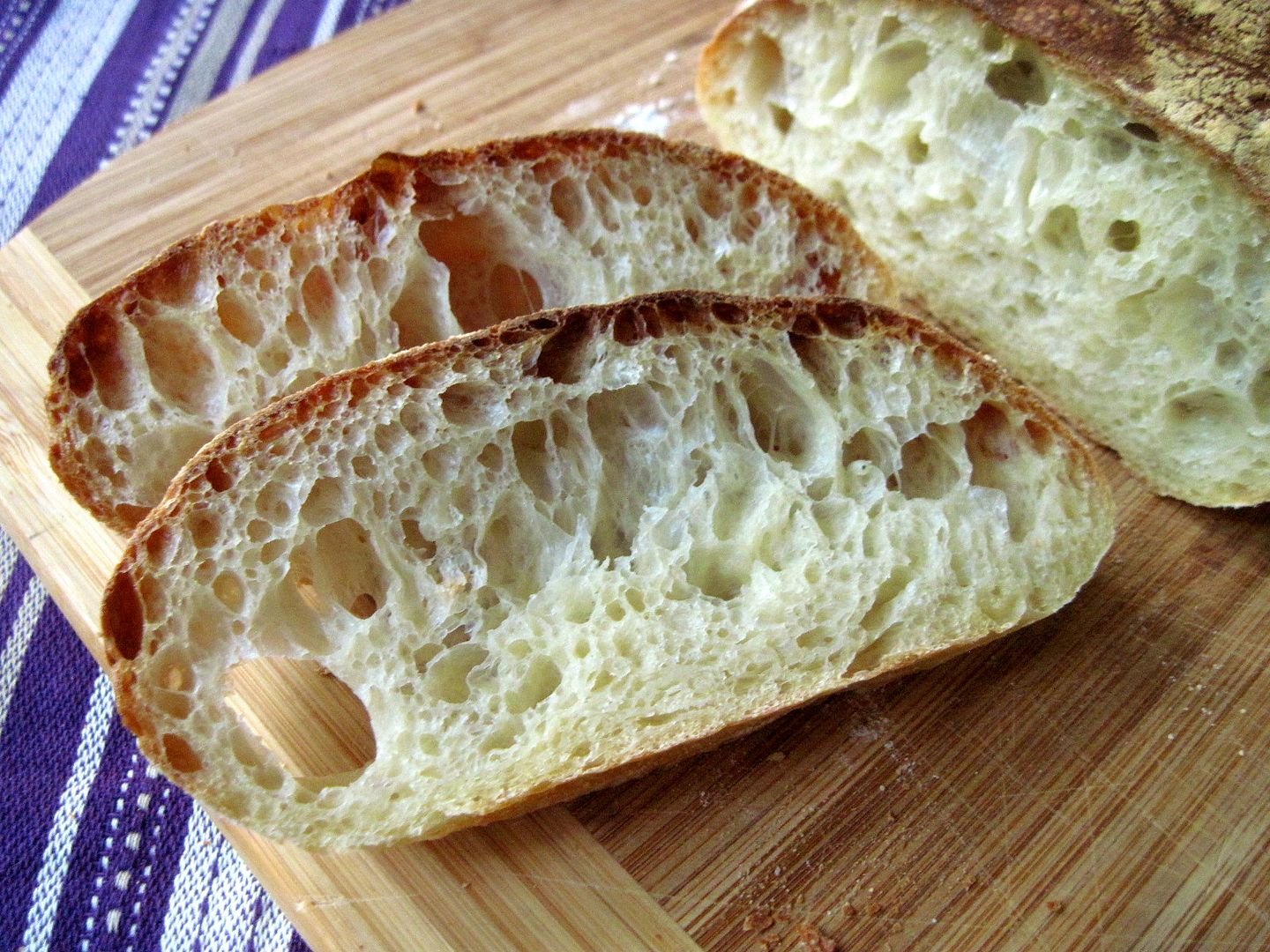 The typical ciabatta has a low rounded cross-section, a custardy interior crumb riddled with large holes, a thin-crispy-chewy crust, and a wrinkled-looking exterior from being coated in flour before baking. My loaves are lacking a few wrinkles – next time, more flour on the outside – but other than they are pretty much exactly what I was hoping for. The recipe couldn't be much easier – you don't even have to knead the dough, which instead employs the good old stretch-and-fold method combined with a long rest in the fridge to develop flavour and stretchy gluten strands.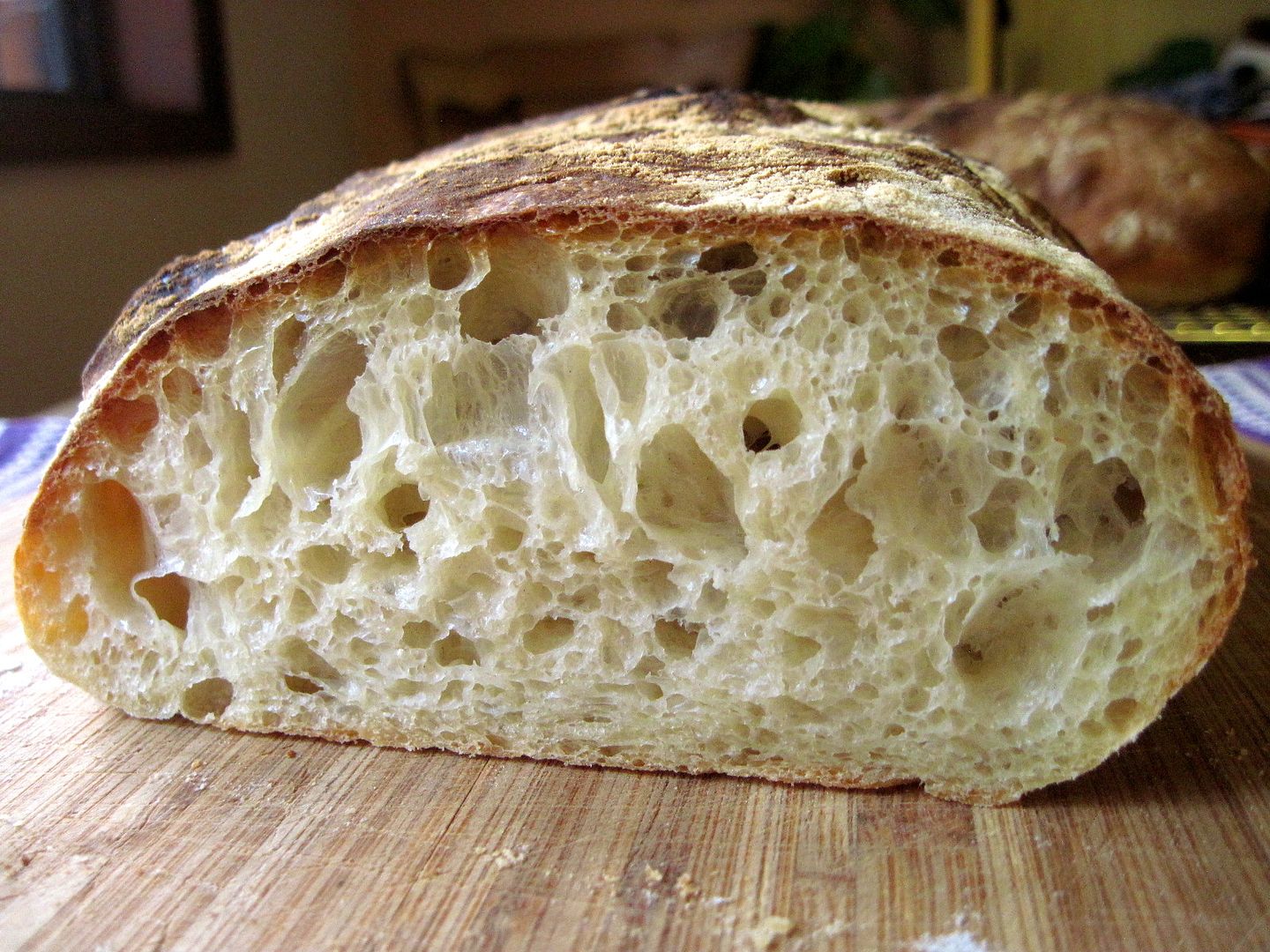 This is the kind of bread you want to eat on its own, with maybe a smear of butter, just to enjoy the magic that happens when flour, water, and yeast combine. Sorry to wax all poetic here, but damn – bread is awesome, this one in particular.
Ciabatta Bread
From the "Pain à l'Ancienne" recipe in Peter Reinhart's Artisan Breads Everyday. Makes 2 large loaves.
Up to four days before you want to bake the ciabatta, mix the dough. In a large bowl, combine:
4 1/2 cups bread flour
2 1/2 tsp coarse kosher salt
1 1/4 tsp instant yeast
In a measuring cup, mix together:
2 cups cold water
1 tbsp olive oil
Add the water/oil to the flour mixture and stir with a wooden spoon for a minute, until it is all evenly moistened and sticky. It will be quite wet, almost more of a batter than a dough.

Cover the bowl with plastic and let it rest for 10 minutes. While the dough rests, lightly rub your work surface with a thin coat of olive oil – this will help keep the wet dough from sticking.
After 10 minutes, scrape the dough out onto the oiled surface – you should almost be able to pour the dough out of the bowl. Wash the bowl out and oil it lightly with more olive oil. Wet your hands (this will prevent them from sticking to the dough) and grab the dough on one side from underneath, stretching it up and then folding it over on itself. Repeat this stretching and folding in all four directions, then scrape the dough up and put it back into the now-oiled bowl. Cover with plastic and rest 10 minutes.

Repeat every 10 minutes three more times, for a total of four stretch-and-folds over 40 minutes. With each consecutive series of stretches and folds, the dough will become less of a sticky mess and more cohesive, elastic, and manageable. Keeping your hands wet when handling it will make it much easier.

After 40 minutes, place the covered dough in the fridge to ferment at least overnight and for up to 4 days. It will rise in the fridge, perhaps up to double its original size.
Remove the dough from the fridge 3 hours before you want to bake. If it hasn't risen to 1 1/2 times its original size, give it an extra hour at room temperature to rise a bit more.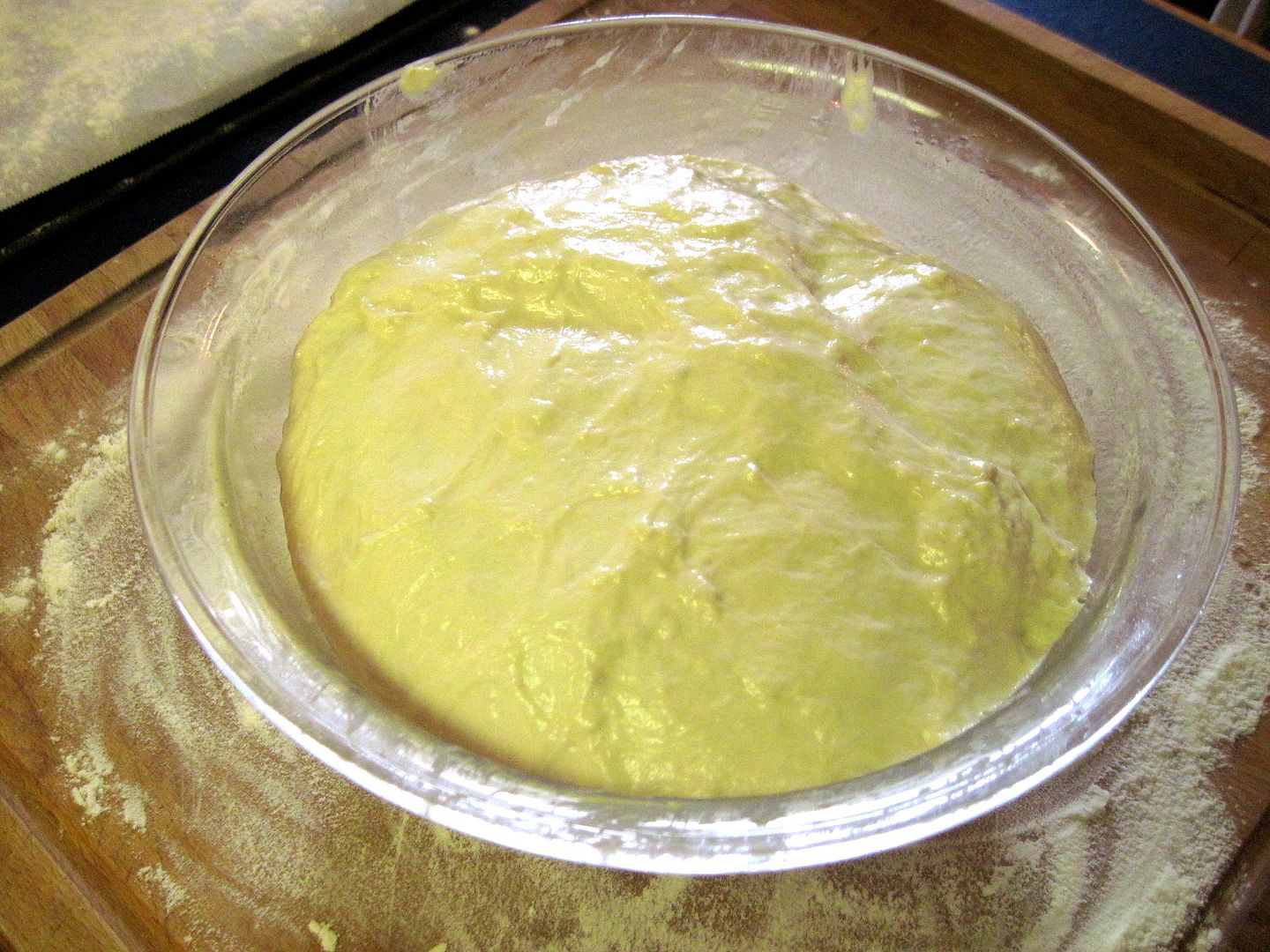 After an hour (or more as necessary), line the back of a baking sheet with parchment paper and dust it liberally with flour. Flour your work surface heavily as well.
With wet hands, very carefully scrape the dough out of the bowl into the floured work surface, being careful not to deflate it. It should be full of bubbles and feel almost bouncy. Still with wet hands, gently shape the dough into a rectangle, reaching underneath the dough with your fingers to stretch it as necessary. With a large knife (wet the blade), cut it in half. Gently fold each half into thirds, like a letter, and equally gently, roll the dough in flour to coat it.

Transfer each blob of dough to the floured parchment paper, placing it seam-side down. Mist with spray oil and cover loosely with plastic wrap. Let it rest for 1 hour.

After an hour, transfer the dough back to your floured work surface, seam-side down to once again coat it in flour, then flip it over seam-side up. With your hands underneath the dough, gently stretch it into a rectangle and place it back on the parchment paper, seam-side up this time. Make sure the top surface is well-coated with flour to ensure that floury, wrinkled exterior. Cover gently with plastic and let the dough proof for one final hour.

Forty minutes before the hour is up, preheat the oven to 550˚F (or its highest temperature) with a rack and baking stone (if you have one large enough) in the middle position and a metal roasting pan on a lower rack. When the dough is finished proofing, place it in the oven with the parchment paper, either on the upside-down baking sheet or directly on the baking stone (mine wasn't big enough for both loaves). Pour a mugful of hot tap water into the roasting pan, close the door, and turn the oven temperature down to 450˚F. Bake for 12 minutes, then rotate the loaves and bake 15-20 minutes more, until the bread is well browned and hollow-sounding when tapped.
Cool on a rack for at least 45 minutes before slicing (the waiting is torture!).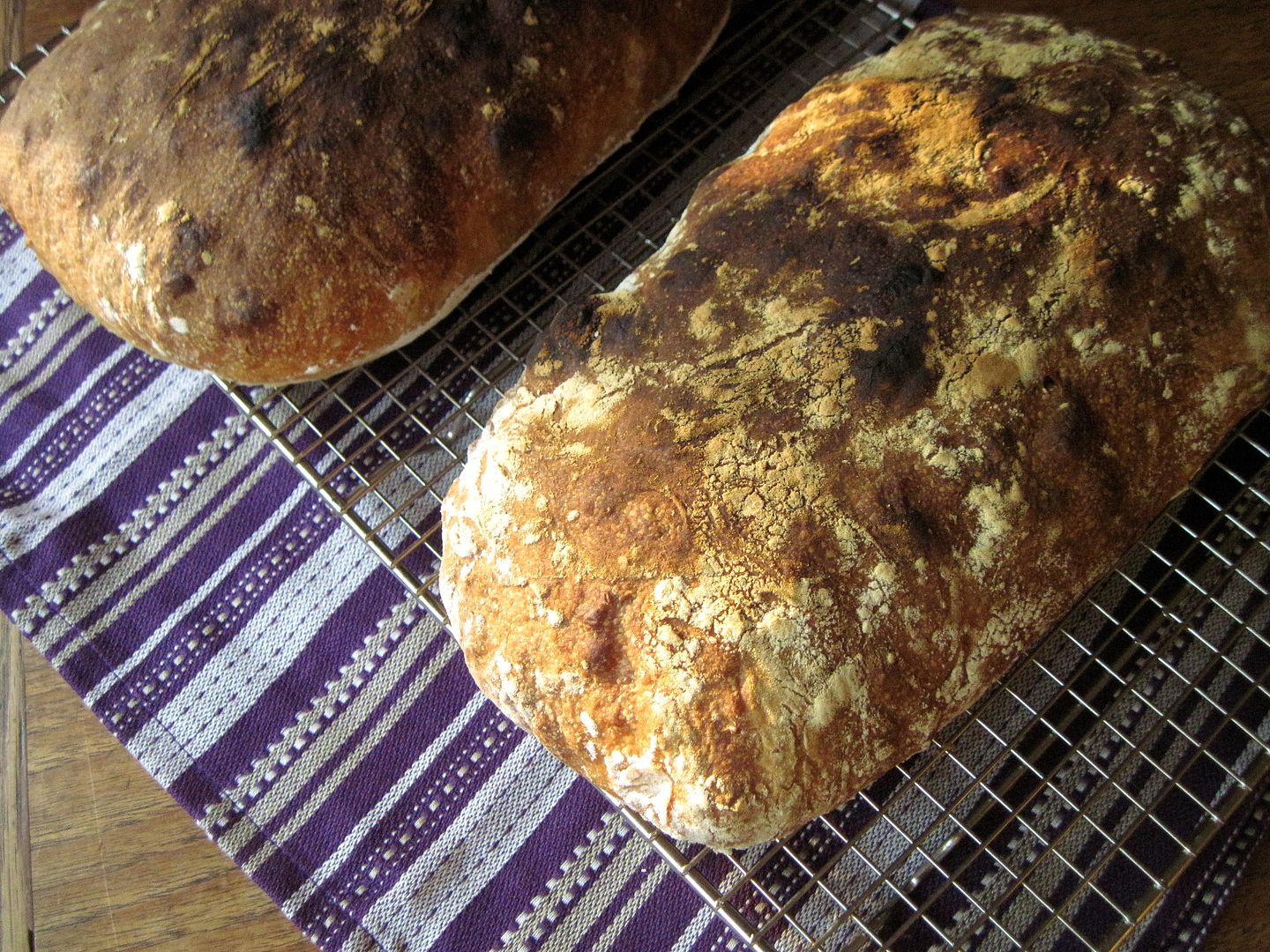 This post has been YeastSpotted, and submitted to Panissimo hosted by Barbara and Sandra.