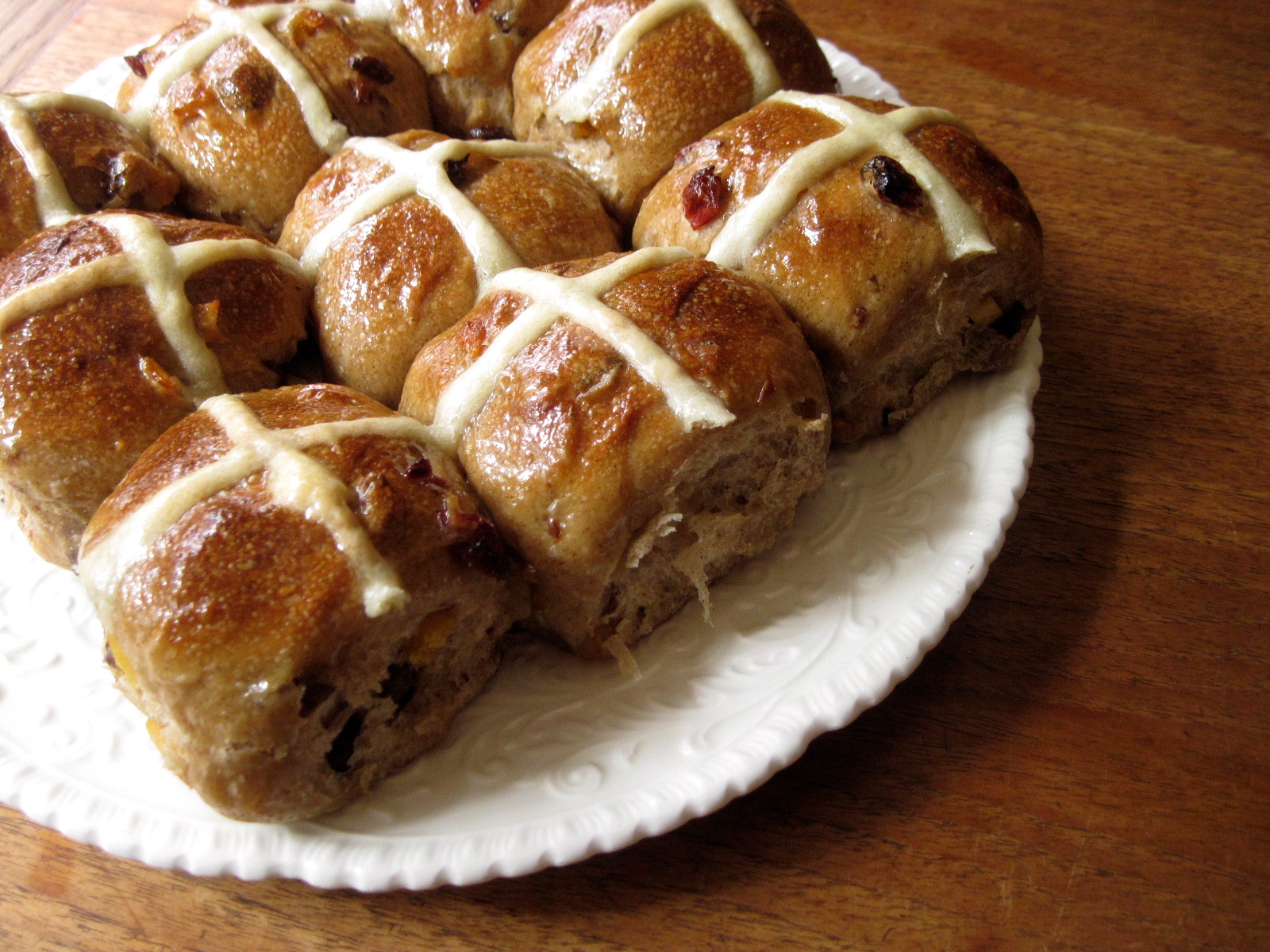 Happy Easter! I hope the Easter Bunny brought you all lots of chocolate. 🙂
This Easter I wanted to make some special hot cross buns (as in, more special than these or these). I was thinking something along the lines of "hot cross bunnies" (haha, I'm so punny… bunny… sorry) but then I came across these spiced stout sourdough beauties from Lauren Bakes (she recently posted a chocolate chip version, too), which stopped me dead in my cutesy little bunny tracks. Her recipe contained dried fruit soaked in tea plus a sourdough levain made with Guinness, which I swapped out for chocolate porter because, well, I'll take any excuse to buy it, really.
The resulting buns are deeply spiced and studded with loads of fruit, yet have a surprisingly light crumb and, of course, they taste awesome. I used a combination of raisins, dried cranberries, and dried apricots along with candied orange peel, which plays well off the slight chocolate hint from the porter in the dough.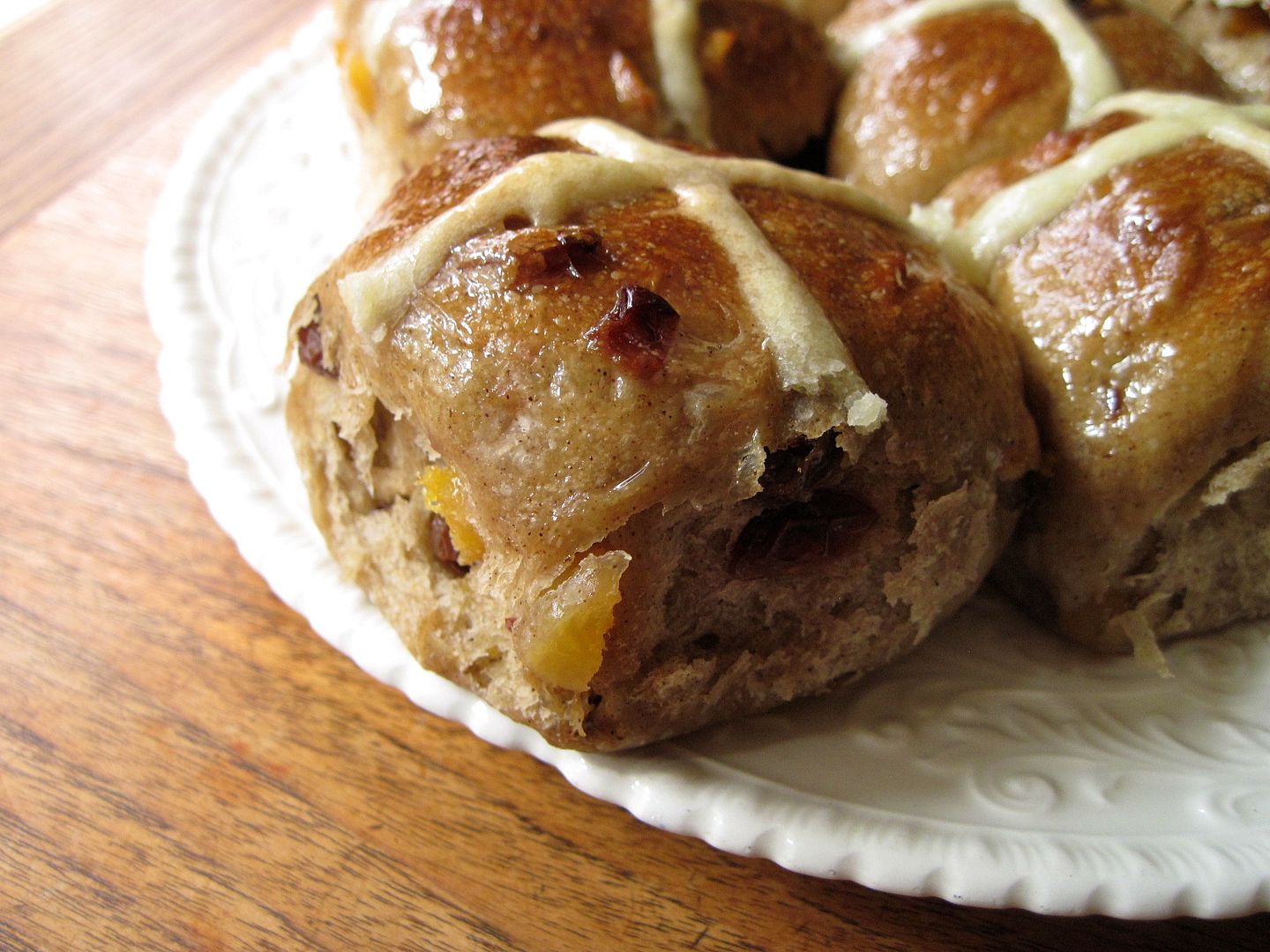 Despite the fact that I managed to take almost 36 hours to make them start to finish, they were actually very easy and didn't even require kneading. All you need is sourdough and beer, two things I am very fond of and one of which I have in the fridge at all times. (I'm referring to my sourdough starter, I swear.)
Chocolate Porter Sourdough Hot Cross Buns
Adapted from Lauren Bakes, who adapted it from Dan Lepard. Makes 20 buns.
The night before you want to bake, make the levain and soak the fruit. For the levain, combine in a LARGE bowl:
150 g bubbly sourdough starter (100% hydration)

375 ml chocolate porter, such as this one (or any other dark, flavourful beer)
250 g all purpose flour
1 1/2 tsp each ground cinnamon, allspice, and powdered ginger
Mix well to completely dissolve the starter in the beer (it will be very foamy at first).  Cover and let it ferment at room temperature overnight.
For the fruit, combine:
100 grams each diced candied orange peel, dried cranberries, raisins, and diced dried apricots (400 grams total dried fruit)
200 ml hot black tea
Stir, cover, and let soak overnight at room temperature along with the levain.
The next morning, the levain should be bubbly, slightly puffed, and quite jiggly.
To the soaked fruit, add:
1 large egg, lightly beaten
50 grams melted butter
Stir the fruit mixture into the levain, then add:
550 grams all purpose flour
50 grams granulated white sugar
1 1/2 tsp salt
Mix well to form a slightly sticky dough – you may have to get in there with your hands to mix it, but resist the urge to actually knead.
Once you have a cohesive dough, let it rest for 10 minutes, then stretch the dough by grasping it from one edge, pulling it up, and tucking it across to the other side of itself. Do this several times, rotating the bowl as you go, until the dough has been stretched in all directions. Cover and let rest for 30 minutes, then repeat the stretching.
Let it rest another 30 minutes, then perform a fold of the dough: take it out of the bowl and stretch it out slightly into a rectangular shape. Stretch and fold it into thirds, like a letter, then fold it in half. Cover and let rest for an hour, the repeat the folding again. Cover and rest for 2 hours. (Note that extra time between each stretch and/or fold is not going to do any harm, especially if the temperature of your kitchen is a bit on the cool side.) Now you're ready to shape the dough.
Divide into 20 pieces, about 100 grams each. I did this by patting the dough into a rectangle, cutting it into 4 strips lengthwise, then cutting each strip into 5 pieces. I then weighed each piece as I shaped it, adding a little extra dough or taking some off as necessary. Shape each piece into a ball by pinching the edges of the dough in towards the middle.

Place seam side-down on a baking sheet lined with parchment paper. Cover with a tea towel and proof at room temperature for 3 – 4 hours, until puffy. You should be able to poke the dough with your finger and have the indent remain. Or, you can let the buns proof overnight in the fridge or somewhere else cool (like your cold garage) – cover them lightly with plastic wrap over the tea towel (or put the tray in a large plastic bag) to prevent them from drying out, and then let them sit somewhere warm for a few hours before baking the next day.

When you're ready to bake, preheat the oven to 350˚F. Mix together the cross paste for the top of the buns:
scant 1/2 cup flour
1 tbsp vegetable oil
pinch of salt
1/4 cup water
Mix with a fork to make a pipeable paste – you might need a few extra drops of water. Spoon the paste into a piping bag (disposable is very convenient here) or Ziplock baggie and snip off the tip. With a steady hand, pipe crosses on the buns. Bake in the preheated 350˚F oven for 25 – 35 minutes, until golden brown on top.
While the buns are baking, mix together a glaze of:
1 tbsp granulated white sugar
1 tbsp boiling water
Stir until the sugar is dissolved, then brush over the baked buns as soon as they come out of the oven to give them a glossy, sticky top. Let the buns cool slightly on a rack. These are wonderful warm from the oven, but they are also equally good toasted and smeared with butter and jam.

This post has been YeastSpotted! And also submitted to Panissimo, a showcase of breads hosted by Barbara and Sandra.