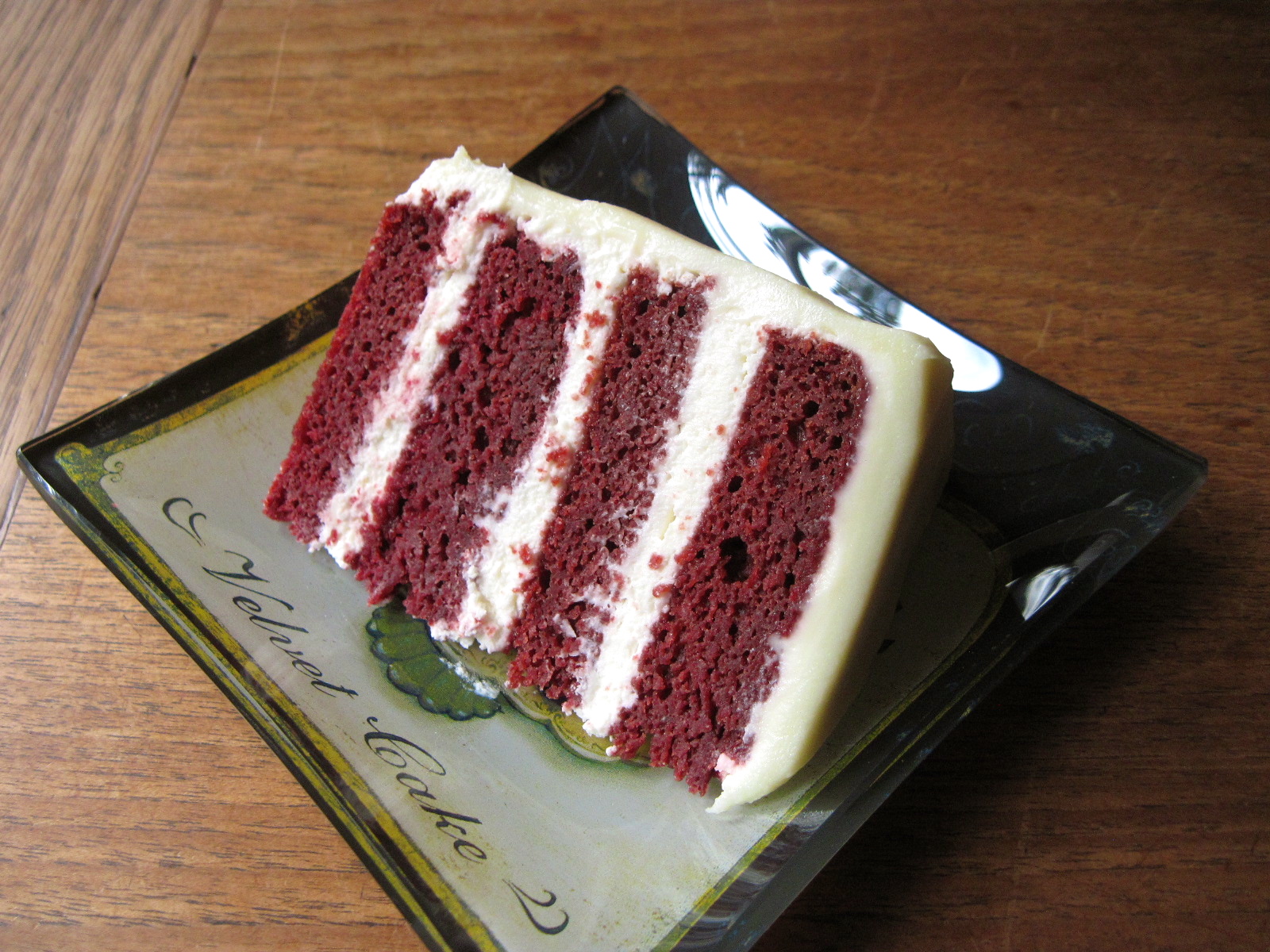 Almost two years ago, I made a wedding cake for my good friend and frosted it with cream cheese Swiss meringue buttercream. The cake turned out great, but the frosting was another story. Turns out that cream cheese doesn't work so well as a replacement for butter, which I realized after having made two giant batches of frosting, posting about it, and then having it go all weird and curdled when I actually tried to frost the cake with it. It was so unsuccessful that I wouldn't recommend the recipe to anyone, but it is obviously a topic of interest to many because that post generates a lot of traffic for my blog.
Luckily for me, I got this tip in the comments on the post: for successful cream cheese Swiss meringue buttercream, you have to mix already-made SMBC into whipped cream cheese. I definitely wanted to try it, and I finally got the chance this month with the Beet Red Velvet Cake I made for the Daring Bakers' challenge. I am thrilled to announce that IT WORKED and tasted amazing! 😀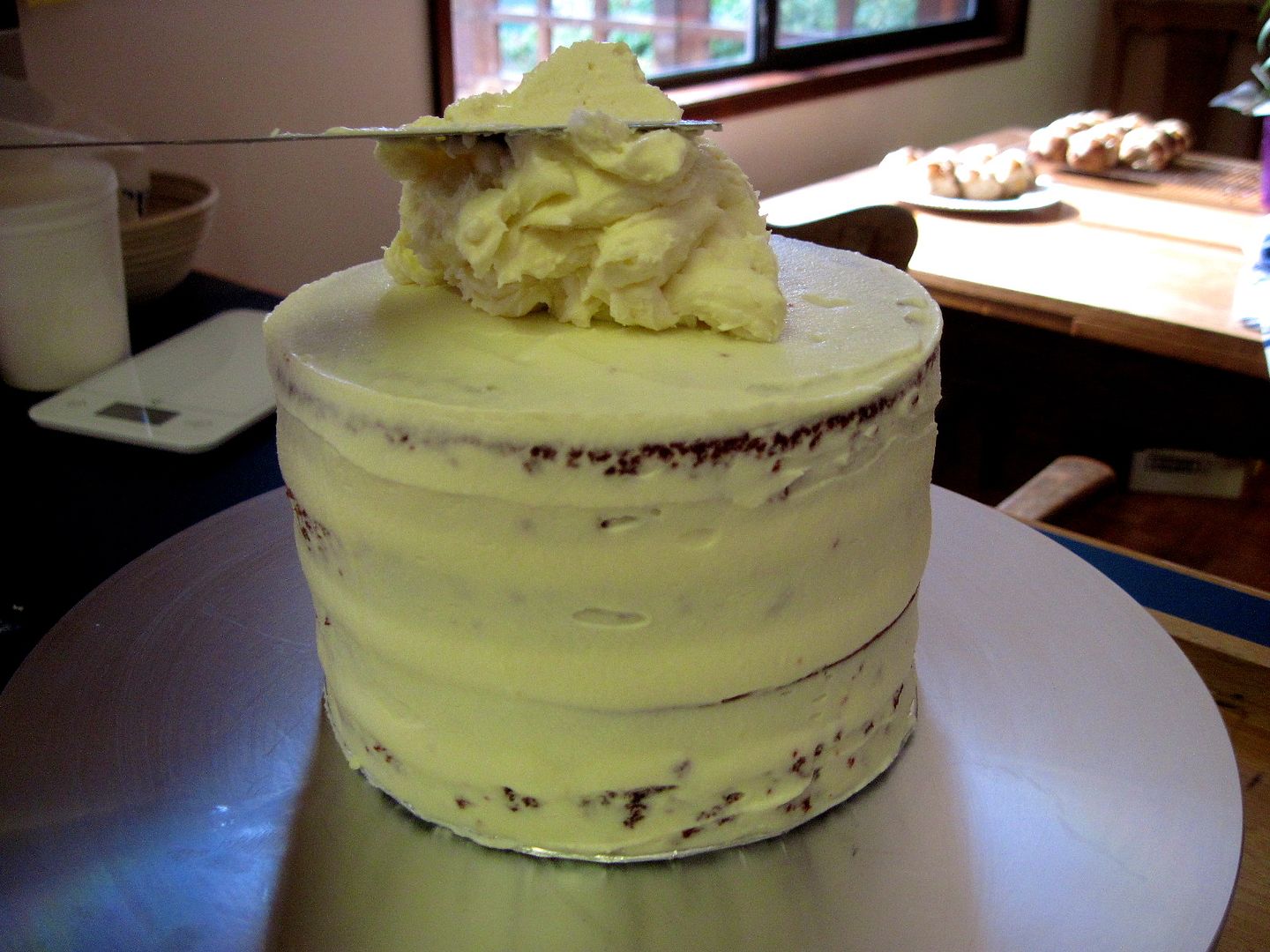 Cream Cheese Swiss Meringue Buttercream Frosting
This method (adapted from Beyond Buttercream/FromScratchSF's tip – big thank you!!) can be adapted to use with any SMBC recipe, in any amount – just add it to whipped cream cheese in a ratio of 100% SMBC to 75-80% cream cheese by weight. For example, the SMBC recipe below (adapted from Cooks Illustrated) weighs about 12 oz, so I added 8 oz of cream cheese. This will give you just enough frosting to fill and frost this 6-inch, 4 layer Beet Red Velvet Cake, but you might want to triple the recipe below for an 8- or 9-inch cake.
(Update 29/09/2015: as pointed out by a commenter, I actually used a ratio of 66% cream cheese in the recipe below, when I thought I was using about 80% (math fail – d'oh!) – however the original tip I got alerting me to this method specified 80% cream cheese to 100% SMBC, so that number is still good. Even with only 66% cream cheese, it was still plenty cream cheese-y tasting!)

In the heat-proof bowl of an electric mixer, combine:
2 egg whites
1/2 cup granulated white sugar
Place the bowl over a pot of gently simmering water and heat the egg white-sugar mixture, whisking constantly, until the sugar is completely dissolved and the mixture is hot to the touch, about 160˚F.
Attach the bowl to the mixer base and beat the mixture with the whisk attachment on medium speed until foamy, then increase the speed to medium-high and beat until you get a stiff-peaked meringue. If the meringue is still warmer than room temperature, reduce the speed to low and stir until completely cool.
Meanwhile, cut 1 cup of unsalted butter into cubes and let it come to room temperature while the meringue whips. The butter should be a spreadable consistency and not melty in any way.
Add the butter, cube by cube, to the meringue, stirring on low speed. The meringue will fall and start to look curdled, but keep adding the butter and stirring and it will come together into a fluffy frosting. Scrape the frosting into a different bowl and set aside.
In the mixer bowl, whip until very light and fluffy:
8 oz softened cream cheese
Scrape down the bottom and sides of the bowl several times with a spatula to make sure it is thoroughly whipped.

One spoonful at a time, gradually add the SMBC to the whipped cream cheese, stirring on medium-low speed. Once combined, the frosting should be like softly whipped cream. Increase the speed to medium-high and beat until the frosting is like stiffly whipped cream. Add a dash of vanilla and a pinch of salt. You can use the frosting right away, or chill it to firm up a bit (re-whip before using).