Ruth from Makey-Cakey was our March 2013 Daring Bakers' challenge host. She encouraged us all to get experimental in the kitchen and sneak some hidden veggies into our baking, with surprising and delicious results!
OK, here comes the FOURTH cake post this month! My goodness.
I've been mildly obsessed with red velvet cakes for the past little while – you know, the American Southern classic bright red cake spiked with cocoa powder and frosted with cream cheese frosting – only upon looking through several recipes, there was one ingredient that put me right off: red food colouring. We're not just talking a few drops here – we're talking a few tablespoons or ounces! I figured there had to be a way to make this cake without all the food colouring, so I started searching. I found a post with a recipe for a red wine velvet cake (yes I'll be trying that soon!) and a really interesting history of the red velvet cake as we know it (ie, chock full of food colouring). Apparently, way back when, "velvet cakes" were called that because of their velvety texture, and red velvet cake would have been appreciated for that rather than for its colour. In this particular cake, the acidic buttermilk caused a chemical reaction with the small amount of cocoa powder in the batter, making the resulting cake a slightly reddish brown. As well, the cake was usually made with brown sugar, which at the time was known as "red" sugar. The bright red velvet cake we know today didn't come about until the enterprising owner of a food colour-producing company decided to boost Depression-era sales by creating a recipe for red velvet cake that included two whole bottles of red food colouring.
In addition to the red wine velvet cake recipe, I also found a few suggestions of using puréed beets to get the red colour. However, this seemed to be kind of hit and miss, simply because the natural red colour of beets is much less predictable than, say, red dye number 40, and you have to carefully control the acid content of the batter to prevent it from turning purple or brown. Luckily, I came across a blogger who apparently had it figured out, so when I saw this month's "baking with veggies" challenge, I knew exactly what I was going to make.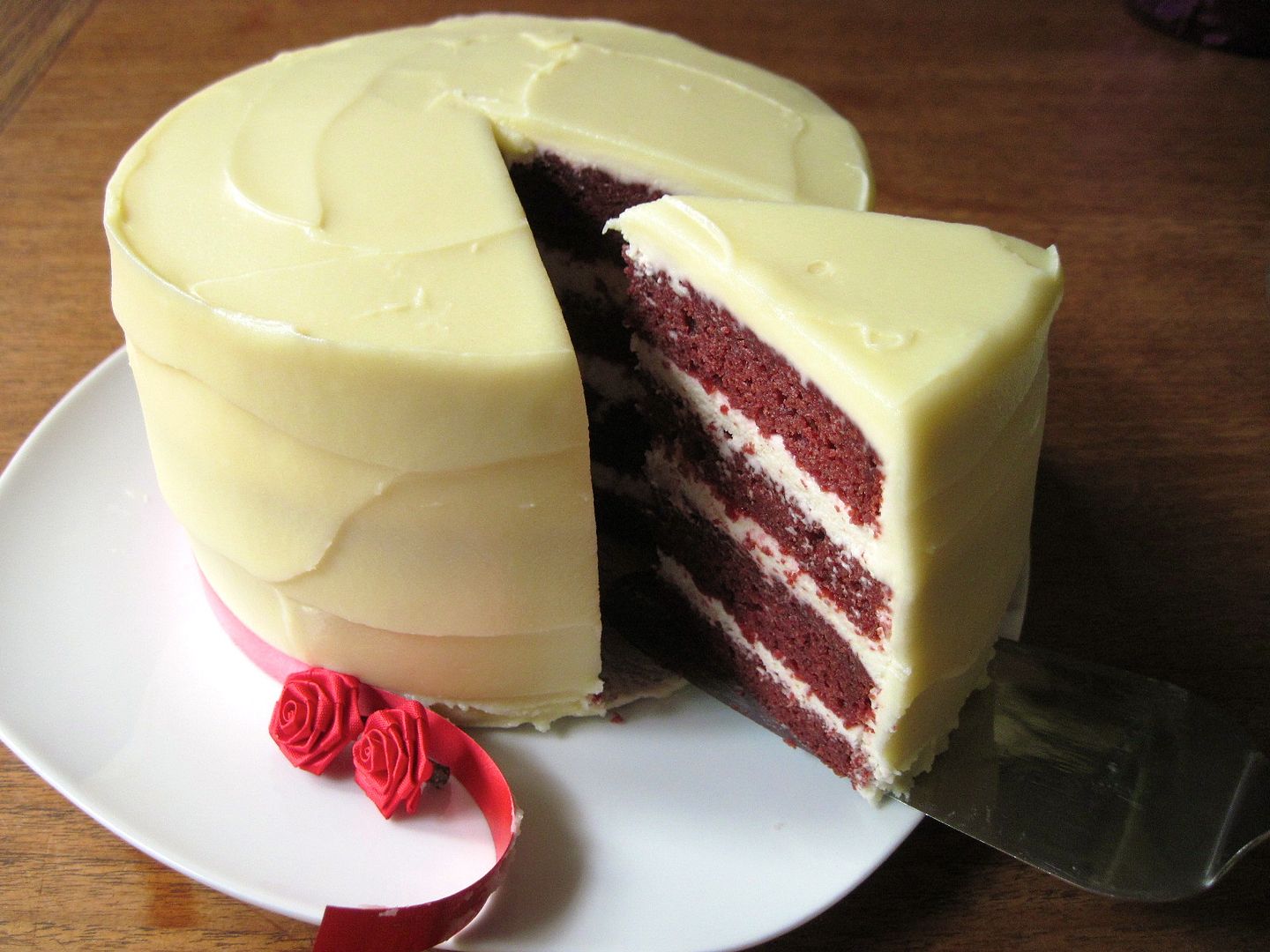 There are a few important ingredient notes to make here. Because the acidity of the batter is crucial, I would recommend following the recipe pretty exactly. You will need cultured buttermilk, rice wine vinegar, fresh lemon juice, baking powder and soda, and NATURAL cocoa powder – NOT Dutch process. Dutch process cocoa has been alkalinized, which neutralizes its acidity and therefore is not good for this application. I had a heck of a time finding natural cocoa powder in the grocery store – apparently the extremely common Fry's Cocoa Powder is Dutch process, although it's not specifically labeled as such. I ended up finally using organic raw cocoa powder from the natural hippie store, because I figured if it was raw then it is probably as unprocessed as possible (ie, not Dutch process).
I followed a slightly modified method for the cake (the creaming method rather than the dump-and-blend food processor method) and I will admit that I was pretty anxious the whole time, waiting to see if the cake would a) taste too much like beets, and b) be purple or brown instead of red. After mixing the (very pretty) purpley-red batter, I was surprised to find that while I could discern a little bit of earthiness from the beets, the dominating flavours were vanilla, tangy buttermilk, and a slight chocolate hint. Not bad at all! Actually, pretty good, and oddly, the flavour reminded me of raspberry more than anything.
The cakes came out of the oven a deep burgundy colour rather than a bright red, but I'm pretty happy with both the colour and the flavour, especially considering some of the not-so-pretty beet cake results that I read about online. The texture of the cake is moist and dense and once baked, neither Nate nor I could taste a trace of beet. So I think we can put this one in the "success"column.
Now, all that was left was the cream cheese frosting. As I've mentioned before I'm not a fan of frostings made with icing sugar, so this seemed like the perfect opportunity to once again tackle my nemesis: cream cheese Swiss meringue buttercream. This time, I followed a new method and IT TOTALLY WORKED! 😀 Click here for the recipe. The only problem was that I didn't have quite enough frosting to cover the outside of the cake properly, so I mixed up a white chocolate-cream cheese ganache to pour over the cake. It's pretty decadent, but man-oh-man is it good. Nate dubbed this his favorite icing yet.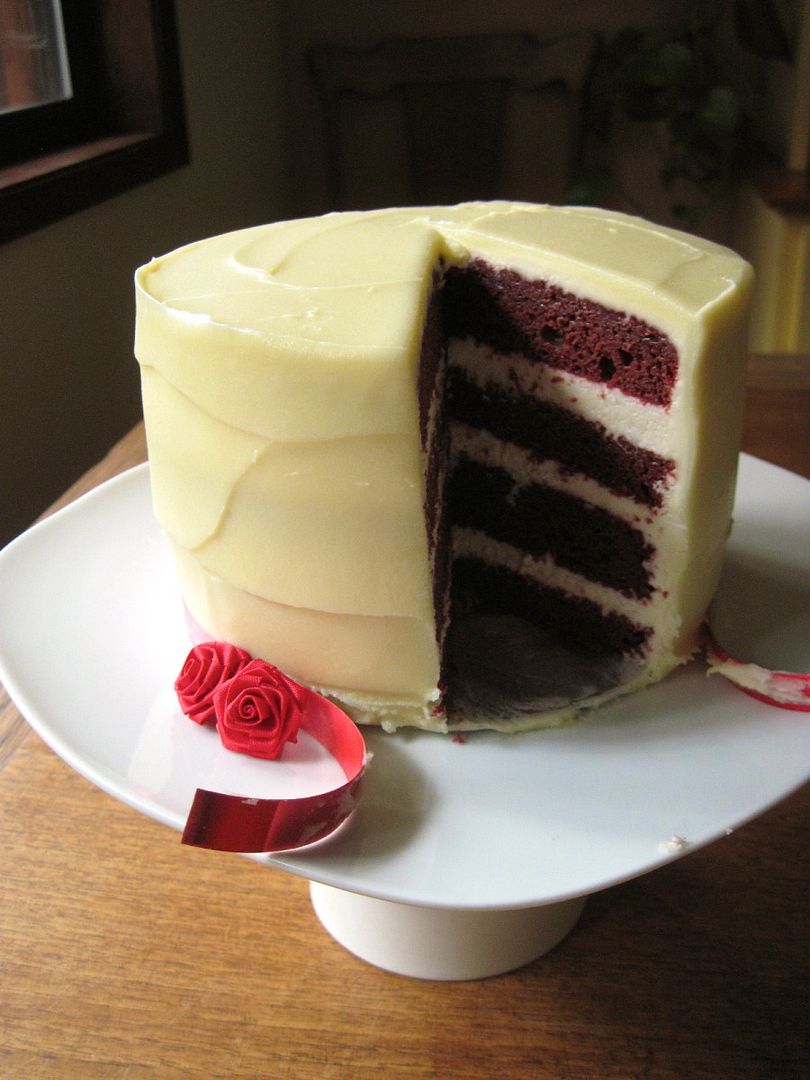 Ruth, thank you for the opportunity to make this cake! Check out the Daring Kitchen for some more pretty awesome veggie-filled baked goods 🙂
Beet Red Velvet Cake
Cake adapted from Sophistimom and this comment. Makes one 6″ round layer cake or 12 cupcakes. Double the recipe for an 8″ or 9″ layer cake.
Beet Purée:
Scrub 2 medium beets and place them in a roasting pan with 1/2″ of water. Place a piece of parchment paper on top, then cover with aluminum foil and seal. Roast the beets in a 400˚F oven for 60 – 90 minutes, until they are very tender. Allow the beets to cool completely, then peel and cut into chunks. Purée in a food processor until they are as smooth as possible, making sure you scrape down the sides and bottom of the processor bowl frequently. This should yield about 3/4 cups of beet purée for the cake recipe below.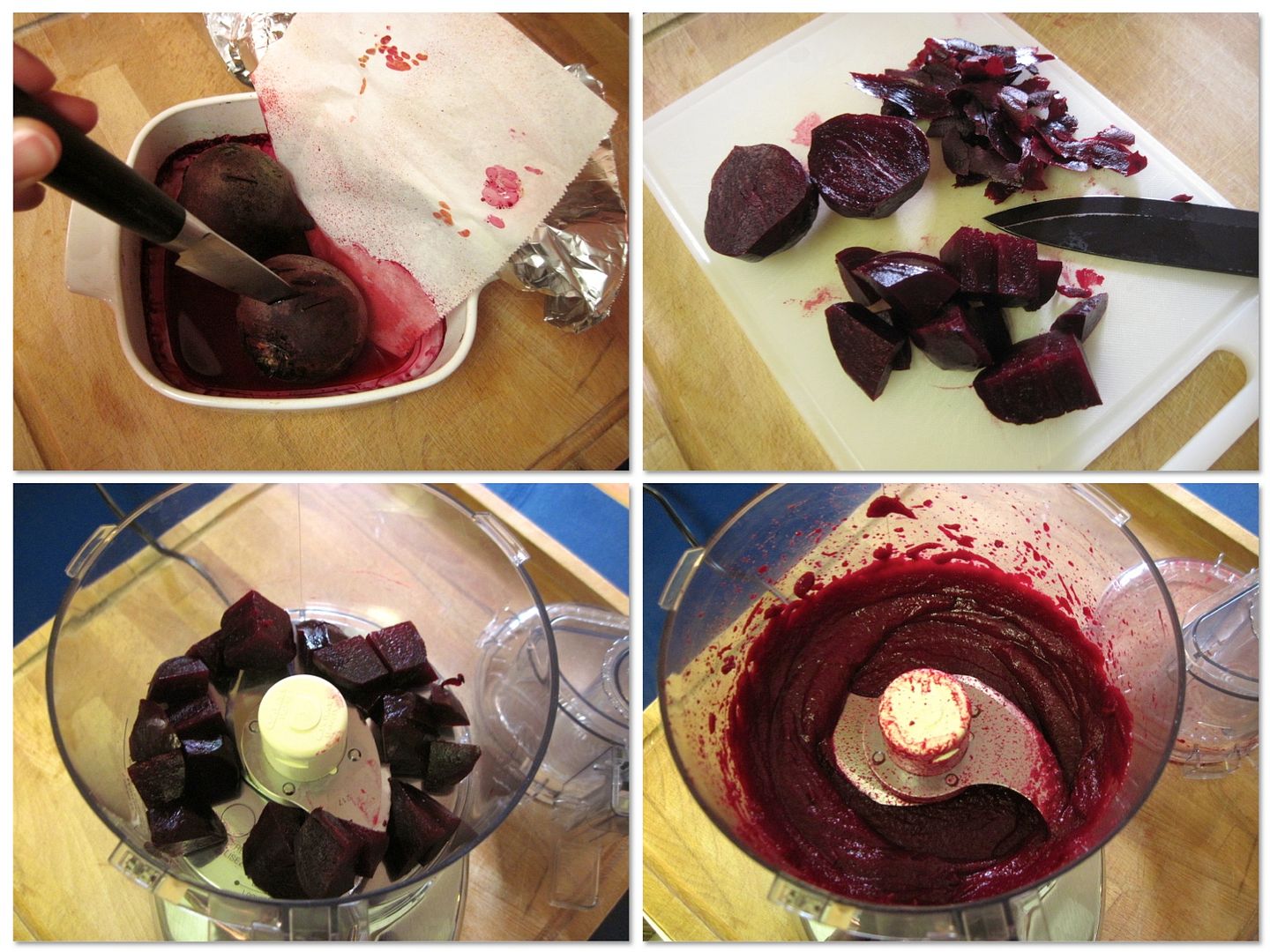 Red Velvet Cake Batter:
Preheat the oven to 350˚F. Butter two 6″ round cake pans, then line the bottoms with parchment paper and butter the paper. Set aside.
In the bowl of an electric mixer fitted with the paddle attachment, cream together until very light and fluffy:
1/2 cup unsalted butter, softened
3/4 cup granulated white sugar
One at a time, beat in:
2 eggs, at room temperature
Add:
3/4 cup beet purée
3/4 tsp vanilla extract
Set aside.
In a medium bowl, sift together the dry ingredients:
1 1/4 cup all purpose flour
1/2 tsp salt
3/4 tsp baking powder
1/4 tsp baking soda
2 tbsp natural cocoa powder (NOT Dutch process)
In a liquid measuring cup, combine:
1/2 cup cultured buttermilk
1 1/2 tsp rice vinegar
1 tbsp fresh lemon juice
Add the dry and wet ingredients alternately to the beet mixture, making three additions of dry and two additions of wet (starting and ending with dry). Mix gently to incorporate, scraping down the bottom and sides of the bowl as needed.
Pour the batter into the prepared pans and wrap each one in a strip of damp towel to help insulate and bake it evenly. Bake the cakes in the preheated 350˚F oven for 35 – 45 minutes, until a toothpick inserted in the center comes out with a few point crumbs sticking to it (start checking after about 25 minutes – mine were still quite jiggly in the middle). Run a knife around the edge of the pan, invert the cakes onto a rack, and cool completely.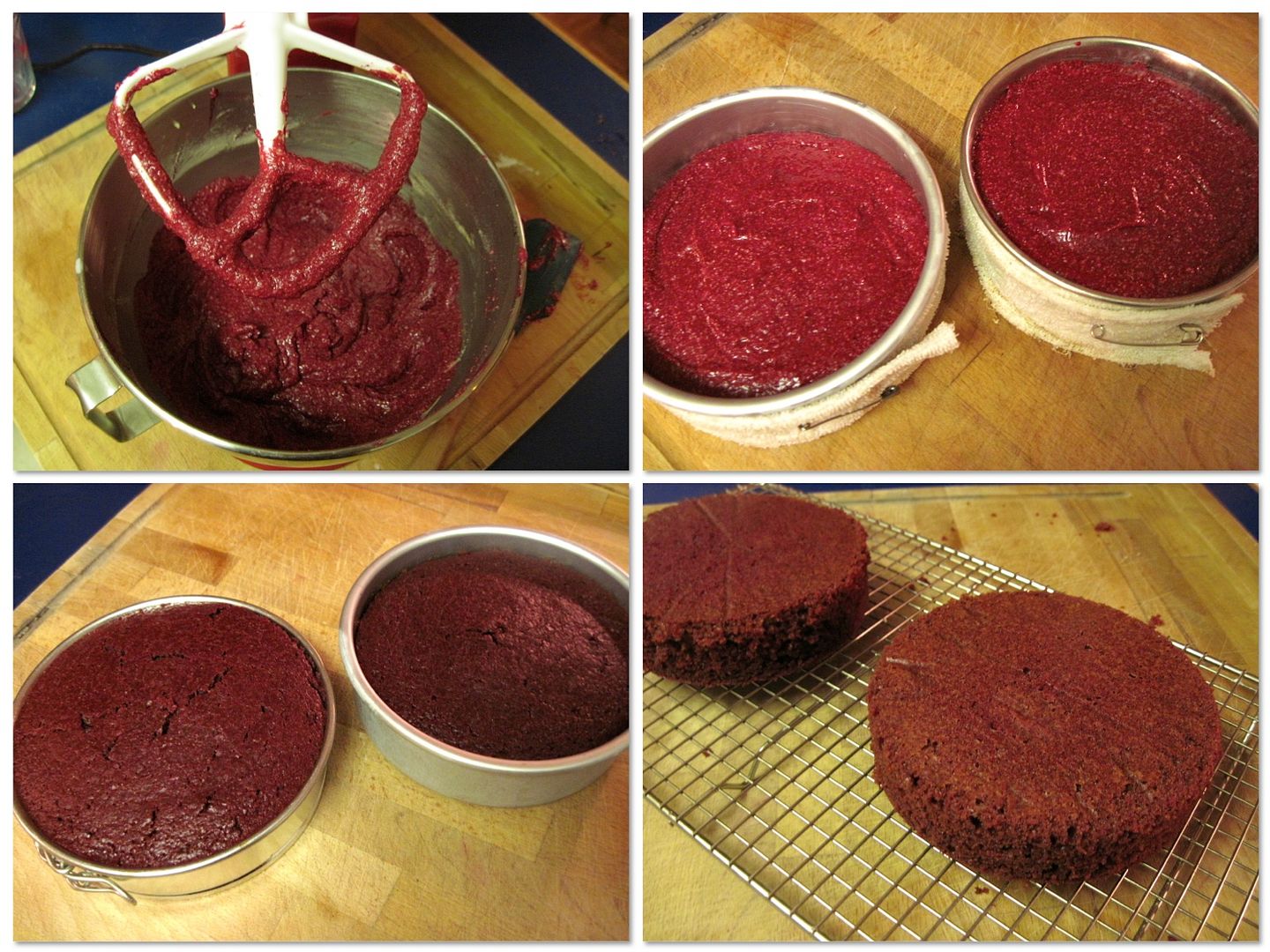 When cool, split the cakes in half horizontally and frost with Cream Cheese Swiss Meringue Buttercream Frosting. Use about 2/3 of the batch to fill between the 4 layers, then frost the top and sides with the remaining buttercream (you might need to chill the whole thing after stacking/filling the layers if the frosting gets very soft).
Put the cake in the fridge to chill while you make the White Chocolate-Cream Cheese Ganache:
In a small saucepan, heat until just boiling:
5 tbsp half and half cream
2 tbsp cream cheese
1 tsp butter
Pour the hot mixture over 5 oz chopped white chocolate and let it sit for a minute to melt, then stir until smooth. Stir in a pinch of salt and let it cool until thick enough to spread.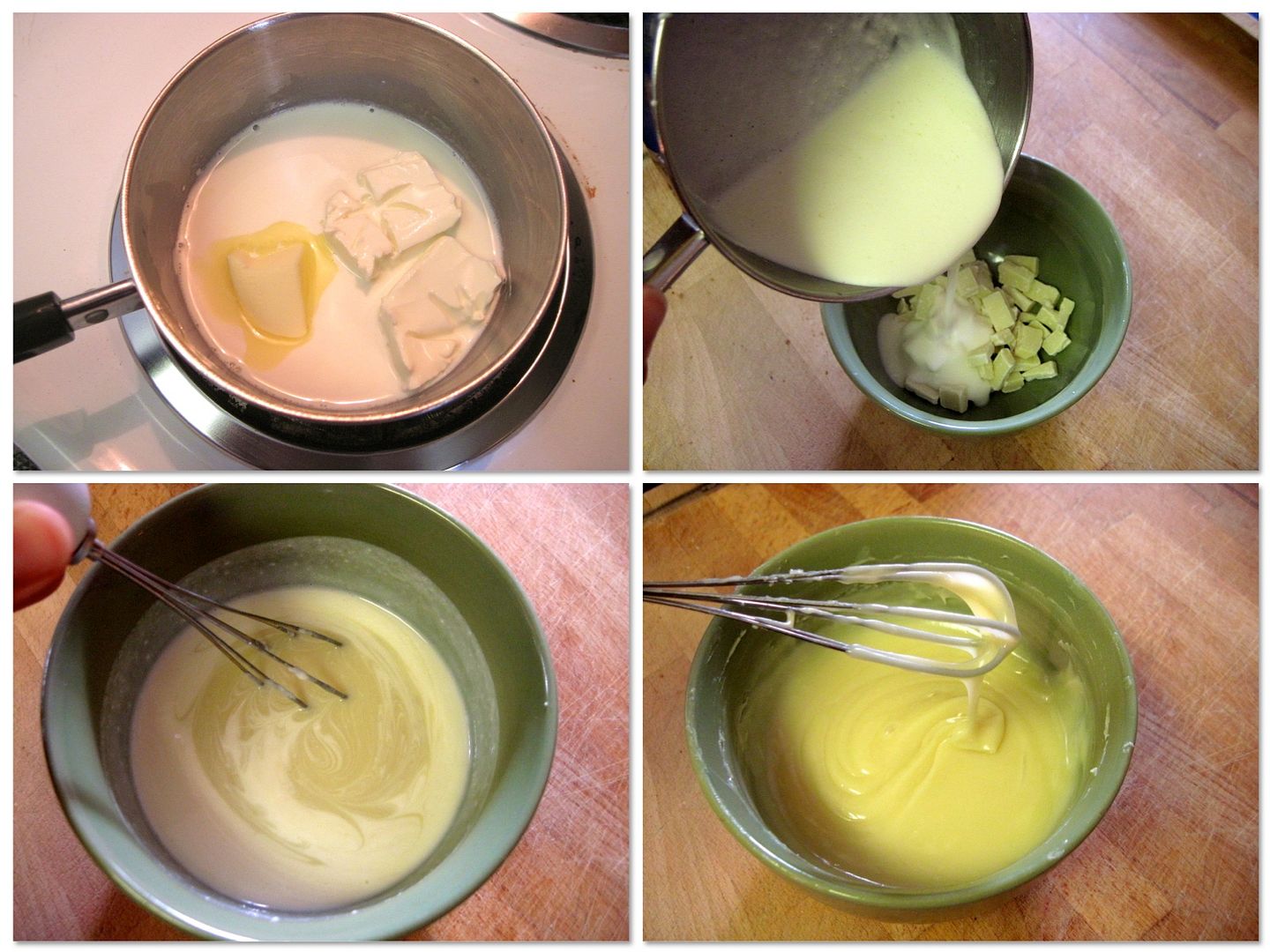 Pour the ganache over the chilled cake and spread it gently down over the top and sides of the cake (don't be like me – put the cake on the serving platter AFTER you cover it in ganache). Chill again to set, then take out of the fridge about an hour before serving.