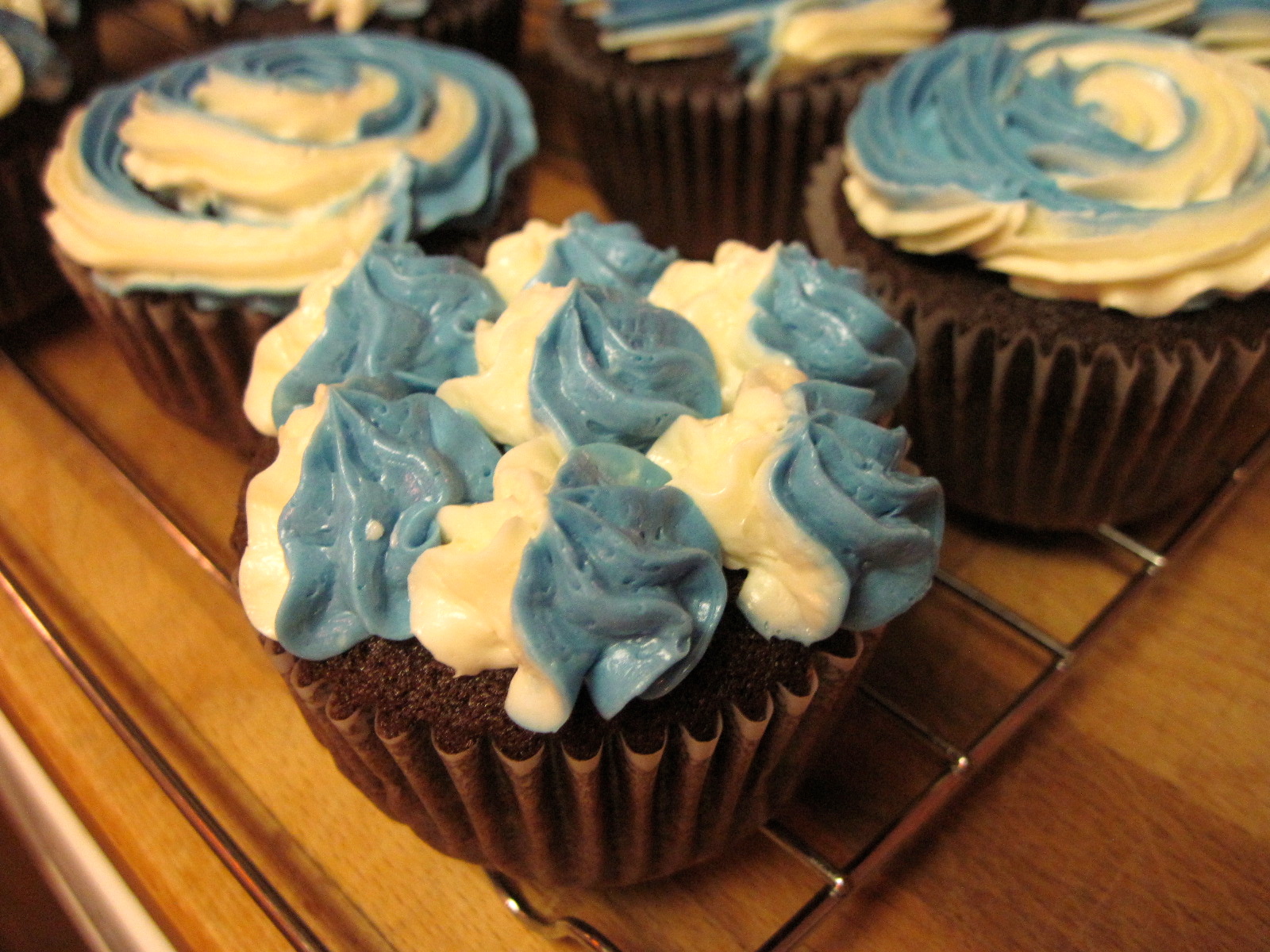 Apparently making cupcakes only once in a month is not enough cupcakes. Obviously. Also, I saw this frosting technique done somewhere (I forget where) and was looking for any excuse to try it out.
I made these for some students at school, who had successfully completed a rather large and onerous project and deserved cupcakes. Blue and white are the college's varsity colours, so it seemed appropriate to tint the frosting blue. I made a batch of my trusted friend Martha's Swiss meringue buttercream frosting and used gel colour to make it blue, because I'd heard that SMBC takes much better to gel colour than liquid food colour. Gel colour, it turns out, also comes in a much wider range of hues, so I was able to choose one that wasn't the bright electric liquid food colour blue. Win/win.

The cupcakes themselves were a chocolate butter cake, which I found a little bit dry and definitely not as chocolatey as these or these.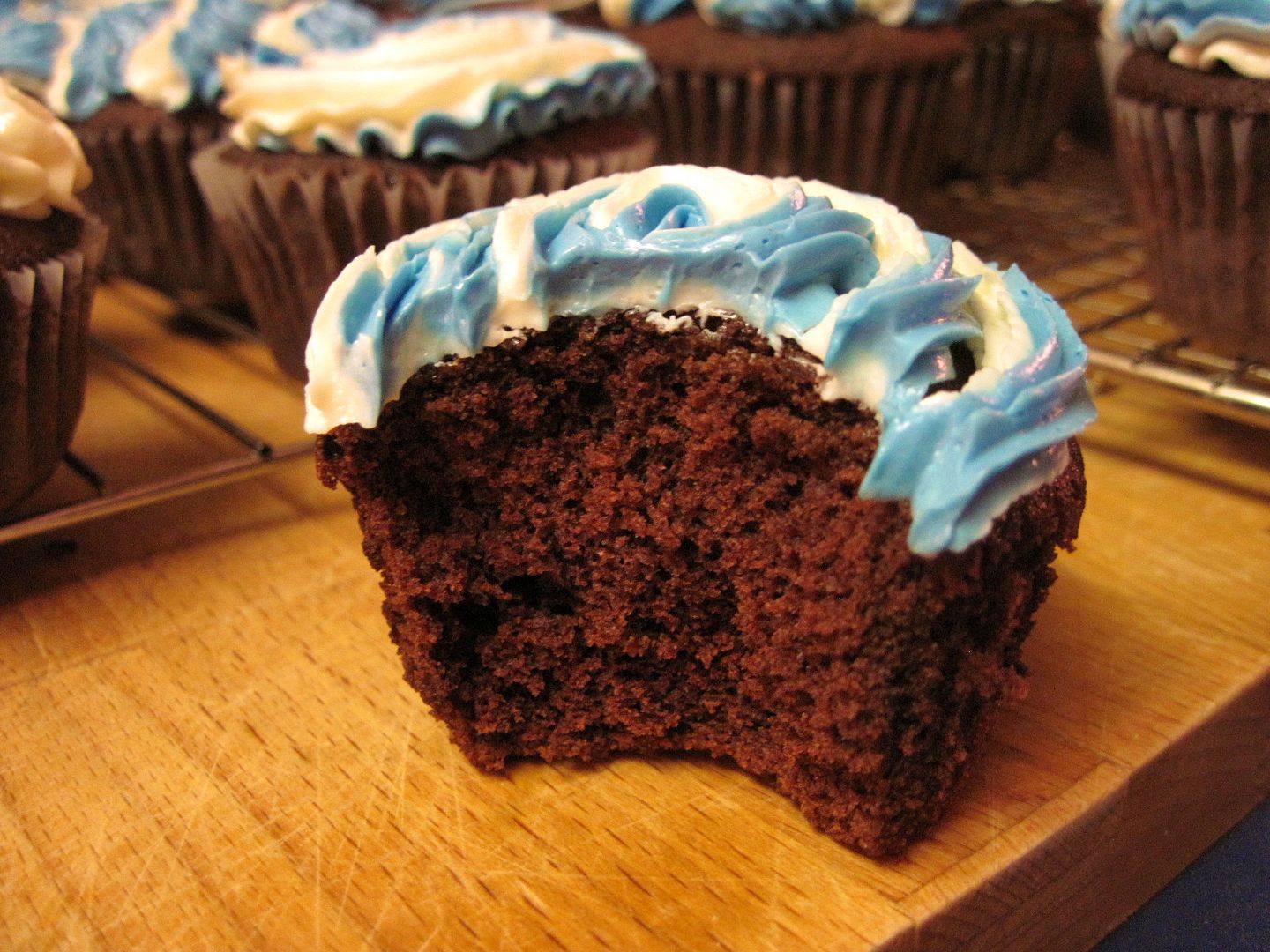 But most important is the frosting. As I mentioned, I used Martha Stewart's Swiss meringue buttercream, which was super buttery and fluffy. I'm not going to post the step-by-step SMBC recipe, because I've done that here and here and here before, and this one came together pretty easily, as far as Swiss meringue buttercreams go.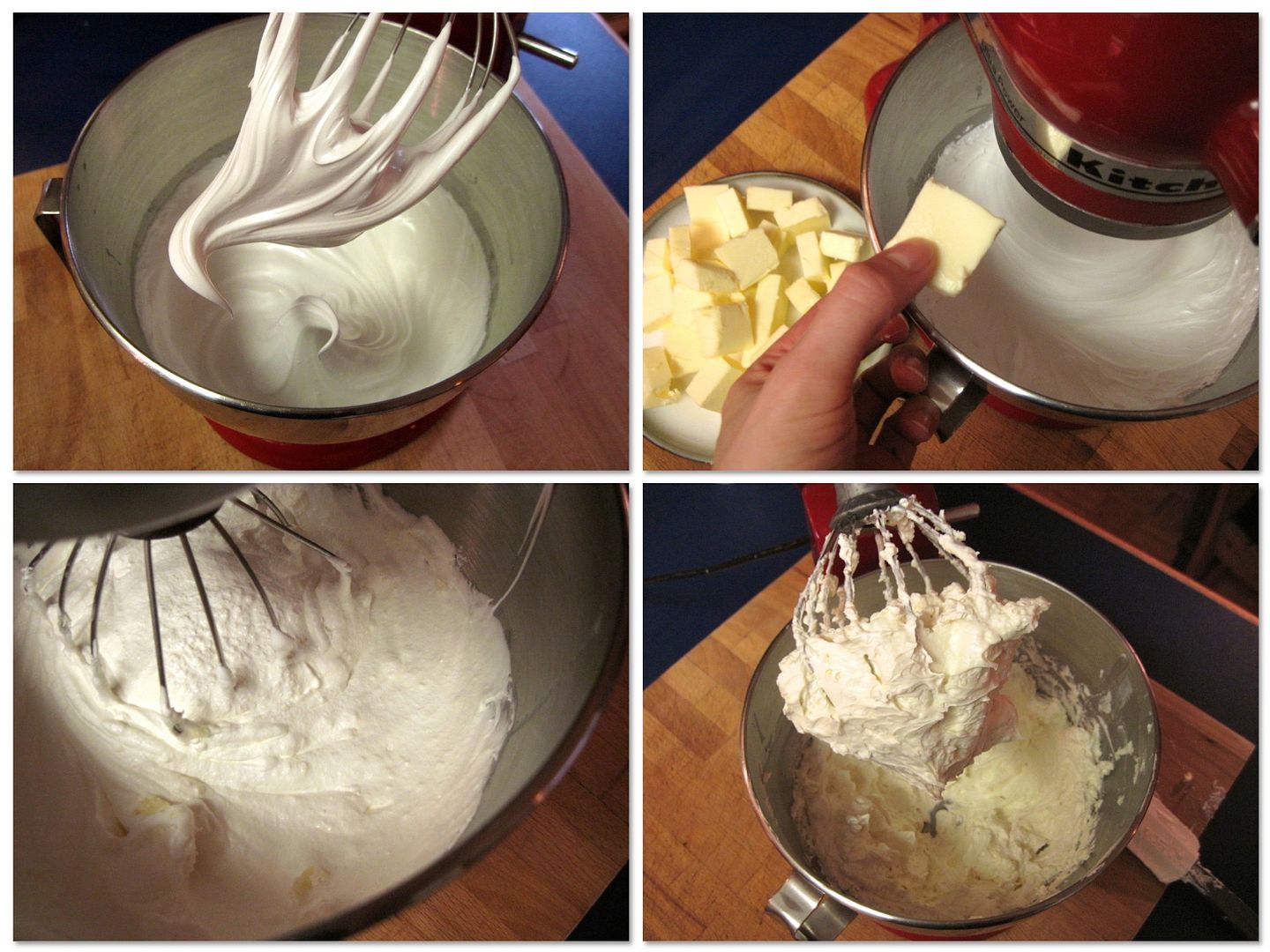 Martha's recipe called for a whole pound of butter, but I found that I didn't actually need all of it. Feel free to use your favorite SMBC recipe if you have one (or any frosting recipe, actually).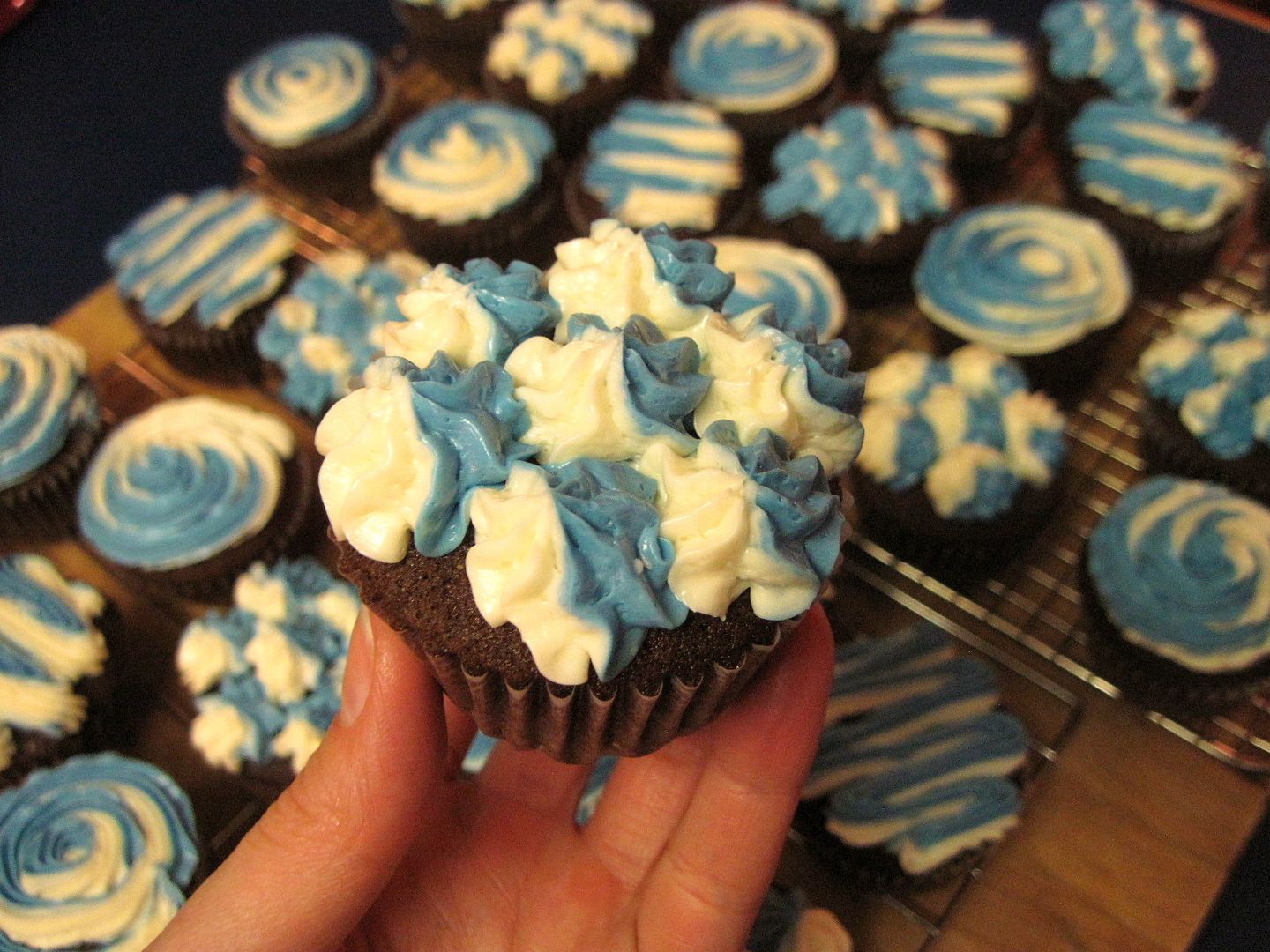 Swirly Frosting
I can't remember where I first saw this technique – regardless, I can't take credit for it.
For this frosting technique, you will need:
frosting (SMBC or otherwise)
food colouring
at least 2 disposable piping bags
one regular piping bag (or a third disposable one)
a piping bag coupler
a star piping tip
cupcakes
Divide your frosting in half and colour the two halves as desired.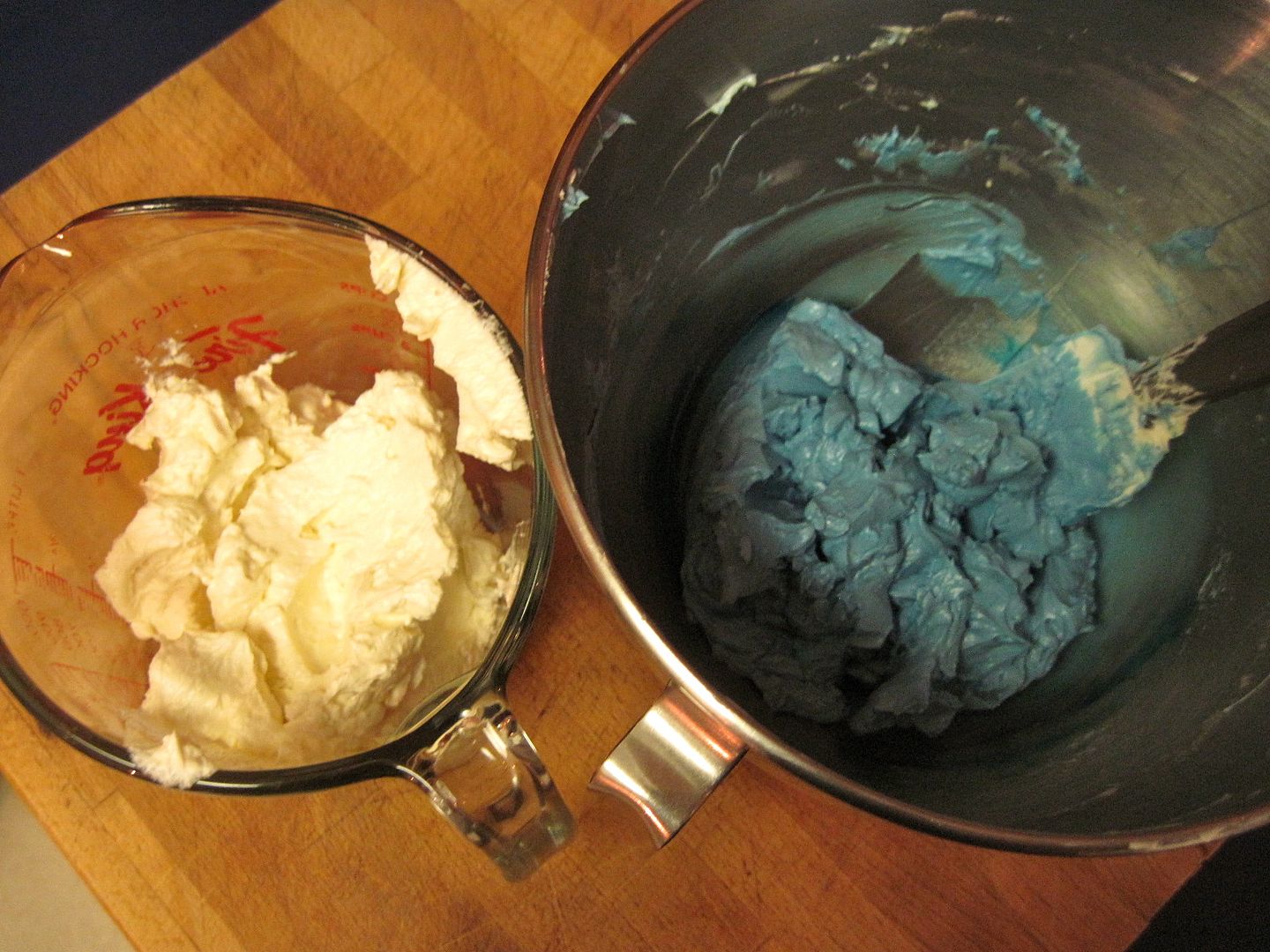 Put a few spoonfuls of each frosting into two separate disposable piping bag and secure the ends with twist ties or elastic bands. You want the bags to be only loosely filled, less than half-full. Snip the tips off the bags. Prepare your third piping bag (disposable or otherwise) with a coupler and star piping tip.
Gently place the two frosting-filled bags inside the third bag, so that the tips of the frosting bags are inside the star tip of the third bag.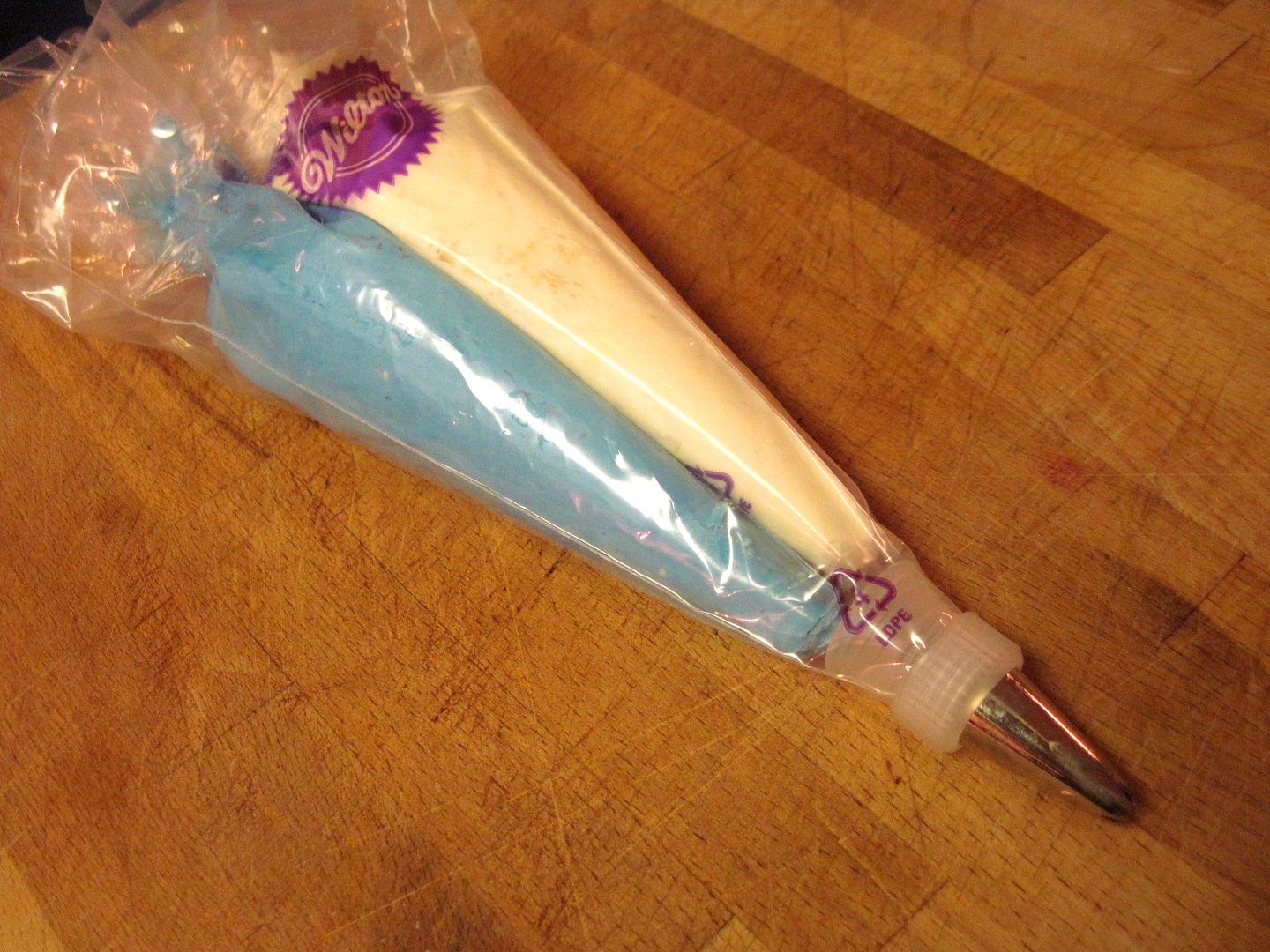 Frost your cupcakes with swirls, rosettes, zigzags, stars, and any other design you can think of. When you run out of frosting, remove the frosting bags and refill them halfway, then put them back in the third bag, taking care to return them to the same position in the bag as previous (otherwise you'll get smudgy colours).