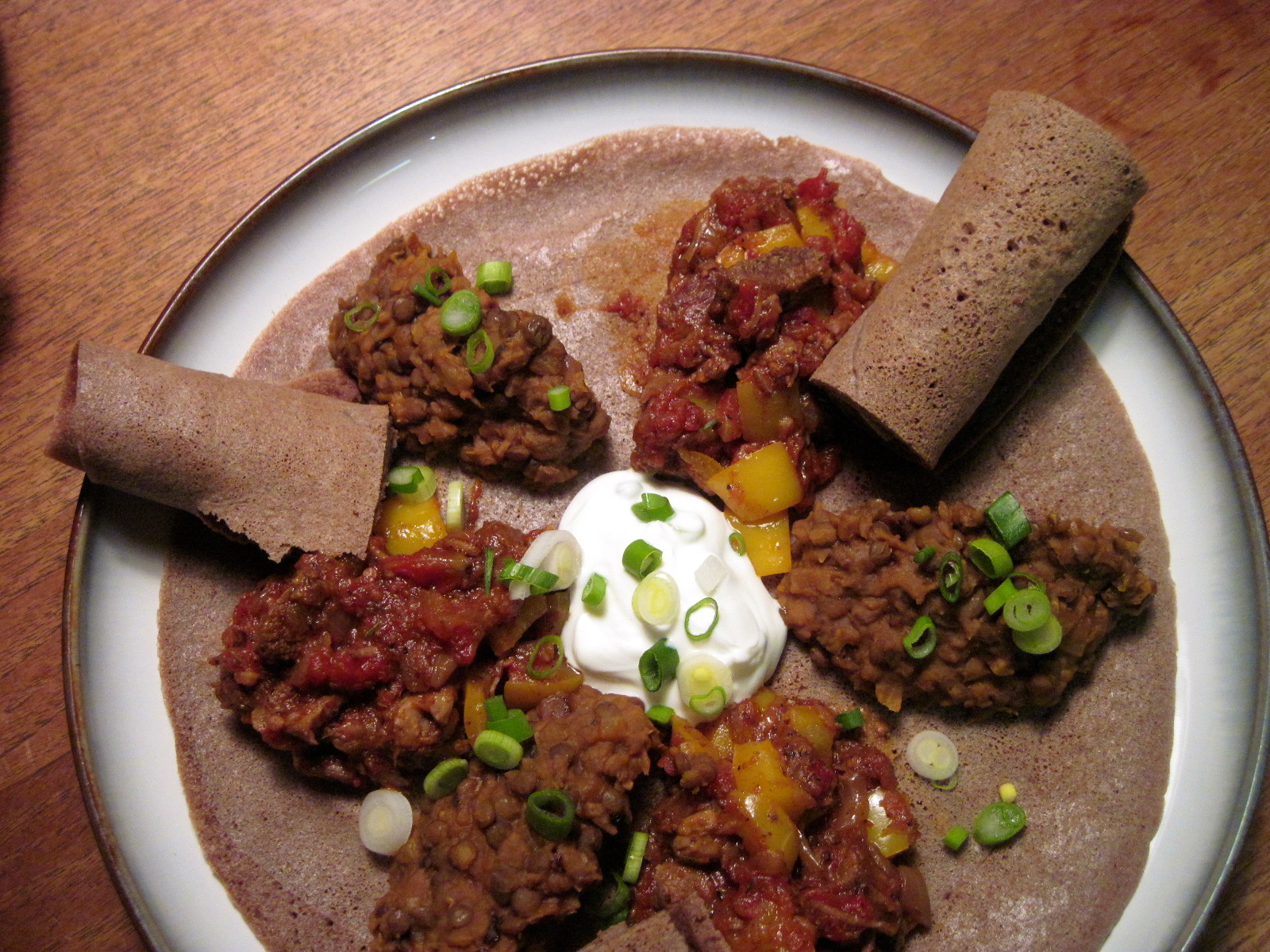 A few years ago I had lunch with my Mum at an Ethiopian restaurant in Vancouver. Never having had Ethiopian food before, I had no idea what to expect, other than my Mum telling me that we would be eating "injera" made from "teff", which really didn't do much to clear things up.
What arrived at our table was a giant, crèpe-like flatbread covered in dollops of several kinds of thick, curry-like stew, to be shared between the two of us. Eating with our hands, we tore off pieces of the crèpe and used it to scoop up the stew, which was spicy and flavourful and incredibly delicious. The crèpe, as it turned out, was called injera, and it was made from a grain called teff (which happens to be gluten-free). It had a pleasant, almost spongy texture and slightly sour flavour, due to it being made with a sourdough starter of sorts. Along with being one of the most unusual eating experiences I have ever had (it's not everyday in Canada that an edible part of your meal serves as both plate and eating utensil), that lunch was also one of the most memorable and delicious.
Since then, I had kept the notion of making injera in the back of my mind, but it wasn't until I saw it as one of the suggested recipes for this month's Sourdough Surprises flatbread project that it came to fruition. Traditionally, injera is made from a pre-fermented starter of teff flour, but it can easily be made with a wheat flour sourdough starter, which is what I used. It did require finding teff flour, but a trip to the local health food store had me sorted, and from there it really could not have been easier: you mix up a soupy concoction of sourdough starter, water, and teff flour, then let it ferment for several hours until it gets bubbly, then swirl it in a frying pan and cook it much like a French crèpe, only you don't have to flip it. The injera develops its distinctive spongy texture after cooking, as it cools a bit.
The traditional Ethiopian stew served on top of injera is called wat, made from meat or vegetables and flavoured with a spice mix called berbere, which is analogous to curry powder in that there are as many variations as there are cooks. Several kinds of wat are usually served on a large communal injera, so I made a delicious approximation of this Ethiopian lamb stew (using an approximation of this berbere seasoning) along with a rather uninteresting and decidedly non-Ethiopian lentil dal to dollop on my injera. Any kind of thick, spicy stew or curry would be appropriate, too. (For more about Ethiopian cuisine, I found this page interesting.)
All in all, a pretty fun project and a good way to shake things up at dinner time!
Check out the Sourdough Surprises blog to see what other flatbreads were made this month using sourdough. 🙂
Ethiopian Injera
Adapted from Apple Pie, Patis, & Pàté. Makes 5 – 6 injera, 10″ – 12″  in diameter. Traditional injera are up to 20″ in diameter, but good luck finding a frying pan that size! The recipe below uses a wheat flour sourdough starter. To make a teff starter (which takes 5 days), check out this post.
In a large bowl, mix together:
1/4 cup sourdough starter
1 3/4 cups room temperature water
Stir to dissolve the starter, then add:
1 3/4 cups teff flour
Mix the batter until it is smooth. It will be quite thin, like crèpe batter.
Cover and let ferment at room temperature for 5 – 6 hours. After several hours, my batter developed a layer of water on top, and then about an hour later, the water had disappeared and and it had started to produce foamy bubbles. I took that to mean it was ready.

At this point, you can reserve 1/4 cup of the batter to keep as the starter for your next batch. I didn't do this – I only need one kind of sourdough starter to babysit, and this was easy enough to make with the one I already have.
With a whisk, stir in:
1/4 tsp salt
The batter should be quite active now – I could actually watch it foam and ferment, which was pretty neat.
Heat a 10″ or 12″ non-stick skillet over medium heat (the skillet needs to have a lid, too). Test the skillet's heat by flicking some drops of water on it: if they sizzle and dance, it should be ready. Pour 1/2 cup (for 10″ skillet) to 3/4 cup (for 12″ skillet) of batter into the skillet and swirl it around to coat the bottom. Bubbles should appear on the surface almost immediately. Cook for about a minute, until the outer inch of the injera starts to set.

Cover with the lid and cook/steam for another minute or so, until the middle of the injera is just set as well and the edges start to pull away from the pan.

Remove the injera by inverting the skillet and dumping the injera out upside down. Move it to a rack to cool slightly. (Note: like crèpes, the first injera might be a total disaster. The next ones will be better!)

The injera can be served warm or at room temperature. They can also be stored for up to 3 days in an airtight container at room temperature. To re-heat, wrap them in a damp cloth and microwave for a minute or two, until warm. I did this, but next time I would serve them the day I make them because they got pretty crumbly.
To serve, place an injera on a plate and top it with dollops of thick stew (too much liquid or sauce will make the injera soggy). Cut the remaining injera into strips and roll them up to serve alongside.

To eat, tear off pieces of the injera with your fingers and scoop up the stew with it. Make sure you have lots of napkins handy!
This post has been YeastSpotted!
Save
Save