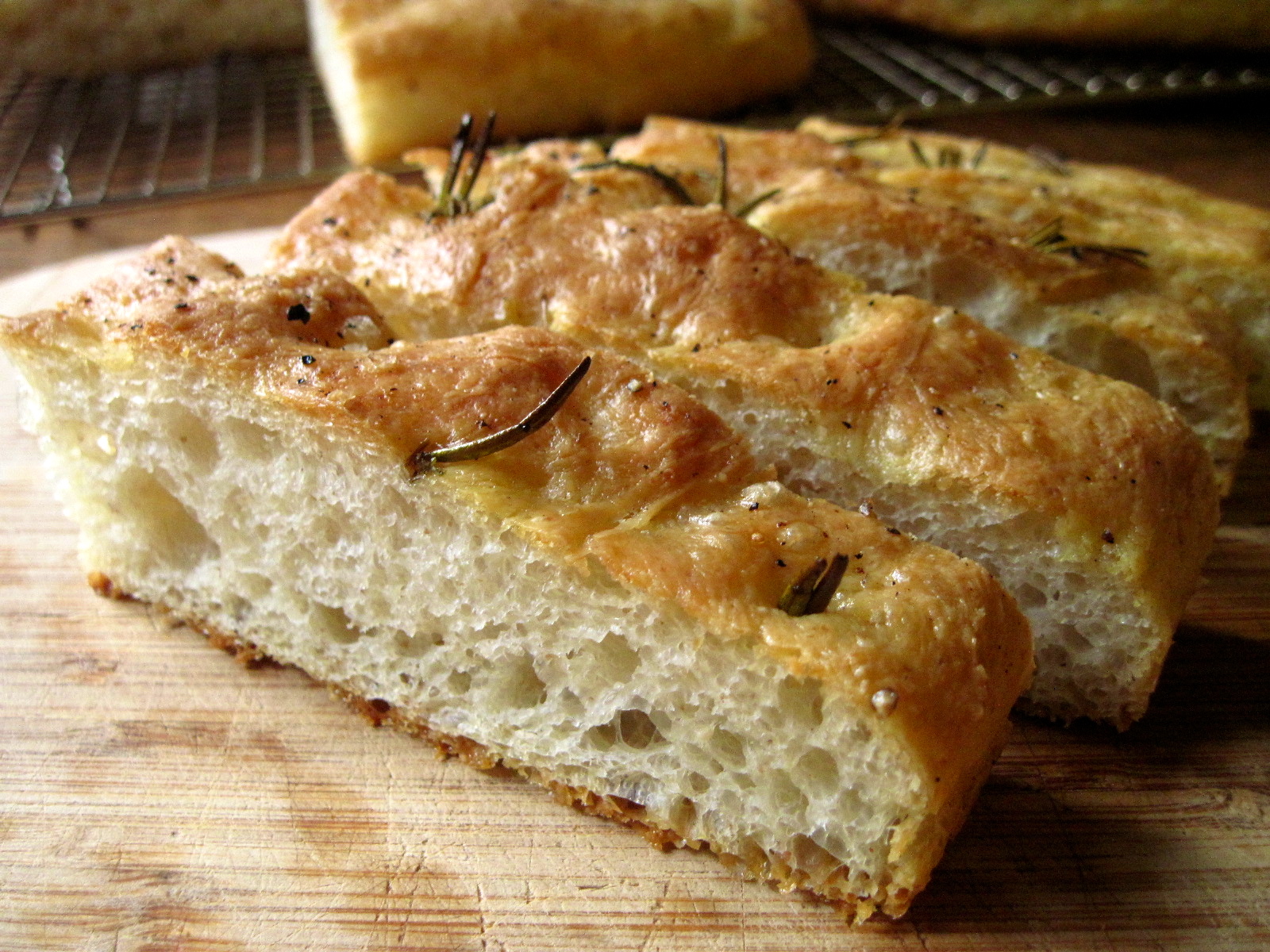 There is a restaurant in Victoria called Pagliacci's that is famous for its focaccia bread: light, fluffy, chewy, flavourful, and baked in olive oil so that the crust is both crunchy and almost buttery at the same time. I know several people who go there just for the bread (myself included), and it stands to reason that making a Pagliacci's taste-alike focaccia was on my List.
So when I saw an amazing looking focaccia on the YeastSpotting round-up last week, I decided to make it immediately. The real kicker was that one of the topping variations was olives and mozzarella, both of which I happened to have in the fridge. And the result… is the best focaccia I've ever tasted (Nate concurs).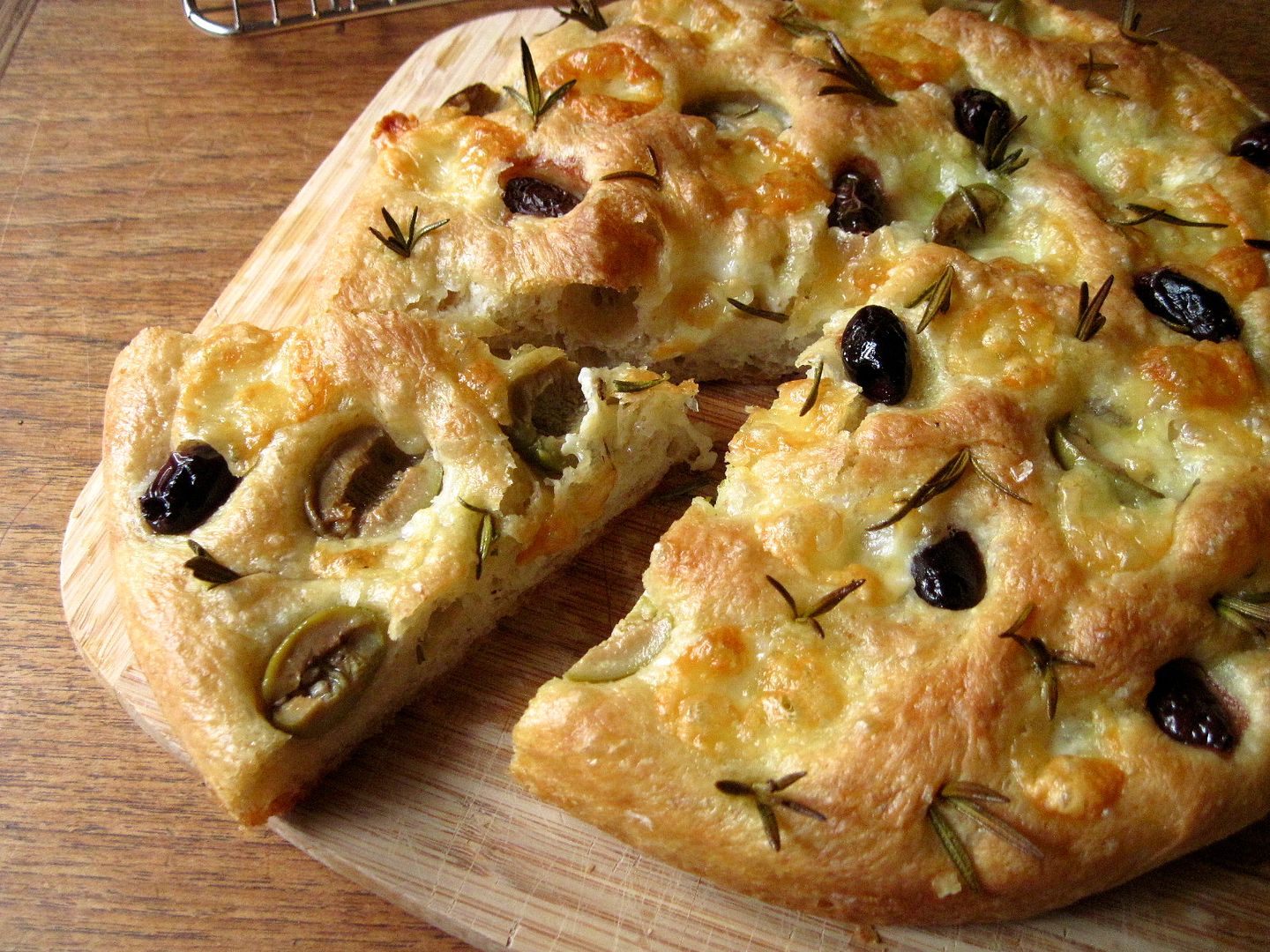 The dough starts the night before with a preferment sponge made with a tiny amount of yeast. The next day, when the sponge has developed lots of good yeasty flavour, you mix up the dough, which contains a little bit of rye flour for even more flavour. Once the dough has risen into a beautiful, bubbly mass, it gets pressed into an olive oil-slathered pan and topped with rosemary and other delicious things. Then it goes into the oven and perfumes your house with the most incredible aroma until it emerges, golden brown and crisp. So. Good.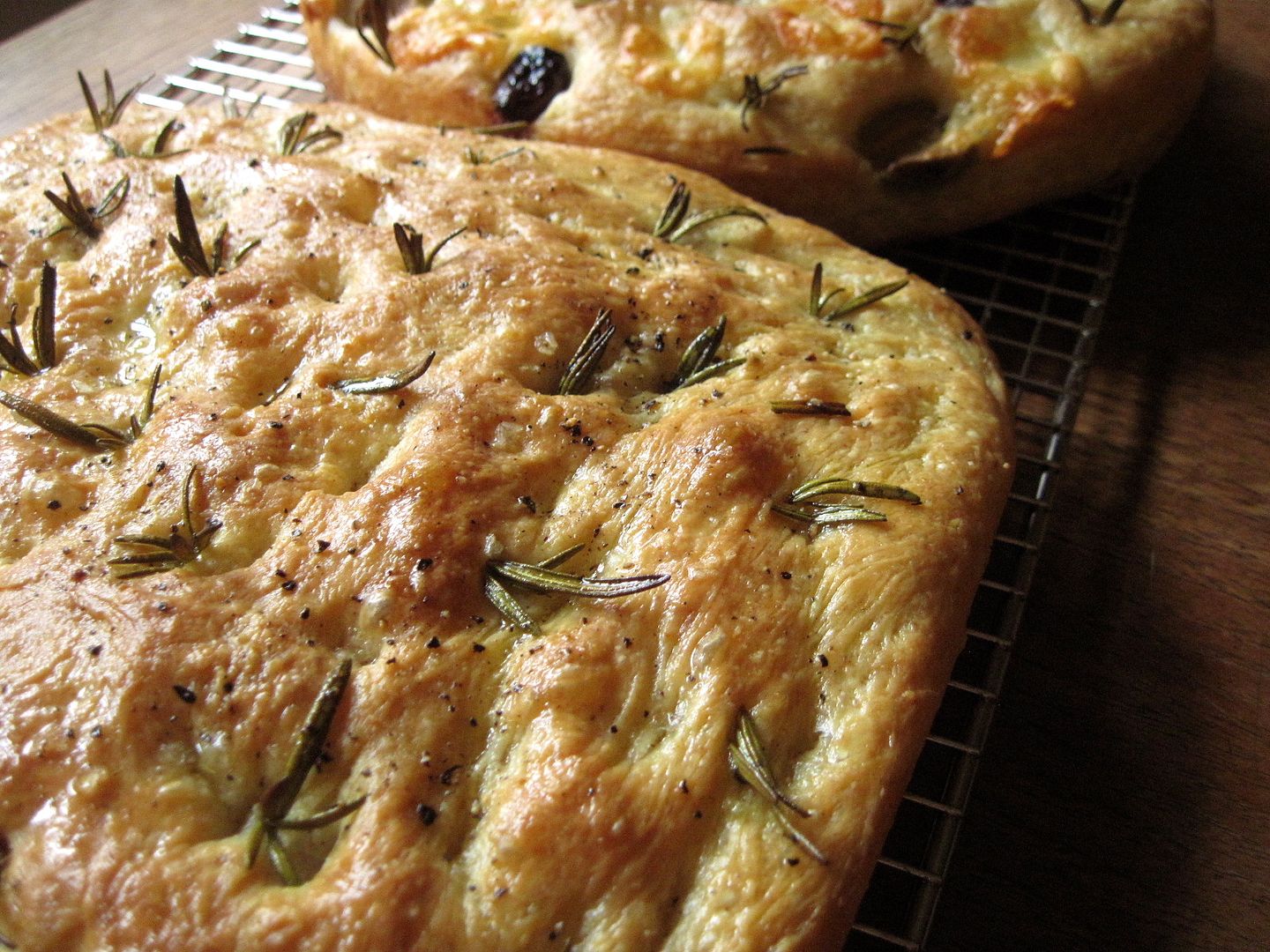 And even better when dipped into basil-infused olive oil and blackberry balsamic vinegar (this stuff is heavenly!). Easily the best thing I've eaten so far in 2013.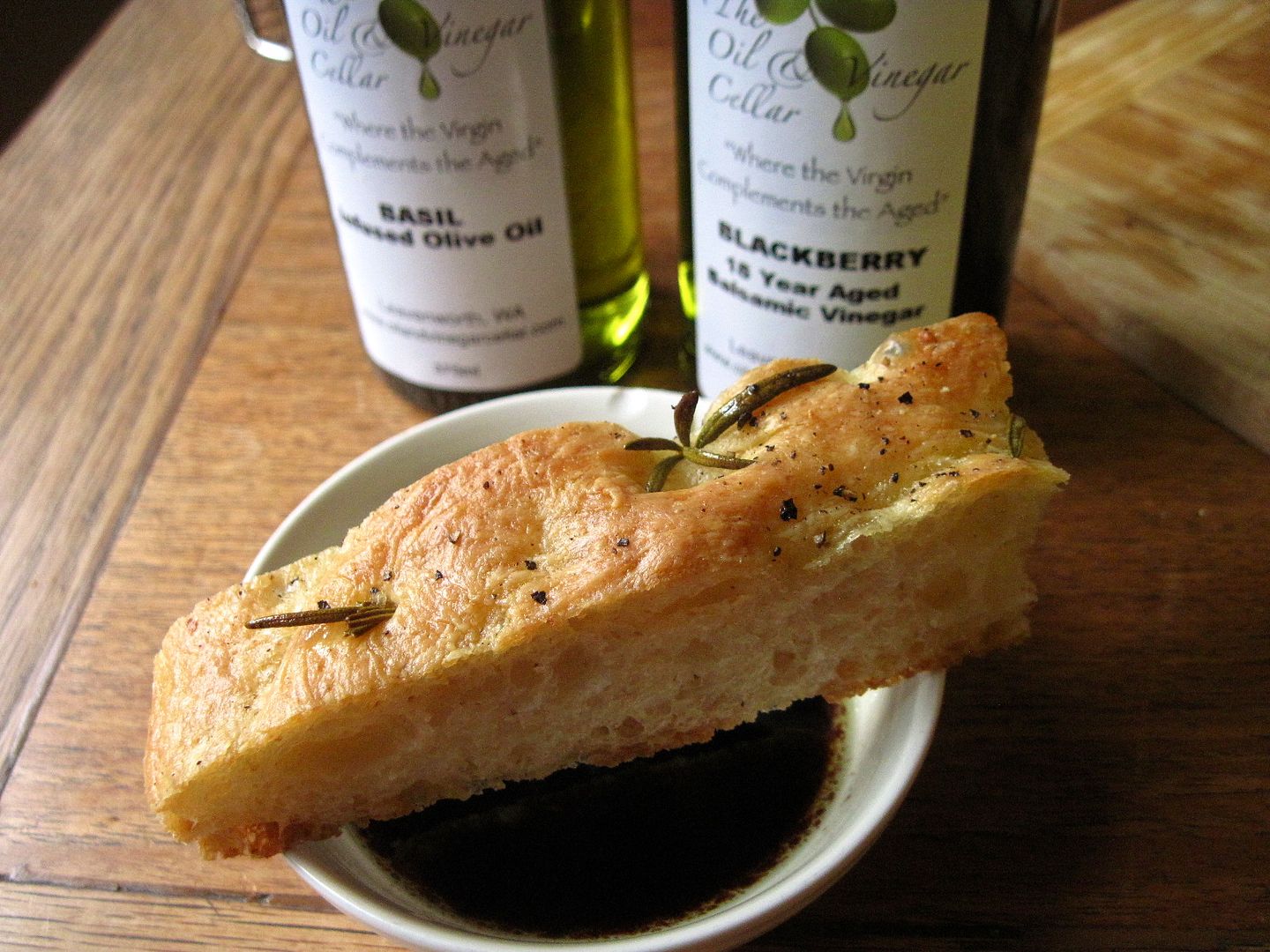 PS – That maple syrup festival I was so excited about in my last post? Yeah, I missed it. 🙁 I thought it was on Sunday but it was actually on Saturday, and I realized this about 20 minutes after it ended. Sigh. I guess I'll just have to look forward to next year!
Nancy Silverton's Focaccia
Adapted from the LA Times, via Elra's Baking. Makes two 10″ round or square focaccia.
The day before, make the sponge. Mix together in a mixer bowl:
1/2 cup bread flour
1/2 cup warm water
1/16 tsp active dry yeast
It will have the consistency of pancake batter. Cover the bowl with plastic wrap and let it ferment for 12 – 24 hours at room temperature, until nice and bubbly.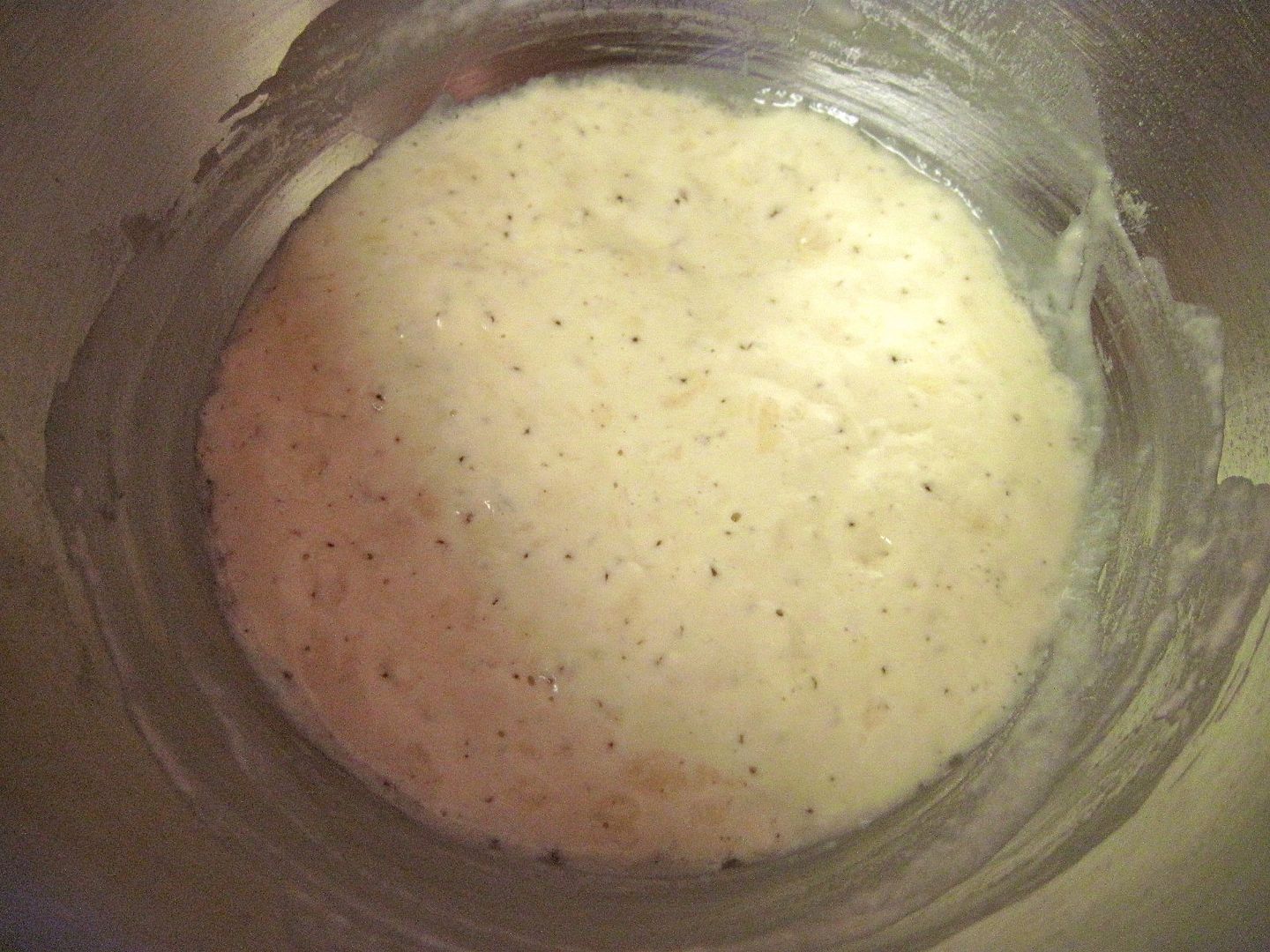 To make the dough, mix into the sponge:
1 1/4 cups warm water
1 tbsp olive oil
Stir to combine, then add:
3 2/3 cups bread flour
2 tbsp + 3/4 tsp rye flour
1 3/4 tsp active dry yeast
Mix with a dough hook on low speed for about 2 minutes until you get a sticky mass.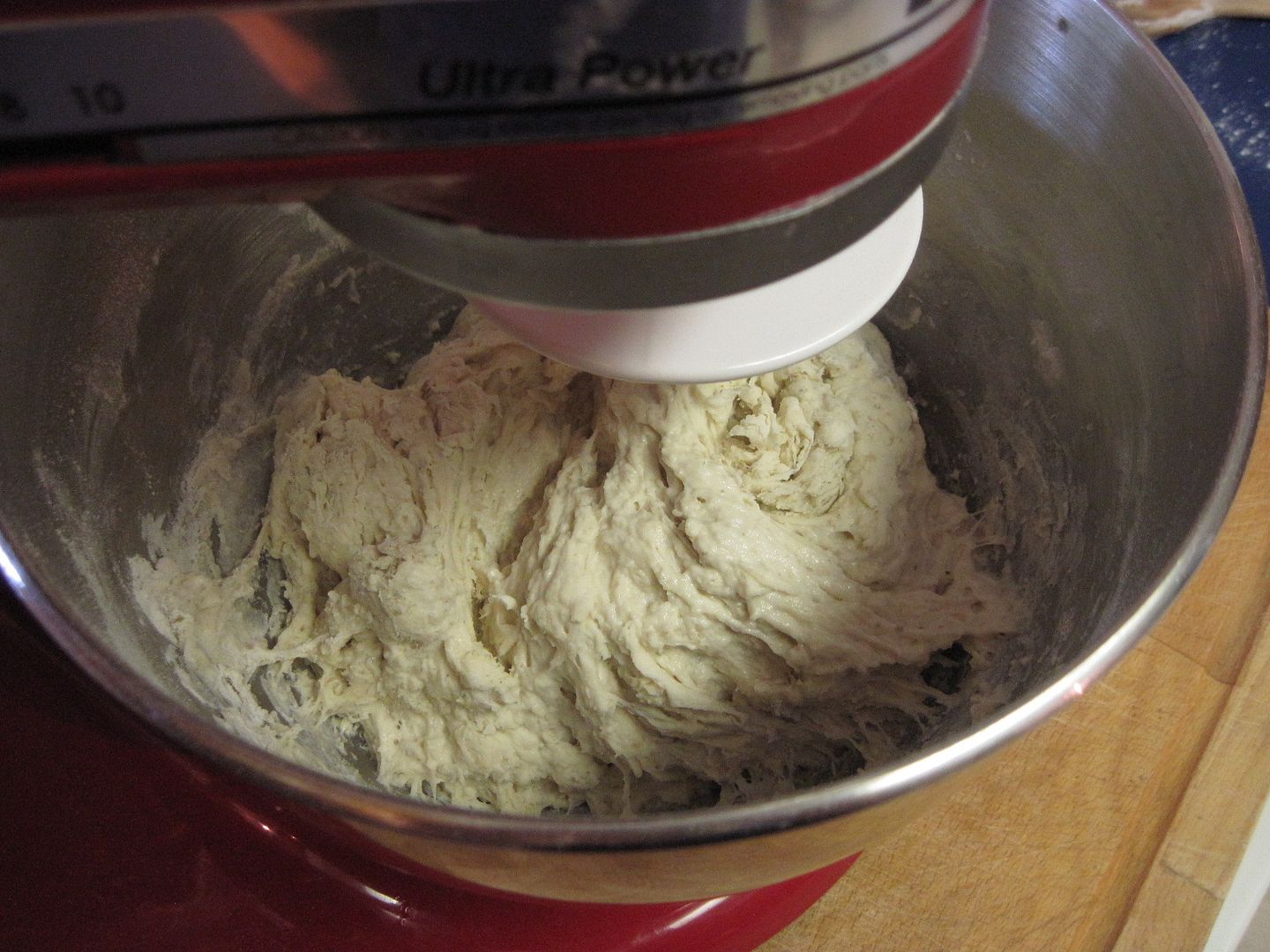 Add:
3/4 tbsp kosher salt
Increase the speed to medium and continue kneading until the dough is smooth and well-formed, about 8 – 10 minutes. It should be too sticky to "clean the bowl", but it should be pulling away from the sides.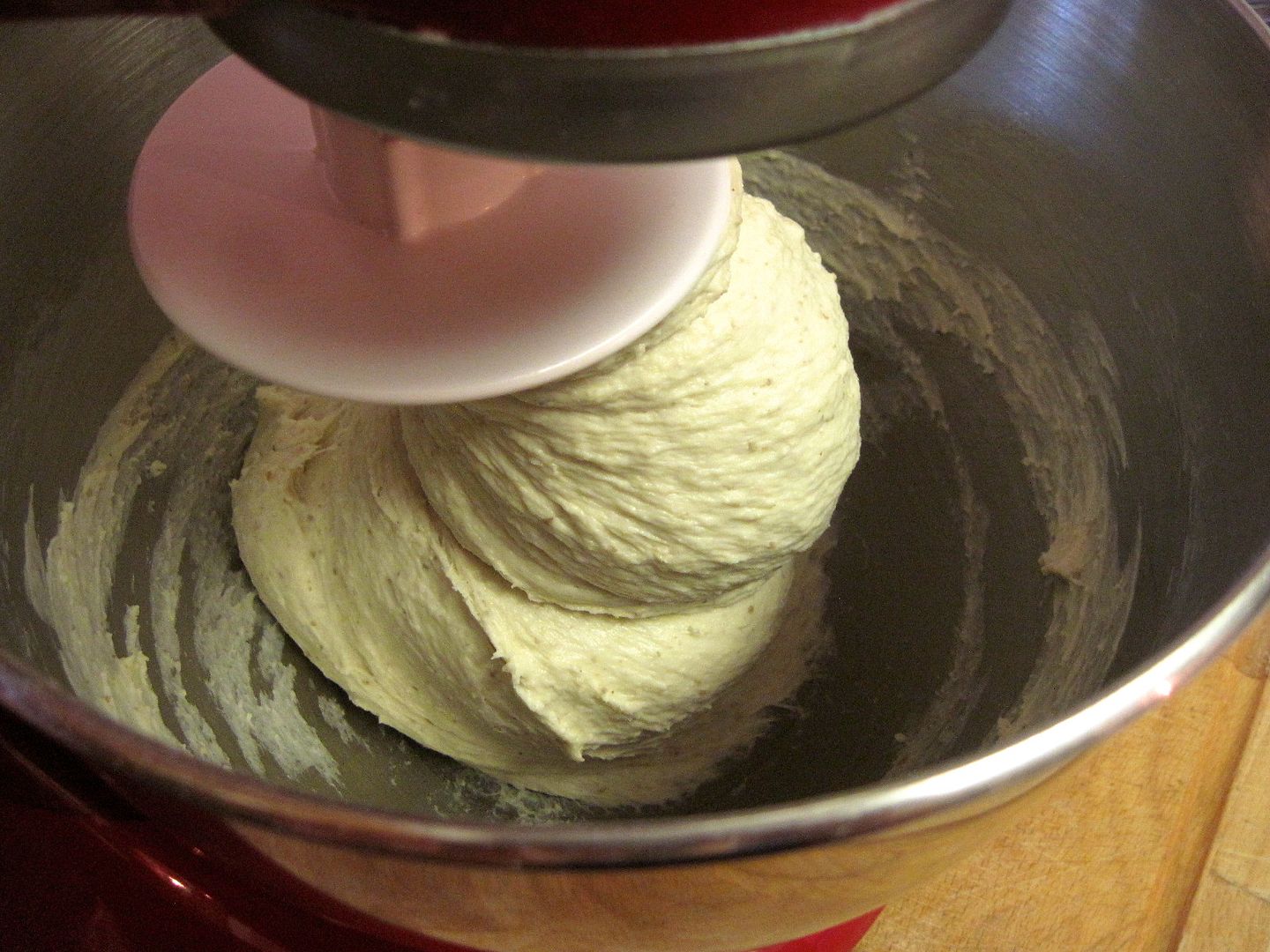 Put the dough in an olive oiled-bowl and cover it tightly with a double layer of plastic wrap. Place it in a warm spot to rise until doubled, about 1 1/2 hours. After 1 1/2 hours, stretch and fold the dough in all four directions (explanation and video demonstration here). Cover and let rise again until double, 50 minutes to 1 hour.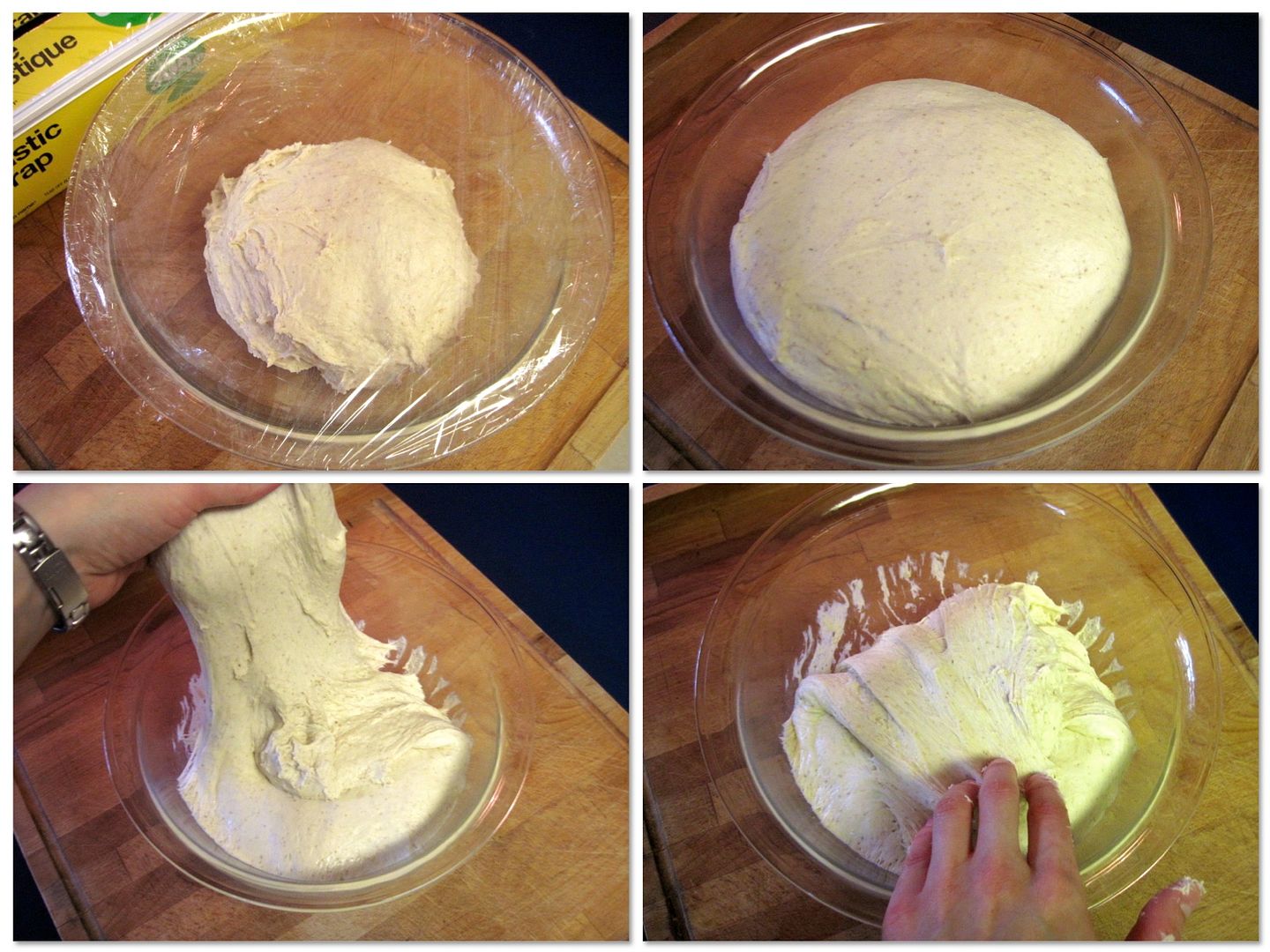 Prepare two 10″ round or square tins by pouring 1/4 cup olive oil into each and swirling it around to cover the bottom and sides. Divide the dough in half (each should weigh about 1 lb) and gently stretch and press each one into the bottom of the pans. Dip your fingertips into the oil to cover the bread with oil as you shape it. Cover the pans with a tea towel and let rest for 30 minutes.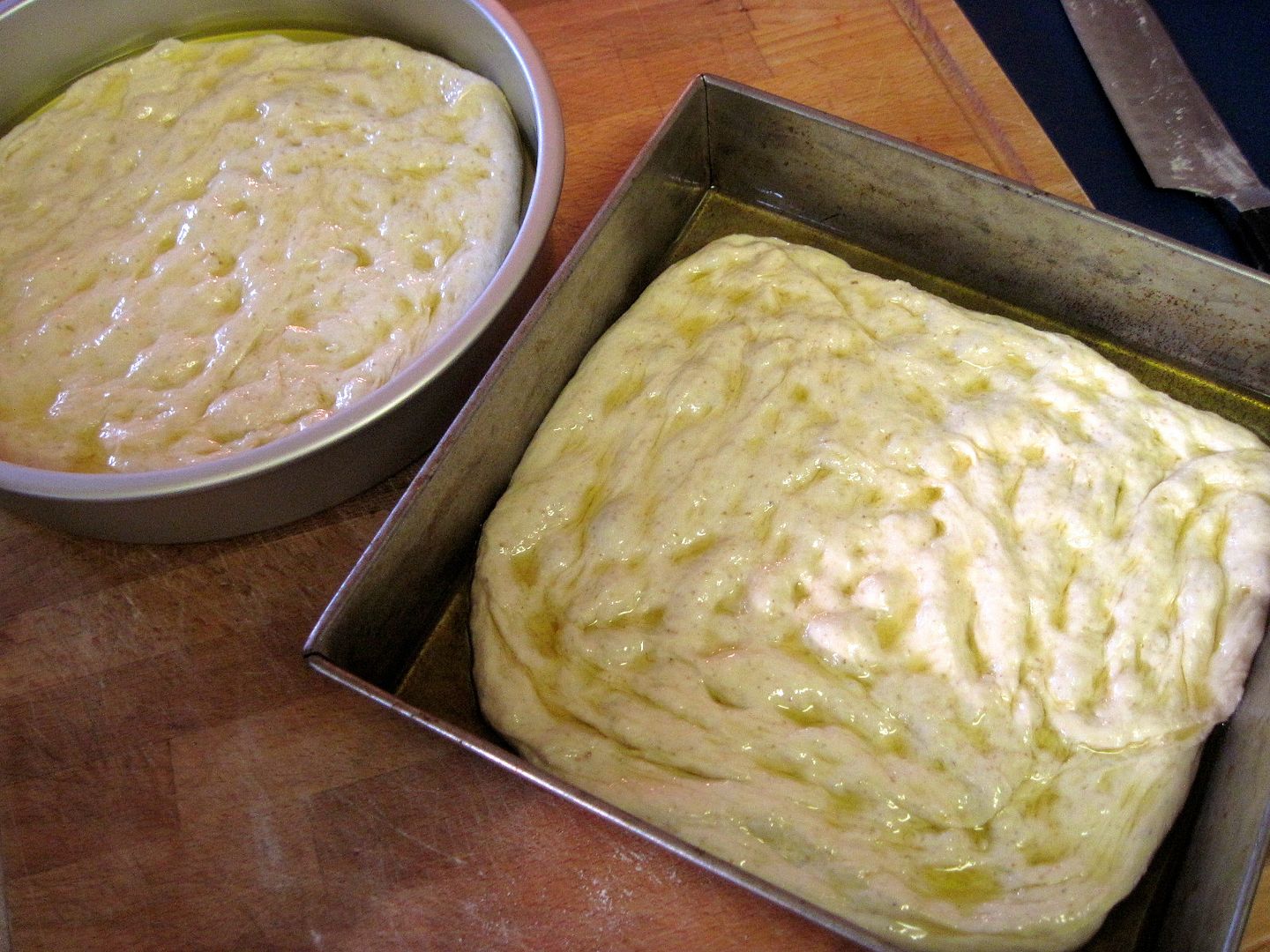 Once rested, it's time for toppings. For one focaccia, I used:
1 ball of bocconcini, cubed and pressed between paper towels to remove excess moisture
10 black kalamata olives, whole, and 5 large green olives, halved
a handful of fresh rosemary sprigs (next time I would just scatter rosemary leaves on top, rather than using individual sprigs)
Press the mozzarella deeply into the dough, starting in the middle and working in circles out to the edge, pressing the dough out towards the edges of the pan as you go. Repeat with the olives and then poke the rosemary sprigs into the dough/scatter leaves on top. Sprinkle with a scant 1/2 tsp of large flake sea salt (like Maldon salt).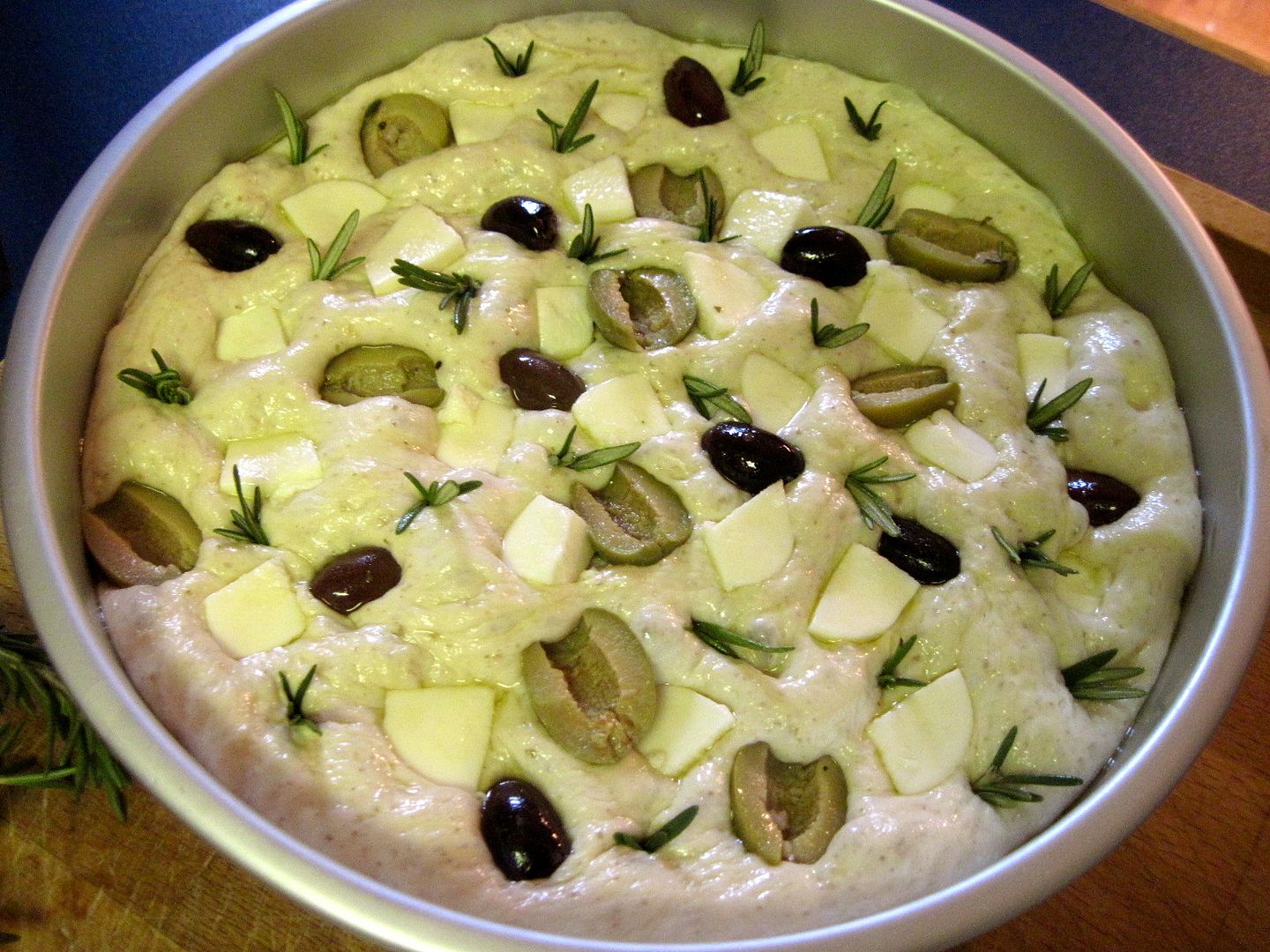 For the plain rosemary version, use your fingertips to stipple the dough, then poke in the rosemary sprigs/scatter the leaves on top. Sprinkle with a scant 1/2 tsp of large flake sea salt (like Maldon salt) and a few turns of freshly cracked black pepper.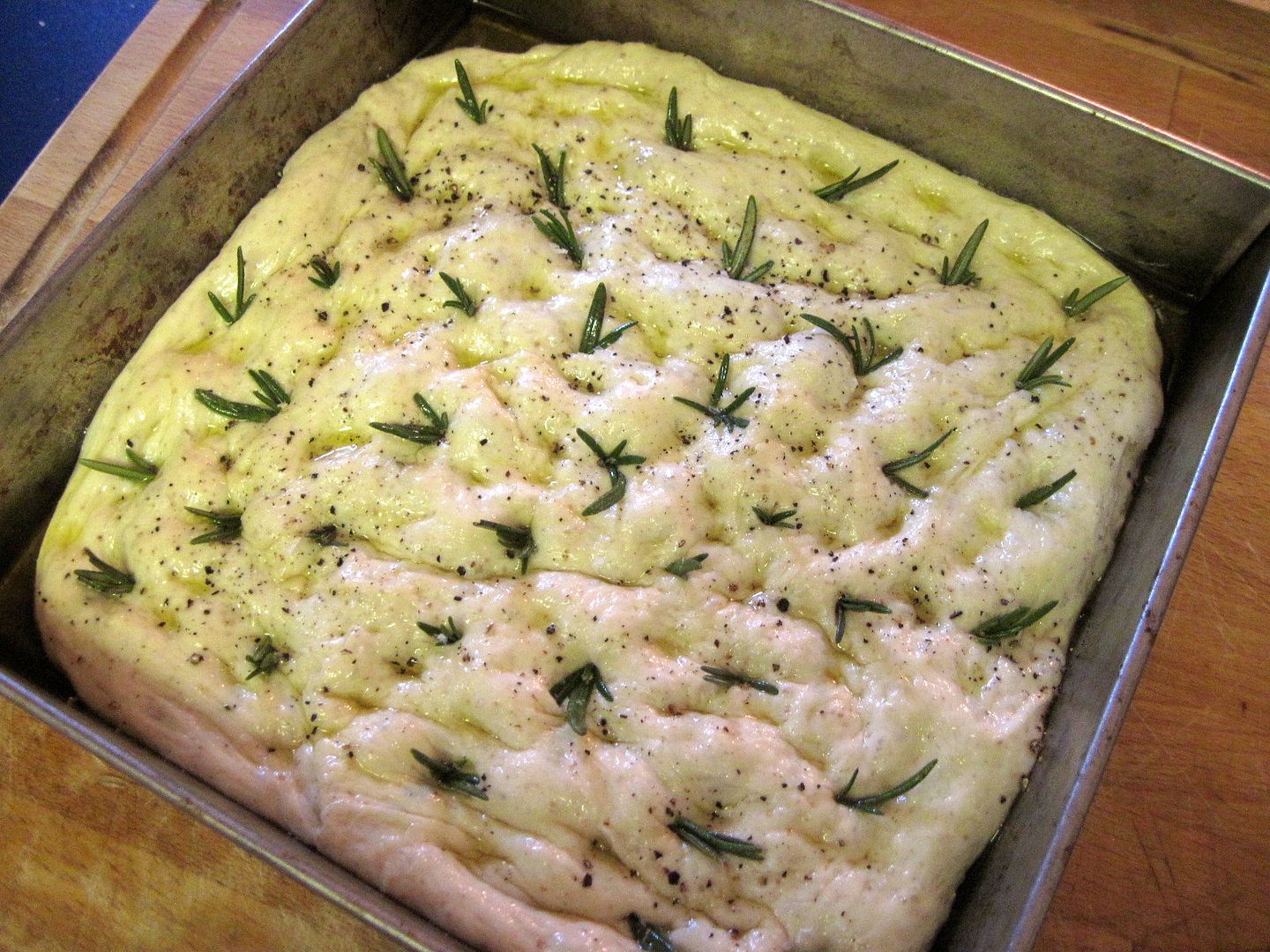 Cover the pans with a tea towel and let rest for another 3o minutes, until the dough has risen up around the toppings.
While the dough rests, preheat the oven to 450˚F. Place the risen dough in the oven and turn it down to 400˚F. Bake for 30 – 40 minutes until crisp and golden brown. The square pan took 30 minutes and the round one could have used 40 minutes – it was not quite as crisp underneath after only 30 minutes.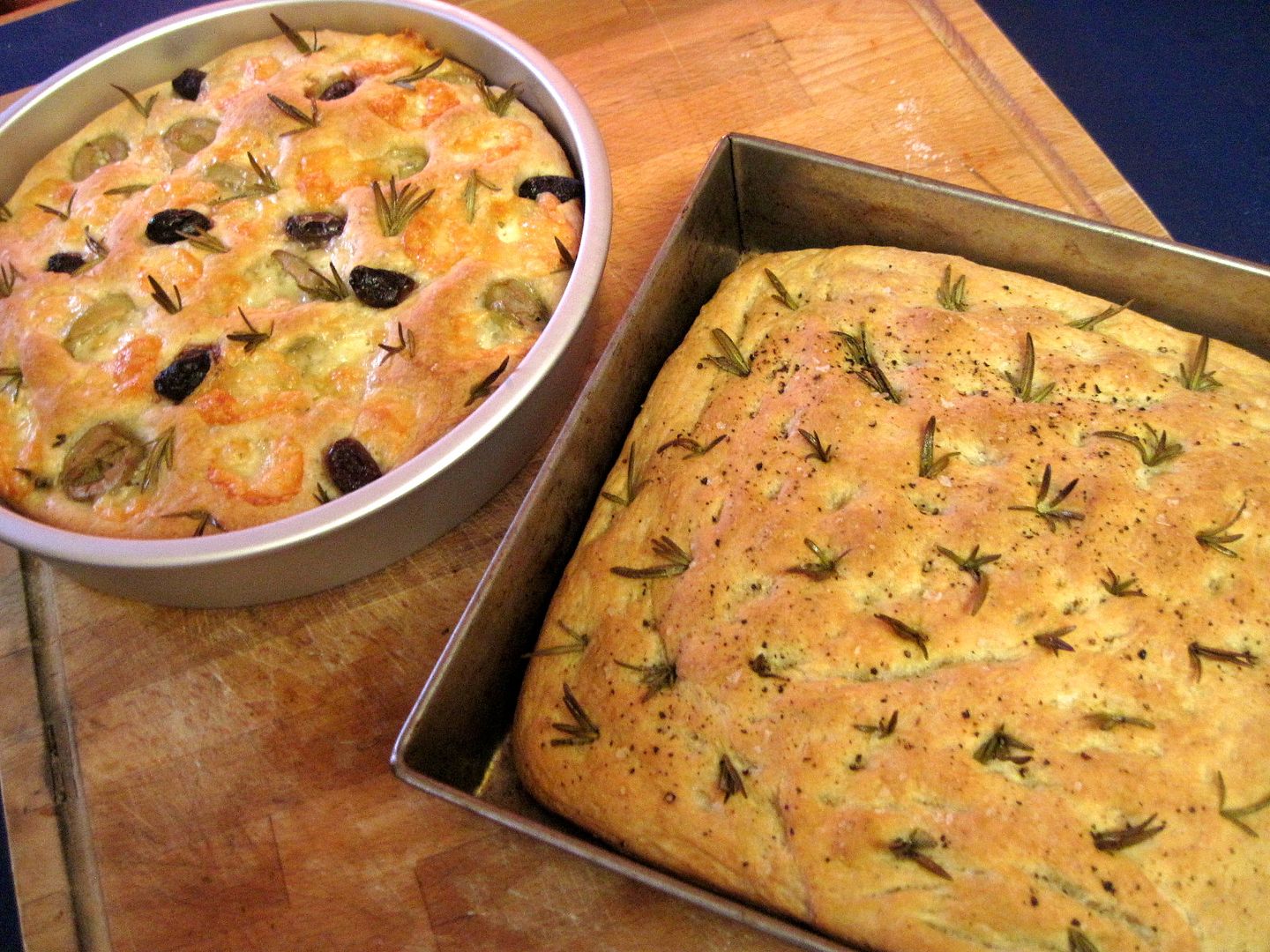 Remove the focaccia from the pans immediately and place on a rack. Brush/dab with more olive oil and let it cool slightly before cutting into wedges and devouring.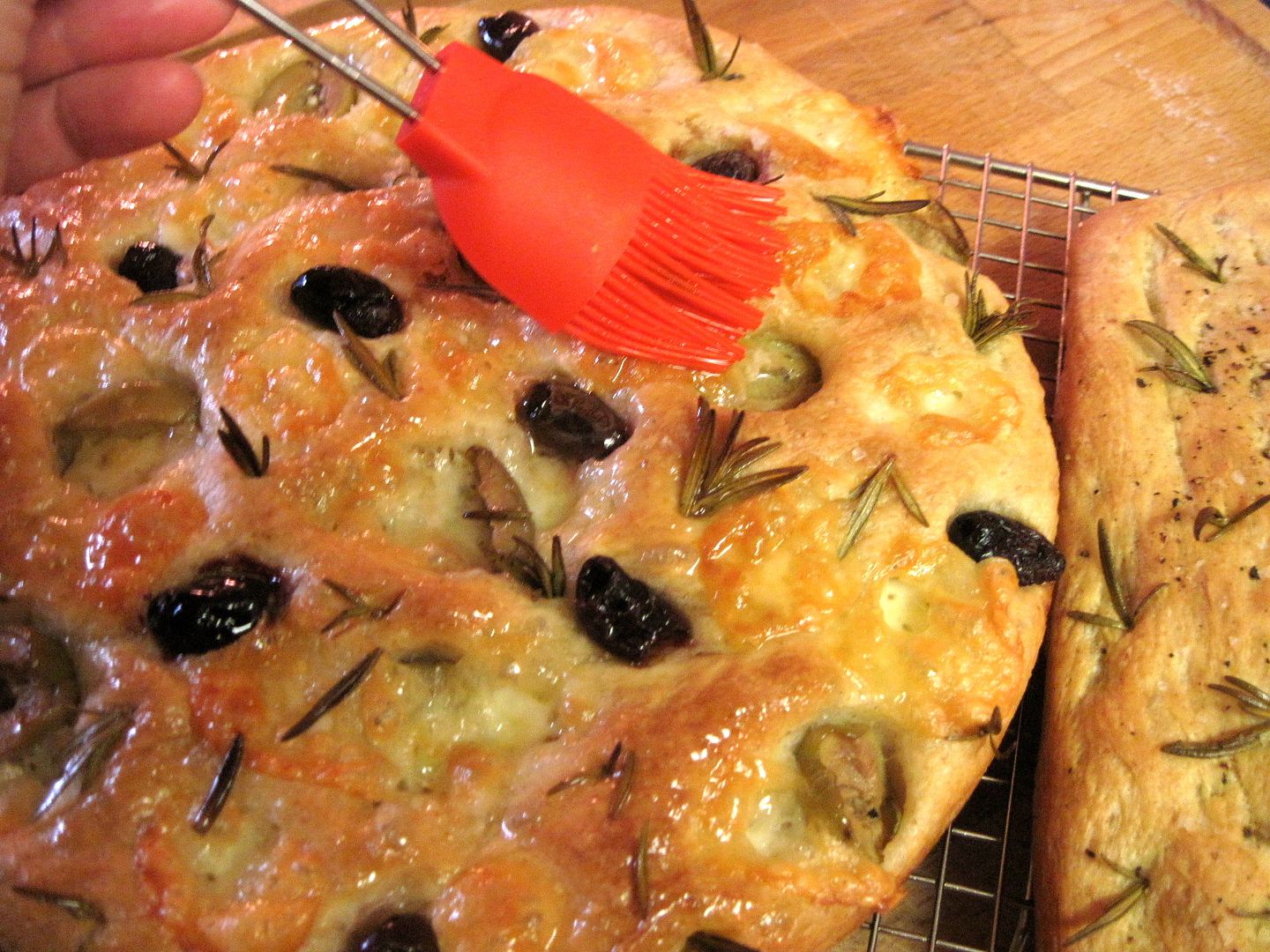 This focaccia is best eaten fresh, but you can warm it in the oven or toaster to crisp it up a day or so after baking.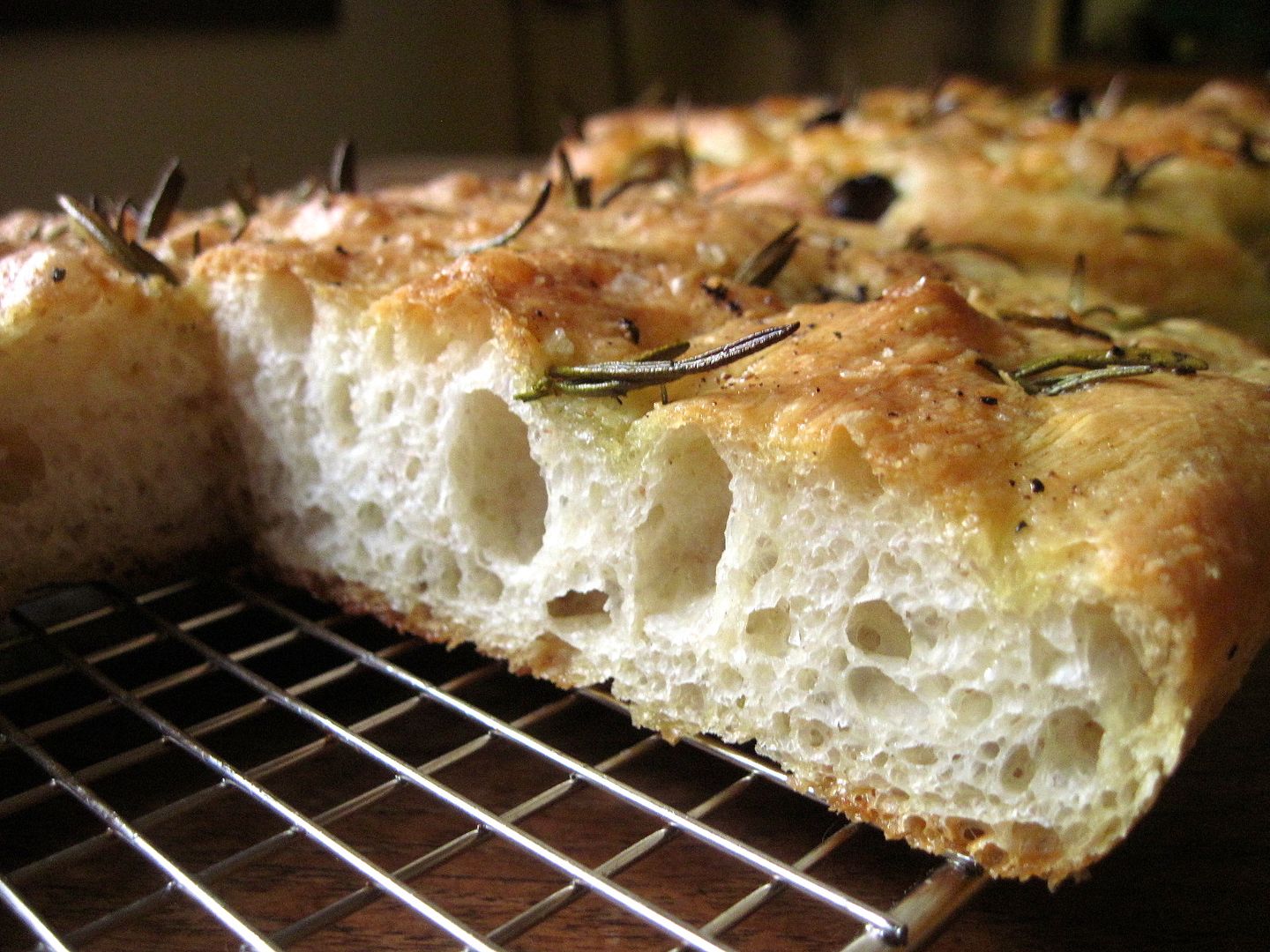 This post has been YeastSpotted!