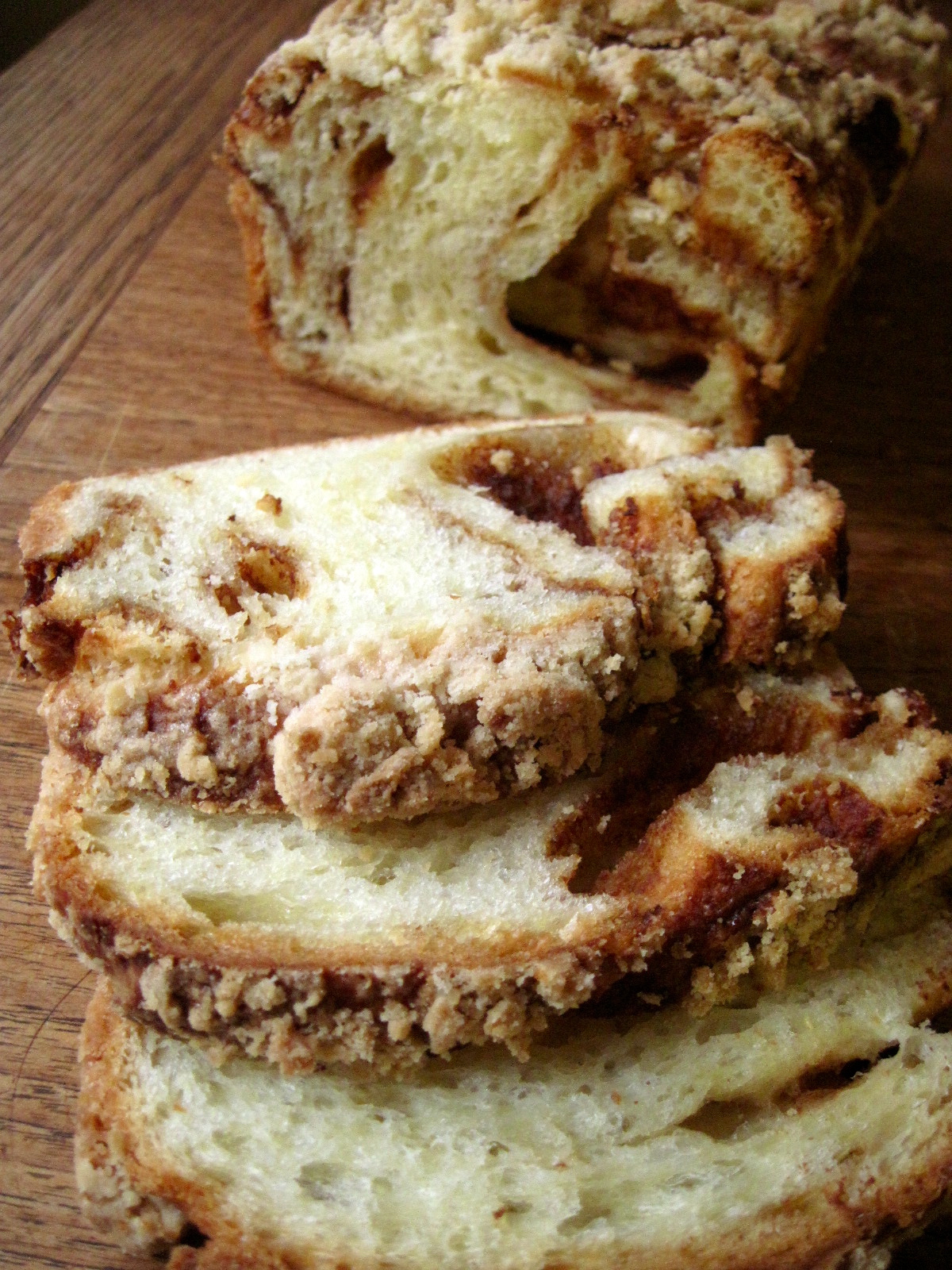 Sometimes I swear that Jenni and Shelley, the ladies behind Sourdough Surprises, are inside my head, reading my thoughts. I was just contemplating baking all my leftover Christmas chocolate into brioche buns when they announced that January's Sourdough Surprises recipe was going to be just that: sourdough brioche swirled with chocolate and topped with struesel, also known as babka.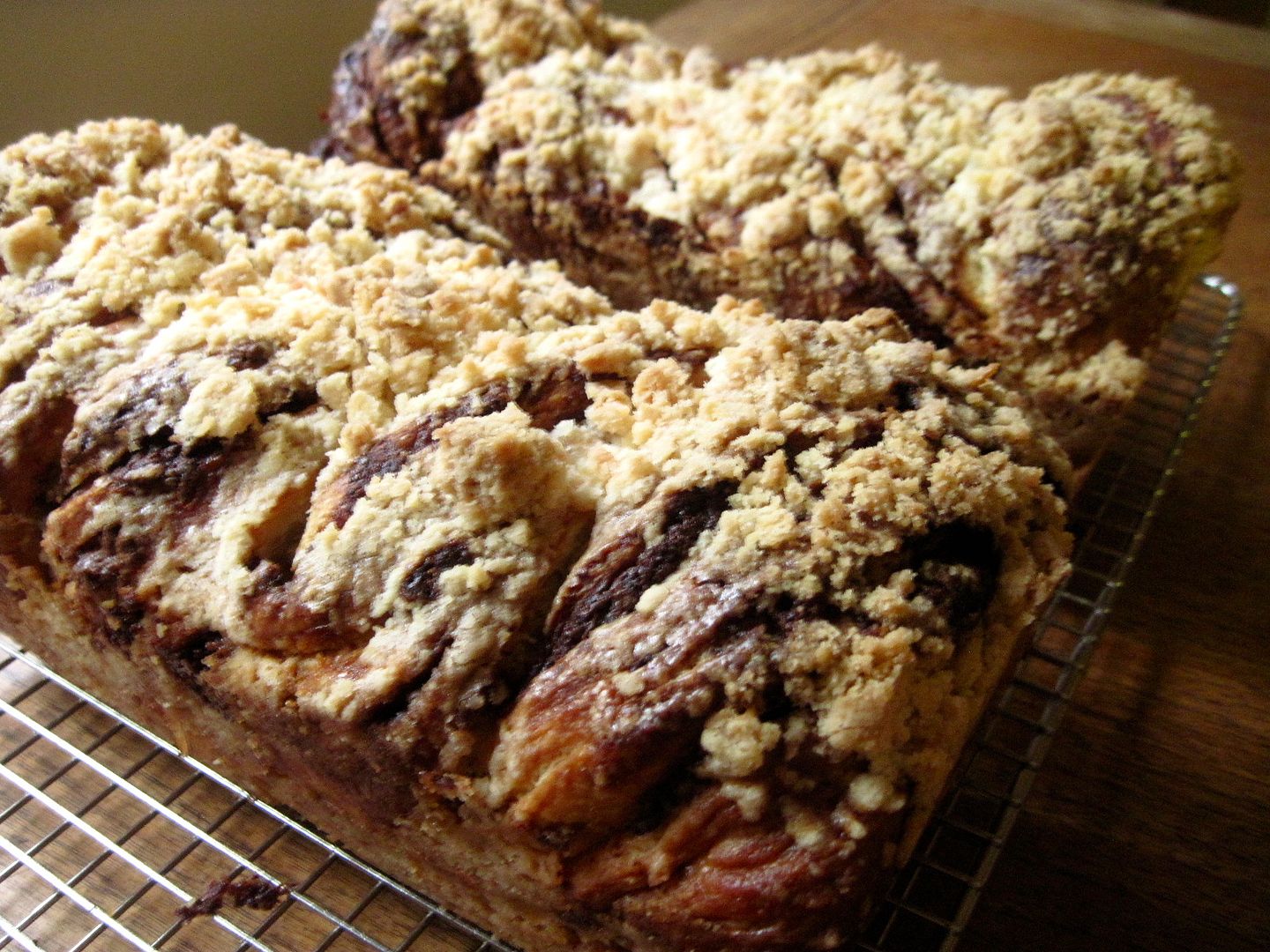 There were no recipes specifically for a sourdough version, so I used a sourdough brioche recipe from Sourdough Companion with Smitten Kitchen's non-sourdough babka recipe as a guide. For the first time, my usually-mild mannered sourdough starter really showed its personality and the resulting brioche had a pronounced sourdough tang to it. I'm not totally sure how I feel about a strong sourdough flavour in such a sweet application – it might be why there are so few sourdough brioche recipes out there – but aside from that it did make a pretty wonderful brioche: rich and buttery with a light, pull-apart, lacy texture.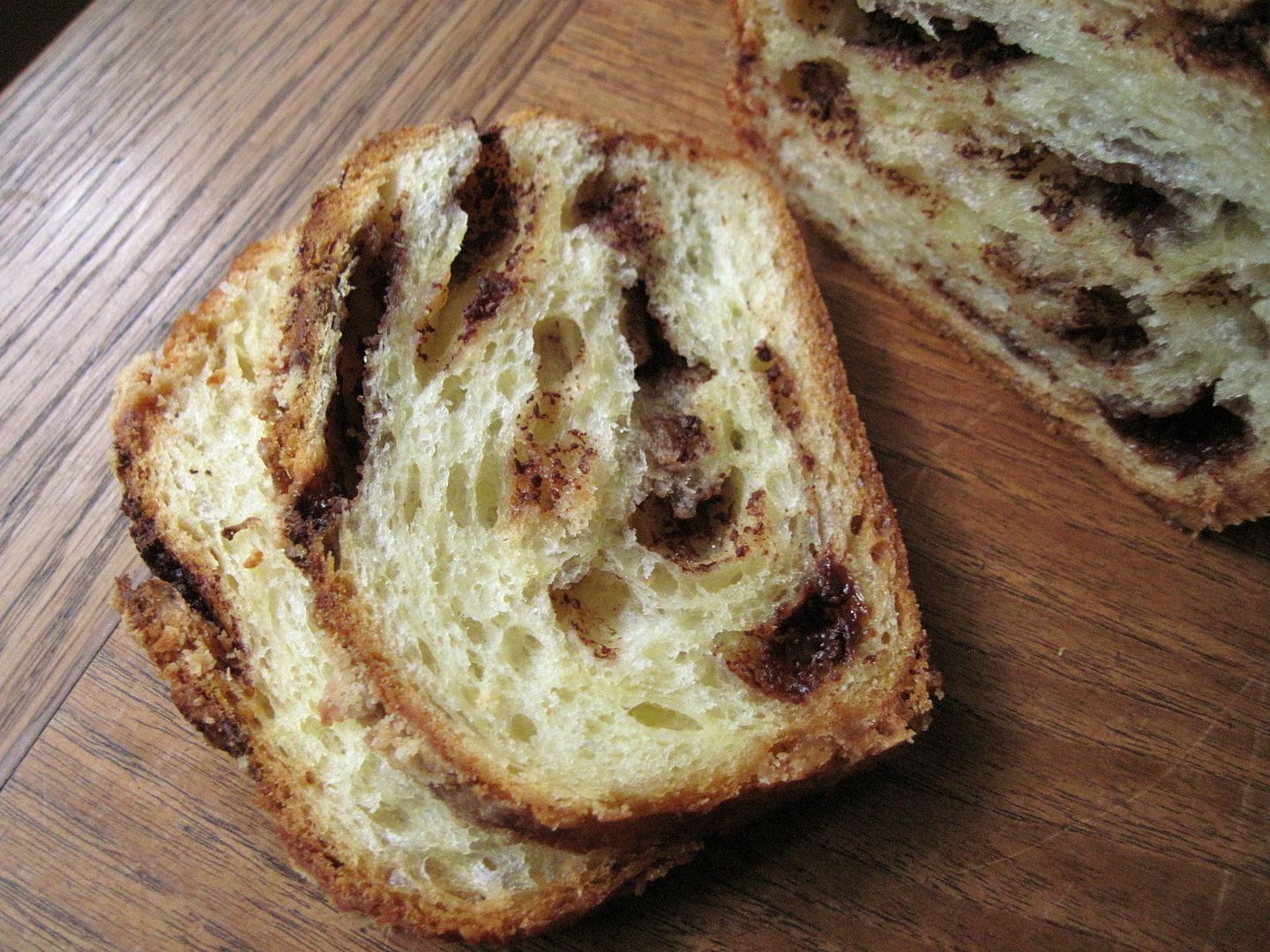 To achieve that texture, you need to develop the gluten fairly well through lots of kneading, which can be kind of challenging with such a soft, wet dough. I used a "slap and fold" kneading technique which basically consists of scooping up the dough, whacking it down on the counter, and stretching and folding it over on itself, over and over again. Amazingly, it transforms a sticky mess into a smooth, cohesive, and elastic dough. Watch a video of the technique here and then try it yourself – it's pretty satisfying. 😉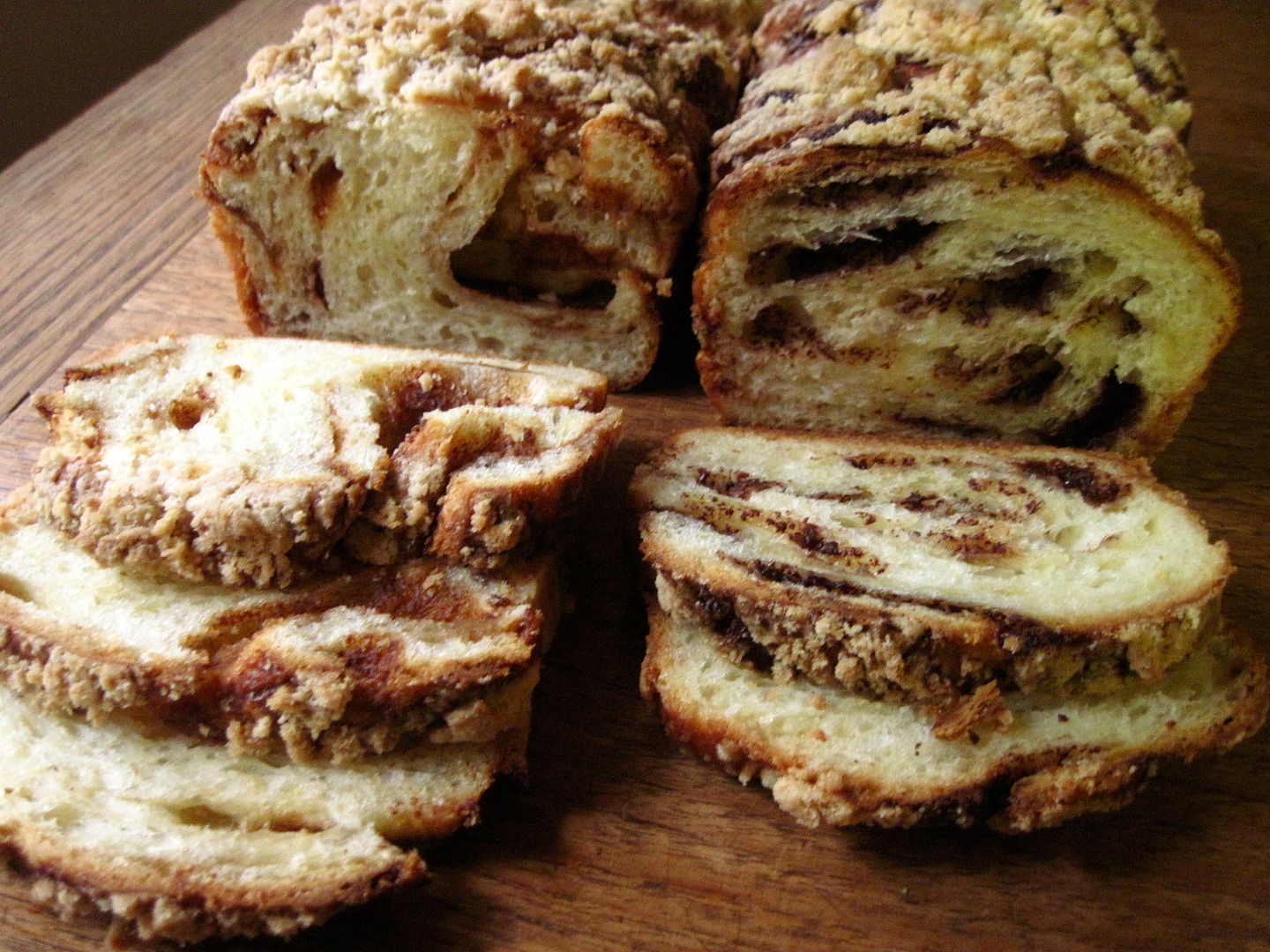 I filled one babka loaf with a chopped up Toblerone bar and the second with caramelized white chocolate, made out of all the leftover white chocolate from those ill-fated chocolate curls. Caramelized white chocolate, if you've never heard of it, is pretty amazing – it tastes like a cross between white chocolate and toffee and is as easy to make as melting white chocolate in the oven and giving it a stir every so often.

Both babkas turned out pretty decadent, even with the modest 100 grams of chocolate in each (Smitten Kitchen's babka had about double that amount). Not exactly appropriate for a January detox after a chocolate-filled December, but I certainly wasn't complaining. 😉 Visit Sourdough Surprises to see some other mouthwatering babka!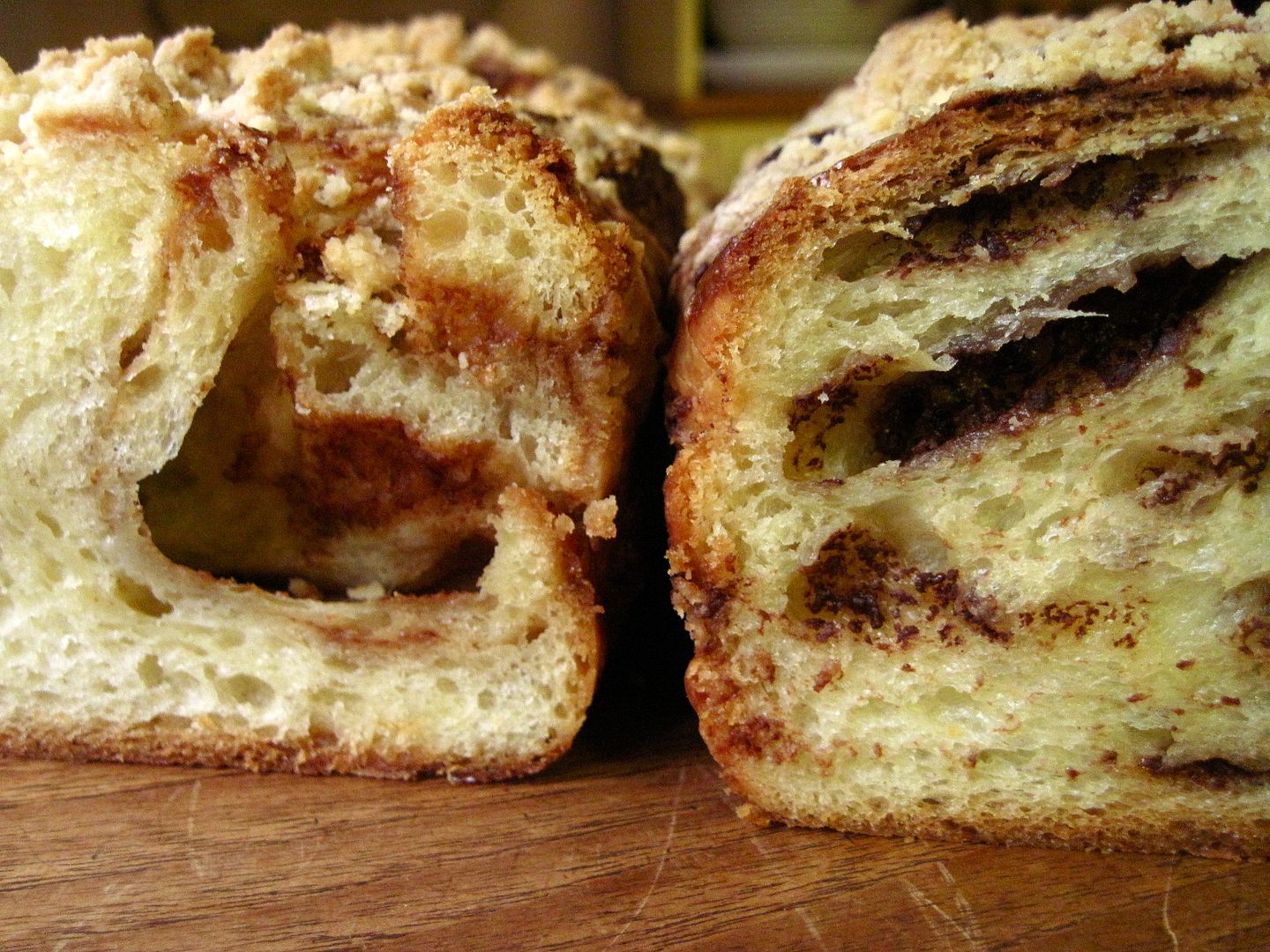 Sourdough Brioche Babka
Sourdough brioche recipe adapted from Sourdough Companion, method from Bon Appetit. Babka technique from Smitten Kitchen and Purple Foodie. Be warned that brioche dough takes quite a long time to make – it needs several hours of rising time (mine took 5 hours) plus chilling time (several hours or overnight), so give yourself at least 2 days to get this done. Makes 2 large loaves.
Sourdough Brioche Dough
In a mixer bowl, combine:
250 grams 100% hydration starter
200 grams warm milk
Mix gently with a spatula until the starter is dissolved. Add:
500 grams all purpose flour
8 grams salt
With the paddle attachment, mix on low speed for 1 – 2 minutes until the dough comes together in shaggy lumps.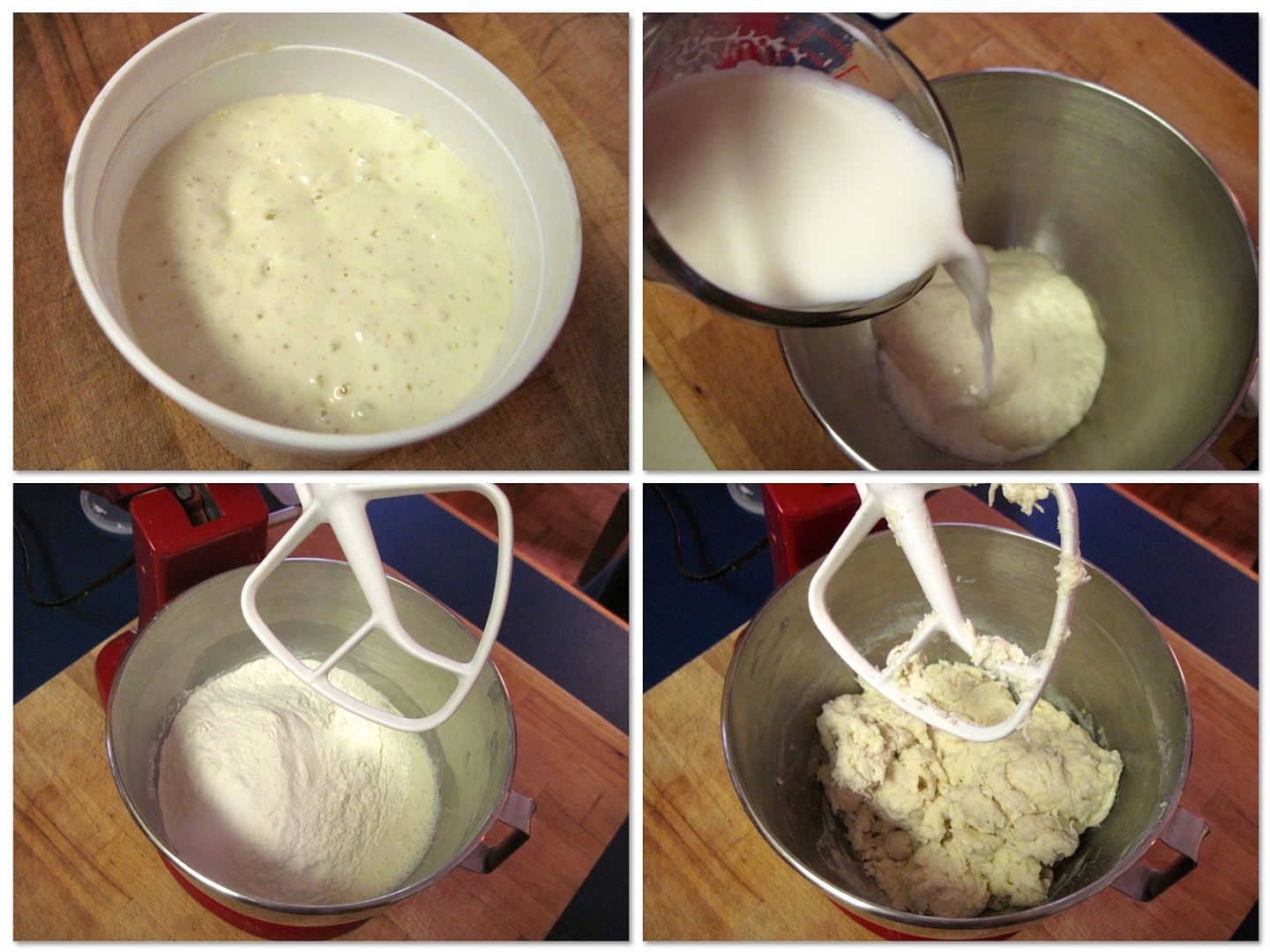 One at a time, stir in:
3 eggs
Stir well after each, then slowly pour in:
30 grams granulated white sugar
Increase the speed to medium and beat the dough until it is smooth, about 3 minutes. You might need to scrape it down off the paddle a few times.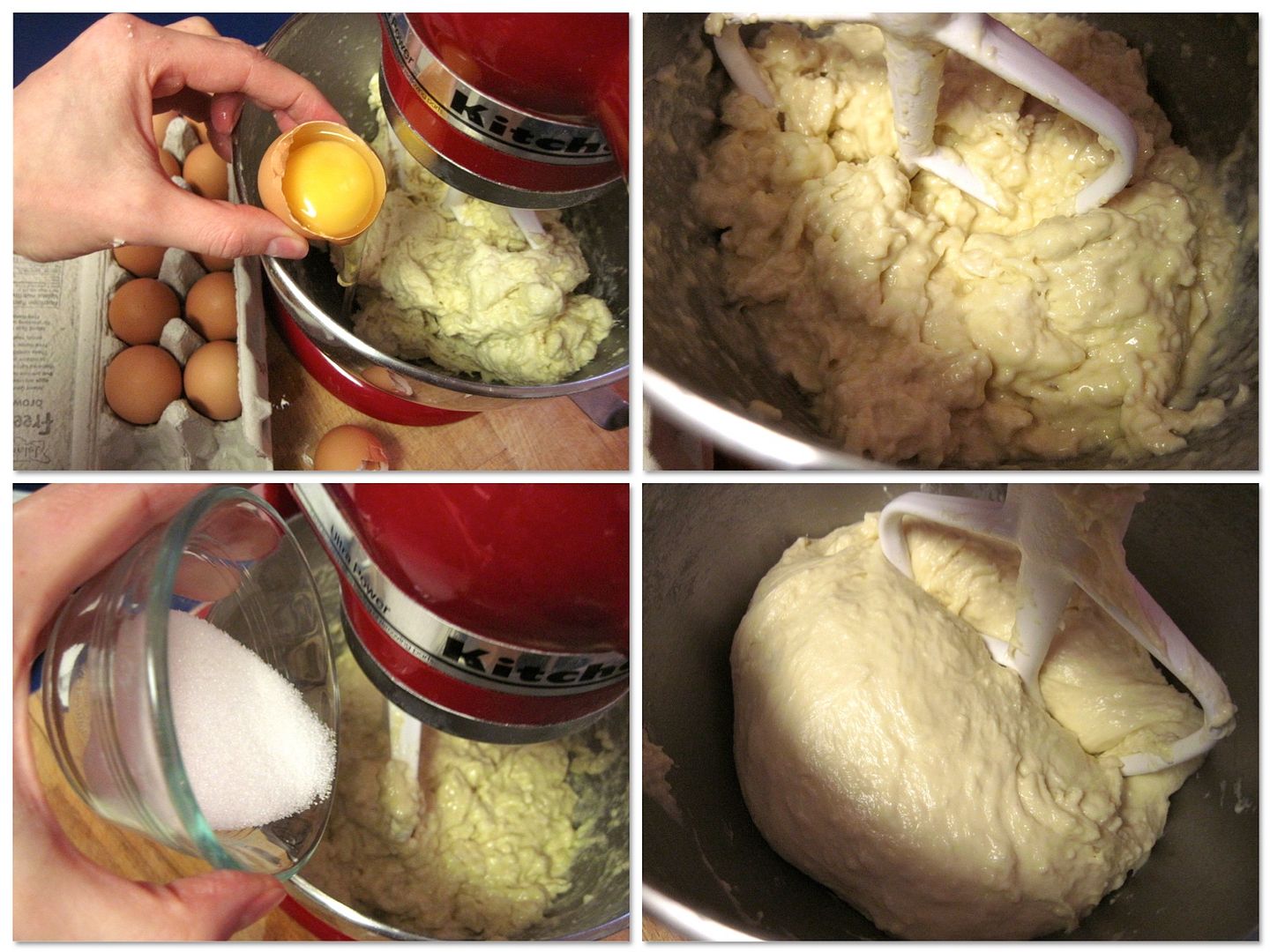 At low speed, add in very small increments:
300 grams softened unsalted butter
You will probably have to scrape the dough off the paddle several times. Once all the butter is added, scrape the dough out onto an unfloured surface and perform the "slap and fold" technique until the dough turns from a wet, sticky mess into an elastic, cohesive, smooth dough that cleans the surface you are working on (sorry, no pictures – it required both hands and was waaay too messy to pick up the camera!). This took about 8 – 10 minutes for me.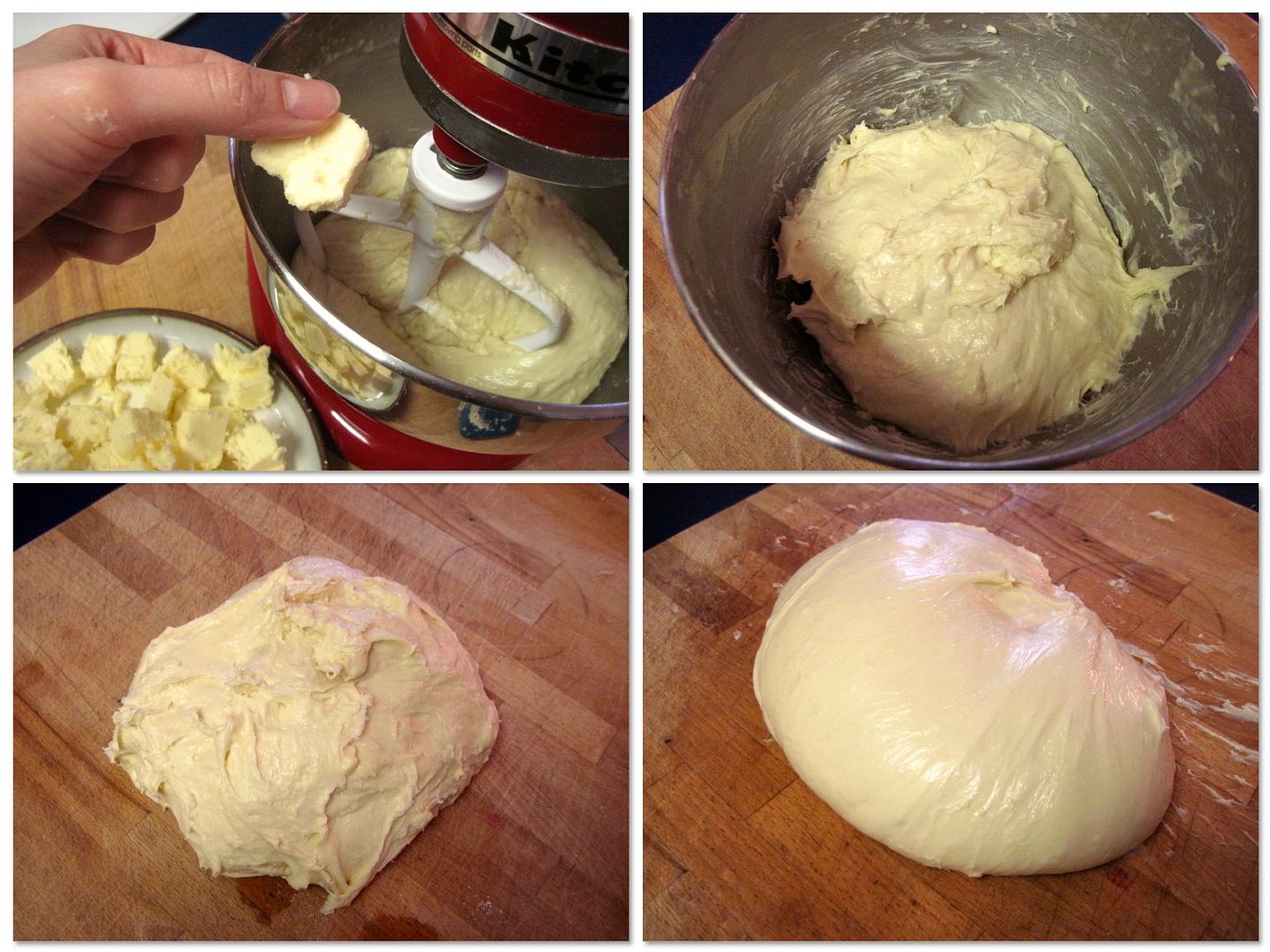 Gather it into a ball and place it in a buttered bowl. Cover with plastic and put in a very warm spot to rise until double. I turned my oven into a proofing box by turning on the lowest setting for about 2 minutes to warm it up just a bit, then turning it off and putting the dough in it with just the light on. Five hours later it was risen.
Chill the dough for several hours or overnight, until hard all the way through.
Meanwhile, prepare the chocolate filling.
Chocolate Filling
Place in the bowl of a food processor:
200 grams chopped chocolate, leftover from Christmas or otherwise 😉

4 tbsp unsalted butter
a big pinch of flaky sea salt (for milk and white chocolate fillings especially)
(I made two half batches of filling, one with a 100 grams of milk chocolate Toblerone and the other with 100 grams of caramelized white chocolate – recipe below.)
Pulse until the chocolate is in small bits and you have a spreadable chocolate-butter mixture.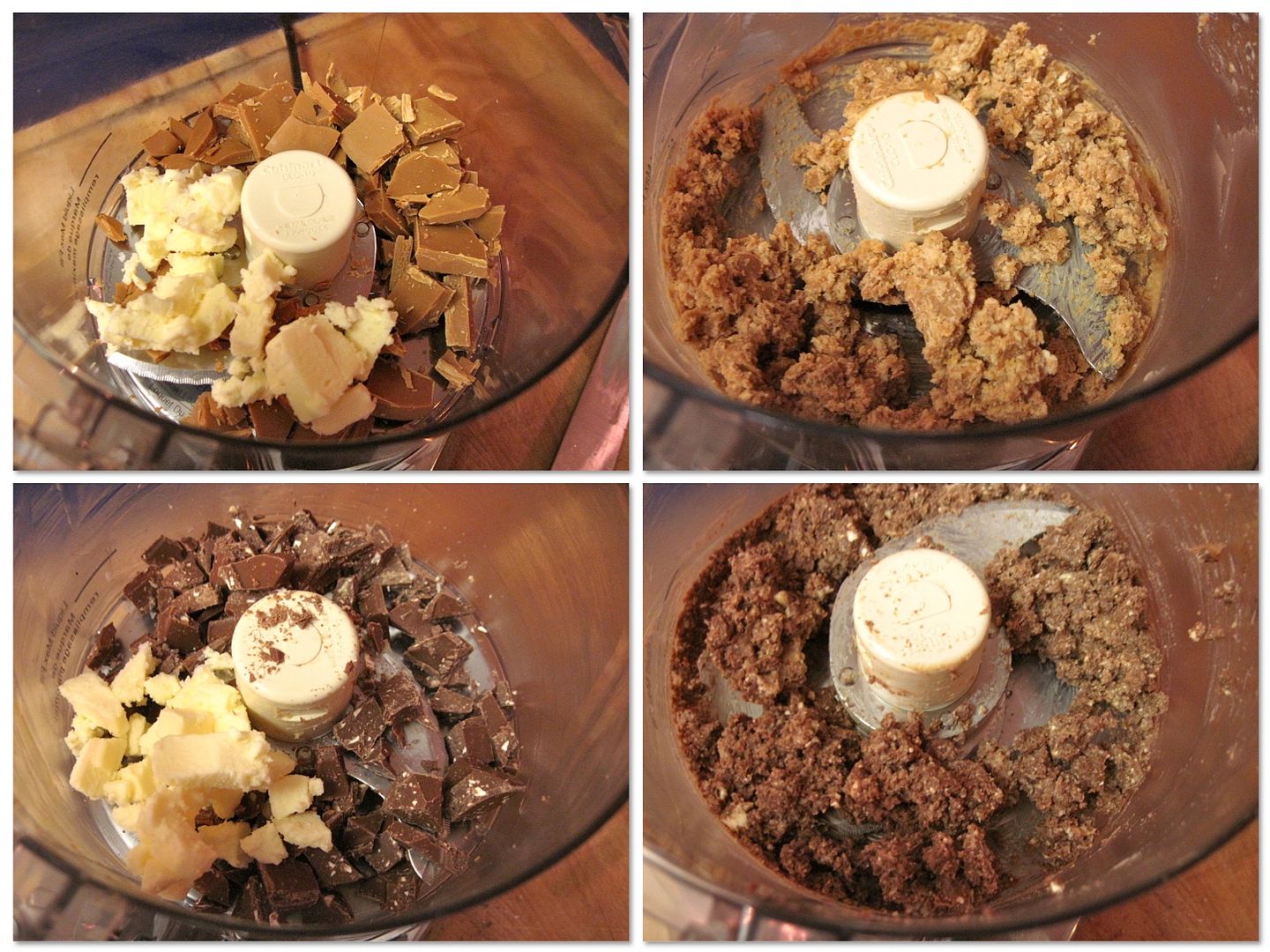 Babka Assembly
Butter two 9″ x 5″ loaf pans and line them with parchment paper. Set aside.
Gently turn the dough out onto a floured surface and divide it in half. Roll/pat one half into a rectangle about 8″ x 16″ and spread it with half the chocolate-butter mixture. Do this carefully so the dough doesn't tear. Roll the dough up from one short end into a tight spiral.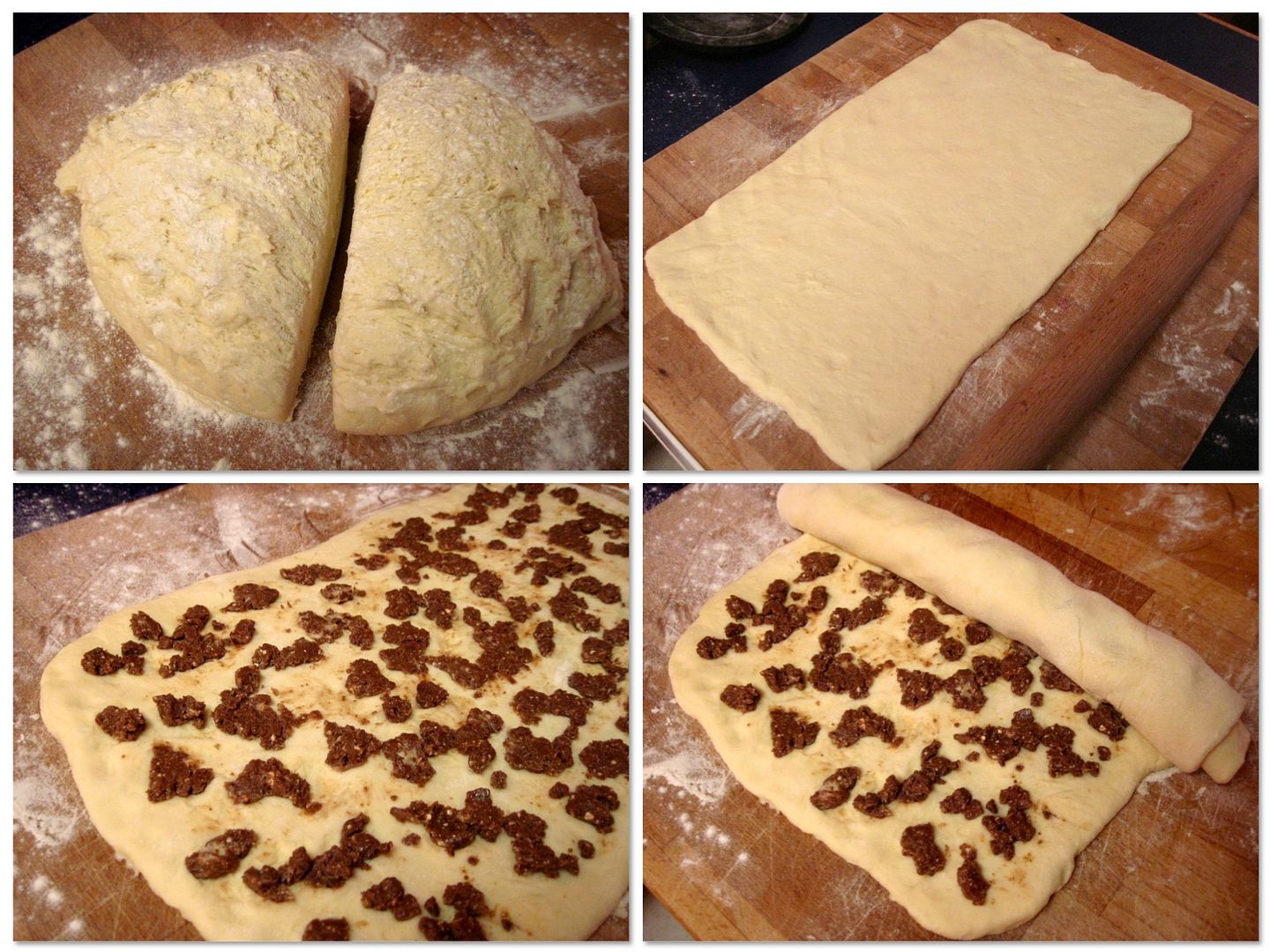 With a big knife, cut the spiral lengthwise down the middle. Cross the two halves in the middle, cut sides up, then twist them over themselves from the middle out towards each end, making sure to keep the cut sides facing up. Place the twist in the prepared loaf pan. Repeat with the second half of the dough.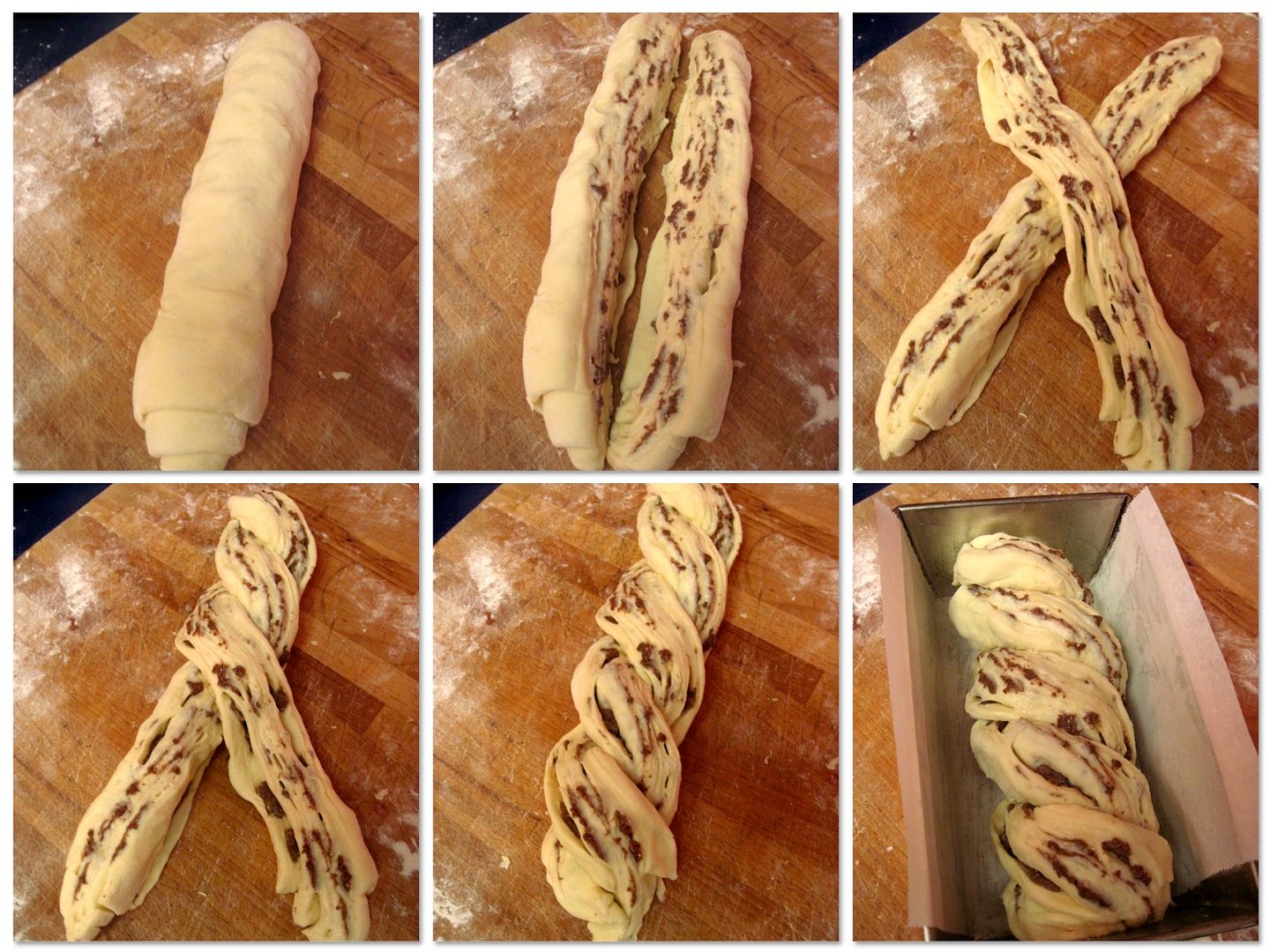 Cover lightly with plastic and let proof until expanded to touch the sides of the pan, probably an hour or two at room temperature. Or, you can let it proof for about an hour at room temperature, chill it overnight, then bring it back to room temperature in the morning and let it finish proofing (it might take quite a while for the dough to wake up after being chilled).
While the babka proof, preheat the oven to 350˚F and make the struesel topping.
Struesel Topping
In a bowl, mix together:
1 scant cup icing sugar
3/4 cup all purpose flour
a pinch of salt
Add:
1/3 cup softened unsalted butter
Work in the butter with your fingertips until until crumbly, then press the crumbs together to create large clumps of struesel.

When the babka are proofed, brush them with an egg wash (1 egg + 1 tbsp cream or milk), then sprinkle them very generously with the struesel.

Bake in the preheated 350˚F oven for about 55 minutes, then reduce the heat to 325˚F and bake for 15 – 20 minutes, until deeply golden brown. Let cool in the pans on a rack, then remove from the pans to slice and serve. Store in an airtight container for up to a few days (if it lasts that long!).

Caramelized White Chocolate
Adapted from David Lebovitz
Spread your chopped white chocolate (I used 100 grams to fill one babka) over the bottom of a baking dish. Place it in a preheated 250˚F oven for 10 minutes, then stir with a spatula, spreading the chocolate evenly over the bottom of the baking dish. Repeat, heating the chocolate and stirring at 10 minute intervals, until it starts to brown and caramelize and turns the colour of natural peanut butter (about 30 – 60 minutes). It may clump up and look chunky, but it will smooth out eventually (you can add a little bit of cocoa butter or vegetable oil to help smooth it out if you are concerned). Stir in a pinch of flaky sea salt and pour the caramelized white chocolate into parchment paper and chill to set. Can be stored and used like regular white chocolate.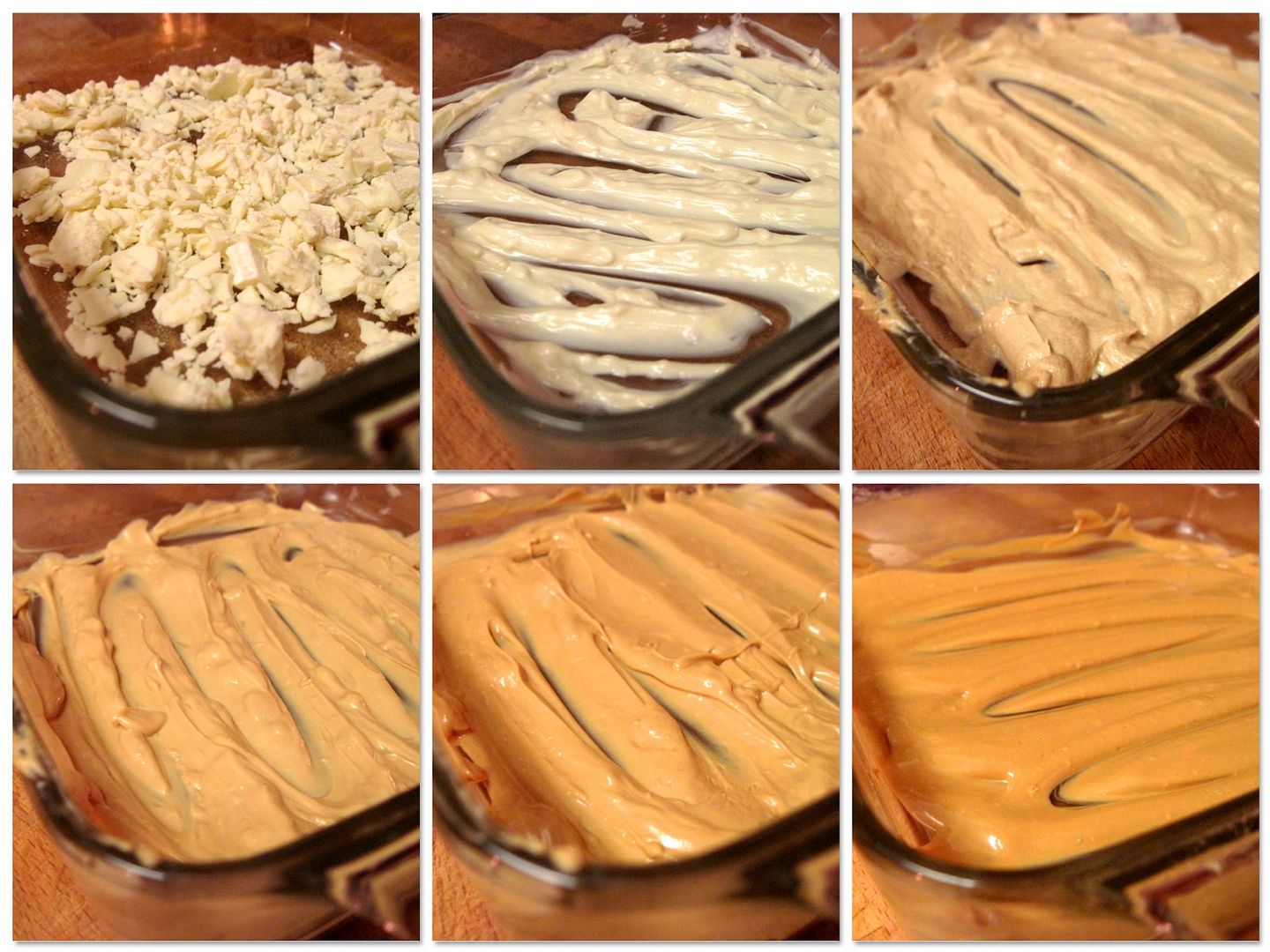 This post has been YeastSpotted!