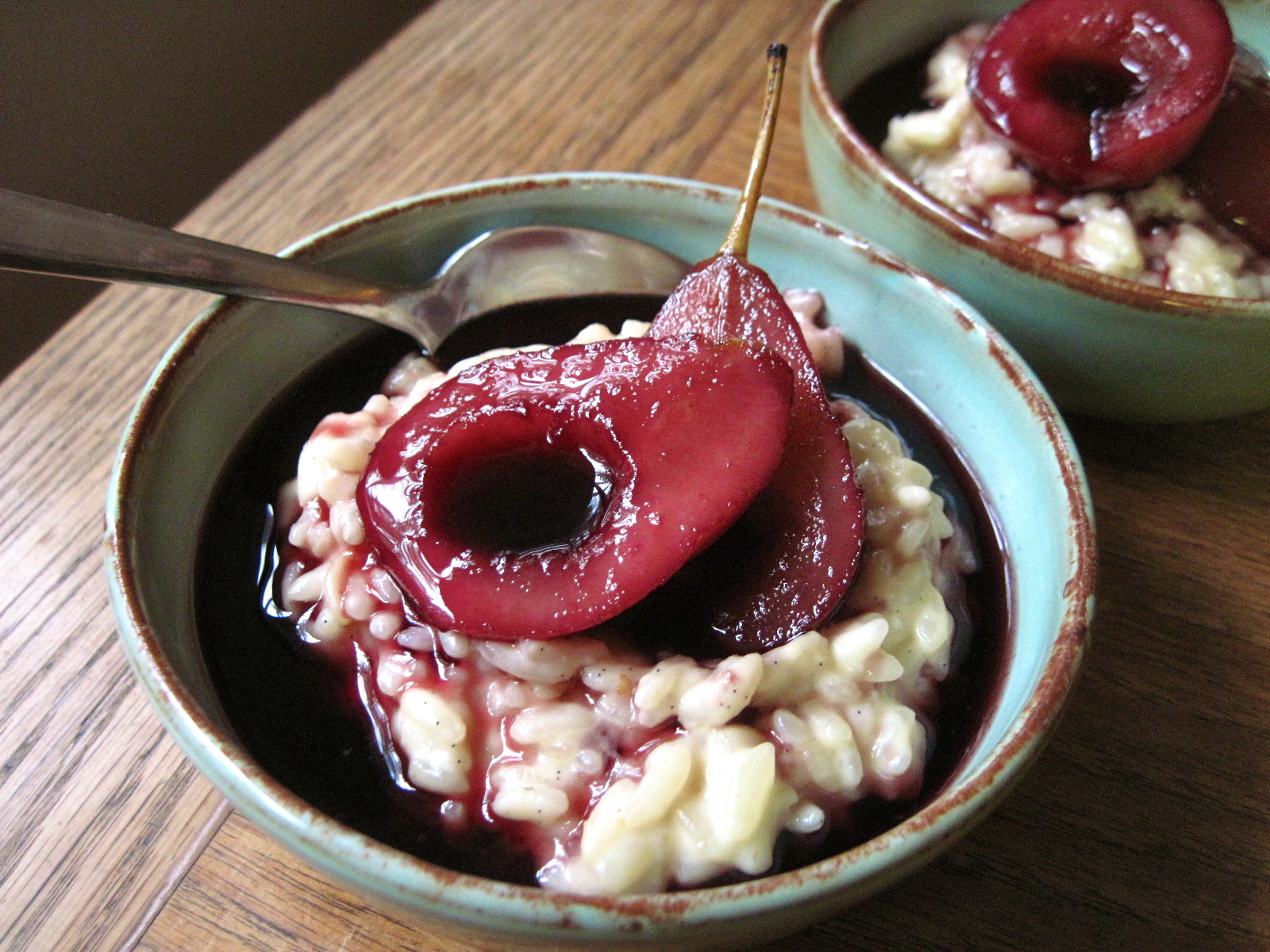 In the winter I often get massive cravings for rice pudding – warm, creamy, comforting, and delicious. I was having one of those cravings when I found these adorable miniature Seckel pears at the grocery store, and I immediately thought of poaching them in wine and spices and serving them with rice pudding. But not just any rice pudding: sweet dessert risotto flecked with vanilla bean seeds. If you like creamy rice pudding, you'll love this. All the stirring that makes a creamy risotto with broth makes an even creamier dessert risotto with milk.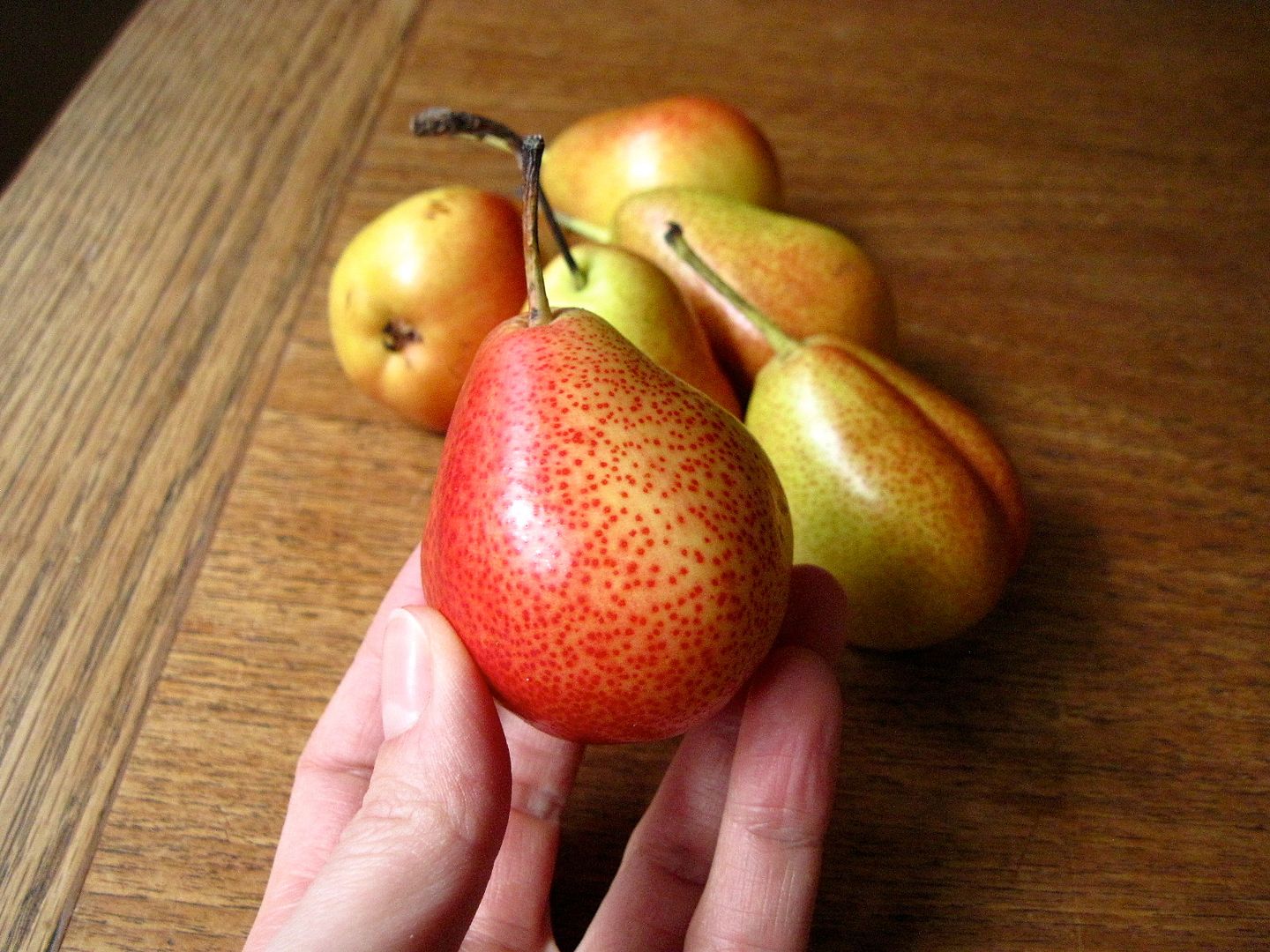 This vanilla risotto is only very lightly sweetened, but the wine syrup drizzled on top is plenty sweet. The warmth of cinnamon, cloves, cardamon, star anise, bay, and citrus peel make the whole dish even cozier, the perfect thing to eat while the winter weather is raining/snowing/generally being nasty outside.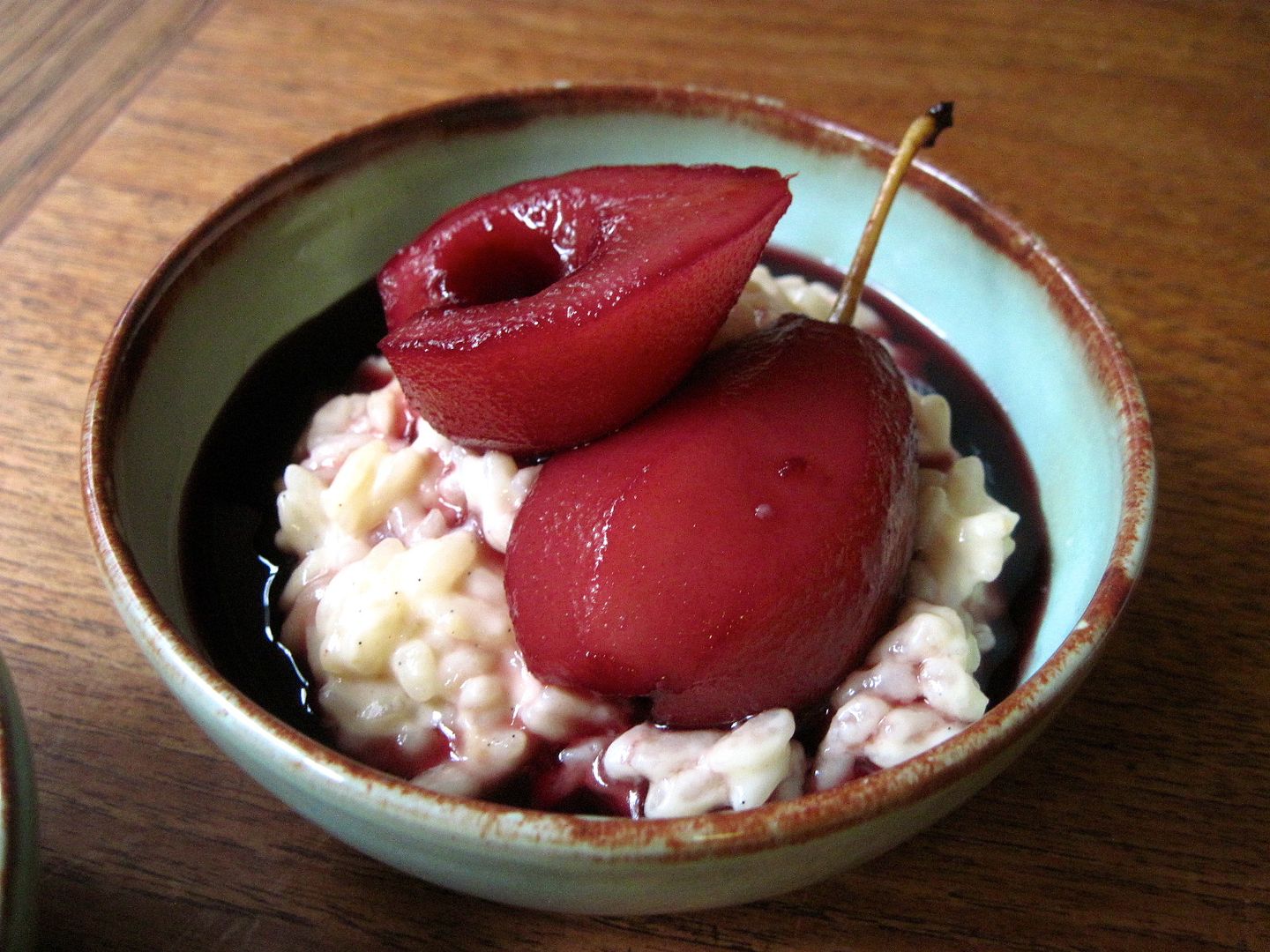 Enjoy, and stay warm!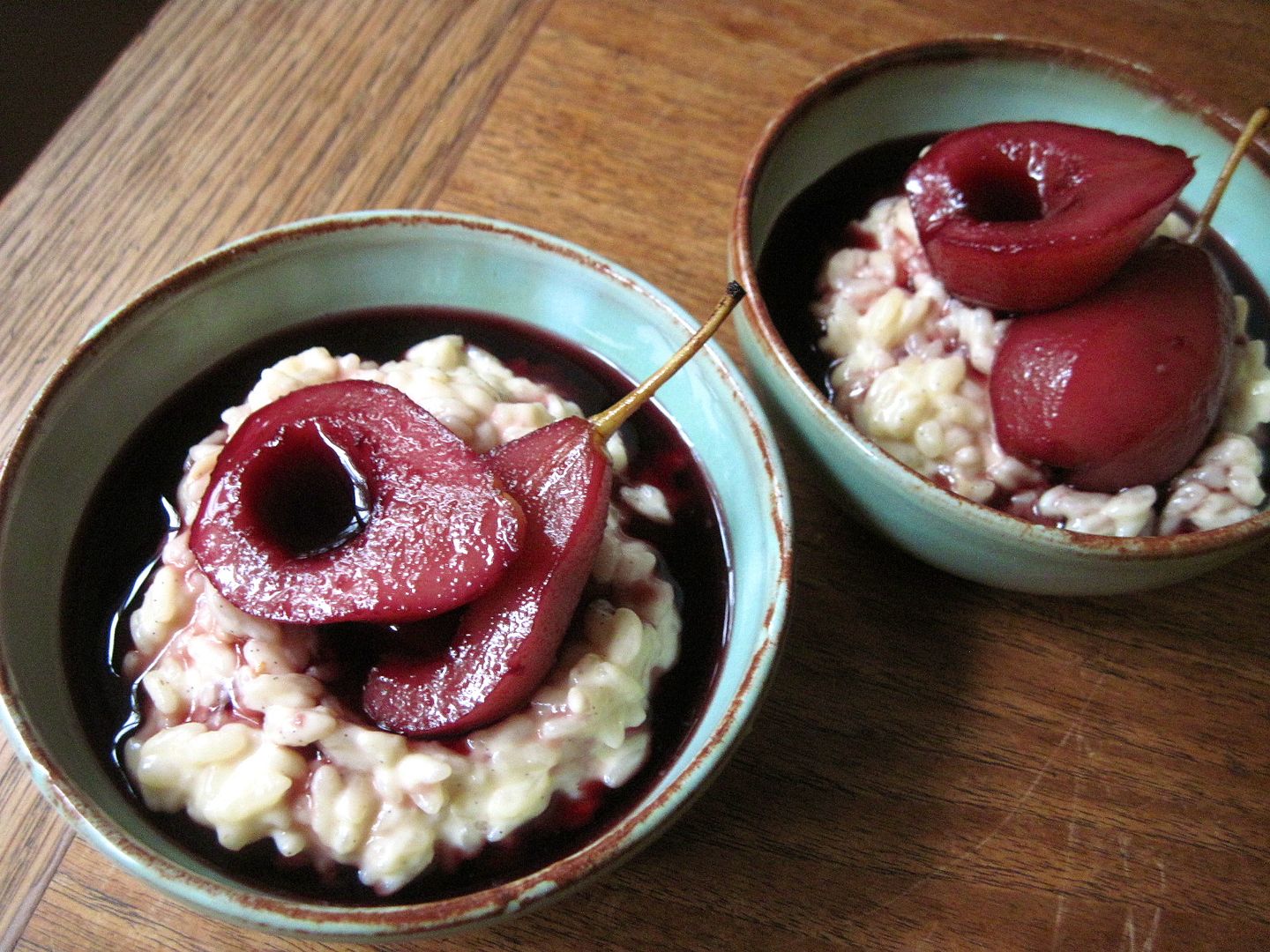 Vanilla Risotto with Wine Poached Pears
Serves 4 – 6, depending on how much you love rice pudding.
Red Wine Poached Pears
In a medium saucepan, combine:
1 cup red wine (something you'd like drinking – the flavours will only intensify with cooking. I used a Malbec.)
1/2 – 3/4 cup granulated white sugar (I used the larger amount and the resulting syrup was very sweet, so adjust as you see fit)
1 cinnamon stick
5 cloves
3 cardamom pods
1 bay leaf
1 star anise
2 strips of lemon peel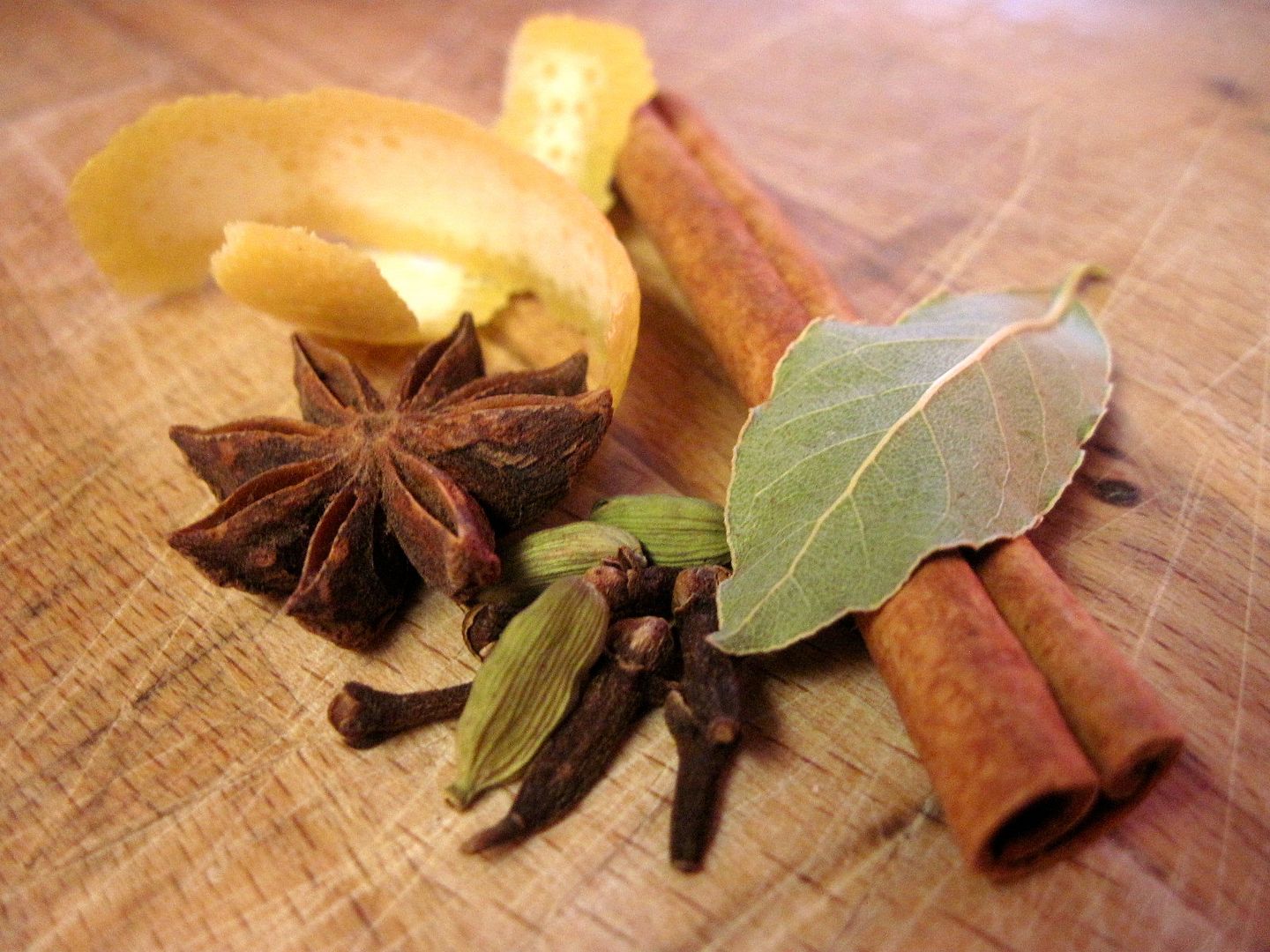 Bring to a simmer to dissolve the sugar.
Meanwhile, peel 6 firm Seckel pears (or 4 regular sized firm pears, such as Bosc), then cut then in half from stem end to blossom end. Use a small spoon to scoop out the seeds and core.
Place the pears in the red wine mixture and add enough water to just cover the pears.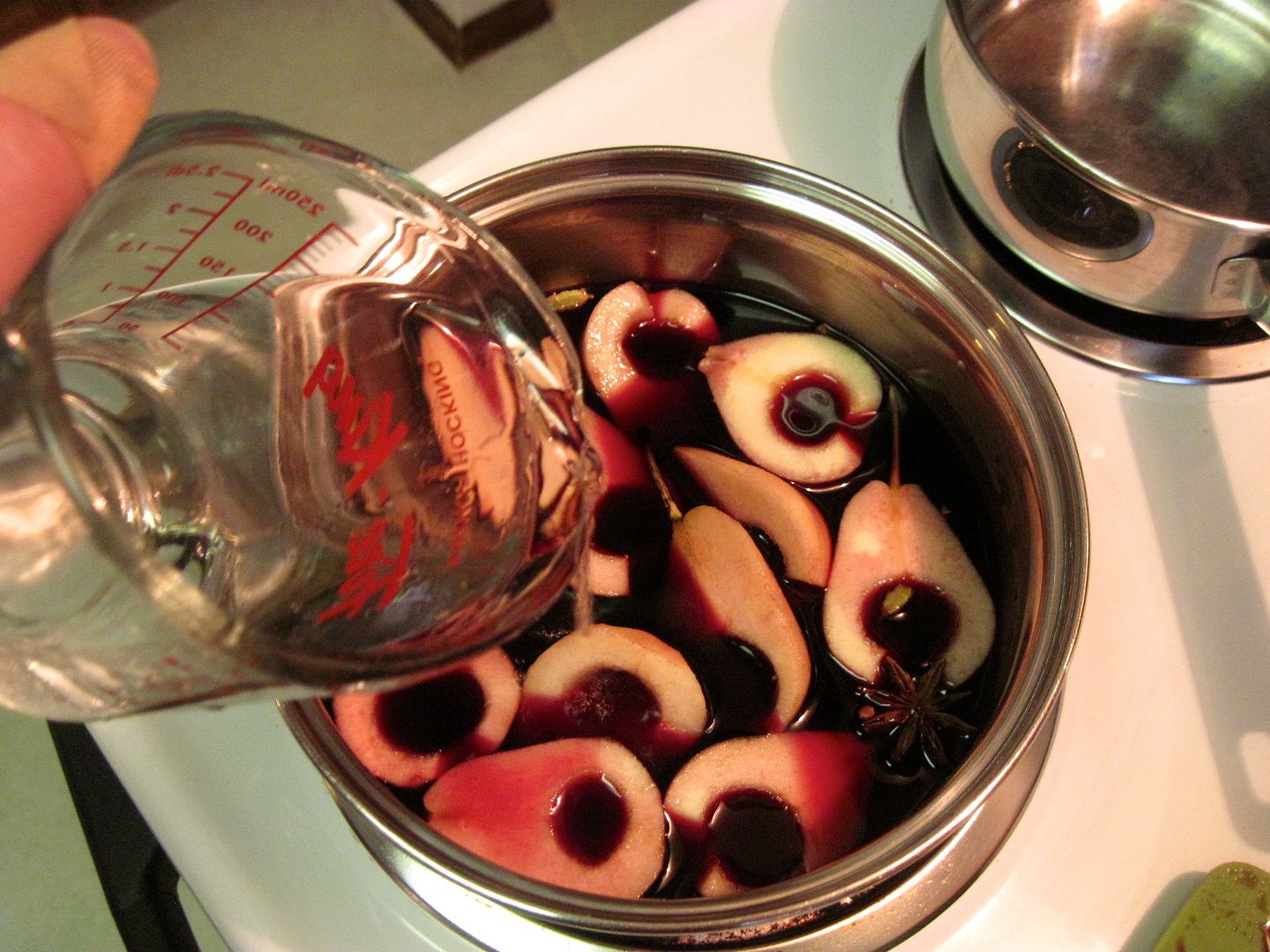 Place a parchment paper circle with a hole cut in the middle on top of the pears – this will help keep them submerged.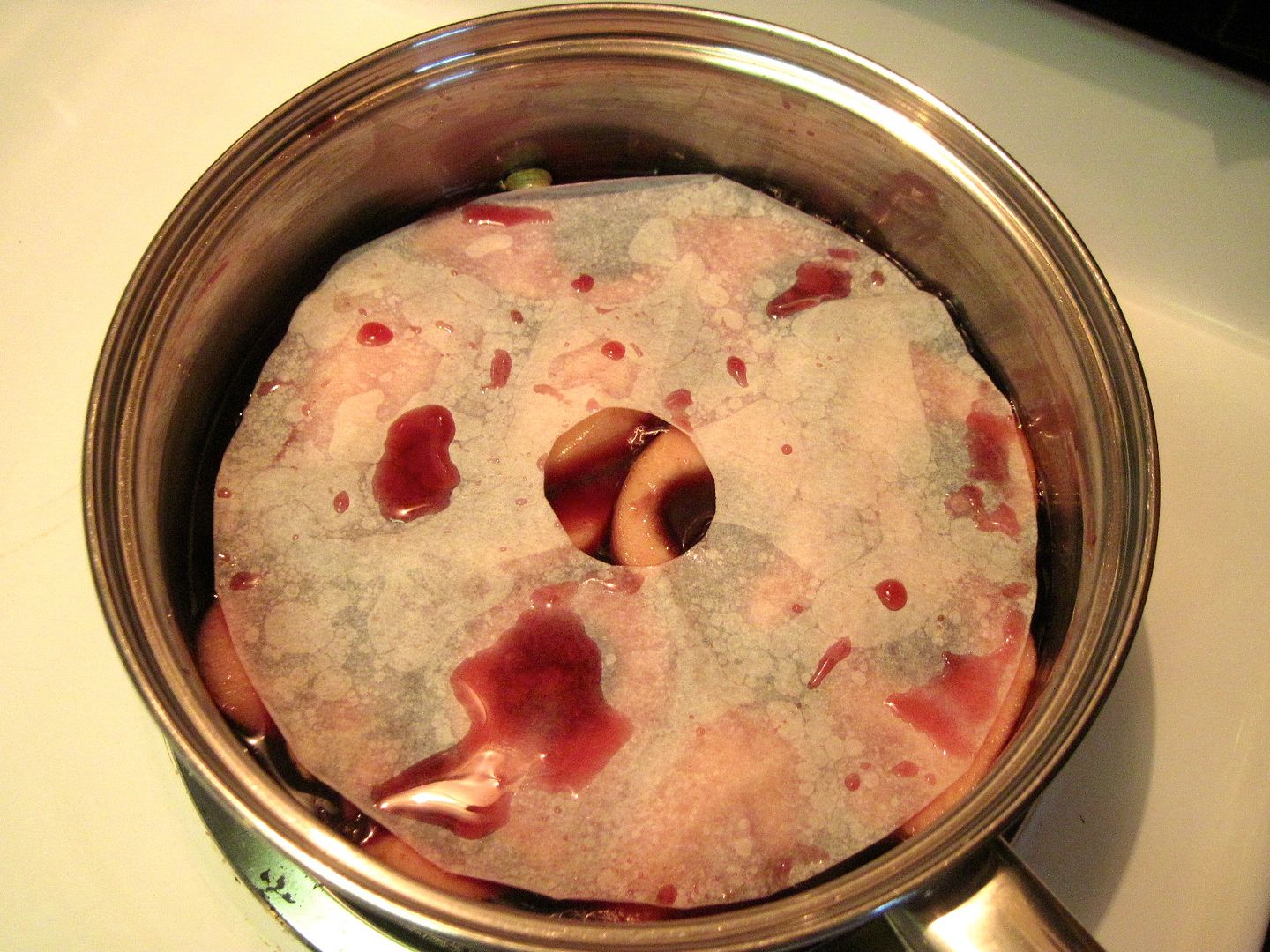 Simmer gently over medium-low heat for 15-25 minutes, until the pears are soft enough to pierce with a knife but are not falling apart.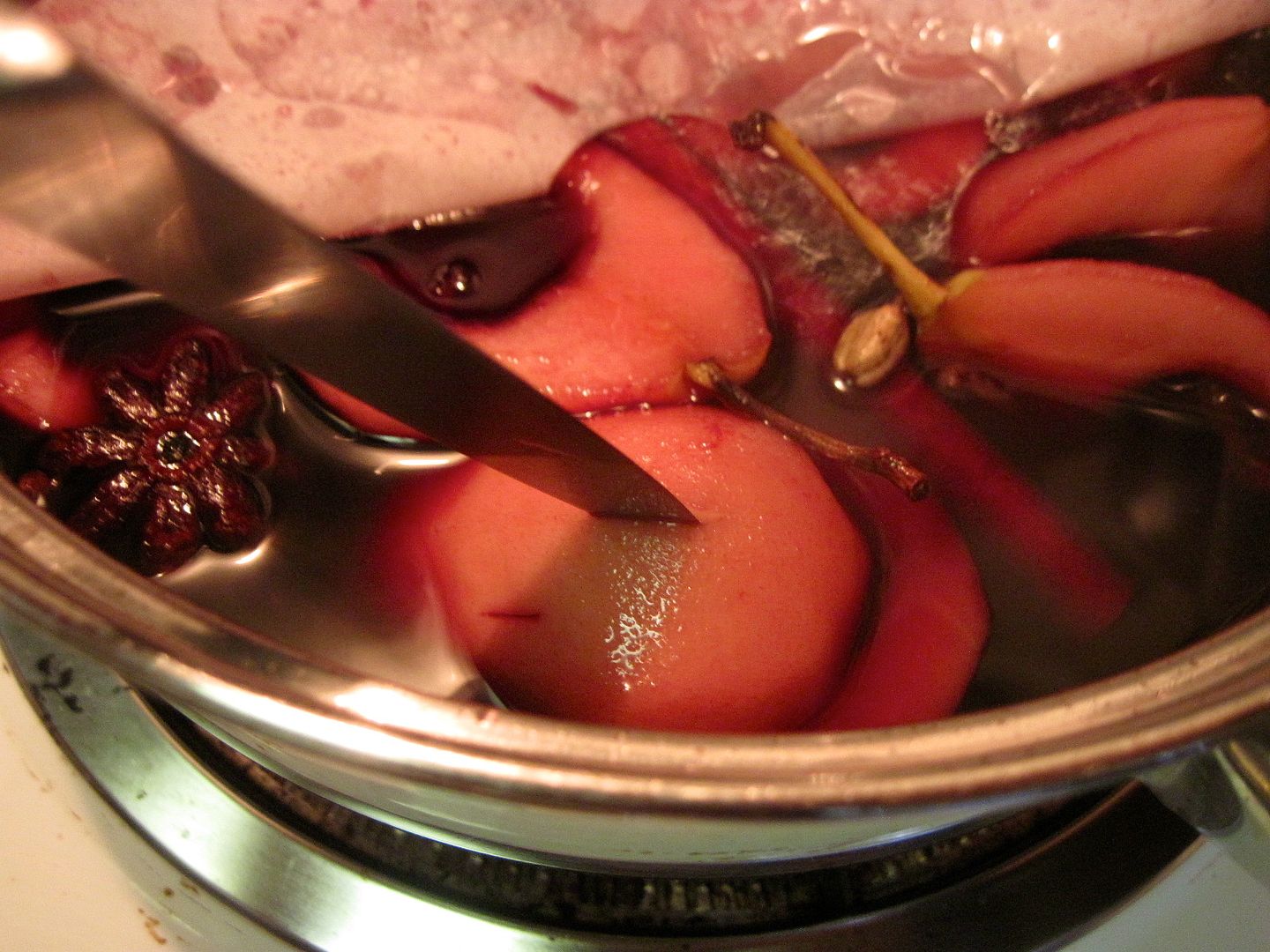 Remove the pears to a bowl with a slotted spoon and return the red wine mixture to a boil. Boil until it thickens and becomes slightly syrupy (I forgot to write down how long this took). When the entire surface is covered in small, syrupy, vigorous bubbles, it is probably done.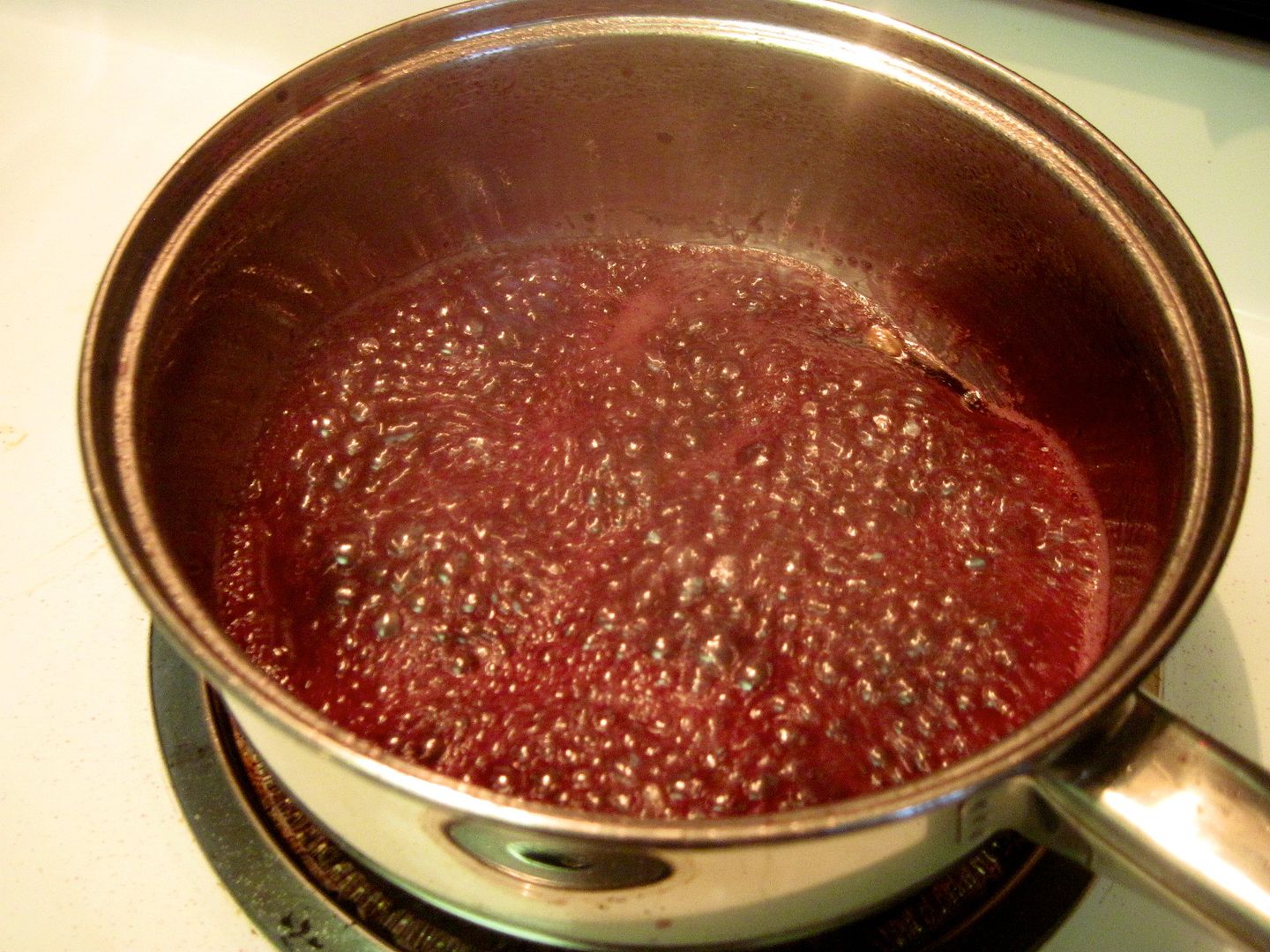 Strain the spices out of the syrup and pour it over the pears. Let sit at room temperature while you make the vanilla risotto.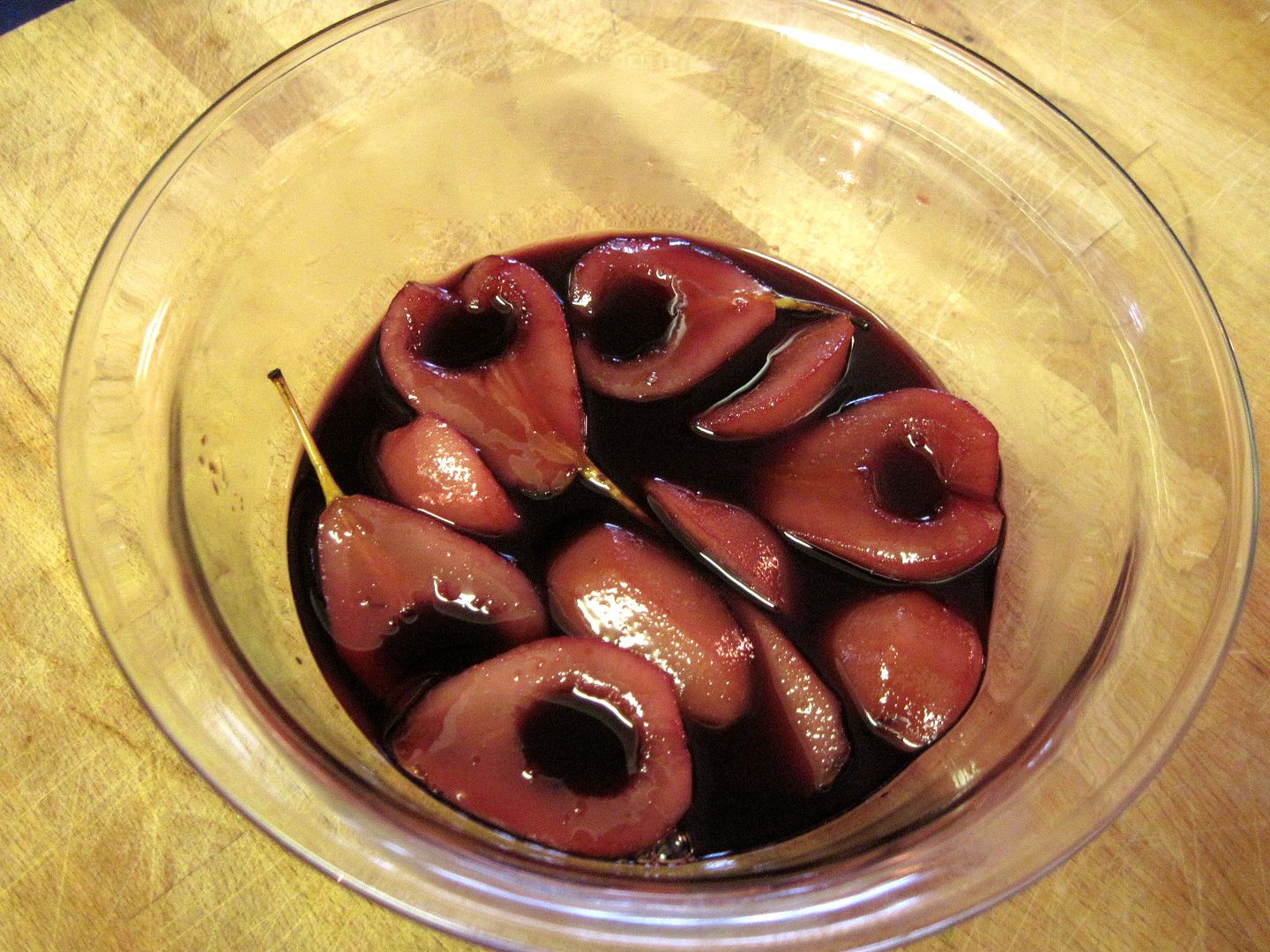 Vanilla Risotto
In a medium saucepan, combine:
1 can (375 ml) evaporated milk
1/4 cup milk
the seeds scraped from one vanilla bean (keep the bean pod, you'll use it in a minute)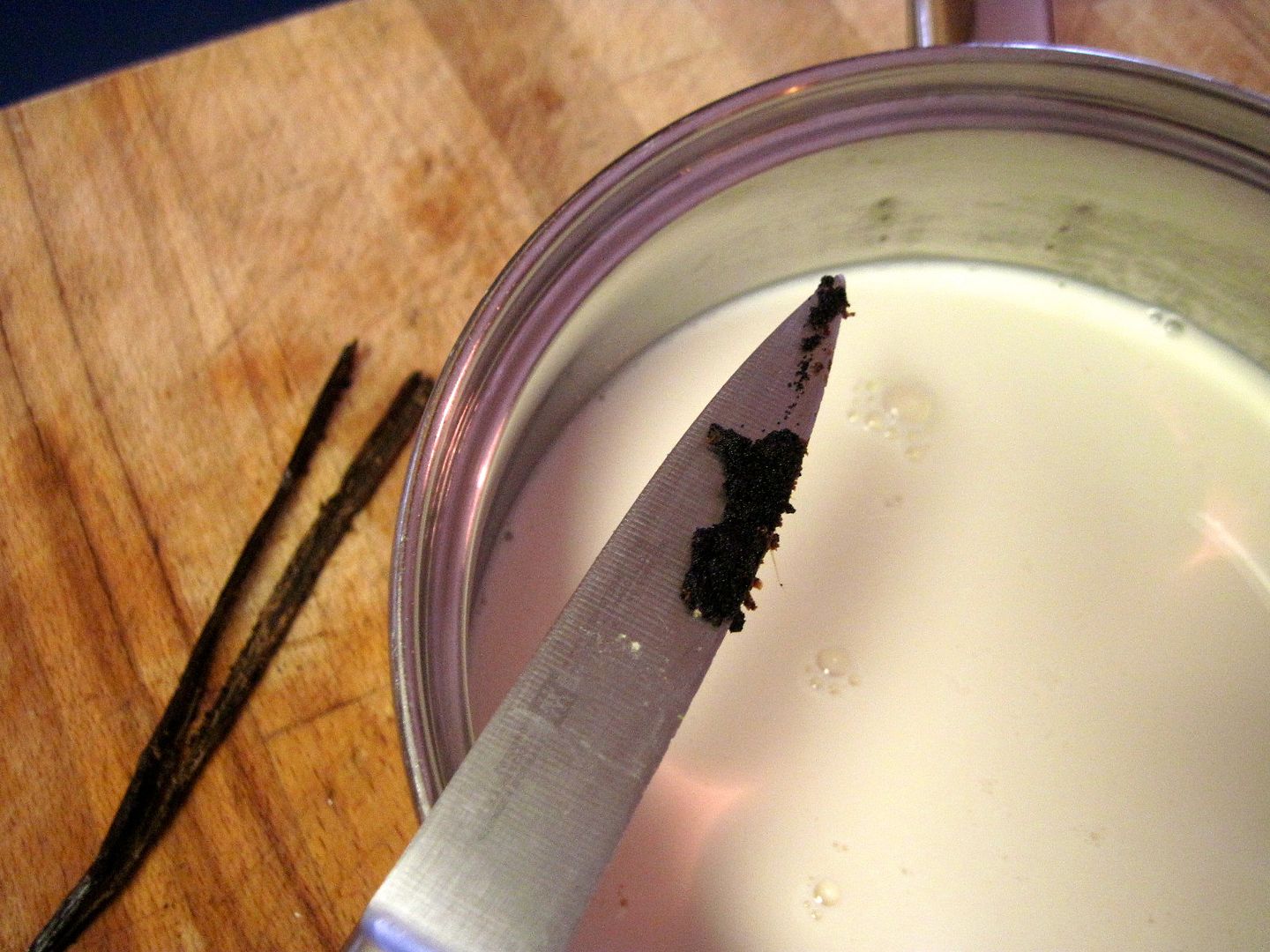 Bring the milk to a gentle simmer over low heat and keep it there, watching carefully that it doesn't boil over. Stir occasionally to prevent a skin from forming.
In a shallow saucepan over medium-low heat, melt:
2 tbsp unsalted butter
When it starts to foam, add:
1 cup arborio rice
Stir until the rice is well-coated in butter and starts to look opaque. Add a small ladle of the simmering milk and stir until the milk is absorbed into the rice.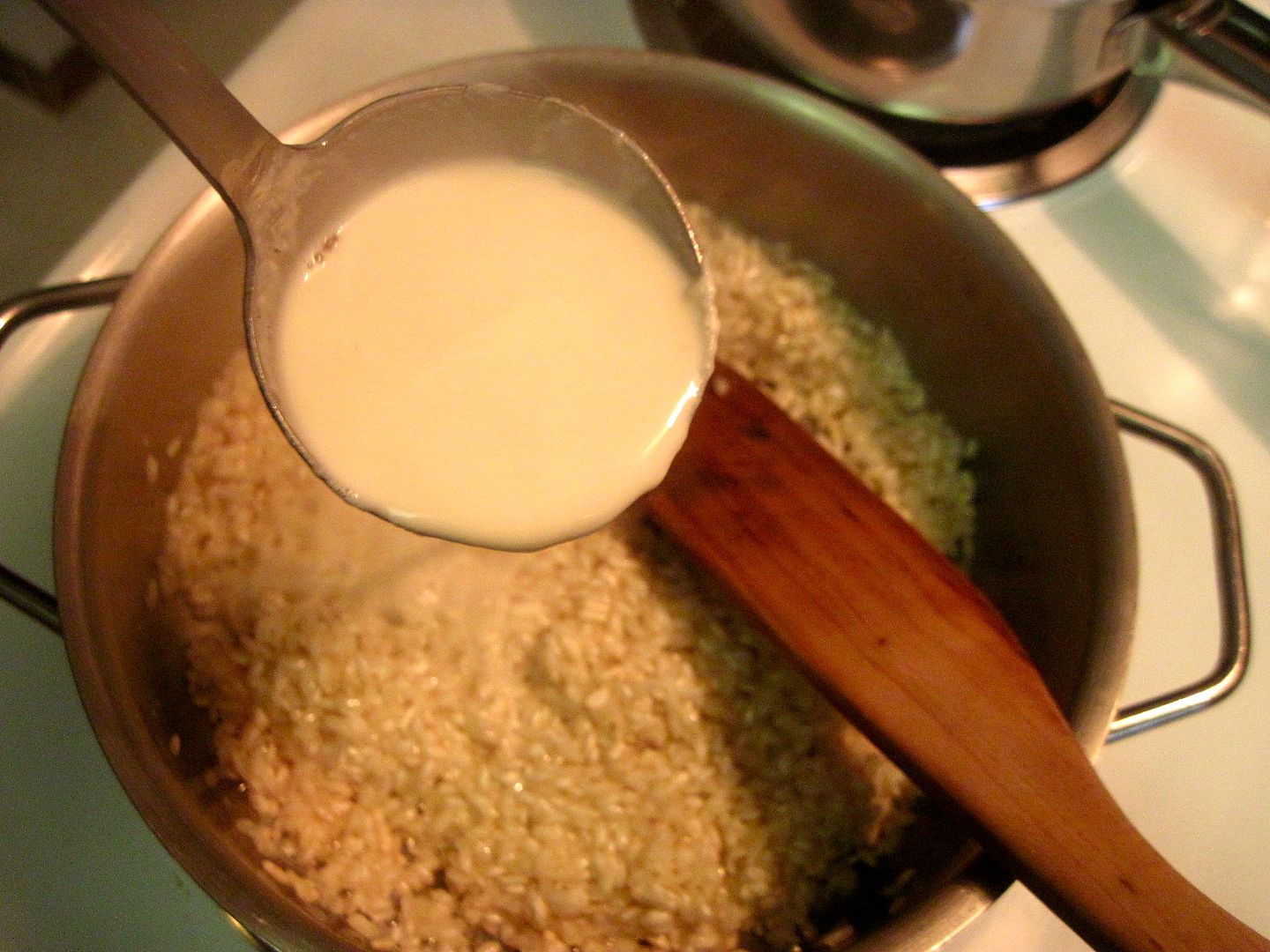 Add:
2 tbsp granulated white sugar
the vanilla bean pod
a pinch of salt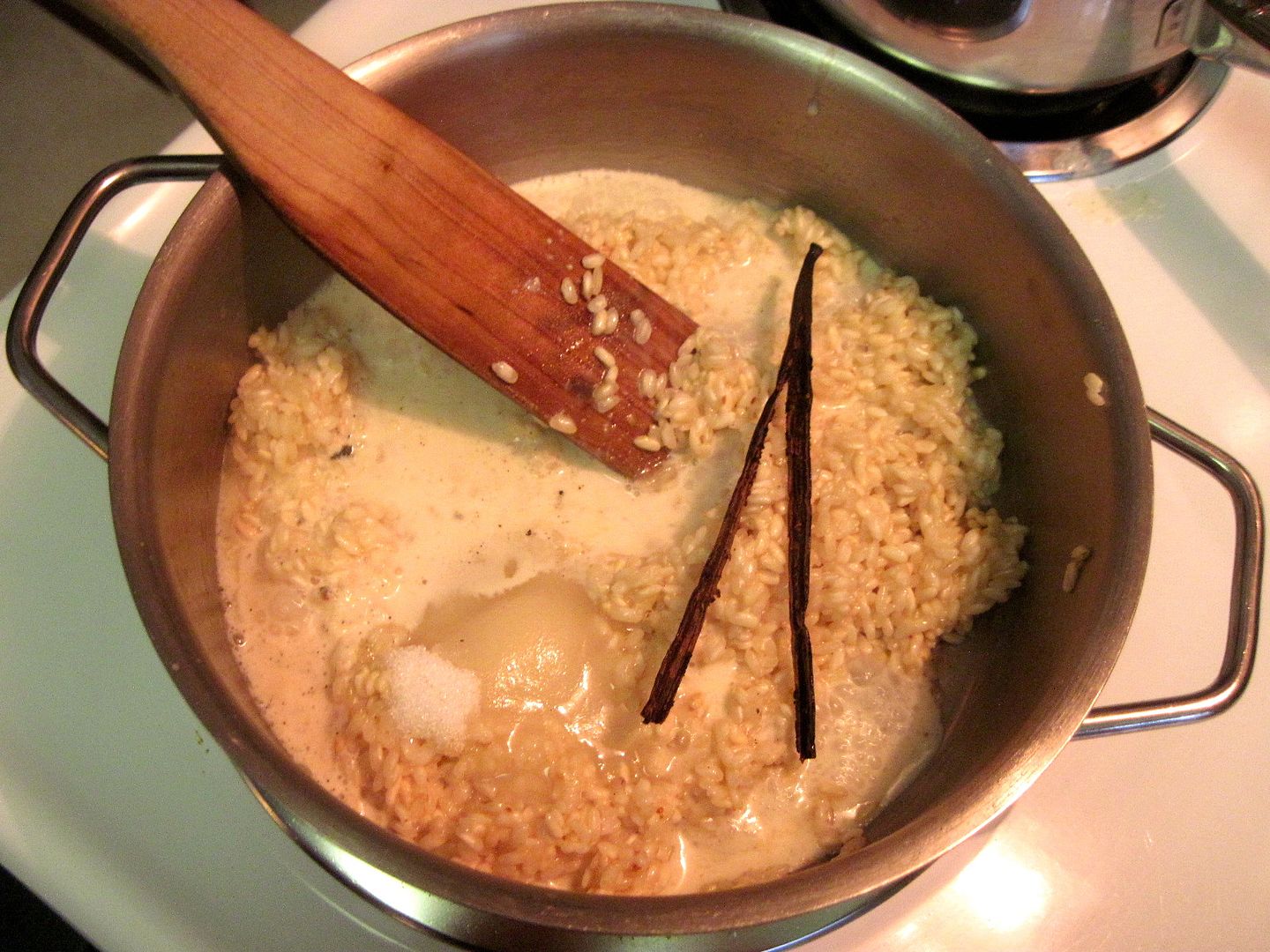 Add another ladle of milk and stir until you can clearly see the bottom of the pot behind each pass of the spoon as you stir.
Keep adding the warm milk a little at a time and stirring until absorbed before adding more. I find that you can add a larger amount of milk, give it a stir, then let it simmer gently for a minute or two before stirring again and adding more milk (a method called "flooding"). If you run out of milk before the rice has cooked to al dente, add boiling water instead, stirring and letting it absorb between additions, until the rice is done. This happened to me because I had the heat up too high at the beginning so the liquid was evaporating before the rice had a chance to soak it up.
When the rice is al dente, the risotto should be very creamy and on the loose side – it will thicken up as it cools.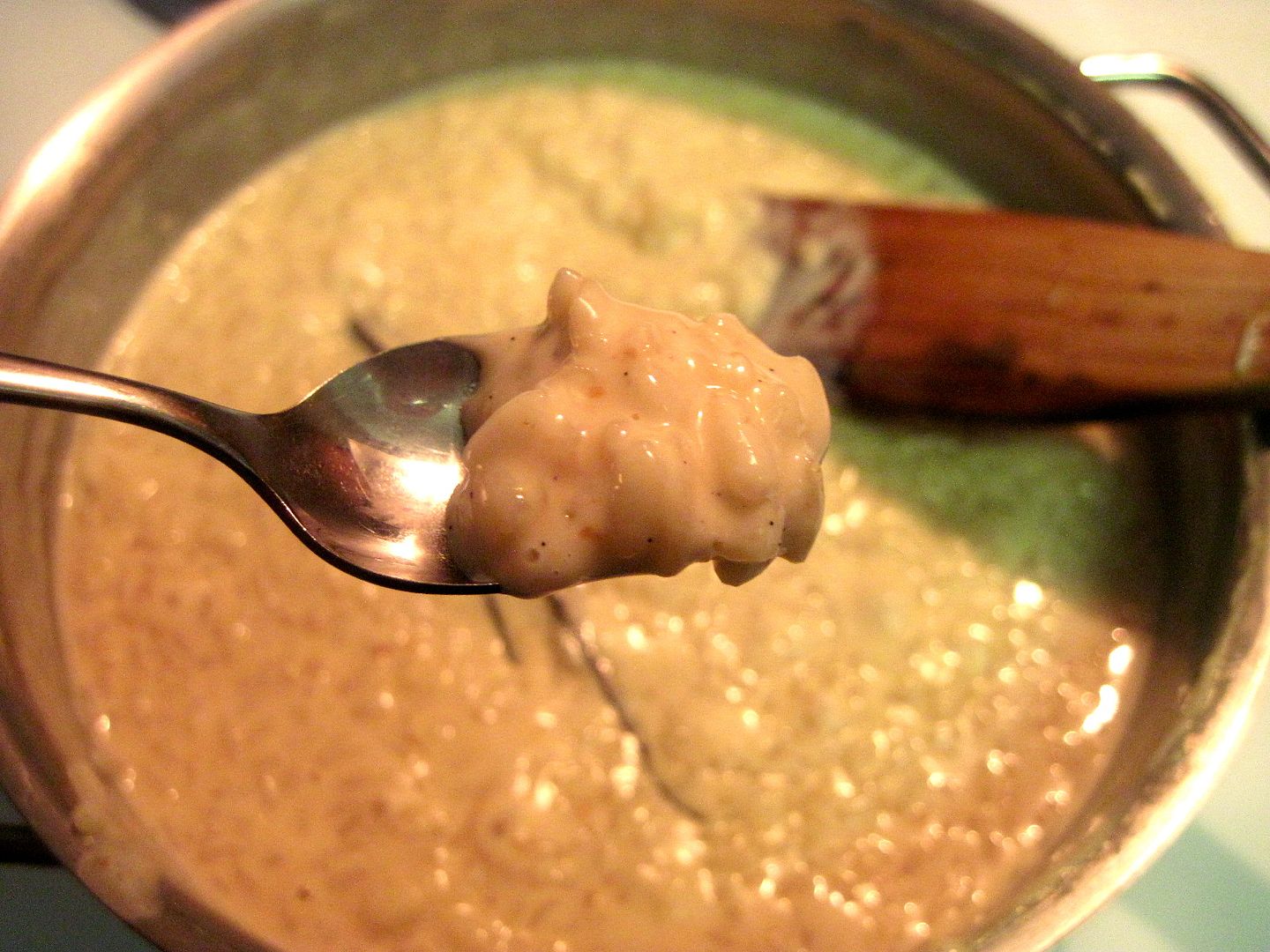 Let the risotto sit for a few minutes so it's not molten hot when you try to eat it, then scoop it into bowls and top with two pear halves and a few spoonfuls of the red wine syrup.