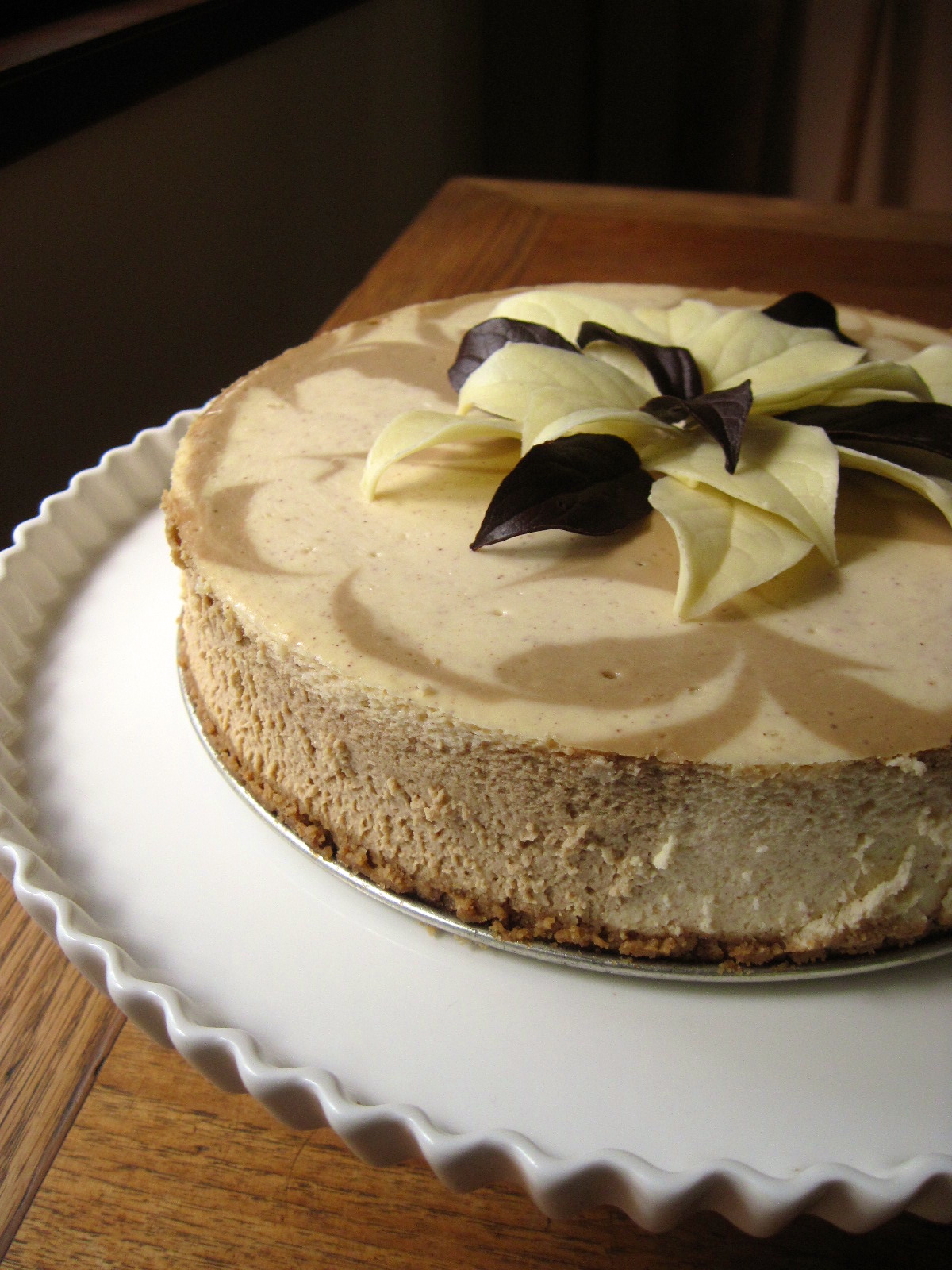 I don't usually make New Year's resolutions because I'm terrible at following through on them (see last year's resolution… I can't say it went so well), but if I were to make one for this year it would be this: MORE CHEESECAKE.
I know resolutions are usually about exercising more and eating less, but that's kind of the antithesis of a food blog (or at least, this food blog. And I already get plenty of exercise). And after making this cheesecake to take to a Christmas Eve dinner, all I can say is that I want more cheesecake in 2013.
I'm not a big coffee drinker and I don't even love eggnog all that much, but once a year when the Eggnog Latté makes an appearance on the Starbucks menu, I always crave it. I thought those flavours would go well together in a cheesecake (while I may not like drinking coffee, I sure like eating coffee-flavoured things!), and luckily I was right. This eggnog latté cheesecake turned out better than I expected.
I really really wanted to garnish it with a big pile of white chocolate curls, but I think it is safe to say that "Operation White Chocolate Curls" was my biggest baking flop of 2012. I tried three different methods for making curls (going through a considerable amount of white chocolate in the process) and NONE of them worked, not even in the slightest. Just when I was ready to throw in the towel out of frustration, I remembered chocolate leaves, and the day was saved. I actually think the leaves look better than chocolate curls would have, and they are considerably easier to make, both physically and mentally. 😉
Eggnog Latté Cheesecake
Adapted from Canadian Living and Bon Appetit. Makes one 10″ cheesecake 9″ cheesecake which I managed to cut into about 16 thin slices (this thing is rich!). Beat the cheesecake batter on low to medium-low speed only – if too much air is incorporated, it will encourage the cheesecake to puff up and crack in the oven as the hot air inside it expands.
Crust
Preheat the oven to 350˚F. In a medium bowl, combine:
2 cups graham cracker crumbs (about 24 square cookies, crushed)
1/3 cup butter
2 tbsp sugar
Mix together until evenly moistened, then press firmly into the bottom of a 10″ 9″ round springform pan. Bake in the preheated 350˚F oven for about 10 minutes, then set aside to cool. (I actually forgot to prebake my crust and it came out fine in the end…)

Cheesecake Batter
In the bowl of an electric mixer fitted with the paddle attachment, beat on low to medium-low speed until smooth:
4 x 8 oz packages of cream cheese, cubed and at room temperature
1 1/4 cup granulated white sugar
One at a time, beat in:
4 eggs
Stir well after each egg, then beat in:
2 tbsp flour
When the flour is incorporated, beat in:
1/2 cup sour cream

Place half the batter in another bowl. To one bowl, add:
1 tbsp rum (or 1 tsp rum extract)
1/4 tsp freshly grated nutmeg
1/4 tsp ground cinnamon
To the other bowl, add:
3 tsp instant coffee powder dissolved in 1 1/2 tsp vanilla

Dollop each batter alternately over the prebaked crust to create a marbled effect, then carefully drag a skewer through the batter to swirl them together slightly. Be careful not to scrape up the crust and don't swirl too vigorously – you want to maintain some contrast between the two batters. Give the bottom of the pan a few little thumps on the counter to dislodge any air bubbles.

Wrap the bottom of the springform pan in a large piece of aluminum foil (it must be watertight) and place it in a large roasting pan. Put the whole thing in the oven, then pour enough boiling water into the roasting pan to come halfway up the cheesecake. Bake for 65 – 80 minutes, until the edges are puffed, the center is just set, and the cheesecake starts to pull away from the sides of the pan.

Run a knife around the edge of the cheesecake and cool on a rack for 30 minutes, then chill, uncovered, for at least 6 hours. The cooled cheesecake will keep, covered and refrigerated, for up to 3 days. Garnish with chocolate leaves.

Chocolate Leaves
Wash and thoroughly dry 12 – 16 non-toxic, sturdy leaves, such as rose or salal (I used salal). Melt about 1 ounce each of white and dark chocolate. Using a tiny spoon or a clean paintbrush, spread the chocolate over the underside of the leaf, taking care not to spread the chocolate over the sides. Make the chocolate thick enough that it won't break when you peel off the leaf (at least 1 mm is good). Place on a plate and chill until set. Carefully peel the leaf off the chocolate and keep the chocolate leaves chilled until you are ready to use them.