The holiday season provides great opportunities for baking things other than cookies, so I'm taking a break from Christmas cookie posts to share the delicious gingerbread cake I made last week for a work potluck. I've had this in mind for a few weeks since being inspired by Frugal Feeding's gingerbread cupcakes, so I went searching for a gingerbread cake recipe and this one made with Guinness caught my eye. The last time I made a gingerbread cake, I remember it being dry and uninteresting, but this one was exactly the opposite: moist and tall and flavourful with the addition of molasses, Guinness, and fresh ginger.
The recipe comes from Nigella Lawson on the Food Network, where some of the reviewers mention adding orange to the batter, so I made a cream cheese-whipped cream with a touch of orange to put on top. It was fantastic with the gingerbread. I was a bit worried that the cream wouldn't hold up well once piped, but it survived the drive to work and arrived at the potluck intact without dripping or melting.
These were a big hit and perfect for a Christmas party. The spice level is subtle, so feel free to adjust if you prefer a spicier gingerbread, but don't skip the orange cream – seriously yummy.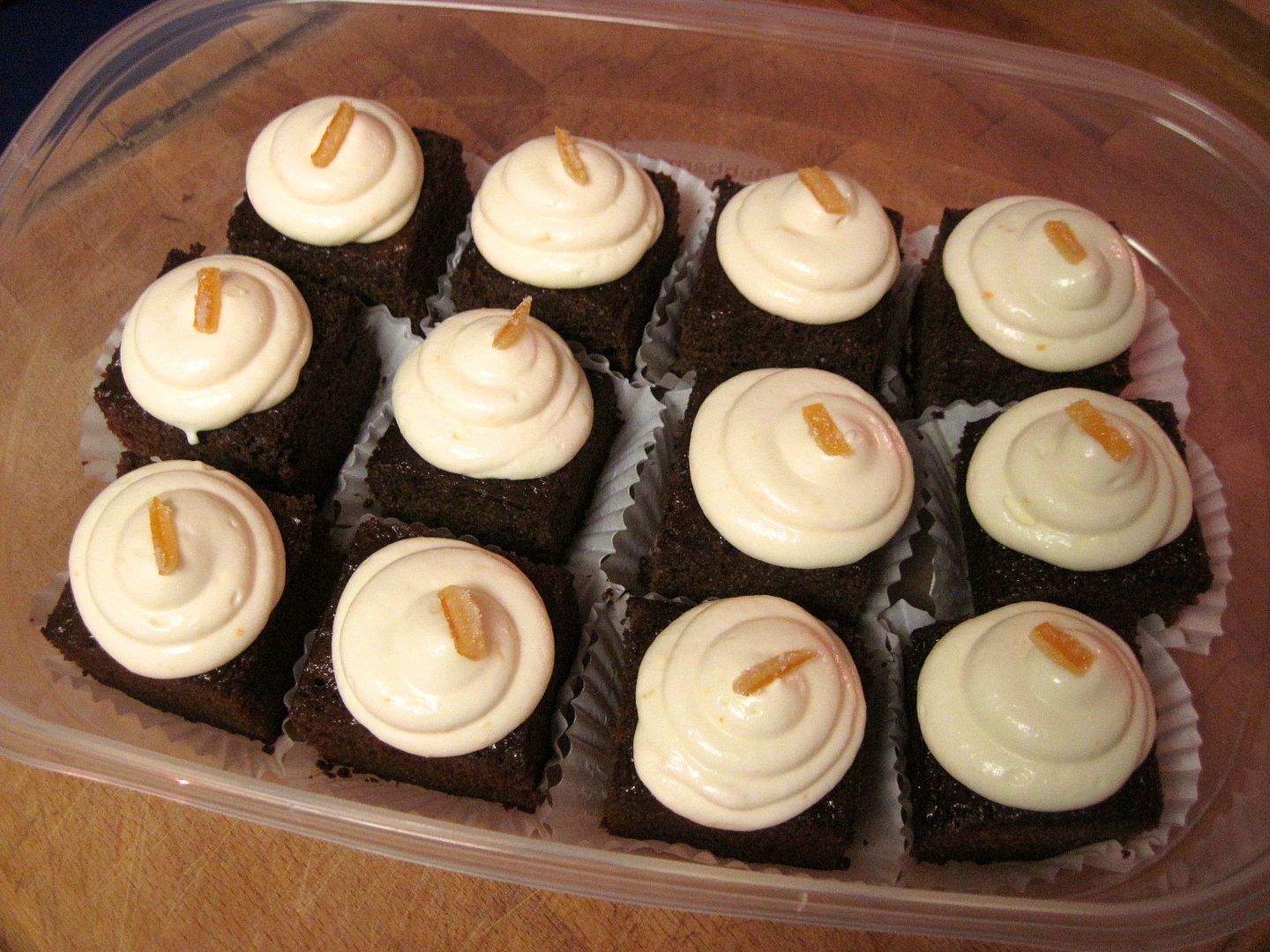 Happy Christmas Eve's Eve!
Guinness Gingerbread
Adapted from Nigella Lawson on the Food Network. Makes 24 squares. I used the smaller amounts of ground and fresh ginger listed and felt it could have used more.

Preheat the oven to 325˚F. Line a 9″ x 13″ pan with parchment paper and grease it lightly.
In a medium saucepan, combine:
1/2 cup + 2 tbsp unsalted butter
1/2 cup molasses
1/2 cup corn syrup or golden syrup
1 cup packed brown sugar
1 cup Guinness (or other stout)
2 – 4 tsp ground ginger
1/2 – 1 tsp grated fresh ginger
2 tsp cinnamon
1/4 tsp ground cloves
Place the pan over low heat, stirring occasionally, until the butter melts.
Meanwhile, whisk together in a large bowl:
2 cups all purpose flour
2 tsp baking soda
1/2 tsp salt
Pour the warm Guinness mixture into the flour and whisk until completely smooth and lump-free (don't forget to scrape the bowl with a spatula). It will be quite bubbly and lively.
Mix together:
1 1/4 cups plain yogurt
2 eggs
Whisk the yogurt mixture into the batter until smooth.
Pour the batter into your prepared pan. Bake in the 325˚F oven for about 45 minutes, until risen and firm in the middle and just pulling away from the parchment paper around the edges.
Cool completely in the pan, then use the parchment paper overhang to lift the cake out onto a cutting board. Cut the cake into 24 squares (I would recommend chilling the cake for neater cutting, if possible).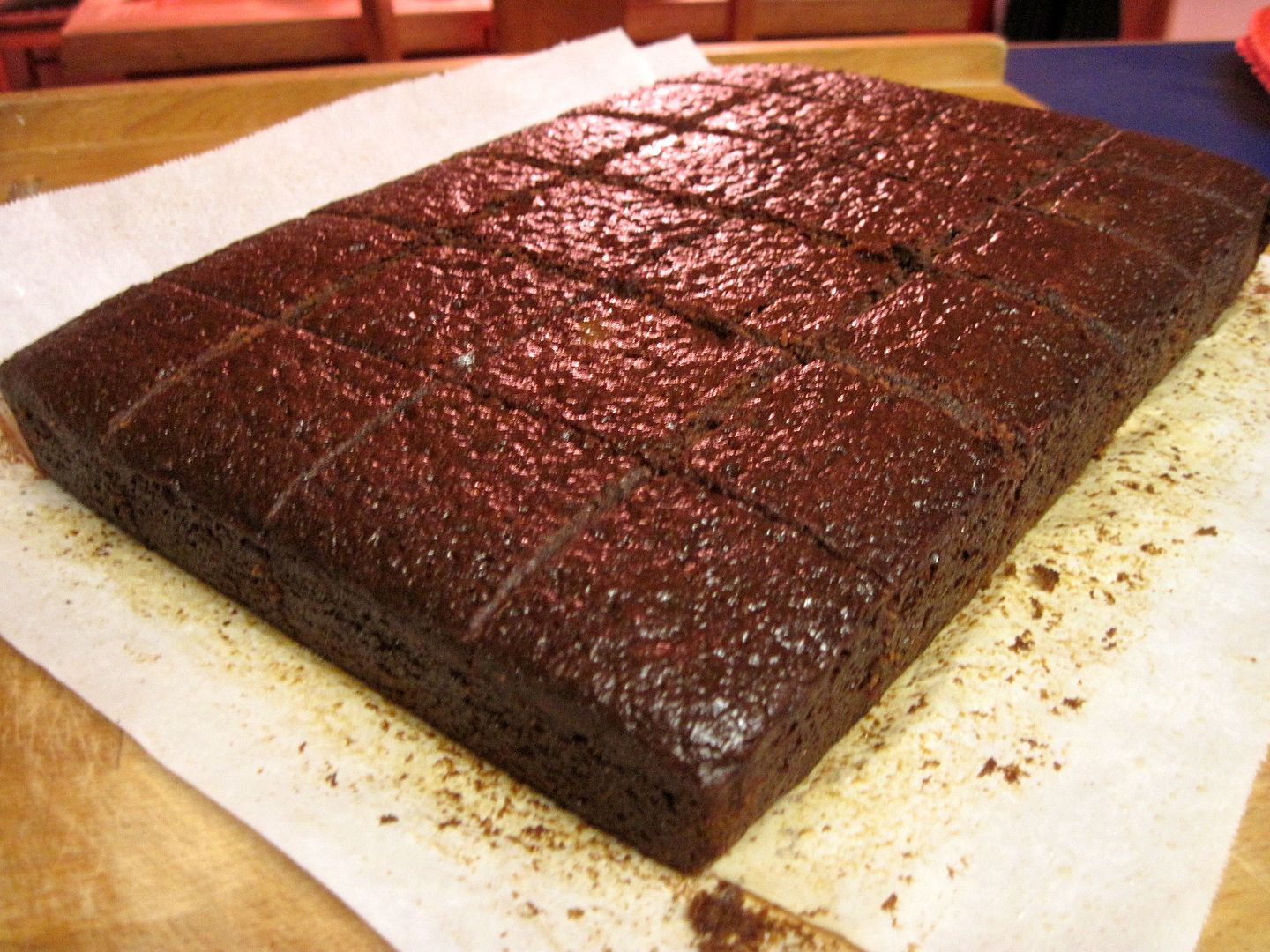 For a cupcake-like presentation, place each square in a cupcake liner. Top each with a swirl of orange cream and a sliver of candied orange peel. Serve immediately or keep in the fridge until ready to serve.
Tangy Orange Cream
In a mixer bowl, combine:
8 oz softened cream cheese
1/3 cup granulated white sugar
zest of 1/2 an orange
a small squeeze of orange juice
Beat with the whisk attachment on high until very light and fluffy, then with the mixer still running, slowly pour in:
1 1/2 cups heavy whipping cream
Continue beating until stiff peaks form.
Place the orange cream in a piping bag and pipe generously onto the gingerbread squares. It might seem very soft, but it is sturdier than it looks. This can be made ahead and refrigerated until needed.