Christmas Cookie Post Numero Dos!
I've only ever made one kind of biscotti before: white chocolate cranberry almond, which I make every year from Christmas. The Sourdough Surprises project this month was sourdough cookies, so I decided to try the suggested sourdough biscotti recipe and ended up with these dark chocolate, hazelnut, orange, and cinnamon lovelies.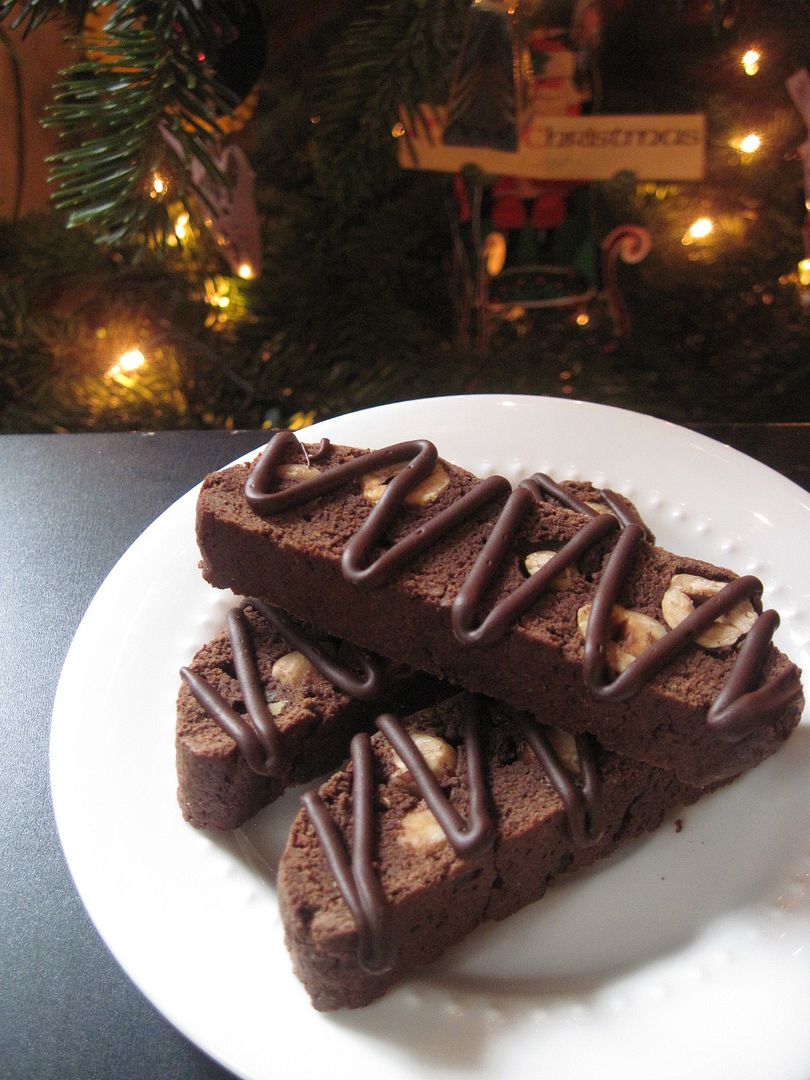 The final product tasted really good, but I would say that making biscotti out of sourdough starter is more of a novelty than a practical way to go about doing it. It requires creating a 50%-hydration starter, which isn't complicated, but just means one more step in the process, and the resulting dough was so stiff and hard to knead that I thought my mixer was going to overheat and explode. It's definitely easier to make biscotti the regular way, ie: with a cookie-like dough, and I will definitely try this flavour profile using that method in the future.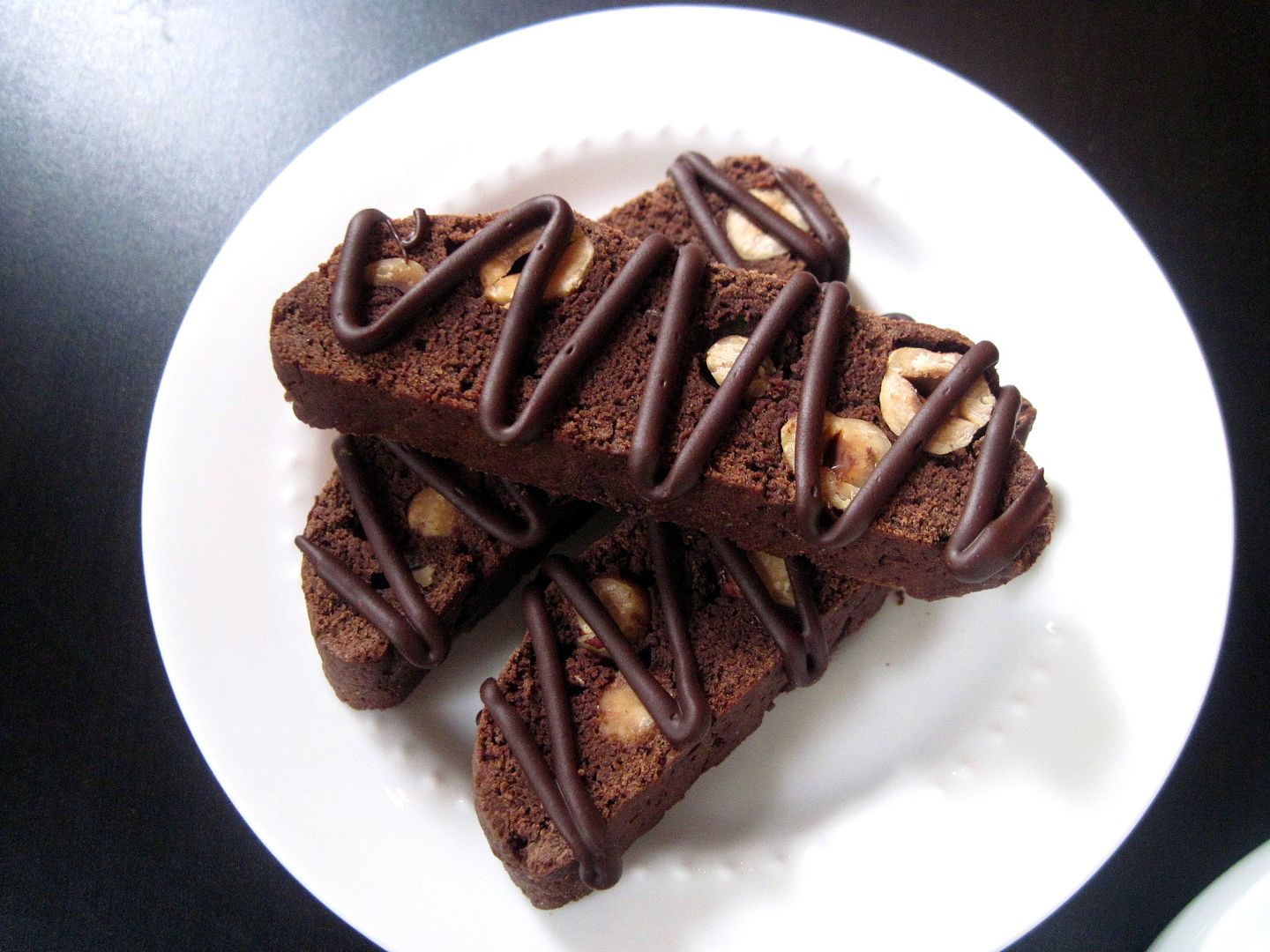 That said, it's always fun to find new ways to use my starter, so if you're looking for a bit of a challenge (with a delicious cookie reward at the end!), try these sourdough biscotti. And check out the Sourdough Surprises blog for more sourdough cookie inspiration!
Chocolate-Hazelnut Sourdough Biscotti with Orange and Cinnamon
Adapted from Wild Yeast. Makes about 2 dozen biscotti.
Preheat the oven to 350˚F. In the bowl of an electric mixer, combine:
180 g flour
35 g Dutch process cocoa powder
135 g stiff/50%-hydration starter (instructions to create it are here)
1 1/4 tsp ground cinnamon
generous 3/4 tsp salt
grated zest of 1 orange
2 large eggs
2 tsp vanilla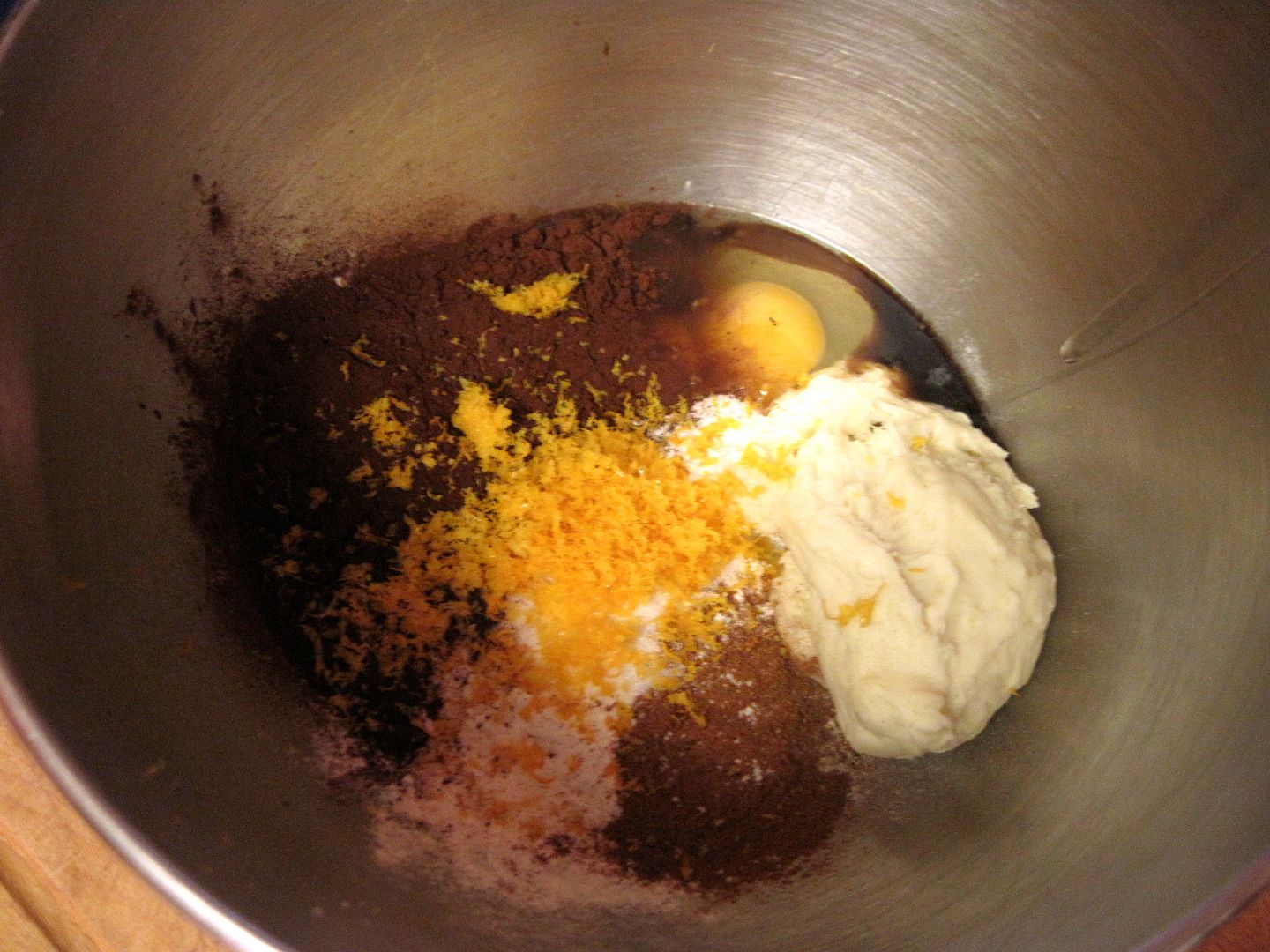 Mix on low speed with the dough hook until combined. It might seem crumbly and impossible at first – I had to stop the mixer and get in there to knead with my hands because nothing was mixing together very well, and then it finally came together in a VERY stiff dough.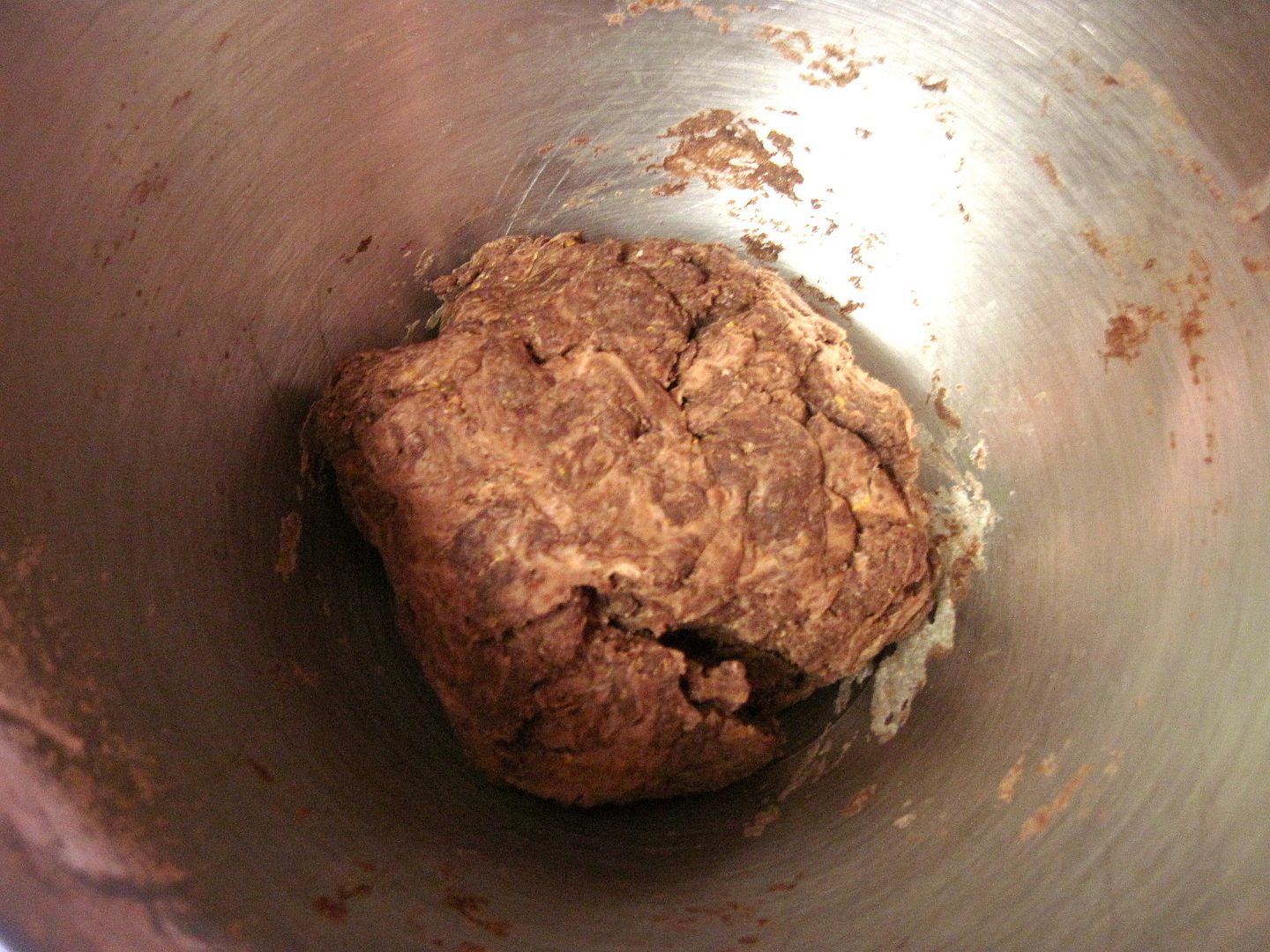 Continue mixing on low-to-medium speed until you can stretch the dough thinly without it tearing, aka low-medium gluten development (this never happened for me and the biscotti turned out fine).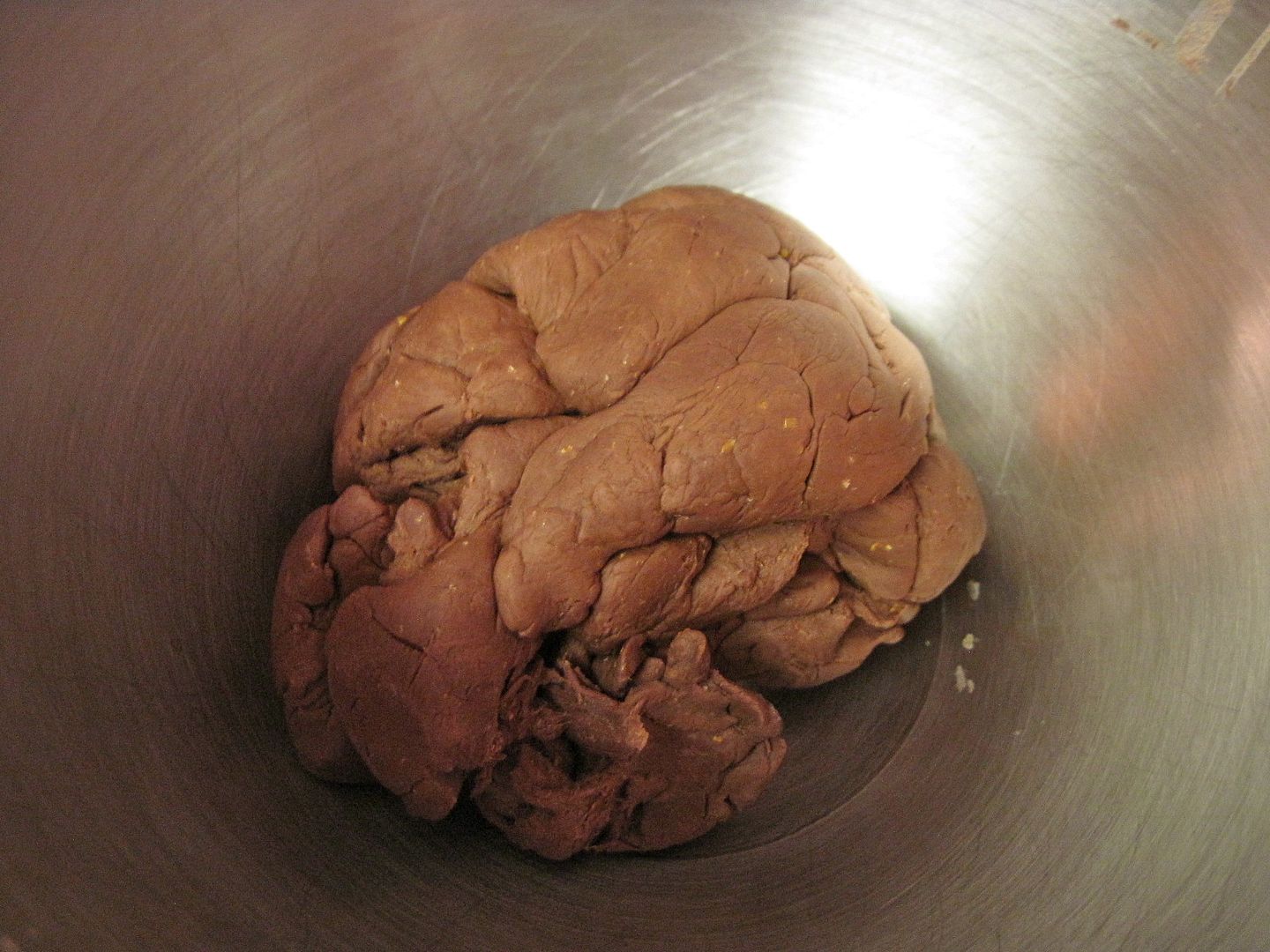 In 4 or 5 increments, gradually stir in:
150 g brown sugar
Mix for a minute or so between each addition. The sugar should make the dough less stiff and easier to mix, and once it's all added, you should have something resembling a stiff cookie dough. Switch out the dough hook for the paddle attachment and beat in:
57 g unsalted butter, very soft but not melted
2 oz chocolate, melted and cooled
The dough should be like regular cookie dough now. With a wooden spoon, stir in:
125 g toasted hazelnuts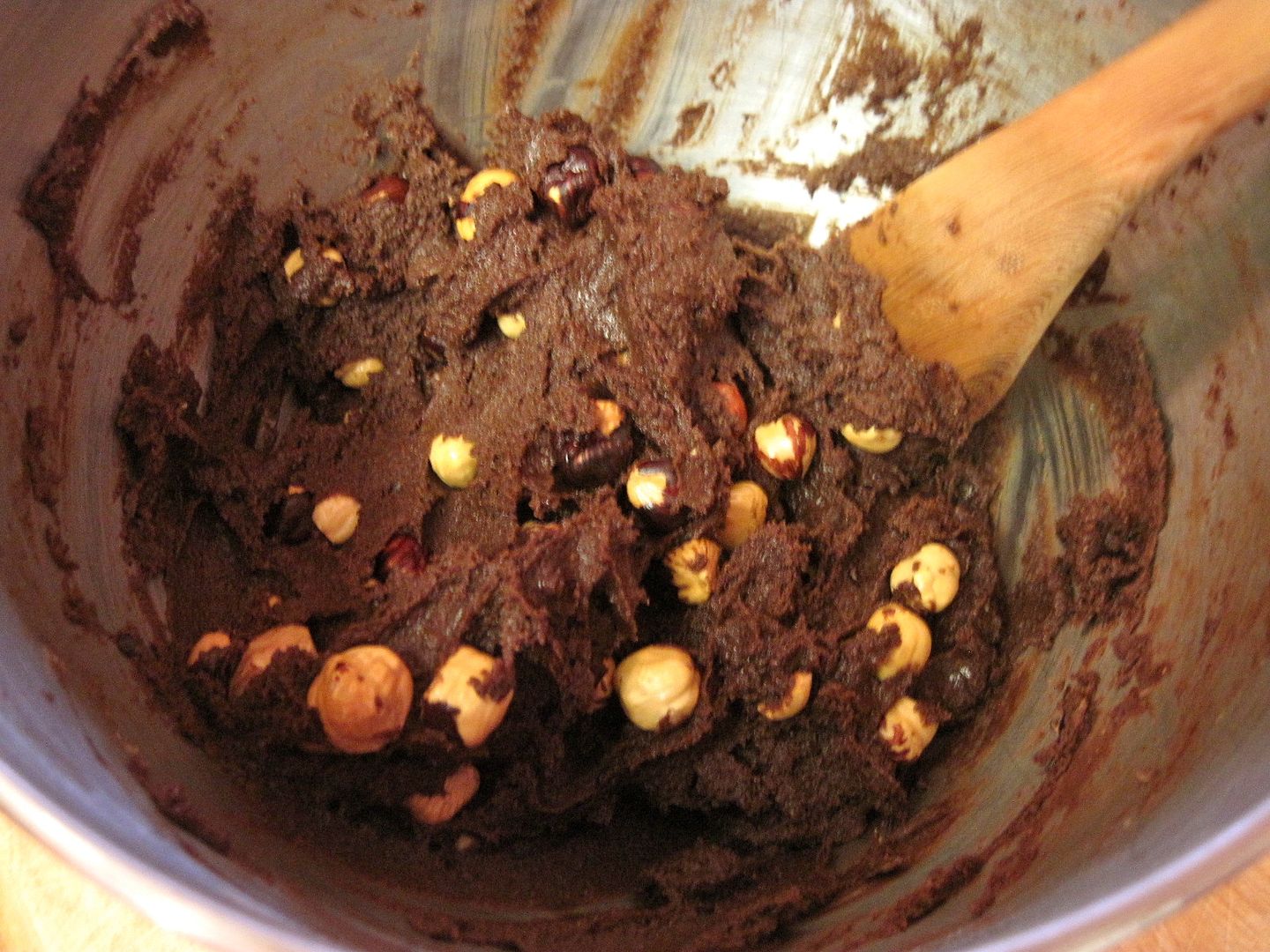 Spread the dough onto a parchment paper-lined cookie sheet and use your fingers to form it into a log about 15″ long and 3″ wide.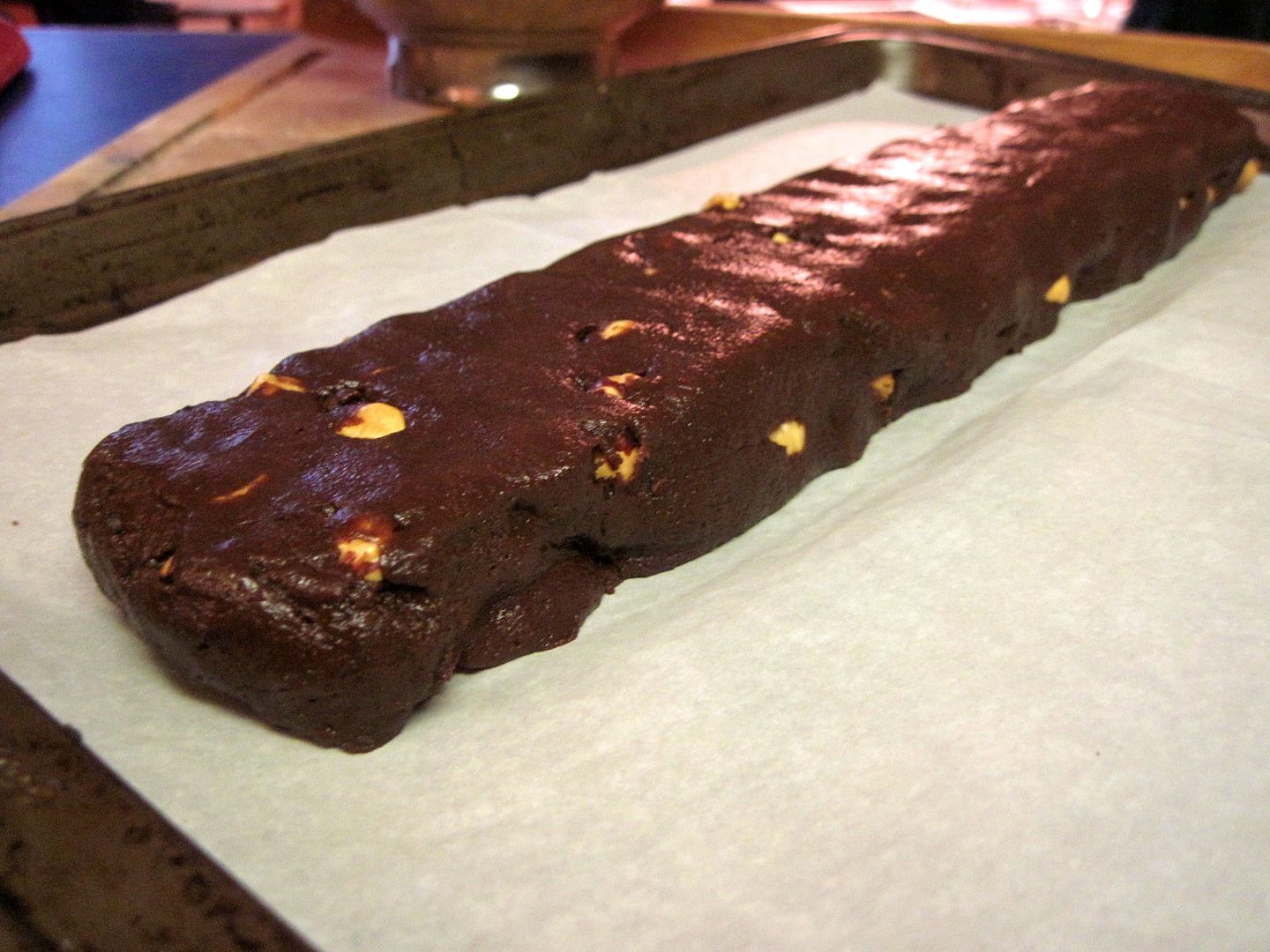 Bake the dough in the preheated 350˚F oven for 30 – 35 minutes, until very firm and slightly cracked on top. Remove from the oven and let cool for about 15 minutes.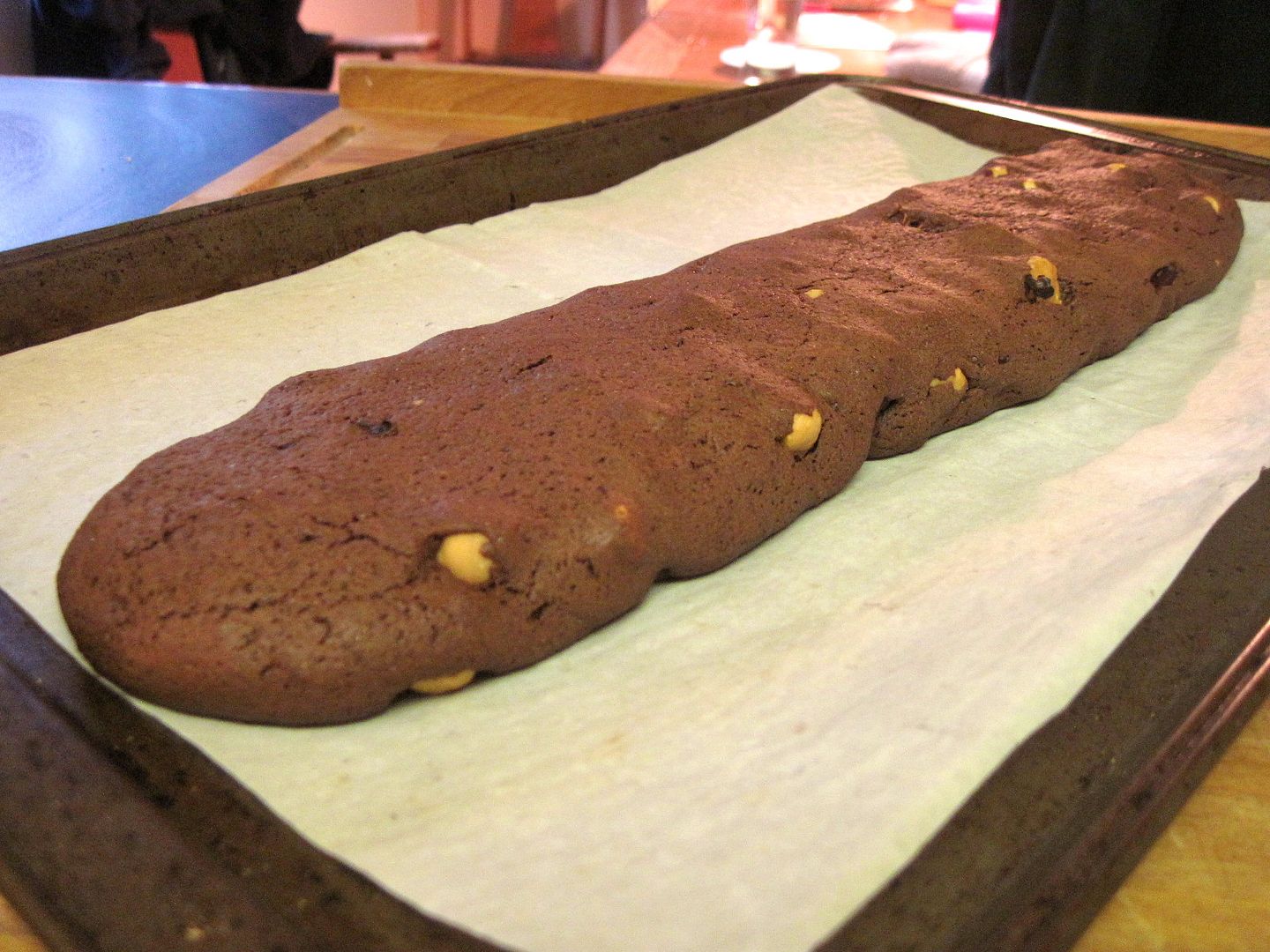 Turn the oven down to 250˚F. Slice the log into 1/3″ slices and stand them up on the cookie sheet. Bake in the 250˚F oven for another 40 – 50 minutes, until dry.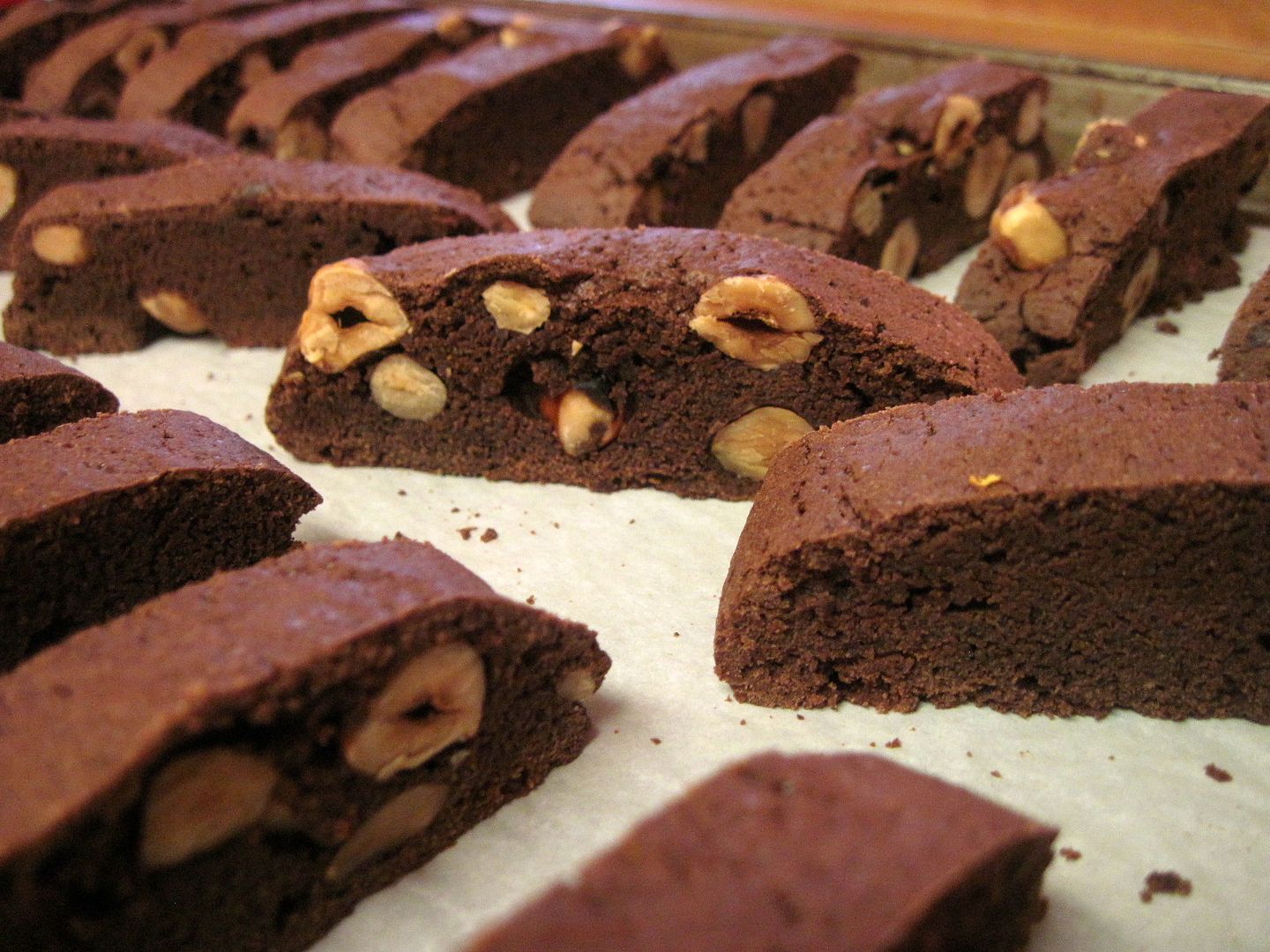 Cool on a rack, then drizzle with 3 oz melted chocolate. Store in an airtight container.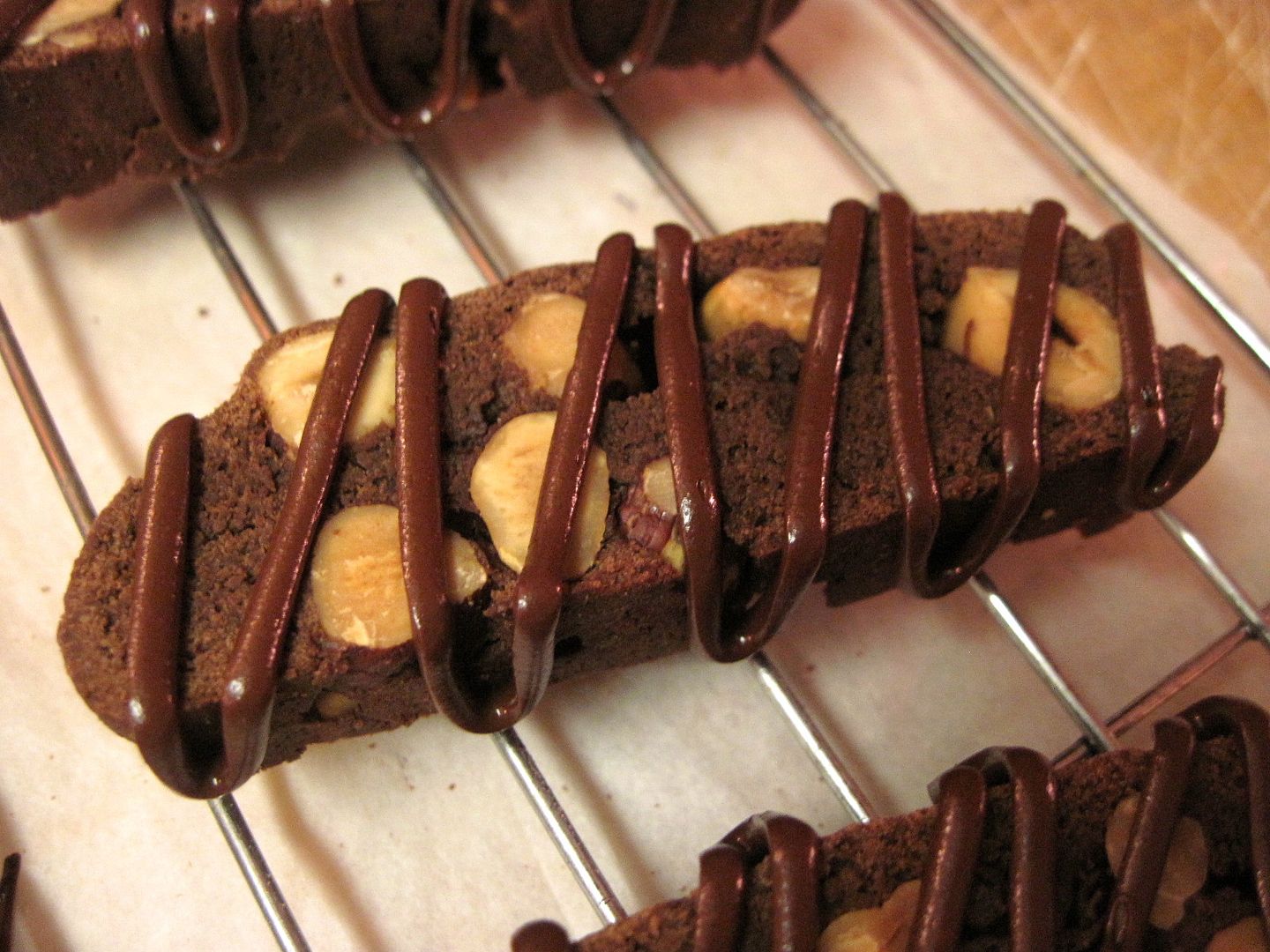 This post has been YeastSpotted!