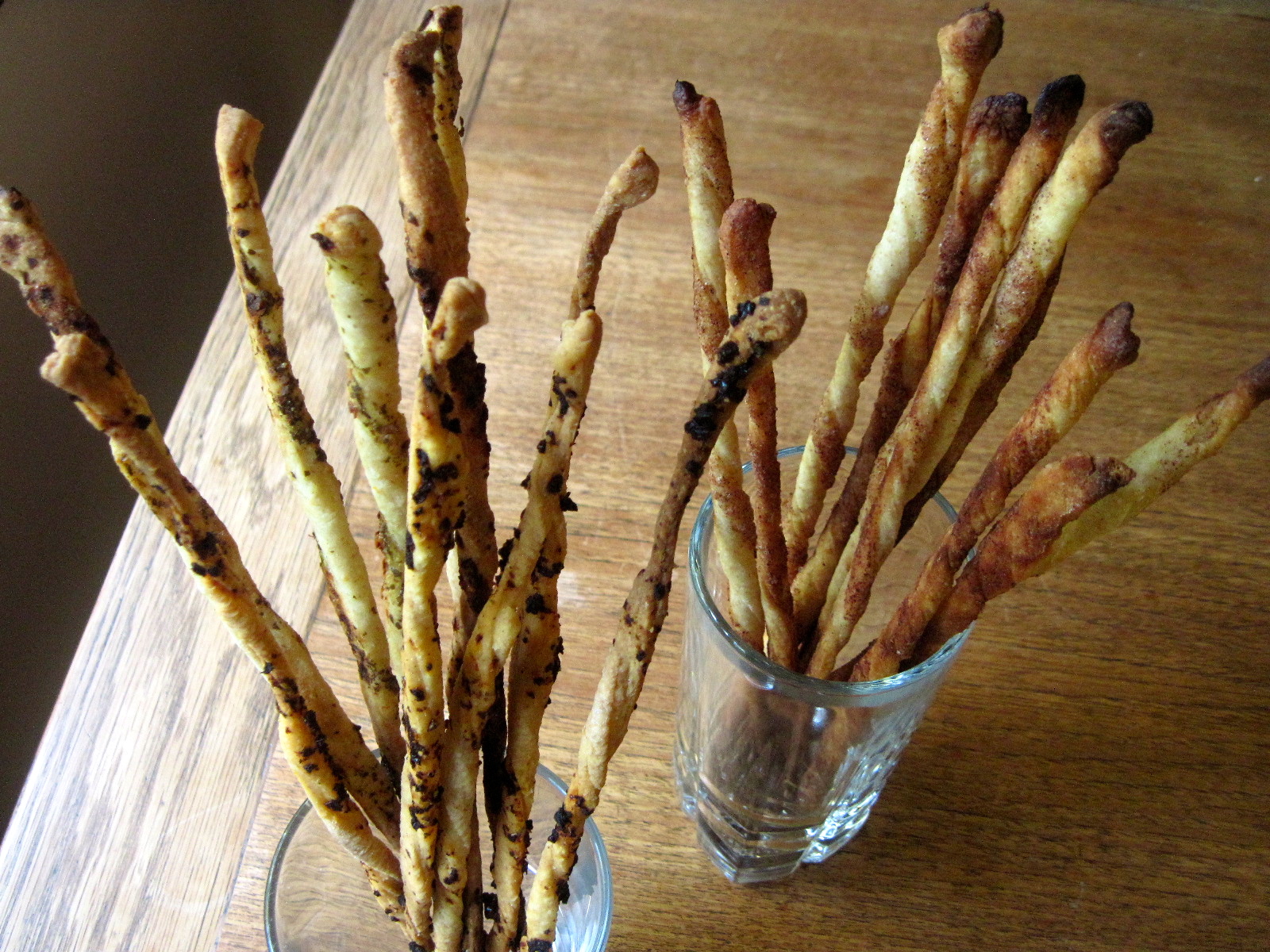 This has been a busy month for me, so here I am, a day late for Sourdough Surprises, with a bit of a flop. And while I'm sure these sourdough grissini twists could be perfectly lovely, mine were… not. I'm equally sure that there is nothing wrong with the recipe, but that all my issues were totally due to user error. 😉
First of all, I didn't actually feed my sourdough starter before using it for the dough. I fed it last weekend and stuck it in the fridge, and when I took it out, it woke up and started bubbling away actively, so I figured it was fine to use. I don't honestly know if this was a problem or not…
Second, I wanted to make sundried tomato and parmesan grissini twists, but when I took the jar of oil-packed sundried tomatoes out of the fridge, there was only about 3 tablespoons left in the bottom. So I had to improvise, and ended up with one batch of sundried tomato twists (which I forgot to put cheese on!), one batch of pesto twists, and a batch of cinnamon sugar twists.
And thirdly, I burned every single batch. I could blame my stupid temperamental too-hot oven (and I do!), but I also made the twists much too thin and didn't pick up on it until too late, because I was "multi-tasking" (ie, drinking red wine and engaging in girl-talk with my friend Ang while shaping the twists).
Anyway. The few that weren't burnt and/or rock hard were OK – they have a pretty good sourdough tang – and with a little tweaking of technique, they would be really good. So here's how I SHOULD have made them! (And make sure you check out the other Sourdough Surprisers' much more successful grissini!!)
Sourdough Grissini Twists
Adapted from Wild Yeast and Delectable Tidbits
In a medium bowl, combine:
220 g all purpose flour
120 g whole wheat flour
1 1/2 tsp salt
23 g olive oil
228 g active, bubbly (recently fed) sourdough starter (100% hydration)
200 g water
Stir it all together with your hands (yes, messy!) to bring the dough together.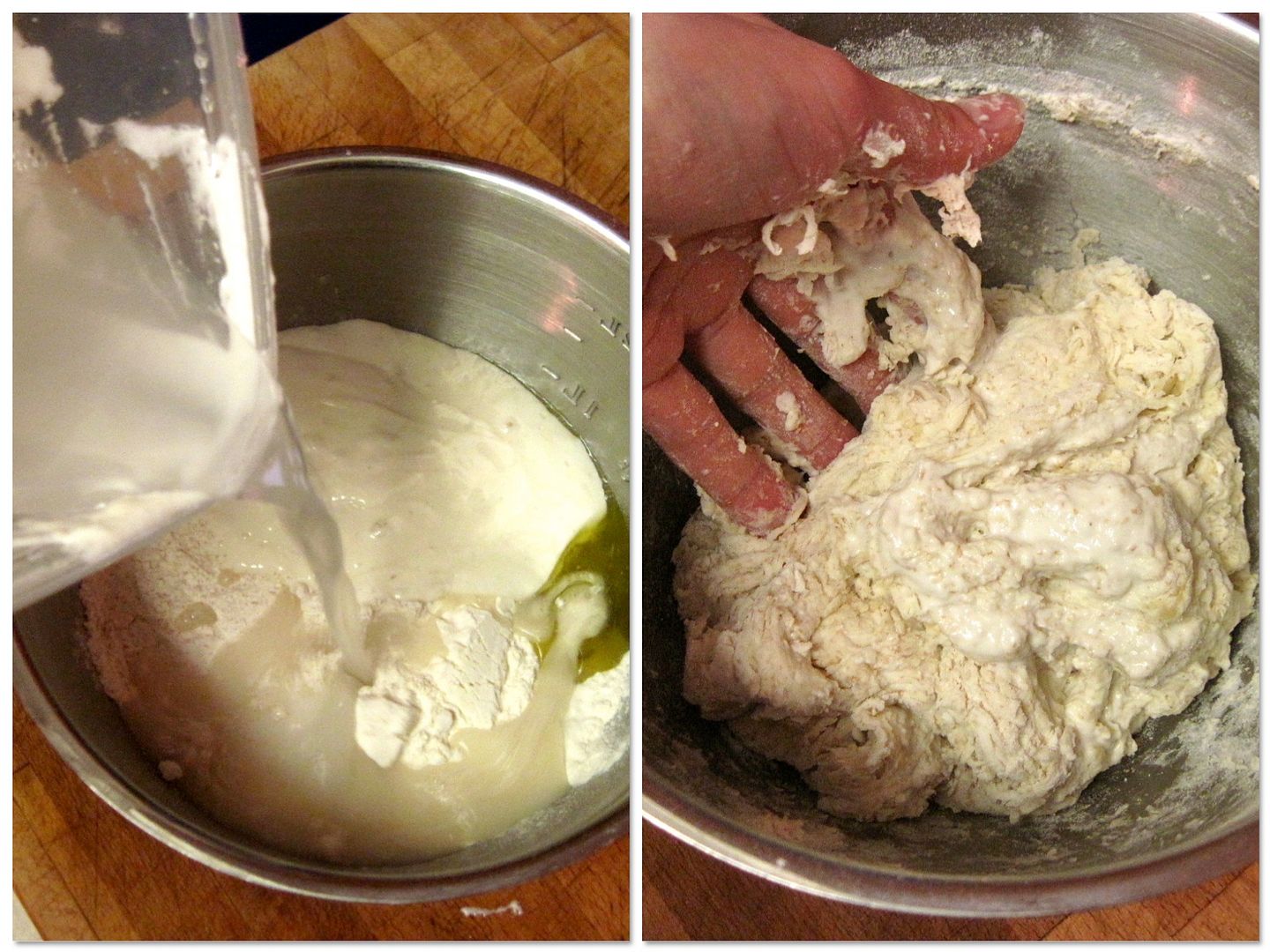 Turn it out onto an unfloured surface and work it/knead it/stretch it around. It will be quite soft and sticky. To "knead" dough like this, scoop your fingers underneath the dough to lift up one side, then bring it down onto itself and press. Repeat, using both hands at once (impossible to take a picture of!). Continue for about 5 minutes, until you get low level gluten development – ie, you can stretch the dough fairly thin without it breaking but the stretched area remains opaque.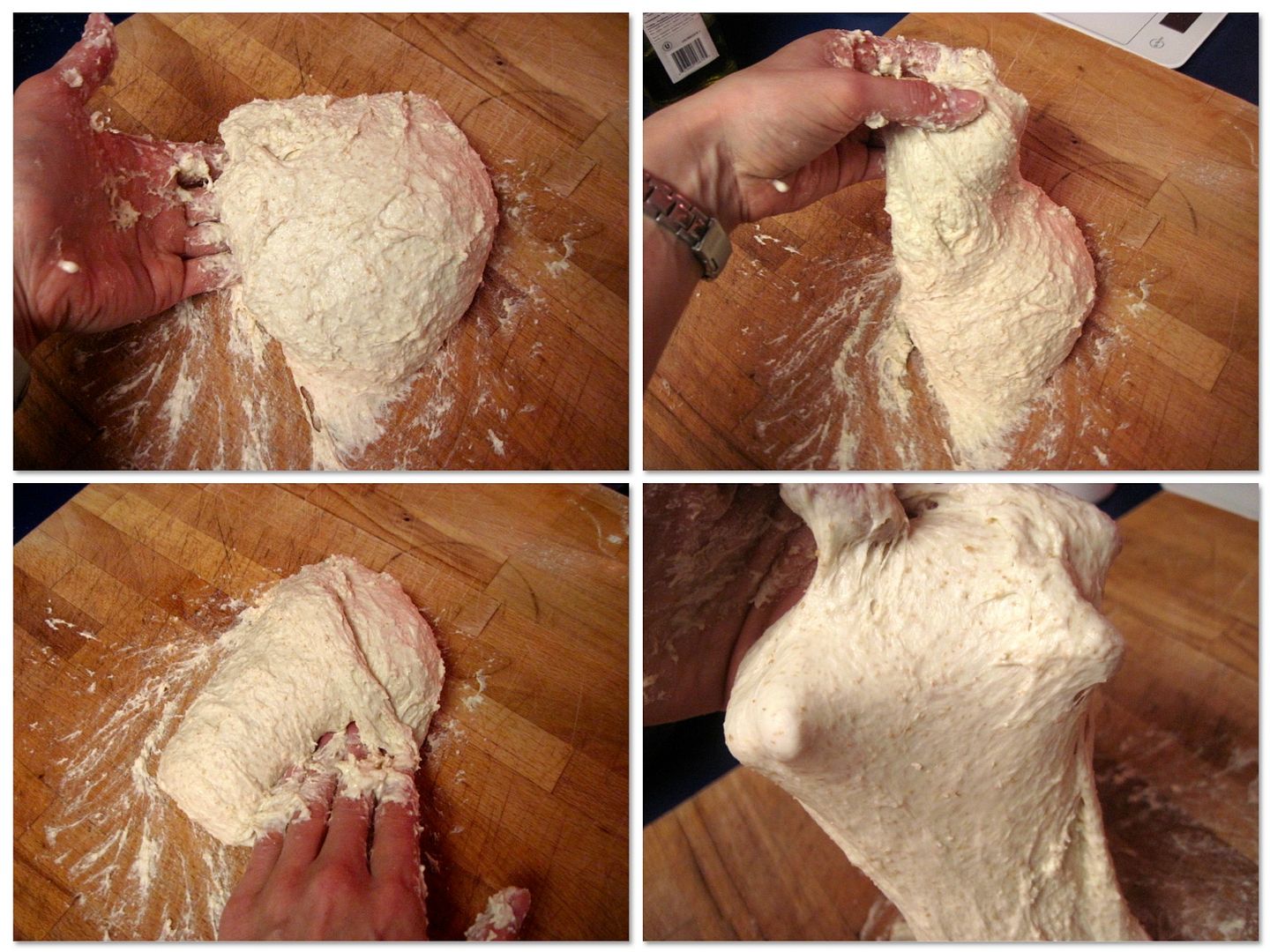 Place the dough in a lightly oiled container with a lid and let it ferment for 2 hours, with a stretch and fold at 40 and 80 minutes. Stretching and folding goes like this: Gently stretch one end of the dough, then fold it down onto the middle third of itself. Repeat with the opposite end of the dough – you should end up with a tri-fold, like a letter. Turn the dough 90˚ and repeat, so that you have done two tri-folds, perpendicular to each other.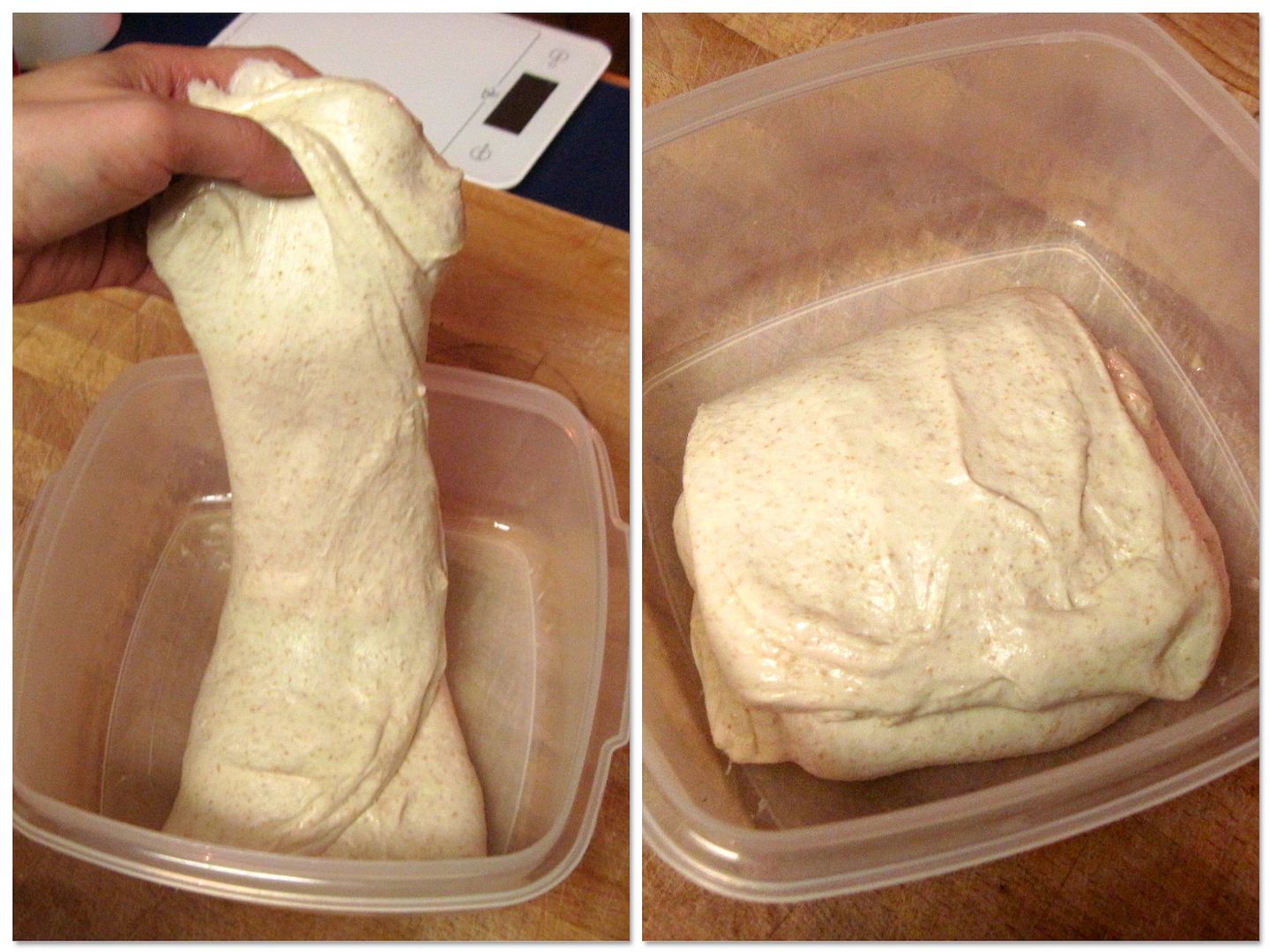 After 2 hours, preheat the oven to 350˚F. Place the dough on a floured surface and divide it into 3 pieces. Working with one piece at a time (keep the other two covered so they don't dry out), pat and stretch it into a 4″ x 12″ rectangle. Brush it with olive oil, then spread it with a few tablespoons of your filling of choice (ie, finely minced sundried tomato, pesto, cheese, cinnamon sugar (spread it with melted butter rather than olive oil)). Cut the dough into 8 (not 16!!) strips (this was one of my fatal mistakes).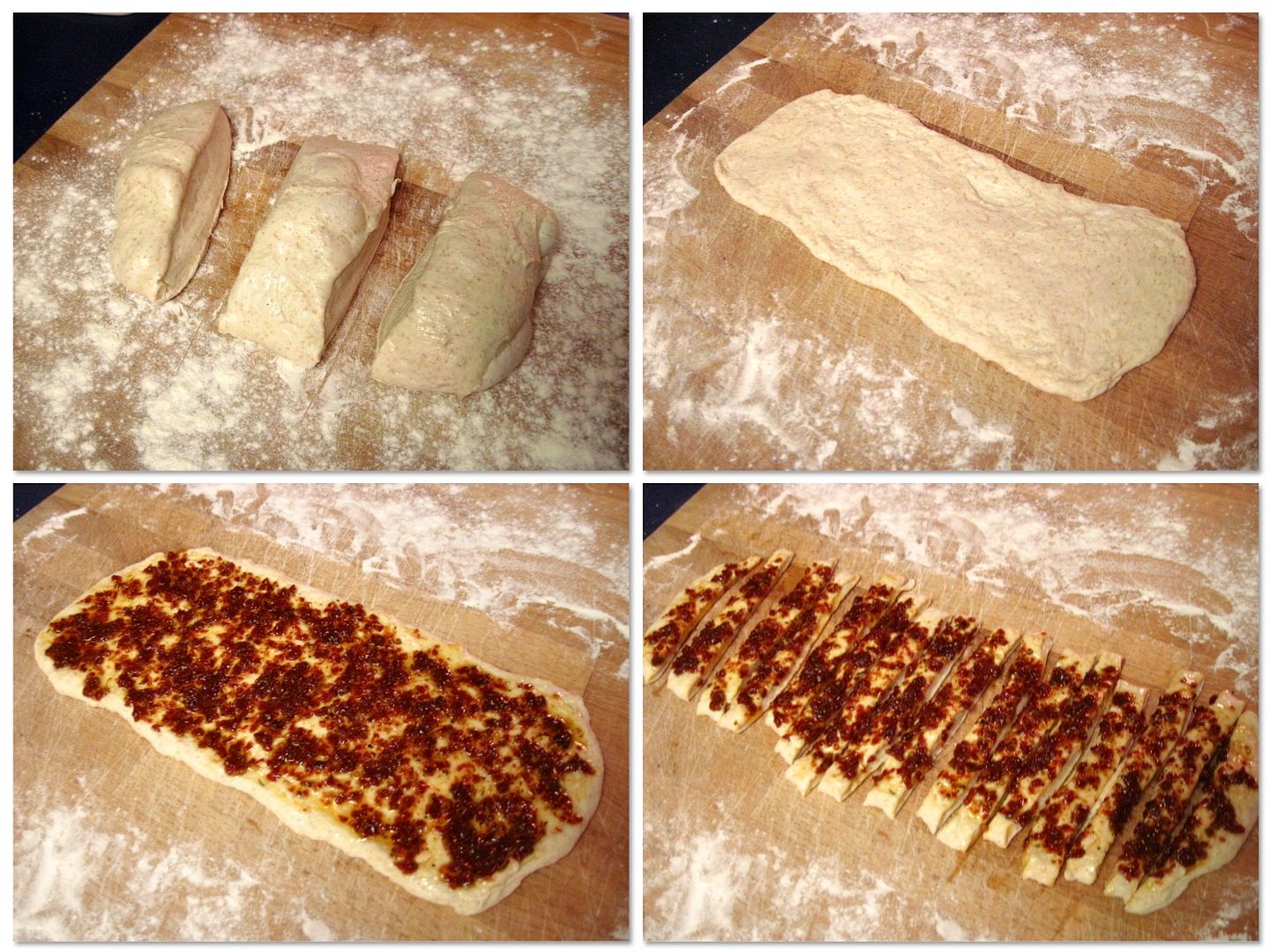 Twist the ends of each strip to create a spiral. Gently pull on the ends of the strip to stretch it to about 8″. Place on a silicon mat- or parchment paper-lined baking sheet. Let the first batch rest while the oven preheats (20 – 25 minutes), then bake for 20 – 30 minutes, until golden brown. Cool on a rack and repeat with the remaining dough, letting each unbaked batch rest while the previous one is baking in the oven.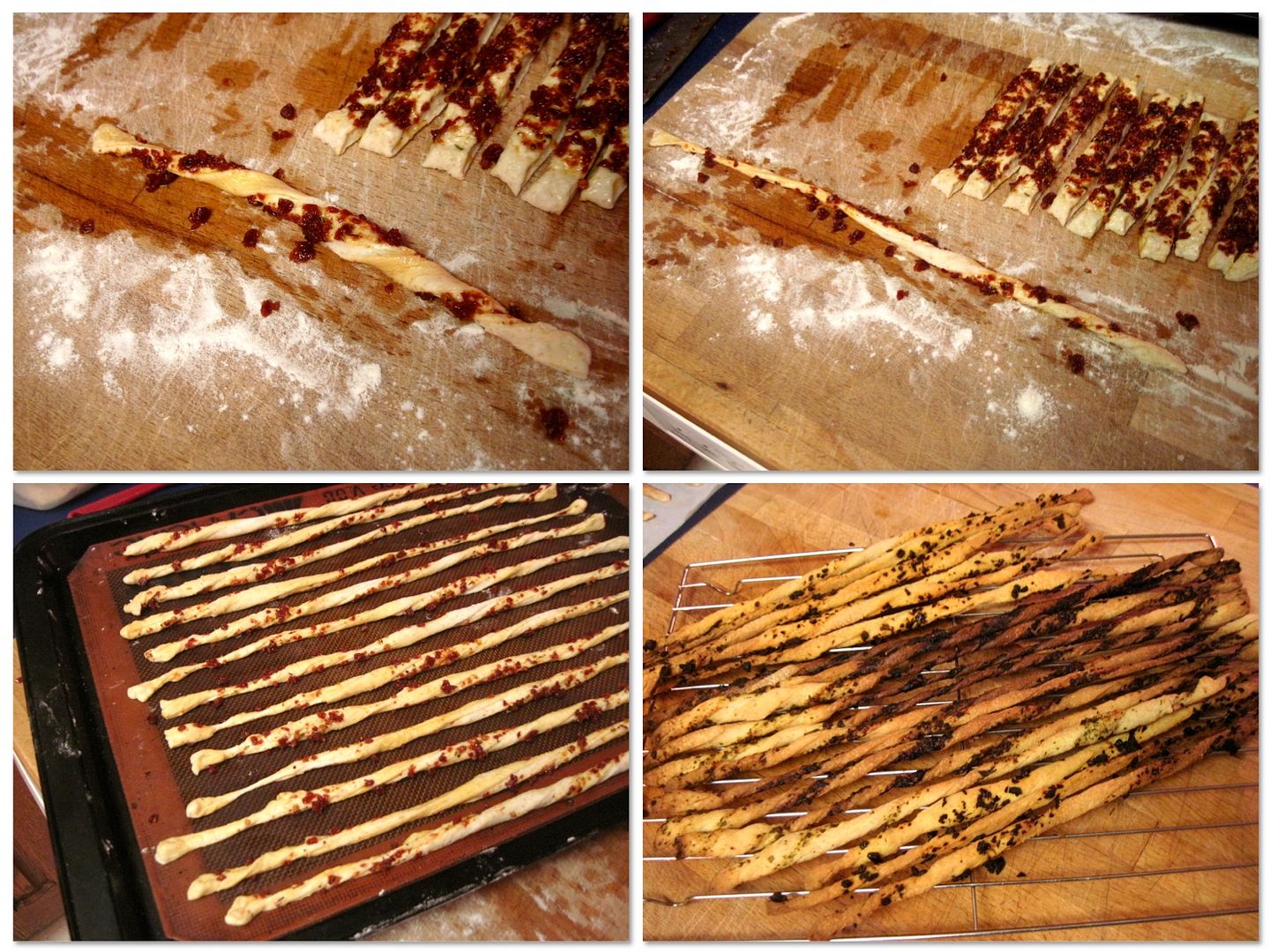 This post has been YeastSpotted!