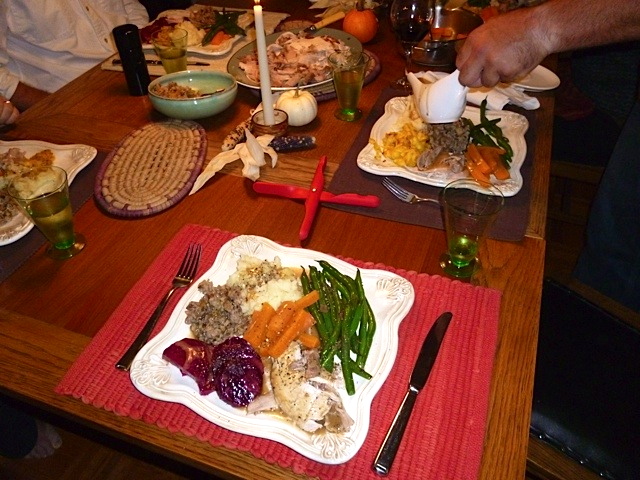 This past Thanksgiving weekend was full of turkey and family and more turkey. We had a wonderful dinner at our house on Sunday night with Nate's parents, my parents, and my Aunt, who is visiting from California. Our families had never met before but they got along like a house on fire. There was lots of laughter, much of it due to Nate's Dad's hilarious stories. I cooked the turkey, and I now I know that a fresh turkey takes a considerably longer time to cook than a previously-frozen one. I am thankful for my mother's expertly-honed turkey-cooking skills and advice, thankful for the dinner guests who did not mind waiting an extra two hours for the turkey to be done, and thankful that somehow, the turkey was still moist and delicious (the secret is bacon!).

Ever since I was a little girl I've had a thing for setting the table and folding the napkins all fancy. This design is courtesy of "The Practical Guide to Napkins and Napkin Folding", the title of which always makes me giggle because really, how practical can napkin folding actually be?

There was a huge flurry of activity in the kitchen in the moments before the meal as my Mum mashed potatoes, Nate and I made gravy, his Dad sautéed green beans, my Dad carved turkey, and things got put in serving dishes. It was the best kind of organized chaos and one of the things I love about a family dinner.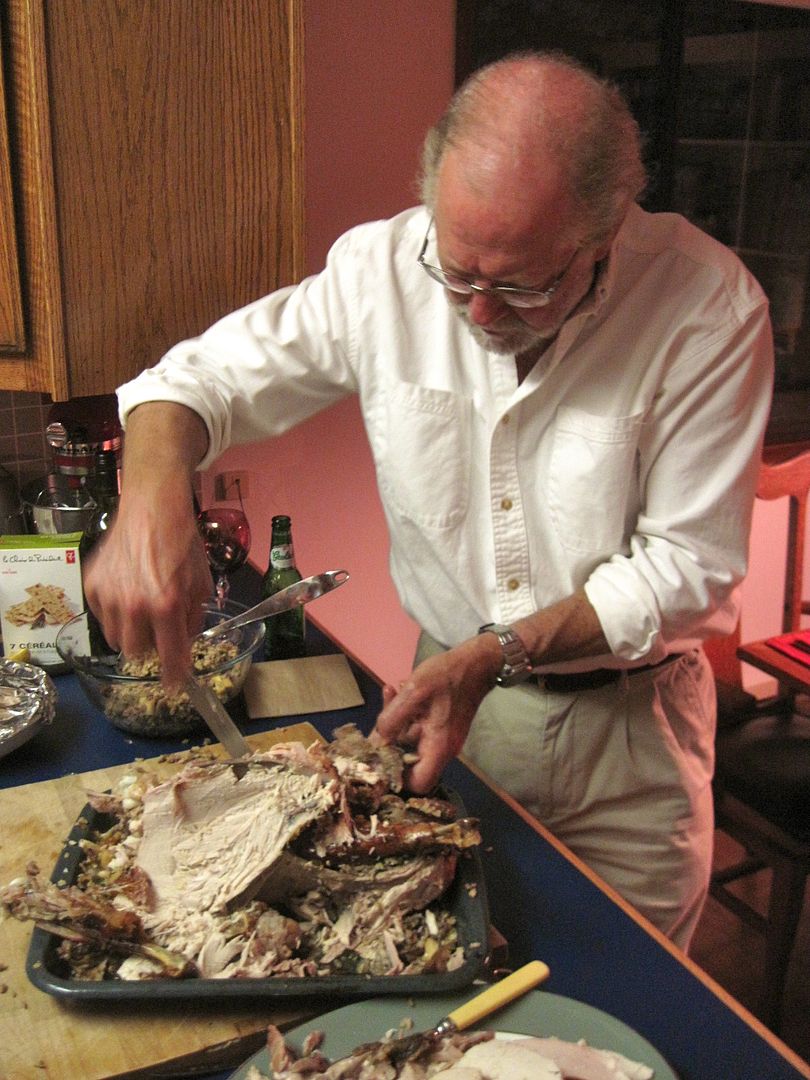 I made maple-coconut-pumpkin pie and an apple-cinnamon-plum galette for dessert, plus I attempted coconut whipped cream that for whatever reason didn't work at all. I'm going to try it again sometime because it sounds like it should be really good!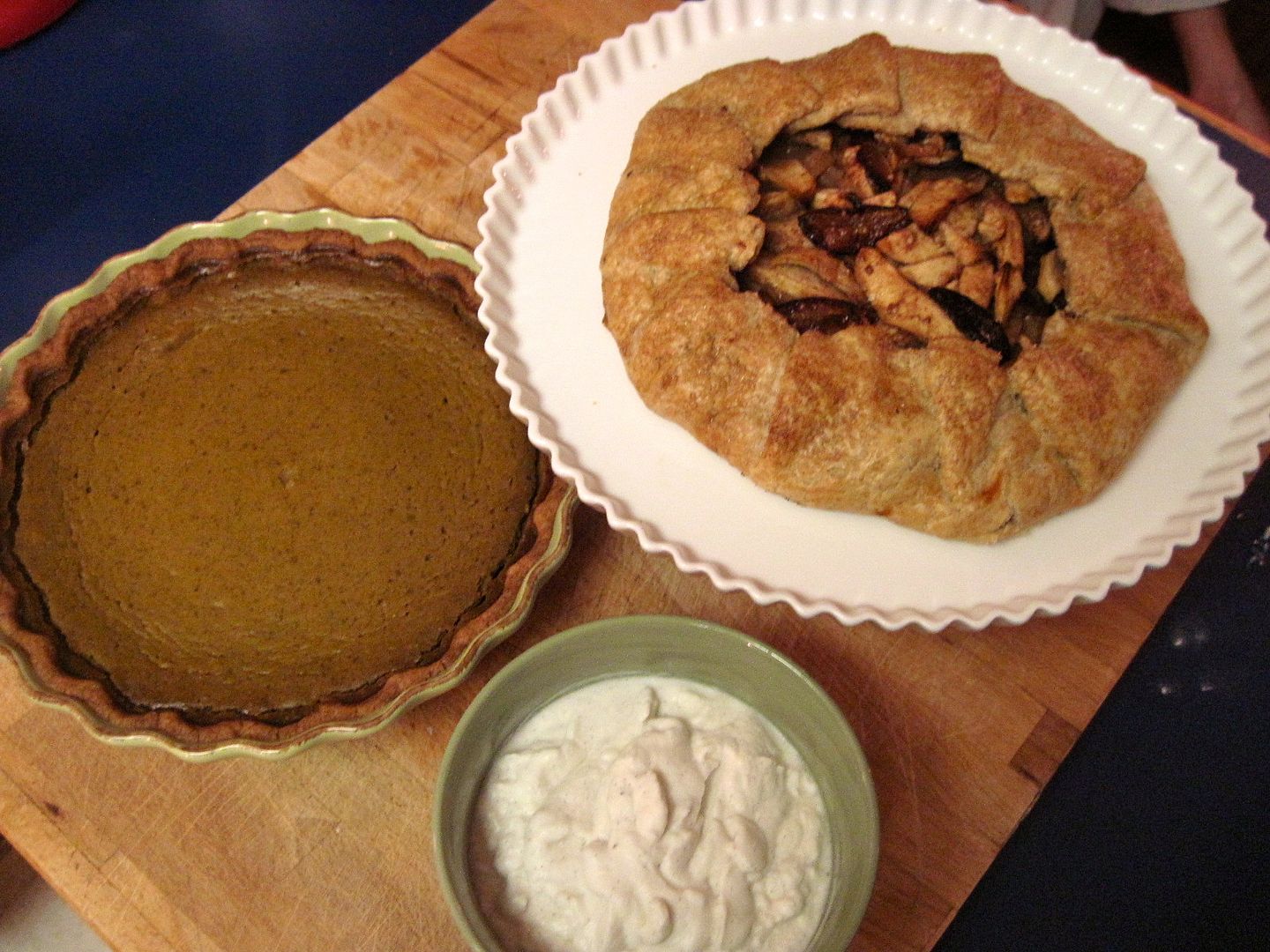 And there were two things that did work, very very well: one old favorite, my Mum's wild rice, sausage and apple stuffing, and one new favorite, honey-and-spice cranberry sauce.
Wendy's Wild Rice, Sausage and Apple Stuffing
When I was about 6 or 7, my Mum developed a sensitivity to wheat. This meant no bread stuffing, so she came up with this wild rice version instead, and frankly, I like it more than any bread stuffing I've ever had. This recipe is basically just a list of ingredients – feel free to vary the amounts according to your taste. A good rule of thumb is to plan for 1/2 a cup of stuffing per pound of turkey. I did not heed this advice and instead ended up making enough stuffing for about twenty people. 😉 Luckily it freezes well!
In a large bowl, combine:
2 – 4 cups of cooked brown and wild rice
1 – 1 1/2 lbs of cooked, crumbled pork sausage meat
a large onion, a few ribs of celery, a handful of mushrooms, and a few minced garlic cloves, diced and sautéed together
1 – 2 chopped apples
a handful of dried fruit (apricots, raisins, cranberries) soaked in booze (sherry, brandy, whiskey…)
a handful of chopped nuts (I used pecans and almonds)
a big handful of chopped parsley and chives or green onions
lots of dried sage
salt and pepper
Stir it all together, then season to taste with more salt and pepper. Stuff that turkey!

Honey-and-Spice Cranberry Sauce
I think this is the best cranberry sauce I've ever had, hands down. I was looking for a recipe that used a whole orange, but then I came across this one and I was sold on all the spices in it. It's goooooood! Adapted from Epicurious.
In a medium saucepan, combine:
1 12-oz bag of fresh cranberries, washed and sorted
1 3/4 cups natural apple juice (I used 3/4 cup of apple sauce and 1 cup water)
1/2 cup honey
1/4 cup granulated sugar
2 cinnamon sticks, broken in half (I only had 1 1/2 sticks)
1 tbsp grated orange peel
6 whole cloves
1 bay leaf
pinch of salt
Bring the whole thing to a boil over medium heat, then simmer until the berries burst (they make a very fun popping sound) and the sauce thickens, 10 – 20 minutes. Let the sauce cool slightly, then fish out the cinnamon sticks, cloves, and bay leaf. Store in the fridge, covered.