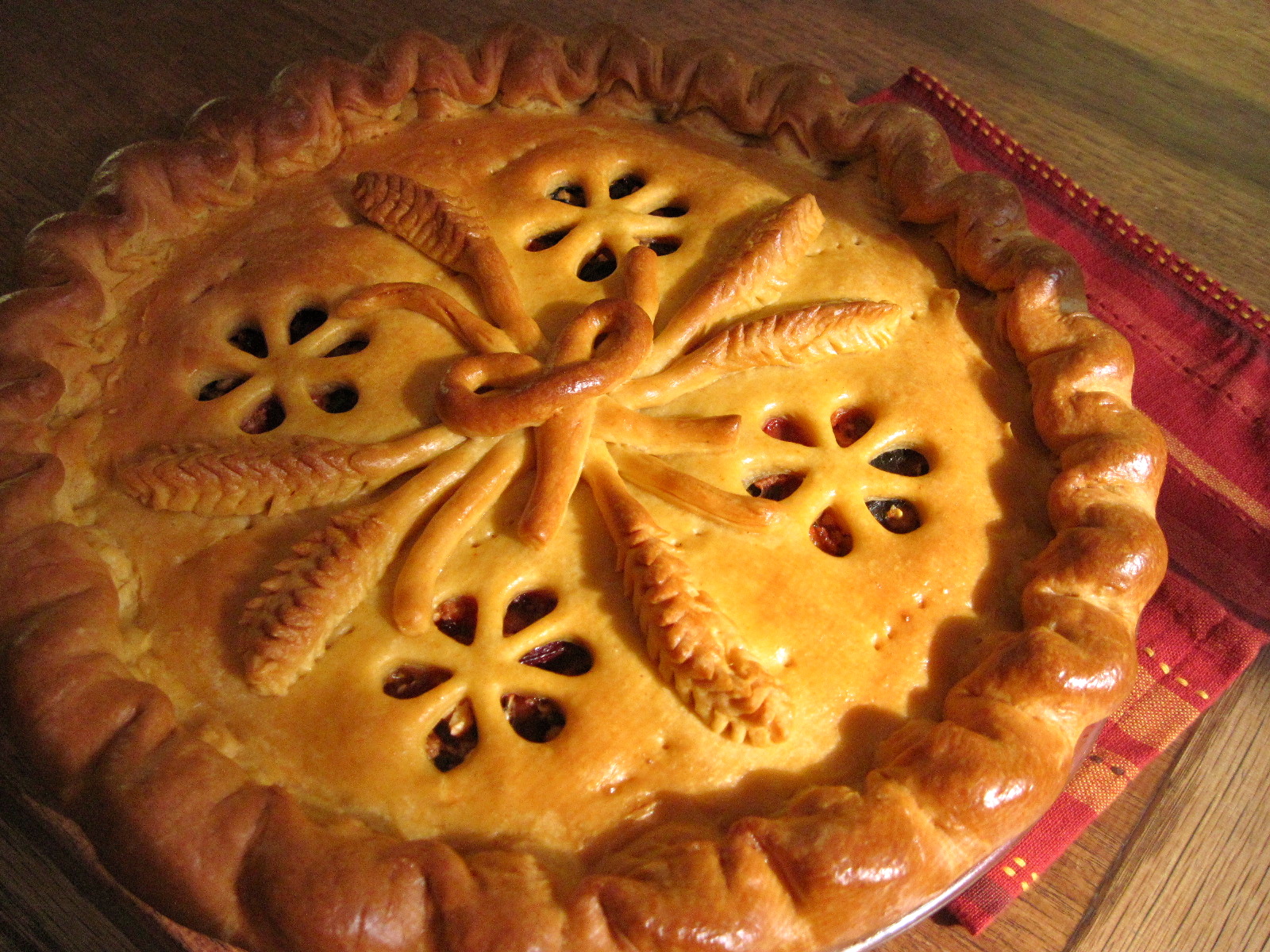 Patri of the blog, Asi Son Los Cosas, was our September 2012 Daring Bakers' hostess and she decided to tempt us with one of her family's favorite recipes for Empanadas! We were given two dough recipes to choose from and encouraged to fill our Empanadas as creatively as we wished!
It took me a little while to get into this challenge, but once I did, it was pretty fun and SUPER tasty. The empanada that we are talking about here is a Spanish dish – essentially a savoury pie (although there were some sweet versions made this month too) made with a yeasted dough. As far as I can tell, an empanada can be filled with almost anything (Patri shared her grandmother's recipe for a traditional salted cod filling), so I took some liberties with this one.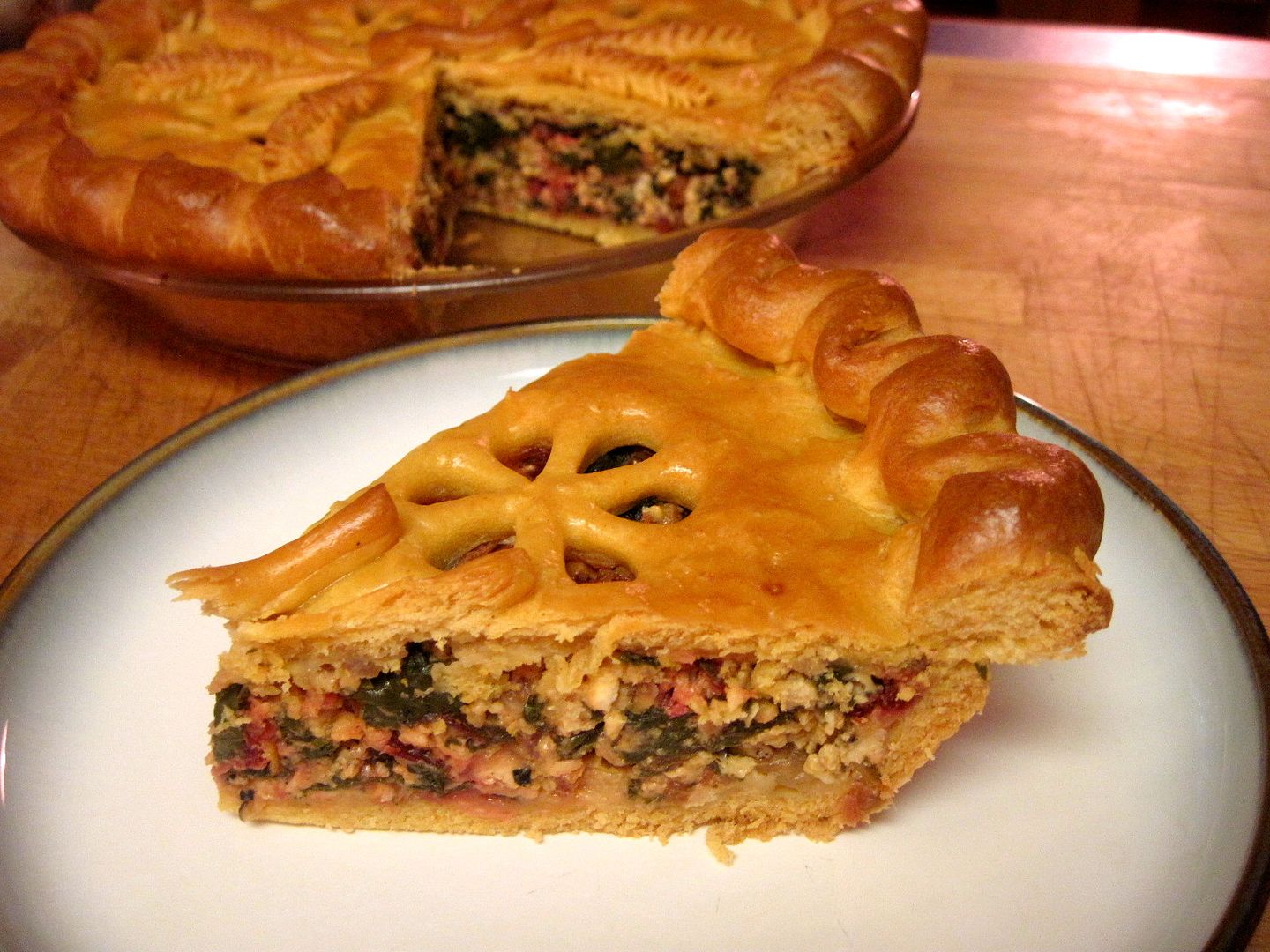 I went with a sort of spanikopita-inspired filling of chard and beet greens, ground turkey, and lots of feta. I didn't have a square baking pan, which was what Patri recommended for baking it in, so I used a pie plate, and to decorate it, I took inspiration from Ukranian bread. So I think what I made was less of an empanada and more of a multi-cultural pie. 😉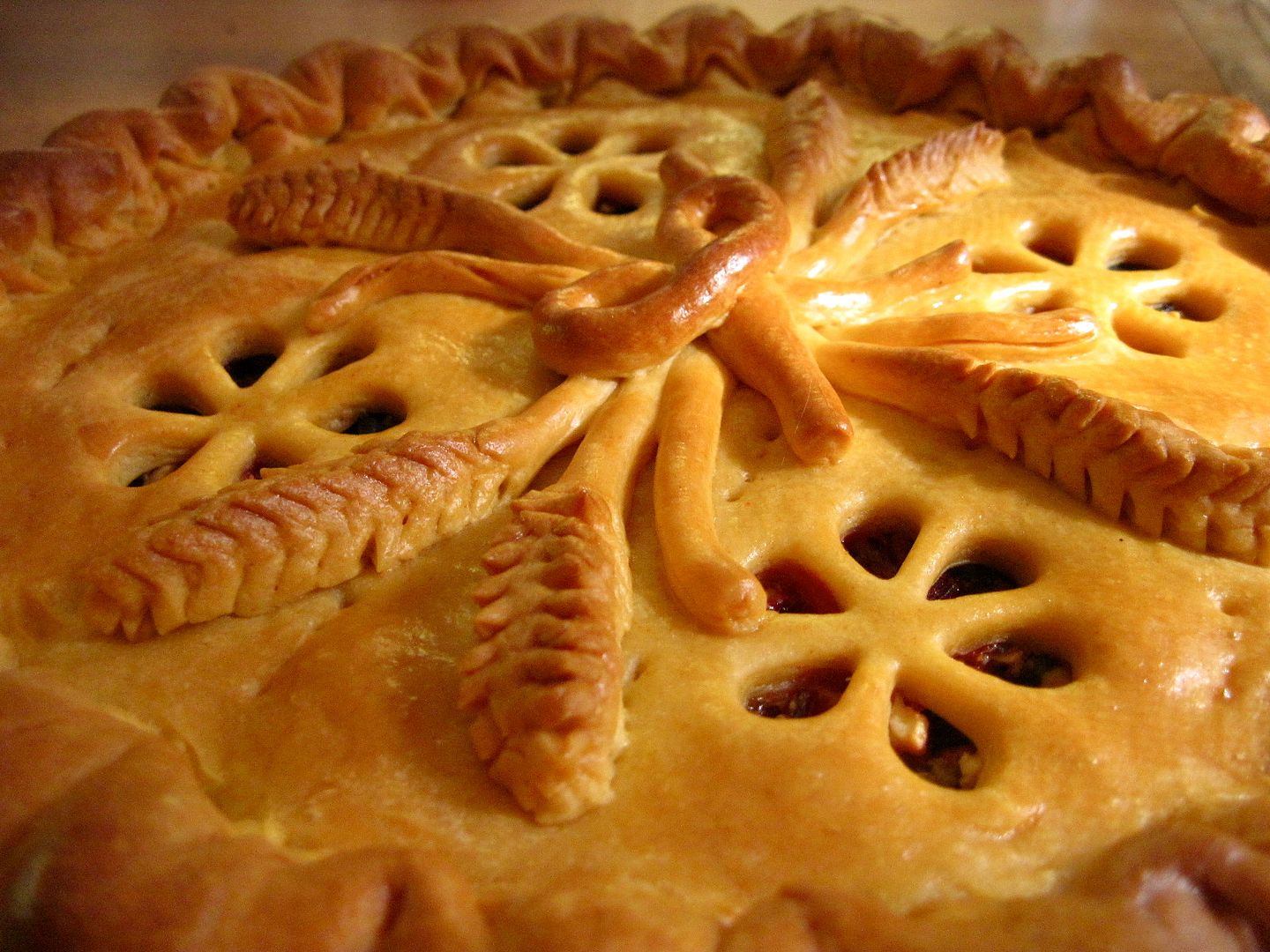 Whatever you want to call it, it was REALLY good. The filling was savoury and delicious, and the crust was awesome – light and fluffy inside, crisp at the edges, and because it was essentially bread, it didn't crumble all over the place like a regular pie crust would. I made this for dinner on a Sunday and then took the leftovers to work with me for the next few days, and found myself looking forward to lunchtime because I was so excited to eat this.
Thanks Patri for a fun challenge! I will be making this again with many variations, I'm sure. 🙂 Be sure to check out all the terribly delicious-sounding empanadas made by the rest of the Daring Bakers this month.
Turkey, Greens and Feta Empanada (aka Multi-Cultural Pie)
Feel free to fill the empanada with whatever filling you want – just make sure it is cool before assembling the empanada, otherwise the bottom will be soggy. Serves about 8.
Turkey, Greens and Feta Filling
Remove the leaves from the stems of 2 big bunches of greens (I used Swiss chard and beet greens). Chop the leaves and stems separately, and set aside.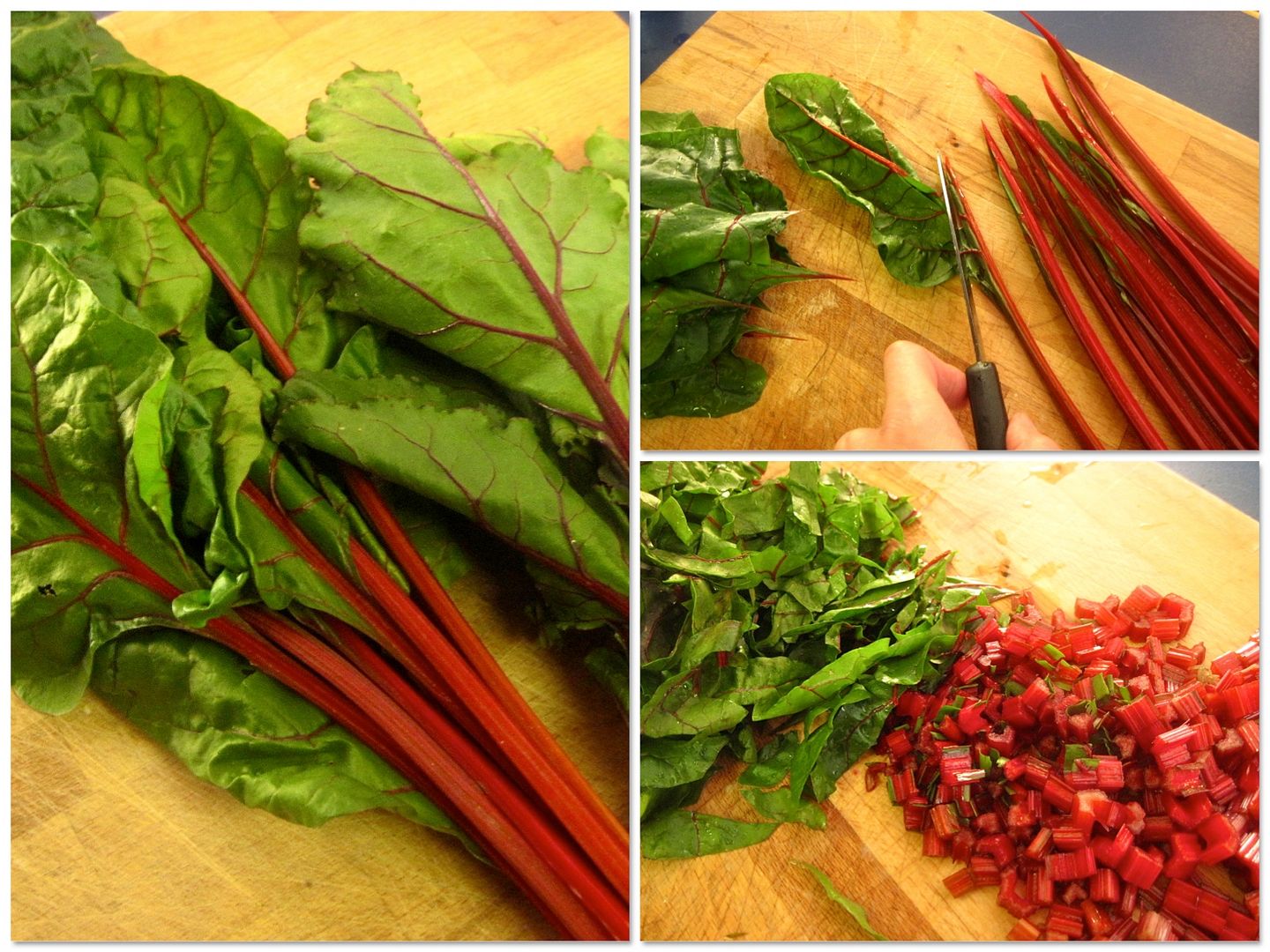 Heat 1 – 2 tbsp olive oil in a large frying pan over medium heat and sauté 1 lb ground turkey until no longer pink. Season with salt and pepper and remove to a medium bowl.
In the same frying pan, heat another 1 – 2 tbsp olive oil. Sauté until translucent:
1 medium onion, chopped
1 few cloves of garlic, minced
Add the chopped stems from the greens and cook until they soften. Season liberally with salt, pepper, and smoked paprika. Add the chopped leaves and cook until wilted.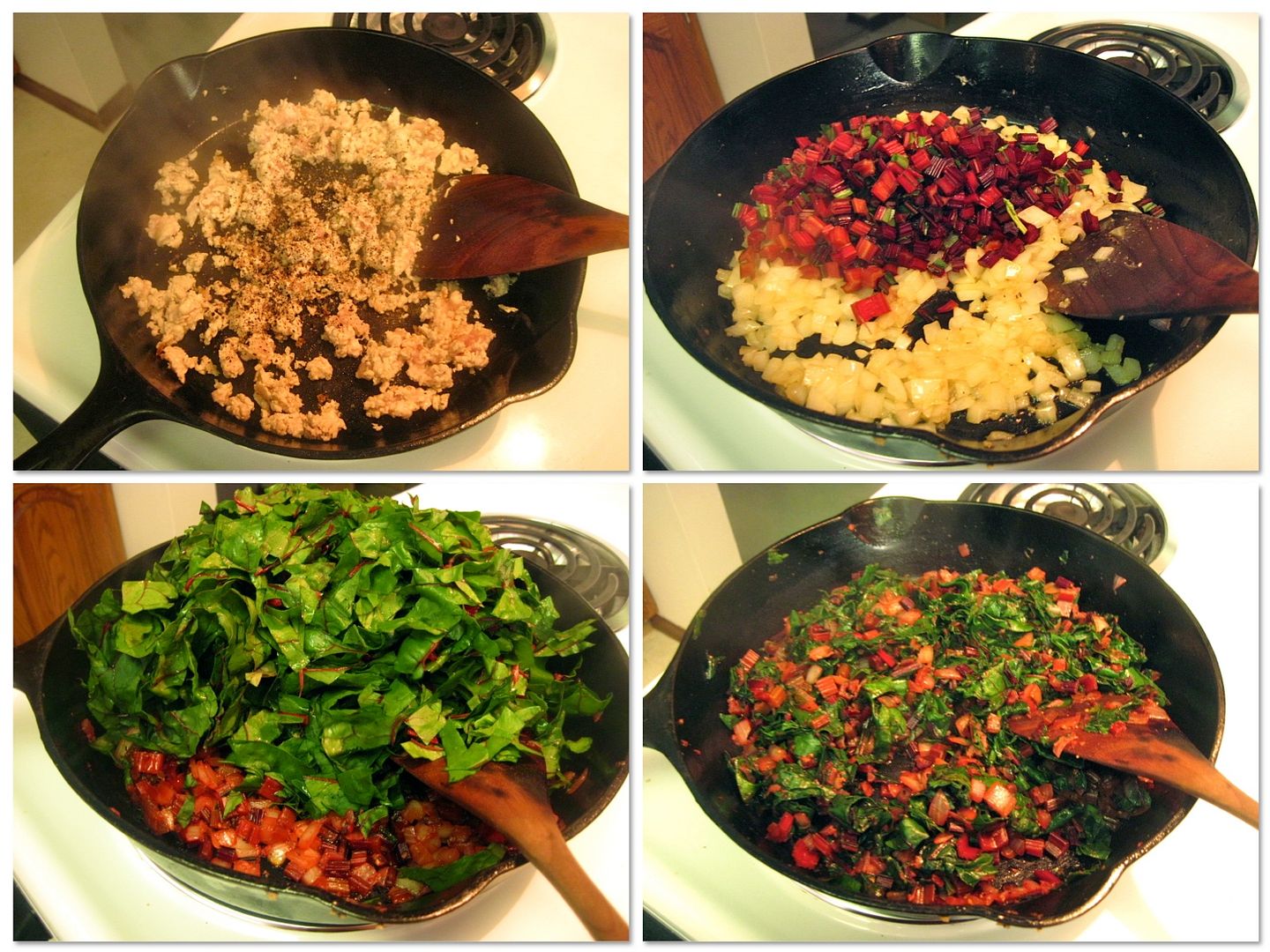 Remove to the same bowl as the turkey, mix it all together, and set it aside to cool while you make the dough (the filling must be cool to assemble the empanada).
Just before filling the empanada, stir in:
2 handfuls of panko breadcrumbs
300 grams grated feta cheese
1 beaten egg

Empanada Dough
Recipe adapted from La Empanada Gallega. The paprika in the dough makes it look quite yellow when it's raw.
In a medium bowl, mix together:
3 1/2 cups all purpose or bread flour
1 tbsp instant yeast
1 tsp salt
1 tsp paprika
In a measuring cup, combine:
1/2 cup less 1 tbsp vegetable oil
1 cup warm water
Pour the water-oil mixture into the flour mixture and stir until you get a rough dough. Turn the dough out onto a floured surface and knead for about 8 minutes. It should be quite smooth, almost silky-feeling, and not very sticky at all.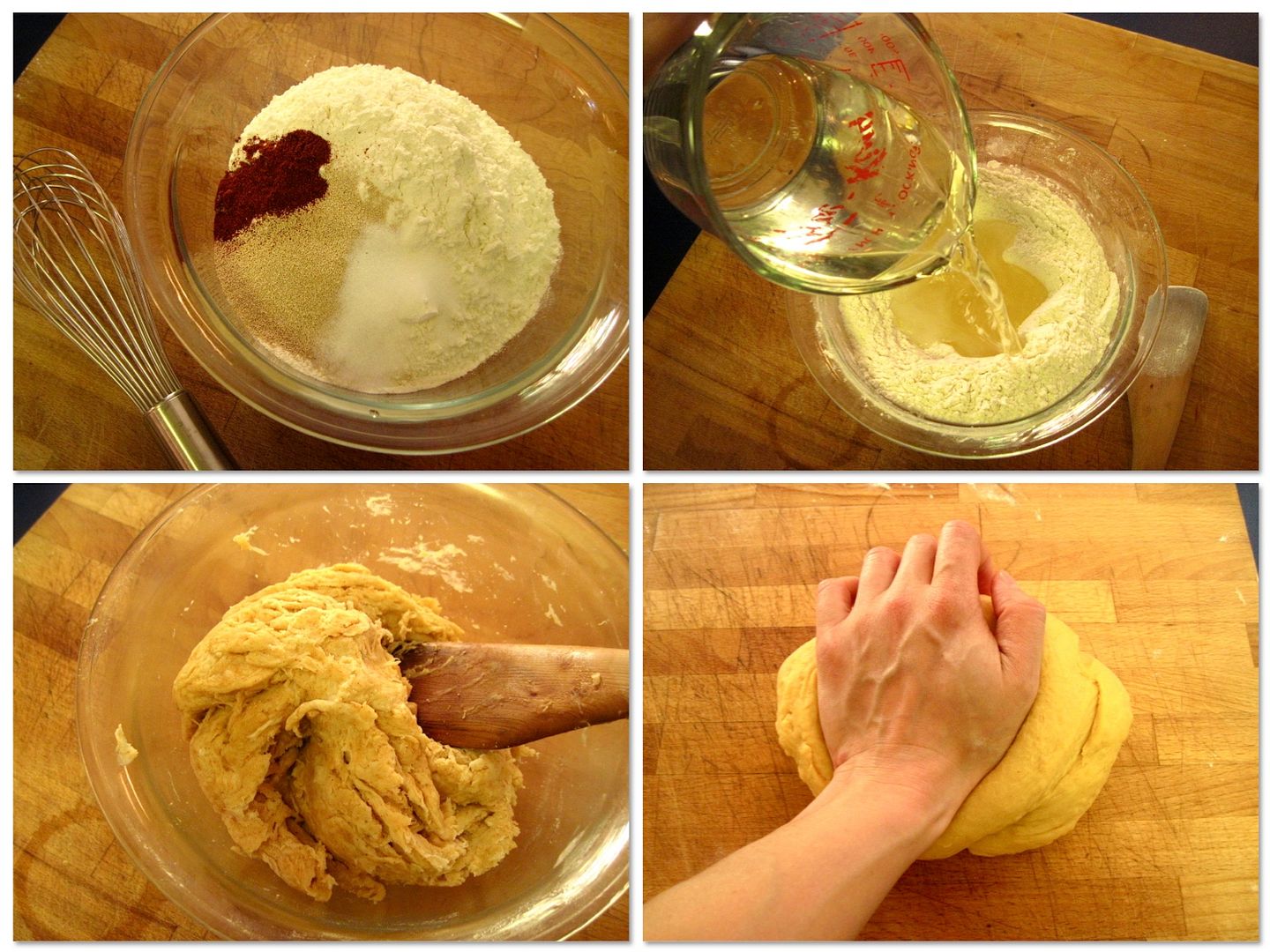 Place the dough back in the mixing bowl, cover it with a tea towel, and let it rise somewhere warm for 30 – 45 minutes.
When the dough has risen, preheat the oven to 350˚F. Divide the dough in half and roll out one half on a lightly floured surface to fit the bottom of a 10″ pie plate (the dough should be about 2 or 3 millimeters thick). Line the pie plate with the dough and fill it evenly with the cooled filling.

Roll out the second half of the dough large enough to cover the filling with a few inches overhang (again, 2 – 3 millimeters thick). With a teardrop-shaped aspic cutter, cut out 4 flower shapes in the middle of the dough. Place the dough over top of the filling, centering the flowers in the middle of the pie, and press the edges to seal. Using kitchen shears or scissors, trim the edges, leaving about 1/2″ of overhang (save the scraps of dough for decorating).

Fold the edge over onto itself and crimp it to create a rope-like rolled edge (see this video – it was impossible to take a picture of because it required both hands!). Prick the dough all over with a fork.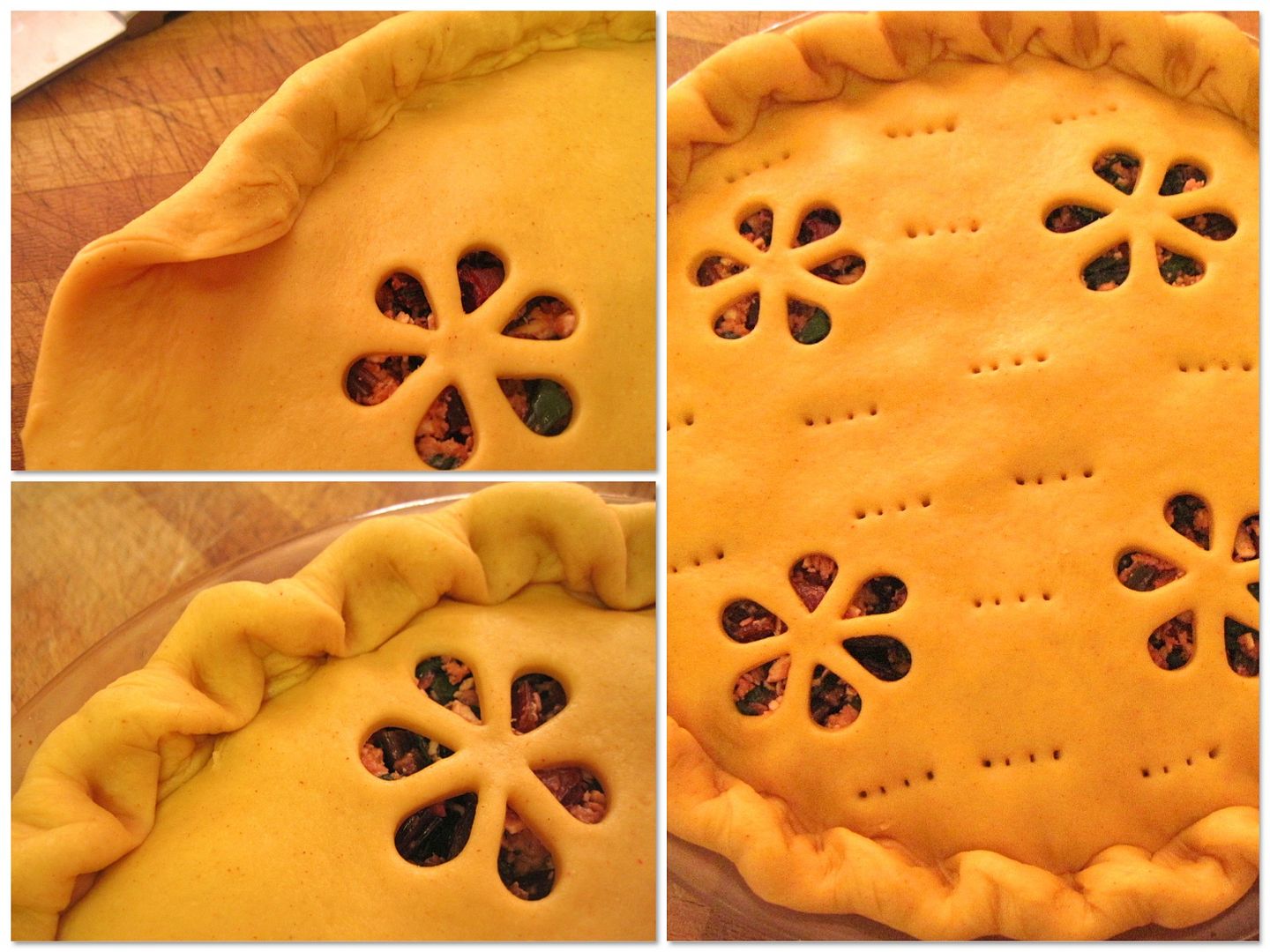 Use the dough scraps to decorate the top of the pie. To make stalks of wheat, roll a bit of dough into a rope that is skinny at one end and thicker at the other. Use scissors or kitchen shears to make tiny little angled cuts along the top edge of the thick part. Roll it onto one side and make more cuts, then roll it back onto its other side and make more little cuts.
Make an egg wash by whisking together:
1 egg
1 tbsp water
Use a pastry brush to paint the top of the empanada (decorations too) with the egg wash, then bake it in the preheated 350˚F oven for 45 – 60 minutes, until deeply golden on top and cooked on the bottom. Serve hot or cold (makes great leftovers!).

This post has been YeastSpotted!