Since making macarons for the first time last Christmas, I have been saving egg whites in the freezer to make them again. I promised myself before we moved (twice in 6 weeks actually, ugh!) that I would only bring those frozen egg whites to the new house if I made macarons ASAP. So I did.
I've had Neapolitan macarons – chocolate and vanilla shells with strawberry buttercream – in mind for a while, so it was just figuring out how to make it work with a single batch of macaron batter. This sounds as simple as just dividing the mixed batter in half and adding cocoa powder and vanilla bean seeds to each half, but this would run the risk of overmixing the batter, which would ruin the macarons (they are finicky). Instead, I came up with the method below, which would sound convoluted to explain here but actually does make sense while you're doing it, I promise. It worked out pretty well, considering that chocolate macarons are kind of notoriously difficult because the added cocoa powder changes the texture of the batter and can wreak havoc on the finished macarons. A few of my chocolate shells ended up cracked, and they were all a bit lumpy-looking, so in the future if I want to make chocolate macarons, I would do it a little differently. But for my purposes here, this way worked fine!
The most frustrating part of this macaron adventure was the lighting for taking pictures. Oh man. Our new house is surrounded by large trees, which means lots of privacy but also lots of shade. Unfortunately there's not much of the lovely indirect natural light that is so nice for photography, and quite frankly the overhead lighting situation in the kitchen at the moment is atrocious. I ended up taking pictures on the floor (supervised by the cat, of course) in a room that actually does get some nice light, but it was the wrong time of day or SOMETHING, because I was really struggling. Oh well, challenges make life fun, right?!
Anyway. Lighting issues aside, these macarons turned out quite well and I can't wait to make more!
Neapolitan Macarons
Macaron formula and technique from Tartelette, Macaron Queen of the Internet. If you are a macaron newbie, make sure you read her macaron tutorial for all kinds of important information on technique. Note that the best egg whites for making macarons are not from freshly-laid eggs, but rather have aged in the fridge for 1 – 5 days. This means they have lost some of their water and will make a more stable meringue, which makes better macarons.
Chocolate and Vanilla Bean Macaron Shells
In a medium bowl, whisk together until well combined:
110 grams ground almonds
200 grams icing sugar, SIFTED (otherwise you will end up with lumps and a big problem)
(Alternately, you can combine the ground almonds and unsifted icing sugar in a food processor and whizz it around to combine it and dispense with any lumps.)
Place half the mixture by weight (155 grams) in another small bowl. To one bowl, add:
the contents of half a scraped vanilla bean
To the other, add:
1 heaping tbsp of SIFTED cocoa powder
Mix each well with a whisk and set aside.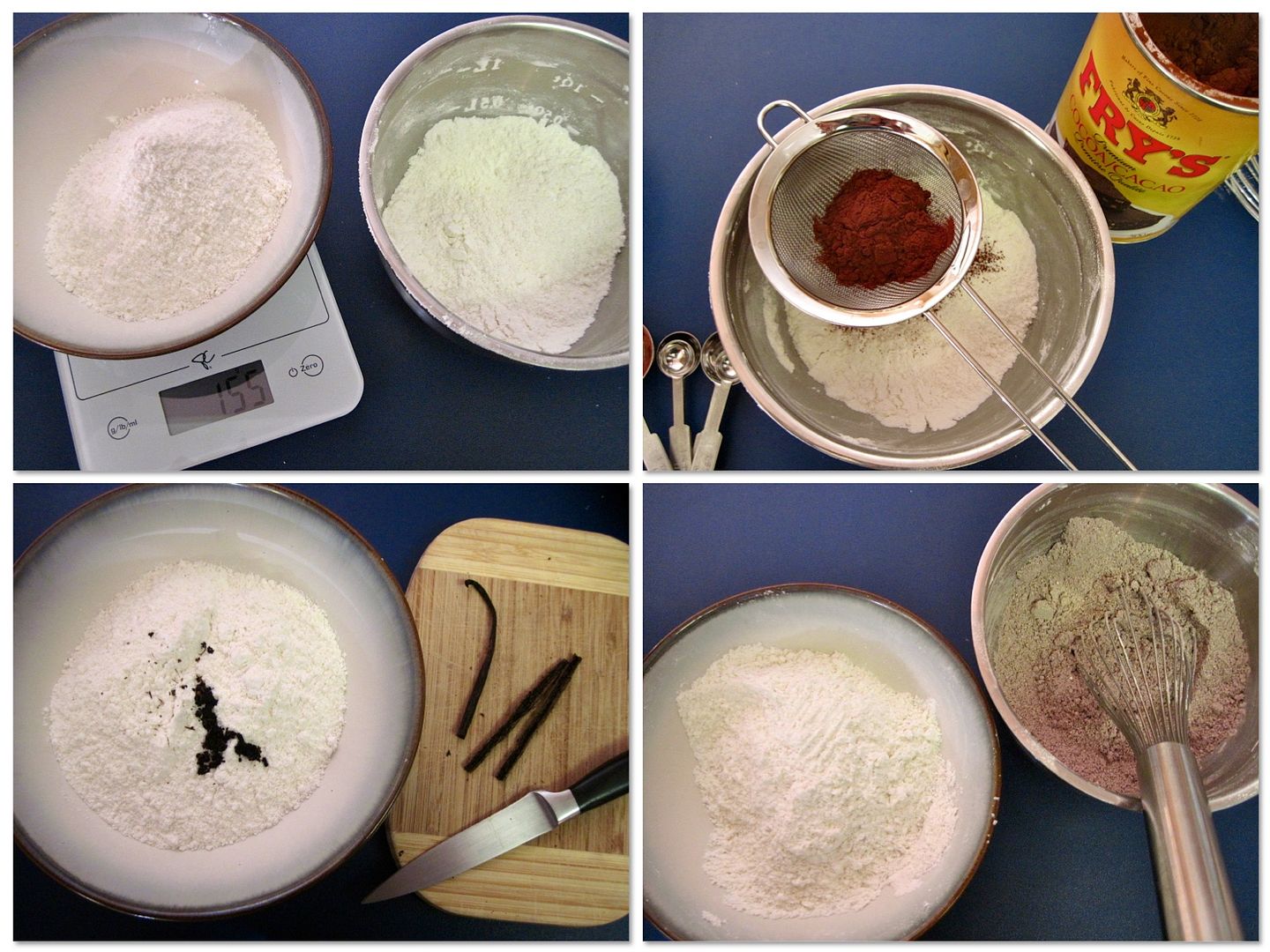 In the bowl of a stand mixer, place:
90 grams egg whites, aged (from about 3 eggs)
With the whisk attachment, whip the egg whites to a foam and then gradually add in:
25 grams granulated white sugar
Whip on high speed until you get a thick, glossy meringue (think shaving cream). Don't over-beat. Place half the meringue by weight (57 grams) in another medium bowl.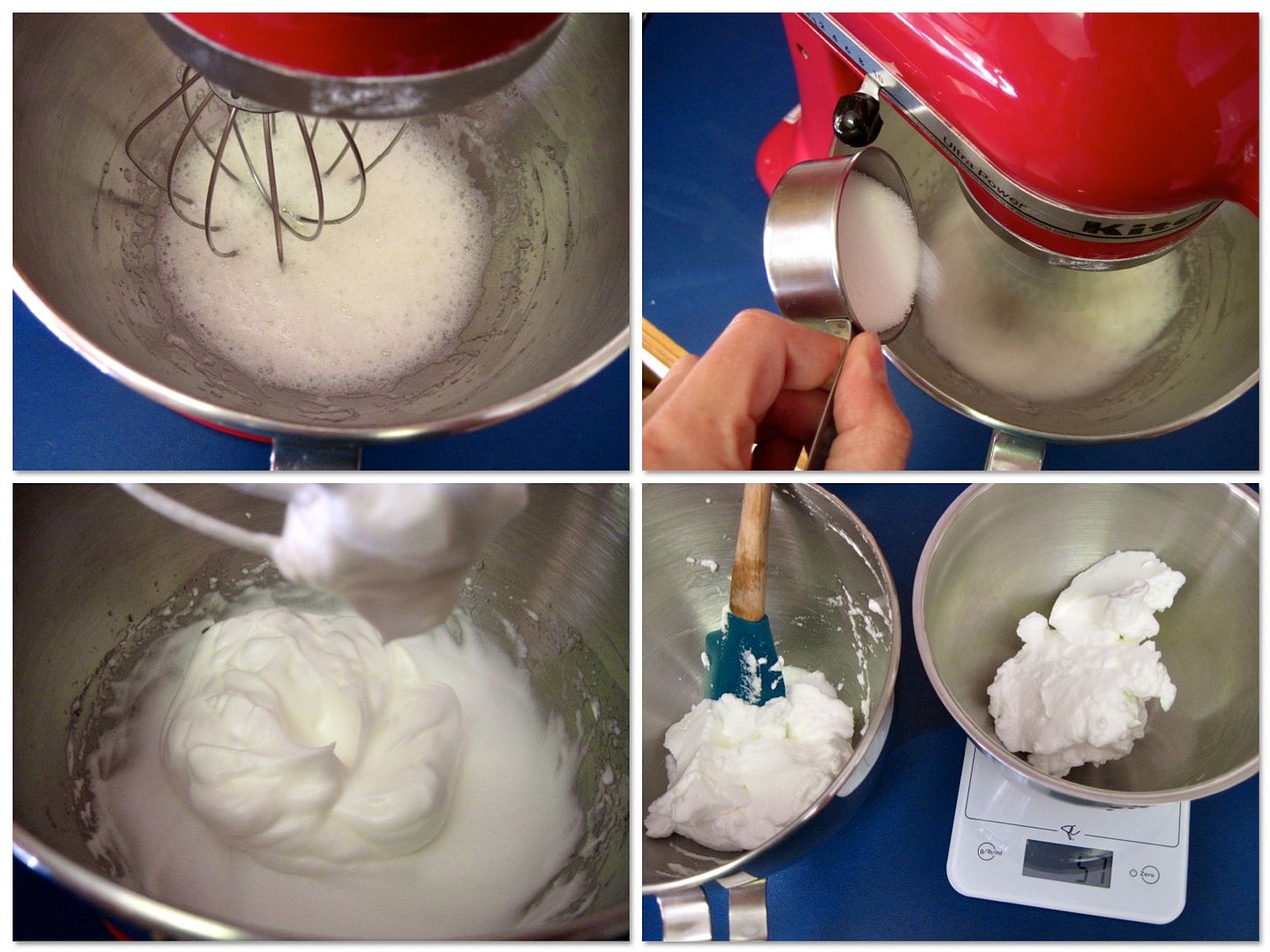 To one bowl of meringue, add the cocoa powder/almond mixture. Fold it together with a spatula, vigorously at first to break up the meringue, then slow down to judge the consistency. The more you fold, the runnier the batter will be. You want to stop when the batter starts to flatten out on itself, which should take no more than about 50 strokes. Repeat with the vanilla bean/almond mixture and the remaining meringue.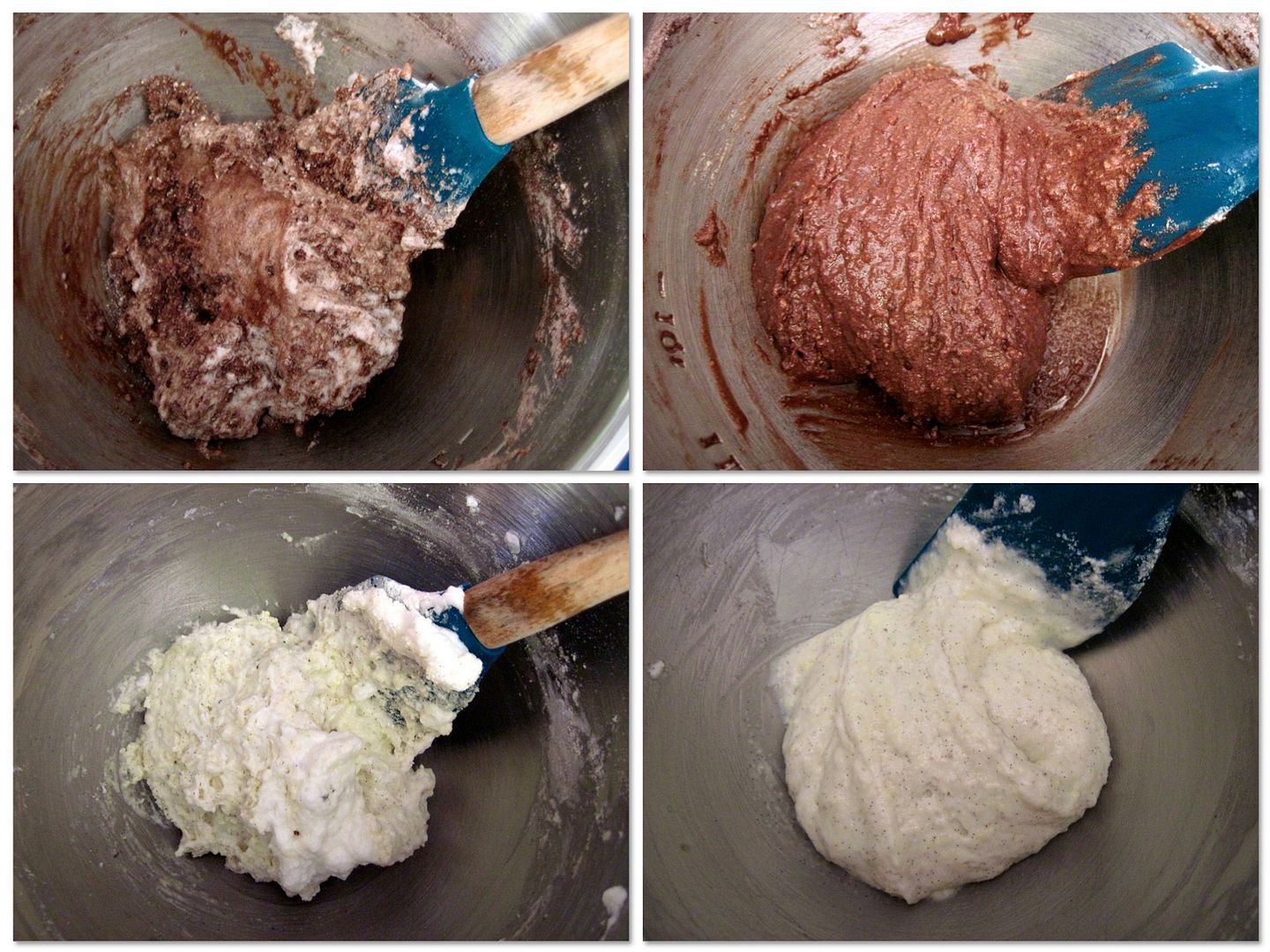 Spoon each batter into a piping bag fitted with a large, plain, round tip (I just used the coupler) and pipe rounds onto parchment paper-lined baking sheets. Mine were about 1 1/2 inches in diameter, but I would make them smaller next time. Once piped, rap the baking sheets on the counter to dislodge any large air bubbles, and let the macarons dry for 30 – 60 minutes.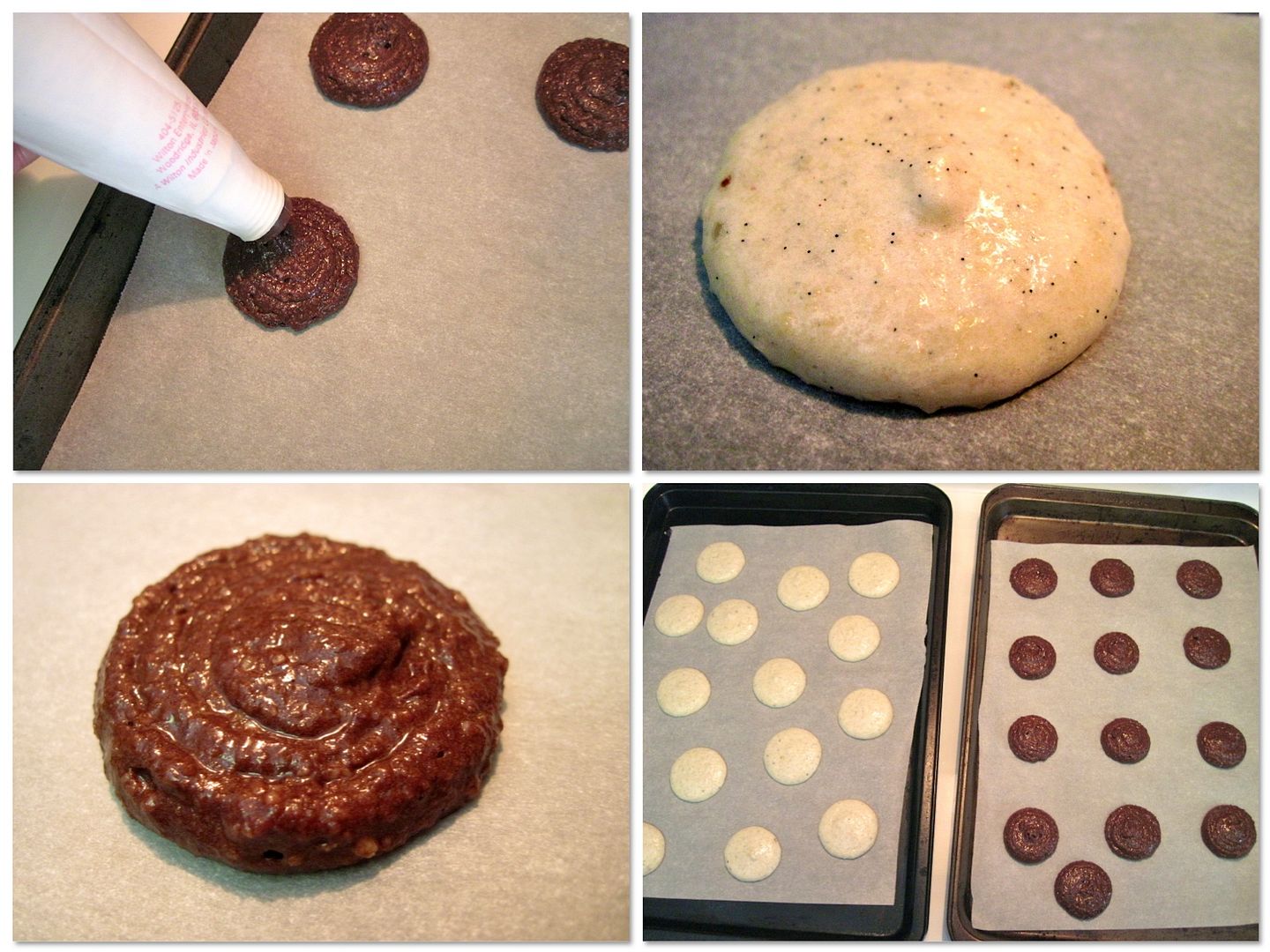 Preheat the oven to 280˚F and bake the macarons for 15 – 20 minutes, until dry and firm on top. I did this one baking sheet at a time because I don't trust my oven yet. Hopefully you will achieve lacy little feet underneath each macaron. The chocolate macarons might take a minute or two longer – they should come out of the oven looking slightly lighter in colour than when they went in. Let the macarons cool on the baking sheets for 5 – 10 minutes, then remove to a rack to cool completely.
Strawberry Buttercream
In the bowl of a stand mixer, combine:
60 grams egg whites (from about 2 eggs)
100 grams granulated white sugar (1/2 cup)
Place the bowl over a pan of simmering water to make a bain marie. With the whisk attachment, stir the mixture by hand constantly until the egg whites are hot to the touch and the sugar is completely dissolved. You are not trying to incorporate air here, you are just keeping the egg whites moving so they don't become scrambled eggs.
Place the bowl back on the mixer with the whisk attachment and beat egg whites on high speed until you get a thick glossy meringue with stiff peaks. The egg whites should be completely cool by now – if they are not, stir on low speed until they are totally cool to the touch.
Meanwhile, cut into cubes and bring to room temperature:
3/4 cup unsalted butter
Ideally, the butter should be of a spreadable consistency but not at all melty.
At this point, I usually switch to the paddle attachment, but I stuck with the whisk just to see what would happen. It worked fine.
With the mixer at low speed, stir in the butter, one cube at a time. The meringue will collapse and start to look weird and curdled – don't give up and don't stop stirring! Keep adding the butter and it will come together in a fluffy buttercream. If you butter is too cold it will take longer, and if it is too melty you may need to chill the whole thing for a few minutes before it comes together properly.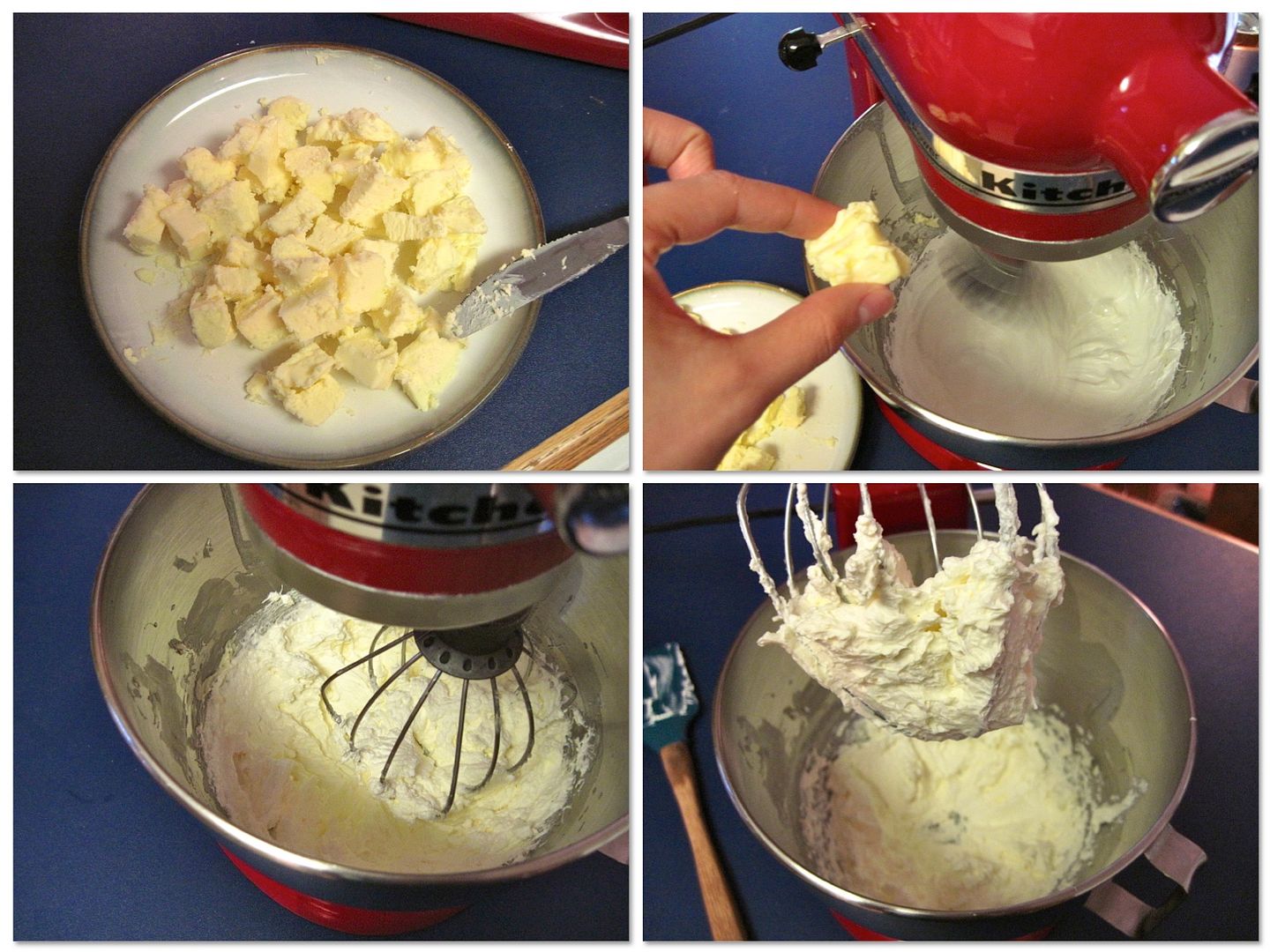 To the buttercream, add:
2 tbsp strawberry jam
3 – 4 drops red food colouring, if you want it to be really pink (optional)
Mix to combine.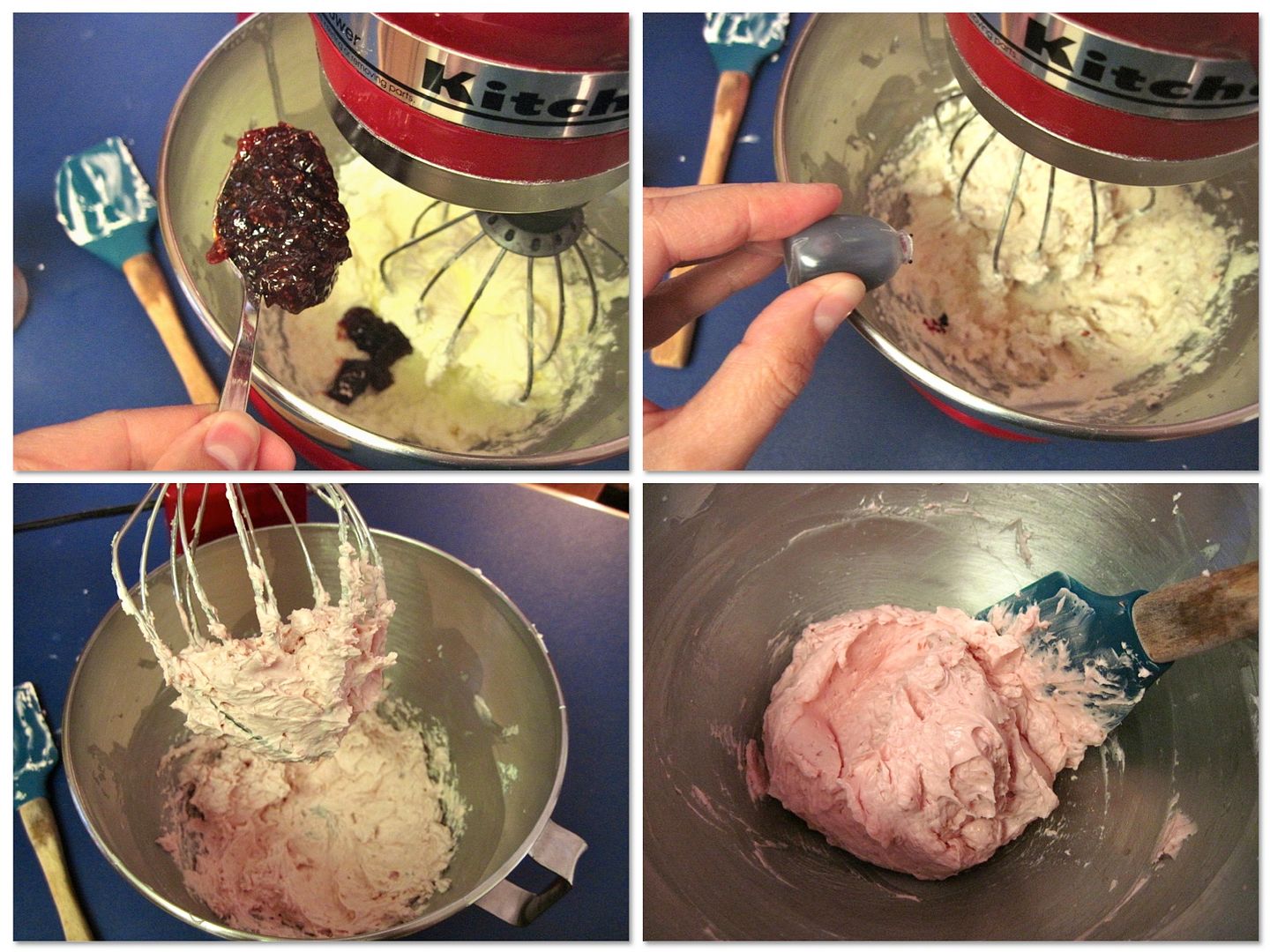 Assembly
Place the buttercream in a piping bag with a large, plain, round tip (again, I used the coupler). Pair up the chocolate and vanilla macaron shells, then pipe the strawberry buttercream (about 1 heaping tbsp) onto the bottom of one shell. Top with the other shell and press gently. Store in an airtight container in a cool place.