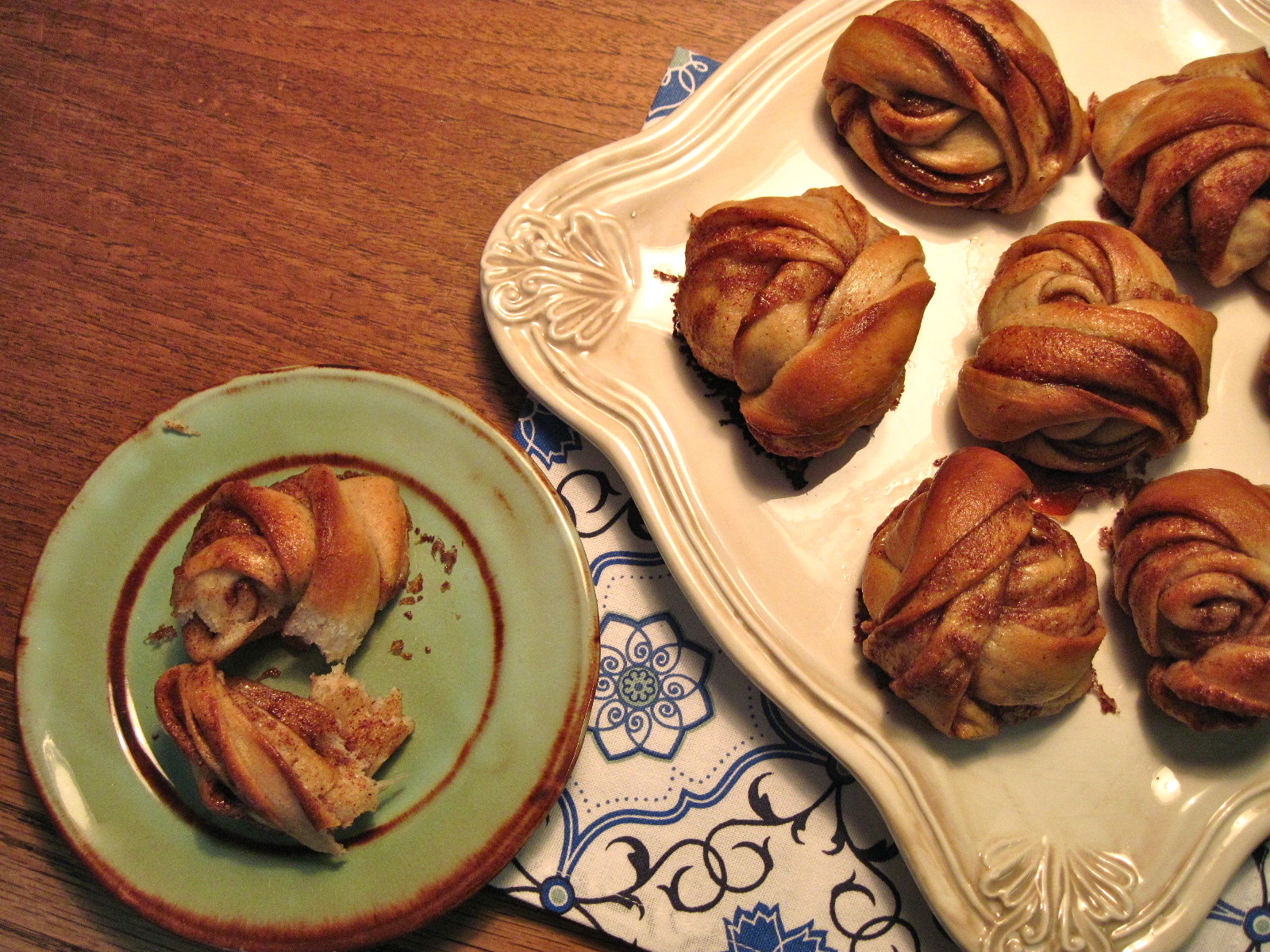 Big announcement time: Nate and I bought a house!!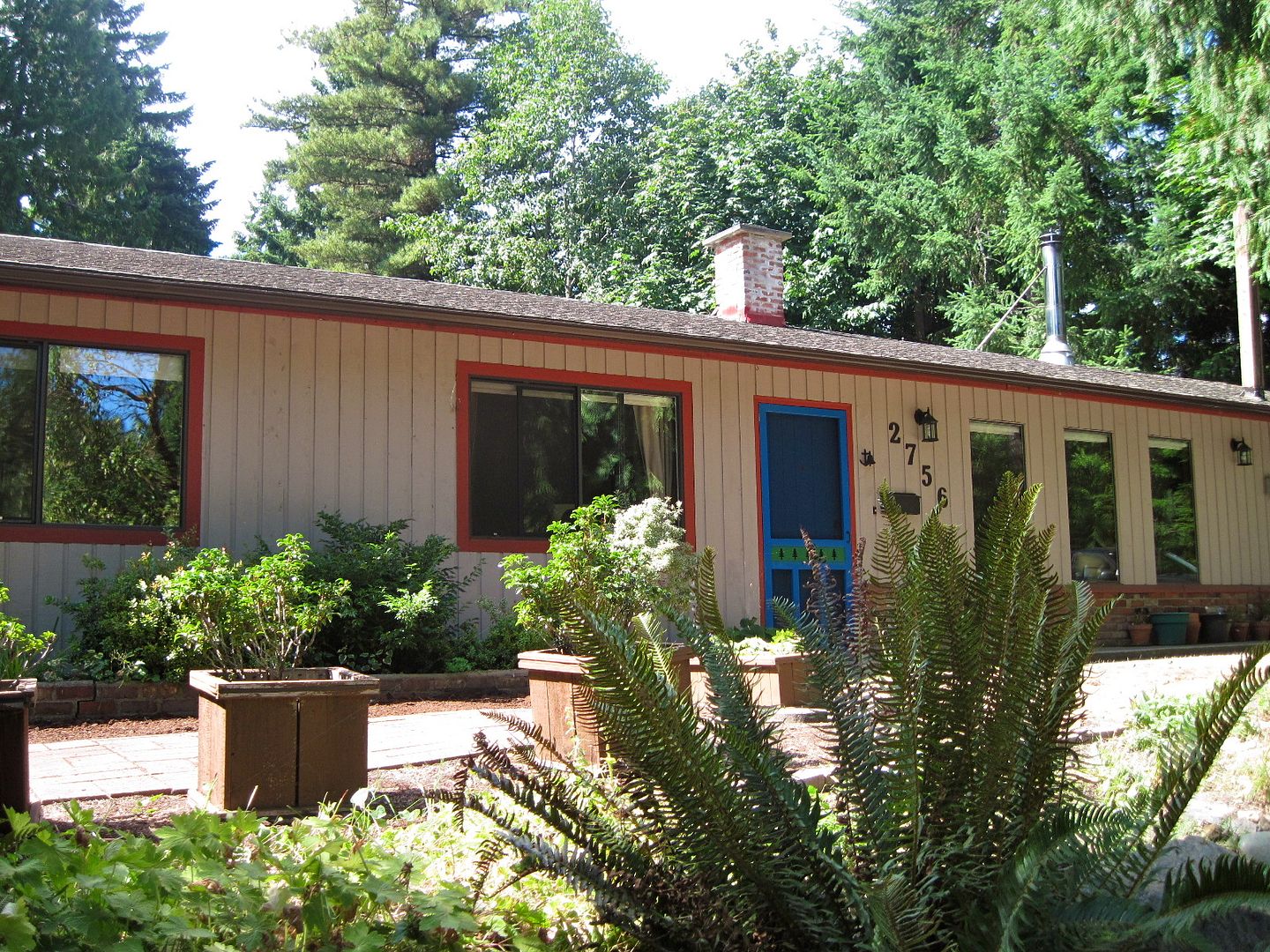 We moved in the middle of August and have settled in pretty quickly – we love it here. We are in Shawnigan Lake, about 40 minutes from Victoria where we both still work, but we traded up for lots of privacy and green space. 🙂 Plus the Cowichan Valley has a seriously thriving local food scene, which I am very much looking forward to exploring!
And most importantly, I have a new kitchen!! It's definitely the largest kitchen I've ever been able to call my own, and while it does have some quirks (an old oven that runs hot and dark blue counter tops that are so hard to keep clean!) I love cooking and baking in it. Look at all that counter space!
One other quirk is that lighting is a bit of an issue, so please excuse these poorly lit photos. I'm still trying to figure out where the best light is in here! (Unfortunately it doesn't seem to be over the best work space…)
The very first thing I baked in my new kitchen was scones, and I've made a few loaves of our every day bread as well, but for my first real project, I knew exactly what I wanted to make: kanelbullar, or Swedish cinnamon buns. I've had these bookmarked for a while and it worked out perfectly because Shelley, fellow Daring Baker and Sourdough Surpriser, is hosting Bread Baking Day #53 for August, the theme of which is swirly bread. If these aren't swirly bread, then I don't know what is!
Kanelbullar are a little bit denser and less sweet than your average cinnamon bun (definitely more subdued than, say, these caramel pecan buns), but they are every bit as delicious. They have a distinct twisty, knotted shape and the dough is scented with cardamon, and when they bake, the cinnamon-sugar filling oozes out and caramelizes on the bottom, giving them a delicious toffee flavour. They remind me very much of the famous cinnamon twists made by a bakery in my hometown, which factor heavily in my childhood memories and are adored by pretty much every kid.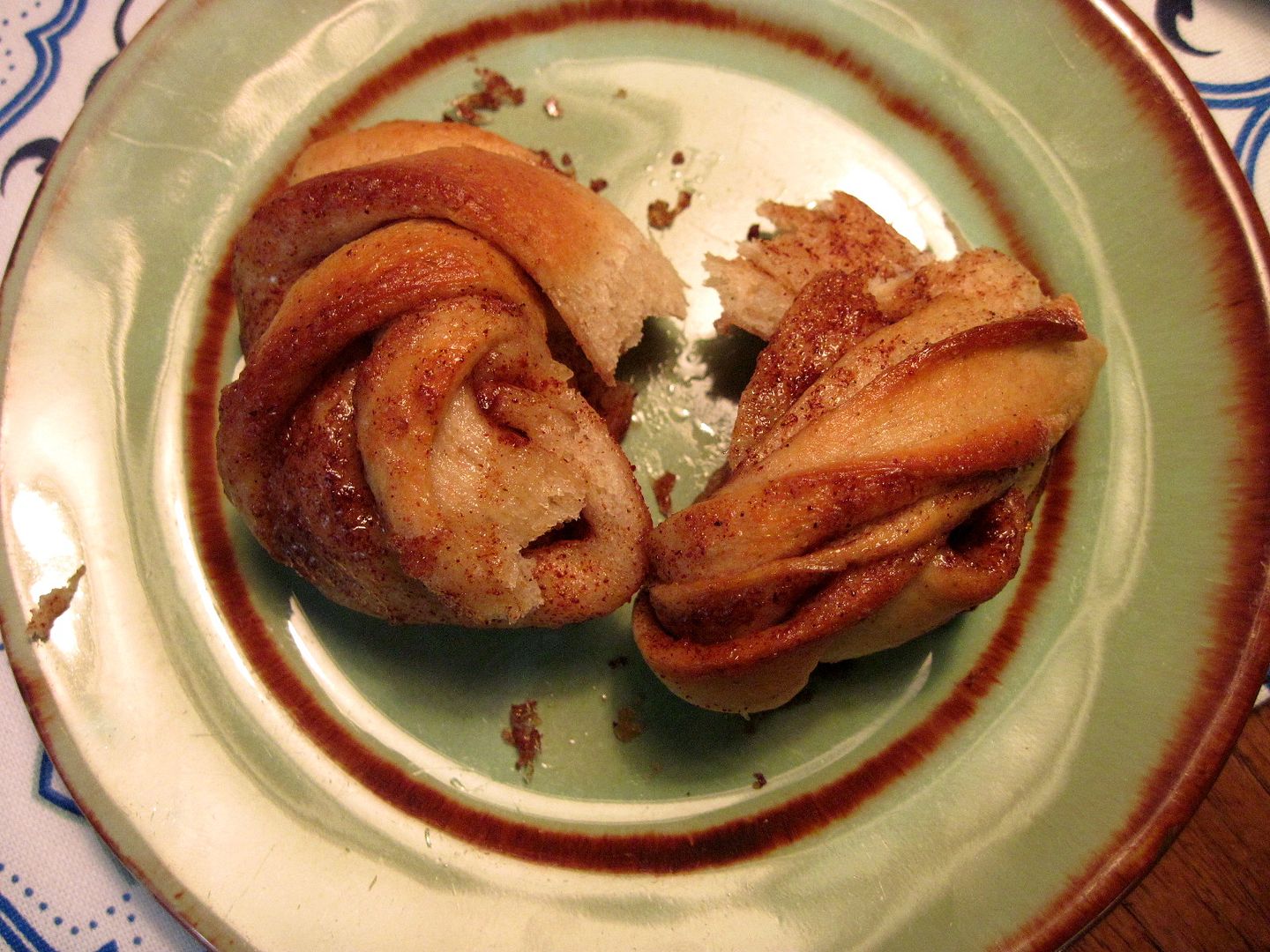 I think my favorite part of making these – other than eating them – was watching this video. I love pretty much everything about it, especially the frantic French (I think) music and the way buddy handles the dough. Seriously, that is some artistry right there. And it's a helpful visual for making the twists.
So begins a new chapter on Korena in the Kitchen! 😀 Now go make these. 😉
Kanelbullar
Adapted from Smultron Soul. I used butter in the dough instead of canola oil (because whenever there's an opportunity, I choose butter) and I folded and shaped the buns according to the video above. I used pre-ground cardamom and didn't get a lot of flavour from it, so I definitely recommend grinding your own if you can. Makes 8 small buns.
Dough
In a small vessel, combine and heat until warm:
1/2 cup milk
2 1/2 tbsp water
(I used the microwave, but a saucepan on the stove is also fine). Stir in:
1 1/2 tsp active dry yeast
2 1/2 tbsp granulated white sugar
Let sit until foamy, about 5 minutes. (I used instant yeast so technically this proofing step was unnecessary, but it doesn't hurt.)
Meanwhile, in a medium bowl, stir together:
1 1/4 cup all purpose flour
1/2 cup whole spelt flour (or more all purpose flour)
1/2 tsp salt
1/2 tsp ground cardamom (freshly ground if possible)
Add the foamy yeast mixture to the flour mixture, along with:
2 1/2 tsp unsalted butter, melted
Stir it all together to form a sticky dough.
Turn the dough out onto a lightly floured surface and knead for about 10 minutes, until the dough is elastic and smooth (it should spring back when you poke it gently with your finger). Place the dough back in the bowl and cover it with plastic wrap. Place it in a warm place (a cold oven with just the oven light on is a good spot) and let it rise for about 1 1/2 – 2 hours, until doubled in size.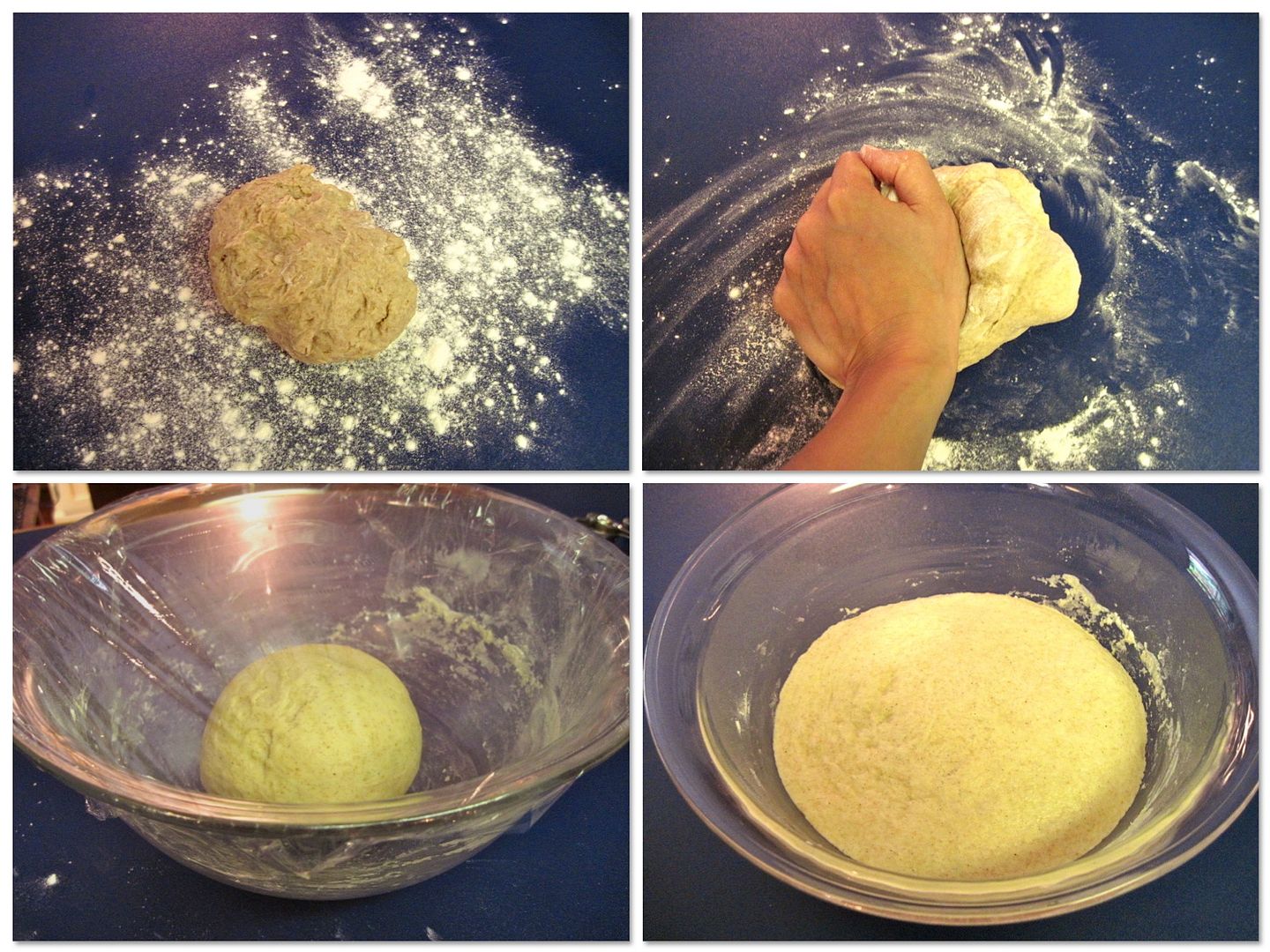 (Alternately, you can stir the dough together, and instead of kneading it, just cover it and refrigerate it for 8 – 10 hours or overnight. Bring it to room temperature and then continue with the filling, shaping, and baking as directed. This would be a great way to have fresh kanelbullar with your morning coffee.)
Filling
In a small bowl, mix together:
4 tbsp unsalted butter (can also use salted)
1/2 cup granulated white sugar
1 1/2 tsp ground cinnamon
pinch salt (omit if using salted butter)
It will be hard to mix together at first, but keep going until you have a sugary, buttery paste.
To Assemble
Turn the risen dough out onto a floured surface and shape it into a rough rectangle. Using your fingertips and a rolling pin, shape it into a rectangle about 8″ by 12″. Spread the filling over two-thirds of the dough right to the edges, leaving the top third bare. Fold the top third down over the filling, then fold the bottom third up, like a letter. Cut the dough into 8 strips about an inch wide.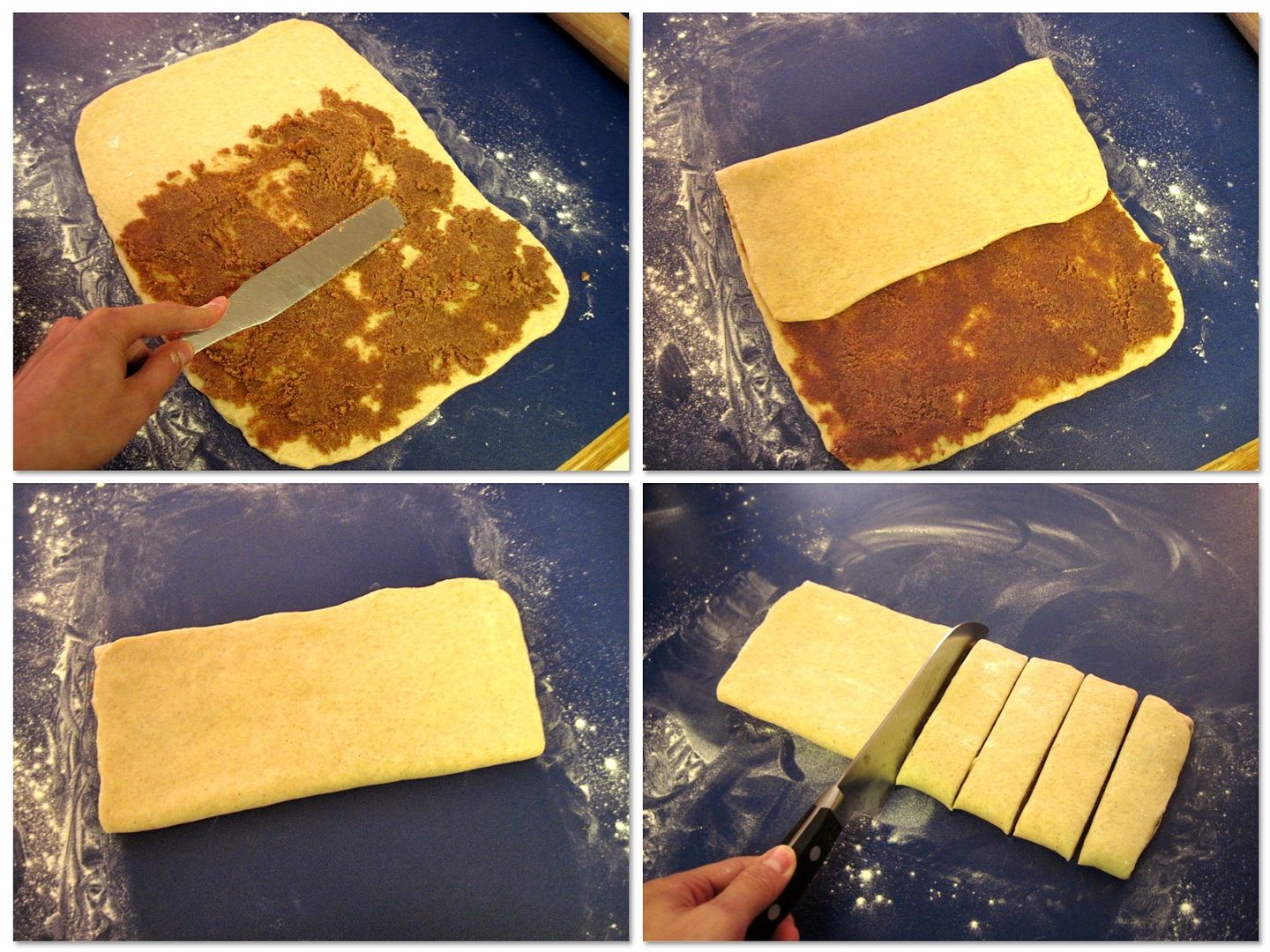 To shape the twists, stretch a strip of dough to almost double its length, then hold one end between the tips of your index and middle fingers. With your other hand, wrap the strip twice around your finger tips, twisting it as you go. Use your thumb to secure the strip to one side of twist, then bring the end up over the top and tuck it underneath (now is a really good time to watch that video if you haven't already).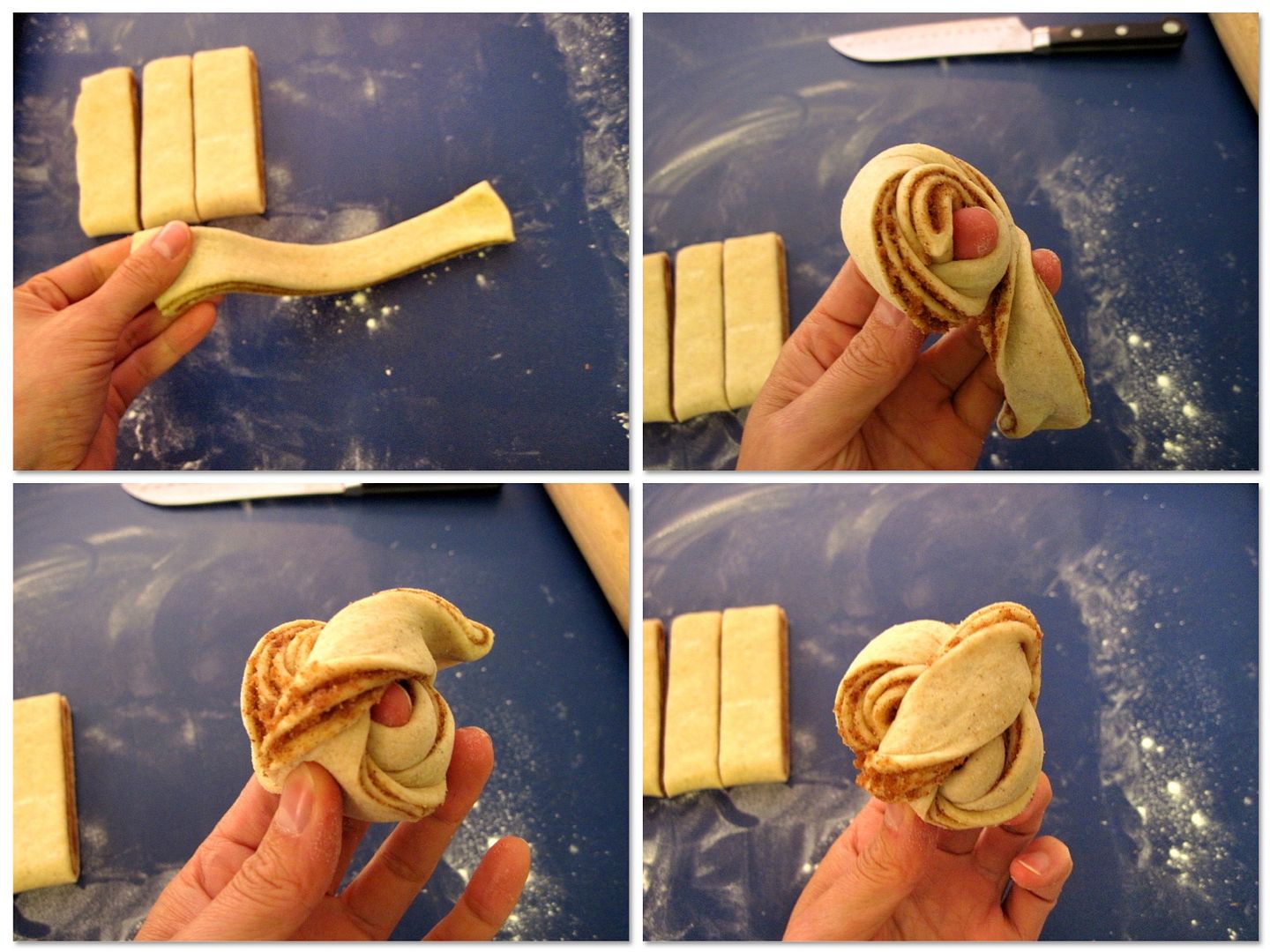 Place the finished twist on a parchment or silicon map-lined baking sheet. Repeat with the other strips of dough, leaving about 2 inches between the twists on the baking sheet. Cover loosely with plastic wrap or a tea towel and let proof for 30 – 40 minutes (mine didn't see to grow or change much at all during this time). Bake in a preheated 400˚F oven for 10 – 12 minutes, until golden brown and oozing caramelized cinnamon-sugar.
Let them cool for a few minutes (that melted sugar is hot!), then remove them to a serving plate before the sugar hardens. These are awesome warm from the oven, but just as good a day later if kept in an airtight container.
This post has been YeastSpotted!