This is the first post in a series of three – click to read Part II and Part III.
In my last post, I was extolling the virtues of making something simple from scratch. Now I am going to extol the virtues of making something rather complicated from scratch: Danish pastries using sourdough starter. Yes, we are doing this!
At the end of April, I wrote a list of stuff I wanted to make for this blog over the summer, and Danish pastries was on it. I had my first taste of making laminated dough when the Daring Bakers made croissants a while back, and I wanted to try it again. But I was kind of putting it off because it's a lot of butter and a lot of work: all that rolling and folding and rolling and folding and resting and waiting. Then, during the Daring Bakers reveal last month, I came across Sourdough Surprises, which is another baking group that a few Daring Bakers members have created to bake together once a month using their sourdough starters. And their recipe for May was sourdough Danishes! Well, it seemed like fate. I was in.
The recipe is from txfarmer on The Fresh Loaf. txfarmer is a laminated dough expert and has turned out some of the most gorgeous croissants and Danishes I've ever seen (and check out these laminated sandwich loaves: are they not exquisite?!). For this recipe, sourdough starter is used to make a levain (a sourdough preferment, for those of you with bread baking lingo) that is mixed into an enriched dough, which then encases a square of butter and gets rolled and folded three times before being shaped into Danishes. Apparently this dough is a little drier and richer and has more roll-in butter than croissant dough, which makes it flakier and crispier and perfect for Danishes. This is the first time I've used my sourdough starter for anything other than no-knead bread and pancakes, but I beefed it up with proper feedings for a few days beforehand and it performed very well :).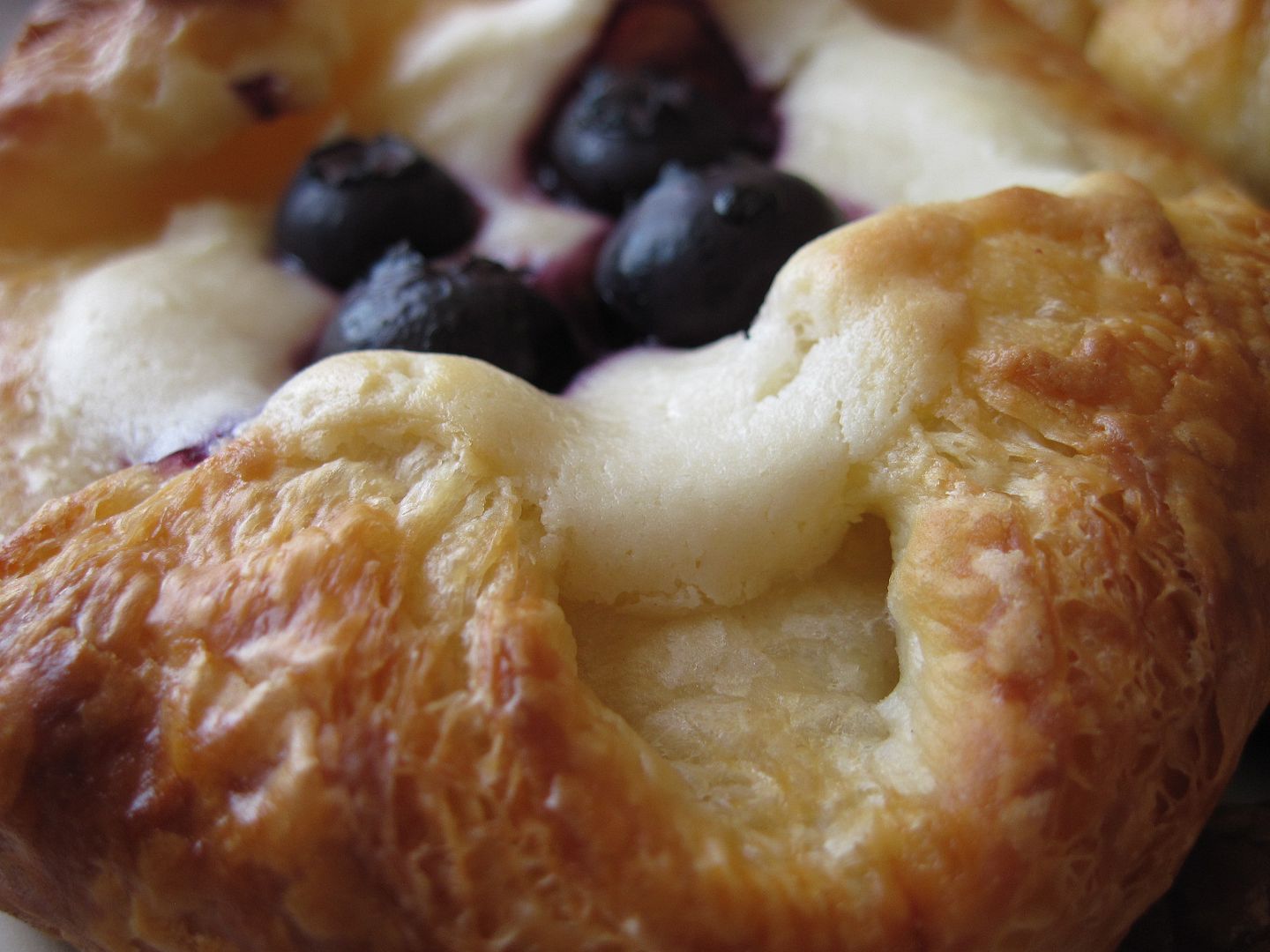 I am incredibly proud of how these turned out! I think they look awesome, and they taste amazing – crispy, flaky, and very rich and flavourful, which I'm going to say comes from the sourdough. I filled them with a cream cheese filling and fruit or jam, and they are probably the best Danishes I've ever had. (Granted, the only Danishes I usually come across are of the stale, mass-produced, breakfast meeting variety. These are definitely better than those ones!) I had trouble not eating them all in one sitting!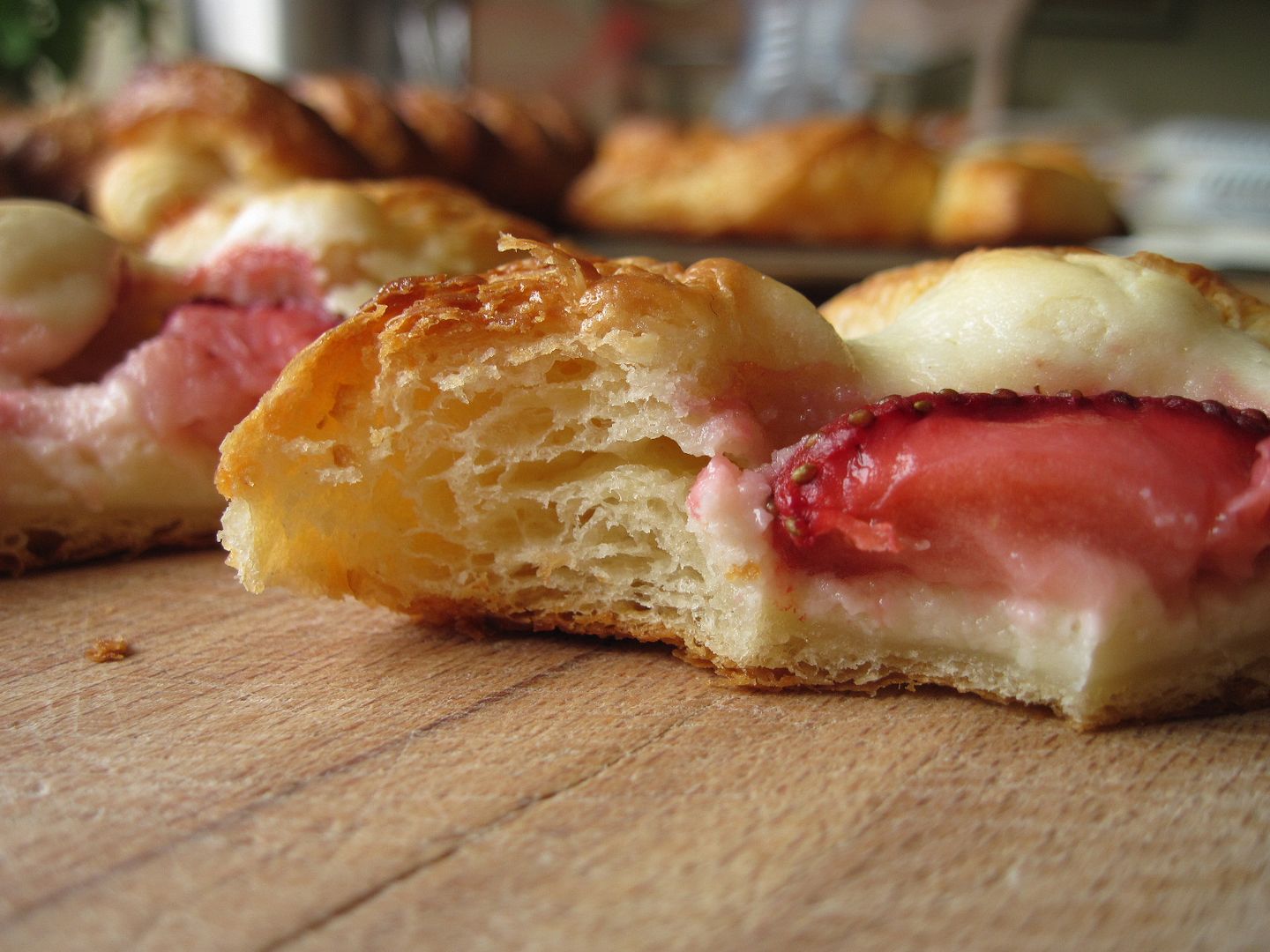 Making the laminated Danish dough is a lengthy process and I have a billion photos and comments to make about it all, so I'm going to cover that in this post, and then cover shaping the Danishes and the cream cheese filling recipe in another post in a few days (here it is!). So here we go!
My blog won't let me include the code for the link-up widget, so please check out the Sourdough Surprises blog to see the other Danish pastries that were made this month :).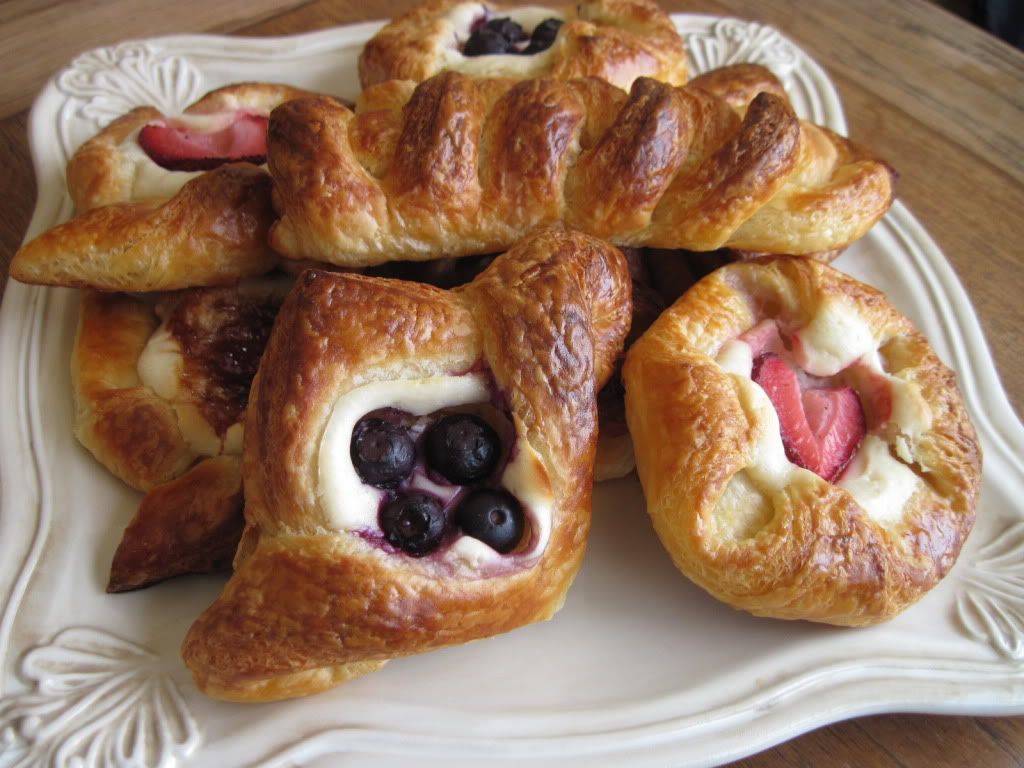 Sourdough Danish Pastry Dough
From txfarmer on The Fresh Loaf: recipe here, method here. This recipe is in grams, so if you want to try it out yourself and you don't already have a kitchen scale, now would be the perfect time to go shopping. I finally bit the bullet and bought a proper digital kitchen scale a little while ago and it's been really useful. Makes 16 Danishes.
Levain
The night before making the dough, combine:
44 g sourdough starter (100% hydration, ie: equal parts water and flour)
75 g water
134 g bread flour
Mix it all together and knead with your hands until it comes together into a dryish ball. Cover with plastic and leave at room temperature for 12 hours or overnight, after which time it should have expanded and gotten bubbly inside.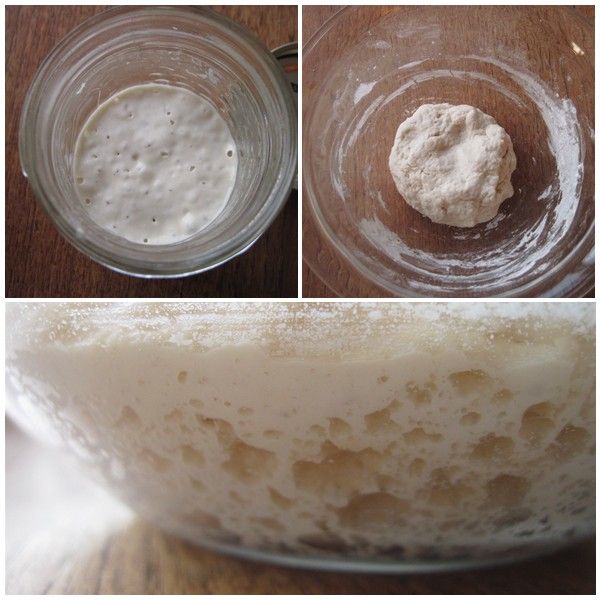 Final Dough
In a mixer bowl, combine:
361 g bread flour
135 g milk
77 g beaten egg (about 1 1/2 eggs – save the leftover 1/2 egg for making the filling or for the egg wash before baking)
60 g sugar
5 g salt
7 g instant yeast
41 g softened butter
Add the levain and knead with a dough hook just until gluten formation starts, about 3 minutes on low speed and 3 more minutes on medium speed. The gluten will be further developed with all the rolling and folding that comes later, so don't over-work the dough now. Stop the mixer a few times to pull the dough off of the hook and make sure the levain is incorporating. The dough should be slightly elastic, tacky to the touch, and fairly smooth. Flatten it out, wrap it in plastic, and refrigerate for 2 hours or longer (or overnight).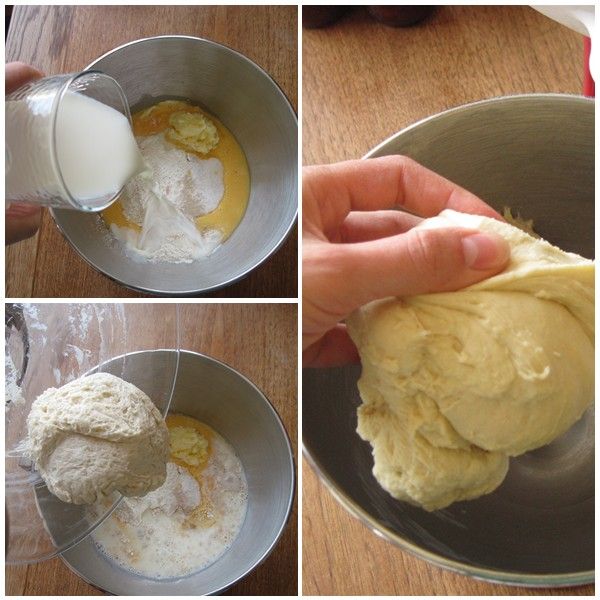 While the dough chills, prepare your butter block. Between two pieces of parchment paper, place:
361 g unsalted cold butter, cubed
(I used waxed paper and had major problems with it disintegrating and sticking to the butter, which I then had to painstakingly pick out. Parchment is stronger and will be much easier to deal with!)
Tap and roll the butter with a rolling pin to soften it and shape it into a 7.5″ square.
Take the chilled dough out of the fridge and roll it on a lightly floured surface into an 11″ square. At this point you want the butter and the dough to be about the same consistency, so chill/rest at room temperature one or the other as needed. Place the butter in the middle of the dough and fold up the dough so that it completely encloses the butter.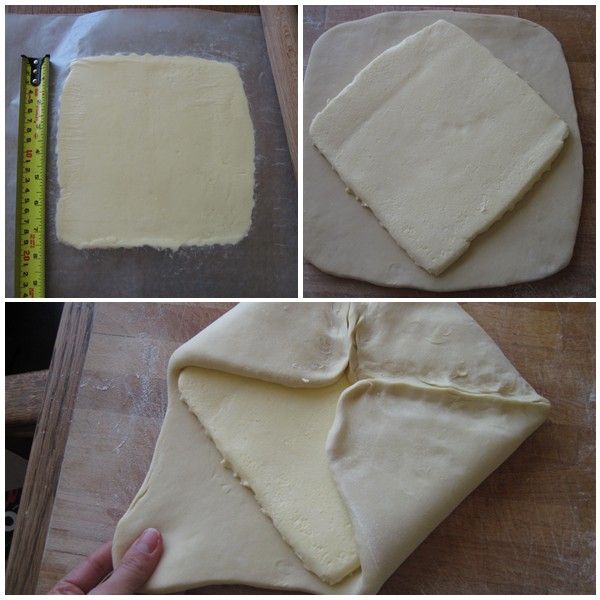 Roll it out evenly into an 8″ x 24″ rectangle. When rolling, start from the middle and roll in one direction so that the butter gets evenly dispersed between the layers of dough.
Make your first fold: trim the short edges of the dough to expose the butter layer within, then fold the bottom third up and the top third down, like a letter. The neater and more precise your cuts and folds, the better the layers in your final dough will be. Wrap the dough in plastic and chill for about an hour, which allows the gluten in the dough to relax and keeps the butter firm so that it doesn't melt and squish out between the layers (my kitchen wasn't very warm so the dough didn't need the full hour to chill).
Repeat the trimming, rolling, folding, and chilling twice more, for total of three folds. When you roll out the dough, orient it so that the "closed"/folded edge of the dough rectangle is facing the same way each time (in my case, it faced left) and that one of the short ends is facing you. Roll it out so that the long sides of the rectangle get even longer. This will ensure your folds and butter layers are even. Try to aim for an 8″ x 24″ inch rectangle each time you roll it out.
(After the third and final fold, I left the dough overnight in the fridge and continued the next morning. Feel free to do this at any point during the process that calls for chilling.)
Roll the chilled dough out on a lightly floured surface into an 8″ x 24″ inch rectangle and cut it in half lengthwise. Continue rolling each half into a 9″ x 18″ inch rectangle. Trim all the edges neatly to expose the butter layers, then cut each half of the dough into 8 pieces as pictured, each about 4" square.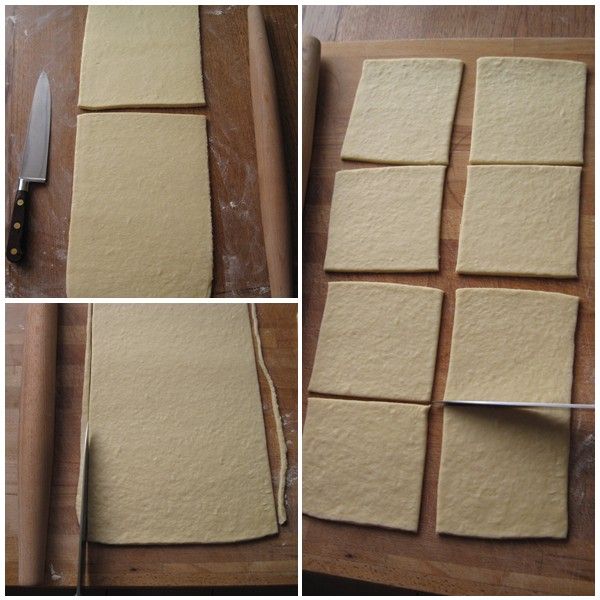 Shape the dough as desired and place it on a parchment-lined baking sheet. Cover lightly with plastic and proof somewhere warm for at least a few hours, until puffy and the butter layers are visible. Place about 1 tbsp of filling in each Danish and brush the dough with an egg wash (1 egg and 1 tbsp water), trying to avoid the cut edges if possible. Click here and here for tutorials on shaping the Danishes and for the Cream Cheese Filling recipe. Bake in a preheated 425˚F oven for 10 minutes, then at 375˚F for 10-15 minutes more (10 minutes was perfect for me). Cool on a rack.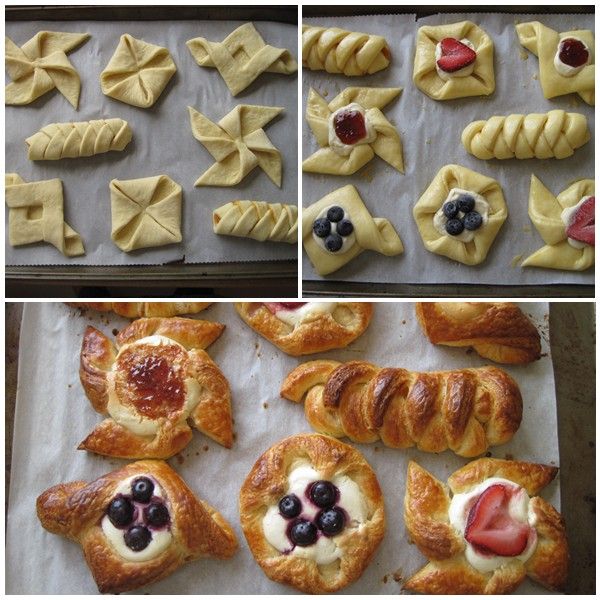 Submitted to YeastSpotting.