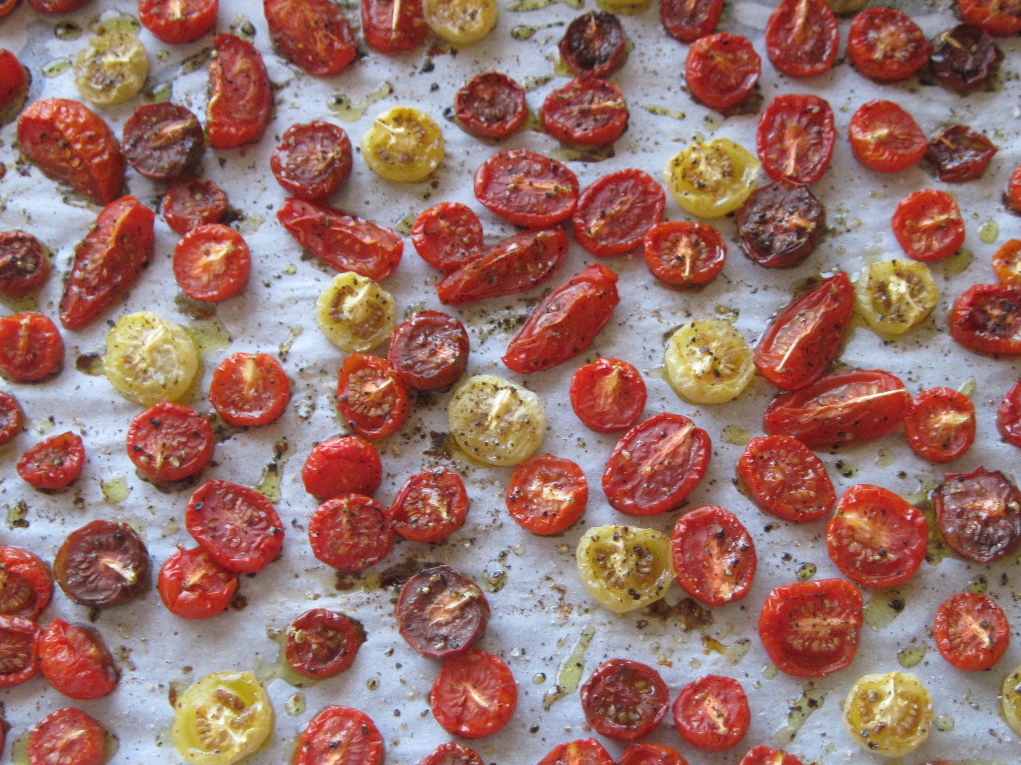 I know we're still a few months away from tomato season, but I couldn't resist. Which is odd because I don't actually like raw tomatoes very much: I really want to, but there's something about the texture and sometimes watery taste (I think?) that puts me off. However, roasting magically changes both of those things and turns them into super flavourful little tomato bombs.
Because I really want to like tomatoes, I'm always looking for different ways to use them. I first became aware of roasted tomatoes when reading Animal, Vegetable, Miracle (one of my very favorite books) by Barbara Kingsolver (one of my very favorite authors). In the book, they grow a bazillion tomatoes (among other things) and then preserve them by canning, freezing, and oven roasting, which concentrates the flavours and turns them into something amazing – it's like tomato alchemy. Then I came across a post on Smitten Kitchen about slow-roasted tomatoes and I was completely sold. So when I saw these beautiful babies at the green grocer (I think they came from a local hot house), I knew that they were destined to be roasted slowly in the oven.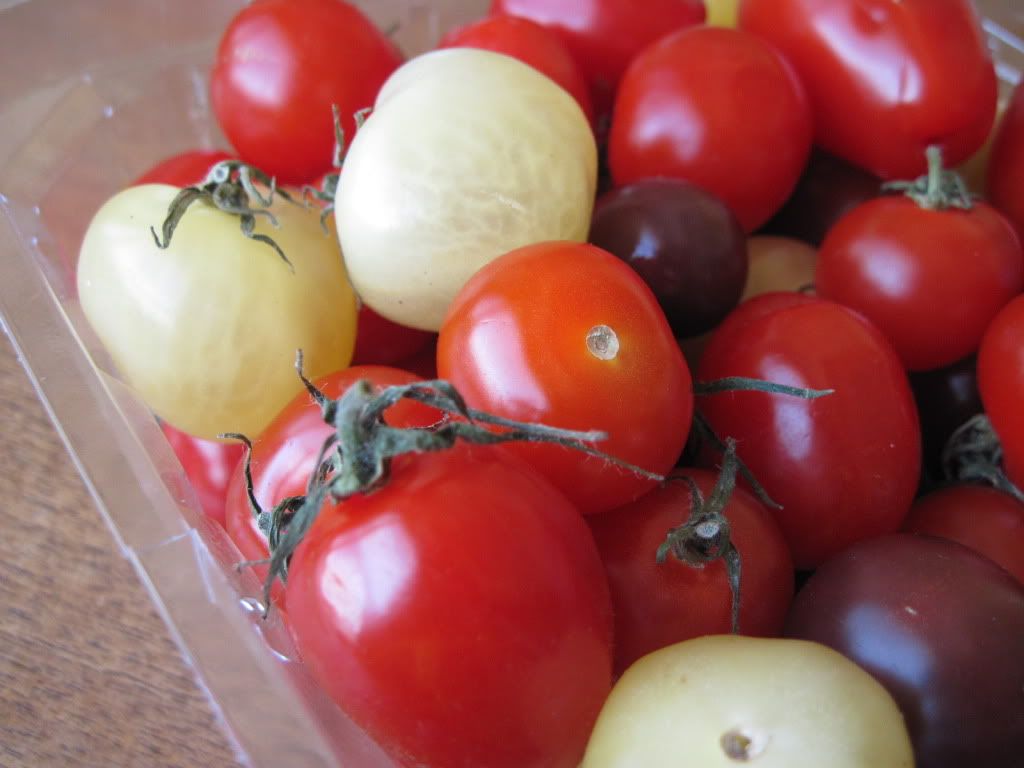 Since I made these, I've come across several uses for roasted tomatoes (other than eating them right off the baking sheet, which is what I was doing!). Annashortcakes made a version of my Roasted Mushroom Pesto Pizza and topped it with roasted tomatoes. A friend on Facebook commented on my Fettuccine Alfredo with Smoked Salmon and said that they had had a similar dish that included roasted tomatoes and was absolutely to die for. And there's this roasted tomato and garlic pasta that I made a few nights ago (it was awesome!). Anyway, suffice to say that as soon as tomato season really hits, I will be finding lots of uses for roasted tomatoes!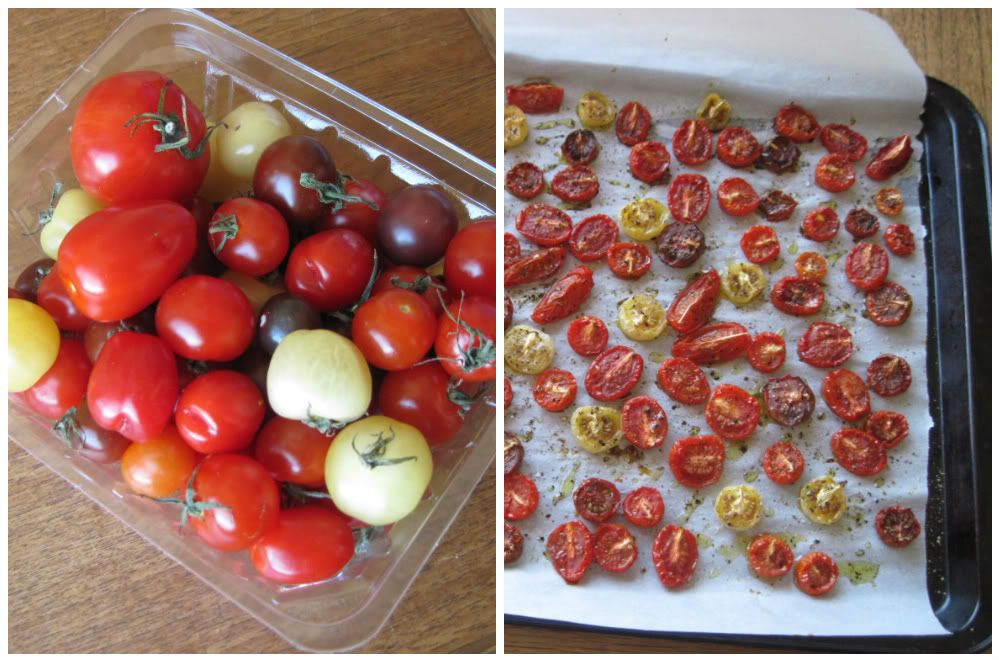 Oven Roasted Tomatoes
Method from Smitten Kitchen
Preheat the oven to 225˚F. Halve or quarter (depending on size) a whole bunch of tomatoes and place them, cut side up, on a parchment paper-lined baking sheet.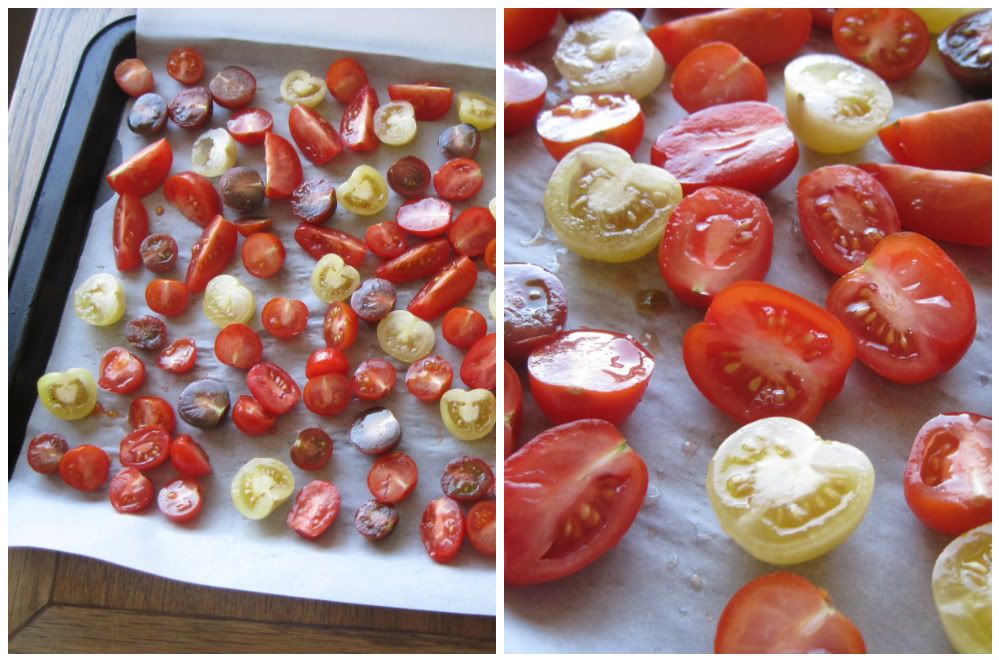 Drizzle them with a little olive oil ( just enough to give them a bit of shine), some salt and pepper, and any other fresh herbs you desire (thyme or rosemary would be great) – but go easy on the seasoning because the flavours will concentrate quite a bit in the oven.
Bake the tomatoes for about 3 hours, until they are shriveled and mostly dry with a bit of juiciness left inside. Use them right away or toss them with some more olive oil and keep them in the fridge.