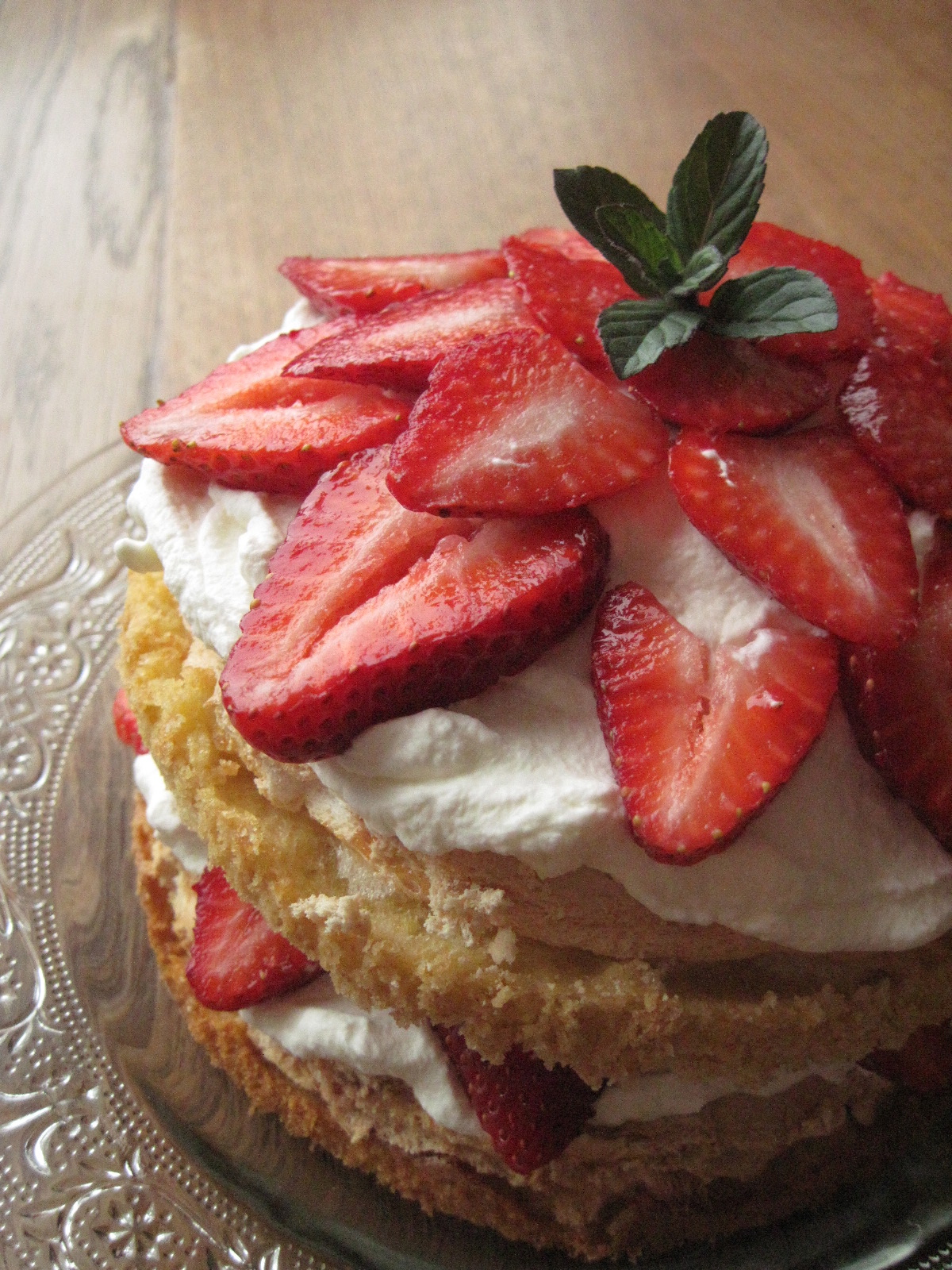 Today is my last day of work before an (unfortunately unpaid) four month summer vacation; an occasion which, I think, merits a cake. This strawberry shortcake torte actually made its appearance as dessert after Easter dinner, and it disappeared pretty darn quickly. Really though, what's not to like? Lemon-scented sponge cake topped with marshmallowy meringue, layered with whipped cream and fresh strawberries.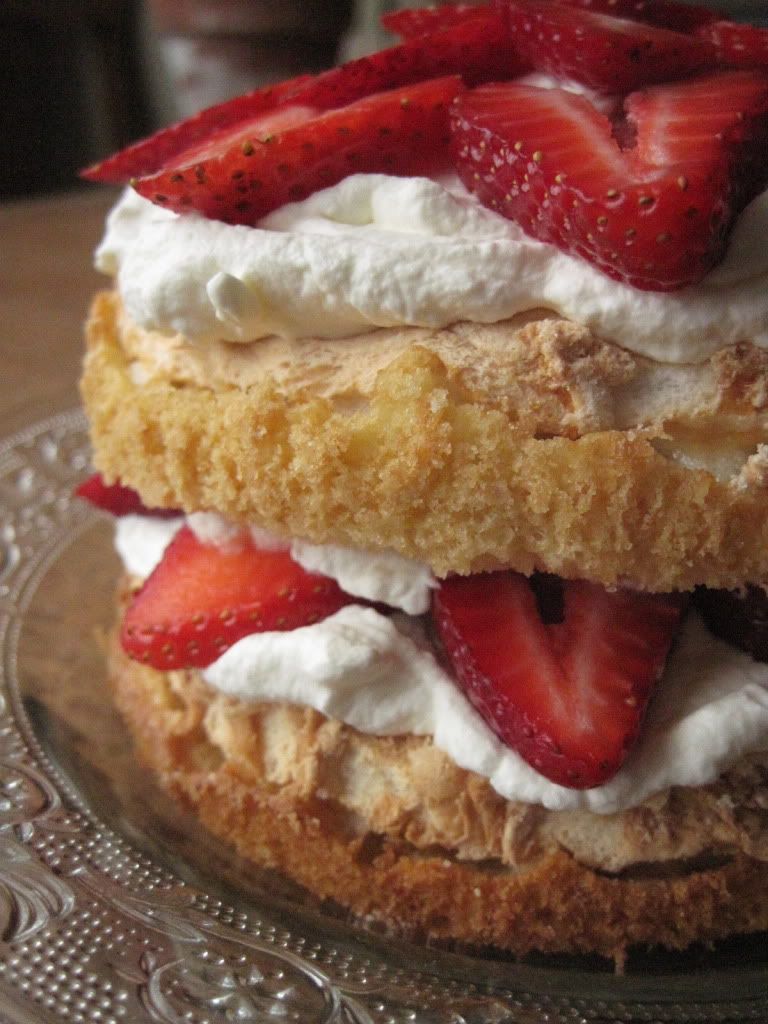 The cake is made with egg yolks, and the leftover egg whites are used for the meringue, which is a brilliant way to use them up and adds an unexpected (and delicious) component to a traditional strawberry shortcake. I was only serving four people, so I made a half recipe in two 6-inch pans and ended up with an extremely adorable little cake and no left-overs!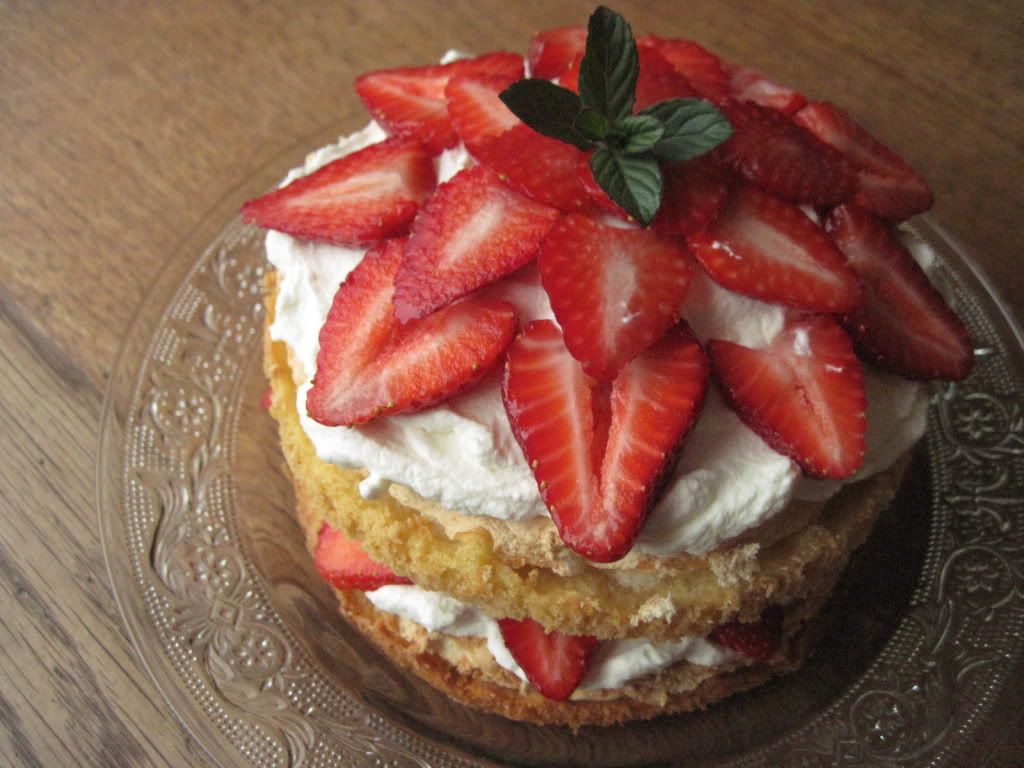 Strawberry Shortcake Torte
Adapted from Anna Olson on the Foodnetwork.ca. Makes one 9-inch, 2-layer round cake that serves 8 – 10. If you want to halve the recipe for 4 – 5 servings, use 2 eggs (don't bother with one and a half eggs!) and bake the cakes in two 6-inch round pans for 20 – 30 minutes.
Preheat the oven to 325˚F. Grease and flour two 9-inch round cake pans and set aside.
In the bowl of a stand mixer, combine:
1/2 cup vegetable oil
1/2 cup granulated white sugar
3 egg yolks (reserve the whites for the meringue)
Whisk on high until pale and fluffy.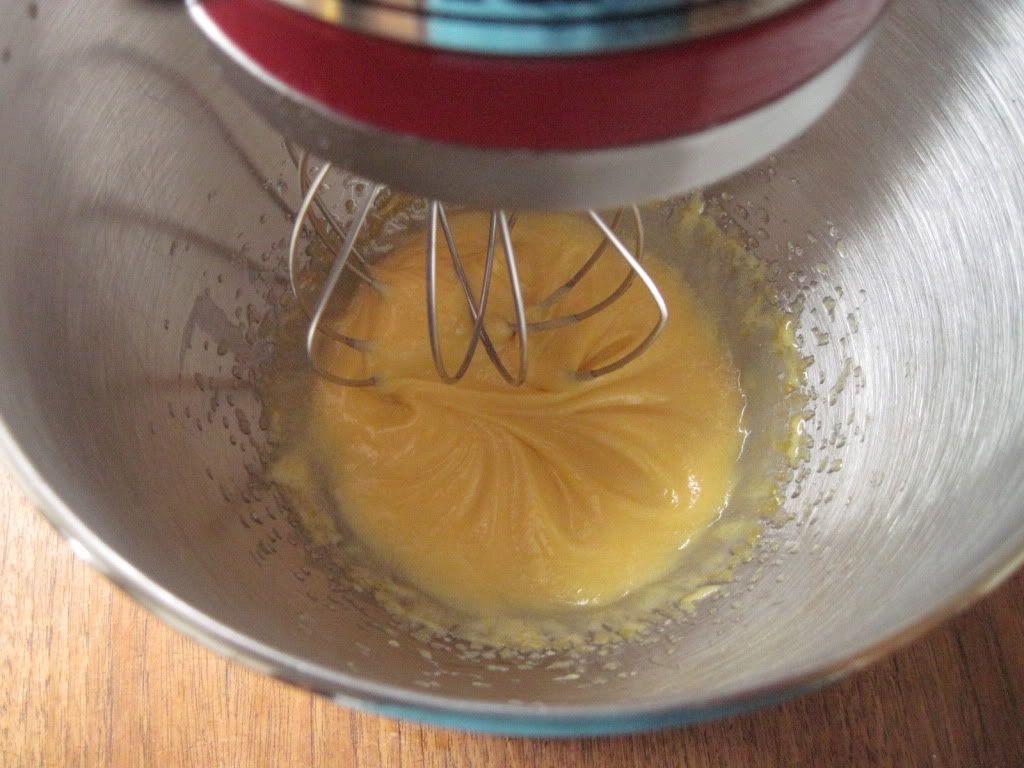 Add:
1/2 tsp vanilla extract
1 tsp grated lemon zest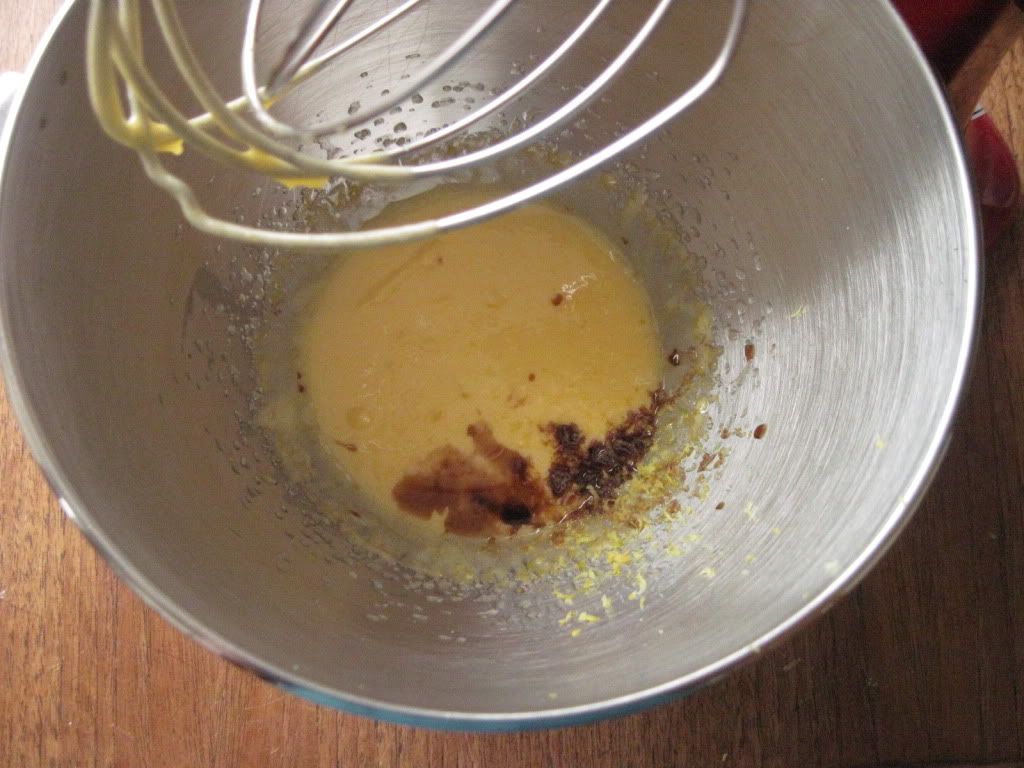 Stir in:
1/3 cup milk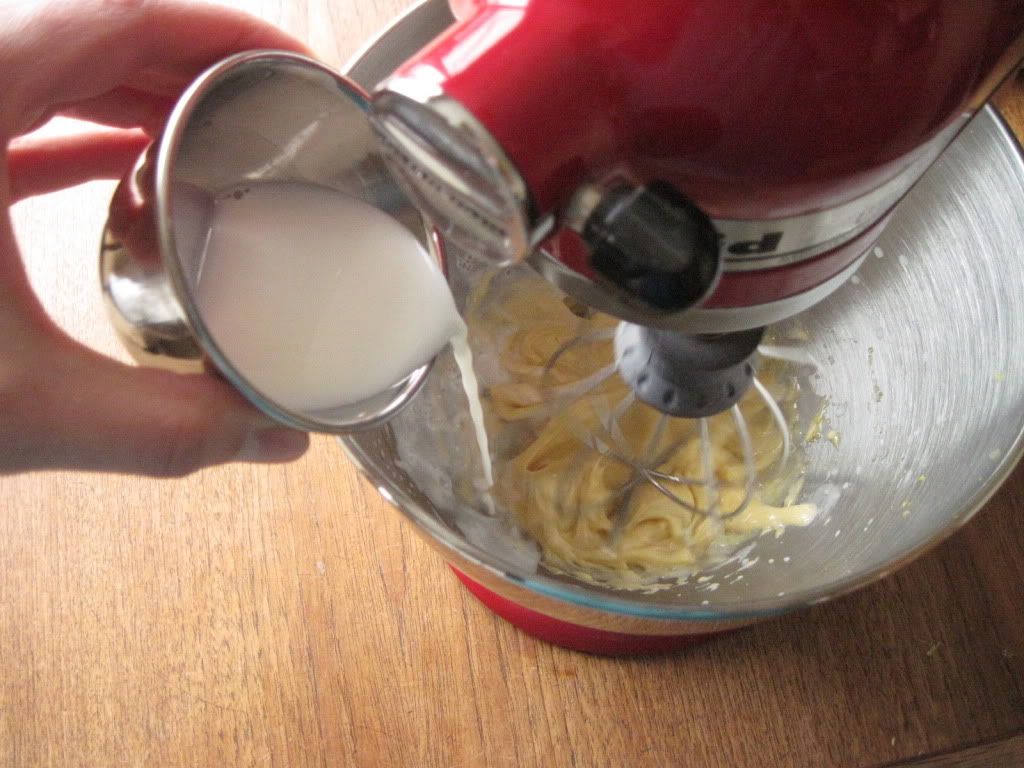 Mix to combine. Scrape the bottom and sides of the bowl with a spatula as needed.
In a small bowl, sift together:
1 1/4 cup pastry flour
1 1/2 tsp baking powder
dash of salt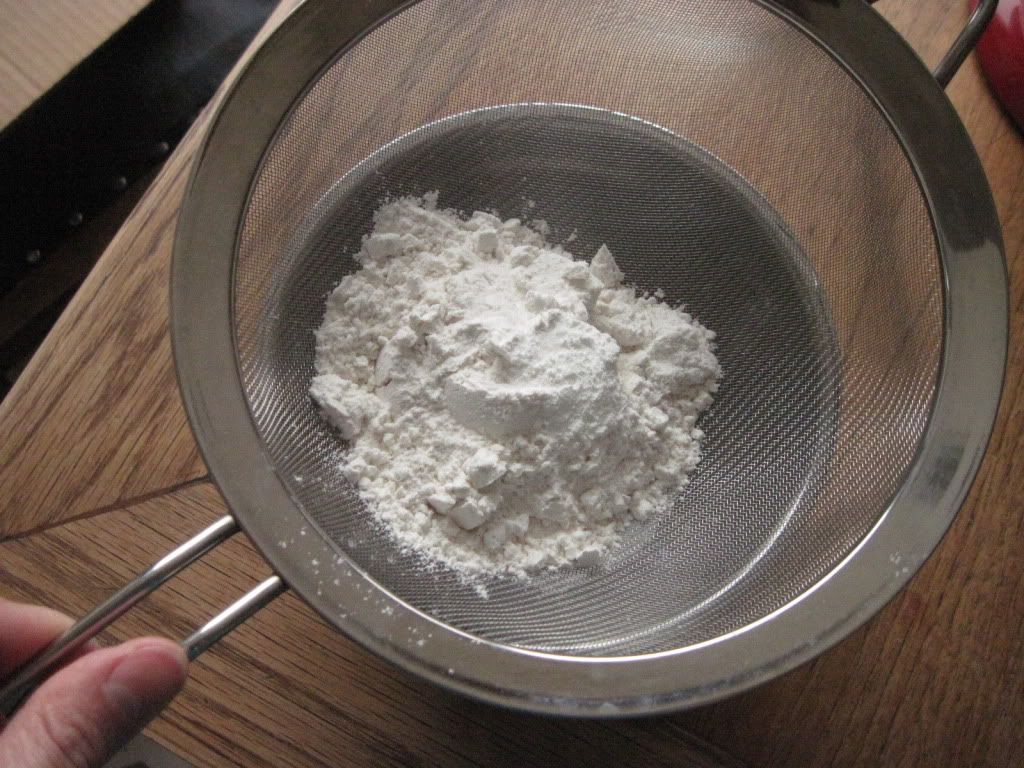 With the mixer on low speed, gradually add the flour to the egg-milk mixture.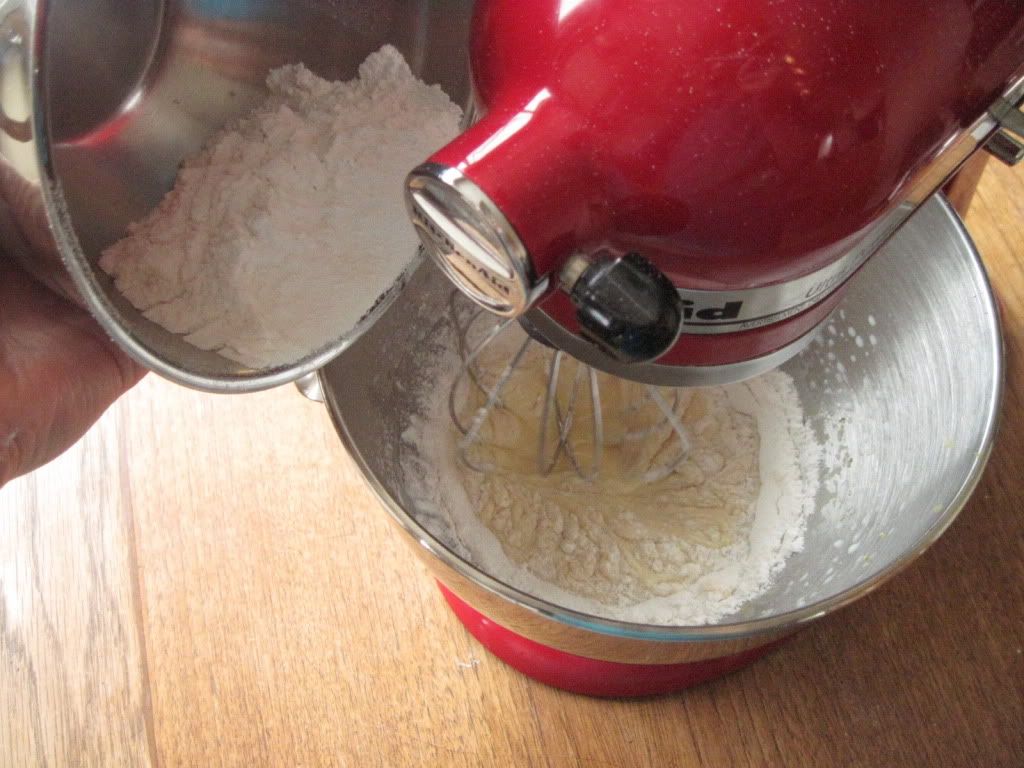 Finish off by folding it all together with a spatula, making sure you scrape the bottom of the bowl.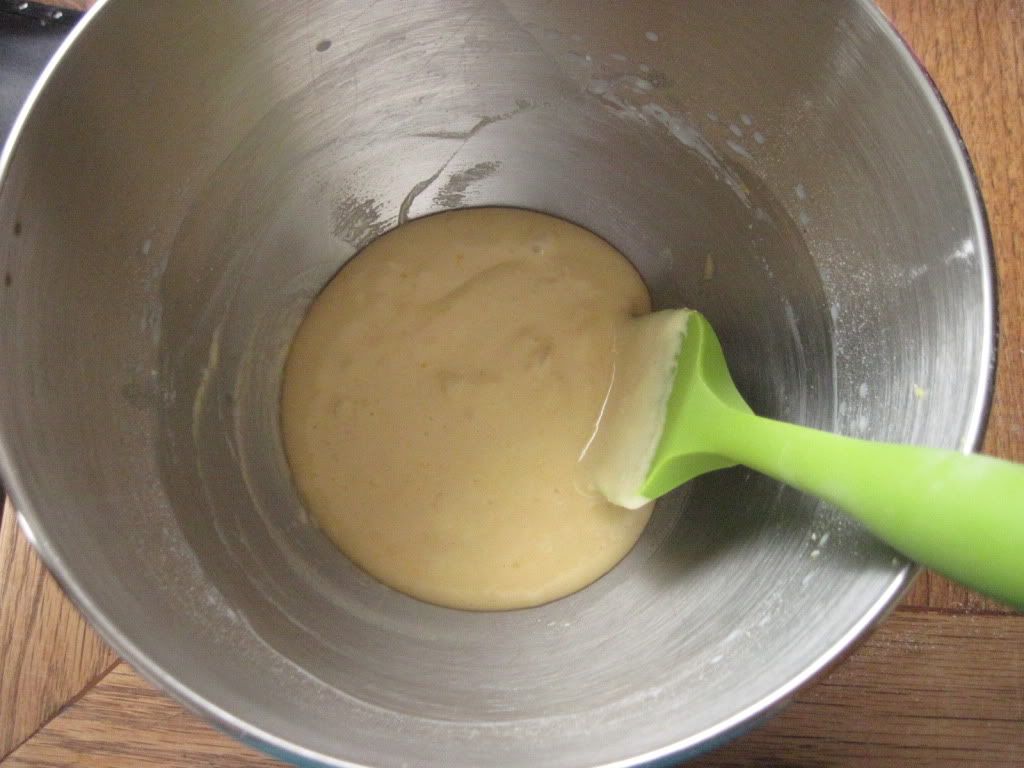 Pour the batter evenly into the two prepared pans and set aside.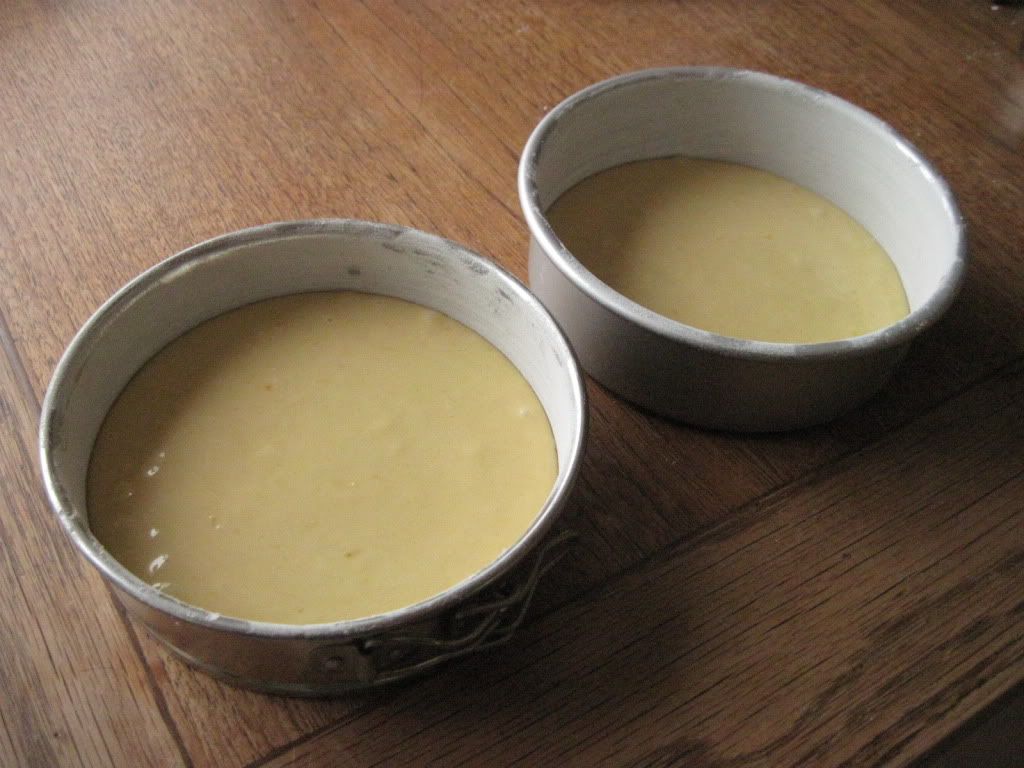 In a clean mixer bowl with a clean whisk attachment, place:
3 egg whites
Whip the whites on high until frothy, then gradually add:
1/2 cup granulated white sugar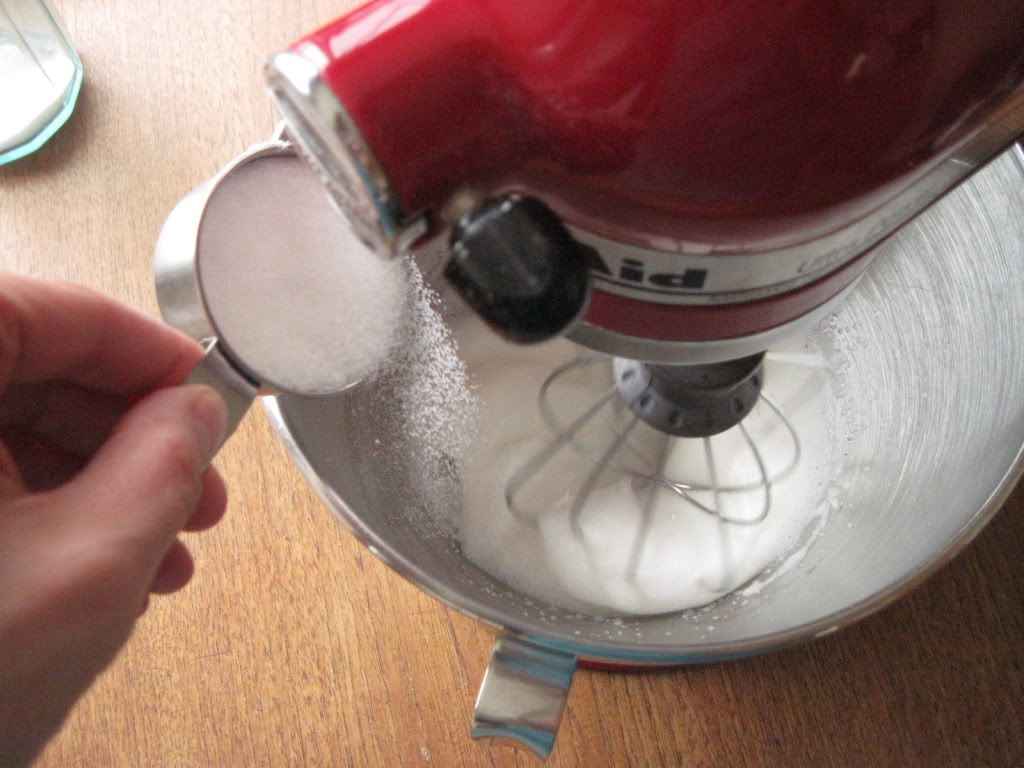 Continue to whip until stiff peaks form.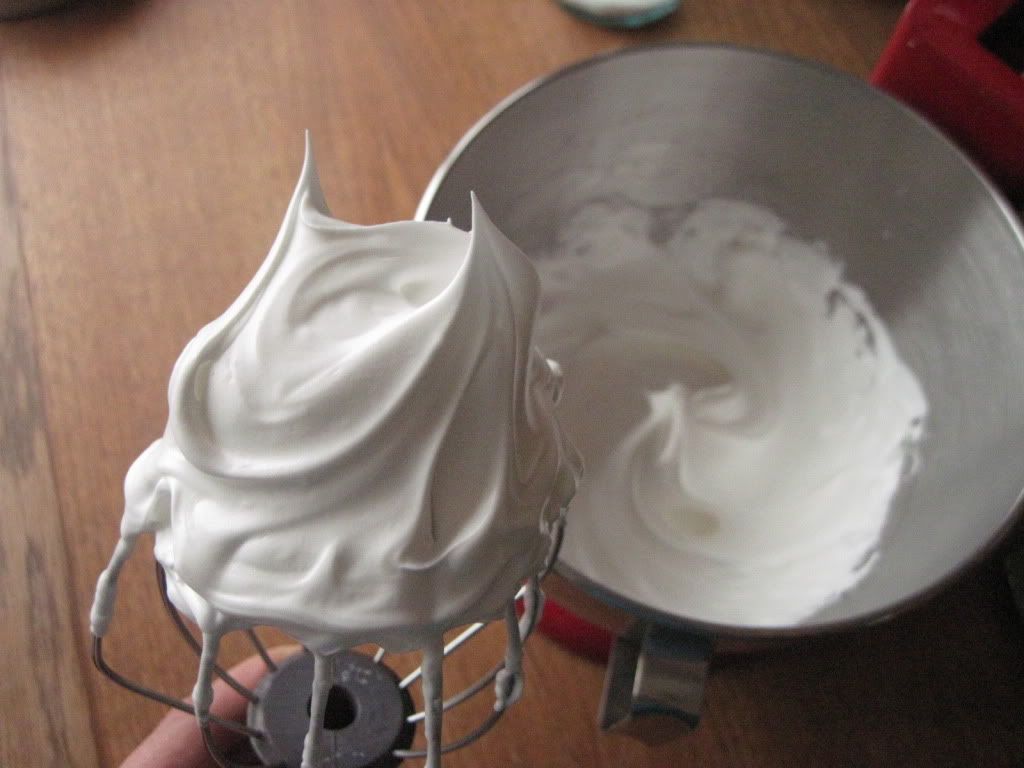 Divide the meringue between the two cake pans and spread it evenly over the batter.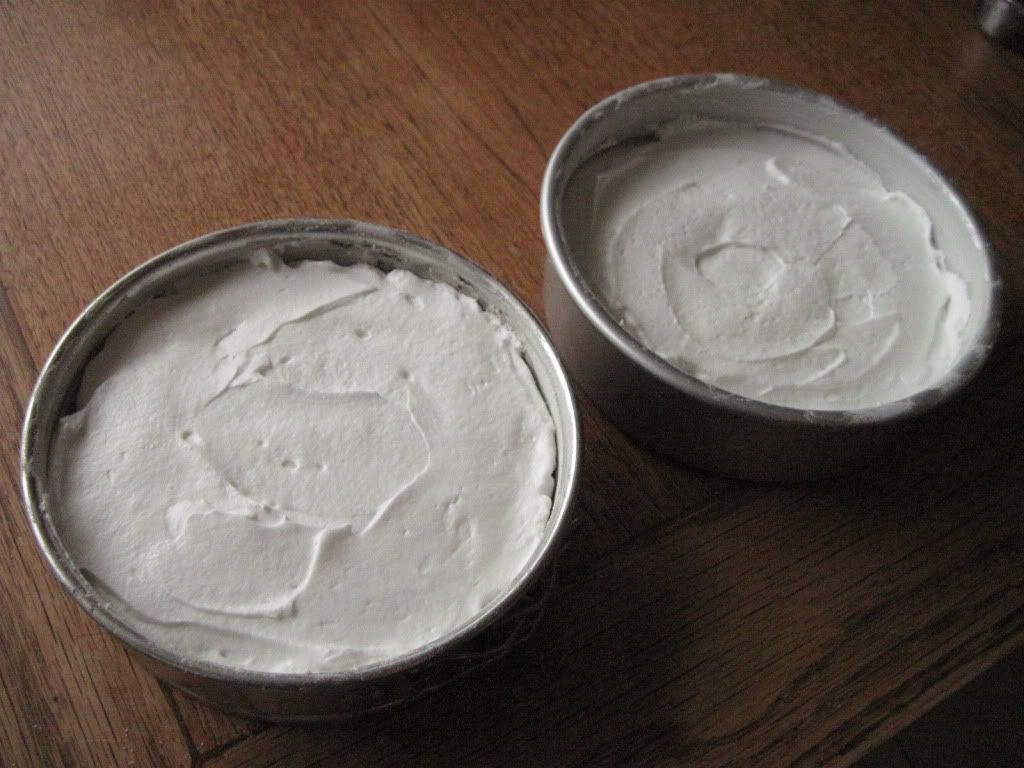 Wrap the cake pans in strip of wet towel (I didn't do this and the cakes baked up with a big dome in the middle – the wet towel strips will insulate the cake and make it bake more evenly so it doesn't have a dome) and bake in the preheated 325˚F oven for 30-40 minutes, until a toothpick inserted in the middle comes out clean. Cool the cakes on a rack for a few minutes, then run a knife around the edges.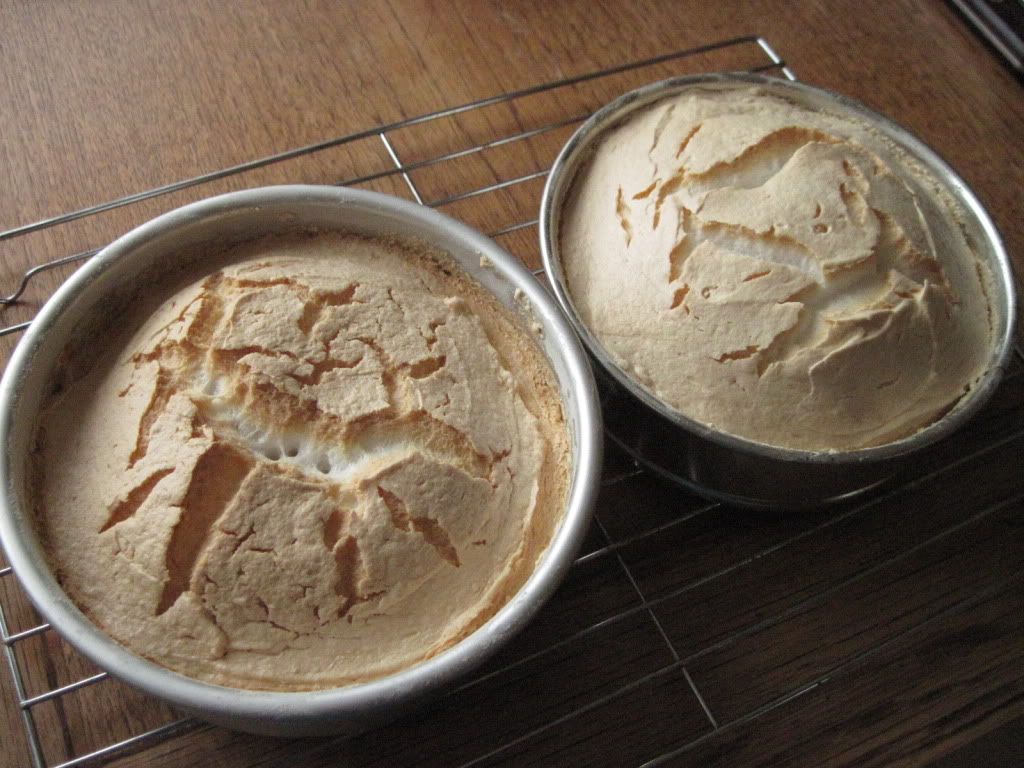 Cool completely in the pans, then remove. I stuck the de-panned cakes in the fridge to chill so that they were absolutely not going to melt the whipped cream.
When you are ready to assemble, whip:
1/2 cup whipping cream
Add sugar to taste and beat to soft peaks.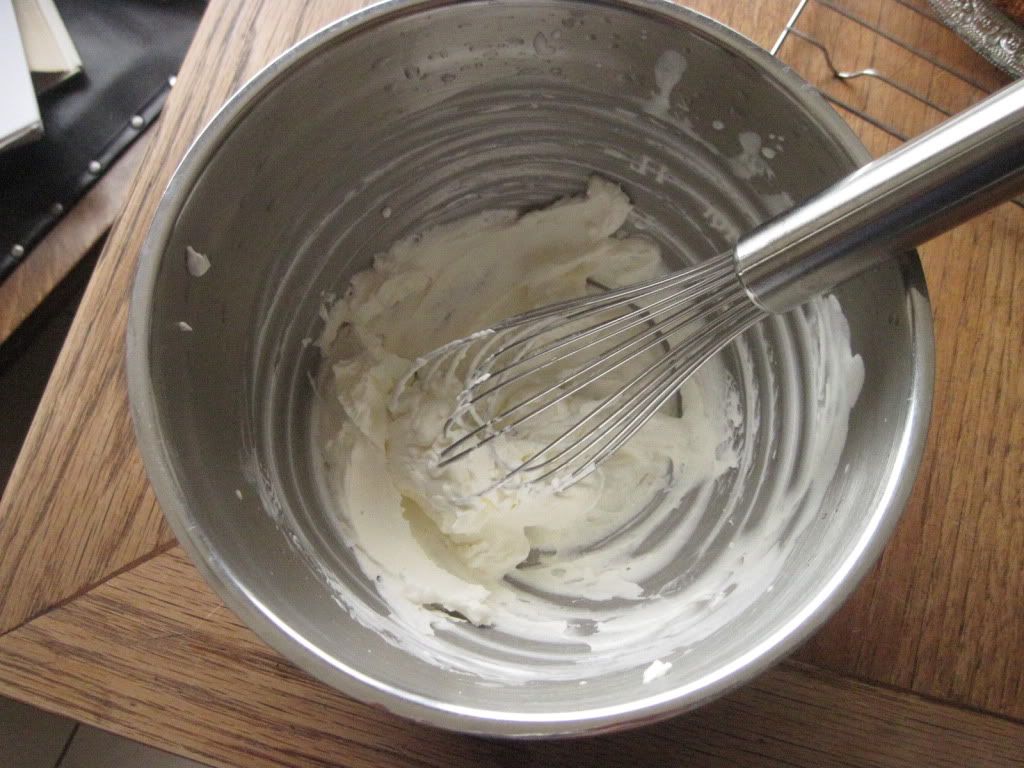 Hull and slice:
2 cups fresh strawberries
Place one cake layer, meringue side up, on a serving platter. Spread with a few tablespoons of whipped cream and top with half the sliced strawberries.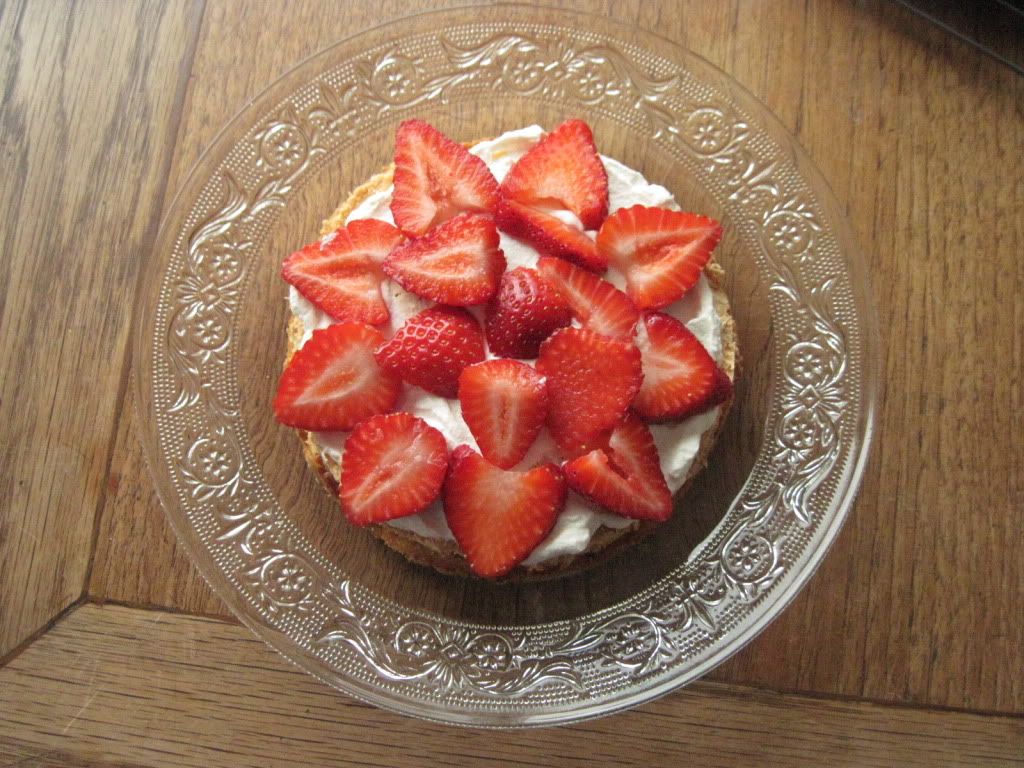 Top with another few tablespoons of whipped cream (this will help the second layer of cake stick to it).
Place the second cake layer on top.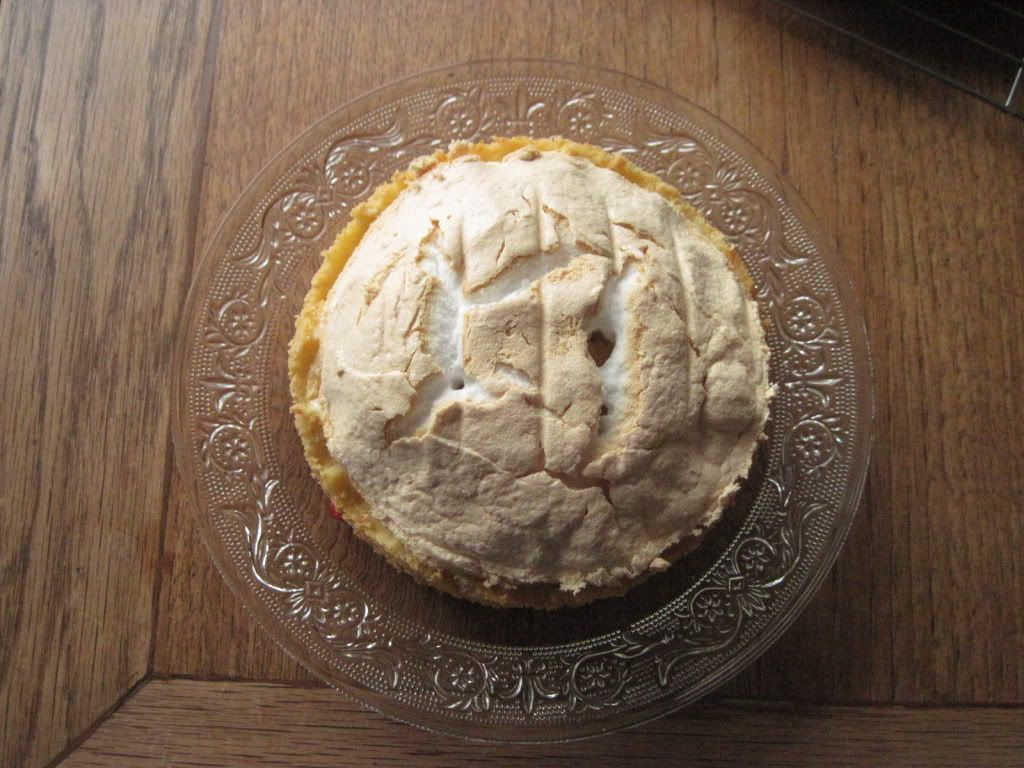 Spread it with the remaining whipped cream and top with the remaining strawberries.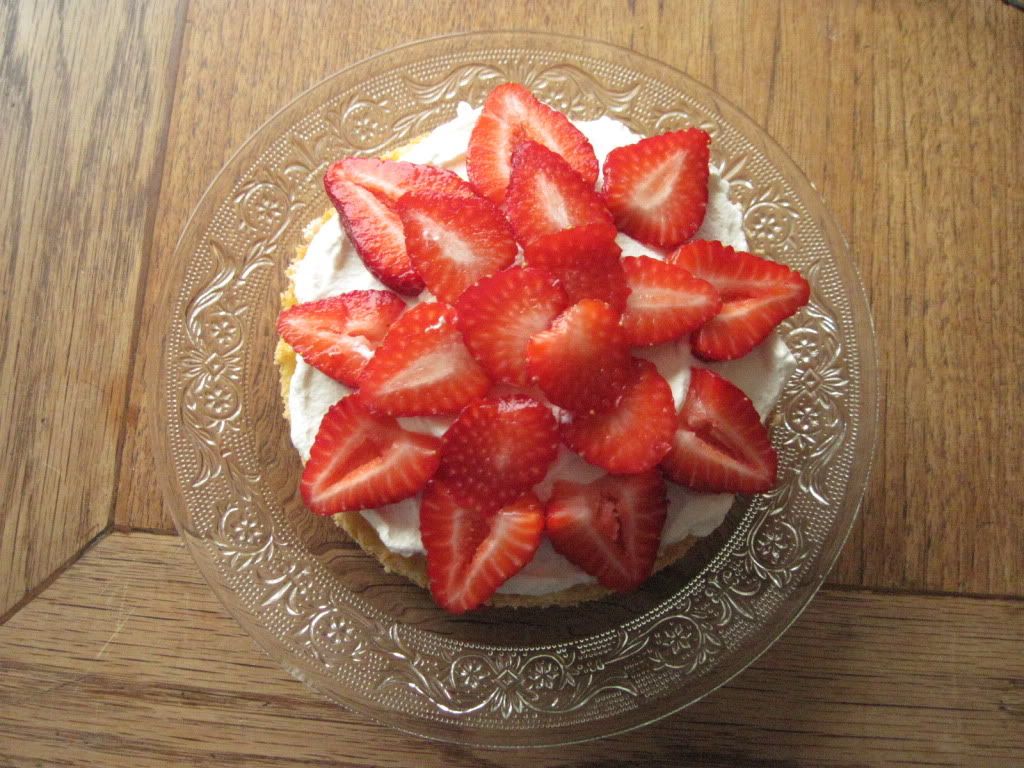 Chill for an hour or so before slicing and serving.