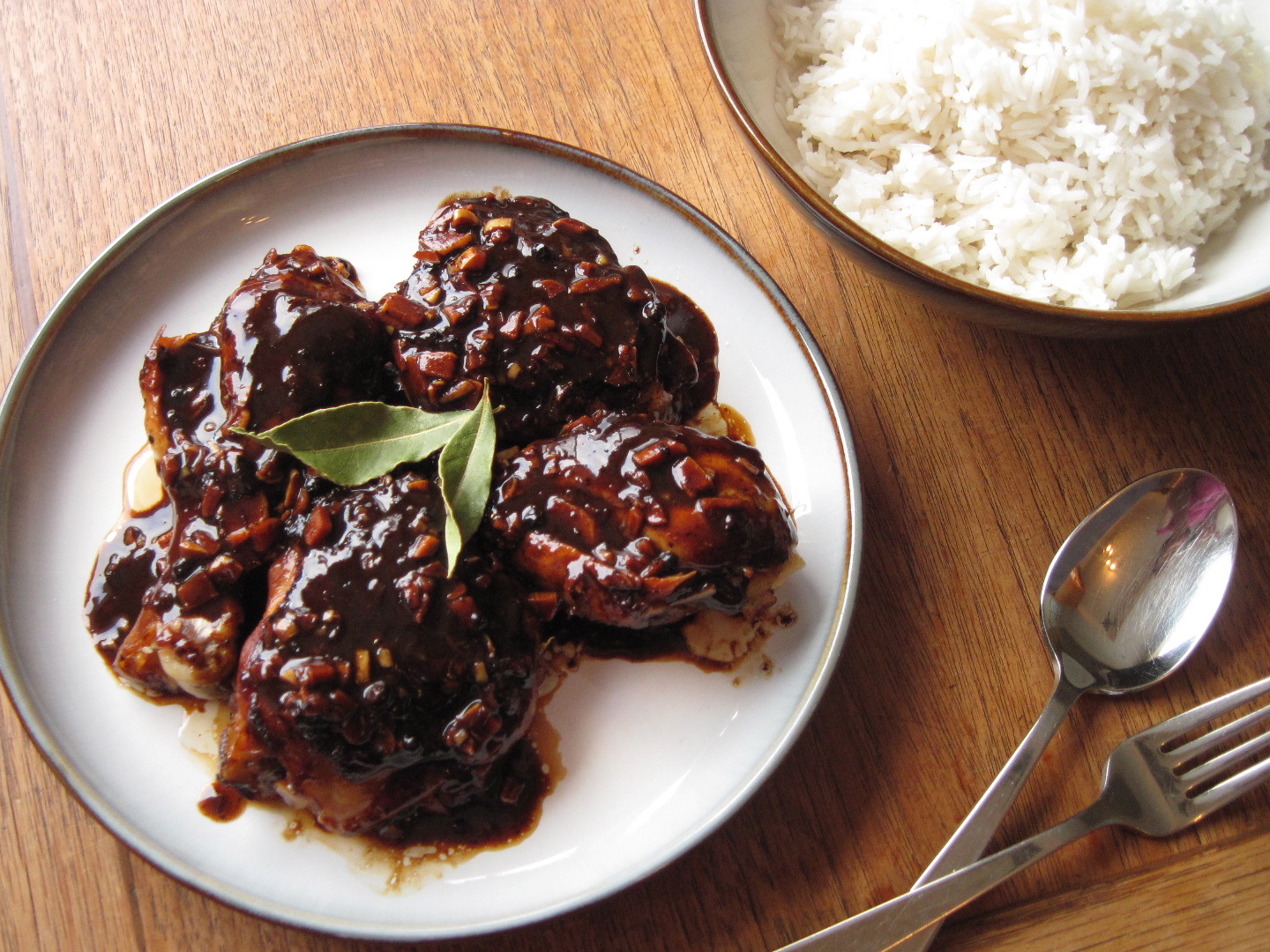 Chicken adobo is a Filipino dish that I've had my eye on for quite a while. I worked with a girl who would bring chicken adobo leftovers for lunch and then rave about how it was her favorite thing ever, so naturally my interest was piqued. I did a few internet searches and discovered that adobo just means vinegary sauce (hence "chipotles in adobo" is essentially smoked jalapenos in vinegar), and that there are as many versions of chicken adobo as there are people making it (which is to say, a lot!). The main ingredients in Filipino adobo are soy sauce, vinegar, garlic, black pepper corns, bay leaves, and sometimes coconut milk, and the meat can be either chicken or pork or both.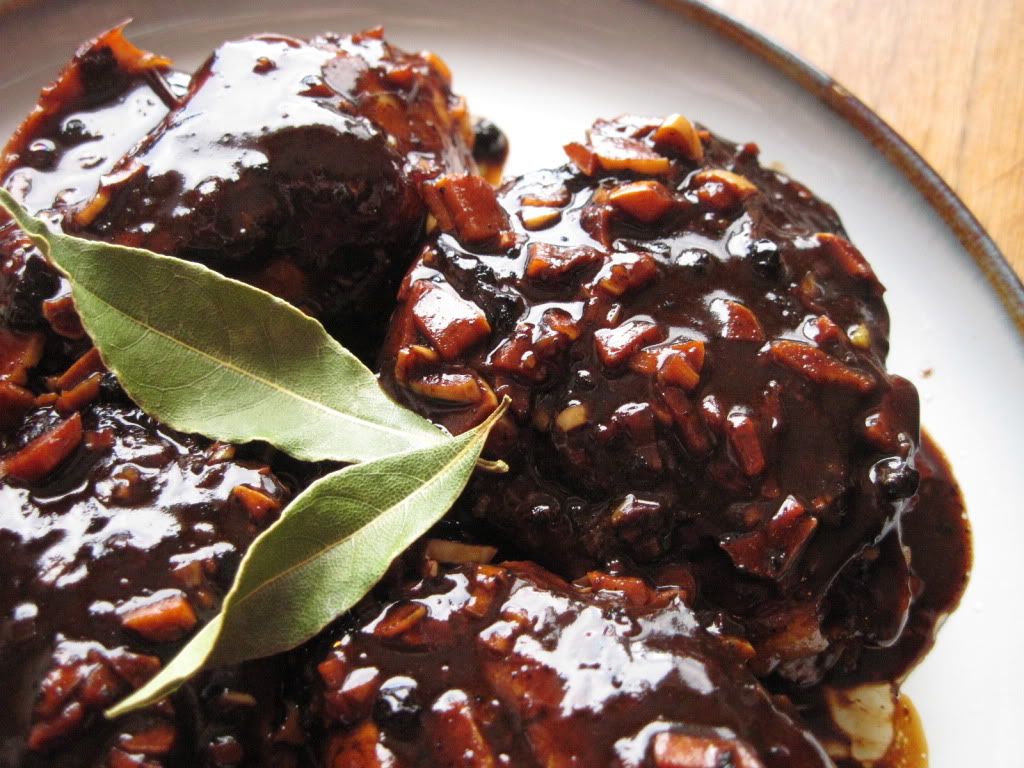 I found an awesome-sounding chicken adobo recipe and sort of had it in mind to make one of these days, when the other day I was browsing through the latest issue of Cook's Illustrated and lo-and-behold, there was a chicken adobo recipe! Cook's Illustrated does some pretty serious recipe testing so I was quite sure this one would be good – and it is. Tangy and salty but not too much of either, it also has coconut milk in the sauce – which doesn't make it taste coconutty, but rather cuts the sourness of the sauce and gives it some nice body. One of the drawbacks to most of the recipes I looked at was that they required a long marinating time, whereas this one can be done in an hour, including marinating, and manages to taste dang good. And it only requires basic pantry items. Make this for dinner – you will thank yourself!
Filipino Chicken Adobo
Adapted from the March/April 2012 issue of Cook's Illustrated. Serves 2 and can easily be doubled.
In a ziplock bag or bowl, combine:
4 skin-on, bone-in chicken thighs and/or drumsticks
3 scant tbsp soy sauce
Marinate in the fridge for 30 minutes to 1 hour.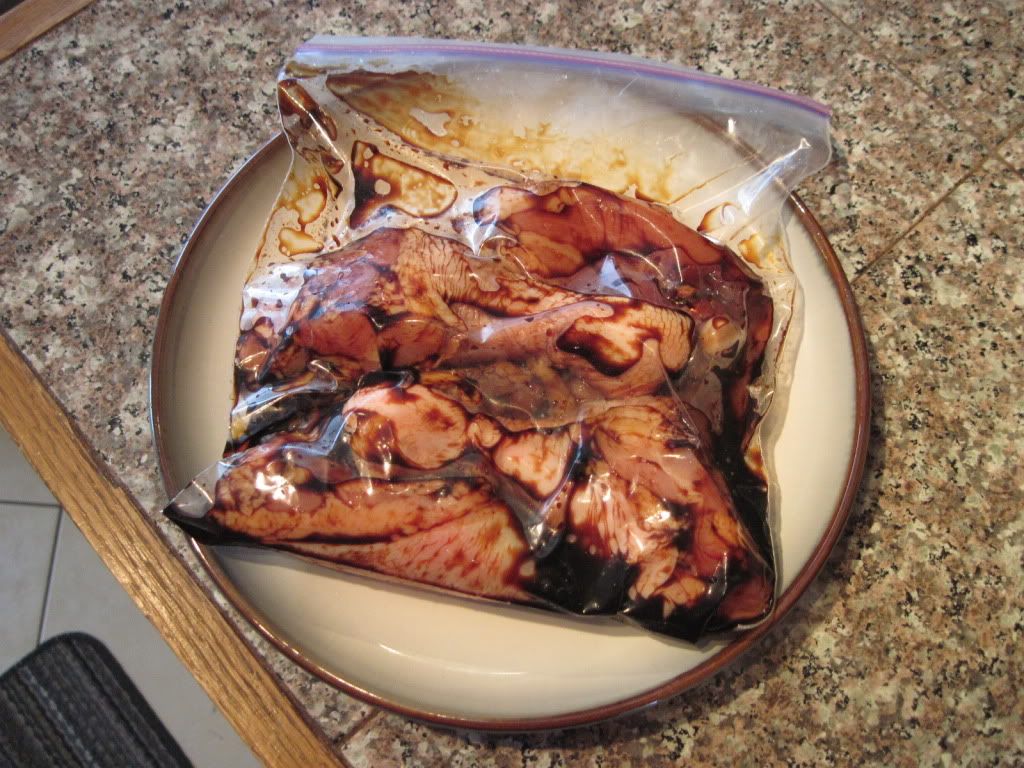 Remove the chicken from the soy sauce, let the excess drip off, and place the chicken, skin side down, in a cold 8″ skillet (non-stick is recommended!). Reserve the soy sauce in a bowl.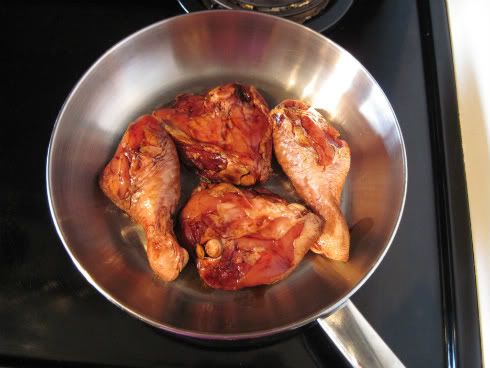 Place the skillet over medium-high heat and cook until the chicken skin is browned and the fat under the skin has rendered out, 5 to 7 minutes.
Meanwhile, mix the reserved soy sauce with:
1/2 a can of coconut milk
6 tbsp apple cider vinegar
4 cloves of garlic, roughly chopped
1 tsp freshly ground black pepper (or 1/2 tsp ground and 1/2 tsp whole pepper corns)
2-3 bay leaves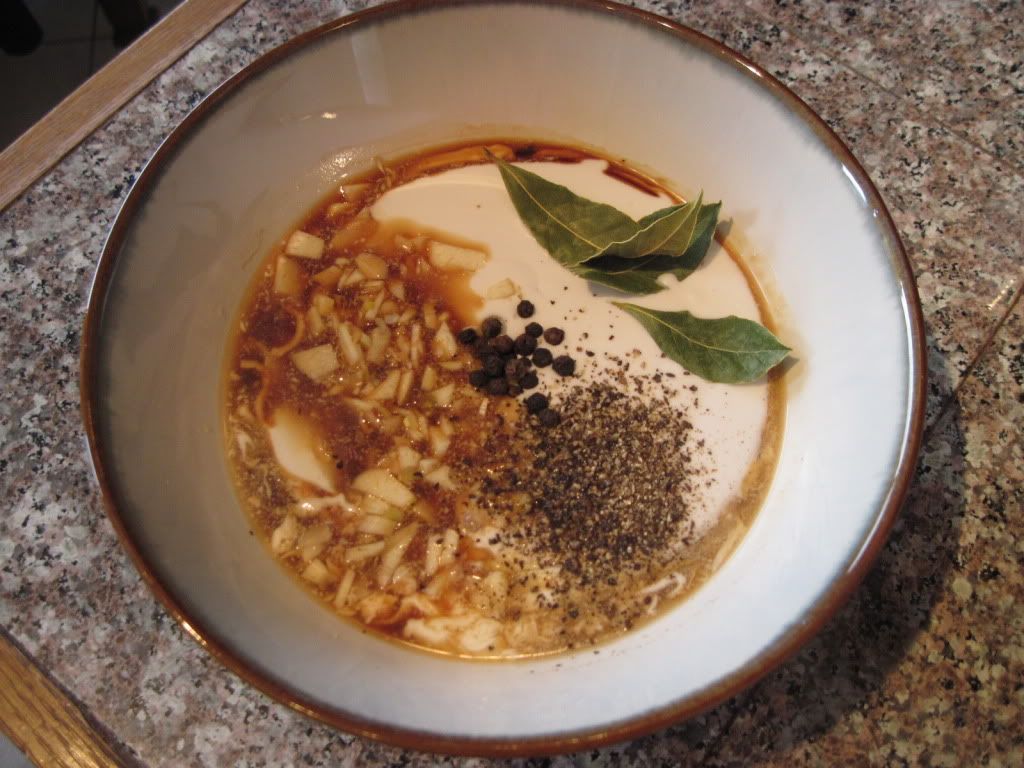 When the chicken has browned, remove it to a plate and pour the fat out of the pan. Return the chicken to the pan, skin side down, and pour in the soy-coconut-vinegar mixture.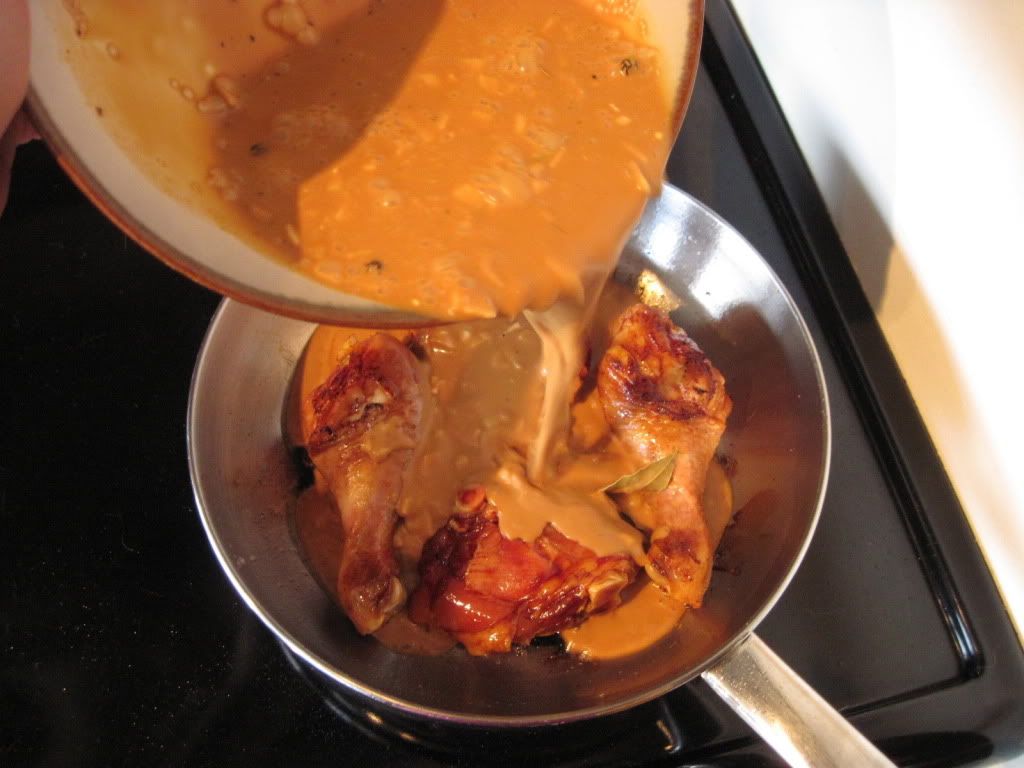 Bring it to a boil, then lower the heat to medium-low and simmer, uncovered, for about 20 minutes.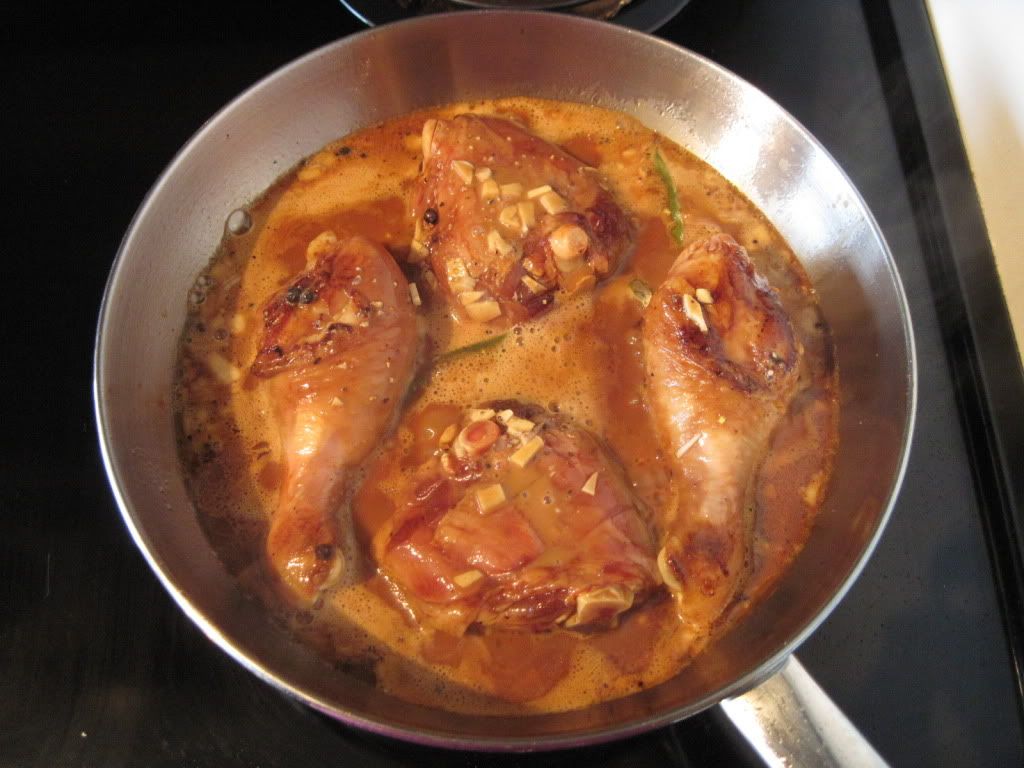 Turn the chicken over and simmer for another 15 minutes, or until the chicken reaches 175˚F on a thermometer.
Put the chicken on a plate and cover it lightly with foil. Skim any fat out of the sauce left in the pan and remove the bay leaves. Return the sauce to medium-high heat and simmer to thicken if needed – or you can add a few tablespoons of water if it is too thick already (in my case!).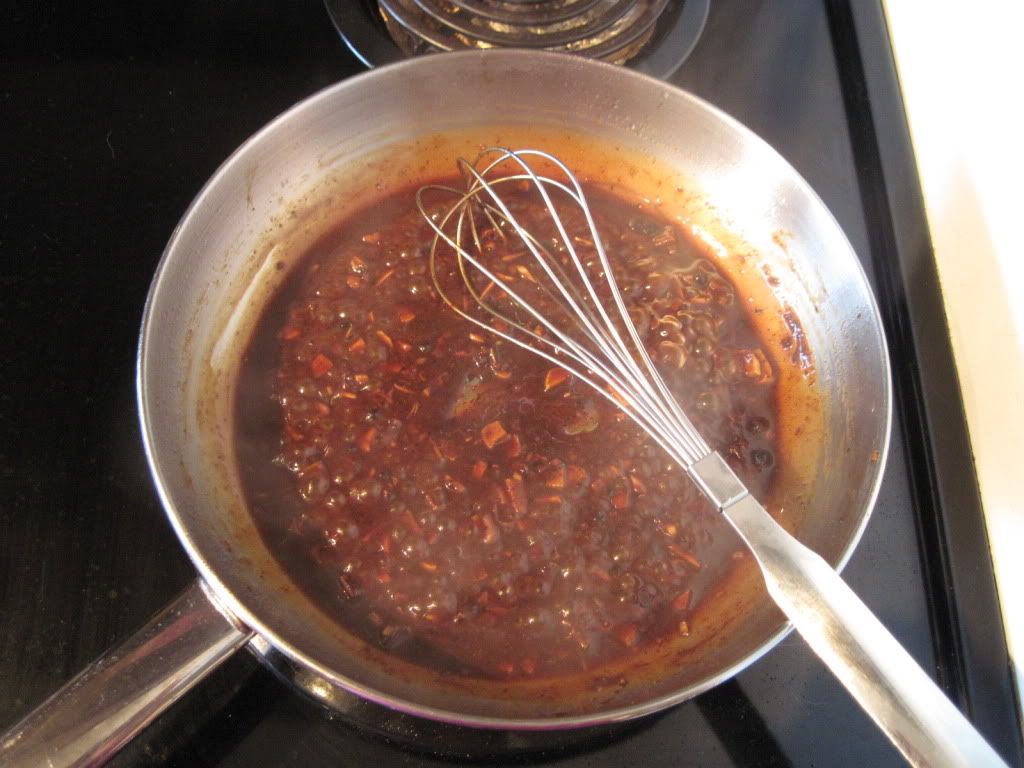 Pour the sauce over the chicken and serve with steamed rice.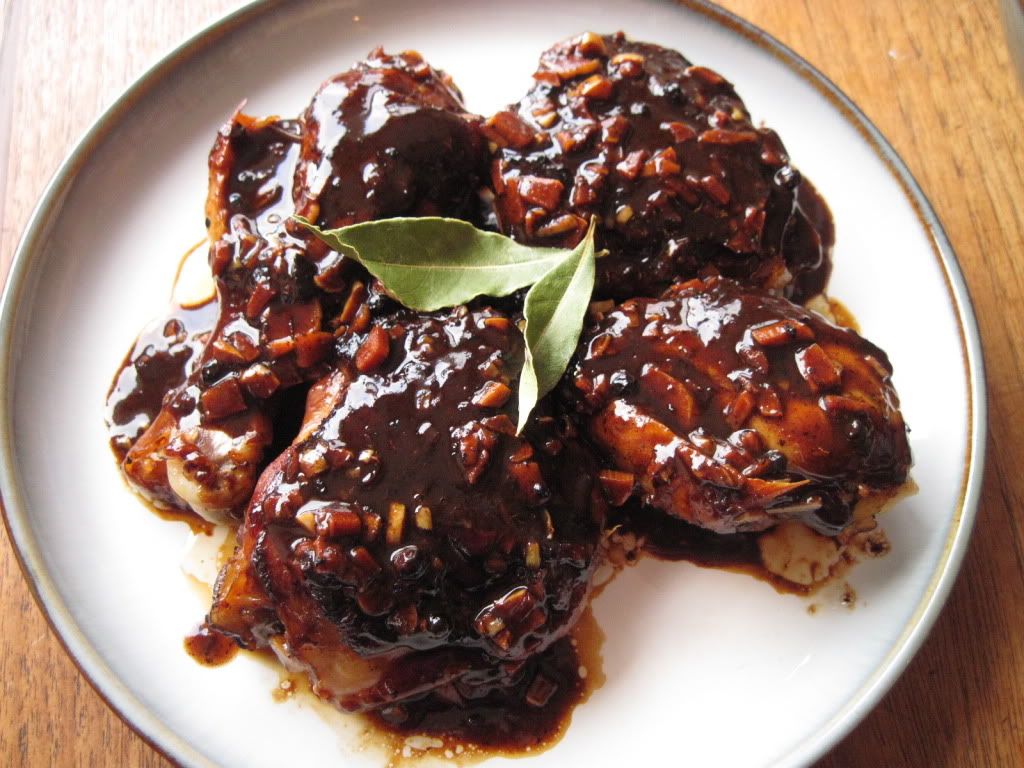 (10 points if you can figure out what colour shirt I was wearing when I took the first photo in this post!)