When Nate said he was going to watch the Super Bowl on Sunday, I suddenly got the urge to make hot wings. I was hoping that I could tie this in with my cookbook resolution, but wouldn't you know it, I couldn't find a recipe for plain old hot wings in any of my cookbooks. So to the internet I went! This is a twist on the basic hot wing sauce – butter, vinegar, and hot sauce – spiced up with a little chipotle (because I can't seem to make anything without adding chipotle, but you could use any kind of hot chili sauce) and poured over grilled chicken wings.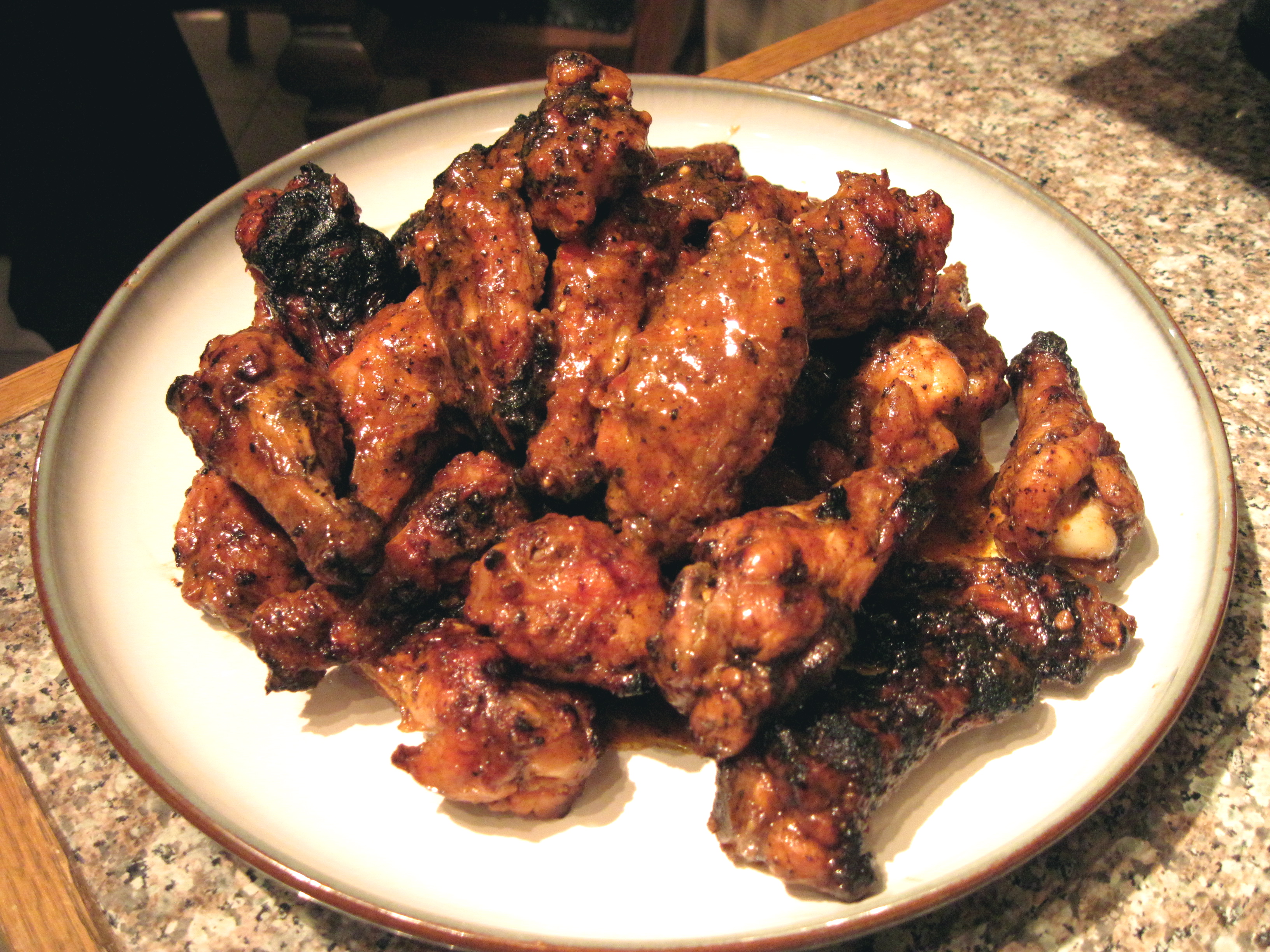 The grilling part was Nate's idea, and it was a good one; however the thing about barbequing in February is that it gets dark early, and then you find yourself wearing your camping headlamp and feeling like a dork while turning your chicken wings. And because it's dark, it's hard to tell when things are getting a bit charred. But charred or not, these were really tasty and I can't wait to make them again – but maybe I'll wait for better daylight ;).
Grilled Hot Wings
Hot wing sauce adapted from Allrecipes.com
Place 3 lbs of chicken wings (drumettes and wingettes separated) in a large bowl and season very generously with:
black pepper
salt
garlic powder
cayenne or other hot chili powder
Toss the wings around with your hands so they are all evenly seasoned.

Preheat the barbeque, then arrange the seasoned wings on a lightly greased grill over low heat. Put the lid down and let them cook 10-15 minutes, until lightly brown on one side. Turn them over and grill for another 10-15 minutes with the lid down, until they are evenly browned and cooked through, moving them around a bit to avoid hot spots and burning. The wings need a little more babysitting during the second half of cooking, as they can go from golden brown to charred pretty quickly.
Meanwhile, make the sauce. In a saucepan over medium heat, melt 6 tbsp butter, then stir in:
1/3 cup + 2 tbsp hot sauce (I used 1/3 cup Cholula hot sauce and 2 tbsp chipotle purée – use whatever kind of hot sauce(s) you prefer)
1 1/2 tbsp white vinegar
salt and pepper to taste
When the wings are cooked, place them in a bowl, pour the sauce over them, and toss to coat.

Serve with Blue Cheese Dip (below), cut-up veggies such as celery and carrots (optional), and lots of napkins (definitely not optional!).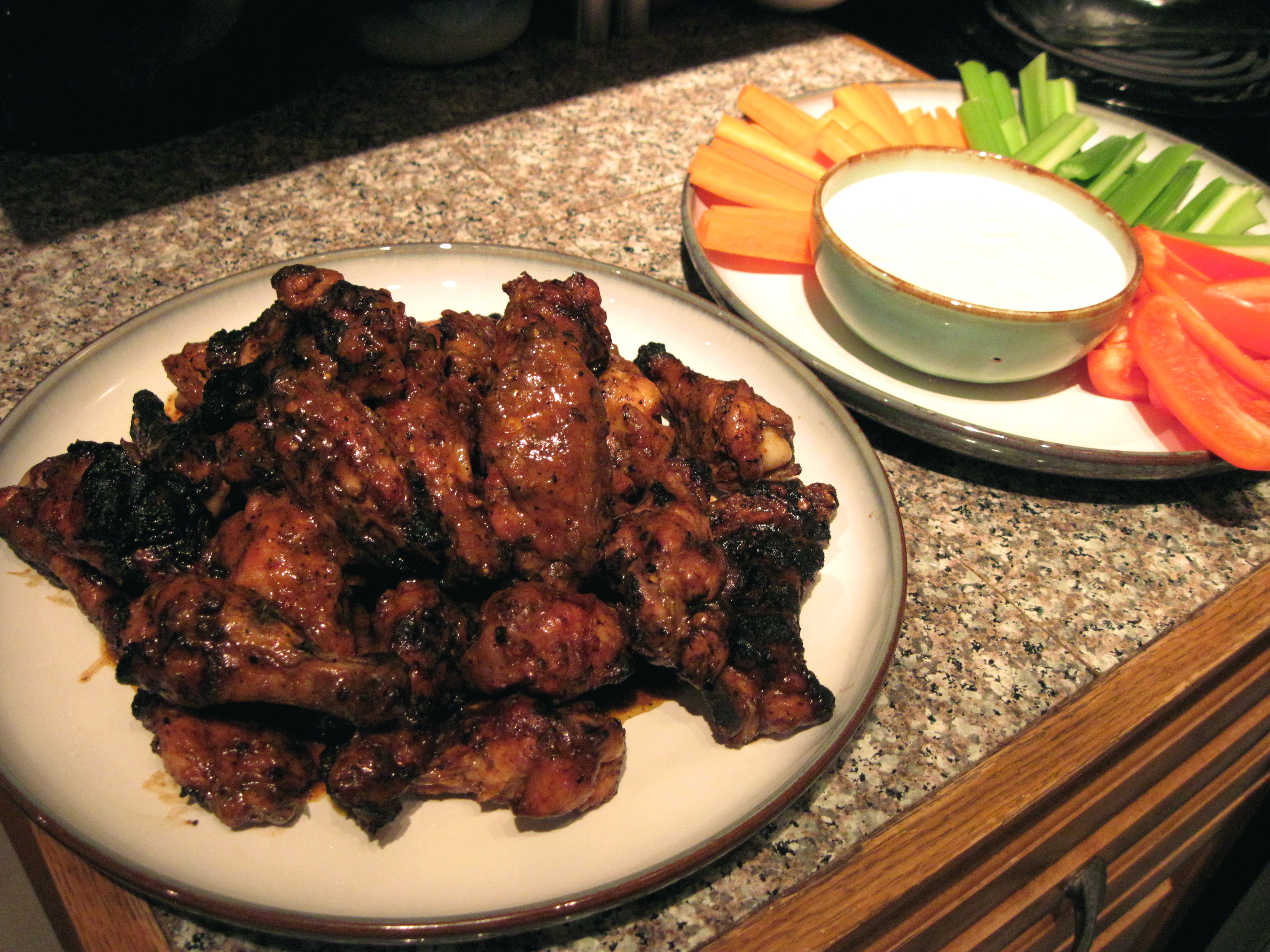 Blue Cheese Dip
In a small bowl, combine:
1/3 cup plain yogurt or sour cream
1/3 cup mayonnaise
1/4 cup crumbled blue cheese
1/4 tsp garlic powder
dash of paprika
salt and pepper to taste
Mix it all together and refrigerate for about 30 minutes, to let the flavours meld a bit. Serve with the hot wings.