Happy New Year!!
The end of this month marks one year since I started this blog, and I just wanted to say thank you to everyone who has visited and read my blog over the past year. I've had a ton of fun cooking and taking pictures and writing and I'm excited for another year of good food. Cheers! 😀
And now back to important matters at hand: Sourdough Pancakes!
As I now have a Tupperware container of sourdough starter living in my fridge, I've been looking for ways to use the excess that comes out of every feeding. I've made these pancakes twice now (on the list are also crumpets, English muffins, and obviously, bread) and they are delicious! Light and fluffy, they have a more complex flavour than regular pancakes, thanks to the fermentation of the yeasts in the starter. They are full of bubbles and have an almost lacy texture because of it.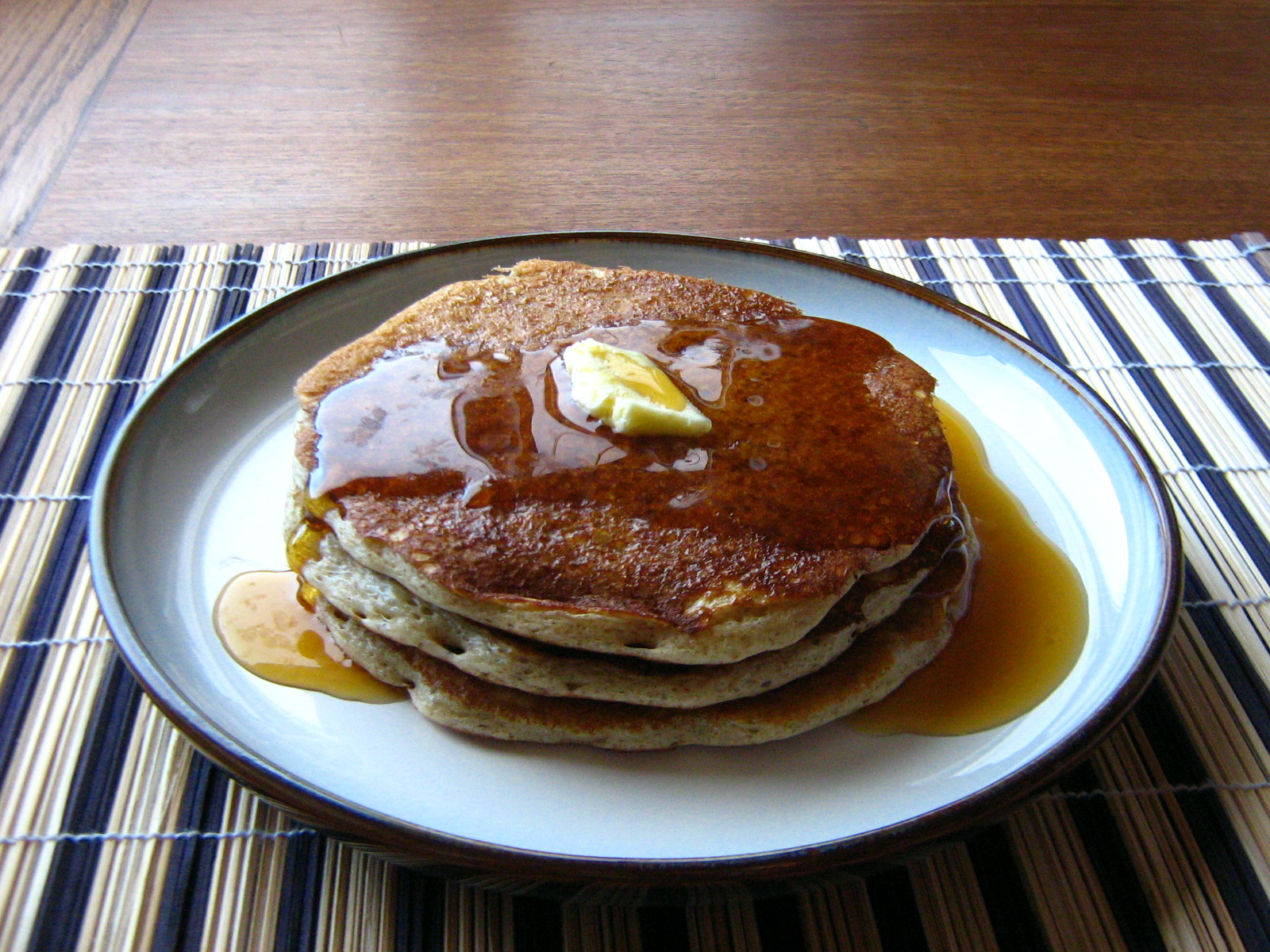 These pancakes are very absorbent little sponges, so to give them something in addition to maple syrup to soak up without becoming sickly sweet, I made a quick strawberry-orange sauce: about 1 cup of frozen strawberries cooked with the juice of 2 mandarin oranges, a dash of water, and a few tablespoons of sugar. I boiled it until it thickened slightly, then pureed it in the blender and served it warm with the pancakes and maple syrup.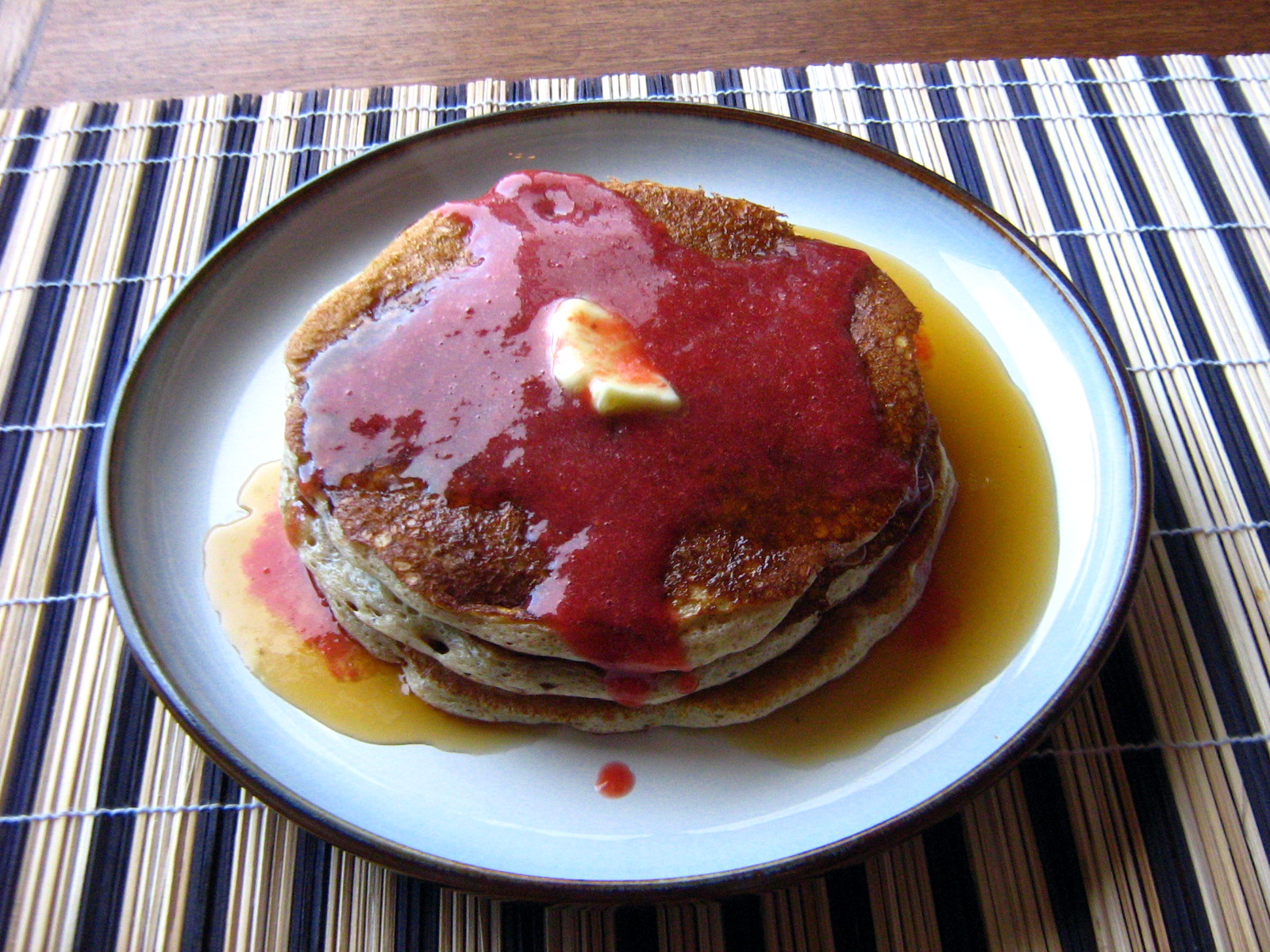 You need 3/4 cup starter to make these, which is more than the extra I end up with after each feeding, so I put that extra starter in another Tupperware container and "save up" until I have enough. Right now I'm feeding my starter once a week, so it takes a few weeks for the "extra" starter to amount to 3/4 cup, but it seems perfectly happy to sit in the fridge in the interim. If it looks like it needs feeding (ie, lots of liquid "hootch" on top), then I'll just add a small amount of flour and water (equal parts by weight) to keep it happy until I'm ready to use it.
Sourdough Pancakes
Recipe from Allrecipes.com. Makes 6-8 pancakes.
Preheat a large skillet over medium-low (4 out of 10) heat.
In a large measuring cup (or a medium bowl with a pouring spout), mix together:
3/4 cup sourdough starter
1 egg
2 tbsp water (can use more or less depending on the thickness of your starter)
2 tsp vegetable oil
(1 tsp vanilla would be a good addition too!)

In another small bowl, combine:
1/3 cup powdered milk
3/4 tsp salt
1 tsp baking soda
1-2 tbsp granulated sugar
Whisk the powdered milk mixture into the starter mixture until smooth (don't worry about over-mixing like regular pancake batter). It should be a bit thinner than regular pancake batter and sort of foamy.

Grease the heated skillet with a bit of vegetable oil on a paper towel, then pour about 1/4 – 1/3 cup of the batter into the pan. The batter will spread out a bit, so I like to cook just one pancake at a time. The surface of the pancake will be covered in irregular-sized bubbles.

Cook until the edges are slightly dry and the bottom is deeply golden, then flip using a thin spatula. Cook until the other side is just as deeply golden, about 30-45 seconds.